Looking for great Portland Oregon day trips that the whole family can enjoy? The Rose City sits at the crossroads of the Columbia River and Willamette Valley, and is less than an hour from the state of Washington.
The City's prime location allows for a wide selection of excellent Portland Oregon day trips.
This post contains affiliate links. As an Amazon Associate I earn from qualifying purchases made from the links on this site, at no extra cost to you. Thanks for supporting our family business!
Table of Contents
How this Post is Organized
In this post we'll introduce you to the best Portland Oregon day trips. These trips are ordered according to their distance from Portland and the amount of planning that they will require for the average family. We'll also introduce you to resources that will help you plan the best day trips possible.
Short Portland Oregon Day Trips: One Hour ETA
A day trip doesn't have to be epic to be enjoyable. A short drive makes for faster fun and a softer landing at the end of the day. Our first four Portland Oregon day trips are no more than an hour's drive from Portland's city limits.
#1 Suavie Island
Suavie Island is Portland's most convenient day trip. The 24,000 acre island literally borders Portland, sitting on the Oregon/Washington border. The Island is a local favorite for hiking, bird watching, farm stops, beach days, and water sports.
A large portion of Sauvie Island serves as a natural area. You can enjoy the island's wildlife on the Oak Island Nature Trail. The 2.7 mile loop trail guides you around the wetlands that compose much of the north part of the island.
Warrior Rock Lighthouse Point Trail gives another perspective. The 6.5 mile out-and-back trail brings you to the Suavie Island's River Lighthouse, and wide views of the mighty Columbia River. You can watch tug boats and enormous cargo ships work their way along the Pacific Northwest's chief waterway. 
Suavie Island farming
Many people enjoy going to Suavie to get their groceries. Why go to the farmer's market when you can go right to the farm itself? The island's countryside holds a number of farms and U-picks, giving you the chance to get fresh food in a beautiful setting.
Children can learn about Oregon's early days at Howell Territorial Park. The 120 acre park showcases the natural and historical heritage of Suavie Island. You can picnic, birdwatch, and explore a restored 1850's farm house.
For most people, Suavie spells W-A-T-E-R. The island is one of the best places to bring out the boat and have fun. Two sandy beaches welcome you. But be advised, only one of those beaches requires clothes!
#2 Columbia River Gorge
If you're looking for scenic drives and great hikes then simply head east on the Interstate 84 to reach the majestic Columbia River Gorge.
The Gorge is one of the best ways to experience the Pacific Northwest in a single day. You can trek an incredible landscape, explore Oregon's rich history, and enjoy culinary delights in the span of a few hours.
The Columbia Gorge National Scenic Area is one of the best scenic drives in the entire United States. Breathtaking waterfalls cascade over ancient basalt cliffs surrounded by verdant, pine forests.
Multnomah Falls is the best known of the many waterfalls found throughout the Gorge.
The mighty Columbia River is equally impressive. The massive river is the host to countless animals including deer, salmon, eagles, and osprey. You can spot cargo ships, tugs, and other vessels as they work their way along the powerful river.
The historic Columbia River Highway is one of the best ways to explore the natural beauty of the Columbia River Gorge.
Columbia River Gorge History
You can experience the Columbia's history through the three National Trails that traverse the Columbia River Gorge.
Ice Age Floods National Geologic Trail follows the course of the Missoula Megafloods that tore through Idaho, Washington, and Oregon before emptying into the Pacific Ocean. These cataclysmic floods were truly awesome, and played a big role in shaping the Gorge and the Pacific Northwest.
You can also follow the course of a more recent flood. The Lewis and Clark National Historical Trail and the Oregon National Historic Trail follow two major events in the Westward Expansion of the United States. Both the Corps of Discovery and the Oregon Trail passed through the Columbia River Gorge.
But you don't have to be rugged and outdoorsy to enjoy the Gorge. In fact, this is one of the best places to spoil yourself and your loved ones with some real luxury.
You can cross to the Washington side of the Gorge and spend a day at the Bonneville Hot Springs or enjoy art galleries and wine tasting in Hood River. Either way, you're in for a treat.
#3 Willamette Valley
Speaking of wine tasting, we wouldn't be doing this post justice if we didn't feature the Willamette Valley. Wine tasting with kids may sound impossible, but its not all that uncommon here in Oregon. In fact, several wineries host events that welcome families.
The Willamette Valley is the largest of Oregon's five wine regions. Dozens of vineyards and tasting rooms invite you to explore Oregon's remarkable wines. Over 100+ varieties grow in Oregon, including her famous Pinot Noir.
Quality restaurants offer another way to sample Oregon's bounty. The Willamette Valley is full of small towns that are big on taste. Filberts of Aurora is one such example.
We stopped in for lunch one day and were more than satisfied with their creative and delicious entrees. Filberts was just down the road from Old Town Aurora, one of Oregon's oldest towns. You can start or end your visit to this historic town with a great meal at this acclaimed restaurant.
You don't have to drive as far as Aurora to experience the Oregon countryside. In fact, rural beauty is only minutes away from anywhere in the Portland metro area.
Oregon's laws limit the growth of its cities and that means that it isn't difficult to get into the countryside. U-picks, dairies, farm stores, and produce stands are easily found just outside the city limits.
Better yet, you can stay in the countryside and enter Portland only when you want to! Towns like Newberg, McMinnville, Sandy, and Estacada make it possible to get the best of Portland and her surroundings. A host of rental homes provide the option of enjoying the city while staying in the country.
#4 Salem
Oregon's capitol city is a great day trip destination. For one, Salem is a straight shot from Portland. You can reach Salem in less than an hour via the Interstate 5.
Better yet, Salem offers much of Portland's urban scene for only half the trouble. Downtown Salem has its own constellation of gourmet restaurants and hipster hangouts. Shops, museums, and historic sites offer a number of ways to explore and enjoy the mid-valley's largest city.
#4 Mount Hood National Forest
Portland's mountain is a natural place to go for family adventure. Mt. Hood is both the tallest mountain in the Portland area and is relatively easy to reach. The mountain offers a host of family adventures all year long.
Nature lovers will appreciate all the beauty to be found in the Mount Hood area. Trillium lake, Upper and Lower Zigzag Falls, and Mirror Lake are some of the best known destinations. You can even take Highway 35 to circle the mountain and return to Portland via the Columbia River Gorge!
Snow is Mount Hood's biggest attraction. The mountain's slopes hosts snowboarders, skiers, and sledders. Cross-country skiing and snowshoeing are also popular.
You can even find a lot history of the mountain. The historic Timberline Lodge is probably the most popular historic site. But Mt. Hood also holds an important stretch of the Oregon Trail.
#5 Oregon's Coast Range
One of Portland's best kept secrets lies just to the west of the Rose City. The Coast Range is a lovely, forested mountain range that stands between the Willamette Valley and the Oregon Coast. This is the place for scenic beauty, less crowds, and less stress.
We've appreciated the quiet towns, beautiful hikes, and wonderful state parks of the Coast Range. Towns like Vernonia are full of fun shops and great hole-in-the-wall restaurants.
Stewart Stubb State Park is one of the best state parks in the Portland area while Ft. Yamhill State Park is one of the most historic.
Altogether, this option offers the beauty and history of Oregon without the expense and exhaustion of a heavy-duty day trip.
Medium Portland Oregon Day Trips (2 Hour ETA or More)
A you willing to drive a little longer? These next three Portland Oregon day trips are well worth a two hour drive.
#6 Oregon Coast
Cannon Beach
Oregon's coastline is one of the wonders of the Pacific Northwest. The state's towering, forested headlands and rocky, wild waters capture the imagination. Natural beauty and a rich history come together here to create one of the most intriguing places in the United States.
It isn't difficult to get to the coast from Portland. In fact, you can reach Oregon's famous Cannon Beach in around an hour and a half.
Oregon's best known coastal town boasts one of the state's most beautiful beaches. In fact, there's a good chance that you've already seen pictures of Cannon Beach that were taken at Ecola State Park.
North of Cannon Beach: Astoria
More wonders lay to the north where the Columbia empties into the Pacific Ocean. Astoria, Oregon's oldest town, sits just inside the mouth of the Columbia River. History and legends abound in this ancient fishing town.
Lewis and Clark found their way to the Pacific in this area. They also wintered here at what is now Lewis and Clark National Historical Park.
The town of Astoria began as a fur-trapping fort before eventually taking its place as the gateway to the Columbia. You can trace this remarkable history at the Astoria Column, the Columbia Maritime Museum, and Fort Stevens State Park.
South of Cannon Beach
Go south of Cannon Beach to find the lesser visited and lesser known secrets of the Oregon Coast. First stop is Oswald West State Park. Breathtaking views and beautiful, hidden beaches make this one of Oregon's best state parks.
The nearby town of Rockaway Beach includes miles of sandy beach, local charm, and the best kite-flying festival of the Pacific Northwest.
Tillamook is quickly becoming one of Oregon's best-known small towns. The Tillamook Creamery put this town on the map, but there's a lot more there than great cheese and ice cream.
Be sure to visit massive Hangar B, the location of the Tillamook Air Museum, or take a stroll through old-growth forests at Cape Meares National Wildlife Refuge.
Pacific City & Cape Kiwanda
Our favorite beach is just south of Tillamook next to Pacific City. Cape Kiwanda and Pacific City beach may be the best family beach in Oregon. You can enjoy the natural beauty of the Pacific Northwest by taking a short hike in the Cape Kiwanda State Natural Area or explore the tide pools during low tide.
The nearby town of Pacific City offers both charm and convenience. You can read our in-depth review of Pacific City Beach here.
#7 Silver Falls State Park
This is one day trip that you don't want to pass up. Imagine visiting ten incredible waterfalls over a four mile trail of verdant forestland.
Silver Falls State Park preserves this majestic landscape. The park's Trail of Ten Falls is regarded as one of the best hikes in North America.
All ten of the waterfalls are beautiful and four of the falls actually permit you to hike behind their cascading waters! Little wonder that this park is nicknamed the "Crown Jewel of Oregon's State Parks."
Oregon's best state park is also one of the easiest parks to visit. The Silver Falls SP is only an hour and half south of Portland, and only half an hour from Salem. In fact, its location makes it easy to reach when driving north or south on the Interstate 5 freeway.
Silver Falls State Park has a lot more to offer than its outstanding waterfalls. The park features several well-developed campgrounds and cabins. Trails welcome pets, mountain biking, and horseback riding.
Climb a Tree at Silver Falls SP
You can even climb a tree. Tree Climbing at Silver Falls leads guided climbs up enormous old-growth trees.
Our family took a day climb with Tree Climbing at Silver Falls and we loved the experience. The climbing guide taught us all we needed to know before putting our new knowledge to work on a practice tree.
@dinkumtribe

Tree climbing is a full body workout! It took us a few tries to get the feel of using the ropes and ascenders to climb. Once the ascender is attached to your harness and the rope, you're ready to start ascending. To do this, step into the foot loops and use your legs in a "squat" move to push the ascender up the rope. Keeping the wrist straight as you push the ascender upwards is important too. Repeat several times to keep going up. It's a LOT harder than it looks! Once you reach the desired height, you can release the ascender and swing a bit. Ascenders are a great tool for tree climbing and other activities. With a little practice, you'll be using them like a pro in no time! @dinkumtribe @dinkumtribe @dinkumtribe #treeclimbingadventure #oregonoutdoors #savetreeclimbing #familyadventuretravel #treeclimbinggear

♬ original sound – tuckerbudzyn
Then we hiked into the forest and began to ascend a 300 year old Douglas fir. The tree climb was a lot of fun, and we were impressed at how considerate and patient our guide was with us and our children.
Tree Climbing at Silver Falls runs day climbs, sunset climbs, kids camps, and even overnight tree camps. Yes, you can camp out overnight in a tree at Silver Falls State Park!
We'd like to thank Tree Climbing at Silver Falls for providing for our full day climbing experience.
Where Oregonian's Go to Play
The nearby town of Silverton is one of Oregon's best-loved destinations. This is one of those places that locals go to eat, stay, and play.
Silver Falls State Park is one of the best Portland Oregon day trips for families. There's simply no lack of things to see and do at this remarkable state park.
#9 Eugene
Eugene is best known as the home of the Oregon Ducks. But there's much more to this city than the University of Oregon.
Eugene is the gateway to the Southern Willamette Valley, the McKenzie River, and the Willamette National Forest. And all three of these areas are prized for their quiet and wild beauty. You have a better chance of experiencing in nature in this remote corner of the Willamette Valley.
This college town has plenty of cuisine and culture. You can taste an incredible mocha, study Ice-Age artifacts, and follow the historic Applegate Trail in a single afternoon.
Ok, and the Oregon Ducks store is pretty cool too!
Big Portland Oregon Day Trips (3 Hour ETA or More)
Some destinations are truly worth the long haul. Here's six Portland Oregon day trips that fit that bill.
#10 Smith Rock State Park
Central Oregon holds some of the most beautiful places in the entire state. Smith Rock is the best known of these natural wonders. The formidable rock complex is a place of rugged beauty and remarkable challenges.
We've been to Smith Rock State Park twice now, and we still feel the need to return. The scenery is simply stunning. One of our favorite things to do is watch the rock climbers as they inch their way up the rock faces, and the eagles and they glide steadily above the canyon walls.
#11 Cove Palisades State Park
Cove Palisades State Park is another fantastic Central Oregon destination. I have to confess that I'd never though much of this place until we spent a week there. This State Park brings all the beauty, wildness, and fun of Central Oregon into one place.
Cove Palisades SP is a great place for hiking, water sports, and just taking it easy. Lake Billy Chinook's gentle waters make for good fishing, kayaking, and stand up paddle boarding.
The scenery is truly epic. The Crooked River Rim Trail quickly became one of our favorite hikes of 2022. You can enjoy natural wonder, indigenous history, and good vibes at this beloved state park.
#12 Bend (and Co.)
Central Oregon has a vibrant urban scene and Bend is the at the heart of it. Sunshine, snow, and scenery have made Bend the place to play and stay. Resorts, brewpubs, and boutiques welcome families who are ready to relax, enjoy, and explore.
Be sure to check out all of your options before you start out toward Central Oregon. Bend may be the biggest city is the area, but there are plenty of competitors! Towns like Sisters, Sunriver, and Redmond have plenty of charm and culture of their own.
#13 John Day Fossil Beds National Monument
Here's a must-do day trip. Jennifer and I spent a week at the John Day Fossil Beds and we still can't wait to return. We're hooked on the rugged country, remarkable sites, and quiet towns of the John Day area.
The John Day Fossil Beds NM includes Oregon's famous Painted Hills. But these beautiful hills are only one of the monument's three park units. The Sheep Rock unit and Clarno unit are also worth the drive.
The Thomas Condon Museum of Paleontology is a great place to learn about this remarkable landscape and its rich natural history. Nearby towns of Fossil, Mitchell, and Condon are both serene and full of character.
You'll want to put in some planning before taking this day trip. The John Day Fossil Beds are four hours from Portland and located in a remote part of Oregon. Be sure to read our in-depth review here.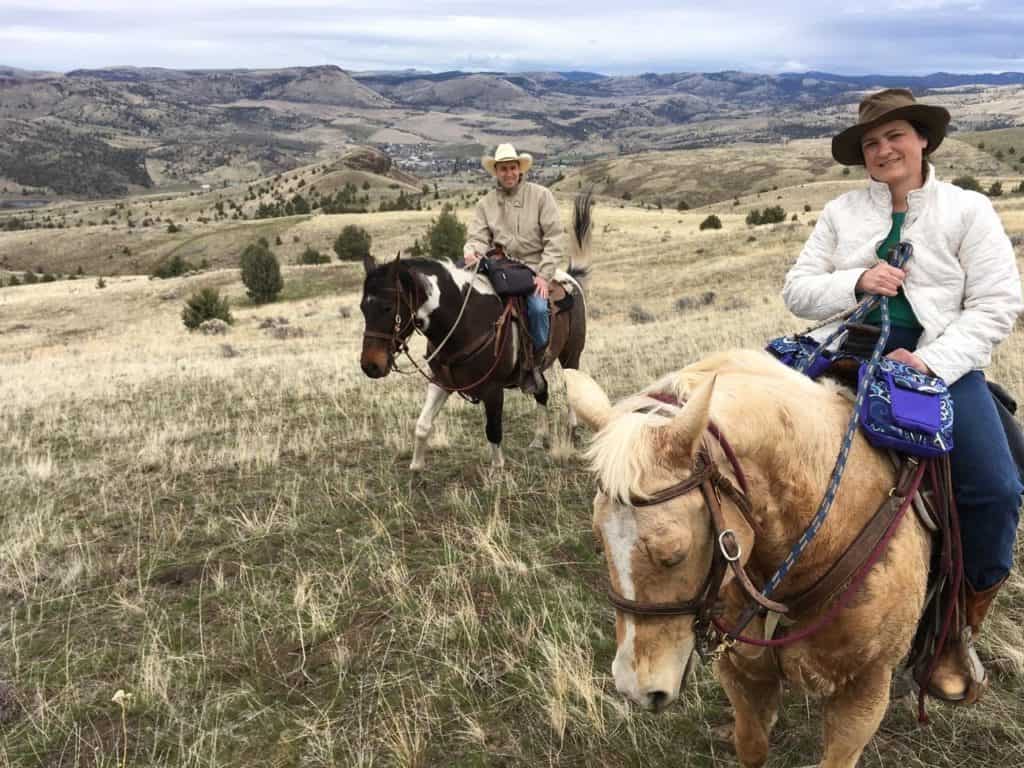 Looking for great National Park Roadtrips?
#14 Eastern Oregon
Eastern Oregon is one of the state's best kept secrets. This region is full of fun, beauty, and history. It's also fairly easy to access thanks to the the Interstate 84. If you're itching for solitude, scenic beauty, and something new then this is a good destination for you.
Be sure to put in some research before pulling out of the driveway. Some sites are easily accessible while others take much more work. For example, the Pendleton Woolen Mills or the National Historic Oregon Trail Interpretive Center are just off the interstate. By contrast, the Owyhee Canyonlands are much more difficult to reach (9 hour ETA)!
#15 Washington State
Downtown Portland is right next to the Washington border, making it a superb starting point for exploring the Evergreen state. But, not all of those destinations are easy to reach. Here's a quick breakdown of Washington destinations for Portland Oregon day trips:
1 Hour ETA:
Fort Vancouver National Historic Site: Did you know that there's a National Park right next to Portland? Fort Vancouver NHS may be the best place to learn the indigenous, frontier, and modern history of the Pacific Northwest. This British Fort played a key role in the formation of Oregon and Washington, and latter became an important United State military installation. Read our in-depth review of Fort Vancouver NHS here.
2+ Hour ETA:
Mount St. Helens: Washington's most active volcano is a short drive from Portland. The Johnston Ridge Observatory is an ideal way to get your kids into earth science and the glories of the natural world. Be sure to look into the Ape Caves, a well loved but lesser known treasure of this National Volcanic Monument.
Mount Rainer National Park: You don't have to fight through Seattle to visit her iconic mountain. Mount Rainer NP is truly worthy of its reputation for astonishing beauty. Make the drive here if you can.
Seattle: The Emerald City is a world of culture and class. You won't be short of things to do in Seattle and its suburbs. Pike Place Market and the Space Needle are both fun and exciting. We also recommend exploring Tacoma or one of the islands of Puget Sound.
3+ Hour ETA:
Leavenworth: Washington's famous alpine town is nearly five hours from Portland. You'll want to plan your trip with Seattle traffic in mind.
Washington National Parks: Washington has first-class national parks, but day trips to these park require lots of preparation and a fair bit of travel time. Olympic National Park appears to be close to Portland. In reality, however, you'll need much more time to actually access the Peninsula and its famous Park. The same can be said for the San Juan Islands and North Cascades National Park. You can find a full list of Washington's National Parks here.

Time for an Adventure!
There's no lack of beautiful destinations for Portland Oregon day trips! Is there are destination that you're wondering about? Please drop us a comment and we'll get you the information you need. Happy Traveling!
© Copyright Brian A. Warren 2022.