If you're looking for family activities near McMinnville, Oregon, look no further! This charming area in Oregon's Willamette Valley is home to a variety of fun activities that will keep the whole family entertained. From space age wonders to world-class wineries, there's something for everyone in McMinnville. It's one of our family's favorite places to visit!
This post contains affiliate links. As an Amazon Associate I earn from qualifying purchases made from the links on this site, at no extra cost to you. Thanks for supporting our family business!
Table of Contents
General facts about the McMinnville area
McMinnville (the biggest city in Yamhill County) is located in the heart of Oregon Wine Country, the Willamette Valley. This area is famous for its distinctive wine-growing soil and conditions (the Yamhill-Carlton AVA).
Oregon is also well-known for its craft beers, and the Willamette Valley has no lack of breweries. Many breweries and vineyards are family-friendly and offer excellent food options alongside their signature beverages.
Only an hour from the Portland area or from Salem, McMinnville is easily accessible for a day trip, or even for a weekend exploring with children of all ages. Several family-friendly activities are available year-round. Seasonal festivals offer great opportunities too (see below for our review of Yamhill's Beverly Cleary celebration)!
Kids and wineries may seem an unlikely pairing, but Yamhill County is a place where families can get the best of both. We've come up with the best kid-friendly things to do in McMinnville Oregon (and nearby). We've also included a list of breweries, wineries and restaurants that are family-friendly at the end of the post.
1. Evergreen Aviation and Space Museum
I have been visiting this museum since my parents moved to Oregon in 2002, and it gets better with every new visit. It's well known throughout the area as one of the Willamette Valley's best attractions.
@dinkumtribe Here are some of the featured aircraft at the Evergreen Air Museum in McMinnville: -Hughes H-4 Hercules (Spruce Goose): The Spruce Goose is the largest flying boat ever built. It was designed by Howard Hughes and flew for the first time in 1947. -B-29 Superfortress: The B-29 Superfortress was a heavy bomber that was used in World War II and the Korean War. It is best known for its role in the atomic bombing of Japan. -SR-71 Blackbird: The SR-71 Blackbird is a retired spy plane that was the fastest aircraft in the world. It could fly at speeds of over Mach 3. These are just a few of the many aircraft that are on display at the Evergreen Air Museum. It is a great place to learn about the history of aviation and space exploration. @DinkumTribe ADHD family travel @DinkumTribe ADHD family travel @DinkumTribe ADHD family travel #mcminnvilleoregon #mcminnvilleor #airmuseum #sprucegoose #airplanetiktok #oregontravelideas #oregontravelguide #travelwithkids #adhdfamilytravel #thingstodoinoregon ♬ Wow. – Instrumental – Post Malone
The museum keeps expanding (as in, they actually added a whole new set of buildings to house their growing collections) and offers a huge variety of aircraft and spacecraft.
Aviation Museum Highlights
The Evergreen Aviation Museum is home to Howard Hughes' "flying boat," better known as the Spruce Goose. The Spruce Goose is the largest wooden aircraft ever built and it dominates Evergreen's Aviation History building.
Kid-friendly features
Many of the aircraft on display can be touched or explored up close, and there is a hands-on exploration lab for kids to learn about the science of flight too.
The kids activities are top-notch, and the Museum is an educational leader in providing high-quality STEAM-themed learning experiences. The gift shop is an aviation enthusiast's dream come true!
All of our children loved the hands-on areas and the carnival-style mini-airplane ride inside. NOTE: both the hands-on lab and the airplane ride were closed when we recently visited. Call ahead before you go to see if they're running on the day of your visit.
Then they ran around outside on the huge aviation-themed playground. The playground is free, so even if you can't do the full museum experience, it's a great place to run off energy.
Space Museum Highlights
The Space Building is dedicated to space travel, and tells the story of humanity's Space Race. We've walked through the exhibits several times, and each time I come away with a new appreciation for the ingenuity and hard work that made space travel possible.
On our most recent visit, we spent significant time exploring the Titan II space craft exhibit. You can actually climb down to walk underneath the base of the rocket!
There's also a Mission Control center where the audio recording of an actual launch is played on continuous loop. Our boys loved counting down with the audio!
Even more cool stuff!
There's a large collection of Bell Helicopters in the Space Museum as well. It's fascinating to see all of the science and technology involved in making helicopter flight possible. We laughed seeing ourselves on the display that shows how infrared vision has helped in military operations!
Walking the length of the intercontinental ballistic missile rocket, seeing its massive size up close and personal, is an unforgettable and sobering reminder. Our boys were able to connect this with our visit to the Minuteman Missile Silo NHS and recognize some of the historic importance.
But the top aircraft that our boys wanted to see most in the entire museum was the SR-71 Blackbird! Their delight and enthusiasm was contagious as they walked its length and checked out the ejection seat nearby.
Budget options
This museum is well worth its high price tag. However, there are several discounts available to different groups, so check their website (or call ahead) to see if you qualify for a reduced admission fee.
Several libraries in the Portland and Salem regions offer a free family Cultural Pass with a library card. There's also a discount for SNAP recipients.
If you're on a limited budget, there are several planes and vehicles situated outside of the actual museum. Visitors can check these out free of charge, walking around and under them.
Evergreen Aviation and Space Museum is the perfect place for visitors of all ages. It's one of our favorite family activities near McMinnville. I've been to several aviation museums, and this one is one of the most comprehensive and engaging.
2. Wings and Waves Waterpark
Where else can you waterslide out of an airplane at the top of a four-story building?
Wings and Waves is located right next door to the Evergreen Air and Space Museum. The airplane up top is the high point of four different waterslides that take you into the entirely indoor waterpark.
Know Before You Go
Wings and Waves has all the standard fun features you can find at most water parks.
A wave pool with a giant movie screen plays family-friendly movies while you float.
There's also splash pads, and some smaller water slides.
Prepare to walk up a lot of stairs if your kids want to ride the big slides!
It opens in four-hour segments, one in the morning and the other in the late afternoon during the summer. Check the website for dates and sessions offered before you go.
Several food options available for purchase.
I came here with my daughter for a mother-daughter date, and it's totally worthwhile. Minutes from downtown McMinnville, you can wear your kids out here and then enjoy a nice dinner at a local restaurant or winery. Win-win for parents and kids!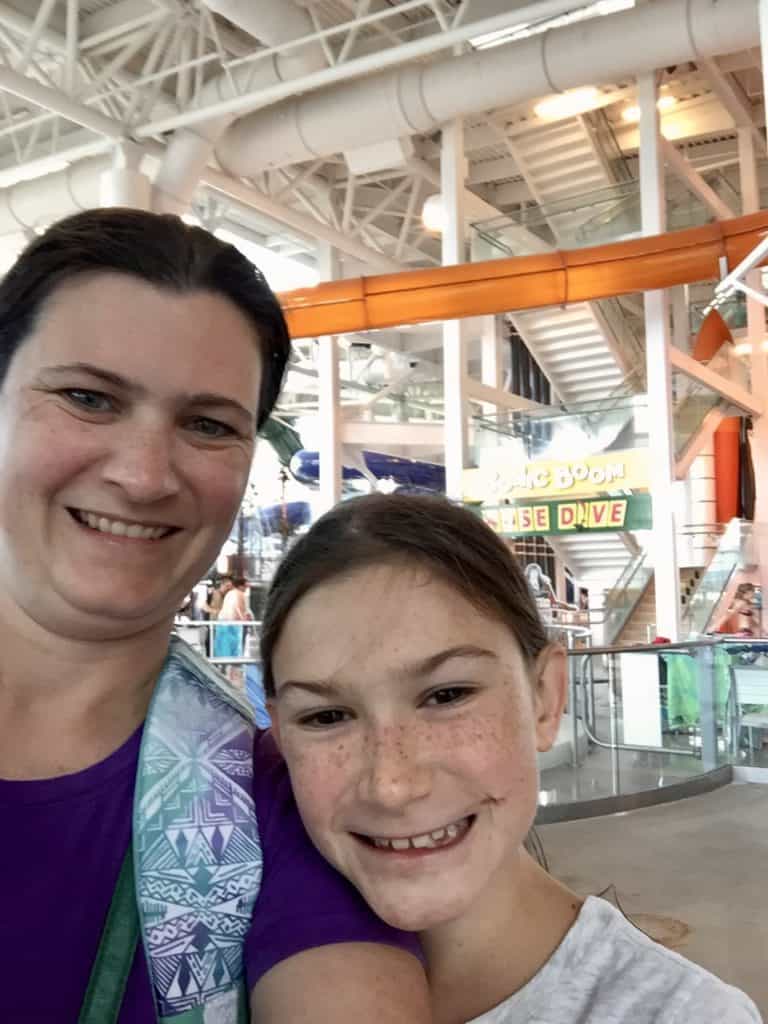 3. Beverly Cleary Walk In Yamhill
Childhood Memories Brought to Life
Have you ever read a story where the main characters were so real, you felt like they were your closest friends? Or have you ever read a story that was so engaging, you had to shake yourself back into reality when you put the book down?
That's how Beverly Cleary wrote about the everyday lives of children in her novels. I could not wait for my children to be old enough to read so that we could share her stories together! 
The first chapter book I remember reading was Ramona the Pest, by Beverly Cleary. Ramona is an ordinary, imperfect kid, and that's precisely why kids love her! She's not slaying dragons or finding a magic bean— she's eating apples and playing with balloons and getting into fights with her big sister.
Beverly Cleary's Hometown: Yamhill, Oregon
My favorite novel, Emily's Runaway Imagination, mirrors Beverly's own small town experiences in Yamhill, Oregon in the early 1900s. A Walk with Beverly is a self-guided tour of downtown Yamhill (15 minutes' drive from McMinnville) that shows various points of interest connected with Beverly Cleary's books. 
It's an easy stroll, and there are well-marked signs at each stop. The signs show different scenes from Beverly Cleary's books, and discuss highlights from her time in Yamhill, as well as sharing local Yamhill history. Grab a hot drink from Scoggins Creek Coffee, and enjoy this relaxing family activity.
Historic Town
Yamhill got its start as a logging town and stage coach stop. As we followed the signs around town, we saw lots of reminders of the early boom town days.
There was a giant pulley outside the first bank building, and the log cabin restaurant that used to be a stage stop. Plus, half a dozen logging trucks filled with lumber logs passed right next to us on the main street!
Touring Yamhill
The first stop on the tour marks the building where Beverly Cleary and her mother started the town's first library. Just like Emily in Emily's Runaway Imagination! The first library has been gone for some years, but a new avid reader has made it her mission to get one started again.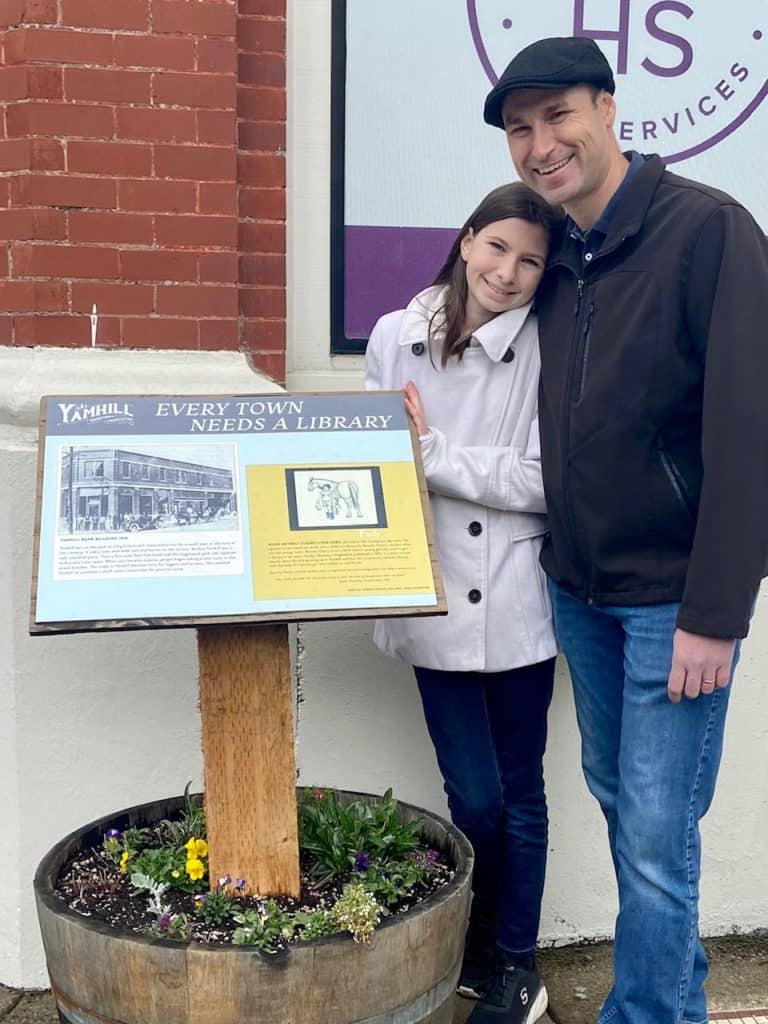 Madeline Weber has her own "little library", and she is working hard to raise funds to create a new city library for the children in her community.
Madeline's Library is a great way to show your kids how one child can make a difference. Our kids enjoyed meeting Madeline and exploring the town with her, and came away with a greater appreciation for their own local library.
Another stop on the Beverly Cleary walk is at Beverly's childhood home. The house is a Queen Anne-type cottage and the current owner has a beautiful garden in front.
Beverly credited much of her creativity to her experience growing up as an only child in that farmhouse and the surrounding farm.
Local Special Event
The Yamhill Downtown Association is taking the walk to the next level by adding Ribsy's Dog Park at the end of the current tour. It'll be a great place for kids to bring their pups and continue to write their own imaginative stories.
The Yamhill Downtown Association raises funds each year through a Beverly Cleary Walk/ Run Celebration in the beginning of May.
It's always a great family-friendly event, with good food, fun activities like face painting and local music performances, and a story writing contest. The proceeds go towards continuing to expand the Literary Walk.
Kid-friendly parks in McMinnville
4. Downtown McMinnville City Park (The Dragon Park)
McMinnville City park has lots to offer families. Locally, everyone knows this park as "The Dragon Park" (for an obvious reason).
The 10,000 square foot wooden playground structure is the perfect place for hide-and-seek or an epic game of freeze tag (our kids' favorite). In our experience, the bigger and more extensive a playground is, the longer kids tend to play on it.
The park is located on grounds that were formerly a grist mill, so you can learn some local history from the signs around the park.
If the weather is not cooperative, there's also the McMinnville Library and Recreation Center right there.
5. Discovery Meadows (Playground and Splash Pad)
Discovery Meadows Park is a 22-acre park located in McMinnville, Oregon. The park has so much for kids and teens to do!
Our kids spent a couple hours here and despite the intermittent rain, they still enjoyed exploring all the fun features. Our teens weren't too old to amuse themselves on some of the unique playground features, such as the zip line and barrel roller.
The climbing wall was a great challenge for our boys, and helped burn some of that hyperactive ADHD-energy. Since the ground surfaces were bark chips and rubber play mats, even a rainy day meant that we didn't have to worry about mud.
The splash pad is extensive, and has fountains and spray jets. It's well known as a great spot to take kids on a hot day— we had families in Silverton recommend driving over to it (an hour away)! The splash pad is open seasonally from about Memorial Day to Labor Day.
In addition to the playground, Discovery Meadows also has a skateboard area, a basketball court, walking paths and a picnic shelter.
6. Joe Dancer Park
Joe Dancer Park is a 100-acre park located in McMinnville, Oregon. The park is open year-round and is a popular spot for both recreation and relaxation. The 12 baseball/softball fields are used by local teams for practices and games, and the 12 soccer fields are also used for tournaments and other events.
The mile-long hard surface pathways are good for walking, running, or biking, and the 1.2 miles of soft forested trails are a great place to go for a hike or nature walk. The wetland is a great place to see wildlife, and the skate park is a popular spot for kids and teens. The playground is the perfect place for young children to play, and there are portable restrooms throughout the park.
Other Kid-Friendly Things to Do in McMinnville
7. Third Street Books
Third Street Books is an independent bookstore located in the heart of downtown McMinnville, Oregon. The bookstore has a wide selection of books, including fiction, nonfiction, children's books, and more. Along with the books, there were so many funny stickers, notepads, goofy socks and other fun gift ideas!
It also has a large selection of local authors and books about the Pacific Northwest. One of our daughters was delighted to see a section just about mushrooms, and everyone found books and gifts that they wanted.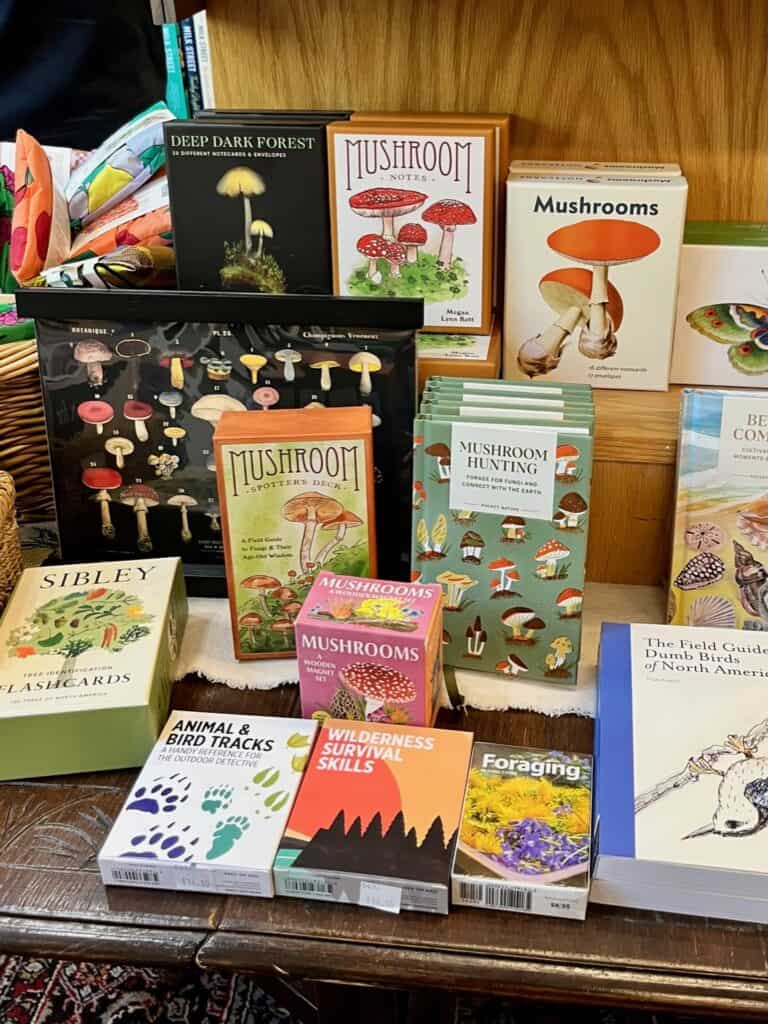 The bookstore also hosts a variety of events, including author readings, book signings, and story time for children.
8. Hopscotch Toy Store
Hopscotch Toys is a small, independent toy store located in McMinnville, Oregon, just a short walk from Third Street Books. The store specializes in high-quality, open-ended toys that encourage creativity and imagination.
We all had fun trying on the different silly hats and exploring the extensive collection of toys and games. Our teens appreciated the Dungeons and Dragons merch, while our younger kids loved the huge Schleich toy display.
9. Joysticks Arcade and Eatery
Joysticks Arcade & Eatery is a family-friendly arcade and eatery located in McMinnville, Oregon. It has lots of arcade games for all skill levels, including classic games like Pac-Man and Donkey Kong, as well as newer games like Galaga Assault and Cruisin Blast. The arcade also has a selection of pinball machines, as well as an Oregon Lottery terminal.
In addition to arcade games, Joysticks also has a full bar and restaurant. The menu features a variety of food items, including hot dogs, burgers, pizza, and wings. There are also a variety of drinks available, including beer, wine, cider, and soda.
10. Erratic Rock State Natural Site (20 minutes away)
We had seen the State park sign several times on our way out to the coast. The sign is in the middle of farmland, and points up a hill that is decidedly mundane. Brian is a geologic history buff, so we made a detour.
We parked in front of someone's farm, and saw the sign marking the path up the hill. As we trekked past the geese and ducks on one side, vineyard on the other, we were excited to see what would be up at the top. We rounded the bend and saw… a big rock. Seriously. That's it.
The grassy area around the rock was big enough to have a little picnic, so we did. While the kids clambered about, Brian gave us a short rundown of the value of this particular boulder.
Significance of Erratic Rock
This rock is evidence of the Ice Age Flood that created much of the greater Willamette Valley and Columbia River Gorge. The erratic doesn't match the other rocks around, but is too huge to have been brought there by humans. There's a fascinating history behind the rock's journey from the Rocky Mountains to Oregon, but I won't spoil it for you.
When this 90-ton rock was found, it provided proof of the theory that geologists had proposed that a giant lake flooded through the entire Willamette Valley and Columbia River Gorge, and that's how this rock got here. Sadly it is shrinking because people kept taking bits of it off.
Why Visit the Erratic Rock?
Although it's not a super exciting stop, this is still a popular spot with locals and visitors passing through. Here's why:
Expansive view of the Oregon countryside. Great for photo ops and sunset watching.
Several local fruit stores/ markets and vineyards within a ten minute drive.
Quick stop on the long trip from Portland's Metro area to the Coast. The moderately steep, paved trail is a great "stretch-your-legs" place.
A good supplement with several other Oregon stops (Columbia Gorge Discovery Center, Tualatin Ice Age Walk) as part of the Ice Age Floods National Geologic Trail.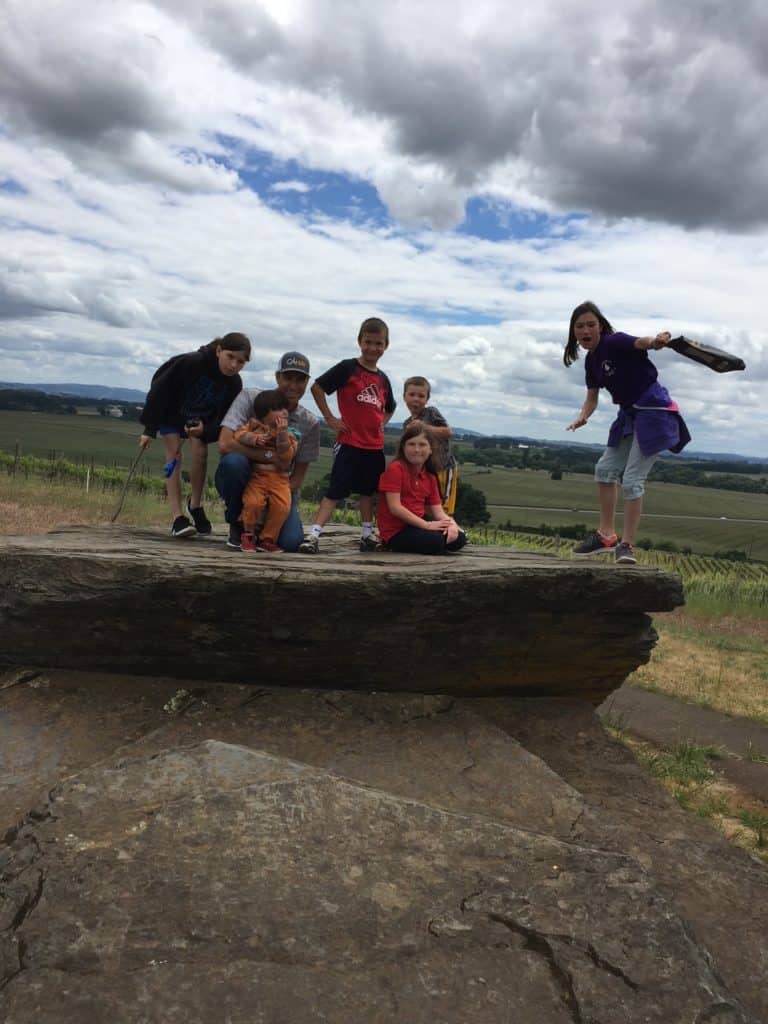 Know Before you Go
Please note:
No bathrooms are available
The park includes little more than the rock, interpretative signs, and a picnic area.
Follow signs carefully as the GPS has sometimes sent people up a private driveway adjacent to the state park
Kid-friendly Eateries in or near McMinnville
So you've worn the kids out at one of the fun activities listed above, and you're ready to relax with a nice glass of pinot noir or craft beer. We've got you covered!
Here's our list of some of the best family-friendly wineries, brewpubs and restaurants in the McMinnville area. We haven't personally visited all of these yet. But after visiting dozens of wineries and breweries in the Willamette Valley, we can assure you that a wine or craft beer lover really can't go wrong in Oregon!
Mc Menamin's Hotel Oregon
The McMenamins Hotel Oregon restaurant is located in the historic Hotel Oregon building in McMinnville, Oregon. The restaurant is known for its classic pub fare, handcrafted beers, and special events, including sponsoring the annual UFO Fest!
The menu features a variety of dishes, including burgers, sandwiches, salads, and pizzas. Our kids were all able to find something yummy to eat, and they enjoyed the creative coloring pages too.
The restaurant also has a full bar with a wide selection of beers, wines, and spirits. Jenn tried the seasonal mojito and found it to be delicious and refreshing.
In addition to the food and drinks, the McMenamins Hotel Oregon restaurant also has a lively atmosphere. The restaurant hosts live music several nights a week, and there is often a game on the TV. The rooftop bar is a popular spot for locals and visitors alike to gather and socialize.
Las Molcajetes
Los Molcajetes is a Mexican restaurant located in McMinnville, Oregon. It is known for its fresh, authentic flavors, friendly service, and great atmosphere. The restaurant has a casual dining setting with indoor and outdoor seating. Our kids loved the brightly colored chairs and tables and the huge servings!
The menu features a variety of Mexican dishes, including tacos, burritos, enchiladas, and molcajetes. We ordered several different dishes, from fajitas to ultimate nachos and kids meals, and everything was hot, authentic and delicious.
Las Molcajetes is one of the more popular local restaurants, so call ahead for a reservation if you're bringing a large party.
Grain Station Brew Works
Have lunch or dinner in a historic timber barn— or better yet, outside on the patio! This is a top-rated restaurant by locals and out-of-towners alike. We heard it recommended by folks as far away as Salem, so it's worth the drive.
We enjoyed lunch here recently, and appreciated the casual, family-friendly atmosphere. All the food arrived hot and delicious, and the boys loved how cheesy the pizza was!
Brian tried Grain Station's Pitchfork Pilsner, which won Grain Station Brew Works a Gold Oregon Beer Award. It was crisp, and provided just the right "pop" alongside his burger and Cajun tots.
The menu, like many restaurants in the Pacific Northwest, uses many local ingredients and includes local craft beers. Options for gluten-free, vegan, and other specialty diets are also available. Right in downtown McMinnville, this would make a fun place to end the day.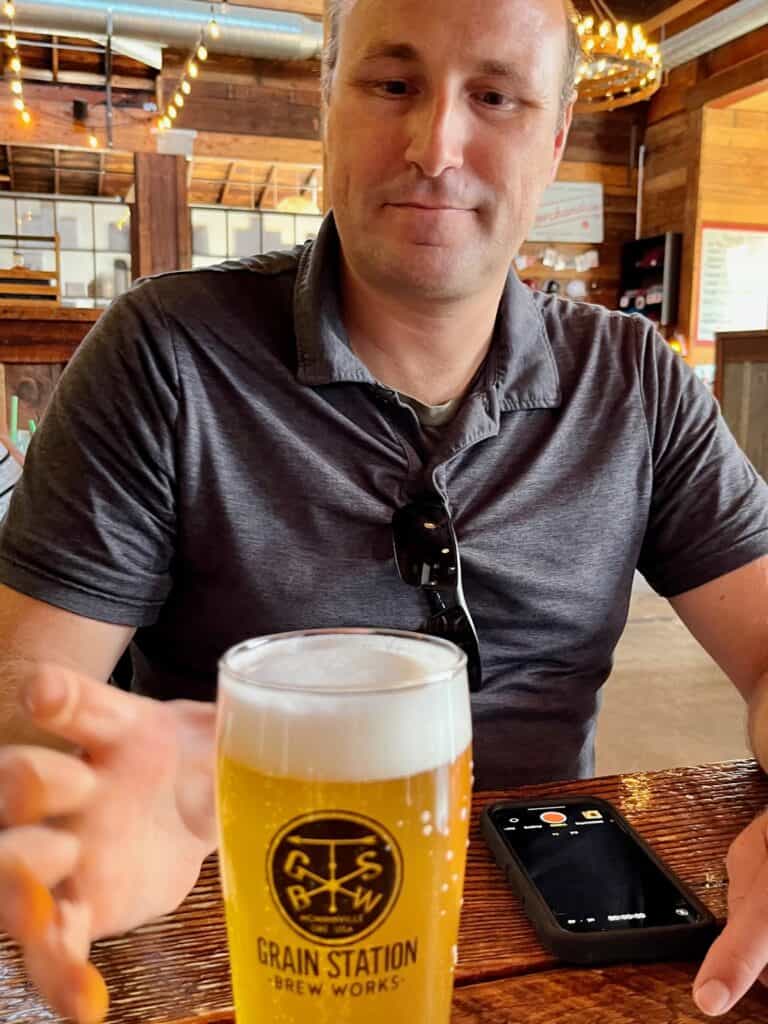 Stoller Family Estate
Stoller Family Estate has great wines and lots of space, and it's not far from McMinnville (in the town of Dayton). Their beautiful tasting room has amazing views, and you can even stay on-site in one of their guest houses. This would make a great weekend getaway spot for a family vacation with extended family.
Youngberg Hill
Youngberg's wine tasting room is only about ten minutes out from McMinnville, and has beautiful views as well. If you get a break from the kids, Youngberg Hill winery offers a luxury Inn experience with bed and breakfast options. It's the perfect weekend getaway for couples.
More kid-friendly things to do near McMinnville Oregon
We've shared five of our favorite kid-friendly activities in McMinnville Oregon, but this is only a start! The local cities of Newberg, Carlton, St. Paul, and other small towns nearby offer even more hidden gems to explore, from state parks, to rodeos, to drive-in movie theaters. Here's some fun things to check out!
A short drive away (about 30 minutes)
From Another Udder offers homemade ice cream available spiked for adults or in standard kid-friendly flavors) in downtown Carlton. There's a conveniently-located park and pool right across the street, which includes a huge tree that's over 100 years old!
Lafayette Locks is a historic county park about 10 minutes away from McMinnville. The Lafayette Locks were a set of locks and dams on the Yamhill River in Lafayette, Oregon built from 1898-1900. The locks were decommissioned in 1957, but the remains are still visible today. Today, the Lafayette Locks Historic Park is a popular spot for fishing, hiking, and bird watching.
The 99W Drive-In is a family-owned and operated drive-in theater in Newberg, Oregon. It's one of the last remaining drive-ins in Oregon. The theater has a traditional snack bar but you can also bring your own food and drinks. The 99W Drive-In is open from April to September and the first showings start at dusk, which is around 9:00 PM in the summer.
Here's a few more of our favorites:
An hour or more away
If you're looking for a day trip out of McMinnville, Portland has lots to offer families with children of all ages. The Oregon Zoo and Portland Rose Garden in Washington Park, the Japanese Garden, the Oregon Museum of Science and Industry (OMSI), Forest Park, and the Portland Art Museum are just a few of our favorites.
Just outside of Portland, the North Clackamas Aquatic Park is another great kid-friendly spot with water slides, a wave pool and more. Silver Falls State Park, with the Trail of Ten Falls where you can walk behind several of the waterfalls, is one of our favorites closer to the Salem area. And if you're willing to drive about 2 hours, the Enchanted Forest or the Oregon Coast have even more to offer.
What are your favorite kid-friendly things to do in McMinnville Oregon?
If you've already visited the area, share some of your favorite finds in the comments!
© Copyright Jennifer D. Warren April 28, 2022. Photos of the Beverly Cleary walk courtesy of Plan To Prosper NW. All other photos Dinkum Tribe. Updated and expanded September 6, 2023.