Oregon is renowned for gourmet food and quality products. A great gift is close at hand whether you're exploring the Oregon Coast, visiting Portland, or trekking through Eastern Oregon. In this post I'll introduce you to some of the best gifts from Oregon and some of the best places to shop for them.
This post contains affiliate links. As an Amazon Associate I earn from qualifying purchases made from the links on this site, at no extra cost to you. Thanks for supporting our family business!
Affiliate disclaimer: "17+ Best Gifts from Oregon" is a list of products that I genuinely enjoy. I have owned and used many of these items, products, or brands and found them dependable.
Table of Contents
Most of these gifts can be ordered online. But I hope that you can do more than order an Oregon gift over the internet. Unique gifts come from unique places—places worth visiting and experiencing!
Travel can enhance our gifts when we give people the opportunity to see the gifts as they're being made. Several of Oregon's small businesses welcome visitors and some of them offer tours. In this setting, your gift can become a happy memory and a cherished object at the same time!
Gourmet Food:
Coffee
You can bring home the quintessential Oregon gift! No place knows coffee like the Pacific Northwest, and Oregon's coffee roasters are legendary. Portland heads up Oregon's craft roasting industry, but you'll find admirable roasters working their magic all over the state.
Stumptown is probably the best-known of Portland's craft roasters. The company adopted one of Portland's earliest nicknames, and it's turned out to be an appropriate choice for one of Oregons "OG" craft coffee roasters.
Stumptown produces several organic coffee roasts, including their popular Hair Bender. The Hair Bender roast blends coffees from Latin America, Indonesia, and Africa to create its remarkable flavor. Stumptown's Hundred Mile Breakfast blend is another great choice for a beloved coffee drinker.
Looking for a Craft Coffee Roasting Tour? Check out these two craft coffee companies:
Longbottom Coffee & Tea: Visit one of Portland Metro's best coffee roasters. Longbottom Coffee & Tea is located in Hillsboro, next to Highway 26. This makes it a great stop on any drive from Portland to the Oregon Coast.
Central Oregon is another hub of Oregon's coffee culture. Sisters Coffee Co. is a good representation of Eastern Oregon's coffee scene. Whether you find yourself on the west side or the east side of the Cascades, be sure to stop in to an Oregon craft coffee roaster.
Chocolate
Don't leave Oregon without trying the chocolate! Oregon has a host of expert chocolatiers ready to satisfy your sweet tooth. Here are two that are well worth your time!
Moonstruck Chocolate is Oregon's best known chocolate producer. Moonstruck's crafted chocolate has been featured in Oprah's O Magazine and included in guest gift baskets at the Academy Awards.
Moonstruck was sold to a New York chocolatier in July 2022, and all three Moonstruck locations have been permanently closed. You can still experience Moonstruck's magic through their remarkable chocolate bars available in Oregon grocery stores and on Amazon.com.
Salem's Chomp Chocolate is a leader in Vegan milk chocolate. Chomp uses nut milk to create to create climate-conscious, plant-based chocolate. You can see Chomp in action at one of their factory tours and tastings.
Hazelnuts
Few things say "Oregon" like Oregon Hazelnuts (also known as filberts). Oregon's famous export are delicious whether raw, salted, spiced, or candied.
These nuts make a great addition to cookies, biscotti, salads, and more.
Marionberry Jam
Oregon is not just berry country. The Beaver State is the best place to grow blackberries in the United States. And of all Oregon's blackberries, none are as beloved as marionberry.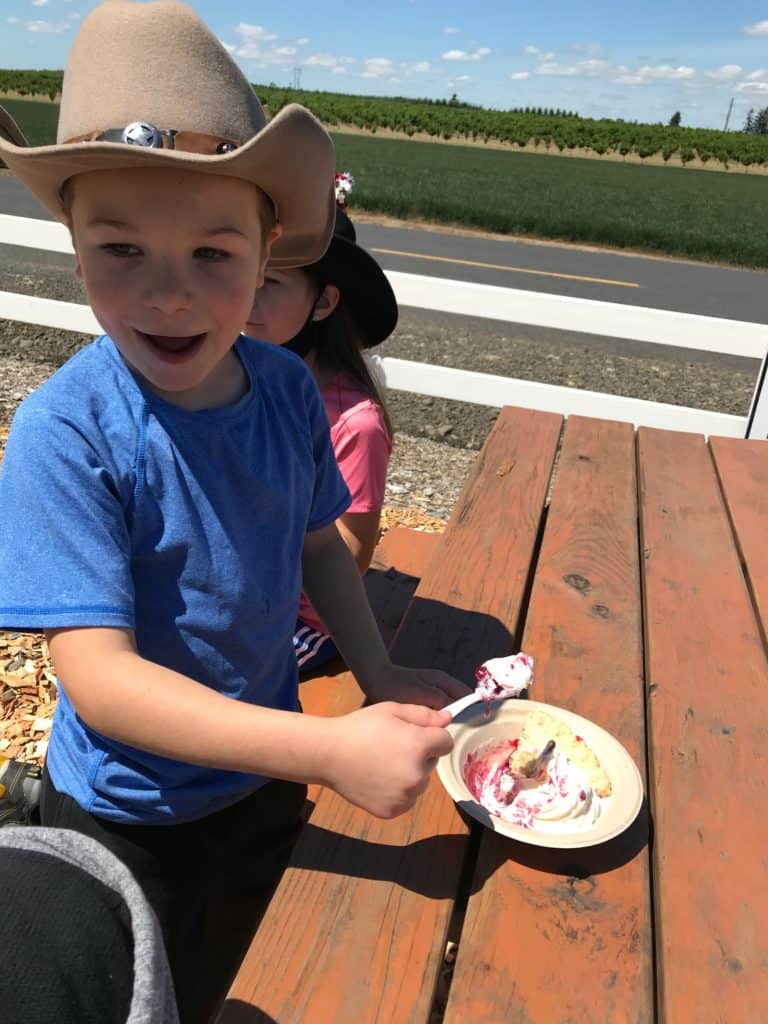 You can enjoy Oregon's berries in host of ways. U-picks and farmers markets are the best way to experience Oregon's berry bounty. Jams, syrups, and other products allow you to share this delight with someone you love.
Pinot Noir
Taste the wine variety the made Oregon famous. Oregon's five wine regions have achieved international notoriety, especially for Pinot Noir.
You can taste several varieties of local wine at wine tasting rooms throughout the State, or make a visit to one of Oregon's 610 wineries! A bottle of wine from an Oregon vineyard can be a great gift for a friend or family member.
You don't have to look far to find winery tours in Oregon. If you or your loved one is looking for the backstory, then check out Oregon Wine by Scott Stursa. I've read this book and appreciate the way that Stursa guides the reader from Oregon's earliest endeavors, through prohibition, and into the reemergence of Oregon viticulture.
Craft Beer- one of the best gifts from Oregon!
I love Oregon beer. I've tried beers in the United Kingdom, Canada, and throughout the United States. None of them compare to Oregon craft brews.
Oregon features a fantastic selection of creative, quality beers. Whether you're looking for a smooth, chocolaty milk stout or an uber-intense IPA, you'll find it here. You can pass on the joy of craft beer by giving brews or merch from any of the 200+ Oregon breweries.
You can also find some good beer merch online. I've been eyeing this Oregon cap collector. It looks like a fun way to chronicle your own exploration of Oregon's craft breweries.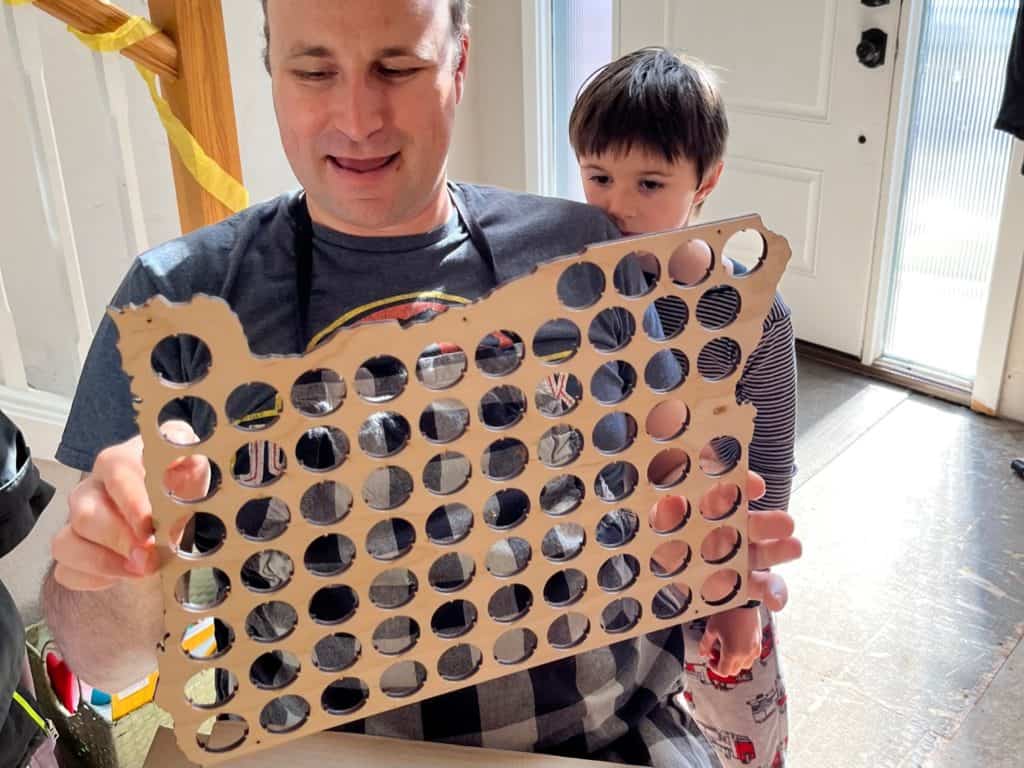 Like wineries, there are plenty of brewery tastings and tours. If that's not your dig, consider making your own tour by following one of Oregon's many food trails or buying one of the Oregon brewery guidebooks that can be found online.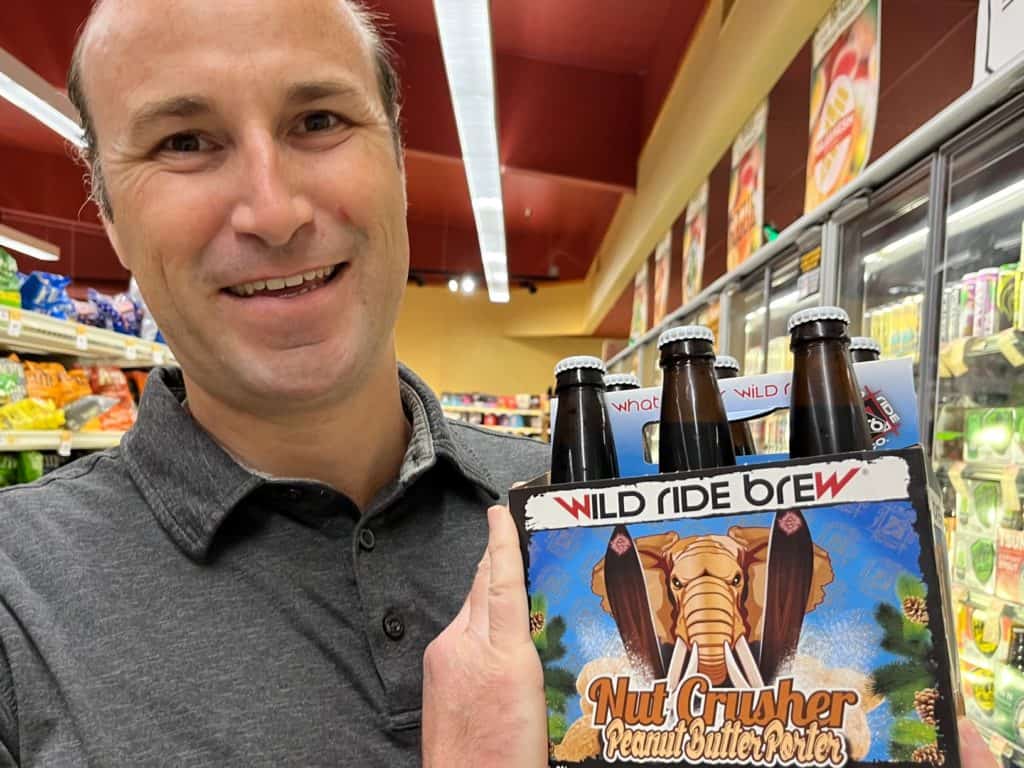 Whiskey & Spirits
Craft distilling is the latest development of the craft movement in Oregon. Several of the State's 78 craft distilleries offer tours, allowing you the chance to find a perfect vodka for your friend's Bloody Marys.
I found Scott Stursa's Distilled in in Oregon even more interesting than his Oregon Wines. Stursa's colorful and often comical history of Oregon distilling is accompanied with historic cocktail recipes. So you can treat yourself to Oregon history at your own home bar.
Hot Sauce
Culinary heat is a great place to experience Oregon's creativity. Secret Aardvark produces Portland's best known sauces. These wizards are known for four serious condiments:
Aardvark Habanero Hot Sauce
Serrabanero Green Hot Sauce
Drunken Garlic Black Bean Sauce
Drunken Jerk Jamaican Marinade
You can find Secret Aardvark on Amazon and check out even more Oregon hot sauces at Made in Oregon.
Specialty Salts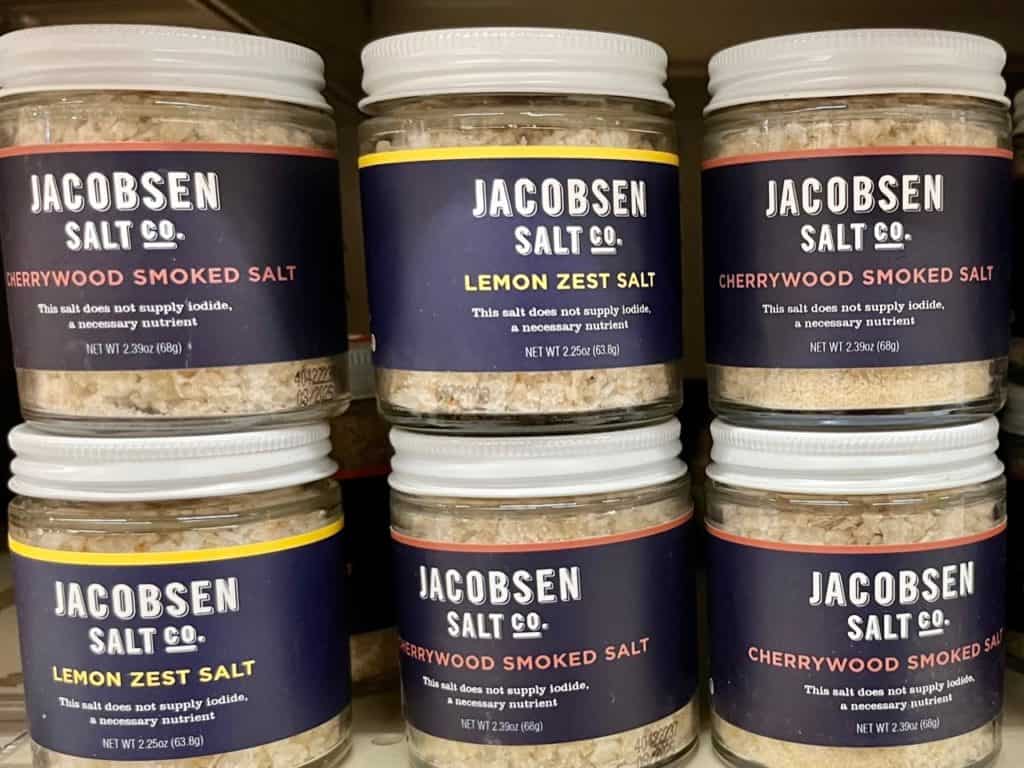 You can try Oregon's best salts at the Jacobsen Salt Company. This Tillamook based company offers locally-sourced, finely made cooking salts at its Tillamook and Portland stores.
Honey
Oregon has a swarm of honeymakers. This means that it isn't hard to find locally made honey on the nearest farm stand or grocery store.
The Jacobsen Salt Co. is a good source for local honey as well. In 2015 they acquired Bee Local, a honey company committed to eco-friendly honey practices. Bee Local's sustainable honeys in a variety of forms, including a hot honey sauce.
Pears
Pears are Oregon's "OG" food export! Great pears and pear products can be found at farm stores and U-pick farms throughout the Willamette Valley. Sherwood Orchards, Bell's Orchards, and True North Orchards are three that you may want to consider.
The Hood River area is another great place to find quality pears. This secluded stretch of the Columbia River gorge allows you to try some of Oregon's finest fruit amid stunning Cascade beauty. Mt View Orchards and Kiyokawa Family Orchards are two that you may want to consider.
Harry & David is the biggest name in Oregon pears. The southern Oregon company is nationally known for their quality pears and treats. You can tour the bakery, candy kitchens, and gift-packing facilities at Oregon's largest gift-food company.
Cheese
Oregon has a strong contingent of cheesemakers but three especially stand out:
Tillamook Creamery is a must for anyone who loves food. The Tillamook Creamery Association has gained nationwide fame for their superb cheese, ice cream, and other dairy products.
The Creamery has a fantastic visitor center where you can follow the cheese making process from start to finish. Tillamook cheese is one of the best gifts from Oregon.
TMK Creamery is raising the bar (and some eyebrows) in the dairy industry. The Creamery caught national attention when it began distilling "cowcohol", whey that turned into vodka! You can tour the creamery and try all of their products at their facility in Canby, Oregon.
The Blue Heron French Cheese Company has its own collection of delights. You can enjoy Blue Heron's own French brie paired with Oregon wines as the children play corn hole or meet the farm animals. Blue Heron offers a host of culinary treats to enjoy and take with you to friends and family.
Sausage & Smoked Meats
Jerky and sausages are everywhere in Oregon. Most country highways have a local jerky store, and smoked and salted meats are nearly always offered at farm stores. You can also order Oregon made jerky or sausage from Tillamook County Smokers or Werner Jerky.
Gourmet Baskets
Why choose one item when you can send a bounty? Many Oregon stores offer the option of buying a pre-made basket or even making your own. You can even order a basket from places such as Made in Oregon or Harry and David.
Where to Find Oregon Gourmet Gifts
Some folks love the shopping as much as the giving. If that's you, then here are some good places to shop for the best gifts from Oregon:
Tillamook Creamery offers much more than their fabulous cheese. Their enormous shop feature foodie delights from throughout Oregon and the Pacific Northwest.
Made in Oregon stores offer a great selection of well-made gourmet items.
Roth's Fresh Markets makes it a priority to offer locally made products. You won't have any difficulty finding well made, Oregon items here.
PDX supports locally owned businesses and artists by featuring them prominently in the airport. You'll some of Oregon's best entrees, products, and artworks at the state's premier airport.
Apparel, Home Goods, & Home Decor
It may be hard to believe, but some of the best gifts from Oregon aren't edible. Oregon is an artist's paradise because the state's culture welcomes beauty, creativity, and innovation. Here are a few ways that you can pass those benefits on to someone you love.
Pendleton Blankets
Pendleton Woolen Mills has distinguished itself as a quality producer of excellent apparel, home goods, and home decor. We absolutely love Pendleton products because they are well made and absolutely stunning.
This Eastern Oregon company has captured the spirit of the West in its intricate wool blankets, handsome clothing, and beautiful home items. A Pendleton blanket is one of the classiest items from the Pacific Northwest, and one of best gifts from Oregon.
We love the way our king-bed blanket lights up our bedroom, and how well it matches with the Two Eagle print that hangs over the fireplace.
My Pendleton weighted blanket was a game-changer for my sleep habits. The added weight helps my ADHD brain to relax and begin to rest.
Pendleton has produced quality product for over 100 years. You can see Pendleton in action by requesting a tour of one of their two historic mills. Pendleton's most historic mill stands in Pendleton, Oregon while their second mill can be found in Washougal, Washington.
Clay in Motion
Few things say love like a beautiful, hand-made mug. Clay In Motion is known for just that. Their Handwarmer Mug combines business with pleasure by warming your hand and your belly at the same time.
This Eastern Oregon pottery studio creates a wide range of ceramics that bring color to any dining room or coffee table. You can find Clay in Motion's ceramics on Amazon, at Made in Oregon, and on their website.
Powell's Books
Portland's greatest bookstore is a world of its own, but it's also a great place to find local flavor and Portland made products. Powell's is the world's largest independent bookseller in the world. The downtown Portland location fills an entire city block and literally requires a map to navigate!
Powell's bookstore shelves feature all the weird and wonderful to be found in Portland, in Oregon, and Pacific Northwest. This will likely be the most memorable bookstore you and your children will ever visit. So make a plan to buy some children's books and Portland-made gifts.
Where to Find Oregon Apparel, Home Goods, and Home Decor
So what are the best gift shops for Oregon apparel, home goods, and home decor? Here are five great places to start:
Made in Oregon sells quality clothing and home goods created by Oregon businesses.
Portland Made features innovative and artistic products from Portland's up and coming entrepreneurs.
PDX hosts a number of Oregon boutiques and shops including Pendleton and Made in Oregon.
Enjoy the best gifts from Oregon!
Oregon has so much to offer you and your loved ones! Check out our Amazon store of quality Oregon products and give a shout out to your favorite Oregon product in the comments below.
© Copyright Brian A. Warren 2022.