Are you a fan of epic road trips? Do you love discovering hidden gems and amazing places on the road? If that's you, you've gotta try the Roadtrippers app!
Table of Contents
This post contains affiliate links. As an Amazon Associate I earn from qualifying purchases made from the links on this site, at no extra cost to you. Thanks for supporting our family business!
Our in-depth Roadtrippers app review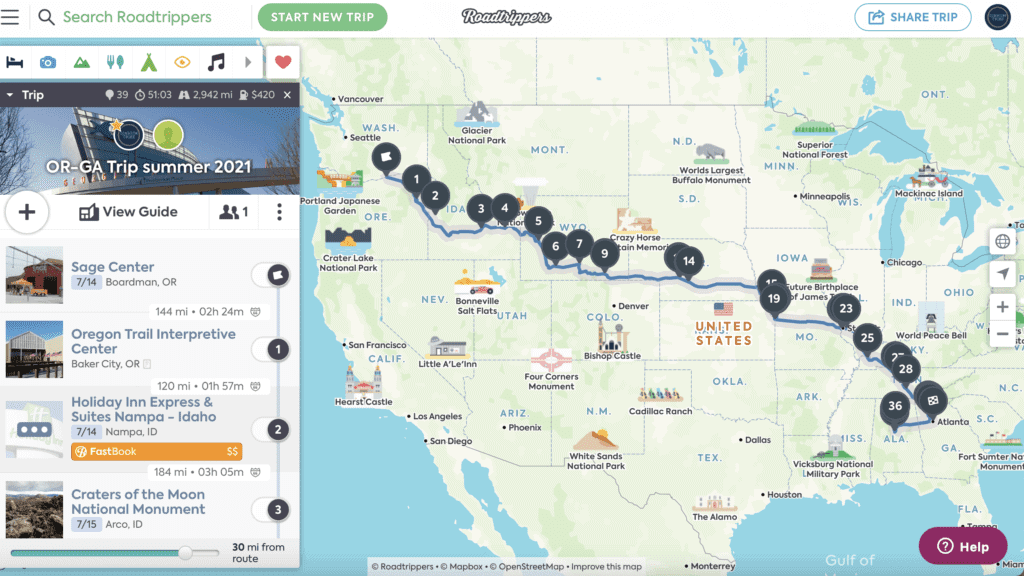 How long would it take you to plan and prepare for a month-long road trip for a family of 8 people? Book lodging, figure out routes, decide what to see, budget, find someone to housesit 4 pets, pack … 3 months? 6 months? A year maybe? I had to unexpectedly plan our trip in less than 6 weeks!
In June 2021 I had to unexpectedly plan our next road trip (across the United States from Oregon to Georgia and back) in under 6 weeks. I knew I needed the right road trip planning tools to make it happen. A search for "best road trip apps" led me to the Roadtrippers app.
The Roadtrippers Plus app was a game-changer. It's designed for long road trips and frequent travelers. I'm already planning my next road trip with it for fun because it's such a great app!
Why Choose the Roadtrippers App?
1. Categorized listings
I used this especially when I was trying to decide the most convenient place for an overnight stay. I would use the "Lodging" category in the search bar to show hotels along our route, then decide how far to drive based on where we could book a reasonable hotel.
Other categories that were helpful were "outdoors", "entertainment", "dining" and "attractions and experiences".
Unlike Google Maps, the Roadtrippers app only shows businesses that will be relevant to these categories for a traveler. In that way, I found it simpler than doing a similar search on Google maps.
Roadtrippers makes the planning process easy by cutting out heaps of irrelevant information. It operates like a digital travel guide. I didn't have the time and energy to research and chase down the best option, but it was right there in the app.
2. Try the free version of the app first
The Roadtrippers app is highly rated, and you can test out the features for planning a trip with less than 5 stops. I used the free version of the app to begin planning our trip. As soon as I realized how helpful the features were, I didn't hesitate to pay for the premium version (Roadtrippers Plus – $5 off with code BTR5QTP).
3. Automatic driving statistics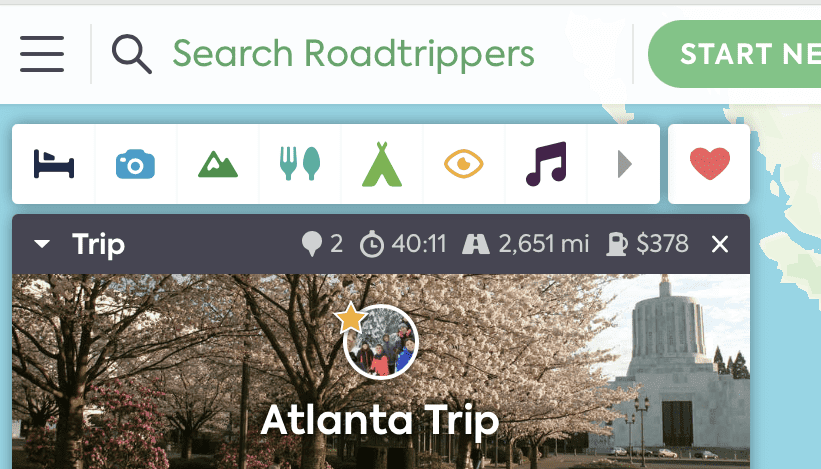 With the Roadtrippers Plus membership, the app calculates mileage, drive time, and estimates gas costs between stops, and as a trip total. The approximate gas cost and drive time adjusts as you add and remove stops.
You can even toggle stops on or off to adjust your best route based on last-minute itinerary changes. For example, we ended up cutting out our NE Oregon Trail route after getting sick in Rawlins, WY. We were able to shorten our day's drive and still see some fun things along the way.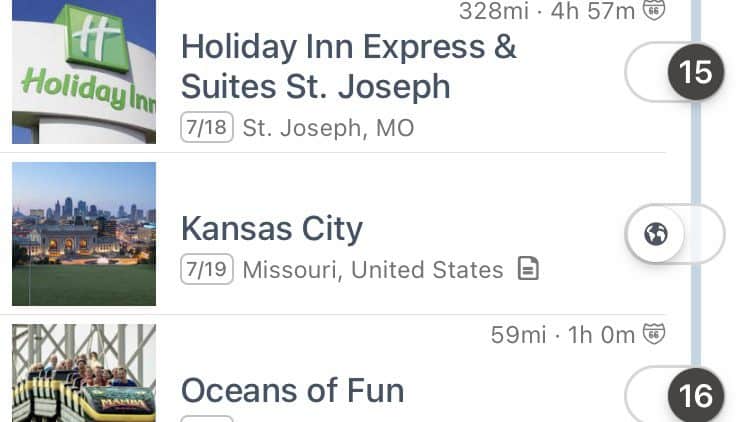 4. Localized points of interest
When you use the "Load trip onto map" feature, it shows top points of interest within a range (0-50 miles) of your route. This helped us find interesting places that wouldn't add too much drive time. We usually kept the range within 30 miles of the highway but we could increase the range if/when we felt like we had more leeway.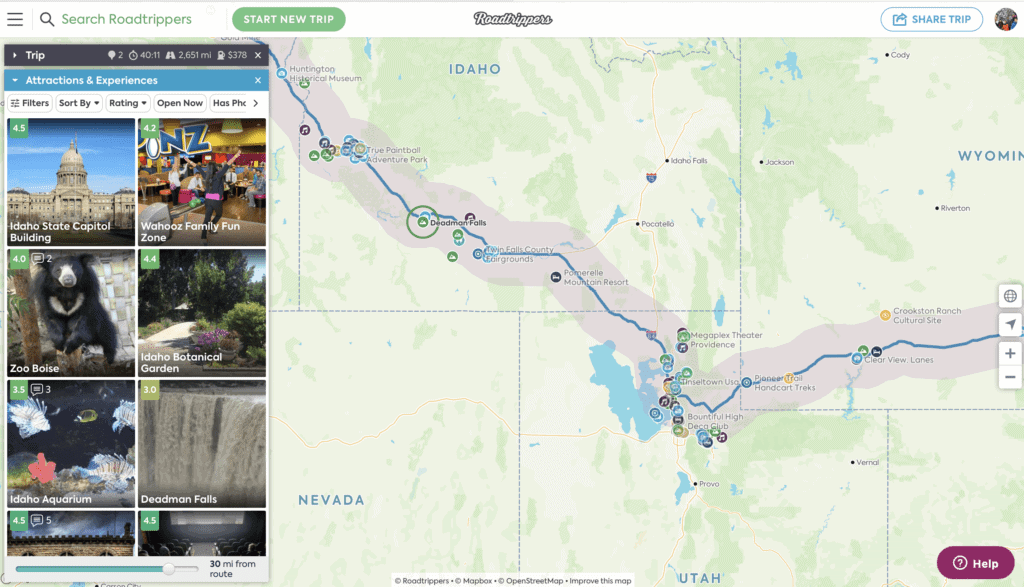 Note: this distance-from-route feature is only available on the Roadtrippers website, not on the mobile app version.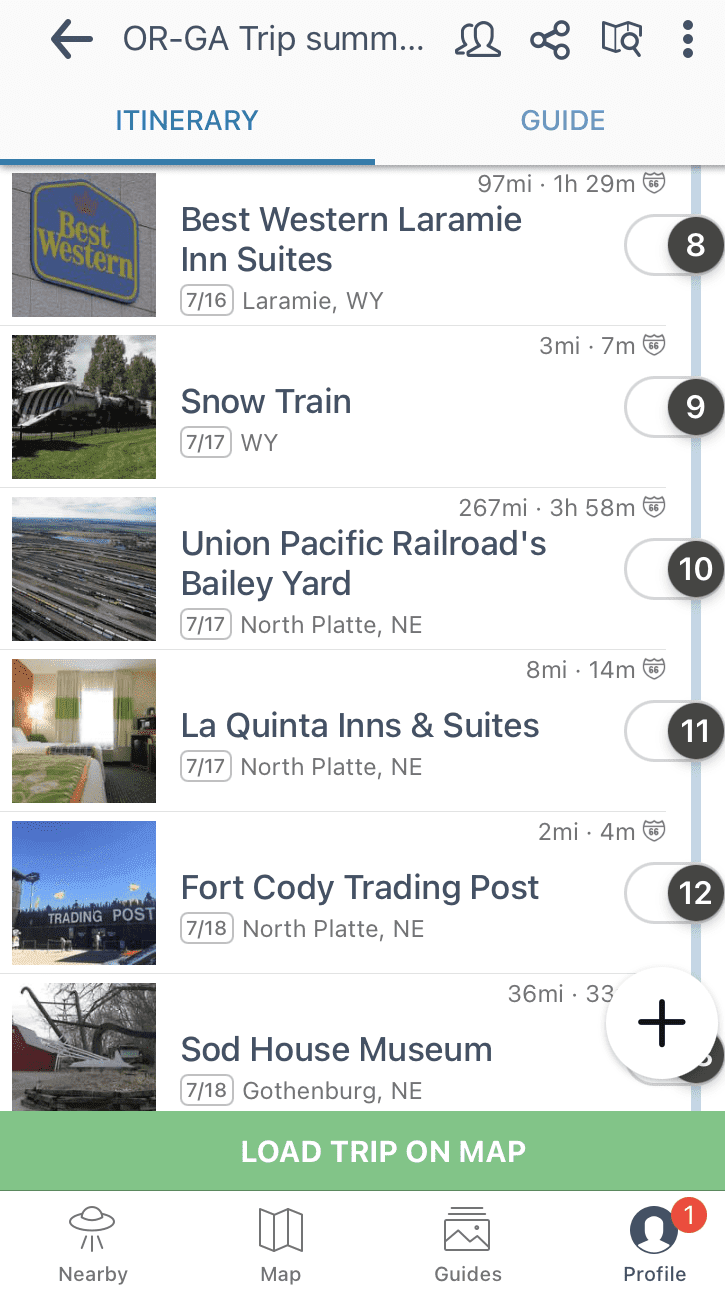 It also meant that we found lots of quirky roadside attractions we wouldn't have known about. The Nashville Parthenon, Old Stone Fort SP in Tennessee, and the National Quilt Museum were a few of the gems we discovered from Roadtrippers Plus.
5. Details, details, details!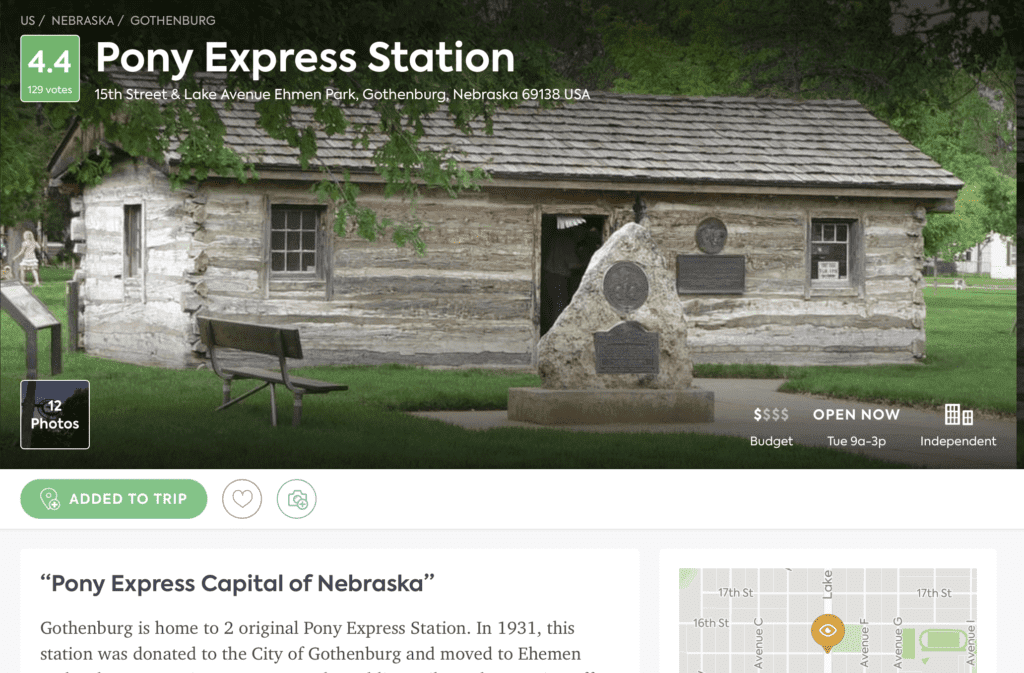 Each stop has photos submitted by other road-trippers, Yelp reviews, as well as the official information available online for each stop. You can add your own review and photos too.
I found this to be particularly rewarding when we would find a place off the beaten path, that had very little information or photos. I often added my own review and photos. It was a fun way to help other travelers, as well as the small business I was reviewing.
6. The Roadtrippers app makes planning as fun as the actual trip
Roadtrippers provides an easier way to plan trips, and have a ton of fun doing it! Studies have shown that looking forward to something in the future increases your enjoyment of the actual event. That certainly was the case for our family.
We started with a list of "bucket list" places between the starting point and the endpoint. Then we filled in additional stops based on popular destinations, the amount of time we had in each location, and so on.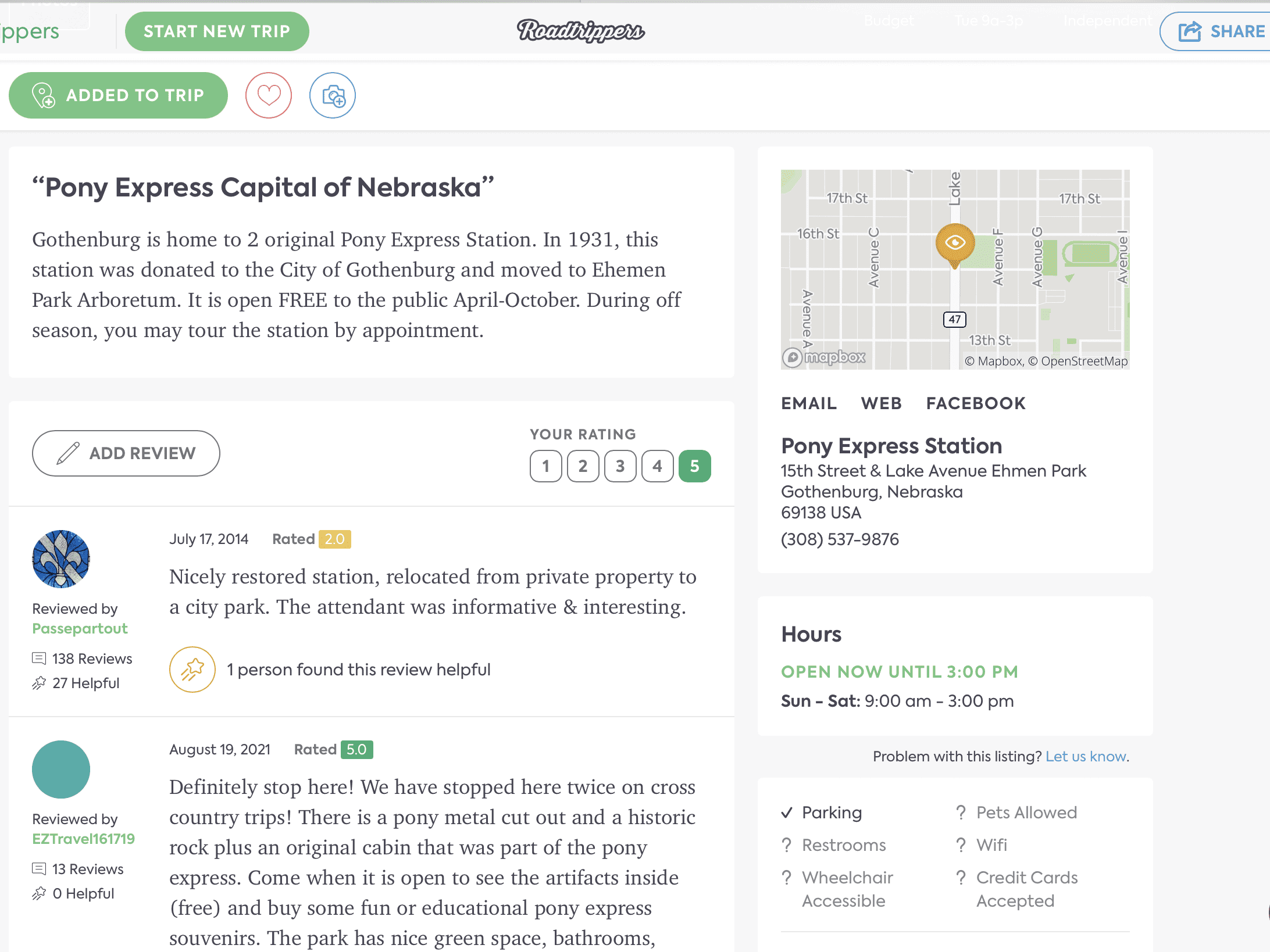 The crowd-sourced reviews often gave travel information that was more useful than the official listing. We discovered so many places that I never would have considered without seeing another family's review.
We also used it as a kind of travel guide as we drove along. The kids would get excited about what we were seeing. I would look up the sights and explain them to the family as we drove past, such as the historic Anaconda smoke stack or the Lady of the Rockies in Western Montana.
7. Real-time adjustments and pre-planning
As we traveled, I could easily pull up the information for our stops the next day and make plans. Similar to Google maps, each stop has direct links to the website (or a phone number). That saved me the trouble of hunting around for the official website.
I could also add in new places that we decided to go last-minute, and they were recorded in my trip itinerary. As a record of our trip, it has everything I might want to remember about the place later on for our family scrapbooks.
8. Pre-printed Itinerary
My kids used the Roadtrippers site (in a web browser) before the trip to print out the travel itinerary and preview places we were going to visit. One of my daughters pre-printed activity pages from several tourist attractions so that her younger brothers could work on them during long drives.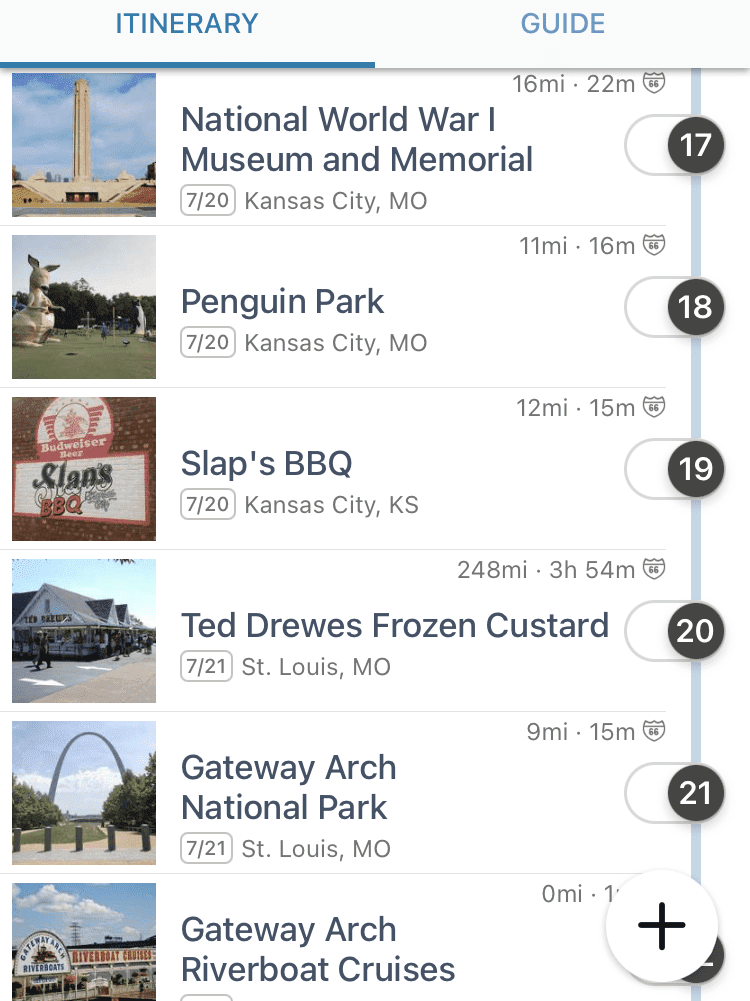 Another daughter checked ahead to find out expenses and operating hours so that we wouldn't mistakenly plan to do some activity on a day it wasn't open. That still happened once, but it wouldn't have if Mom had paid attention!
9. Roadtrippers App Favorites
One of the things I love is that the app allows you to save places as favorites. This was great as we were researching and planning, because often we found too many interesting things to do on this trip. We could "favorite" the spot, and if our plans changed I could easily pull up one of the favorites nearby to add instead.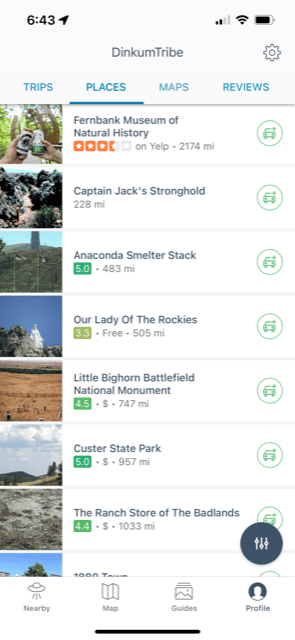 You can also plan your next trip just around the great places you missed on the current trip—super handy if you will pass that way again, or several times.
10. Travel guides
One of the features that I really like is that there are dozens of pre-made trip guides. So if you're thinking about doing a particular national parks trip, or going on a historic trail, or maybe finding all the best local diners, you can check in the app and see if anyone else has done a similar trip you might want to copy.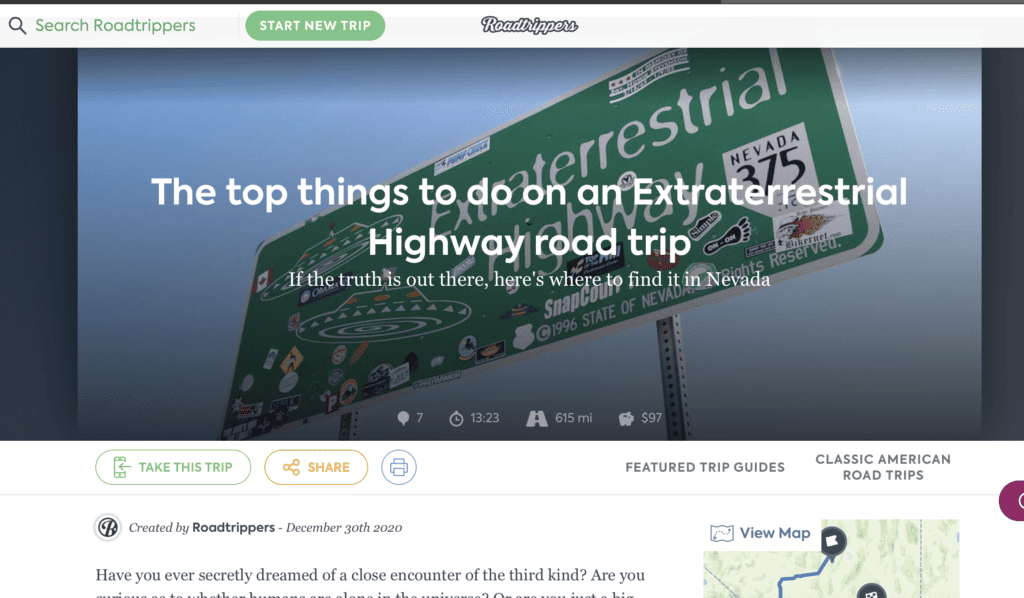 You can also submit your own road trip as a travel guide for others to use.
11. Other handy features
Roadtrippers Plus makes planning a trip so easy and fun! Even while we were still on our trip, I started planning several other trips that we want to do in the future.
I was also able to share the itinerary with anyone I wanted by email. You can easily share your trip with any other travel companions or or even on social media. It's also great for family or friends who aren't coming with you but want to know your itinerary in case of an unexpected emergency.
Get it today!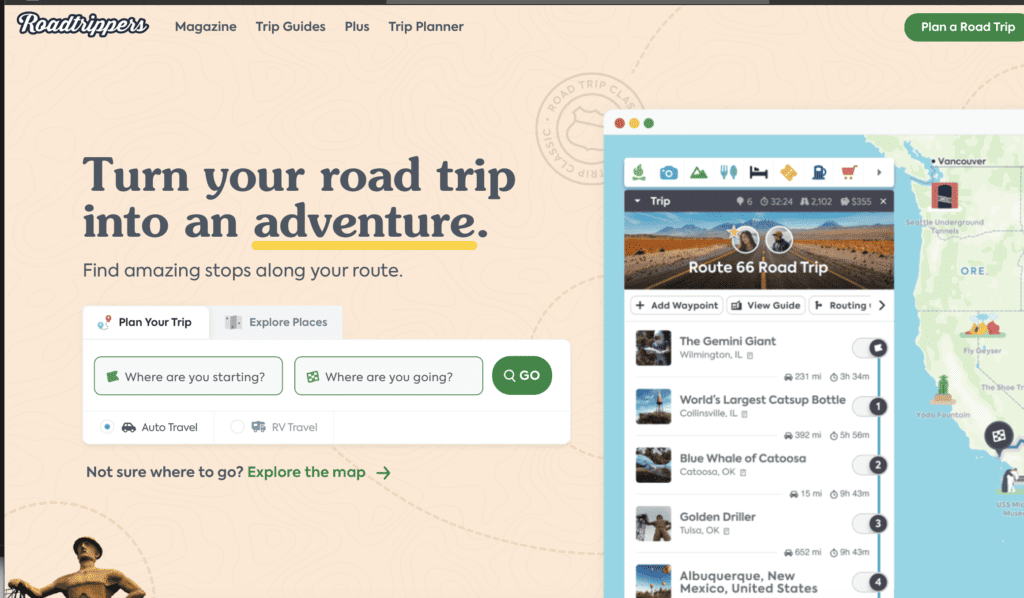 I don't use travel guides anymore because the Roadtrippers app provides even more information and applications than a guidebook can, but at the same price as a guidebook.
Better yet, while guidebooks are limited to specific regions, the Roadtrippers app is nationwide. So my Roadtrippers app gives me better information for less cost!
The paid version is an annual membership for $29.99, but with our link and code (BTR5QTP) you can get $5 off. The Roadtrippers app is available in the Apple App Store and the Google Play Store.
Too Much?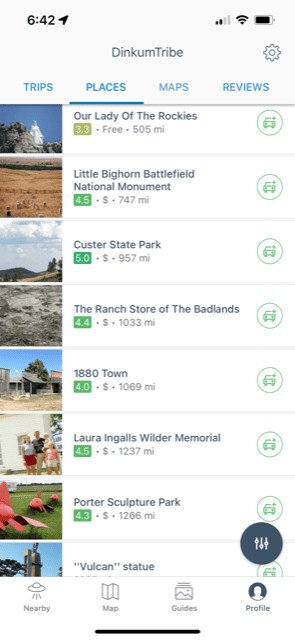 I remember spending a similar amount on the Lonely Planet book for Spain when I spent a summer there in 2004 (before iPhones!). I wore that book to pieces- it showed me so many extraordinary places! The Roadtrippers app is like your own personal tour book.
In fact, Roadtrippers has more travel potential than a printed, location-focused travel book. $29.99 per year has been a bargain in light of the time saved and trouble avoided over the course of our family travels.
I don't flinch at the $29.99 price because the financial savings alone is a bargain. When added to the time and energy saved, it's no wonder that this is such a popular product.
Best Overall Roadtrip Planner App
Frequently asked questions (FAQs)
Is the Roadtrippers app worth it?
Absolutely! Sure, there are many features that you can do in Google Maps or another mapping program. However, the difference is that this app is specifically designed for people who are taking a road trip— for travelers and explorers, not commuters and locals.
For planning a road trip it was much more convenient than Google maps. We still used Google maps for our turn-by-turn navigation, and the Roadtrippers app will take you right into Google maps for directions.
Is the Roadtrippers app free?
You can use Roadtrippers in a web browser, or the Roadtrippers app for free, to look up locations in to plan a small trip up to five stops. However, if you want to have a trip with more stops, or if you want to save multiple trips, you'll need to pay the subscription fee. Get $5 off with our link and code: BTR5QTP
How does Roadtrippers app work?
Simply put, you enter a starting point and an endpoint, and the app will calculate the best route for you. Then you can adjust that route by adding stops along the way.
In which countries can I use the Roadtrippers app?
The Roadtrippers app currently covers the United States, Canada, New Zealand and Australia.
Are there any other amazing travel apps we should know about? Tell us in the comments!
© Copyright September 10, 2021 Jennifer D. Warren. Updated: February 1, 2023.