One of our family's favorite beach towns is Rockaway Beach, Oregon: we've visited several times with our kids and without them. With its picturesque beaches and abundance of outdoor activities, Rockaway Beach is the perfect Oregon Coast vacation spot for making unforgettable memories with your kids. In this article, we'll share 31 fun-filled activities that'll keep the whole family entertained.
Table of Contents
17 things to do in Rockaway Beach Oregon
1. Spend the day at the beach
If you are looking for a classic beach day, Rockaway Beach is the perfect place to be. With 7 miles of sandy beach it provides endless opportunities for family fun in the sun. We love to bring a picnic lunch and enjoy a relaxing afternoon lounging on the beach while our kids build sandcastles and play in the waves.
Don't forget to pack a Frisbee or beach ball for some friendly competition. Our kids like to splash in the icy cold Pacific Ocean or practice their body-surfing. Spending a day at the beach is one of the best things to do in Rockaway Beach.
2. Explore tide pools
Another of our family's favorite activities near Rockaway Beach is the opportunity to explore tide pools. These natural wonders are created when the tide goes out, revealing a world of marine life in the rocky crevices.
The best spots for tide pooling nearby are at Nedonna Beach (to the north), Barview Jetty, or the Three Graces (a sequence of high profile rocks) near the little town of Garibaldi. Note that parking is extremely limited at the Three Graces, and there are no other amenities.
Make sure to check the tide schedule beforehand and plan your visit around the low tide point. Wear sturdy shoes to protect your feet from the sharp slippery rocks. We frequently find starfish, crabs, sea anemones, and other fascinating sea creatures in just a few minutes of scouting around.
3. Go crabbing
Oregon's bays and estuaries are brimming with Dungeness crab, making it an excellent place to try your hand at crabbing. Rent a crab pot and a few traps, then head out to catch your own fresh crabs for dinner – we were amazed at how easy it was to catch crabs right off a dock! Kelly's Brighton Marina provides everything you need to get started on crabbing.
You'll want to check ahead of time to make sure you follow Oregon's seasonal regulations for seafood fishing and harvesting. Not only will your kids enjoy the thrill of crabbing, but they'll also learn about marine life and the importance of sustainable fishing practices.
4. Go fishing
The Nehalem River is a great place to start, with its abundance of salmon and steelhead. The river is easily accessible from Rockaway Beach and is known for its clear waters and picturesque scenery.
If you prefer saltwater fishing, head out to the ocean and try your luck with halibut, crab, and tuna. Local charter companies can take you out to deeper waters for a day of fishing. Some will even help you cook your catch!
For a more laid-back fishing experience, visit Lake Lytle. This peaceful lake is a great spot for families and children to catch trout, bass, and panfish. The calm waters and surrounding trees make for a serene and relaxing environment.
5. Go clamming
This activity is both fun and educational, giving your family a chance to learn about the different types of clams found in the area. With a little bit of patience and a lot of determination, you'll be able to collect your own clams, which can later be used for a delicious clam chowder dinner.
Be sure to check the local harvest regulations, since there are some dates when clamming is not permitted. You'll also need to follow size and quantity limits, and anyone 12 or older needs a license.
6. Visit the Oregon Coast Scenic Railroad
For an unforgettable experience, ride on the historic Oregon Coast Scenic Railroad. This 90-minute ride takes you through stunning coastal scenery, including views of Tillamook Bay and the Nehalem River Valley.
Kids will love the excitement of riding a real train, while adults can sit back and relax with a cup of coffee or glass of wine. The train runs from May through October and offers a variety of themed rides, including murder mystery dinners and fall foliage excursions.
A scenic train ride is the perfect way to cap off a fun-filled day in Rockaway Beach.
7. Go kayaking in Lake Lytle or Nehalem Bay State Park
With its pristine waters and breathtaking views, kayaking in Lake Lytle is an experience that shouldn't be missed on your visit to Rockaway Beach. Whether you're a seasoned kayaker or a beginner, this lake provides a serene and safe environment to explore on a kayak. Kayak Tillamook also offers tours of Nehalem Bar State Park.
As you venture through the calm waters, you'll be treated to stunning views of the surrounding mountains and forests. Keep an eye out for wildlife as you glide along – you may spot bald eagles soaring overhead or even see a family of otters playing in the water.
8. Try stand-up paddleboarding
While kayaking is a popular option, we also recommend trying stand-up paddleboarding (SUP). Essentially, it involves standing on a long board and using a paddle to move through the water. It may seem daunting at first, but Rockaway Beach offers the perfect conditions for beginners to try out this exciting activity.
The waves are gentle and the water is warm, allowing you to focus on your balance and technique without worrying about rough conditions. And just like kayaking, SUP also provides a unique perspective of the surrounding landscape. As you paddle along, you can take in the stunning views of the mountains and forests that line the coast.
9. Enjoy beach town shopping
Flamingo Jim is a gift shop and clothing store located in Rockaway Beach, Oregon. It is known for its eclectic selection of souvenirs, clothing, and yard art. The store is packed with over 3,000 items, from funny coffee mugs and flashing key chains to stacks of hats, shelves of shells, and bins of shiny tumbled stones.
Another great shop is Ring of Fire Glassworks. It's a working glass studio where you can watch artists create beautiful glassware and jewelry. You can also take a class and learn how to make your own glass creations.
My husband grew up visiting antique stores with his parents— he loved seeing the vintage artifacts and old photos especially. Rockaway Beach has several excellent antique shops that would make for a fun afternoon of exploring.
10. Grab a sweet treat
Schwietert's Cones and Candy is a popular spot for both locals and tourists. They have been in business for over 80 years and are known for their homemade ice cream in a wide variety of flavors, as well as candy, popcorn, and other treats.
Sea Breeze Gifts sells Tillamook ice cream made with fresh, local ingredients in a limited selection of flavors. They also have a variety of other treats, such as sundaes, shakes, and floats. The shop is also known for its friendly staff and welcoming atmosphere.
Beach Bakeshop is a bakery and cafe. They offer a variety of ice cream flavors too, including both homemade and national brands. The Beach Bakeshop is a great place to go for a sweet treat after a meal.
11. Watch the sunset at Twin Rocks Beach
This stretch of beach provides a stunning backdrop of the sun setting behind the iconic Twin Rocks of Rockaway Beach. It's a sight that your family won't want to miss.
As the sun begins to set and the colors in the sky transform, you can sit back and relax with those you love. It's a perfect time to capture some family photos and make memories that will last a lifetime.
12. Spot some whales
The Oregon Coast is a great whale-watching area! The best season for whale watching is in winter during migration (December & January) but we've seen whales year-round. You can often sight whales from the shore, especially from upper-story hotel rooms, so be sure to bring binoculars with you.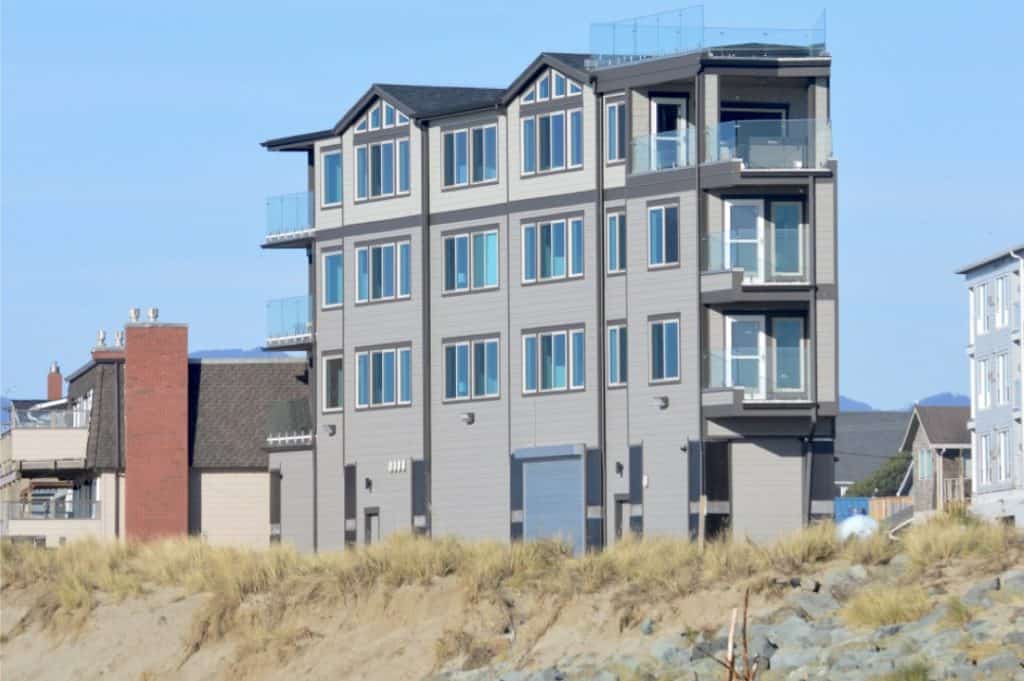 For an even better experience, book a whale-watching tour! Your family will be amazed by the sight of humpback whales and gray whales breaching and spouting water from their blowholes. You trained guide will provide interesting facts and information about the whales and their migration patterns.
13. Hike in the Cedar Wetlands Preserve
The Cedar Wetlands Preserve in Rockaway Beach, Oregon is a great place to go for a hike and explore an old-growth coastal bog. This nature preserve is home to a variety of plants and animals, including towering western red cedars, skunk cabbage, and salmonberry bushes.
The trail is easy to follow and is mostly boardwalk, making it accessible for people of all ages and abilities.
You'll find the trailhead at the corner of Highway 101 and Washington Street in Rockaway Beach. The parking lot is small, so it's best to arrive early on a weekend.
The trail is about a mile long and takes about 30 minutes to complete at a relaxed pace. Our kids loved the huge plants along the walkway. We also saw a banana slug and an osprey nest with the parents and a chick in it!
NOTE: it's listed as the Rockaway Big Tree Trailhead on Google Maps.
At the end of the trail, you'll find a platform that surrounds a massive western red cedar tree. This tree is over 150 feet tall and has a circumference of over 50 feet. It's one of the largest trees in Oregon and is a truly impressive sight.
14. Play at the Pirate Ship park
Rockaway Beach City Center and Park shares a parking lot with the Rockaway Beach access point. This creatively designed playground looks like a pirate ship, and with its ocean view, kids of all ages can pretend play for hours.
Our kids had a blast playing here, and we plan to return for the town's Pirate Days event sometime. The playground is fenced and there are a couple of picnic tables, so parents can enjoy a drink from a local coffee shop while watching the kids play.
15. International Police Museum
The International Police Museum in Rockaway Beach, Oregon is a small but fascinating museum that showcases the history of law enforcement from around the world. The museum is located in the Washed Ashore Craft Mall, just a short walk from the beach.
The museum's collection includes uniforms, badges, weapons, and other artifacts from police forces in countries all over the globe. There are also displays on the history of policing, including the evolution of police technology and the role of women in law enforcement.
One of the museum's most popular exhibits is its kids interactive area, where children can try on real police gear, get their fingerprints taken, and take a photo with "Fred," the museum's life-size horse mannequin.
16. Ride a corndog at The Original Pronto Pup
You can't miss the giant corn dog on top of the Pronto Pup building while driving along Highway 101! But did you know there's also a coin-operated corn dog ride? Our kids and teens loved riding it in between eating the batter-covered hot dogs from Pronto Pup!
The Original Pronto Pup in Rockaway Beach, Oregon is a must-visit for any fan of fried food. The corn dogs, which were invented in this town in the late 1930s, are made with a special batter that is both crispy and fluffy. They are then deep-fried to perfection and served piping hot.
The Original Pronto Pup also offers a variety of other fried foods, such as french fries, zucchini, and even pickles! Dessert options include ice cream served in a Pronto Pup cone and deep fried Oreos (on their secret menu). The atmosphere is casual and friendly, and the staff is especially welcoming to families with children.
17. Troxel's Rock Garden
Troxel's Rock Garden is a tourist attraction in Rockaway Beach, Oregon. It's a free outdoor exhibit of rocks, minerals, and fossils from around the world. The rocks are arranged in a variety of creative and eye-catching ways that are themed around the Wizard of Oz movie, and are part of the mini-golf course.
Admission to the Rock Garden is free, and the mini-golf is only $3 for unlimited play! You can also choose a special rock from the Rock Garden to bring home as a souvenir (pay is on the honor system).
Troxel's also offers a variety of other attractions, including a bike rental shop. Our kids loved exploring the Troxel's Gem and Jewelry gift shop, and several of them chose special stones to bring home.
Mr. Troxel was present, and he clearly enjoys having kids in his shop- each child got a free mini bubble container and he showed us how his robot assistant "Astro works." Our teen daughter described him as "kind of a steampunk version of Willy Wonka." 😊
More things to do near Rockaway Beach Oregon
18. Visit the Tillamook Cheese Factory
We nearly always stop at the Tillamook Cheese Factory on our way out to the beach or before heading home. Located just a short drive from Rockaway Beach, this cheese factory offers a self-guided tour of its facilities, where you can learn about the cheesemaking process and even sample some of their award-winning cheeses.
In addition to the tour, the factory also has a gift shop and a café where you can enjoy a meal made with locally sourced ingredients. The cafe's menu features grilled cheese sandwiches, mac and cheese, and cheeseburgers, and the famous Tillamook Ice Cream. Try the peppermint mocha flavor or the Tillamook Mudslide!
19. Experience the Garibaldi Maritime Museum
This museum provides a fascinating insight into the town's history and the fishing industry of the region. Inside you'll find exhibits that tell the story of the town's early settlers and their way of life.
You'll also learn about the fishing industry that was crucial to the area's development, including the innovations and challenges that came with it. Kids can get hands-on with interactive exhibits and activities, while adults can appreciate the museum's carefully curated collection of artifacts.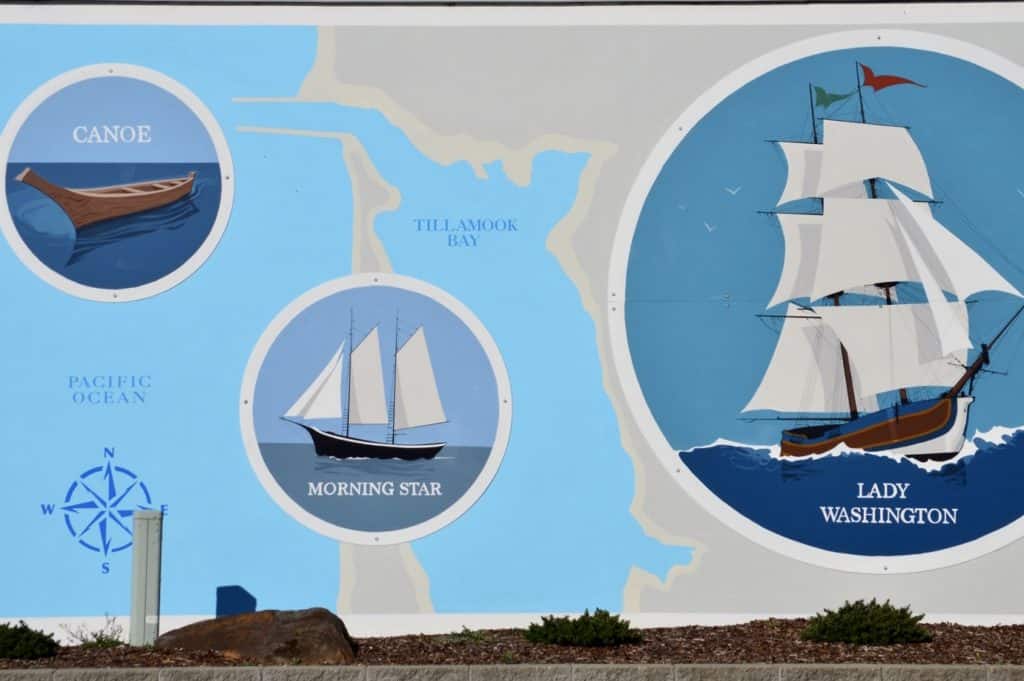 20. Take a hike in the Oregon Coast Range
Take a break from the beach and head to the Oregon Coast Range for a stunning hike. Oswald West State Park to the north of Rockaway Beach has beautiful viewpoints and several trails worth visiting. We didn't have time to hike when we visited, but the Neahkahnie Mountain viewpoints were gorgeous!
You could also drive south a short distance and hike the trails near Tillamook, such as the Munson Creek Falls trail. As you hike, keep an eye out for wildlife that calls the range home. Squirrels, chipmunks, and birds are common sights, but you might also spot a deer or even a black bear if you're lucky.
21. Go horseback riding at Nehalem Bay State Park
Take a short drive to Nehalem Bay State Park and go horseback riding on the beach. Nothing quite compares to the feeling of the salty ocean breeze on your face as you trot along the shoreline. This activity is perfect for older kids or teens and adults and is sure to create memories that will last a lifetime.
22. Biking and camping at the Nehalem Bay State Park
For yet another great activity, check out Nehalem Bay beach, just a short distance from Rockaway Beach. This beach offers a tranquil setting with its calm waters and beautiful scenery, and there's a beautiful bike path. It's a popular spot for coastal camping as well.
23. Visit the Latimer Quilt & Textile Center
Head to the Latimer Quilt & Textile Center for a unique and educational experience. This hidden gem showcases the history and art of quilt-making, and visitors can study vintage quilts and learn about different quilting techniques during workshops.
24. Tillamook Quilt Barn Trail
As you drive through the Tillamook region, you'll often notice squares of brightly colored geometric patterns hanging on the sides of barns and buildings. The Tillamook Quilt Barn trail is a unique way to explore this part of Oregon and pays tribute to the craftsmanship of the early settlers of this area. Take an auto tour of the 104 different quilt squares for a new perspective on the Oregon Coast.
25. Visit the Tillamook Air Museum
As you drive south out of Tillamook, it's hard to miss the giant building that says "AIR MUSEUM" off the highway. And this is no ordinary Air Museum! The Tillamook Air Museum holds most of its extensive collection in a giant wooden blimp hangar from World War 2.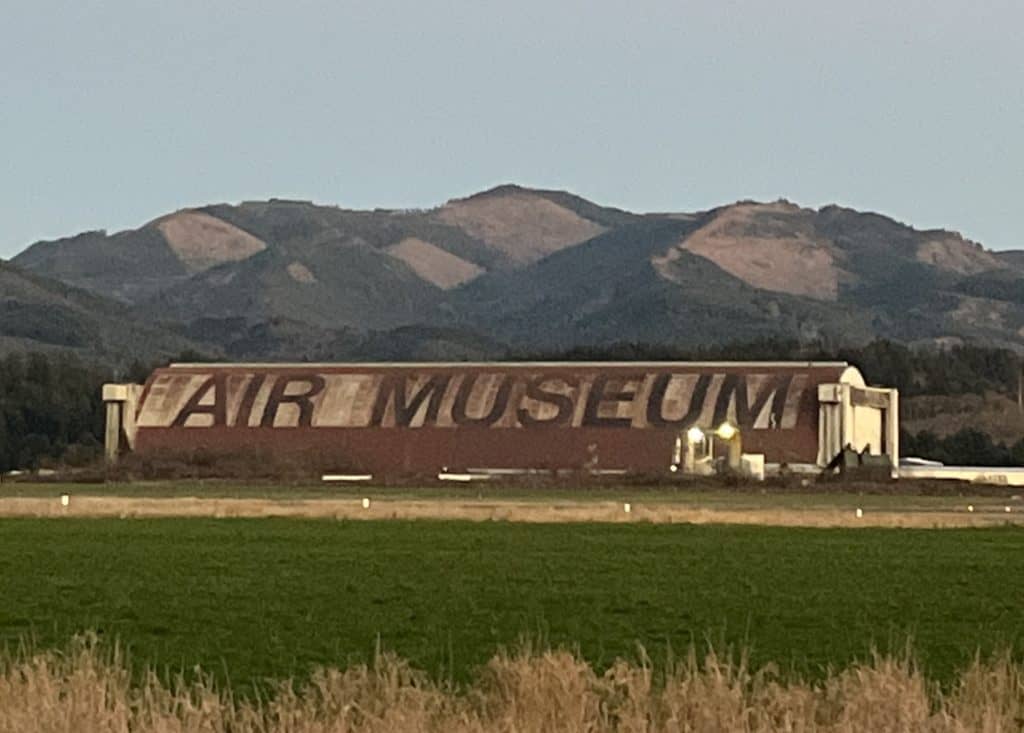 We visited this incredible place last year, and our family loved it for it's hands-on interactive collection of airplanes, antique cars, and so many other historic exhibits.
Tillamook Air Museum would make a great rainy day option for families— check out our full review!
26. Visit the Blue Heron French Cheese Company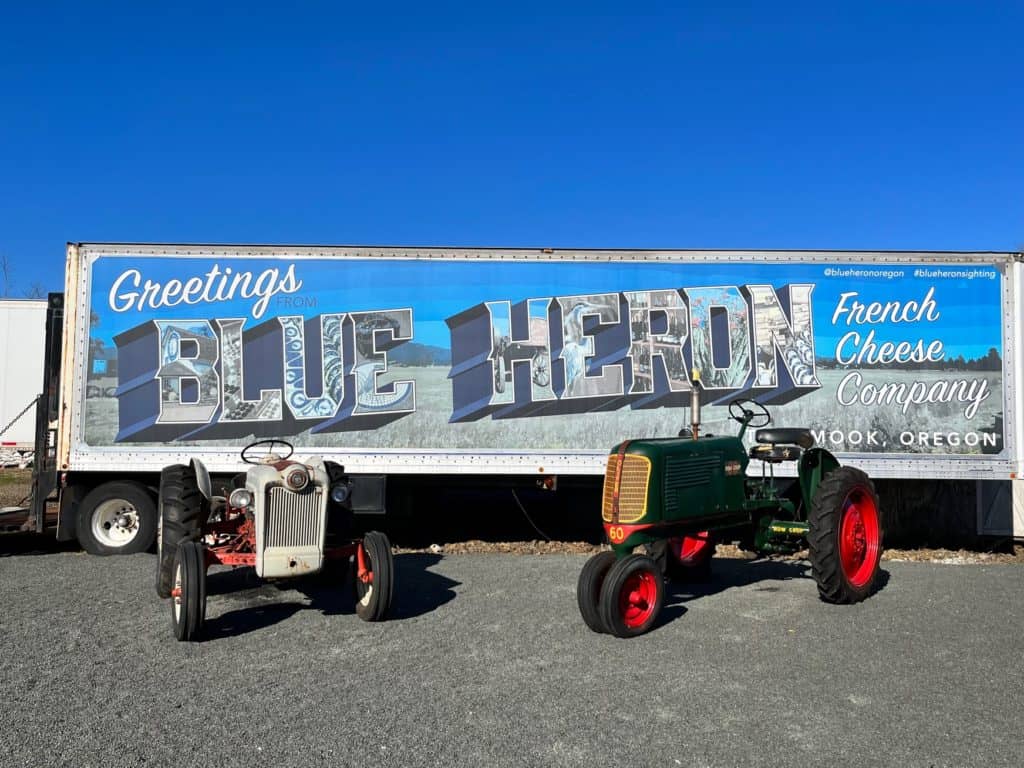 If you're looking for more activities, consider visiting the Blue Heron French Cheese Company. This family-owned business specializes in artisan cheese, wines, and foods. The Blue Heron French Cheese Company is a must-visit for foodies and anyone looking for a unique experience in Rockaway Beach.
Families will enjoy the petting farm (including a peacock!), huge candy store, and the outdoor picnic area that's also dog-friendly. Take unique photos with old farm equipment and transportation vehicles as well. Whether you're looking to bring home some souvenirs or just want to try something new, the Blue Heron French Cheese Company is a must-visit.
27. Go rockhounding for agates and jasper at Short Beach
Short Beach is only about 40 minutes south of Rockaway Beach, and is one of the best spots on the Oregon Coast to find semiprecious stones like jasper and agate. We took the fun little wooden staircase down and spent over an hour exploring the rocky shoreline, looking for rocks and enjoying the secluded beach. Our kids all found special stones to bring home, too.
28. Date Night at the Nehalem Bay Winery
Savor a quiet moment at the Nehalem Bay Winery and treat yourself to some delicious local wines. As part of the Oregon Coast Food Trail, the winery offers a range of wines to suit every palate, along with stunning scenery that complements the experience. The staff is friendly and knowledgeable, making it an enjoyable spot for both wine connoisseurs and novices alike.
29. Go on a nature walk at Manhattan Beach State Recreation Site
Manhattan Beach State Park is a must-visit for nature lovers. This stunning park is filled with trails that lead through beautiful forests and along the coast. Be sure to bring your camera because you'll want to capture the breathtaking views of the ocean and surrounding landscape.
The hiking trails are well-marked, making it easy to find your way around. Keep a lookout for wildlife, as the park is home to many animals such as elk, deer, and sea lions. If you're lucky, you may even spot a bald eagle soaring overhead.
One of the highlights of this park is the beach. It's not your typical sandy beach, but rather a rocky shoreline that's perfect for exploring. The tide pools are full of fascinating creatures, and you'll want to spend hours combing the rocks for treasures.
30. Three Capes Scenic Loop
Cape Meares Lighthouse is a short but worthwhile stop on the Three Capes Scenic Loop in Oregon. It's one of the most picturesque spots on the northern Oregon Coast.
The Cape Meares lighthouse is the shortest on the Oregon coast, but it's still an impressive sight. It was built in 1890 and is made of brick and iron. The lens is a first-order Fresnel lens, which was one of the most powerful and largest of its day. Mariners could spot the distinctive red-and-white flashes from more than 21 miles away.
In addition to the lighthouse, Cape Meares State Scenic Viewpoint is home to the Octopus Tree, a Sitka spruce tree that has been shaped by the wind into a spiral pattern. The tree is over 300 years old and is a popular photo op.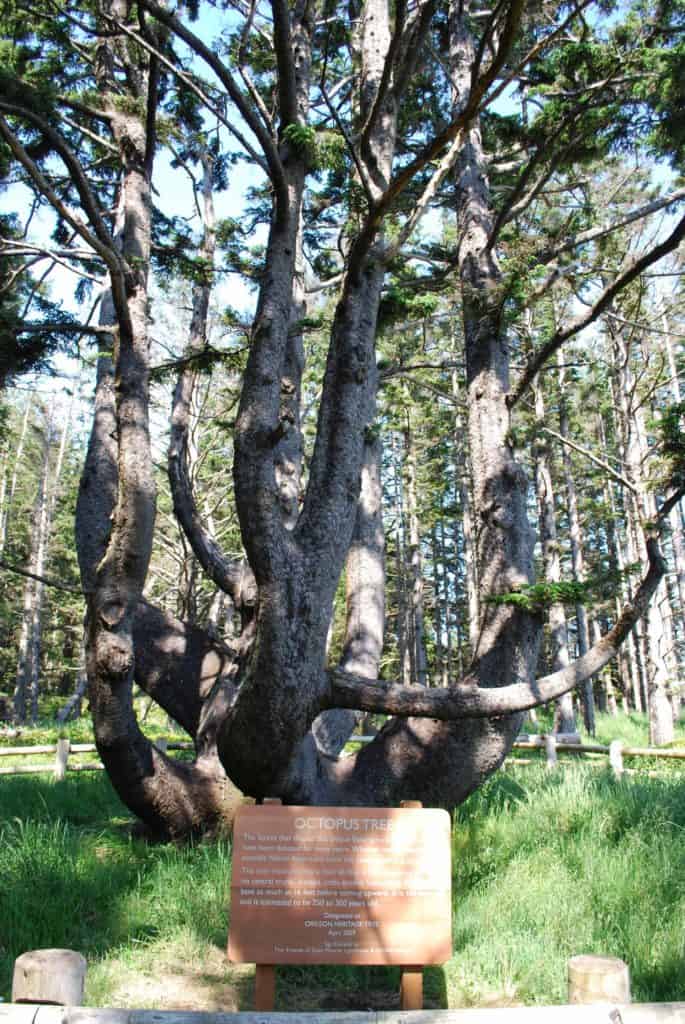 31. Take a day trip to Cannon Beach
The most recognizable spot on the Oregon Coast, Cannon Beach offers a picturesque view of the Oregon coastline and a relaxing atmosphere for the whole family. Kids can enjoy building sandcastles and exploring tide pools within view of the famous Haystack Rock. You can also take a stroll down the charming downtown area where you'll find many unique shops and restaurants.
Our favorite things to do in Rockaway Beach Oregon!
Rockaway Beach, Oregon is a treasure trove of fun-filled activities for the entire family. With 31 activities to choose from, there is something for everyone! As you plan your next family vacation, consider heading to Rockaway Beach, where adventure and fun await. Happy travels!
©️ Copyright Jennifer D. Warren 2023.