The City of Roses has no lack of dazzling displays this holiday season. This year you can go to the Zoo, run a 5K, walk your dog, or paddle a canoe under the glow of Portland's best light shows! Here's our list of the 9 best places to see Christmas lights in Portland.
Table of Contents
Related post: 11 Best Christmas Lights in Salem Oregon
(If you're looking for even more Christmas activities to do with your family, check out our family Christmas bucket list with FREE printable! And for non-Christmas ideas, here's our list of 75+ Winter activities for teens and families.)
#1. ZooLights
Oregon Zoo's ZooLights has been our long-time Christmas favorite. Each night the Zoo lights up with life-sized light displays of animals, tunnels of color, and even a lighted train. ZooLights can be enjoyed a variety of ways this year.
Here's a quick run down of what's offered, but be sure to check the calendar for specific dates, times, and schedule changes.
2023 ZooLights Events:
ZooLights: November 19, 2023 to January 7, 2024
Zoo Member Preview Night: November 19, 2023
Sensory Night: November 20, 2023
Value Nights: Nov. 27, Dec. 4-7, Jan. 1, 5-7.
Brew & Lights (21+): November 17th & 18th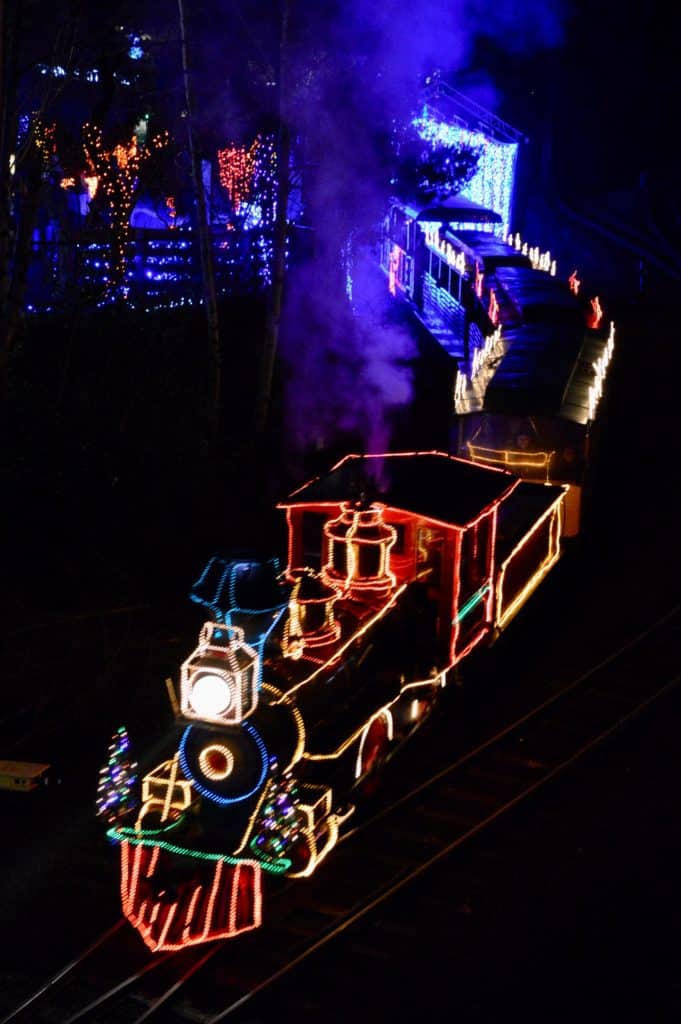 2023 ZooLights Tips:
Bring Enough Adults: ZooLights is a popular nighttime attraction that's spread over several acres. Visit ZooLights with enough loving, responsible adults to keep your children safe.
Download a Map: A map makes for much less stress. Get your download before you go.
Be Sure to Bundle Up: Think zoo-day on a chilly winter night. You'll be outside for several hours, so be sure to dress you and your little ones in layers. Base layers are a great way to keep warm.
Dress in Water Resistant Clothing: Choose synthetic over cotton, boots instead of sneakers, and pack an umbrella.
Expect Children to Forget: Pack extra hats, gloves, and handwarmers.
Plan to Buy Some Hot Sugar: You'll get your steps in at the zoo. A hot snack will ward off Christmas crankiness.
#2. Pioneer Courthouse Square
"Portland's Living Room" is a natural place to see holiday splendor. Pioneer Courthouse Square takes its name from the historic landmark that overshadows it, the Pioneer Courthouse. But every holiday season the formidable courthouse is dwarfed by a massive Christmas tree.
Pioneer Courthouse Square's central location makes it a great place to grab some holiday joy when you're on the go. The square is right on the MAX line and within walking distance of several of Portland's main stores and attractions.
You can take a break from your Black Friday shopping to enjoy the lights, listen to live music, and grab some glorious food cart grub.
2022 Pioneer Courthouse Square Calendar (2023 Update coming soon)
"Portland's Living Room" is practically brimming with goodies this year. Here's the line-up:
Pioneer Courthouse Square Main Events
Pioneer Courthouse Square Holiday Performances
Nov. 27th 11:30-12:30 PM: The Dickens Carolers
Nov. 27th 1:00-2:00 PM: Laryssa Birdseye
Dec. 1st 12:00-1:00 PM: The Fireside Carolers
Dec. 2nd 5:00-6:00 PM: MC Shoehorn
Dec. 6th 12:00-1:00 PM: AM (Acoustic Minds)
Dec. 6th 5:00 PM: Inspirational Sounds From Latin America
Dec. 8th 12:00-1:00 PM: The Jefferson Dancers
Dec. 9th 5:30-7:30 PM: The Great Figgy Pudding Caroling Competition
Dec. 10th 1:30-3:00 PM: The 31st Annual Tuba Christmas Concert
Dec. 11th 12:00-1:00 PM: Power Pep Band
Dec. 11th 2:00-3:00 PM Dance Fusion Northwest
Dec. 11th 5:00-6:00 PM: Ockley Green Middle School Dancers & Band
Dec. 12th 12:00-1:00 PM: Ida B. Wells High School Jazz Band
Dec. 12th 5:00-6:00 PM: Solid Brass PDX
Dec. 13th 12:00-1:00 PM: Beaumont Middle School Jazz Band
Dec. 13th 5:00-6:00 PM: Pablo Rivarola
Dec. 13th 5:00-6:00 PM: The Fireside Carolers
Dec. 14th 12:00-1:00 PM: LaRhonda Steele
Dec. 14th 12:00-1:00 PM: Megan McGeorge
Dec. 14th 5:00-6:00 PM: Alameda School Choir
Dec. 15th 12:00-1:00 PM: Portland Raging Grannies
Dec. 15th 5:00-6:00 PM: The Dickens Carolers
Dec. 15th 5:00-6:00 PM: Mac Balladeers
Dec. 16th 12:00-1:00 PM: Pablo Rivarola
Dec. 16th 12:00-1:00 PM: Jennifer O'Leary
Dec. 16th 5:00-6:00 PM: Reynolds High School Choir
Dec. 16th 5:00-6:00 PM: The Blueprint Carolers
Dec. 17th 12:00-1:00 PM: Sasa Fox
Dec. 17th 12:00-1:00 PM: Peppermint Patties
Dec. 17th 5:00-6:00 PM: Bridge Town Sound
Holiday Performances on the Week Before Christmas
Dec. 18th 12:00-1:00 PM: Karyn Ann
Dec. 18th 12:00-1:00 PM: The Dickens Carolers
Dec. 18th 12:00-1:00 PM Megan McGeorge
Dec. 19th 5:00-6:00 PM Jordan Sings
Dec. 20th 12:00-1:00 PM: Sam Barlow High School
Dec. 20th 5:00-6:00 PM: Stumptown Saxes
Dec. 20th 5:00-6:00 PM: Fireside Carolers
Dec. 21st 12:00-1:00 PM: The Dickens Carolers
Dec. 21st 12:00-1:00 PM: The Beat Goes On Marching Band
Dec. 21st 5:00-6:00 PM: The Angelic Noise
Dec. 22nd 12:00-1:00 PM: Hayley Lynn
Dec. 22nd 12:00-1:00 PM: Jennifer O'Leary
Dec. 22nd 5:00-6:00 PM: The Fireside Carolers
Dec. 22nd 5:00-6:00 PM: Jordan Sings
Dec. 23rd 12:00-1:00 PM: The Blueprint Carolers
Dec. 23rd 12:00-1:00 PM: LaRhonda Steele
Dec. 23rd 5:00-6:00 PM: Over the Bridge Jazz
#3. Winter Wonderland: Portland International Raceway
North Portland has an even grander lights show. In fact, the Portland International Raceway's Winter Wonderland is the largest light show in the Pacific Northwest. The drive-through experience raises funds to support Portland families and individuals in need.
You don't have to buckle your seat belt to see the Winter Wonderland lights. You could opt for an exercise suit, a bike, or a dog leash at one of their special events (below).
Winter Wonderland is one of the few light displays that's open through the entire holiday season, including holidays. You'll find Portland International Raceway in North Portland near the Washington border.
2023 Winter Wonderland Details
Winter Wonderland Runs from Nov. 24th to Dec. 31st.
Bike the Lights: Ride your bicycle on Nov. 28th
Lights and Leashes: Walk the Lights with your pet on Nov. 27th & Nov. 29th.
Winter Wonderland is open Christmas Eve, Christmas, and New Year's Eve from 4:30-11:00 PM.
2023 Winter Wonderland Tips:
Tire chains and studded tires are prohibited.
#4. Lightopia
Portland's west metro area has its own drive-through experience at Lightopia in Hillsboro. Lightopia was a bright spot in our pandemic Christmas season. The arrangement and drive was super easy and the decorations were impressive.
Last year Lightopia included a Holiday Hustle Event that allows you to walk, run, or bike through the lights. Lightopia is held at the Gordon Faber Recreation Complex, a stadium that is conveniently located next to Highway 26.
2023 Lightopia Details:
Season runs from Dec. 5th to Dec. 30th.
Reservations open: TBD
Monday to Thursday Hours: 5:00 to 8:00 PM
Friday and Sunday Hours: 5:00 to 9:00 PM
Closed on Christmas Day
2023 Lightopia Tips:
RSVP: Lightopia is a free event, but it does require reservations.
Make a Day of It: Hillsboro offers a good selection of holiday events including
#5. Christmas Ship Parade
It's only fitting that "Bridgetown" would have a nautical lights show. In fact, Portland's location makes for a host of festive fleets. The Christmas Ship parade is made up of ships from across the Portland Metro area.
Portland's Christmas fleets can be seen at a number of locations along the Columbia and Willamette Rivers. You can even catch them at Lake Oswego which is located in the Southeast Portland metro area.
If you plan to watch a Christmas Ships parade, then see if you can get a spot on one of Portland's iconic suspension bridges. You can find the complete 2023 Christmas Ships Parade schedule here.
#6. Grotto's Christmas Festival of Lights
Northeast Portland holds one of the city's most appreciated light displays. The Grotto is a peaceful catholic shrine and garden not far from the 205 freeway. Every holiday season the Grotto transforms into a magical landscape.
The Grotto is even better known for its sounds than its sights. The Chapel of Mary hosts choral performances. Puppet shows, outdoor caroling, and other live entertainment can be found in the Grotto's plaza area. The Grotto's abundant, creative entertainment make it one of the best places to see Christmas lights in Portland.
2023 Christmas Festival of Lights Details:
Season runs from Nov. 24th to Dec. 30th
Value Nights: Nov. 27-30th & Dec. 4-7th
Closed on Christmas Day.
2023 Christmas Festival of Lights Tips:
The Grotto doesn't accept cash payments.
#7. Peacock Lane
"Portland's Christmas street" may be the city's oldest Christmas lights display. The Belmont Area street is a National Historic landmark, known for holiday festivity since 1929. You can enjoy live music and hot cocoa as you walk down Peacock Lane, located in East Central Portland.
2023 Peacock Lane Details:
Season runs from Dec. 15th-31st, 6:00-11:00 PM
Pedestrian Only Nights: Dec. 15th, 16th, & 17th
Dogs are permitted as long as they are leashed.
2023 Peacock Lane Tips:
Plan Your Commute: Parking is difficult around Peacock Lane. We recommend using the MAX line or carpooling if you plan to walk along Peacock Lane.
Enjoy a Hot Drink: Peacock Lane serves free Hot Cocoa & Hot Cider from Dec. 15-24th.
Arrive Early: Drinks run out quickly when the weather is good.
Consider Visiting After Christmas: Peacock Lane's crowds drop after Christmas.
#8. Pittock Mansion
Portland's best-known mansion is another natural place to enjoy the holiday spirit. But don't go looking for Christmas lights in the ordinary sense. The mansion is impressive, but it's the building's location that makes the Pittock famous.
The Pittocks Mansion's grounds provide a fantastic view of downtown Portland, the city's Eastside neighborhoods, and iconic Mount Hood. In fact, clear days yield views of not only Mount Hood, but Mount St. Helen's Mount Adams, Mount Rainer, and Mount Jefferson as well. This excursion offers a unique way to either begin or wrap up your Portland Christmas experience.
#9. Wenzel Farm Christmas Fantasy Trail – CLOSED
Unfortunately, one of the best places to see Christmas lights in Portland will not be open this holiday season. Wenzel Farm's Christmas Fantasy Trail is a forest walk with plenty of surprises. This adventure includes a tunnel, a suspension bridge, a maze, a crooked house, and even a 40 foot castle.
Nightly bonfires and fire pits provide a warm way to get festive in spite of the cold. Wenzel Farms is located in Oregon City, but will not be open for the 2023 holiday season. We hope to see them open again in 2024.
Best Christmas Lights in Oregon
Portland isn't the only place that knows how to put on a good holiday light show. Here are ten great places to find Christmas lights in Oregon.
Azalea Park: Brookings, OR
Brookings boasts the best holiday light show on the Oregon Coast. We were intrigued so we decided to stop here on our Holiday National Parks Roadtrip. This place is truly exceptional. In fact, we're not sure that we've ever been to a holiday display as immense and immersive as Azalea Park.
Brookings' Azalea Park is made up of no less than 3,000,000 lights that literally cover acres of parkland. Walking paths meander through illuminated lawns, glowing hillsides, and groves of color. All kinds of scenes, creatures, and creations inhabit this lightscape.
Our family spent over an hour enjoying the wonders of Azalea Park. We'd arrived on a Tuesday night and found that crowds were few and lines were short. It was the sheer enormity and variety of Christmas lights that kept us occupied so long.
You would think that holiday lights would get redundant at a certain point. But that was not our experience. In fact, we were delighted at some of the creative and unique displays that we found here.
Brookings is one of the warmest places to visit on the Oregon coast and and excellent destination for an Oregon winter roadtrip.
Magical Christmas Murals: Grants Pass, OR
Here's a light show that surpasses even the best places to see Christmas lights in Portland. The city of Grants Pass sponsors a city-wide display of magical holiday murals. These beautiful murals actually change as you watch them!
Twenty magical murals can be found throughout the city's downtown area. The murals are made by local artists and are truly remarkable.
Clackamas County Winter Fair: Canby, OR
The Clackamas County Fairgrounds hosts a quality, drive-through lights show. You'll find the Fairgounds in Canby, a little ways south of the Portland Metro area.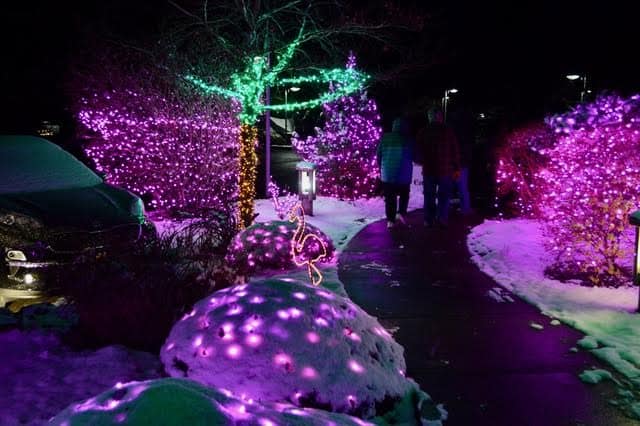 Jacksonville Victorian Christmas: Jacksonville, OR
Jacksonville's Victorian Christmas was my top Christmas experience of 2022! The frontier town of Jacksonville was once one of Oregon's most promising and productive cities. Today, Jacksonville is one of the best kept secrets of Southern Oregon.
Jacksonville has kept most of her 19th century buildings and every Christmas season she transforms into a Victorian Belle. You can step into a Charles Dickens novel and experience the beauty of a traditional Victorian Christmas.
We'd heard about Jacksonville's Victorian splendor, but we didn't know about its outstanding parade. Jacksonville's holiday parade was a superb series of marching bands, festive floats, horses and carriages, historic cars, dancing groups, and more. This top-notch parade lasted over an hour and went off without a hitch.
Our family loved Jacksonville. A group of us took a carriage ride around the town while the rest enjoyed snacks and explored the shops and boutiques that line Jacksonville's historic downtown.
Jacksonville's Victorian Christmas is another destination that rivals even the best places to see Christmas lights in Portland.
Pastega Christmas Light Display: Corvallis, OR
Here's a grassroots community event right out of rural Oregon. The Pastega Family and the community of Corvallis have provided a free festive display for years. The display runs a canned food drive that usually brings in around 7,500 pounds of food for people in need.
You can contribute food donations or even volunteer to help take down decorations. The Pastega Christmas Light Display is a drive-through experience. You'll find it at the Benton County Fairgrounds in Corvallis, Oregon.
Note: Closures can take place due to severe, inclement weather. Be sure to check the Pastega Christmas Light website before making your visit.
Shore Acres State Park: Coos Bay Oregon
Shore Acres State Park adds coastal glamour to Oregon's holiday scene. The park encloses the large estate of Louis J. Simpson, one of Oregon's timber barons. Simpson's historic mansion and beautiful gardens are set aglow each holiday season.
Shore Acres State Park is also known for being one of the best places to watch winter storms. See massive waves crash against the Oregon Coastline at this secluded state park.
Silverton Christmas Market: Silverton, OR
Here's another beloved Christmas destination. The Oregon Garden Resort provides an annual event that delights the senses and warms the heart. The resort borders the beautiful Oregon Garden and the city of Silverton, Oregon, putting you right next to Silver Falls State Park, The Cascades, and the beautiful Willamette Valley. 
Small Town Oregon
I don't know of a better way to experience Christmas than in small town Oregon. Most of Oregon is made up of rural communities with deep roots and old, cherished traditions. It's a real treat to celebrate Christmas in a coastal fishing town, the Willamette Valley countryside, or a Cascade lumber hub.
Last year we rung-in the Christmas season at Mt. Angel, Oregon's best-known German town. Mt. Angel is about as close to Europe as you can get here. A benedictine monastery stands tall on the top of Mt. Angel and a convent can be found nearby.
Mt. Angel is best known for its enormous Oktoberfest, but we were delighted to find that they also host a German Christmas Market.
Mt. Angel's Christmas market was heartwarming. Artisans sold hand-made Christmas gifts and local business, schools, and charities offered warm, delicious refreshments.
The festivities had their crowning moment when Saint Nick arrived on a Mt. Angel Firetruck. He drew a name out of hat to determine which child would turn on the Mt. Angel Christmas Tree. Everyone counted down and clapped for joy when the switch was flung and the christmas tree lit up. Moments like these make me proud to be an Oregonian.
Twilight Christmas Parade: Baker City, OR
You can experience a charming country Christmas in Baker City, Oregon. The city's Twilight Christmas Parade sports a host of creative and fun floats and vehicles that you won't find at your home town. At 3,442 feet above sea level, you have a good chance of enjoying snow with your light show!
Wolf Creek Inn State Heritage Site
A bright oasis of holiday cheer lies right along the Interstate 5. Wolf Creek Inn and Tavern is one of Oregon oldest business, serving weary travelers since 1887. This old stage-coach stop is located along Oregon historic Applegate Trail.
Wolf Creek has a reputation for good eats and that was certainly the case when we visited. But probably the best part of Wolf Creek was just how fun it was to be there. Our children were welcome here and they enjoyed looking around at their surroundings and the historic pictures of the Inn.
The place was completely decked out for the holidays, and the Women's Parlor Room was entirely themed on The Christmas Story movie.
Happy Holidays!
That wraps up our list of 9+ best places to see Christmas lights in Portland. Did you find this post helpful? If so, please share the post so that others can benefit as well. We'd also welcome your questions and comments!
If you're visiting Portland for the holidays, be sure to check out our list of 15 best family-friendly day trips from Portland. Happy Traveling and Merry Christmas!
© Copyright Brian A. Warren 2022. Updated: October 23, 2023