When we moved to Silverton, Oregon in 2021, we discovered that it's one of the most kid-friendly cities you'll find anywhere. In this post we'll share the best fun family activities of Oregon's Garden City with you. From outdoor adventures to creative arts to community events, there's plenty of small-town charm for the whole family.
Table of Contents
The Oregon Garden
Nestled at the southeastern edge of the city of Silverton, the Oregon Garden is one of our family's favorite places to spend time together. This 80-acre botanical garden is beautiful year-round, and showcases the diversity of Pacific Northwest plant life.
A visit to the Oregon Garden provides an excellent opportunity for hands-on learning and interactive fun in its specialty gardens. Our kids love the Water Garden, with its frogs, ducks, snakes, and whimsical dragon.
When we visit on hot days, the other water features around the Garden, like the rain fountain, allow the kids to cool off.
The Children's Garden is also a favorite, with its hobbit house, clay pot family, and the newest pirate ship climbing structure. Kids can have a pretend dinosaur dig in the sand area, or drink from the giant slug water fountain.
Dogs are welcome too, and there's a pet-friendly garden dedicated to Bobbie, Silverton's Wonder Dog (more on that later). The gift shop at the entrance has all kinds of garden plants and gardening gifts available, as well as light snacks and drinks.
Frank Lloyd Wright's Gordon House
Just inside the Oregon Garden drive is Gordon House, the only house designed by Frank Lloyd Wright in Oregon. Gordon House is open for 45-minute guided tours that must be reserved in advance online. It's not particularly kid-friendly, although older teens may appreciate the in-depth look at Frank Lloyd Wright's architectural approach.
Playgrounds, Parks and Pool
For some exciting outdoor fun, head to one of Silverton's playgrounds where your kids can swing, climb, and slide to their heart's content.
Coolidge-McClaine Park and swimming hole
Coolidge McClaine Park is a few blocks from the main downtown area, and hosts many special events for the community of Silverton. The playground has two sets of play equipment, one for younger kids (ages 2-5) and another larger structure for older kids (age 5 and up).
It's a popular summer spot for birthday parties and playdates, and we often meet up with friends at Coolidge McClaine Park. There are covered picnic areas, and several walking trails to explore.
Coolidge-McClaine Park also has a foot bridge to cross the creek and a swimming hole. Local teens enjoy cooling off in the crystal-clear water of Silver Creek during hot summer days. There are life vests available to borrow, but no lifeguard on duty.
Silverton's Skate Park and Dog Park
The Judy Schmidt Memorial Skate Park is the perfect spot for kids, teens, and adults who want to practice their tricks. Our kids enjoy biking, skateboarding and rollerskating on the bumps, bowls and ramps.
A dog park with separately fenced areas for big dogs and little dogs is right next to the parking area for the skate park.
Lincoln Park
A small park tucked away in a quiet neighborhood, this is a great place for kids who get overwhelmed with a lot of people. There's some playground equipment and a half-basketball court with hoop, but that's about it.
Pioneer Park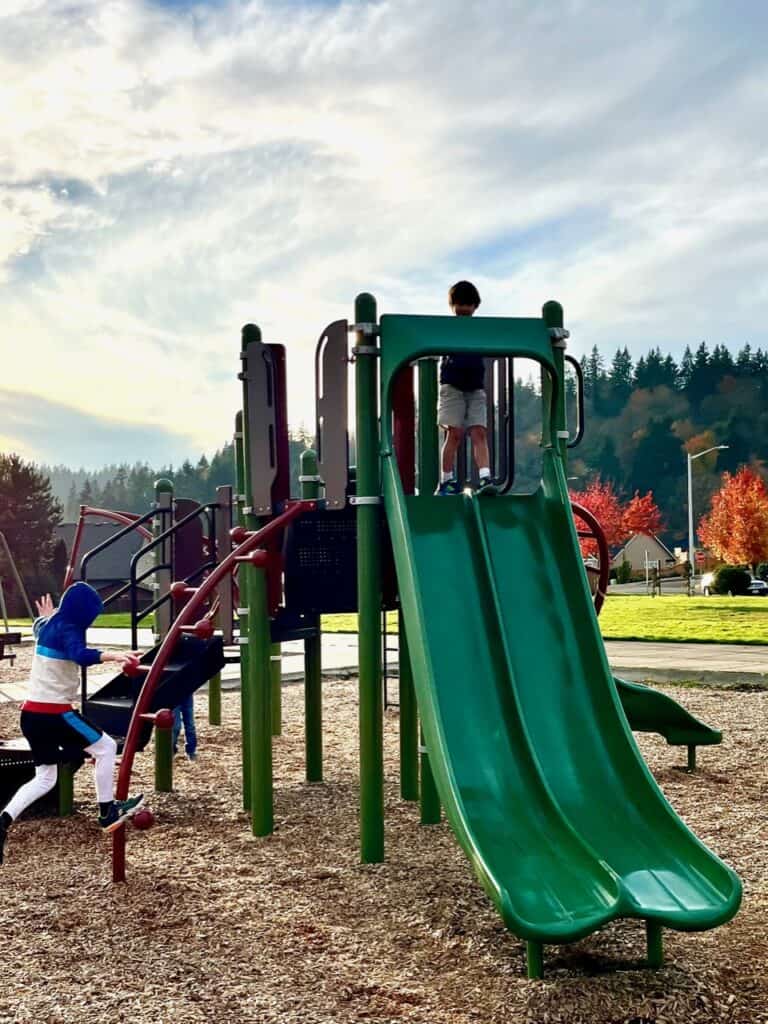 Pioneer Park is a beautiful new park out on the east end of Silverton close to the Reservoir. There's lots of wide open space to run, as well as a shaded picnic gazebo and half basketball court.
Silverton Public Pool and All-Abilities Park (coming soon!)
The YMCA pool in Silverton is a fun and inexpensive option for families. The heated pool has a zero-depth entry at one end, as well as a shallow family area and another section for lap swimming. It's open year-round, except for maintenance for a couple of weeks in October and May.
Directly across the parking lot from the pool is the Silverton Rotary All-Abilities Park, located at Old Mill Park. It's scheduled to open in November 2023, and it's going to be a fantastic place for kids of all ages and abilities to play together.
Silver Falls Library
The Silver Falls Library has a good selection of books, movies and other items available to borrow. There's usually some coloring pages or a craft available each month for kids and teens, as well as special events such as magic shows, story times, and more. Check the website for the most up-to-date information.
Silver Creek Lanes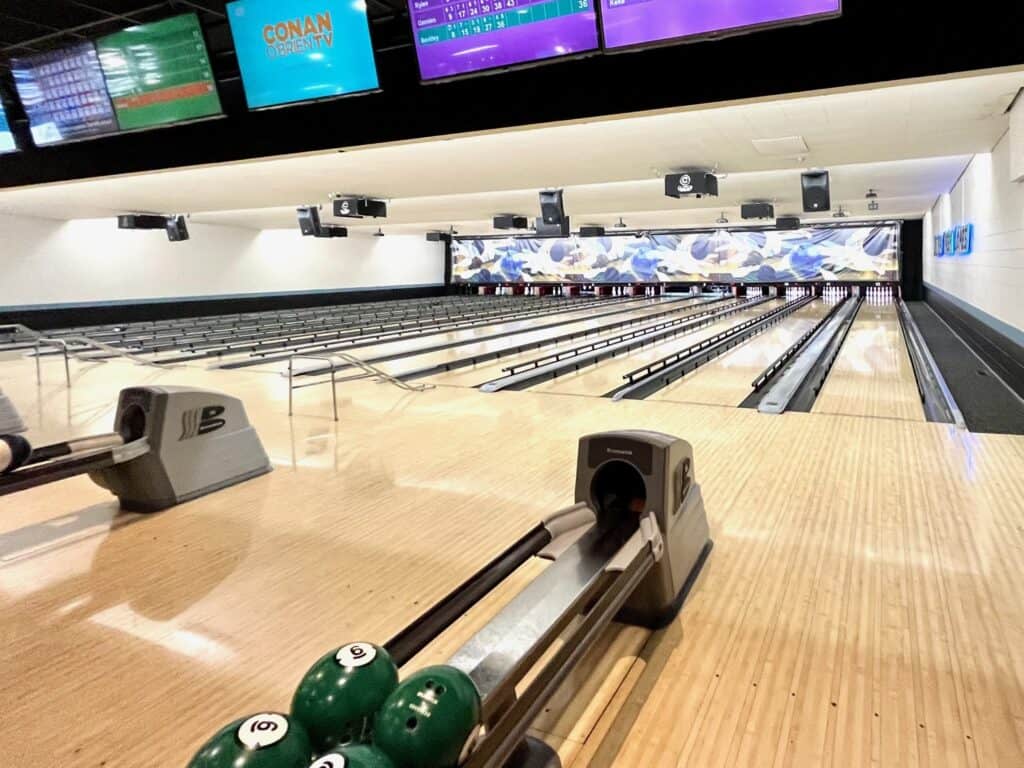 Bowling is a classic American pastime, and Silverton has a great bowling alley centrally located. Silver Creek Lanes offers standard bowling and cosmic bowling for kids and adults, with events and leagues available to join year-round. You can enjoy great food onsite, and their dining patio overlooks Silver Creek.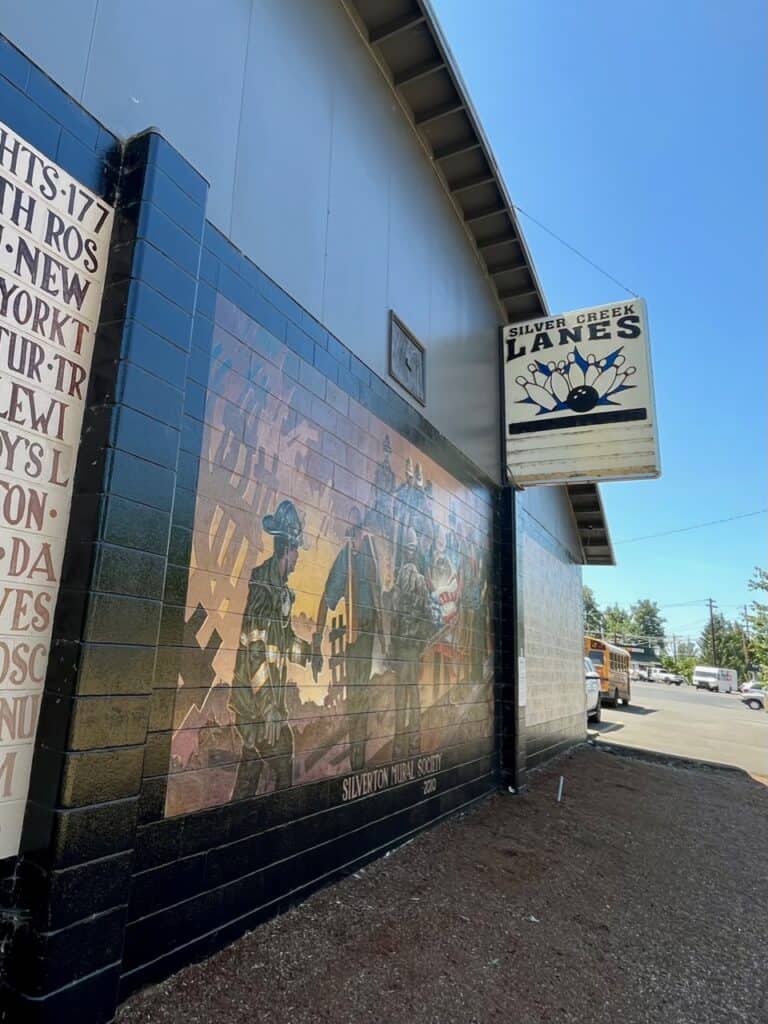 Silverton Reservoir and Marine Park
The Silverton Reservoir offers fun activities in and on the water, including fishing, boating, swimming, stand-up paddleboarding (SUP) and more. Several local businesses offer kayak or SUP rentals. You can also walk the nature trails, enjoy birdwatching or eat a picnic lunch overlooking the reservoir.
Downtown Fun: Art Walk, Shopping, Movies
Silverton's charming downtown is full of historic buildings, unique shops, and top-notch eateries. Here are a few highlights that will appeal to families.
Silverton Murals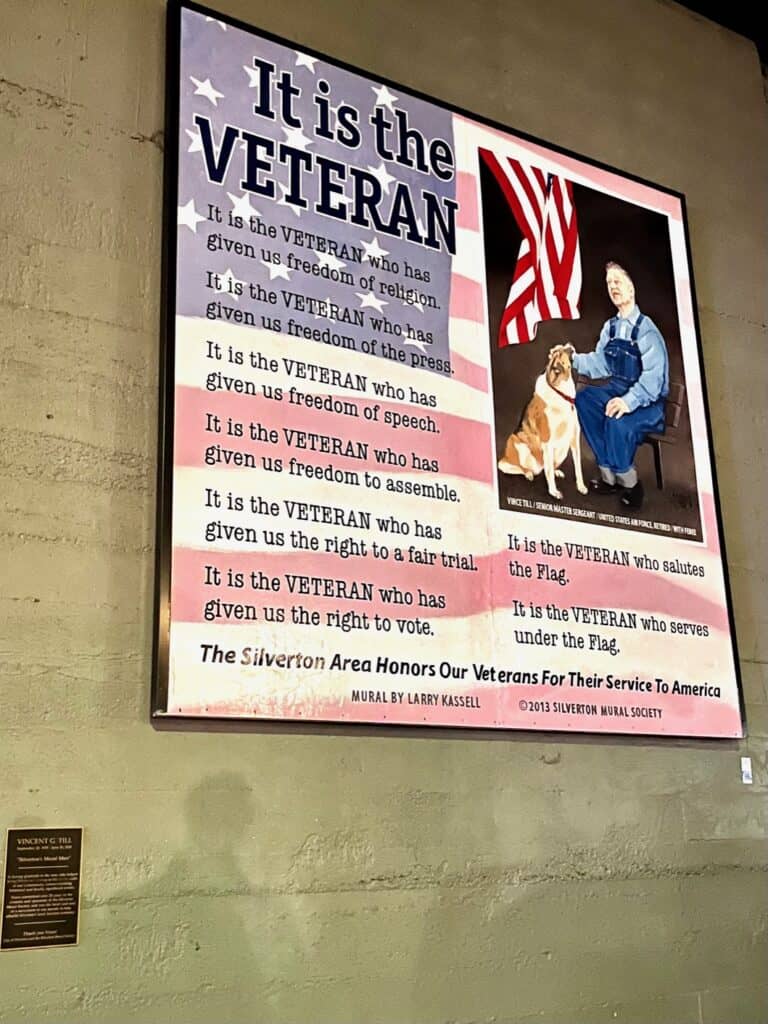 One of our favorite things about Silverton's downtown area are the murals everywhere! As new residents to Silverton, it's been so fun to learn about Silverton's history and its famous citizens through these giant works of art.
Be sure to check out the story of Bobbie the wonder dog (near Silverton Coffee Station) and the mural dedicated to Keith Kaser, an eccentric miner and local legend.
The Silverton Mural Society offers guided walking tours, or grab a map of the murals and explore at your own pace.
@dinkumtribe Silverton is a beautiful historic town in the heart of the Oregon Cascades. It's known for its mining history, its charming downtown, and its vibrant arts scene. One of the best things about Silverton is its murals. There are over 30 murals scattered throughout downtown, each one depicting a different aspect of the town's history. Some of the most popular murals include the "Four Freedoms" mural by Norman Rockwell, the "Bobbie the Wonder Dog" mural, and the "Homer Davenport" mural. The murals are a great way to learn about Silverton's past and to appreciate its rich history. So next time you're in Silverton, be sure to take some time to explore the murals. You won't be disappointed! @DinkumTribe ADHD family travel @DinkumTribe ADHD family travel @DinkumTribe ADHD family travel #oregontravelideas #silvertonoregon #familyfriendlytravel #historicmurals ♬ original sound – DinkumTribe ADHD family travel
Historic Buildings, Homes and a Bridge
Downtown Silverton is home to several historic buildings. Most houses are privately owned, but some are open for tours at various times and the old commercial buildings are still used for restaurants, shops and other businesses. The Masonic Lodge, the Wolf Building and the Silverton Palace Theater are some of our favorites.
If you like historic homes, you can stay overnight in the Gordon House, or in the McClaine House (a Victorian historic house Bed and Breakfast on McClaine Street). It's one of several Queen Anne style homes in Silverton, and you'll find other historic homes in the Craftsman style and Colonial Revival style.
A few miles outside of Silverton you'll find the Gallon House bridge, an iconic covered bridge that is perfect for photos.
It's worth a short detour to see, but there's nothing else to do there once you've walked or driven through it.
Shopping in Silverton
From quaint boutiques to antique stores, Silverton's downtown area offers a range of shopping experiences.
Our kids love the rocks and gems at I've Got Rocks in My Head, and we all find interesting things in the different antique shops. The Lunaria Gallery hosts local artists each month, so there's always something new to see.
Town Square Park and pedestrian bridge
Town Square Park is a small greenspace located next to the Santa Claus mural and the town Christmas tree. There's a veteran's memorial, and a small covered pedestrian footbridge that is just right for sitting and eating an ice cream cone while you listen to Silver Creek in the summer.
Silver Falls State Park
Just a half hour drive away from Silverton lies Silver Falls State Park, known as the crown jewel of Oregon's state parks.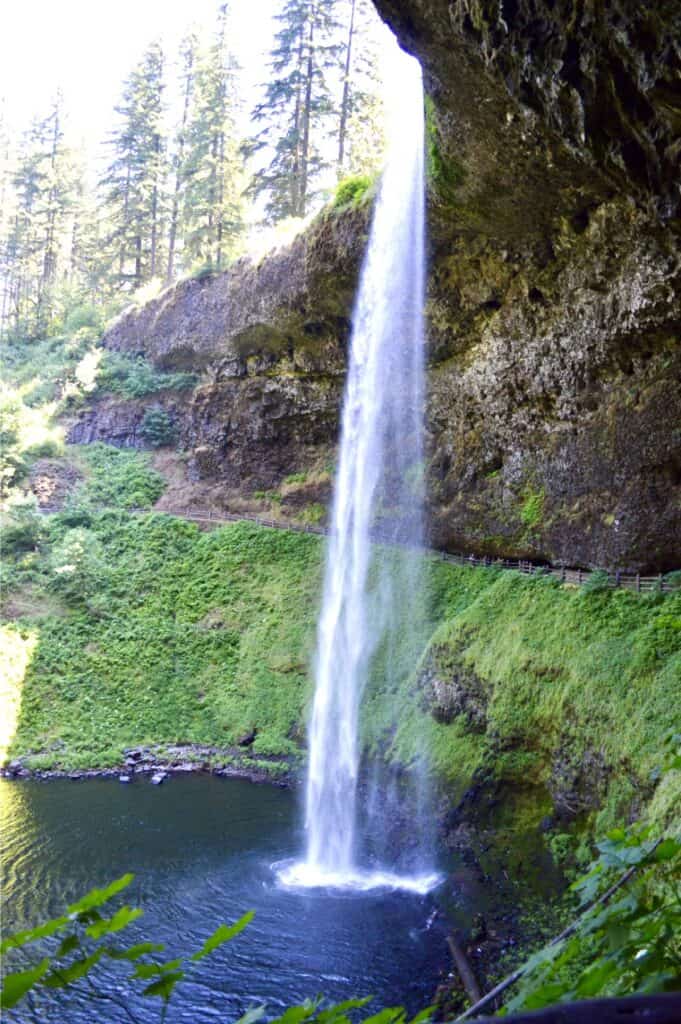 With its breathtaking waterfalls, lush forests, and miles of hiking trails, this natural playground offers many adventures for families.
Explore the Trail of Ten Falls, a scenic hiking trail that leads you past ten magnificent waterfalls. If an 8 mile hike is more than your kids can manage, visit the North Falls or the South Falls, both of which allow you the unique experience of walking behind the waterfall! There's nearby parking and a short walk for both of these iconic falls.
If your family loves unique adventures, explore the backcountry trails on foot or by mountain bike. You can even sleep in a tree if you book a treetop experience through Tree Climbing at Silver Falls!
On a hot summer day, head over to the swimming area located near the South Falls Day Use Area. Spread out a blanket on the grassy banks and soak up the sun while your little ones splash around and play in the shallow waters. It's the perfect place to unwind and enjoy some quality family time.
Seasonal Parades and Events
Whether you're visiting during the festive holiday season or the lively summer months, Silverton's community events offer plenty of family-friendly entertainment! Check the city calendar to see if there's an annual event happening when you visit.
Here's a few favorites to look into:
Davenport Days: town parade, couch races and local arts and crafts
Kiwanis Pet Parade: people of all ages bring their pets (from rabbits to stuffed animals to horses) to walk in this parade
Homecoming Parade and Football Game
Silverton Sidewalk Shindig: live music festival
Silverton Farmers Market / Oregon Crafters Market: fresh produce, local crafts and regional artists
Silverton Christmas Market: authentic German Christmas market and lights display
First Fridays
Our favorite kid-friendly eateries in Silverton Oregon
Silverton is a family-friendly town, so nearly any restaurant you visit will make you feel welcome with your kids in tow. Here are a few places that we'd recommend for a meal with small children:
Willamette Valley Pie Company (about a 15 minute drive away in a farm setting, plenty of outdoor space to play).
Gear-up Coffee: offers coloring pages, puzzles and more for your littles.
The Den (Food carts): your kids can play cornhole while waiting for their food to be ready.
Where to Stay in Silverton with Kids
The Oregon Garden Resort
The Oregon Garden Resort is right next to the Oregon Garden, and offers family-friendly and pet-friendly rooms in a quiet setting. You can also enjoy lunch or dinner at the Garden View Restaurant on-site. Every year the Resort hosts the Silverton Christmas Market, with thousands of lights and German food and vendors.
Nearby Attractions in Mt. Angel and Scotts Mill
Just a short drive away, Mt. Angel is a small town known for its rich Bavarian heritage. Take a stroll through the picturesque streets and admire the Bavarian-style architecture that gives Mt. Angel its distinct character. Your family will love the Glockenspiel that plays a seven-minute show several times daily!
Mt. Angel hosts the annual Oktoberfest, a lively celebration of German culture that attracts visitors from near and far each September. During this event, the town comes alive with traditional music, dance, and mouthwatering German cuisine and brews. Our kids loved the carnival rides and games!
The town is also home to the iconic Mount Angel Abbey, a beautiful Benedictine monastery perched atop a hill. Your family can explore the abbey grounds, visit the library (designed by a famous Finnish architect), or check out the unique collection of oddities and historic items in the Abbey Museum.
Scotts Mills
If you venture northwest from Silverton, you'll discover the charming town of Scotts Mills. The town is known throughout Marion County for its picturesque Scotts Mills County Park, which features waterfalls, picnic areas, a playground and walking trails. It's the perfect spot for a family outing, where you can relax and enjoy the natural beauty of the area.
More to explore in the surrounding area
Bauman's Farm & Garden (Gervais)
Bauman's Farm and Garden is about 20 minutes away from downtown Silverton. There's a large children's play area, animal petting barn and more, plus plenty of fresh farm produce and amazing apple cider donuts.
It's one of our favorite spots to go during harvest time because they have an amazing pumpkin patch and harvest activities!
Salem
Oregon's capitol city has no shortage of kid-friendly activities, and is only about 25 minutes' drive from Silverton. Some of our favorite spots are:
Bush House Art Barn and Bush's Pasture Park
Gilbert House Children's Museum
Salem Riverfront Park and Carousel
So many kid-friendly activities in Silverton Oregon!
As you can see, Silverton Oregon offers a treasure trove of kid-friendly activities that are sure to delight and engage your kids and teens. So, why wait? Start planning your family's unforgettable trip to Silverton today.
©️ Copyright Jennifer D. Warren 2023.