Running out of ideas to beat winter boredom for your teens? This list of winter activities for teens will give you some new ideas as well as some old favorites.
This post contains affiliate links. As an Amazon Associate I earn from qualifying purchases made from the links on this site, at no extra cost to you. Thanks for supporting our family business!
With the rise of seasonal affective disorder (SAD) and teen mental health issues, it's more important than ever to find ways of keeping teens active and engaged during the winter season. The cold weather can make this a challenge, so we've included ideas for fun indoor activities as well as outdoor winter activities.
Also check out our list of Fall activities for teens and Family Christmas Activities for even more suggestions!
Table of Contents
Fun for the whole family
In our family we have little kids as well as older kids, and we know it sometimes difficult to find activities that the whole family can participate in. Most of the activities on our list will allow all family members to participate at some level.
Outdoor activities for snow
If you live in an area that becomes a winter wonderland in the colder months, take advantage of that! The cold winter months provide lots of opportunities for outdoor activities that require snow or ice.
We live in Oregon, so our winter weather doesn't often bring snow. However, since our nearest snow parks are only about an hour away, we plan several snow days where we drive to the snow.
Plan to warm up after your activity with hot cocoa, or some hot food. Kids of all ages are happy for hot cocoa after a snow day!
1. Paint the snow
Use colored water in spray bottles or squeeze bottles to make art with the snow as your canvas. Rainbow snowflakes and color gradient shifts are just some of the neat things I've seen with this art.
2. Make snow cream
Freshly fallen clean snow and some caramel syrup are all you need to make a unique ice cream substitute. My kids ask for this whenever we have a decent snowfall.
3. Snow obstacle course
When I was in Alaska I saw all sorts of carvings and creations you can make if the weather is below freezing for several days or weeks. One of my favorite things was a snow slide!
You could take this a step further and create a snow obstacle course if you have a few days to work on it and enjoy it.
4. Ice skating
Ice skating isn't only great exercise— it's also a ton of fun! If your teens have never tried ice skating, it's a great activity to do with a group.
5. Snowboarding
For teens who are already good at skateboarding, snowboarding uses similar skills. It has more of the popularity factor than traditional skiing so teens are often more willing to try it.
6. Skiing
The first time I went skiing I was 18 years old, and by the end of the day I was going down the beginners hill pretty well. I'm not an athlete so if I could learn it than any teen can pick it up fairly easily. If you don't have someone who knows how to ski there to instruct, sign the teens up for a lesson.
7. Snowshoeing
Snowshoeing is a beautiful way to get out into countryside that is more remote. Teens can look for animal tracks, enjoy the exercise in the fresh air, and best of all it doesn't require any special skills to learn. That makes it one of the best winter activities for teens.
For teens, who are not athletic or can't participate in the rigors of downhill skiing, snowshoeing is a great alternative.
8. Snow tubing and traditional sledding
Snow tubing has got to be one of the most fun activities there is! No skills required; just go to a tubing hill, grab a snow tube and have a blast.
Many skiing areas now have designated snow tubing areas and sledding areas as well. Some skiing areas offer nighttime tubing/ sledding for an extra fun activity.
9. Ice hockey
Ice hockey is fast-paced, action-packed and occasionally allows teens to get into a minor brawl— no wonder it's popular! Your teen may enjoy signing up for winter league or just playing a pick-up game at a local skating rink.
10. Broomball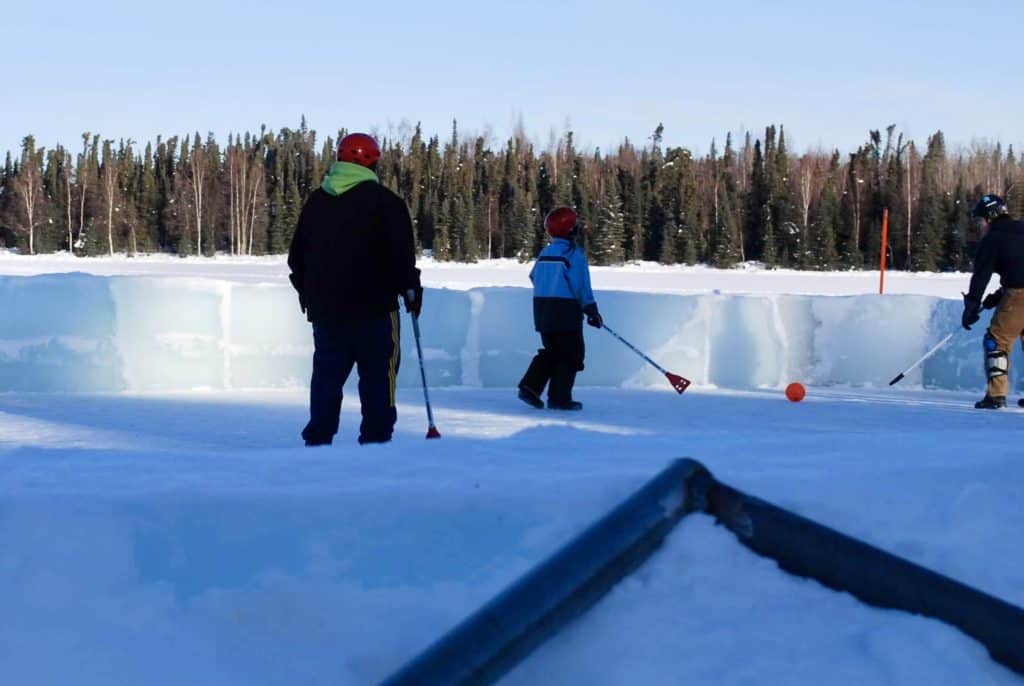 Broomball is another well-loved game played on the ice. It's similar to ice hockey, but played with a ball and "brooms" instead of puck and hockey sticks. It's also played in shoes rather than skates.
11. Curling
Curling is more of a strategy-type game, similar to lawn bowling, horseshoes or bocce. It's played on ice and the goal is to get as many points as you can by directing your team's rocks into a target area.
12. Snowball fight
Is it possible to visit the snow without getting into a snowball fight at some point? Add some speed to your snowball fighting by getting a snowball maker for each teen.
13. Build a snowman
Snow is a great building material! Besides a snowman try building a whole family of snowmen, or a snow bunny, or a bear, or whatever else you can think of!
Have a competition with prizes for who can build the best snowman, who can build the fastest up to a certain height, most creative use of materials and so on.
14. Make snow angels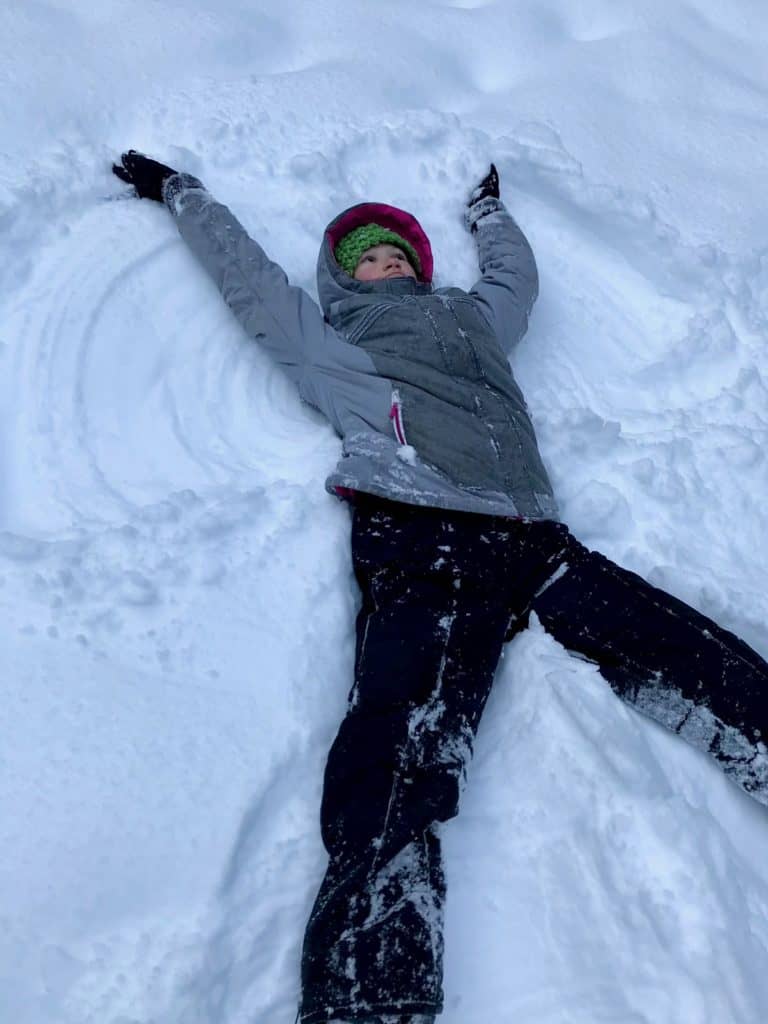 My teens still love to flop down in fresh snow and create snow angels and all sorts of other beautiful patterns. The opportunity to be a kid again is something that a lot of teens appreciate even if they can't say it out loud.
15. Build an igloo or snow fort
Grab a couple of ice block makers and watch your teens create structures. A snow fort is a great place to hide while throwing snowballs!
Outdoor winter fun (no snow)
If there's no snow anywhere near where you live, there are still a lot of fun activities that can be done on a cold winter day. Here's a list of fun winter activities for teens that don't require snow or ice.
16. Try geocaching
Geocaching is a great idea for getting kids out of the house year-round. Teens can grab a group of friends and go have fun exploring to find treasures that have been hidden by others. You can use a cell phone or invest in some dedicated geocaching equipment.
17. Play Pokémon Go (app)
I never cared much about Pokémon growing up because I was already an adult when it became popular. However, when Pokémon Go came out a couple years ago, I watched many of the adults around me try it and fall in love with it.
Pokemon Go encourages people to get out and explore their local area on foot. As you walk specific distances or visit new places, you collect items and new Pokemon creatures. If your teens haven't tried it yet, the game is free and can be played on an iPhone or Android device.
Pokemon Go is most fun to play with groups because there are certain tasks you can't complete unless you have a team to work with. This is a great way to encourage social interaction between teens or between parents and teens.
I know one family that all joined the same color team (parents and teens) so that they could play together and get the best results for the game. You've been warned— it can be addicting!
18. Go stargazing
Winter is actually one of the best times for stargazing, because the cold weather makes the sky extra clear. Bundle up and find a place away from the city lights to enjoy exploring the night sky.
19. Rock Hounding
Many kinds of rocks and fossils can be dug up at public lands. Rockhounding is great for teens who are active and adventurous, and it's an excellent hands-on STEM learning project.
20. Day Trip: Guided Excursion
Many cities offer guided tours of unique features or historic places. For example, the city of Portland, Oregon offers occasional tours of the Shanghai tunnels, which were underground tunnels used to "Shanghai" people for illegal trafficking.
Your local cities may have similar tours available that your teens would love!
21. Day Trip: Self-guided tours
Take a day to go on a self-guided excursion. Here are a couple of suggestions:
using regional food trails, historic trails, etc.
using tour books, eg. Roadside geology of Oregon (other states available)
public art installations or art walks (eg. Silverton's mural society)
22. Attend or participate in a historical reenactment
Historic sites have events year-round. If your teen is a history lover, attending a historical reenactment or a living history day might be right up their alley.
23. Antique Store
From Brian: "This was one of my favorite things to do as a teen. Antique stores are often curiosity shops with all sorts of weird and strange things. I would wander through the store with my parents and try to guess what the different contraptions were and how they were used."
24. Desert/ Sun trip
For many people who live further north, you get significantly less sunlight during the winter. One way we've learned to combat this is by driving a few hours to the east into the Oregon desert. Often a change of scenery only requires a short drive from your home.
Your teens may really appreciate the opportunity to get away from whatever winter weather they've been experiencing, even if it's only for a day.
25. Outdoor bonfire/ fire pit and s'mores
As long as it's not pouring rain, an outdoor bonfire with s'mores is a fun teen activity. To make it even more fun try using non-traditional s'mores toppings, like Reese's cups, or dark chocolate, or use cookies instead of graham crackers.
26. Take a hike/ walk in a natural area
Since we tend to have wet winters, many parks and natural areas here in Oregon have paved paths or trails that are specifically designed to handle a lot of rain.
As the saying goes, "there's no bad weather, only bad clothing." If you dress in layers and wear water resistant footwear, you can still enjoy a hike or walk all through the winter.
27. Go to a skate park
Teenagers often enjoy skateboarding and rollerblading. So if you have a local skate park, take your teens out for some fun.
28. Take a dip in a hot tub (or visit some hot springs)
If you have hot springs near you, winter is a fun time to visit to warm up. Sitting in a hot tub soaking is a great way to spend quality time in conversation with your teens.
29. Visit a national park or a state park
Many national parks and state parks are open throughout the year, even if the weather is not as ideal.
A winter visit means less crowds and makes for a better photography and hiking opportunities. We really enjoyed visiting the Redwoods in December, and almost had the place to ourselves!
30. Go for a bike ride
Again, with the right clothing, bike riding can still happen even when it's cold and wet. As an ADHD teen Brian loved going mountain biking along trails in the hills of Orange County, California. Biking makes a great whole family activity for younger children as well as teens.
31. Go to the beach
You might not naturally think about going to the beach in the winter, but it's the best time of year for whale watching on the West Coast of the United States. Check online to see if there are seasonal events like whale watching at the beach nearest you.
Another advantage is that the beaches are much less crowded. Even if it's too cold to swim, you can still enjoy playing in the sand, checking out tide pools, and long walks along the shore.
Plus, the tides and winter storms often bring in many more beachcombing treasures. The best time to find agates and jasper is after a winter storm.
32. Outdoor Challenge Course or Parkour
High ropes courses, big tree climbing, parkour and ziplining are just a few of the outdoor experiences that are available.
@dinkumtribe Tree climbing is a full body workout! It took us a few tries to get the feel of using the ropes and ascenders to climb. Once the ascender is attached to your harness and the rope, you're ready to start ascending. To do this, step into the foot loops and use your legs in a "squat" move to push the ascender up the rope. Keeping the wrist straight as you push the ascender upwards is important too. Repeat several times to keep going up. It's a LOT harder than it looks! Once you reach the desired height, you can release the ascender and swing a bit. Ascenders are a great tool for tree climbing and other activities. With a little practice, you'll be using them like a pro in no time! @dinkumtribe @dinkumtribe @dinkumtribe #treeclimbingadventure #oregonoutdoors #savetreeclimbing #familyadventuretravel #treeclimbinggear ♬ original sound – tuckerbudzyn
Teens often enjoy challenging themselves physically, or facing their fears. These high adrenaline activities are a relatively safe way to do that and are often open even during the winter.
33. Paintball
Paintball is so much fun, and many paintball places remain open throughout the winter. In fact, some courses are even better if it's rainy and muddy!
34. Firing range/ archery range/ axe throwing
Take your teen out for target practice and valuable life skills training. It's a great activity to practice focus as well as get out stress and tension
35. Whale watching trip
If your teen really enjoys wildlife spotting, a whale watching trip might be just the ticket. Winter is typically the best time to see migrating whales, and many companies will take you out and can almost guarantee a sighting.
36. Fishing
From Brian: "You can go fly-fishing, lake fishing, pier fishing, ocean-charter fishing…Tommy Thompson took me ocean fishing and I still remember the experience today."
37. Crabbing/ Clamming
Here's another way to get out of doors and pick up some yummy food too! With some basic instruction and a crab trap or some clamming buckets, you can spend the better part of the day gathering delicious seafood. Check your local harvest regulations before crabbing or clamming.
38. Off-roading/ dune buggy riding
From Brian: "A couple at my church used to take some of us teens out with them as they explored the Cleveland National Forest in their Jeep Cherokee. I never forgot how much fun these days were. So cool!"
I remember visiting the Imperial Valley in Southern California once and our friends took us out on their dune buggies. Driving over and around huge sand dunes was an unforgettable and unique adventure.
39. Play croquet, corn hole, or disc golf at a local park
Lawn games (croquet, bocce, corn hole, etc.) can be played anytime the weather is not soaking wet. Disc golf is growing in popularity, and many local parks now have disc golf holes available as well as the usual amenities.
40. Explore a new local town
One of our favorite things to do is to go to a new town or area and spend the day just looking around. Many teens enjoy being the first to know about something cool and different, so exploring new places is a great opportunity.
41. Do a scavenger hunt
Teens with cell phones may love a selfie scavenger hunt! You can also look for unique landmarks, or do a photography challenge with creative shots.
We have lots of ideas for winter scavenger hunts on our Winter Ideas board on Pinterest.
42. Go kart racing
High adrenaline activities appeal to many teens. Go kart racing is an ideal option, especially for teens who are not yet driving.
43. Mini golf
It's a classic activity for a reason! There's something fun about going to a creatively designed mini golf course, and laughing at each other's terrible shots.
44. Amusement park
If the amusement parks near you haven't closed for the winter, they can be a great option when kids have a day off. Many are open only on weekends during the winter.
45. Wildlife Viewing
Winter can be the perfect time of year for wildlife viewing and bird watching because there's less foliage. Also, many creatures are either migrating away or migrating back. Setting up bird feeders or wildlife feeders is one of the easiest winter activities for teens.
46. Kayaking, canoeing, SUP
If you live in an area where the weather is rarely cold, water sports are often available year-round. It's especially fun to do these sports in the winter because less sunlight means less chance of a sunburn.
Indoor winter activities for teens (out of the house)
If you don't feel like braving the cold weather, here are some of the best winter activities to do indoors away from home. Many of these activities would be great for a group of teenagers to do together.
47. Escape room
If you have an escape room experience near you, a lot of teens enjoy solving a mystery to get out. You can also order escape room kits to have your own at home.
48. Rage rooms
Rage rooms are also becoming popular as a way to get out some of the difficult emotions in a safe way. If you've never tried a rage room, your teen may love the opportunity to go smash things safely!
49. Stroll at an indoor mall
Yes, there are still a few left and your teen might enjoy the novelty. You could also give each person a limited budget ($5, $10) and see who can find the best buy for that amount.
50. Visit an arcade
It's an oldie, but a goodie! Better yet, most arcades now use reloadable cards instead of coins, so you don't have to make a trip to the bank for quarters.
Go with your teens and see who can win at Skee-Ball, whack-a-mole, or Pac-Man.
51. Go bowling
Bowling alleys often have deals mid-week that make them a perfect place to go on winter break. Or pay a little more to try something fun like cosmic bowling with black lights and neon!
52. Volunteer at local food banks or soup kitchens
One of the best things for mental health and boosting self-esteem is for teens to find a way to serve others. Volunteering at food banks for soup kitchens doesn't usually require any special training and might just become favorite activity for your teen.
53. Indoor rock climbing gym
Most major cities now have indoor rock climbing gyms. Teens will enjoy challenging themselves to climb higher and take on more difficult walls. You can usually find trainers there as well.
54. Indoor trampoline park
Trampoline parks are one of the best ways to get out energy for a teen that needs to move. This activity often has facilities that accommodate kids of all ages as well as teens, so it's a great family activity.
55. Indoor skydiving
I haven't yet tried indoor skydiving, but I have friends with teens who said this was a great way to spend a day. Even little ones can sometimes participate, so it's another family-friendly option.
56. Laser tag
Laser tag is so much fun, especially with a group of teens, or play the teens against the adults! Another option would be to get your own laser tag set so you can play at a local park or even in your own home.
57. Check online for local events
Libraries often host Dungeons and Dragons clubs, teen gaming clubs, animation clubs, and other fun events geared towards teens specifically.
Holidays and cultural celebrations (like the Chinese New Year or Mardi Gras) are great ideas for teens as well.
58. Aquarium or museum
Most aquariums are largely indoors, so unless the weather is extremely wet and cold, you can still enjoy them during the winter. Many museums are also largely indoors. Ask your teen if there are any local museums they've been wanting to get see.
59. Movies/ Drive-in Movie
Movies are a classic thing to do with teenagers, and winter is a great time to go, since the theaters are less crowded. If you have a drive-in movie theater nearby, your teens would probably love the retro-style fun.
60. Theater/Vaudeville
Theater doesn't have to be expensive. Many small towns and cities have a local theater group that performs inexpensive shows. Check with your local community college or high school to see what's playing.
61. Dance Class / Art Class
Many dance studios offer dance sessions where you get a quick 15-minute lesson and then get to dance for the rest of the hour. It's inexpensive with no commitment. Or you can go all-in with an instructor and regular classes.
Art galleries also offer instruction in various arts such as pottery, painting, or calligraphy. A one-time class is a great way for your teen to try something out.
62. Indoor or Outdoor?
Some activities can be outdoors or indoors:
Indoor go kart racing
Indoor mini golf
Parkour
Indoor pool / hot tub
Ice Skating / rollerskating rink
Ropes course
Zip lining
Indoor winter activities for teens at home
The best part of winter is that it gives you an excuse to stay home and snuggle in your comfy clothes. If you have a limited budget or your teens just don't want to leave the house, here's some fun things to do at home.
63. Nerf Tag
Buy a bunch of Nerf guns and darts. Then build blanket forts/barricades and have an at-home family civil war. Don't forget the safety glasses!
64. Hot chocolate bar/ ice cream sundae bar /chocolate fountain
We love having a chocolate fountain for holidays, but you could also just do it as a fun winter party event!
Hot chocolate bars or ice cream sundae bars also go over well with teens. Let your teens help you decide how to top to the sundaes or hot cocoa.
65. Video games
Of course, video games are still something that's fun to do indoors. Mix things up by doing a Mario Kart competition or playing something like You Don't Know Jack! that increases social interaction between family members.
66. Game night / board games
Teens love games where they can be silly together or work together as team. Fun games we've tried include: Risk, Ticket to Ride, Throw Throw Burrito, Exploding Kittens, Codenames, Pandemic, Mysterium.
67. Indoor Obstacle course
Let your teens create an indoor obstacle course or challenge course that they can do and try to beat their time. See who can complete it the fastest on hands and knees, or in the dark.
68. Movie marathon
Choose a movie series to watch with your teens. Favorites we've enjoyed together are Lord of the Rings, the Hobbit, Harry Potter movie series, Star Trek, Marvel movies and Jurassic Park. Make it even more fun by doing a theme night with special foods and decor.
69. Creative activities
There are so many options for creative indoor activities! Here are just a few: paint night, a craft project, friendship bracelets, manicures, spa day, make a playlist, make a YouTube channel or video…
70. Learn a new hobby
Winter is a great time to learn a new hobby because there's lots of indoor time. My teens have enjoyed crochet, origami, drawing, wood carving, sewing, baking, learning an instrument, or a new language, and many other fun options.
You can get books on different hobbies at your local library to start. Some libraries even offer a lending library of things to borrow such as a popcorn maker, or special cake pans.
71. Gingerbread houses/ decorating cookies
We often think of gingerbread houses or cookie baking and decorating as a Christmas activity but there's no reason you can't do it well into the new year. Grab some decorating supplies and have an afternoon where you make some yummy creations.
72. Declutter together/ renovate
Winter is a great time to make your indoor space more functional. Work with your teen to clear the unneeded stuff from their room and then donate it to a local charity.
After that, you can decide how to rearrange the room and their stuff neatly! Perhaps you can even add a new coat of paint or some string lights.
73. Karaoke
Music is important to many teens and a great way to boost your mood. Get hold of a karaoke machine and have a sing-along. Take turns choosing songs with your teens.
74. Puzzle or model building
Jigsaw puzzles are the traditional standby, but puzzles also come in three-dimensional shapes or creative configurations. There are even puzzles that you have to put together to solve a mystery.
You can also make models or big Lego creations— even adults are getting into the complex Lego builds available now.
75. Fun food experiences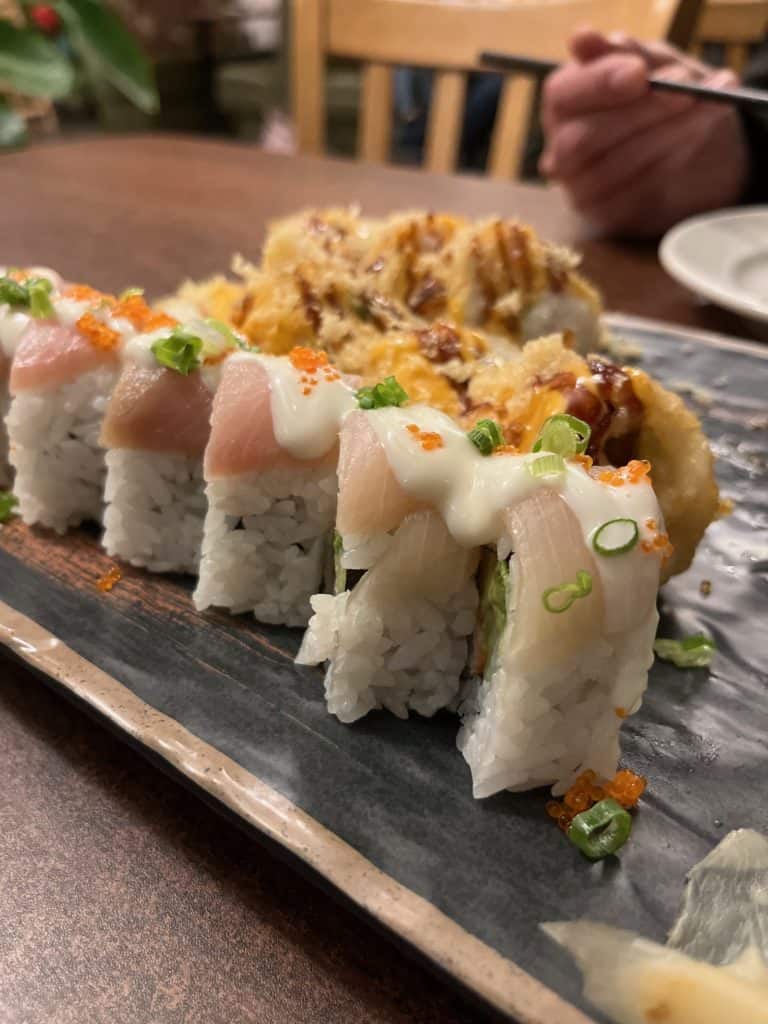 Our family loves to have fondue for holidays, but it would be a fun thing for teens to try who have never had it before. Trying sushi or other ethnic foods that are unique and unusual is something that many teens enjoy.
Similarly, teens often like trying unique and strange foods as a way of challenging themselves. Buy several kinds of hot sauce, or several flavors of tea (or something else that comes in a lot of varieties). Then let your teens have fun trying each one to see which one they like best.
For even more fun, buy a package of Bertie Botts Every Flavor Beans and watch them make faces when they get a nasty flavored one!
76. Mystery Dinner
You can now buy mystery kits where your family can work together to solve a mystery at home. It's a fun way to spend an evening together. You could even go all out and plan a themed dinner or costumes to wear to go with the theme.
Your Ultimate Winter Bucket List for Teens!
I hope this list of winter activities for teens has given you some new ideas or new takes on old ideas. Drop in the comments any fun things your teens like to do in the winter!
©️ Copyright Jennifer D. Warren 2023.