Tulips are most often associated with European destinations, but you don't have to go to the Netherlands to enjoy huge fields of tulips each spring! Here's all the information you need to plan your visit to the tulip festival in Oregon: the best time to go, what to wear, activities and our recommendations for a great day.
Looking for the other Pacific Northwest Tulip Festival?
Sometimes people get the Wooden Shoe TulipFest confused with another well-known tulip festival. Washington State also has a tulip festival, located in Mount Vernon. The Skagit Valley Tulip Festival is about an hour north of Seattle.
Table of Contents
This post contains affiliate links. As an Amazon Associate I earn from qualifying purchases made from the links on this site, at no extra cost to you. Thanks for supporting our family business!
Where is the Oregon Tulip Festival?
Wooden Shoe Tulip Festival
33814 S Meridian Rd, Woodburn, OR 97071
The Wooden Shoe Tulip Farm is located just outside of Woodburn, Oregon. It's about 45 minutes' drive from the Portland Metro area, and about 35 minutes from Salem.
When is the Best Time to Go to the Tulip Festival in Oregon?
EXTENDED 1 WEEK UNTIL MAY 7! Due to unseasonably cold weather, Wooden Shoe Tulip Farm decided to extend the festival another week so that more visitors can enjoy peak bloom.
Dates for 2023 Tulip Festival: March 24-May 7, 2023. Day pass tickets available starting March 1, 2023.
Check the website for current bloom status information.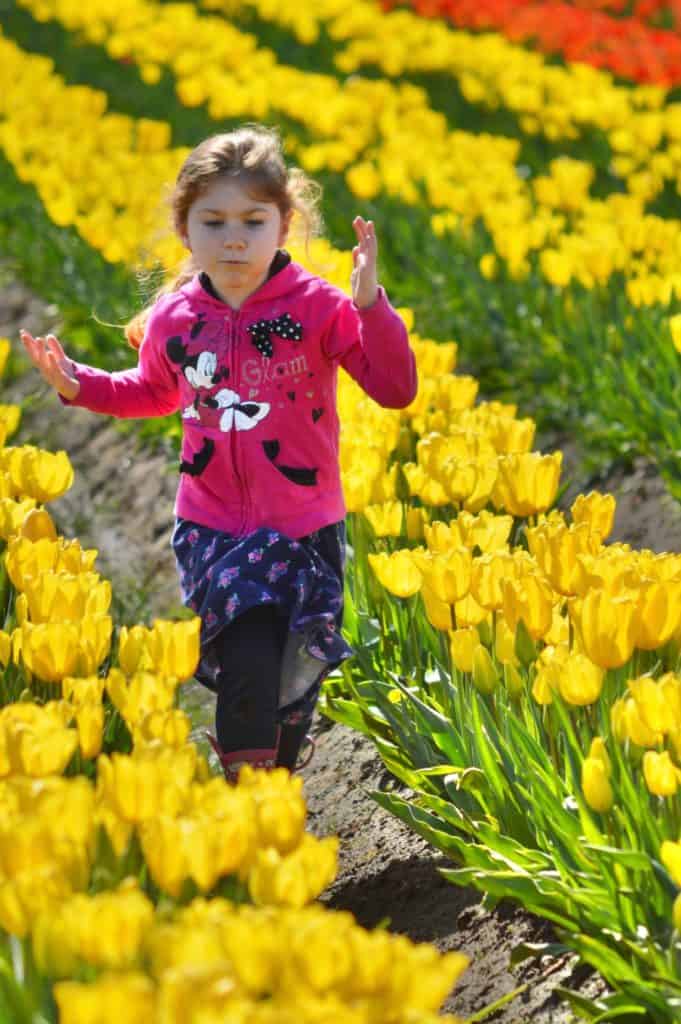 The dates for the Tulip Fest typically run from late March to the end of April. Last year the weather and blooms allowed an extra week in early May, and 2023 is also being extended due to a late bloom season.
The best time is often in mid- to late April, but check the website around late February for a weekly field report.
Peak bloom time will be different each year, based on weather conditions and the crop rotation of the flower fields. If you have some flexibility for your visit dates, the Farm's Facebook page is regularly updated with the exact dates for best blooms.
If you can't make it during the perfect time, let me assure you that you will still enjoy acres of tulips anytime during the season! I've visited three times in late March or early April, and it was still incredibly beautiful.
Best Time of Day
For epic photos, you'll want to get out during the golden hours of sunrise or sunset. Each year, Wooden Shoe Farm offers special sunrise photography passes so that shutterbugs can access the farm with less crowds and great light in the early morning.
You'll want to plan ahead if there are specific photos you hope to get. If you want the perfect shot of hot air balloons over the tulips, you'll need to visit on a day with no rain and very little wind.
On a clear day, you can even see Mount Hood in the distance from the tulip fields.
Admission
The Tulip Festival sells admission individually as well as by carloads. The weekday or weekend family car passes are an excellent value for families with children over the age of 12.
For families with children 12 and under, the individual passes are best for general admission. There are also senior discounted passes, as well as individual season passes for those who want to come more than once in the season.
For current ticket pricing and availability, check the Wooden Shoe Farm website. Parking is included with any admission.
Daily Activities and Special Events During the TulipFest
Each year there's lots to do at this working farm, so you can easily spend a day here with the whole family. We've listed the activities that were available in 2022 and we'll update it when the new 2023 information becomes available.
Daily Activities (access included with general admission)
Tulip Field access: walk amongst the 40 acres of tulip fields, enjoying the beautiful colors and different varieties.
Photo Ops in the fields: numerous wooden cutouts, large wooden shoes, and an elevated platform for beautiful views of tulip fields.
Tulip Display beds: The Wooden Shoe Bulb Company offers tulip bulbs for home delivery. Go to the display beds with the catalog to find the perfect tulips to order for growing in your home garden.
Free shuttle out to the tulip field and back to the main building. There are also cow wagons to pull children around the field.
Children's play area with playground equipment, duck races and a hay bale tent.
Wooden Shoe Garden area with picnic tables for enjoying a quieter lunch.
Daily activities that may require additional costs
Food trucks and food stalls: check the website for which vendors will be present on the day of your visit.
Tulip Tour Train (additional cost): slower tour around the tulip fields with stops for photos.
Tulip Market: here's where you can buy cut flowers, order bulbs, and other merchandise. Located in the main building.
Field Greenhouse tent: also purchase cut flowers, potted tulips and order tulips here. It's out by the wooden windmill in the field.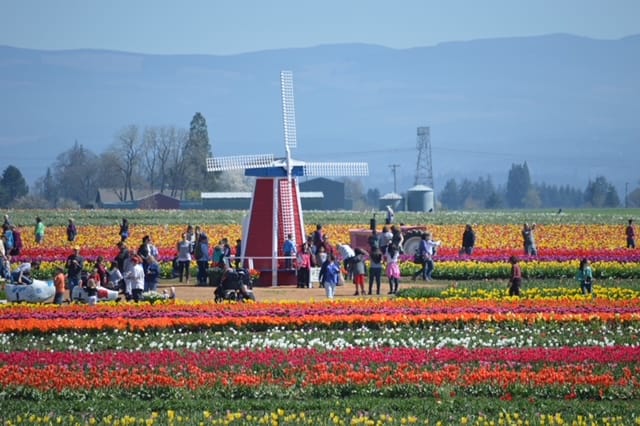 Red Barn Hemp: Wooden Shoe's family farm also grows hemp and creates hemp oil products. You can learn all about it in this barn.
Wooden Shoe Vineyards Tasting room: Take a break from the fields to enjoy wine tasting as well as local beer and ciders.
Special events and weekend activities during the TulipFest
The following activities vary by weekend, and may be weather dependent. Check the website calendar before your visit for the most up-to-date information.
Wooden shoemaking demonstrations and steam tractor demonstrations.
Craft Marketplace and live music: check the website for vendor listing and performers closer to the tulip festival dates.
For the kids: Balloon artist (near the kids play area), inflatables and carnival rides (jump tents, bounce houses, etc.)
Farm wine tours: This is only for ages 21+ and requires a reservation at least 48 hours in advance.
Hot air balloon rides: These are offered through private companies, check the Wooden Shoe website for the current vendors.
Tulip Festival Oregon: Know Before You Go
Pets Policy
Dogs and other pets on leashes can visit the tulips as long as the owners clean up after them. Also, if your pet doesn't do well with other pets or people, it might be best to leave them at home.
What to wear
Spring in the Pacific Northwest means frequent rain, and the fields do have a lot of dirt and mud. Plan to wear shoes and clothing that can get muddy.
We also suggest bringing a blanket or towels to clean off kids and pets before they get back into the vehicle. You may even want an extra outfit, in case someone takes a tumble.
If you want photos sitting in the field, a blanket for the ground is also a good idea.
Note that the TulipFest remains open even in the rain, although some activities are weather dependent.
Food and Drink
You can purchase a variety of food and drinks from the vendors or the market. You are also free to bring your own picnic and enjoy it on the grounds.
A Note to Parents
I've visited the TulipFest with an infant, and with young children. It's important to know ahead of time that you aren't allowed to pick your own tulips (to protect the bulbs for future years). Also, you're not supposed to run through the rows, or even walk through the rows.
Here's the thing: EVERY kid sees the flowers and wants to do those two things! And who can blame them?
The last two times I went, I deliberately left my toddler and preschooler at home with my husband.
I don't enjoy spending my time telling my kids not to touch, or not to run. I'd just rather come back with them when they are old enough to consistently follow the rules.
So if you have kids who have ADHD, or struggle to follow instructions, or if you have kids who get easily overwhelmed in crowds, this might not be the event for them.
Visiting Wooden Shoe Farm at other times of the year
The Wooden Shoe Farm is open year round with different seasonal events. The fall gift shop and holiday gift shop is open daily, as well as the Wooden Shoe Tasting Room.
Tulip bulbs and other flower bulbs can be ordered year-round for delivery in the fall.
Other Local Attractions and Places to Stay
Wooden Shoe Tulip Farm doesn't have guest rooms or overnight accommodations. However several local hotels are listed on their website in the nearby cities of Woodburn, Silverton and Mollala.
Woodburn, Oregon
Woodburn is the closest city to TulipFest, and is worth exploring on its own. You can check out the premium outlet stores, or stay in one of the chain hotels such as Best Western in this family-friendly destination.
Woodburn has a drag strip racetrack that has races from spring through fall, weather permitting. It's an inexpensive activity for families with kids who love cars. Just make sure to bring along some earplugs or other hearing protection!
Legion Park in Woodburn is another great spot to explore or picnic. The dinosaur-themed climbing structure is unique and younger kids can enjoy digging for "fossils"— real Ice Age fossils were actually unearthed in the park some years back!
Check online for special events happening at the Park, such as the Fiesta Mexicana.
A short distance from Legion Park is a beautifully restored steam locomotive. When you've seen all you want to see of the train engine, cross the tracks and explore the shops of historic old town Woodburn.
Silverton, Oregon
The Oregon Garden Resort in Silverton offers a TulipFest package deal. We've written about our stay at the Resort for the Silverton Christmas Market, and it's only about 15 minutes from the tulip festival.
Silverton has great restaurants, shops, and fun things to do! The Oregon Garden is beautiful year-round and Frank Lloyd Wright's "Gordon House" is another unique attraction.
Silverton is the nearest city to Silver Falls State Park, called the "crown jewel" of Oregon's state parks.
Here's some great restaurants in the Silverton area that we've enjoyed:
Other Local Flower Festivals
Before I moved to Oregon, I had no idea there were so many flower festivals in the area! Visiting the farms in spring showcases the beauty of the Willamette Valley at its best.
Lavender Festivals (June-July): Helvetia, Sauvie Island, Willamette Valley, are just a few options to check out.
Portland International Rose Garden (June)
Dahlia Festival in Canby (August)
Tulip Festival Oregon FAQs
Where can I see Tulips in Oregon?
Tulips are other bulbs are popular in Oregon so you can spot them throughout Oregon. The Wooden Shoe Tulip Farm is the place to go to see tulip fields. This farm is famous for its tulip fields and attractions.
Any other questions about the Oregon Tulip Festival?
Visiting Oregon's tulip festival is always a highlight of the year for our kids! If you have more questions about the best time to go to the Wooden Shoe Tulip Farm or other questions, drop them in the comments. We'll do our best to answer them.
© Copyright Jennifer D. Warren 2022-2023. First published: November 15, 2022. Updated: April 21, 2023.