The North Oregon Coastline has a well-earned reputation for natural wonders, spectacular views, and legendary adventure. But this region also has its share of soft sandy beaches and ocean-front fun. You can find the beach that works best for your family on this list of the 21 best beaches in Northern Oregon.
Table of Contents
This post contains affiliate links. As an Amazon Associate I earn from qualifying purchases made from the links on this site, at no extra cost to you. Thanks for supporting our family business!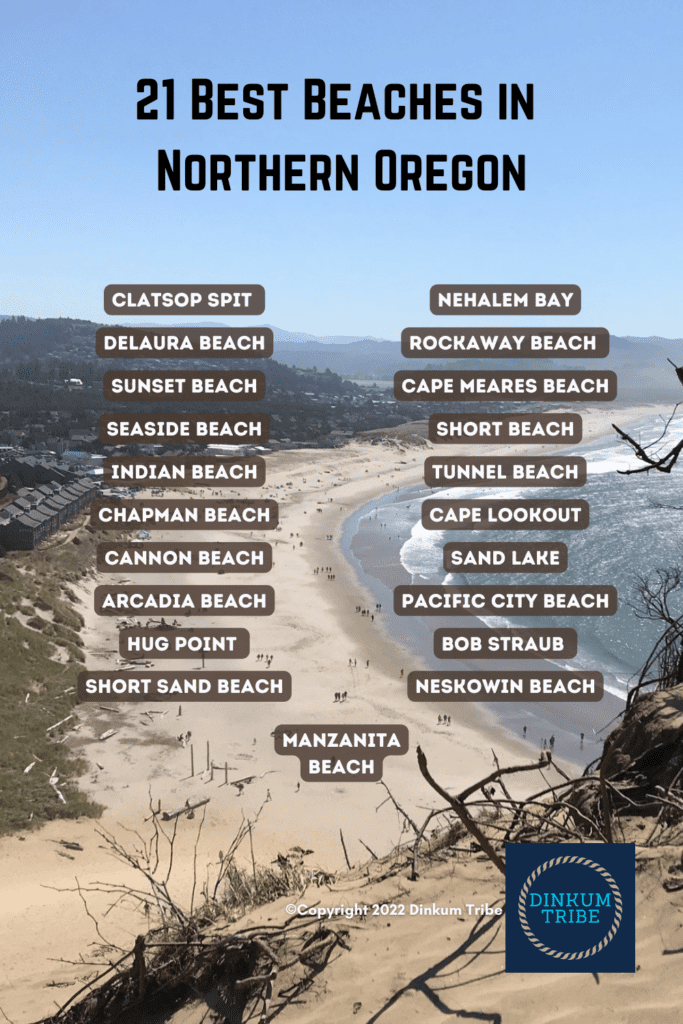 This list of beaches in Northern Oregon is built to help you find the right beach for your family and your specific situation. We've summarized the key points and included some helpful tips to make your trip as smooth as possible.
Need a checklist for packing for your beach trip? Check out our Essentials for a Family Beach Packing List!
Read According to Your Route
Are you interested in touring the coastline? The locations on this list are arranged from North to South. Read from North to South or South to North to get a sense of what's available along your route. All 21 of these beaches in Northern Oregon are worthwhile travel stops.
Fort Stevens State Park: My Personal Favorite
Few locations capture the imagination like Fort Stevens State Park. Can you find another beautiful beach that offers a shipwreck, a Civil War era fort, a WWII battle site, herds of elk, and a mighty American river?
Fort Stevens is my favorite place in the entire Pacific Northwest. I know I'm not alone because this park is one of Oregon's most popular coastal destinations. We could do a whole post on this place. But for our purposes, here are two great beaches to see at Fort Stevens State Park.
#1 Clatsop Spit & Jetty Sands
Stand at the juncture of two colossal forces of nature. The Columbia River collides with the Pacific Ocean at the Clatsop Spit, Oregon's northernmost point. You can walk along the state's newest beach at the end of Jetty Road. The sandy shoreline affords a great view of this powerful spectacle.
Get an even better perspective of the mouth of the Columbia River from the South Jetty Observation Tower. The wooden platform grants wide views of the Columbia and the powerful waves surrounding the river's perilous entrance. This visit would be a great introduction to historic Astoria, and the Columbia River Maritime Museum.
#2 Delaura Beach
Fort Steven's main beach is no less dramatic than Clatsop Spit. What can be said about the wreck of Peter Iredale? The bones of this four-masted ship have lain here for over a century, a tangible reminder of the power of the sea.
You can still walk around and inside the skeleton of the shipwreck.
Another story lies only a few yards away at Battery Russell. On June 21, 1942 a Japanese submarine bombarded this military installation. The incident was one of a handful of attacks that were used to instill fear into the United States public.
Delaura Beach is as beautiful as it is historical. The beach's northwest position provides expansive views of Oregon's rugged coastline. Native grasses grow along sand dunes, and elk graze amid the coastal forestland located within Fort Stevens State Park.
@dinkumtribe "Peter Iredale was a four-masted steel barque sailing vessel that ran ashore October 25, 1906, on the Oregon coast en route to the Columbia River. She was abandoned on Clatsop Spit near Fort Stevens in Warrenton about four miles (6 km) south of the Columbia River channel. Wreckage is still visible, making it a popular tourist attraction as one of the most accessible shipwrecks of the Graveyard of the Pacific." (From Wikipedia). @DinkumTribe ADHD family travel @DinkumTribe ADHD family travel @DinkumTribe ADHD family travel ##shipwrecked##graveyardofthepacific##oregontravelideas##coolplaces##shipwreckbeach ♬ Beautiful Day – U2
Fort Stevens State Park is an excellent destination for families. The Park's roads and public parking lots provide easy access to all locations, and public restrooms are easy to find and use. Developed campsites and paved bike paths further add to your experience. It's easy to see why this is one of Oregon's best beach locations.
#3 Sunset Beach State Recreation Site
Ready for a local secret? Sunset Beach offers a classic beach experience with little fuss and less crowds. Locals choose this highly-rated beach as an alternative to busy, bustling Seaside Beach.
Sunset Beach (AKA Gearhart Beach or Sand Dollar Beach), has a lot to offer families. The 120 acre park features miles of sandy beach, hiking trails, and an ADA accessible board walk. Sunset Beach offers outstanding views of the coastline from Ecola State Park in the south to Cape Disappointment to the north.
One of Many Historic Beaches in Northern Oregon
You can walk back in time on the Fort to Sea Trail. This historic path was first trekked by the Corps of Discovery as they explored the Oregon Coast. The 6.5 mile walk connects Sunset Beach to Lewis and Clark National Historical Park, and is part of the Lewis & Clark National Historic Trail.
Cars are permitted to drive on this beach, so you can park right next to your picnic spot. ATVs are also allowed at Sunset Beach SRS. The recreation site includes a paved parking lot for vehicles that don't have four-wheel drive.
We recommend choosing Sunset Beach over nearby Del Rey Beach. While Del Rey is close to the city of Gearhart, it has earned a reputation for crowds and reckless driving.
Be Prepared
The beach is a fantastic family excursion. But it doesn't take much for a family beach day to go awry. A little planning and preparation goes a long way in building a beach day that everyone can enjoy.
The Dinkum Tribe Ultimate Road Trip Prep Guide supplies printable packing lists, recipes, hacks, and more to help you and your family get a leg up on a fun-filled beach trip:
#4 Seaside Beach
Seaside is the most popular spot on the Northern Oregon Coast. This classic beach town has all the attractions and amenities that you'd want for a coastal getaway. Resorts and hotels, restaurants, theaters, fun-centers, and an aquarium are only a sampling of what can be found here.
Seaside Beach is the biggest attraction of this coastal paradise. The luxurious, sandy beach affords plenty of elbow room. Seaside's enormous beach accommodates large crowds comfortably, making it a favorite spot for festivals and special events. A handsome promenade follows the length of the beach, providing easy access to the town and its seashore.
#5 Indian Beach
Enjoy a beach day at a one of the most famous locations in the Pacific Northwest. Ecola State Park hosts one the most photographed coastal vistas on earth. It also shelters a secluded, beautiful beach known as Indian Beach.
Indian Beach takes a little work to reach, but it's well worth the effort. Ecola State Park has a small entrance fee and the beach is reached via a narrow, paved road and a short trail.
With a little bit of patience you can enjoy an incredible beach almost entirely to yourself. Indian Beach is a great choice for hiking, wildlife watching, and exploring tide pools.
#6 Chapman Beach
Here's another great alternative to Cannon Beach. Like Indian Beach, Chapman Beach has world-class beauty without world-class crowds. That's important because Oregon's coastal towns fill up fast!
Chapman Beach is located right between Cannon Beach and Crescent Beach. This overlooked enclave is reached from the northern neighborhoods of Cannon Beach. Les Shirley Park provides easy access to Chapman Beach and Ecola Creek.
Note: Crescent Beach is difficult to access, especially for families.
#7 Cannon Beach
Let me clarify something here. Cannon Beach is absolutely worth a visit. Indian Beach and Chapman Beach are a good Plan B, but there's a reason why Cannon Beach is world famous. It's simply one of the most beautiful places on earth.
We've been to Cannon Beach several times and find it difficult to pinpoint what makes it so breathtaking.
The sea stacks are an easy start, especially majestic Haystack Rock. But the beach also has an ideal proportion of sand and rocks. You can walk a gorgeous stretch of sandy beach while the children scamper over rocks and explore tide pools.
As far the town goes, Cannon Beach is small enough to be charming and cultured enough to be interesting. Art galleries and excellent restaurants easily draw people in for a day or a weekend getaway.
Ready for a travel hack? You don't have to work your way through the town of Cannon Beach to reach its beautiful shoreline. Instead, set your GPS for Tolovana Beach State Recreation Site.
Tolovana Beach State Recreation Site provides easy access to Oregon's beloved beach. The recreation site has a large parking area, picnic areas, a playground, and restrooms. This is the most convenient way to "stop by" Cannon Beach.
That said, stay here if you can. Cannon Beach truly is worthy of an extended stay.
Explore the Pacific Northwest with Your Family
We've made it a point to experience and enjoy life with our kids, and you can too. Learn how to travel well with your family by subscribing to our newsletter. You'll receive a free packing list printable set as our thanks for subscribing.
#8 Arcadia Beach State Recreation Site
A quiet, little-known cove lies just south of Cannon Beach. Arcadia Beach State Recreation Site is a great place for families. This highly-rated beach is loved for its seclusion, its natural beauty, and its pet-friendly policy.
Arcadia Beach can be a full-day picnic location or a short "on-the-way" excursion. Be aware, small beaches come with small parking lots. Consider alternatives if you're visiting during peak season.
#10 Hug Point State Recreation Site
Hug Point is small but mighty. This beach is one of the best loved places on the Oregon Coast. The delightful cove boasts phenomenal tide pools, a waterfall, and a small sea cave.
Hug Point State Recreation Site has limited parking, but this park is worth the bother. Trails and forested picnic areas only enhance this wonderful Oregon beach.
#10 Short Sand Beach
Short Sand Beach is one of the highest rated beaches on the Oregon Coast, and for good reason. This beach is located in the incredible Oswald West State Park. Oswald West SP features beautiful trails, scenic coves, and jaw-dropping vistas of the Oregon Coastline.
Short Sand Beach is easily accessed via a short trail. This beach is very popular so be sure to get their early.
#11 Manzanita Beach
Here's a beautiful long beach with plenty to offer to families. The quiet town of Manzanita is known as comfy place to kick back and relax.
Be sure to take a stroll at low tide because this beach is rich in sand dollars.
#12 Nehalem Bay State Park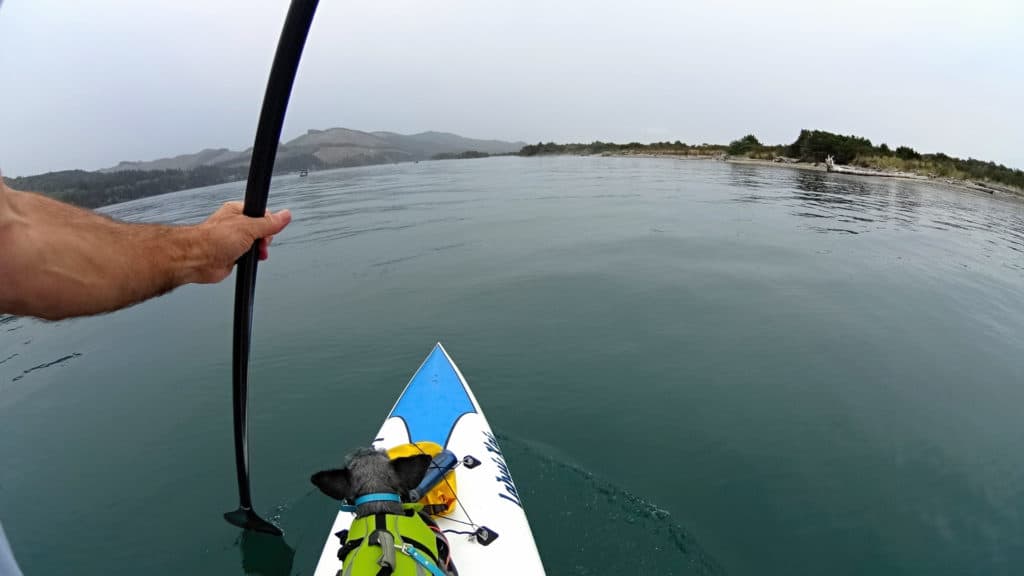 Enjoy the beach and the bay at this well-rated state park. Nehalem Bay State Park is located on the long Nehalem Spit, which shelters Nehalem Bay and the mouth of the Nehalem River. People appreciate this park for its spacious, clean facilities and the easy access provided to the ocean and the bay.
Nehalem Bay State Park is a great place for horseback riding, fishing, biking, kayaking, and a host of other activities.
#13 Rockaway Beach
Rockaway Beach will steal your heart. I used to wonder why Oregonians rave about this beach, but now I'm a believer.
Surf town charm combine with natural beauty to make this one of the best places on the North Coast.
Ironically, the charm of this beach may be just how unOregonish it is! The wide, sandy beach and its small surf town reminds you of a California transplant who's trying to fit in.
Rockaway Beach is best known for its long, beautiful shoreline and its spectacular kite festival. But this beach town also has the distinction of being the hometown of the all-American corn dog. Taste corn dogs at their best at Pronto Pup (and be sure to ask about their deep-fried Oreos!)
#14 Cape Meares Beach & Bayocean Peninsula Park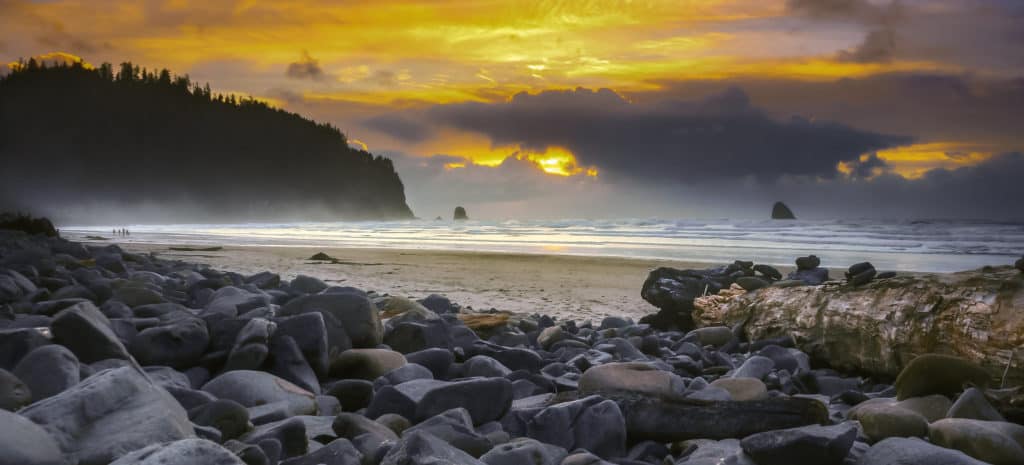 Looking for the North Coast's quietest beach? These two beach areas are a good distance from the 101, and are largely unknown. This long, undeveloped beach is a natural place for a nice long walk. Visit at low tide to explore sea caves and look for agates and other treasures.
Want a treat? Cape Meares State Scenic Viewpoint gives spectacular ocean views from the top of Tillamook Head, just south of Cape Meares Beach. The viewpoint also features the historic Cape Meares Lighthouse as well as platforms for watching ocean wildlife.
Note: The roads immediately surrounding Cape Meares Beach will not get you to the viewpoint. Instead, backtrack to Bayshore Drive and take Bayshore Drive South.
#15 Short Beach
More treasures can be found just south of Tillamook Head. Short Beach is the North Coast's chief rockhounding beach. You can hunt for agates, jaspers, and other gems as they wash up on this beach.
Agate hunting offers great opportunities for family roadtrips. The activity is not difficult or expensive, and can be done at any time of the year. Winter and spring make for great agate hunting because winter storms churn up treasures and remove sandbars.
Short Beach is also located next to one of the most popular destinations on the Oregon Coast. The small town of Tillamook boasts the famous Tillamook Creamery, an enormous WWII Blimp Hangar, and a quilter's oasis. These and other attractions make Tillamook one of the best family destinations on the Oregon Coast.
#16 Tunnel Beach
Get two beaches for the price of one, and an adventure too! Tunnel Beach connects to Oceanside Beach State Park by way of a tunnel. You can play pirates and learn a little history as you walk from one beach to another.
The tunnel was the brainchild of the Rosenburg family who owned a resort in Oceanside. The ninety foot passageway was created to provide additional beach access to resort guests. The tunnel still does a fairly good job today.
It's not difficult to get through the tunnel if you're in average health. However, it's a good idea to bring a small flashlight or smartphone with you.
By the way, this beach is known for agates so you might come home with pirate's treasure if you're lucky!
Oceanside Beach State Park is well worth your time. Oceanside is one of the most charming enclaves on the Oregon Coast. The little town and beach are a great place to enjoy a quiet breakfast by the shore.
Get Your Best Beach Experience
We love to find great digs and local secrets. Explore with us on TikTok, YouTube, and Facebook. You can also find us on Pinterest, Instagram, and Twitter!
#17 Cape Lookout State Park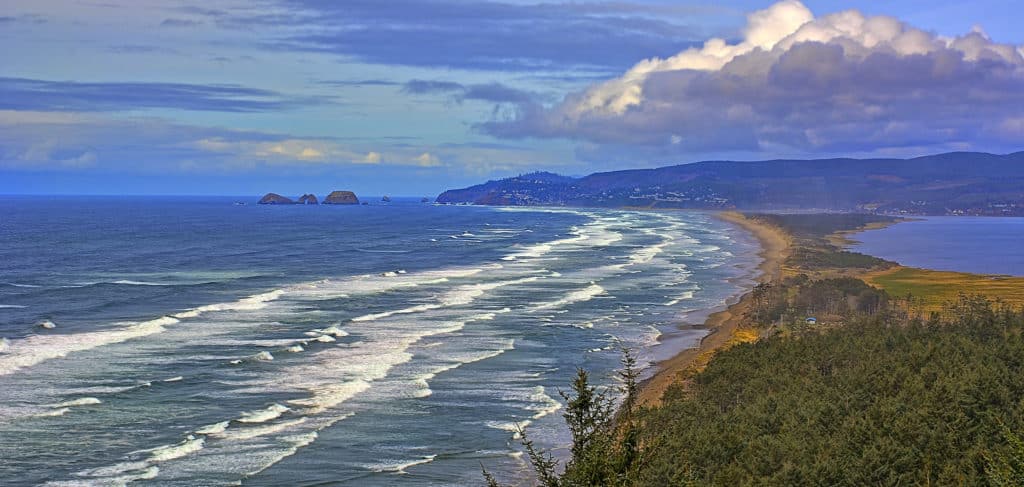 Few parks on the Oregon Coast offer the variety found at Cape Lookout State Park.
This extensive park includes the tall forested headlands of Cape Lookout as well as the sandy dunes of Netarts Spit. Altogether the park includes rocky coves, verdant bluffs, peaceful bayside waters, and ocean tides.
Cape Lookout is located along a quiet stretch of the North Oregon Coast. The park is several miles from nearby towns and Highway 101, making it an ideal location for natural beauty, wildlife, and quiet solitude.
#18 Sand Lake Recreation Area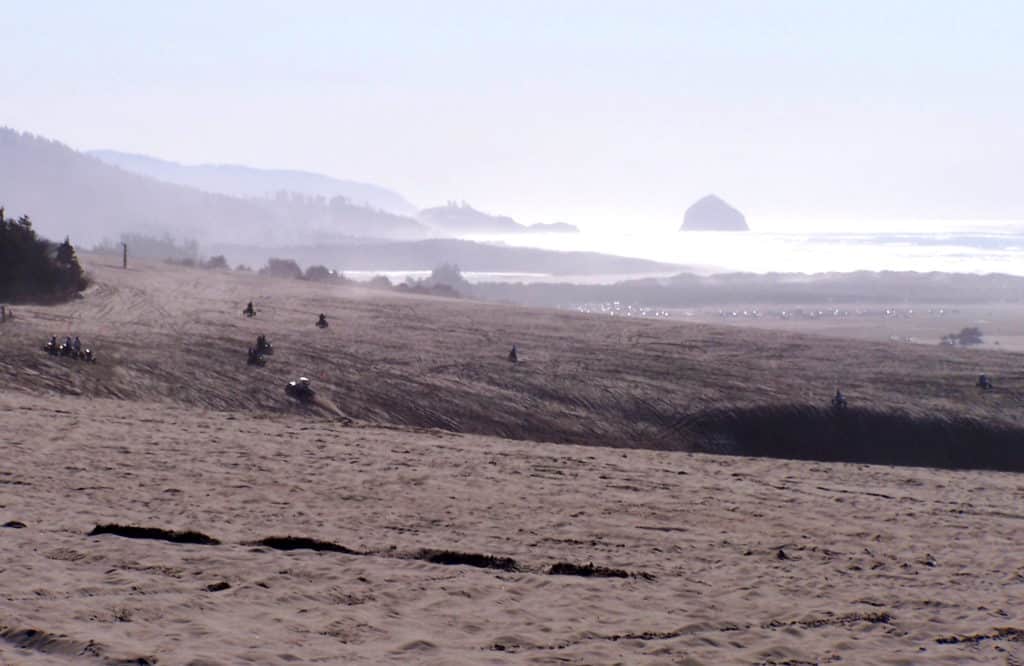 This beach spells fun "O-H-V". Sand Lake Recreation Area is the place to get your kicks on an ATV, dirt bike, and dune buggy.
But you don't have to sport an off-highway vehicle to enjoy this recreation area. The Sand Lake Estuary welcomes fishing, crabbing, swimming, kayaking, hiking, and birdwatching.
#19 Pacific City Beach
Pacific City Beach may be the best family beach on the Oregon Coast. This magical place brings the best things of the North Coast within reach of a roadtripping family. The long sandy shoreline sits beside its own Haystack Rock and the remarkable Cape Kiwanda Natural Area.
Pacific City is full of great restaurants and hosts a variety of events and festivals. Take a deep dive into this fantastic beach town with 27 ways to enjoy Pacific City with kids.
#20 Bob Straub State Park
Bob Straub State Park offers a truly natural beach experience. The 480 acre park encloses the North Spit of the Nestucca River providing opportunities for hiking, horseback riding, fishing and more.
This state park sits beside the Nestucca Bay National Wildlife Refuge, along a quiet section of the North Oregon coastline.
#21 Neskowin Beach
Visit the beach, past and present! Neskowin Beach is best known for its ghost forest, an ancient forest that comes to light only at low tide. This silent forest keeps a terrifying secret.
Oregon's ghost forests were suddenly submerged when massive earthquakes dropped them below sea level. These subduction quakes have gradually changed Oregon's coastline for millions of years.
Today you can consider the awesome power of the nature as you walk amid the remains of this lost world.
Experience the Best of the Pacific Northwest:
The Oregon Coast is one of many wonders in the Pacific Northwest. Here are some other worthies:
So Much More to Explore
Northern Oregon features only a fraction of Oregon's amazing coastline. Here's snapshot of what you can see if you venture further south.
Central Oregon Coast
The Central Coast is a world of delights. Wonder over the wealth of marine life at Yaquina Head Outstanding Natural Area or explore the enormous Sea Lion Caves. Follow migrating whales at Depoe Bay or trek through the eerie Oregon Dunes.
Central Oregon boasts Newport and Lincoln City, the largest and most cultured cities on the Oregon Coast. The Oregon Aquarium, Rogue Brewery, and The Cheeky Cauldron are just a few of the attractions to be found in this region.
Southern Oregon Coast
Oregon's Southern Coast is one of the most pristine parts of the Pacific Coastline. This coast is remote, sparsely populated, and rich in natural beauty.
The Samuel H. Boardman Scenic Corridor gained world renown for as one of the most scenic drives in the United States.
Towns such as Port Orford and Gold Beach are some of the state's oldest and most colorful retreats.
Did you Find What You Were Looking For?
Finding the right beach for your specific situation isn't always straightforward. What questions can we answer for you? Drop us a comment or email me and I will get you an answer.
Thank you for taking the time to read our survey of the 21 Best Beaches in Northern Oregon. Please share this resource with those you love so that they can benefit too. Happy Traveling!
© Copyright Brian A. Warren 2022.