Great Location
The Noble Fox is located in a beautiful old building at the heart of downtown Silverton, Oregon. From the moment I saw the restaurant, I wanted to check it out, and I told Brian that I needed to have lunch one day on The Noble Fox's creekside balcony.
This post contains affiliate links. As an Amazon Associate I earn from qualifying purchases made from the links on this site, at no extra cost to you. Thanks for supporting our family business!
Table of Contents
With such a picturesque location, how could it not be an amazing place to eat?!
So on date night a couple of weeks ago, Brian surprised me by parking us over in downtown Silverton so we could walk over to The Noble Fox.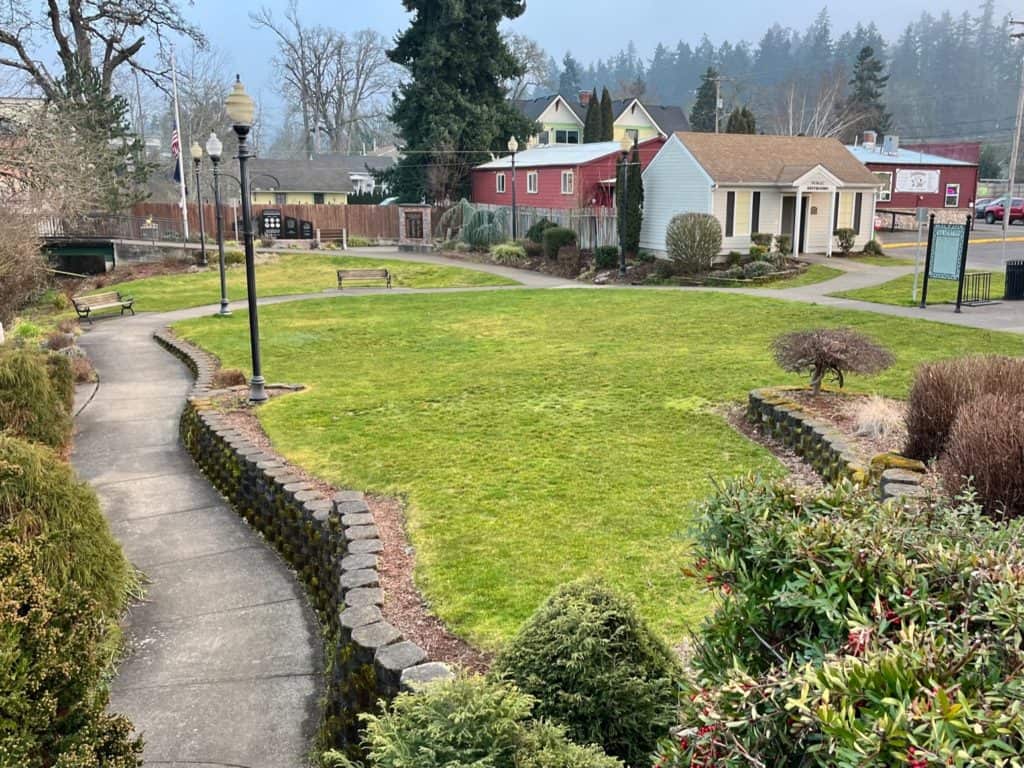 The late afternoon sunshine made Silver Creek even prettier than usual, and the crisp winter air nipped at our noses as we strolled.
Silverton has many historic murals around town about famous residents and accomplishments. I am usually in a hurry as I pass through (unfortunately), so it was nice to have a few minutes on that night to read the stories and enjoy the paintings.
@dinkumtribe Silverton is a beautiful historic town in the heart of the Oregon Cascades. It's known for its mining history, its charming downtown, and its vibrant arts scene. One of the best things about Silverton is its murals. There are over 30 murals scattered throughout downtown, each one depicting a different aspect of the town's history. Some of the most popular murals include the "Four Freedoms" mural by Norman Rockwell, the "Bobbie the Wonder Dog" mural, and the "Homer Davenport" mural. The murals are a great way to learn about Silverton's past and to appreciate its rich history. So next time you're in Silverton, be sure to take some time to explore the murals. You won't be disappointed! @DinkumTribe ADHD family travel @DinkumTribe ADHD family travel @DinkumTribe ADHD family travel #oregontravelideas #silvertonoregon #familyfriendlytravel #historicmurals ♬ original sound – DinkumTribe ADHD family travel
Soon the cold was seeping into my coat and I was ready for an early dinner.
Inside The Noble Fox
The first thing I noticed as we stepped into The Noble Fox was the big glass windows and the logo on the door. The fox in top hat and bow tie reminded me of an old English pub sign.
As I stepped in, I noted the wooden half walls that divided the bar area from the rest of the main room and the dark wood shelves which house the bar's extensive collection of whiskey, bourbon, and other spirits.
The Noble Fox exudes character and old charm. Much of the wood seems to be original, and many of the furniture pieces are antiques. It felt like stepping into an old pub after a cold day of hunting. You almost expect to see someone walk in with their hunting hounds and a brace of rabbits over their shoulder.
The hostess offered us the option of sitting by the small fireplace or near the back door. We started by the fireplace but quickly relocated to the other table since it was more comfortable. The server handed us our menus and the drink menu, which was a multi-page booklet!
Drinks and small plates
As we looked over our drink options, Brian noticed that one of my favorite drinks, Cocoa Cow (Sunriver Brewing), was on tap. I've only ever had it from a can, so I was super excited to try it on tap!
It arrived with a foamy top, and I savored the slightly sweet, porter-like drink as I decided on a small plate to share.
The bacon-wrapped dates were calling my name, so I ordered them. While we sipped our drinks (Brian's was a latte), we talked about the attention to detail that was clear throughout the restaurant.
The drink menus were leather with the embossed Noble Fox logo on the front, an understated but classy touch. Our drinks came with small leather coasters as well.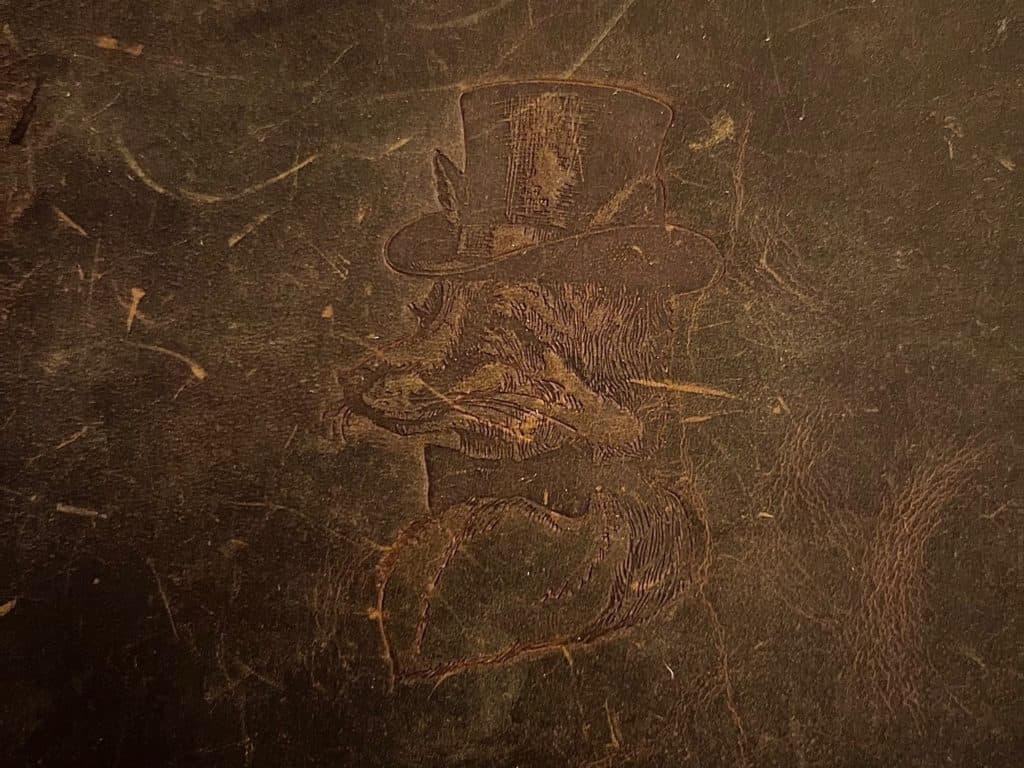 The server set down the bacon wrapped dates, a masterpiece of presentation. Tiny flakes of basil and slivers of sumac-preserved lemon with a sprinkle of saffron topped the dates, which were darker and crispier than I expected, almost burnt-looking.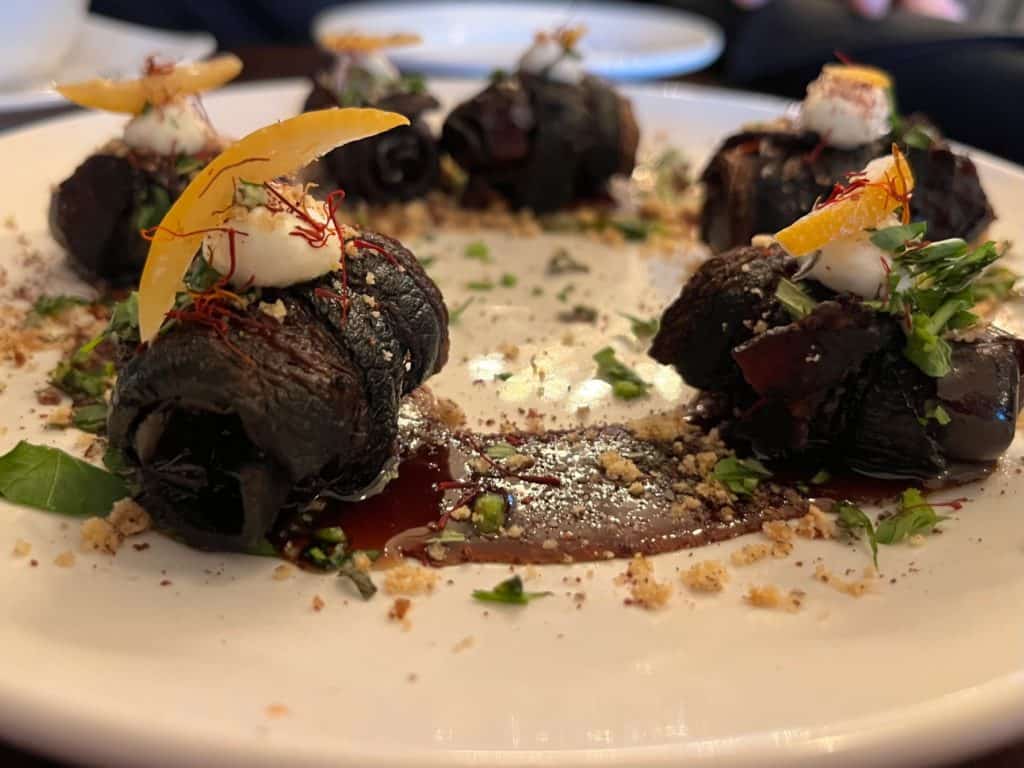 The taste was unexpected too— a citrusy taste akin to marmalade, but more floral. It reminded me of British mincemeat, fruity and spiced. The chèvre stuffed inside the dates complemented the sweetness perfectly. We savored every delicious bite.
As our entrees arrived, Brian had nearly finished his latte, so he asked the server to bring him a glass of water. She informed us that it was already coming — she had noted his nearly empty cup and the bartender was already filling the water glass. We were impressed by her attentive service!
A New Experience
If you've seen Pixar's Ratatouille, you may remember the scene when the food critic tries Remy's ratatouille dish. The camera pans back, and the food critic becomes a little boy again, having ratatouille as a portion of comfort food in his mother's kitchen.
I had always considered that scene a bit over dramatic— can familiar tastes bring up those kinds of experiences and memories?
That's exactly what happened for me as I took my first bite of the steak bites and fries. The entree reminded me of dinners with my grandparents as a college student.
I was transported back to warm summer evenings on a Craftsman-style porch, with the San Gabriel mountains to the north, and the sun setting down Washington Blvd in Pasadena, California.
I remembered the garden-fresh tomatoes, lightly sautéed. A properly cooked steak without any excess seasoning— excellent without being flashy. I also caught hints of lemon throughout the dish.
My grandpa was a short-order restaurant cook in his youth, so when I say that a dish reminds me of his cooking, it is one of the highest compliments I can give.
Excellent Entrees and Dessert
Brian's curry was excellent as well. It was slightly sweet, due to the presence of the mango chutney, and the subtle warmth of the curry was perfect for the chilly winter evening. I've never had curry that included cauliflower and chickpeas, and I liked the interesting texture.
It was a unique dish, and ideal comfort food.
As much as I had hoped to eat out on the back balcony, it was way too cold for that! So Brian stepped out to snap a few photos while I finished my dinner.
I say "finishing," but the portions were too large to finish, so we got some boxes. Plus, I still wanted to try dessert!
We ordered the peanut butter chocolate ganache cake and the salted caramel brownie with ice cream. The cake was okay, and the peanut butter ganache in the center tasted just like roasted salted peanuts, but very smooth in texture, like caramel. We took most of it home to share with our kids.
I enjoyed the salted caramel brownie with ice cream. It has a pretzel base crust, which makes the whole brownie almost taste like a chocolate chip cookie and brownie together.
Both of our desserts were rich and flavorful and probably go best with coffee or a drink to cut the richness. That's what we plan to do the next time we have dessert at The Noble Fox.
A Lovely Evening at The Noble Fox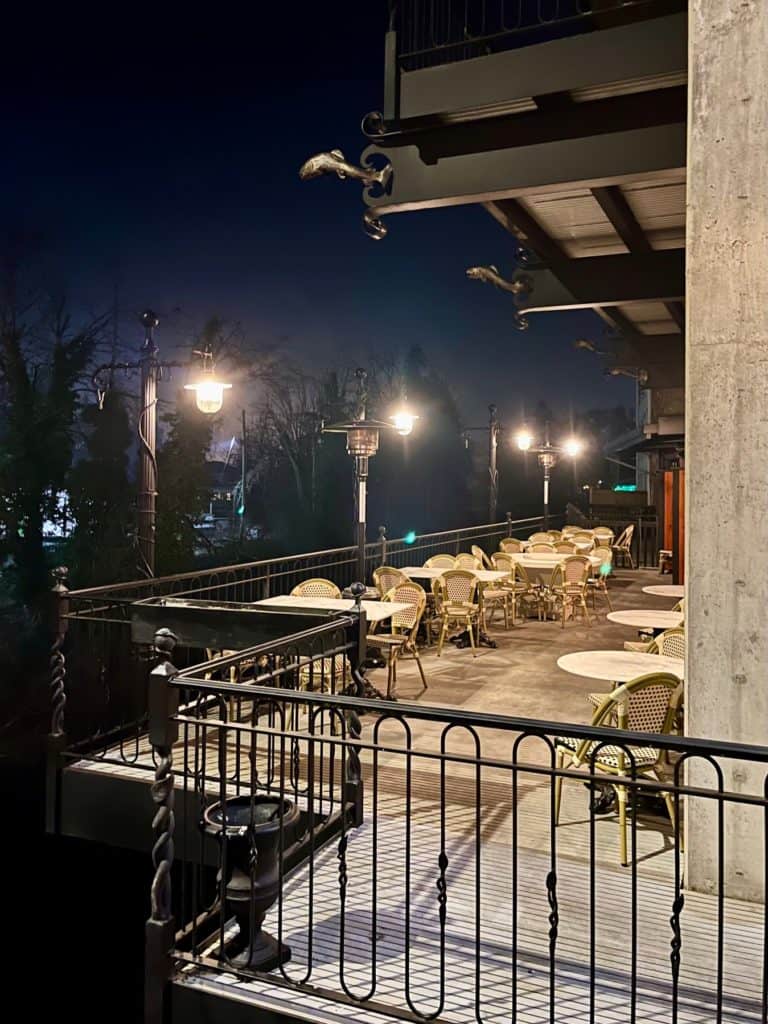 We enjoyed the quiet atmosphere and attentive service at the Noble Fox. It seems like the perfect place to go for drinks with friends after work (Cheers, anyone?) or to enjoy a nice adult dinner after a day at Silver Falls State Park. We look forward to returning soon.
Check out our other Silverton area restaurant reviews!
© Copyright Jennifer D. Warren 2022