"What is THAT?!" I exclaimed as we were driving along Highway 101 North last weekend. Everyone looked toward the passenger side of the vehicle to see what had caught my eye— a giant corn dog on a stick atop a tiny roadside building! "The Original Pronto Pup" was emblazoned just below the massive snack.
This post contains affiliate links. As an Amazon Associate I earn from qualifying purchases made from the links on this site, at no extra cost to you. Thanks for supporting our family business!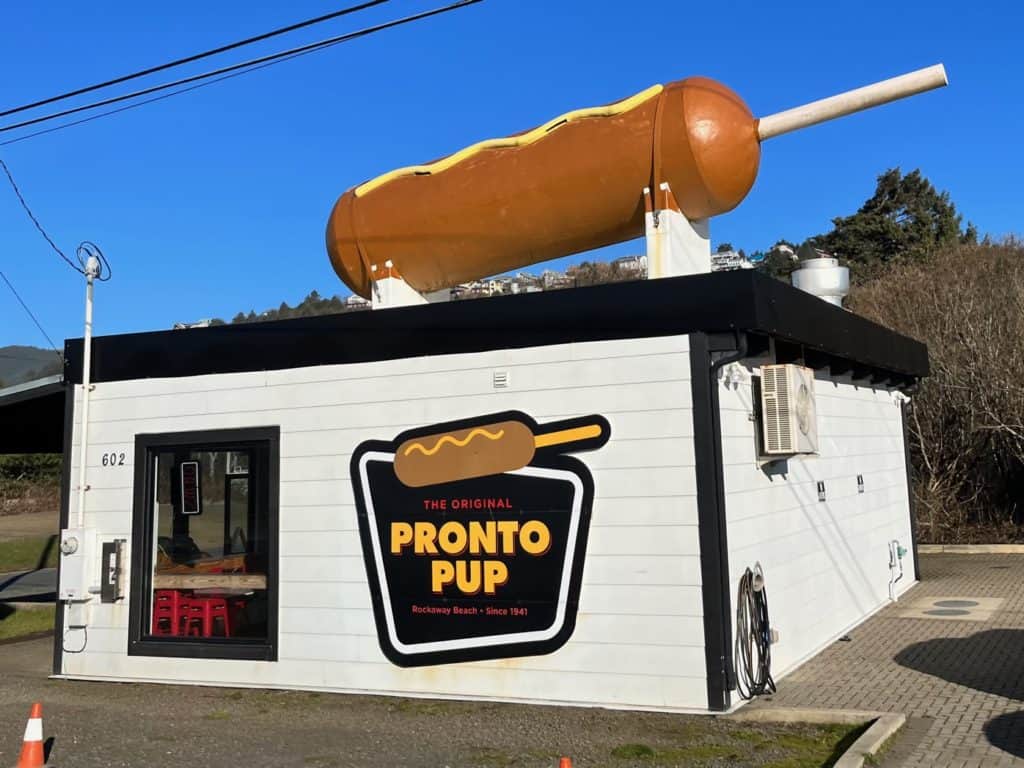 (This post represents our authentic experience with Pronto Pup. All opinions are our own, and Pronto Pup did not sponsor or request this post, nor did we receive compensation for a favorable review.)
Table of Contents
Unique Roadside Attraction
Excited voices talked over each other as we all wondered at the sight. We have driven this stretch of highway multiple times before, but this was completely new! As we pulled past, I noticed a smaller corn dog under the front patio roof with a Western saddle on it.
"You can ride on a corn dog?! No way!"
We looked for a place to pull off, but it was busy and the small lot across the street was not easy for us to pull into with our big van. So we decided to continue to the beach and return a bit later.
The Pronto Pup Experience
We came back around 4 pm, and the small parking lot was now entirely empty. We'd arrived about an hour before closing, and there were only a couple of customers around. Our boys immediately ran over to the corn dog ride, which required quarters to operate.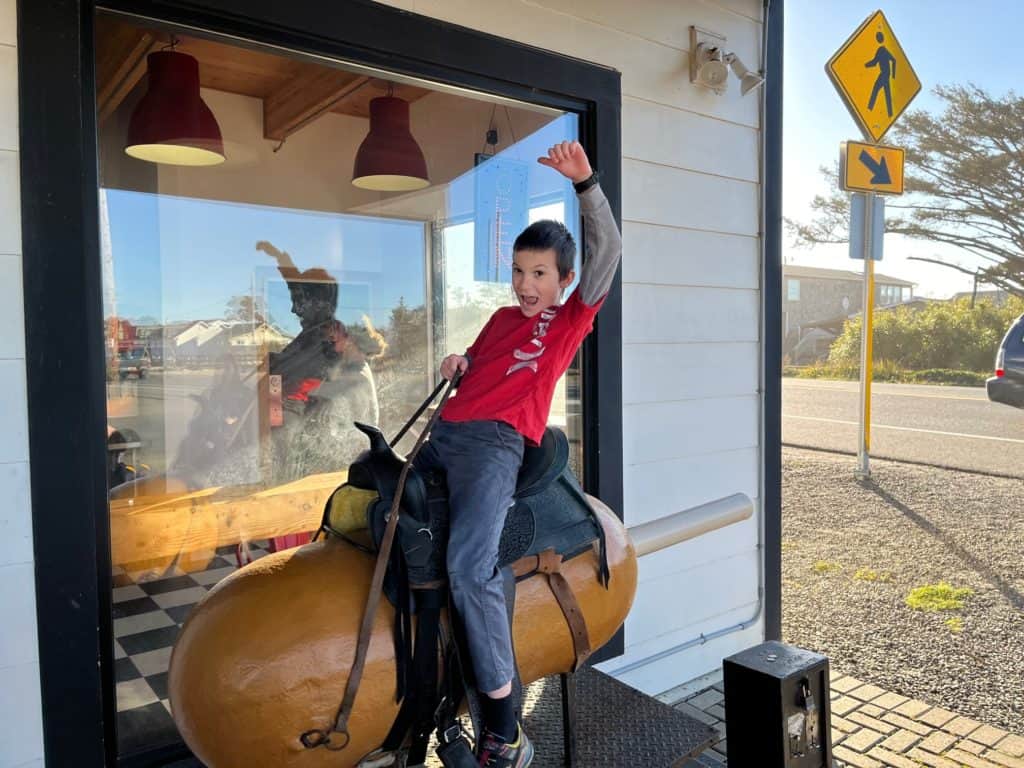 Brian started to go inside and get some coins. However, within a few seconds of seeing our excited kids surrounding the corn dog ride, the manager came out with a handful of quarters and handed them to Brian!
We were astonished, and tried to exchange the quarters for cash, but the manager refused. The owners of Pronto Pup love kids, so that's what they do when kids show up!
Our boys lost no time climbing on one at a time to try the slow-moving bucking corn dog!
Here's a fun video:
Fresh and Fantastic
While the rest of us watched, I stepped inside to order us some corn dogs. One of our sons, Panther, absolutely loves corn dogs. I figured that the rest of us could enjoy a light snack before we continued over to the Tillamook Creamery for some ice cream.
At Pronto Pup, everything is made to order. There was nothing ready immediately, because they don't make it until you show up.
I ordered 3 original corn dogs, and went outside to watch the kids ride while we waited.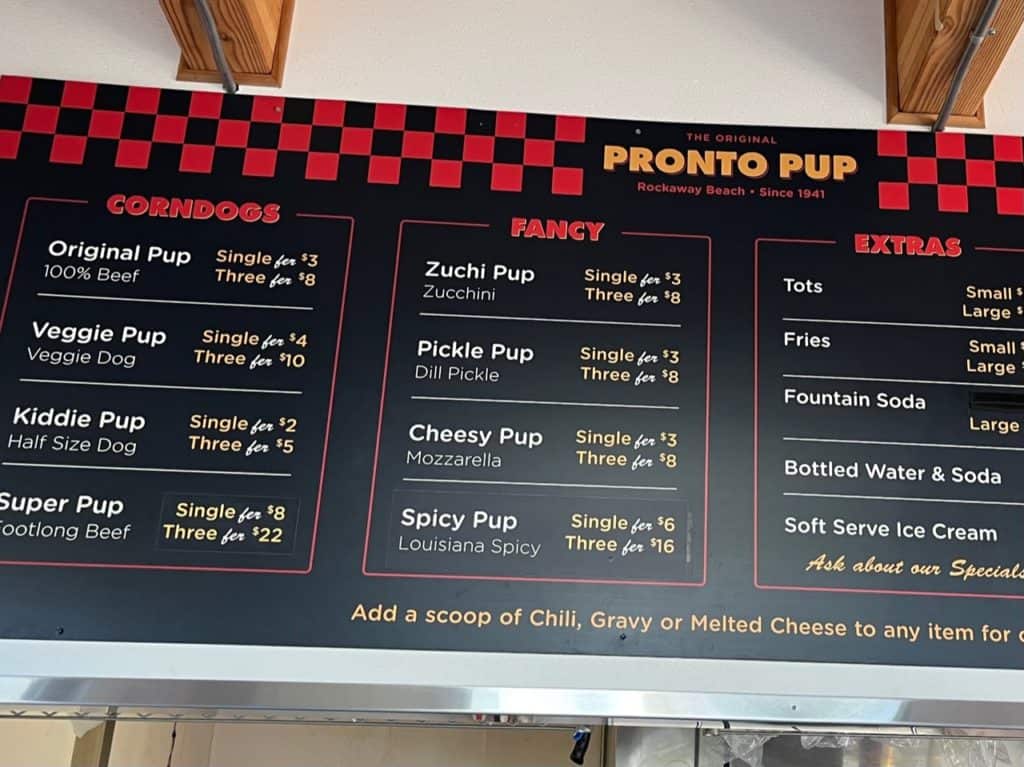 The owner came out again with more quarters while we waited, so every kid who was small enough to ride the corn dog bronco got to ride twice. Several of us used the bathroom while waiting, and I was impressed with the general cleanliness.
Many roadside places don't take good care of the facilities, but Pronto Pup is not one of them!
Our original Pronto Pups arrived piping hot. I cut them into a couple of pieces so that everyone could try a bit. When mine finally cooled down enough to handle in my fingers, I carefully took a bite.
The fried batter on the outside tasted like hush puppies, sweet and crumbly on my tongue. The exterior was thicker and fluffier than a standard corn dog, too.
It was the best corn dog batter I've ever had, hands down.
A Sweet Surprise
While the kids finished their corn dogs, the manager came over again to ask us not to leave right away because he had something else for the kids. Our curiosity piqued, we gladly took our time with the corn dogs. There was not a bite left.
The manager came out again with six round, batter-covered items on corn dog sticks— one for each kid.
"Deep fried Oreos. Enjoy!" He said.
We were all so impressed with the welcoming service and kind attention from the staff. As my kids waited for the Oreos to cool down, we sat chatting on the wooden picnic tables and benches out front.
Pronto Pup is only a block or two from the beach, so you can see the ocean (between houses) from the covered porch. It's a perfect spot to fuel up after a day at Rockaway Beach as you leave town to head back home.
"It's yum-yum-TASTIC!" That was my five-year-old's reaction to his deep fried Oreo. The other kids all agreed.
Fun Facts about Pronto Pup
Once we'd finished our Oreos, we wiped the oil off everyone's hands and clambered back into the van. Brian took a few minutes to chat with the manager and discovered some valuable information.
The deep fried Oreos are part of a secret menu that Pronto Pup offers to kids. Be sure to ask if you bring your kids along when you stop!
What is the history of the Pronto Pup?
The history of Pronto Pup is on a sign inside the dining and order area. Pronto Pup claims to be the first inventor and originator of the corn dog.
"The corndog was invented in Rockaway Beach, Oregon by husband and wife team, George and Versa Boyington, in the late 1930s. The Boyingtons ran a small hot dog stand on the beach, selling the dogs to tourists and locals alike. When the rain came and ruined the buns, George boyingtbn are up with the idea of cooking a "bun" as needed. He created a pancake batter-based mix and the duo came up with the formula still used today. The Pronto Pup made its big commercial debut from a fountain shop window owned by the Boyingtons in Portland, Oregon."

– as written on the sign inside Pronto Pup
Now the Original Pronto Pup in Rockaway Beach also has the World's Largest Corn Dog and the only corn dog ride as well. Gotta love these small town "claims-to-fame"!
The Original Pronto Pup in Rockaway Beach is the perfect place to stop for a quick lunch or snack on your beach outing. We'll definitely stop here again the next time we visit Rockaway Beach!
Frequently Asked Questions (FAQs) about Pronto Pup
What is the difference between Pronto Pups and corndogs?
Pronto Pups are made using a pancake batter base. Corndogs are made using a cornbread batter base.
Why are corn dogs called Pronto Pups?
George Boyington called them Pronto Pups because of how quickly the batter cooked. Frying a Pronto Pup was much faster than baking the hot dog buns!
Nearby Attractions
The Oregon Coast is full of amazing places to see and things to do! Some of our favorite spots within a short drive of Pronto Pup are:
© Copyright Jennifer D. Warren 2022. First published: February 19, 2022. Updated and expanded: July 17, 2023.