Silver Falls State Park is Oregon's best kept secret. This world wonder abounds with natural beauty and is surprisingly easy to reach. Best of all, there's at least 19 great things to do at Silver Falls State Park.
This post contains affiliate links. As an Amazon Associate I earn from qualifying purchases made from the links on this site, at no extra cost to you. Thanks for supporting our family business!
Table of Contents
Is Silver Falls State Park worth visiting?
Silver Falls State Park is an exceptional natural wonder. The park's famous Trail of Ten Falls boasts beautiful waterfalls set in a dense forested landscape.
Waterfall hikes aren't uncommon in the Pacific Northwest, but these waterfalls are uncommon. Take the famous South Falls for example. How many hikes allow you to stroll behind a 177-foot curtain of water?
In fact, Silver Falls State Park has four waterfalls that can be seen from all sides. The Trail of Ten Falls literally weaves you through an idyllic forest paradise that has made the park famous.
Oregon's Crown Jewel
Oregon's largest state park encloses over 9,000 acres of temperate rainforests and remnants of old growth forests. That means that there's no lack of things to do at Silver Falls State Park
Silver Falls State Park maybe the best place to experience the natural beauty of western Oregon. But there's a lot more to this park than its famous waterfalls.
Ranger-led activities offer a wealth of unique experiences, and comfortable lodging is available in historic park buildings. It's no wonder that this park is among Oregon's most popular destinations.
We live near Salem, so Oregon's crown jewel is only a short drive away. In this guide you'll discover the 19 best things to do at Silver Falls State Park. You'll also find the best options for accommodations and dining.
Be sure to check out our know-before-you-go tips and FAQs at the end of this guide. Let's get started.
19 Things to Do at Silver Falls State Park
#1. See the Falls
Obviously, you don't want to miss the park's main attraction. That said, it's always a challenge to get the most out of your minutes, especially if you're on a family road trip! Here are some options to consider:
Option A: Hike the Trail of Ten Falls
The famous Trail of Ten Falls guides you through all ten of Silver Creek's cascades as well as their surrounding forest land before returning you to where you started. The moderate, 7.8-mile trail is a family-friendly hike, especially for older children.
The loop trail is a great way to enjoy a full-day adventure at Silver Falls. We recommend starting your journey at the South Falls Day Use area. That way, you'll return from your hike with no lack of options and amenities to greet you.
Option B: Hike the Canyon Trail
A full day is a big give in our stage of life, so we love option B. The Canyon Trail is a 3.8-mile segment of the Trail of Ten Falls, giving you a full tour of the falls without walking the entire 7.8-mile loop.
With a little bit of planning, you can get a lot of fun for everyone without the epic hike. Here's how to do it.
Identify who is feeling adventurous and who wants to chill. In other words, who wants to hike the Canyon Trail?
Drive to the North Falls Parking Area and drop off your all your hikers. Make sure that they have all their stuff because there's no going back!
The "Chill Team" then drives to the South Falls Day Use area and enjoys the beautiful South Falls, the playground, the gift shop, etc.
The "Adventure Team" hikes the Canyon Trail all the way to the South Falls Day-use area to rendezvous with the "Chill Team".
Adults drive to a yummy restaurant where they enjoy a well-earned beer (minus the designated driver, of course!).
The Canyon Trail is a great option, especially if you're traveling with the group with various ages and abilities. Dog cannot use the Canyon Trail. They'll have to stick with the Chill Team.
Option C: Hike the South Falls
Sometime you only have an hour, and that's ok. If that's your situation, we strongly recommend that you spend your time in the South Falls Day-use Area.
A short stroll will bring you and your kids to the majestic South Falls, and a moderate hike will bring you around all sides of this impressive waterfall.
The Day-use area is a great pit stop, allowing you and your family to admire the park's greatest waterfall, enjoy a picnic, and use the restroom. We added this spot to our GoWhee App because it really is ideal for the whole family. You can find more detail on the park's facilities and amenities below (#5).
#2. Go Into the Wild
If you've visited National Parks, then you know that a park's famed attraction (Yosemite Valley, Old Faithful) is only a sliver of what can be found in the park itself.
The same holds true for Silver Falls State Park where 35 miles of trails embrace the park's 9000+ acres of forestland. The Trail of Ten Falls doesn't account for even a fourth of the park's overall size.
Miles of backcountry trails provide a great alternative to the popular and often crowed waterfall trails. Rackett Ridge trail, Perimeter Trail, and the Buck Mountain Loop offer you the opportunity to enjoy remote park areas.
Taking the trail less traveled has its rewards. You'll have a better chance at spotting wildlife and wildflowers in the temperate rainforest and old growth forests found in these parts of the park. In autumn, the trails provide one of Oregon's best destinations to enjoy the fall colors.
A wildfire burned the southeastern corner of the park in 2020. The fire spared the vast majority of the park.
#3. Saddle Up
Horseback riding is one of the best things to do at Silver Falls State Park. You can saddle up and explore large sections of the park on seven horse-friendly trails.
The Howard Creek Horse Camp provides five primitive camp sites with horse stalls and group sites as well. The horse camp is only open from May to October.
Unfortunately, horse rentals and guided rides are not currently available at Silver Falls State Park. You'll have to BYOH 🐴.
#4. Climb a Tree
Looking for an authentic Oregon adventure? Tree Climbing at Silver Falls provides guided climbs up the park's enormous, old growth trees.
Expert climbers train you to safely ascend an old growth giant. Our family took part in a tree climb and we absolutely loved it!
Our friendly guide walked us through everything we needed to know and helped us put our skills to work on a practice tree. After this, we made our way to a gargantuan, old-growth Douglas Fir.
Tree Climbing is an intense and engaging activity for adults as well as children. The experience gives you a fresh appreciation for Oregon's pine forests and those who care for them.
An Uplifting Experience
Our guide showed real patience and care for our children. Our group included five children (ages 8 – 16 ), most whom struggle with ADHD, anxiety, or both.
The guide was positive, supportive, and encouraging throughout the entire process! All of us came away feeling happy and grateful for the remarkable time we'd had together.
Tree Climbing at Silver Falls even has a power ascender for participants who have limited mobility. This is a business that values people and wants them to thrive.
Want to take your tree climb to the next level? Tree Climbing at Silver Falls offers a variety of climbing experiences including sunset climbs, team-bonding experiences, and kids camps.
You can even spend a night up in the trees! Reserve a tree camping experience and enjoy Silver Falls in a way that you'll never forget.
We'd like to thank Tree Climbing at Silver Falls for providing for our full-day, tree climbing experience.
#5. Mountain Bike
Silver Falls State Park is a great place for mountain biking. Twelve different trails challenge you to build your stamina while exploring acres of wild forestland.
The 4.6 mile Catamount Trail is the park's best mountain biking trail. This trail was actually built by mountain bikers for mountain bikers.
#6. Take a Swim
Enjoy a nice swim at the South Falls Day-use Area. A large swimming zone is located just southwest of the parking lot, and north of the campground.
Only two of the park's waterfalls allow you to reach a waterfall pool: Upper North Falls and Double Falls. The remaining eight falls are not safe for public access.
Silver Falls State Park does not provide lifeguards for any of these areas, so exercise caution.
#7. Go Fish
Yes, you can cast your line in Oregon's most scenic creek! The Oregon Department of Fish and Wildlife requires you to have a fishing license.
Would you rather fish by boat? The Silverton Reservoir and Marine Park allows boat fishing, canoeing, and kayaking.
#8. Join a Ranger-led Event
Silver Falls State Park is holds a variety of programs and events throughout the year. The park also runs a Junior Ranger program throughout the summer season.
The Owl Prowl is one of Silver Fall's most popular events. Parents and children five years and older can experience a whole new kind of bird-watching by calling and spotting owls in the dark woods of Western Cascades.
Junior Ranger events usually take place in the campground. You can find Junior Ranger activity books at the park office or the South Fall Lodge. You can also request them from park hosts at the campground.
#9. Find a Treasure
Silver Falls State Park may have the nicest gift shop in Oregon's state park system. The Friends of Silver Falls Nature Store is located in a historic building not far from South Falls.
This lovely gift shop holds an eclectic collection of local art, souvenirs, books, toys, and informative displays. Check out the Friends of Silver Falls website which provides printable activities and learning resources for children and school groups.
#10. Hear the History
Silver Falls State Park has much to say about the story of the Pacific Northwest. The Kalapuya and Molalla nations inhabited this rich region and it's estimated that they numbered around 15,000 people when Europeans began exploring the Pacific Northwest.
European diseases took an incredible toll of these tribes decreasing their number to around 600 people by the early 1840's. These survivors were relocated to reservations in 1854.
Silver Falls City & a New State Park
American settlement of Silver Falls began in the late 1800s. The first homesteads appeared in Silver Falls in the late 1883 and a full town just five years later.
This typical western town—Silver Falls City—had over 200 residents in its heyday, but next to nothing remains today.
The Great Depression struck Oregon with ferocity in 1929. The timber industry plummeted and thousands of Oregonians were out of work.
The Civilian Conservation Corps put young men to work building park infrastructure throughout the United States. New Deal-era facilities built by the CCC include Silver Falls' South Falls Lodge.
The state park owes its greatest debt to two men who made it their mission to protect and advocate on its behalf. June Drake was a Silverton photographer who led a tireless campaign to protect the waterfalls and their forested surroundings with a state park.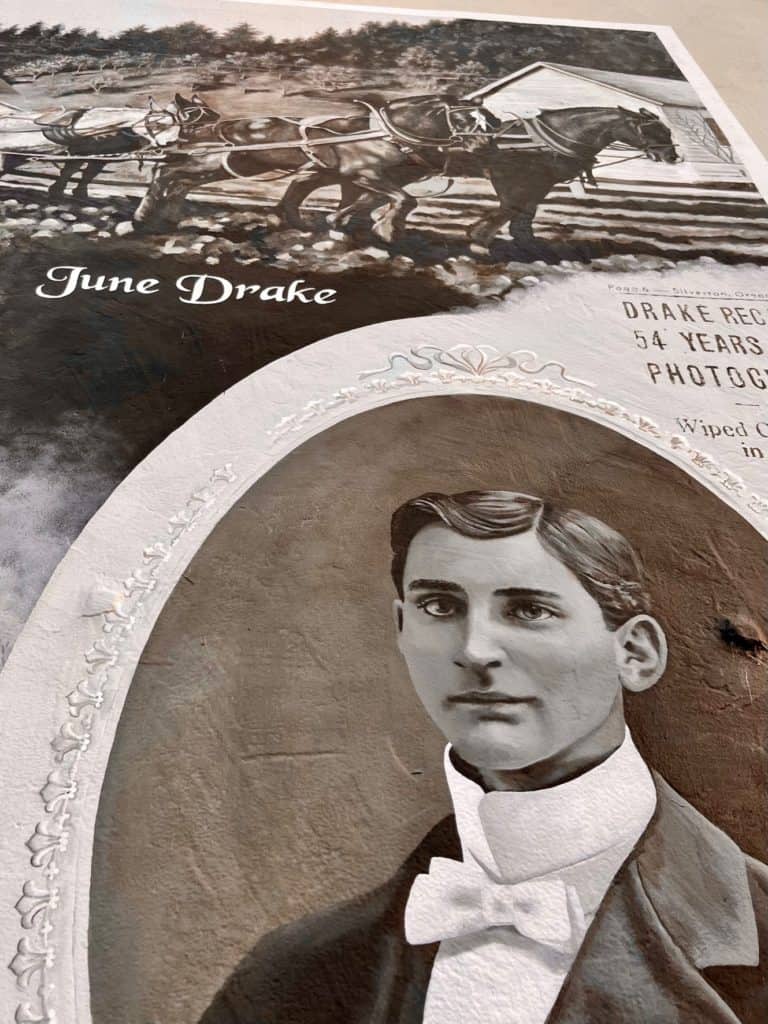 Drake is the father of the father of Silver Falls State Park. One of the park's famous falls (Drake Falls) bears his name.
Samuel Boardman was the first superintendent of the Oregon State Parks System. Boardman gave special attention to Silver Falls over the course of his career. Today Boardman is known as the father of Oregon State Parks.
#11. Get Geological
Silver Falls State Park is a great place to explore Oregon's natural history. The park's stupendous waterfalls and dramatic landscape tell the story of the Western Cascades, the oldest part of Oregon's Cascade mountains.
Silver Creek tumbles its way down three geologic layers found in Silver Falls State Park. The nature and history of these formations explain how the Trail of Ten Falls became what it is today.
Roadside Geology of Oregon and In Search of Ancient Oregon are two excellent resources for studying Oregon's Geological history. Both of these books provide the backstory behind geological wonders such as Silver Falls, the Columbia River Gorge, Smith Rock, and the Painted Hills.
#12. Sit Back and Relax
We don't typically wow at campgrounds, but it would be a disservice to pass by the wide range of facilities at Silver Falls State Park. Honestly, I don't know many state parks that offers what can be found here:
1 Historic Lodge & Conference Center (with free WiFi)
14 Cabins (7 of which are pet friendly)
48+ electrical sites with water (18+ of these are open year round)
5 Individual horse campgrounds
1 group horse campground built for 24 people and 12 horses
Dormitory Style Bunkhouses (each Ranch sleeps 75 people!)
1 Historic Youth Camp with capacity for 250 campers.
Smith Creek Village
The park's premier lodging can be found at Smith Creek Village. This lodge and conference center features stylish accommodations amid the natural beauty of Silver Falls State Park.
Our family of eight enjoyed a two-night stay at Smith Creek Village. We found it to be a great way to experience the Silver Falls area.
South Falls Day-use Area
Silver Falls State Park has two day-use areas that feature picnic areas, playgrounds, and restroom.
The South Falls Day-use area not only features large parking lots and spacious lawns, but also an eatery, gift shop, and off-leash area for dogs. All of these facilities are an easy stroll away from views of the famous South Falls.
#13. Give Back
Volunteer events offer a hands-on way to get involved. Events such like Cesar Chavez Day of Service and the park's Native Plant Care Event give visitors the opportunity to invest their time and energy into this valuable park. You can reserve your spot at one of these event on the Oregon State Park's events page.
You can also partner with the Friends of Silver Falls, a non-profit that actively supports the park and its programs. The Friends of Silver Falls welcomes new members, volunteers, and donations.
#14. Explore Silverton
It seems fitting that Oregon's best loved state park is located next to one of the state's best loved towns.
Oregonians love Silverton, and not just because it leads to one of their favorite parks. Silverton has an old-town charm and a new town vibe. At 10,000 people it's small enough to be fun but big enough to be easy.
Silverton is home to the fabulous Oregon Garden, and Silverton's historic downtown boasts a selection of great restaurants such as the Noble Fox, Magnolia Grill, Silver Falls Alehouse, and Akatsuki.
What's more, Silverton is surrounded by towns such as Marquam and Mt. Angel, beautiful places with their own treasures.
Finally, Silverton is ideally placed in the foothills of the Cascade mountains. Its location puts the Willamette Valley and the Cascade Mountains in easy reach.
In other words, you can start your day hiking Silver Falls and end your day visiting Oregon's Capital in Salem.
You can spend a morning hiking pristine forest and close an afternoon with winetasting, without even leaving the Silver Falls area.
#15. Stop and Smell the Tulips
One of America's biggest tulip festivals is only a short drive from Silver Falls State Park. The Wooden Shoe Tulip Festival celebrates Spring with an astounding display of beauty and color.
The Wooden Shoe Tulip Farm is a fantastic attraction with a wide range of things to admire, taste, and experience. The festival usually run from late March through April, but be sure to check their website for updated information.
#16. Visit Mt. Angel
Mt. Angel is an equally famous Silver Falls destination. This town takes its names from the Benedictine Monastery that crowns it.
Mt. Angel is renowned for its Oktoberfest, held every fall since 1966. The town has less than 3500 people, but it host the largest folk festival in the entire Pacific Northwest.
Mt. Angel celebrates its German heritage with events and festivals that are held throughout the year. Their February Volksfest is a sausage extravaganza complete with polka bands and local dancers.
The Christkindlmarkt is one of my favorite Holiday celebrations. This German-themed Hazelnut festival includes a Christmas market. You shop for unique gifts made by local artists and enjoy craft beer and wine.
Mt. Angel Abbey is also worth visiting. The monastery grounds are beautiful and serene; an excellent place for quiet contemplation. The Abbey also holds its own library, museum, and even a monastic brewery!
#17. Enjoy a Drink
The Silver Falls area is a great place to enjoy locally-made beer and wine. Winegrapes, grain, and hops are all grow well in the Willamette Valley.
You can enjoy excellent craft beer at Silver Falls Alehouse in Silverton. This microbrewery provides delicious food and and remarkable brews.
Mt. Angel Abbey hold one of Oregon's most unique breweries. The monks continue the centuries' old tradition of monastic brewing. You can benefit from their expertise at the Benedictine Brewery.
In fact, the Silver Falls and Salem area has dozens of craft breweries and brewpubs. We enjoy several family-friendly breweries in this area.
#18. Uncover Old Oregon
The Silver Falls area is rich in Oregon history. French fur trappers built Oregon's first farms and settlements in French Prairie, and Oregon's first government was established in nearby Champoeg and Aurora.
You can explore this rich history at Fort Vancouver National Historic Site, End of the Oregon Trail Interpretive Center, Champoeg State Park, Old Mission State Park, and Willamette Heritage Center. Oregon's State Capitol, Salem, is another great place for exploring the heritage and culture of Oregon and the Pacific Northwest.
#19. Discover More Waterfalls!
Oregon has no lack of waterfalls, but the Silver Falls area has two waterfalls that are well worth your time.
Scott's Mills Falls is a large waterfall and swimming hole that's not far from Silver Falls State Park. The waterfall is located next to the small town of Scott's Mills.
Scott's Mill Falls holds a large swimming hole at the base of the waterfall. Locals enjoy jumping into the swimming hole from the basalt columns surrounding the falls.
There is no lifeguard on duty at Scott's Mill Falls. We strongly suggest that you exercise caution and provide life-preservers to any children who are not strong swimmers.
Abiqua Falls is one of Oregon's best known falls. This noble waterfall is about 40 minutes from Silverton and an hour from Silver Falls State Park.
Know Before You Go
Book Lodging in Advance
Silver Falls and Silverton are very popular and accommodations are limited. You'd be wise to reserve your campsite, cabin, or room several months ahead of your planned stay.
Bring Your Pet
Silver Falls is a pet-friendly park. So dogs are welcome throughout most of the park as long as they are on a leash that doesn't exceed six feet in length. The Upper North Falls is a pet-friendly waterfall, where owners can let their leashed pets have at it!
Finally, the South Falls Day-use Area has a spacious off leash zone where your pooch can roam free.
Consider Off-Season
As, we said before, this state park is extremely popular. Not a few out-of-towners roll through here. Moreover, Oregonians are serious outdoor enthusiasts, hitting the trail anytime they can.
Thankfully, western Oregon has a temperate climate that keeps weather mild in the spring and fall months. You may have some rain, but you'll be experiencing the Trail of Ten Falls rather than the Trial of Ten Falls.
Bring Boots and a Good Coat
Western Oregon isn't just wet, it's I-didn't-know-that-it-could-rain-this-much wet. While the rainy season usually ends in May, we've seen years where it stretches into June and even July.
Cotton clothing offers poor protection in a cold wet climate. A pair of solid boots and some waterproof gear can be the difference between enjoying a hike and enduring a hike.
Get Your Adulting On
The Canyon Trail features high cliffs and steep drops. Bears, cougars, and coyotes live in the western Cascades. Stay with your children and be prepared.
Oregon waterfalls can be incredibly powerful. Exercise caution both for yourself and your children when walking near a waterfall or swimming in a swimming hole.
Frequently Asked Questions (FAQs)
How much does it cost to go to Silver Falls State Park?
Silver Falls State Park has a $5.00 parking fee per vehicle. There is no entrance fee.
What time of year is best to visit Silver Falls State Park?
Spring is the best time to visit Silver Falls State Park. For one, the rainy season and snowmelt ensures that the waterfalls are at their best. Second, the wildflowers are beginning to bloom. Finally, you will find less crowds than the summer months.
How many waterfalls are at Silver Falls State Park?
The Trail of Ten Falls has— you guessed it! — ten waterfalls in an 8-mile roundtrip hike. Additionally, as with many rainforest areas in Oregon, you can find smaller cascades of water along most of the trails during the rainy season.
Do I need a reservation for Silver Falls State Park?
No. Parking is first come, first served in the main lots and the fee is $5. If you plan to stay overnight in the park, the lodging and campgrounds require a reservation.
Is Silver Falls State Park paved?
The parking lot and walking areas between facilities are paved. The trails are not paved.
Do you need to book in advance to visit Silver Falls State Park?
Standard day pass visitors do not need to book in advance. Special programs require reservations, and if you're staying overnight in the park, you will need to make reservations.
How much are Silver Falls fees?
Day-use Parking Permit: $5.00 / day
Lodging fees change seasonally. The numbers listed below are from March. These prices increase as peak season approaches.
RV Lot: $28+ / day
Tent Site: $19+ / day
Cabin: $58+ / day
Picnic Shelter: $50
Horse Site: $19+ / day
Horse Group Site $58 / day
Meeting Hall: $200+ / day
Group Tent Site: $71+ / day
Are dogs allowed at Silver Falls State Park?
Yes. Silver Falls State Park is a dog friendly location. Dogs are permitted on most park trails, including the Upper North Falls Trail.
The park includes pet-friendly cabins and lodges. The South Falls Day-use area also has a leash-free area for dogs.
How many miles is the Silver Falls hike?
Silver Falls State Park has several different trails. The most famous trail is the Trail of Ten Falls. This trail is 7.8 miles round trip.
How long does it take to hike the Trail of Ten Falls?
I would recommend setting aside at least half a day to hike the Trail of Ten Falls, especially if you have children. The hike will likely take around four hours, but you'll want plenty of time to admire the waterfalls and take pictures.
Is the Trail of Ten Falls paved?
Most of the Trail of Ten Falls is unpaved. There a some sections of the trail that are paved for safety.
Is the Trail of Ten Falls hard?
The Trail of Ten Falls is a moderate hike. A person in average physical health can hike it with little difficulty. Keep in mind the following:
The trail includes segments where you will need to duck under overhanging rock (South Falls).
The trail has a number of stairs that you will need to ascend and descend.
The trail is wet or icy for much of the year. Be sure to bring proper footwear.
Are dogs allowed on the Trail of Ten Falls?
The short answer is no. The Canyon Trail is the segment of the Trail of Ten Falls that brings you along nine of the ten waterfalls. This trail doesn't allow dogs for safety reasons.
However, there are two segments of the Trail of Ten Falls that do welcome dogs: the trail to Upper North Falls and the Rim Trail.
Can you swim at the Trail of Ten Falls?
Not really. The Trail of Ten Falls follows Silver Creek as it rushes through a narrow, rugged canyon. Swimming is not safe in these conditions.
Upper North Falls and Double Falls do allow public access to the waterfalls, but the remaining falls can only be viewed from the trail.
A safe swimming area can be found at the South Falls Day-use Area.
What to wear at Silver Falls State Park?
Synthetic, water resistant clothing and a good pair of boots are usually your best choice. Western Oregon is extremely wet.
Why is Silverton famous?
Silverton is known for two special attractions: Silver Falls State Park and the Oregon Gardens. Silverton is also the home of the Gordon House by Frank Lloyd Wright.
Is Silverton worth visiting?
Yes. Silverton one of the best stops off the Interstate 5. The town is only a half an hour from the interstate but feels worlds away from the big city.
Silverton offers a lot in the way of fun and interest. Silver Falls State Park, the Oregon Garden, and the Gordon House are in or near Silverton.
Silverton's historic downtown is offers excellent restaurants, art galleries, historic sites, and cultural events. Colorful, interesting murals decorate the entire town.
What river runs through Silverton, Oregon?
Silver Creek, the same river that runs through Silver Falls State Park.
What is the origin of Silverton?
The land that is now Silverton was an important location to the Kalapuya and Mollala Nations. These indigenous tribes used controlled burns to cultivate an oak savannah for camas cultivation.
A prominent oak, known as the Old Oak, was an important stopping point on a native american trail that run along the western slope of the Cascades (now Highway 213). The large tree was a well-known meeting place for indigenous peoples.
What is now Silverton grew out of a land claim obtained by Thomas coon in 1851. His wife Polly Coon had the land platted by Timothy Davenport, with the Old Oak as the center point of the town.
In spite of its name, Silverton doesn't have any connection with mining or mineral wealth. Entrepreneurs took an interest in the town due its important location and the power that could be obtained by Silver Creek.
The narrow-gauge Oregonian Railroad reached Silverton in 1880 and the town quickly grew into an important economic hub of the Northeast Willamette Valley.
What towns are around Silverton?
Mt. Angel: Town of a little over 3500 people. Mt. Angel takes its name from Mt. Angel Abbey, a benedictine monastery that stands on the hill above the town. This town celebrates its German heritage with a huge Oktoberfest and other seasonal festivals.
Scotts Mills: Scotts Mills is a rural community to the north east of Silverton. The place is best known for Scott's Mills Falls and Abiqua Falls. Scotts Mills is a small, quiet area that sits at the feet of the West Cascades.
Marquam & Monitor: These unincorporated communities are as small-town as it gets here. Both of these hamlets have their own charm. Be sure to eat at the historic Markum Inn, one of Oregon oldest restaurants.
Aurora: Oregon's first capitol is a small town of around 1300 people. Aurora is a quiet place with plenty of historical interest and natural beauty.
How long does it take to go through the Oregon Garden?
You could see most of the Oregon Gardens in a two hour period. To truly savor your experience add an additional hour or two so that you don't feel rushed.
How much does it cost to get into the Oregon Garden?
As of March 9, 2023, admission to the Oregon Garden is as follows:
Adult $8.00
Senior (60+) $6.00
Student (12-17) $5.00
Children (5-11) $2.00
Children (4 & under) Free
Can you picnic at the Oregon Garden?
Yes, picnicking is allowed. The Gardens do ask that you be courteous and clean up after yourself.
Oregon Gardens does hold public events that may prohibit outside food. Be sure to check their events page concerning picnicking at special events.
Are dogs allowed at the Oregon Garden?
Leashed pets of all kinds are welcome throughout the garden. You are expected to clean up after your pet.
What is the history of the Gordon House?
Frank Lloyd Wright designed the Gordon House for Evelyn and Ed Gordon in 1957. The home was originally located near Wilsonville, Oregon in a location that provided views of the Willamette River and Mt. Hood.
Wright did not live to see the completion of the Gordon House. He died in 1959 and the house was completed in 1964.
In 2001 the Frank Lloyd Wright Conservancy partnered with the Oregon Garden Society and the City of Silverton to preserve the Gordon House. The house was dismantled, moved 21 miles, and reassembled at its present location.
The Gordon House is listed on the National Register of Historic places. It is the only Frank Lloyd Wright home in the Pacific Northwest that is open to the public.
What kind of fish are in Silverton Reservoir Oregon?
Silverton Reservoir is stocked with hatchery-sourced rainbow trout. Largemouth bass and catfish can also be caught at the reservoir.
© Copyright Brian A. Warren 2022-2023. First published: March 22, 2022. Last updated: March 29, 2023.