Not far from the well-known Portland food scene, Silverton's fantastic eateries are one of the best things about it. From cozy family-owned eateries to upscale dining destinations, we've tried over a dozen of the best restaurants in Silverton Oregon since moving here in 2021. Here's our guide to finding Silverton's best food options.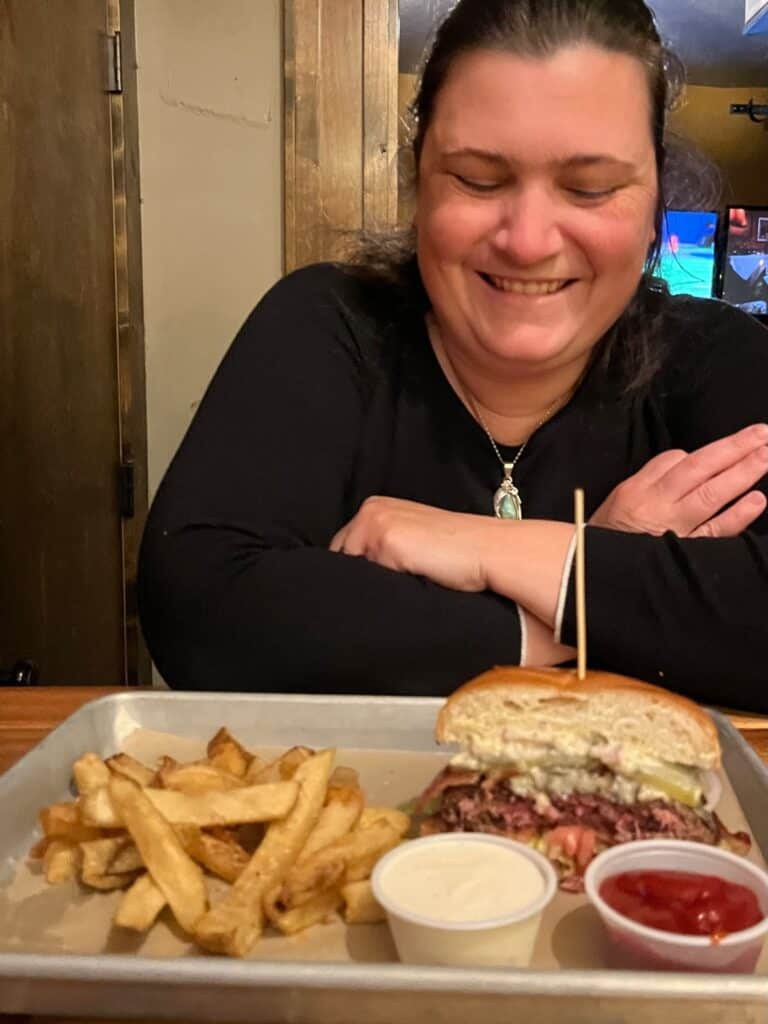 Disclaimer: our reviews and opinions are entirely our own. No establishment in this guide provided us with any complementary meals or other compensation to be included in this guide— we just love trying new places!
@dinkumtribe Silverton is a beautiful historic town in the heart of the Oregon Cascades. It's known for its mining history, its charming downtown, and its vibrant arts scene. One of the best things about Silverton is its murals. There are over 30 murals scattered throughout downtown, each one depicting a different aspect of the town's history. Some of the most popular murals include the "Four Freedoms" mural by Norman Rockwell, the "Bobbie the Wonder Dog" mural, and the "Homer Davenport" mural. The murals are a great way to learn about Silverton's past and to appreciate its rich history. So next time you're in Silverton, be sure to take some time to explore the murals. You won't be disappointed! @DinkumTribe ADHD family travel @DinkumTribe ADHD family travel @DinkumTribe ADHD family travel #oregontravelideas #silvertonoregon #familyfriendlytravel #historicmurals ♬ original sound – DinkumTribe ADHD family travel
Table of Contents
Restaurants for Casual or Fine Dining
Magnolia Grill
Magnolia Grill is a charming restaurant connected to the historic Silverton Inn and Suites in downtown Silverton. Magnolia Grill offers a carefully crafted menu that showcases the finest in local and seasonal ingredients.
We've enjoyed dinner here twice, and the attention to detail is evident in every dish they serve. Whether it's the succulent and tender pot roast or the cloud-fluffy mashed potatoes with a hint of bleu cheese, delicious food is a matter of course at Magnolia Grill.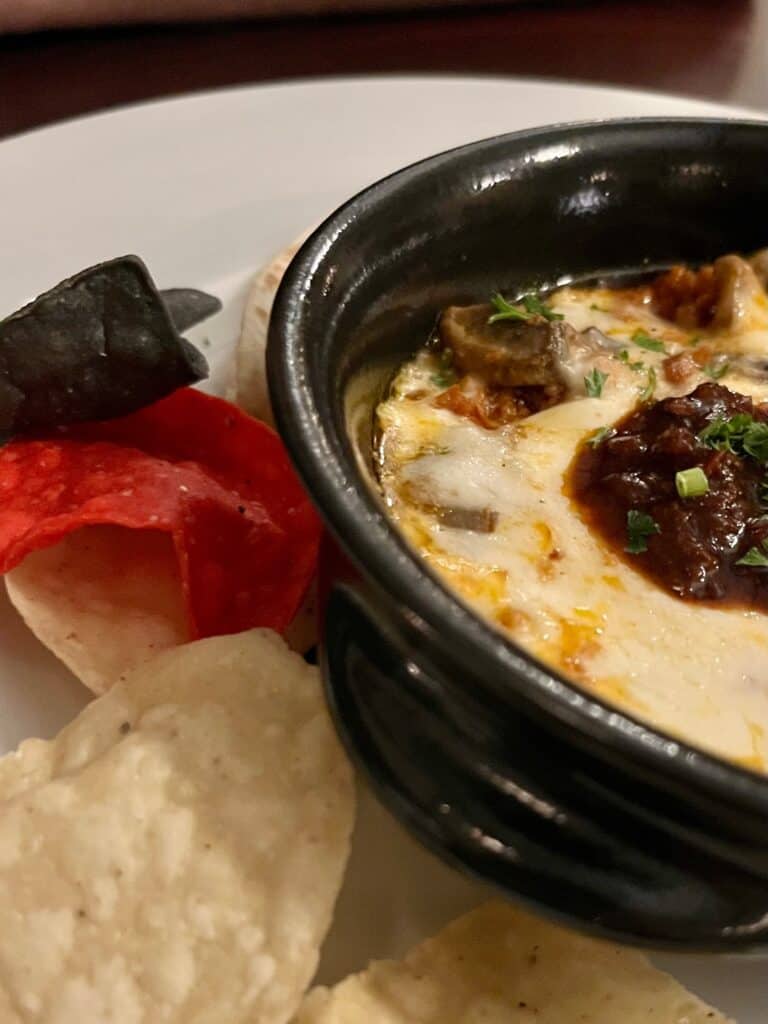 To complement your meal, the restaurant offers an extensive selection of wines and handcrafted cocktails. I loved their marionberry lemon drop martini!
The intimate setting of Magnolia Grill creates an inviting atmosphere, perfect for a romantic evening or a family gathering. Magnolia Grill is also known for their fantastic Sunday brunch menu and special holiday meal offerings (such as a Valentine's Day special or Mother's Day Brunch).
Silver Falls Brewery Ale House
Silver Falls Brewery perfectly combines the art of craft beer brewing with a warm and inviting atmosphere. The brewery boasts an impressive selection of handcrafted beers, each with its own distinctive flavor profile and character. Brian has enjoyed several of their brews, particularly the Top Knot Irish Stout. 
Silver Falls Brewery also offers an enticing menu of pub fare. From juicy burgers piled high with gourmet toppings to mouthwatering sandwiches, salads, and appetizers, every dish is crafted with the same attention to detail as their beers. We couldn't get enough of the addictive Totchos!
The Silver Falls Brewery Ale House offers great food, creative brews and friendly service in a casual atmosphere. When the weather is nice, you can eat out on their patio, and even your dog is welcome there. There are live music performances fairly often, so be sure to check the Facebook page for upcoming events.
The Noble Fox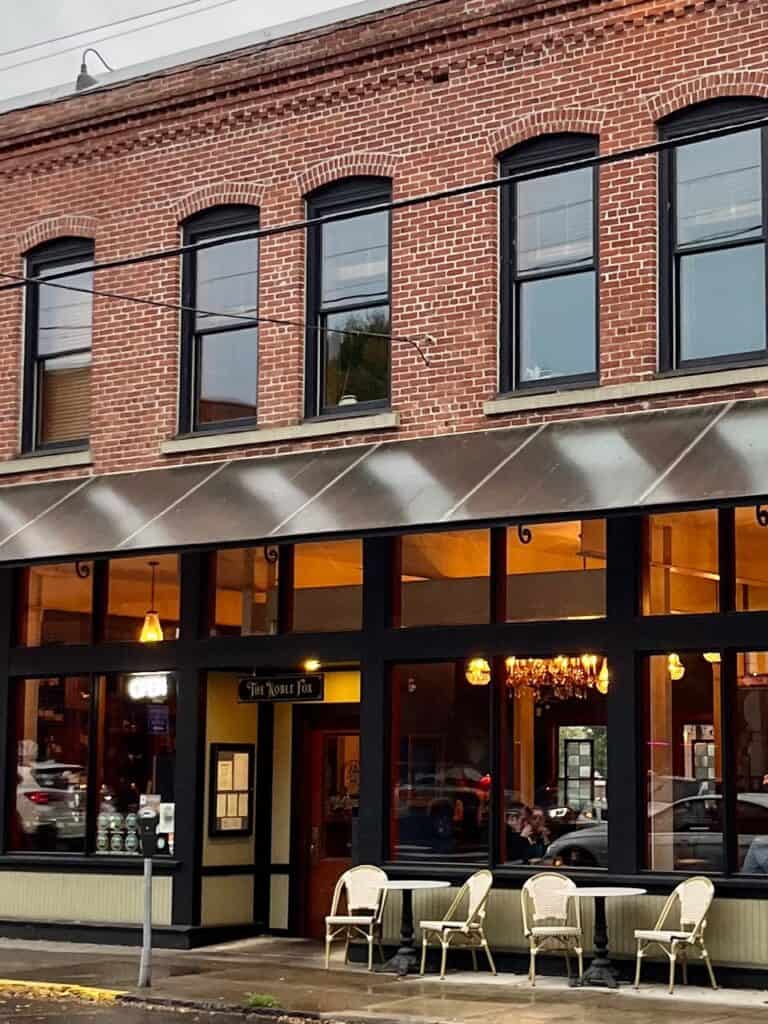 Located at the intersection of Main Street and Water Street, The Noble Fox combines rustic elegance with a touch of modern flair. Exposed brick walls, accented with sleek wooden furnishings and soft lighting, create a cozy ambiance. Their beautiful balcony overlooks Silver Creek and earned them the gold medal for Best Outdoor Dining in the 2023 Best of Willamette Valley awards.
The menu offers innovative, high quality dishes that surprised us with their unique combinations. We were delighted with the saffron and lemon garnish on our bacon-wrapped dates. Brian was totally impressed with his cauliflower and chickpea curry- he rarely orders a vegetarian main course, but this was phenomenal!
The Noble Fox also boasts an impressive selection of wines, whiskey and craft cocktails at their full bar. They even received a Silver Medal for Best Happy Hour in the Willamette Valley! Probably because happy hour runs all day Mondays and Tuesdays, and 3-5 pm Wednesday to Sunday at The Noble Fox.
Akatsuki Sushi
One of Silverton's newer restaurants, Akatsuki has a great location on S Water St. overlooking Silver Creek. We appreciated their excellent service and great food on a recent date night out.
The chefs at Akatsuki Sushi take great care to fashion expertly rolled sushi creations that are as visually appealing as they are delectable. Our favorite specialty roll was the sweetheart roll, which combined sweet and savory flavors in a gorgeous heart-shaped design.
But Akatsuki Sushi is not only about sushi. From savory teriyaki and crispy tempura to hearty ramen bowls and delicate sashimi choices, every dish is prepared with utmost care and attention to detail.
I was also impressed with the friendly staff and attentive servers. There was a family with small children at a table near us, and the server made a point of checking in frequently to make sure that the toddler had everything needed so that the adults could enjoy their meal. Akatsuki is definitely a family-friendly restaurant.
Curbside Kitchen Italian
As you step into this tiny restaurant you'll be greeted by the comforting aroma of freshly baked bread and simmering sauces. Silverton's Curbside Italian restaurant is an authentic taste of Italy in a small town setting, and boasts a 4.9 star rating in its Google reviews!
The menu at Curbside Italian is a celebration of the country's culinary traditions, showcasing dishes that have been passed down through the owners' family for generations.
From handmade pasta coated in rich, velvety sauces to tender cuts of meat cooked to perfection, the dedication to quality is evident in every bite. The gluten-free options are as highly recommended as the standard food!
We haven't had the chance to visit Curbside Italian Kitchen yet ourselves, but there's such a huge demand for their lasagna and tiramisu that it often sells out. We plan to enjoy a meal here the next time we have date night, so check back for our updated review.
Note: As of December 2023, Curbside Italian Kitchen relocated from its Oak St. space to the former Beloved Cheesecakes spot on Water St. next to the Lunaria Gallery.
Los Girasoles
Step inside Los Girasoles, and you'll be instantly transported to an oasis of Mexican flavors and warm hospitality.
We were immediately drawn to the huge case of homemade panes dulces (sweet breads) and almost forgot to order dinner! Beautiful oversized cakes, cookies and donuts that would be the perfect treat after a day of hiking at Silver Falls State Park.
With a menu that pays homage to the rich traditions of Mexican cuisine, Los Girasoles crafts each dish with the utmost care and passion. Our standard takeout order is the Migi's burrito with carnitas topped with green salsa- so good and perfectly spicy!
Los Girasoles is located in a converted red barn near Roth's Fresh Markets at the intersection of N 1st St and E C St. Besides the panes dulces, Los Girasoles also sells fresh, traditionally made tortillas and tortilla chips to take home.
Garden View Restaurant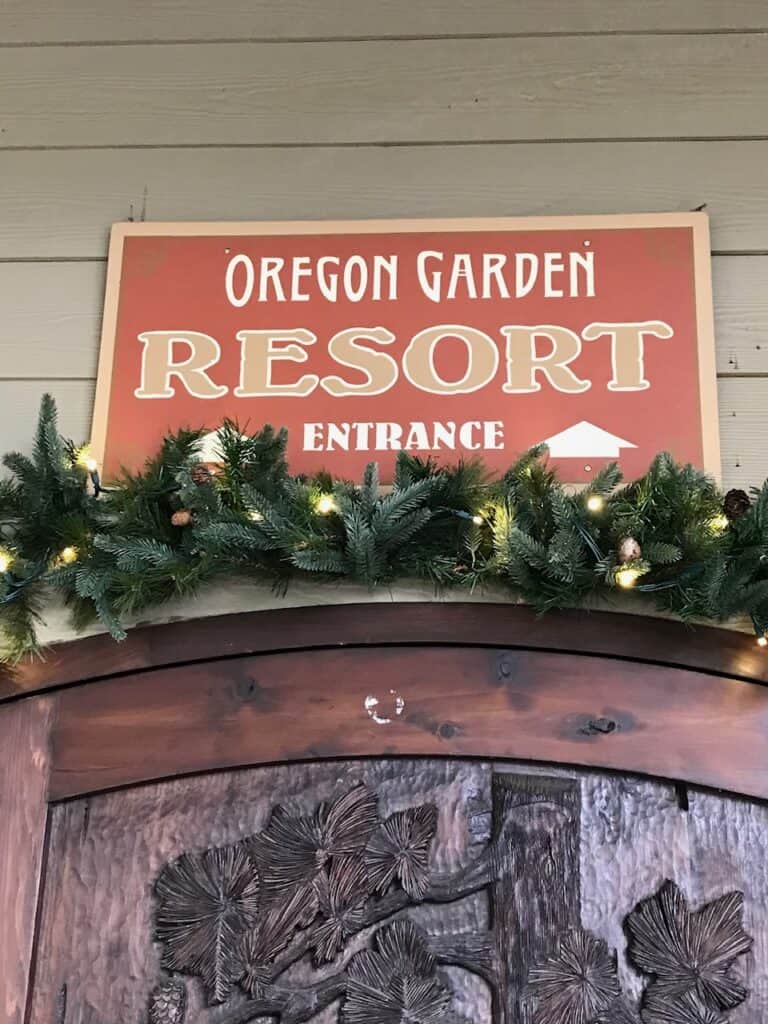 As part of the Oregon Garden Resort, the Garden View restaurant beckons diners to escape the hustle and bustle of city life and savor their meals in a tranquil setting. I was fortunate enough to be staying at the Resort during a rare snowfall event, and the snow-covered garden gave that perfect winter wonderland view.
I enjoyed a quiet lunch here (in addition to the included buffet breakfast available for Resort guests). My bleu cheese and bacon burger with French fries arrived so hot that it scalded my tongue— good food served hot is hard to beat!
The Garden View Restaurant is located out on W Main St at the edge of town, connected to the Oregon Garden and Frank Lloyd Wright's Gordon House. This makes it an ideal place to enjoy lunch between visiting the Garden and the Gordon House.
Oso Spanish and Mediterranean Inspired Cuisine
Oso's menu is best described as fusion foods influenced by Spanish and Mediterranean ingredients. Their drink menu boasts unique concoctions with completely punny names like "I Guava Dance with Somebody" and "Greece Lightening", and it's a popular local place for drinks and tapas after work.
We enjoyed a delightful meal here for our anniversary. My husband raves about the queso fundido we enjoyed, while I appreciated the fresh rustic bread. I'm eager to return to try some of the new items on their regularly changing menu.
Oso is across the street from The Noble Fox and Main St. Bistro at the heart of Silverton's downtown. If you're not quite sure what you feel like having, it's a great place to browse the menu for something unique.
The Gallon House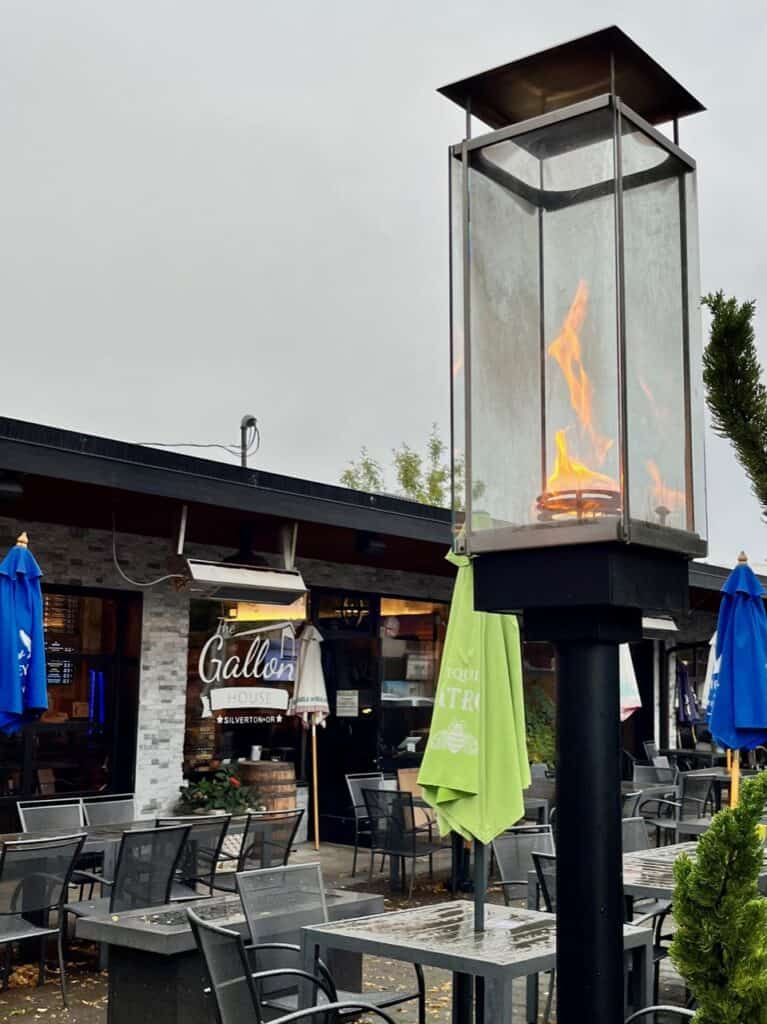 The Gallon House Restaurant is a casual American pub and grill that has been serving the community for over 10 years. They offer a variety of scratch-made dishes, including burgers, sandwiches, salads, and pasta. They also have a full bar with a wide selection of beer, wine, and cocktails, and the bar is always full on game nights.
I love the great atmosphere in the outdoor seating area with the flaming glass torches! We had dinner at The Gallon House last night, and the Candy Blue Burger was juicy, flavorful and perfectly medium rare (which is what we ordered). We tried the poke nachos as well, and they were excellent.
We've also ordered takeout from The Gallon House a couple of times, and the burgers and fries are fresh and delicious.
Sandee Thai
Just a few steps away from The Gallon House lies Sandee Thai, a hidden treasure that beckons with its exotic flavors and aromatic spices. Sandee Thai is my go-to delivery restaurant, particularly since they always include free fried potstickers with my phone orders!
Sandee Thai boasts an extensive menu, from fiery curries to fragrant stir-fries. The peanut sauce on the chicken satay skewers is perfect, and I adore their honey duck. Brian usually orders some kind of curry, but it's all mouthwateringly good.
At some point we will probably eat in the restaurant, but the takeout is so great that I'm in no rush.
Silverton's Food Trucks
Silverton's food trucks offer a unique and exciting twist to the local food scene. Whether you're in the mood for fast food, mouthwatering tacos, or indulgent desserts, these mobile eateries have got you covered.
Several food trucks are located around town, but there's also a food truck patio called The Den that offers creekside picnic-table dining and a covered pavilion. It's located on N Water St behind the Silverton Bake Shop.
El Caporal Taqueria
We recently tried this Mexican food truck (located on C Street near the McClaine St intersection) because every time I drive past, there's a line. We didn't regret our choice— it's so good! They also boast a 4.9 star rating on Google reviews.
I highly recommend their quesadilla Caporal, a standard quesadilla topped with grilled vegetables, bacon, ham and carnitas. We usually split one between Brian and I because it's super filling. We've also enjoyed their burritos.
El Caporal also has a full restaurant in Mt. Angel, about a 15 minute drive from Silverton, if you're looking for a sit-down place to eat.
Sabor Tico
The Sabor Tico food truck offers traditional Costa Rican dishes like empanadas, patacones, enyucados and rice bowls. The food is gluten free, and we really enjoyed the unique flavors of cassava, plantain and seasoned meats. Sabor Tico is located at The Den.
Bobablastic
Brian took our second daughter here to try boba for the first time, and they had a blast! We also enjoyed their sweet chili rice bowl and spring rolls on a recent date night. Bobablastic is also at The Den.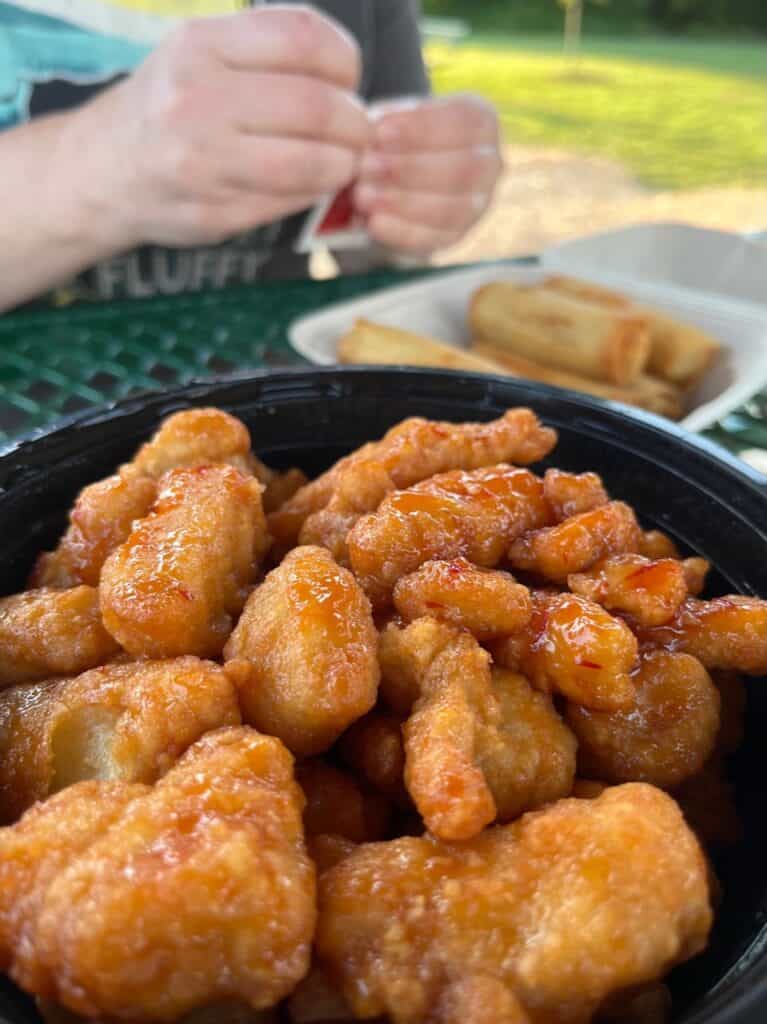 The Old Oak Oven
We haven't tried this food truck yet, but everyone in Silverton raves about their pizza, so we plan to check it out soon. The Old Oak Oven offers a weekly rotation of seasonal ingredients on pizza by the slice or by the pie. They used to be located near Silver Falls Brewery on Jersey Street, but recently they've been at The Den.
Sweets and Desserts
Silverton Bake Shop
The Silverton Bake Shop is a charming bakery that exudes the aroma of freshly baked treats. As you step inside, you'll be greeted by a display case filled with an array of gorgeously decorated pastries, cakes, and cookies. Local families love their soft-serve ice cream too (especially the pineapple flavor)!
Beloved Cheesecakes
I have never had better cheesecake than the ones at Beloved Cheesecakes. I actually chose their mocha cheesecake for my birthday cake last year, because I can't get enough of these desserts. But you don't have to take my word for it— they offer free samples regularly!
Note: Beloved Cheesecakes is no longer open at its Silverton location, but they have an Albany location about an hour away if you're really craving that cheesecake!
Heavenly Yogurt
This was a great spot for our family to cool off with a build-your-own yogurt bowl. The staff was very welcoming to our kids, and even sent us home with a free slice of mud pie. Heavenly Yogurt is on Westfield St in the shopping center next to Papa Murphy's Pizza.
Coffee Shops and More
Gear Up Coffee House
Gear Up is my favorite place to grab coffee with a friend. Their food is always excellent, especially the mini donuts, and their coffee is great as well. They also have games and coloring books available for kids. Gear Up is located on McClaine St.
Silverton Coffee Station
Silverton Coffee Station is known for its coffee and ice cream. It's located in an old gas station service building, and the outdoor seating overlooks Silver Creek. I love to grab a coffee here and take the pedestrian bridge over Silver Creek to walk in Town Square Park nearby.
Little Leaf Cafe
Whether you're in the mood for a hearty breakfast burrito to start your day or a light and refreshing lunch to fuel your afternoon, Little Leaf Cafe has something to satisfy every palate. It's a cute coffee shop and restaurant with several dining rooms in different parts of the building, and I loved the local artist's work for sale that was on display.
One dish that truly stands out is the signature avocado toast, which my friend enjoyed for breakfast when we visited recently. I quickly devoured my fresh-baked cinnamon roll and slowly savored the steaming mocha.
You'll love enjoying a light meal out on their deck seating, which overlooks Silver Creek. Little Leaf Cafe is an amazing place to sit and work quietly, relax with friends, or enjoy a delicious pastry on a slow morning.
Willamette Valley Pie Company
I'm not a huge fan of pie, so when I tell you that Willamette Valley Pies single-handedly made me a convert, you'll know that's quite the accomplishment! They have a fun outdoor play area and picnic tables for sunny days, and plenty of indoor seating as well. I love browsing their gift shop for fun kitchen decor and Oregon specialty gift items.
We love their mini chicken pot pies for lunch, and pretty much any pie for dessert. We've tried their marionberry, chocolate silk, and apple pies on location, as well as several other pastries. Our favorite thing to do is to bring home a frozen pie and bake it so we get to smell it all day before eating the warm pie.
Willamette Valley Pie Company is about a 15 minute drive out of Silverton in the middle of farm country. It's well worth the drive!
Have you tried all the best restaurants in Silverton Oregon?
Believe it or not, there are still at least a dozen restaurants in Silverton that we haven't tried! Subscribe to our email list or follow us on social media to hear about our next adventures.
©️ Copyright Jennifer D. Warren 2023