Looking for the perfect family-friendly activity to immerse yourself in the holiday spirit? The Silverton Christmas Market at the Oregon Garden Resort will give your family a magical holiday experience. I visited this holiday event for the first time in late December 2021, and I can't wait to return with my family! 
Updated October 24, 2023 to reflect new information for the 2023-2024 season. Originally posted January 16, 2022.
(This is a non-sponsored review, and the Oregon Garden Resort was not notified that we would be reviewing the Market or the Resort. As always, all opinions are our own.)
Table of Contents
Christmas in the Garden Oregon
You may not have heard of the Silverton Christmas Market before, because it was formerly known as Christmas in the Garden. This annual event used to be held in the Rediscovery Forest at the Oregon Garden.
In 2021, due to management changes at the Oregon Garden, the event was moved next door to the grounds of the Oregon Garden Resort and renamed the Silverton Christmas Market.
I've been hearing about the Oregon Garden lights for years from friends in our (previous) Portland community. The Silverton Christmas Market is an easy hour's drive from Portland.
Last December I visited after a recent snowfall, and even though some activities were canceled due to weather challenges, the holiday lights were still stunning!
All about the Silverton Christmas Market
The Silverton Christmas Market is famous for the dazzling display of holiday lights, as well as for its traditional German Christmas Market.
The beer garden, festive music by live bands, and holiday activities like the snowless tubing hill make this a fantastic outdoor event for families during the holiday season. It's well-known throughout the Willamette Valley and a holiday tradition for many Silverton residents.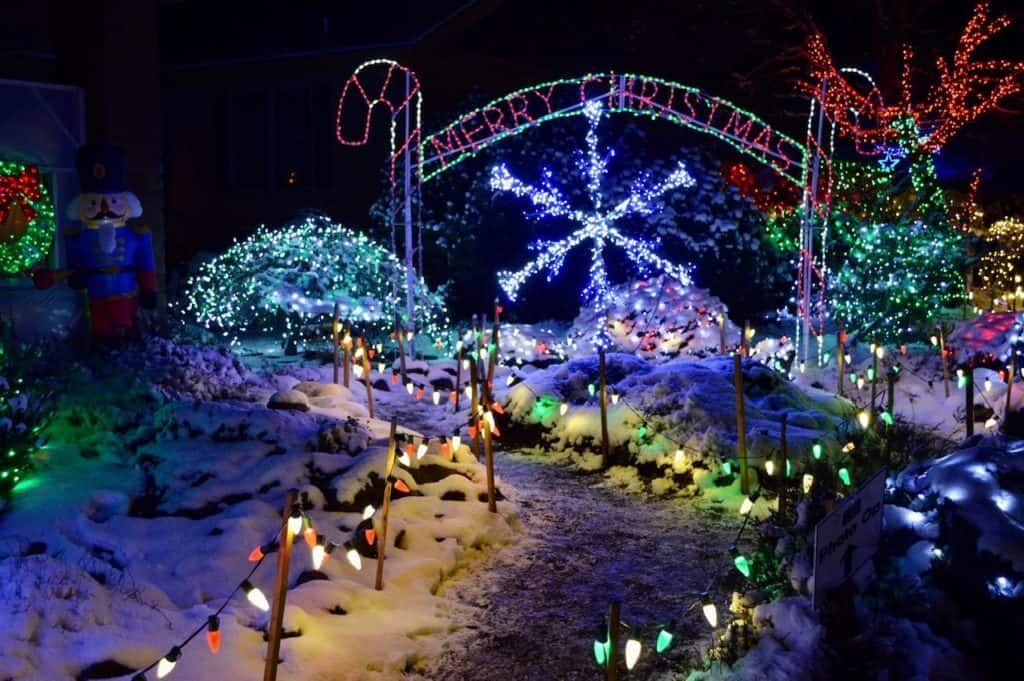 My Experience- In Need of Rest
The holiday season was stressful and difficult for our family on a lot of levels. I was feeling worn out and needed a break, so my loving husband booked me a two-night stay at the Oregon Garden Resort for December 26 and 27.
A Surprise Snowfall
The morning I planned to go in, we had 2-3 inches of snow. This wouldn't be a big deal in other parts of the country, but Oregonians do not generally know how to drive in snow conditions. Thankfully, the road crew cleared the roads before I had to leave.
I drove up the long winding driveway to the Oregon Garden Resort, passing the Frank Lloyd Wright "Gordon House" and the Oregon Garden entrance. The snow-covered grounds around were beautiful and peaceful after the busy Christmas season, and I felt my weariness begin to fade.
Check-in and Room
When I checked in at the front desk I made a delightful discovery. I didn't realize that all hotel guests at this time of year receive free admission to the Market with their overnight stay!
The 103-room hotel is organized into a dozen separate cottage-type buildings. If you have mobility issues, you'll want to know that the Oregon Garden Resort is built into the hills. Wheelchair-accessible paved paths meander through the grounds and Resort gardens, but you'll definitely be doing some walking.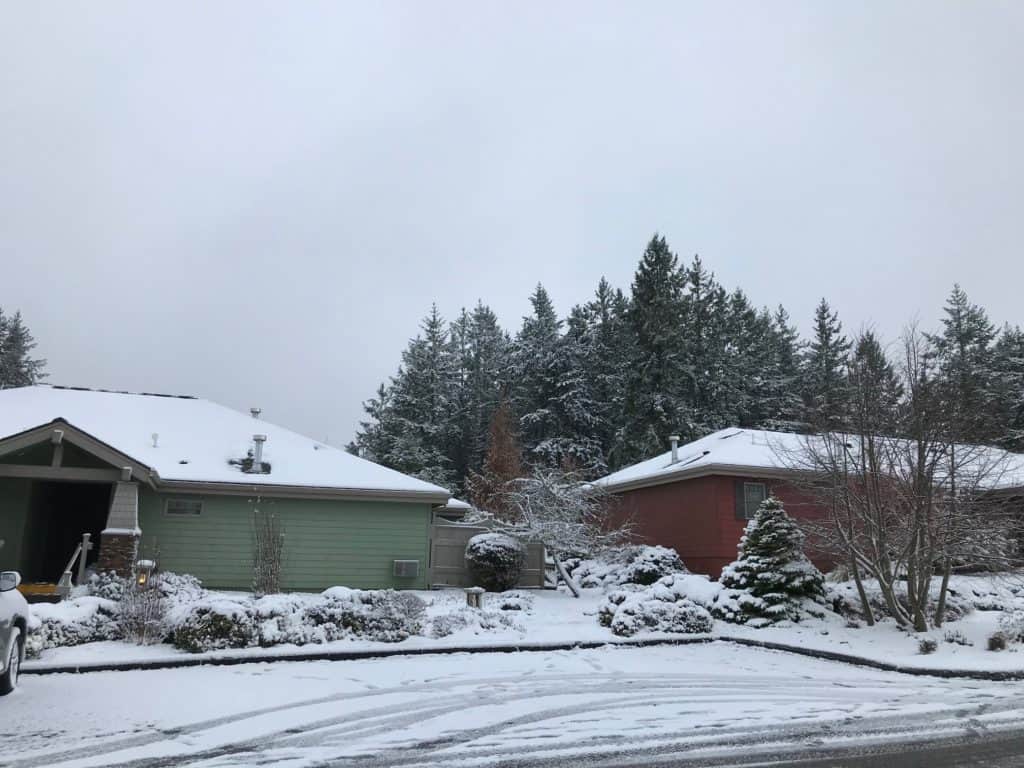 I found my room in the H (Holly) cottage and settled in. The in-room gas fireplace was burning cheerily, providing welcoming warmth on this frosty day. My window had a valley view with snow-covered treetops.
The snow-covered private patio overlooked part of the Resort garden and Christmas lights. I stepped outside for a few minutes to take pictures of the winter wonderland.
Things to See and Do at the Silverton Christmas Market
After enjoying a few quiet hours in my room, I bundled up and started toward the Christmas Market kiosk. I knew that due to the snow, it would be less crowded that night.
Light Displays
I had noticed that the Christmas lights on the Resort grounds remained on during the daytime. Colored lights peeked out from a blanket of snow on various bushes and lighted sculptures. It was pretty even in the daylight, so I was excited to see it at night!
After scanning my bracelet at the entry kiosk, I started along the Christmas light trail. It was beautiful, and especially sparkly with the snow everywhere reflecting the lights. The website claims that there are over a million lights, and looking around I could believe it!
First Light Trail
The immersive paths wind through themed areas with wood cutouts and lights in creative shapes and arrangements. There are multiple areas set up for photo ops. I ambled along, enchanted with the light snowfall, bright colors, and festive music being played along the path. 
I loved the variety of light displays! The Peanuts gang was there, complete with Snoopy's lighted doghouse.
Santa and the reindeer were joined by polar bears and penguins at the North Pole. There were even tropical Christmas displays and Pacific Northwest mushrooms and deer.
I skipped past the Krampus hut because it was so popular. The rainbow tunnel and Candy cane tunnel are bright and sparkly.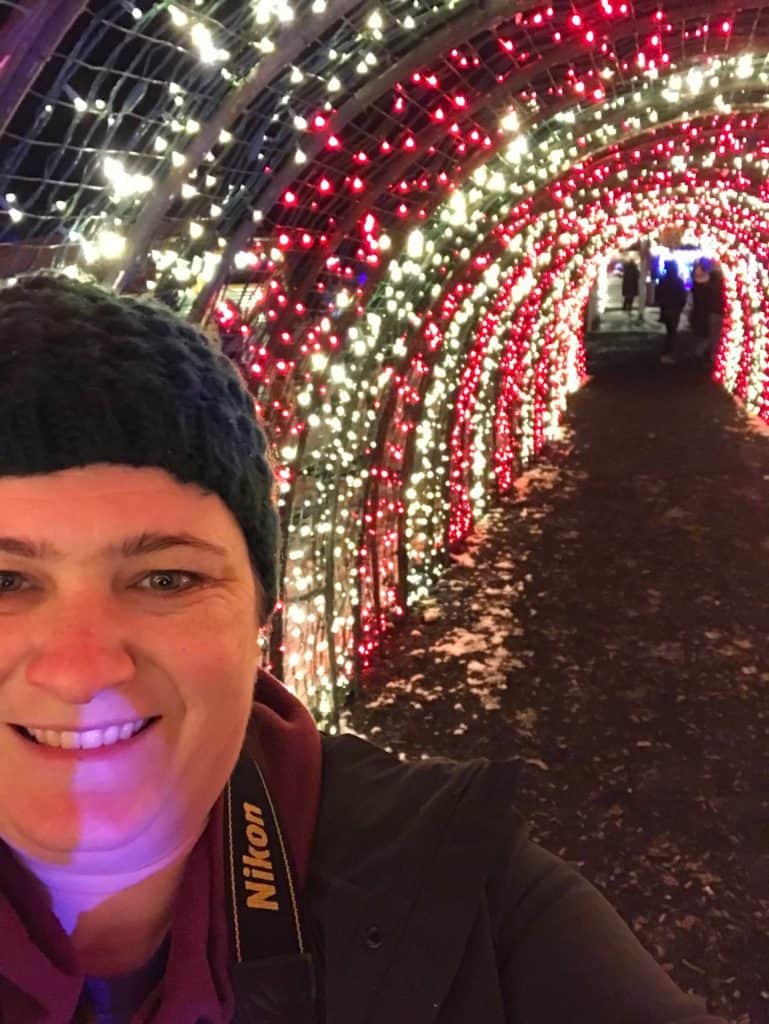 Of course, you have to get a picture by the Silverton Postcard sign!
Within about ten minutes, my hands were freezing. Cozy fire pits were placed in a few locations, but not too near the lights.
My hands were painfully cold and numb by the time I got to the first one. If you're bringing kids, dress warmly with base layers and bring hand warmers.
Authentic German Christmas Market
After the first light trail, I entered the artisan vendor market. Most of the kiosks were closed the night I visited due to snow conditions. That's pretty standard— Oregonians try to stay home if there's more than an inch of snow. Stop laughing, Midwesterners!
The open vendor booths had beautiful German ornaments and other artisan crafts available. Several local crafters and artisans set up booths each year, so check the website for the most current list. It's a great way to support small businesses for the holiday season.
Beer Garden and Food Options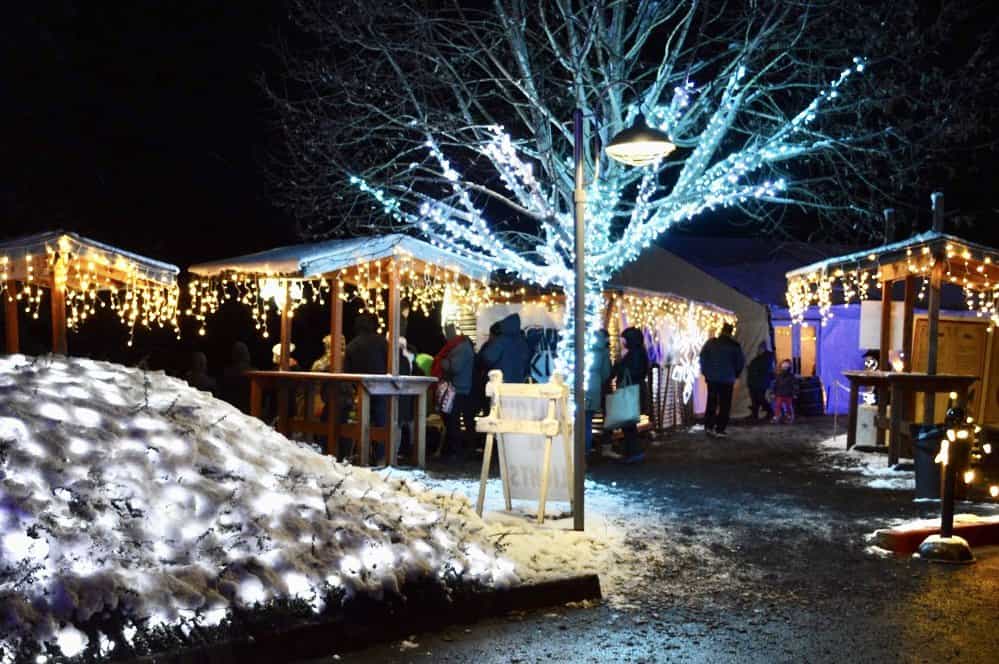 Due to the snowy weather, the beer garden was not open the night I visited. However, I look forward to enjoying a local brew from one of our many local Salem area breweries when we return.
I finally reached the food, drink, and live bands tent — the only one open that night! The live music was so-so, but it was warm in the tent and I was freezing, so I stepped inside. I ordered the sausage and some gluhwein (German mulled wine), hoping to warm up enough to see the second light trail.
The gluhwein's only redeeming quality was that it was hot (apologies to my German ancestors). It reminded me of cough syrup, but that's probably just me.
Thankfully there are other holiday beverages for sale each year, so next time I'll have the spiked hot cocoa.
Traditional German food such as sausage and pretzels are standard fare at the Silverton Christmas Market each year. I was super sad that there was no one selling pretzels the night I visited, but again, the snow kept vendors away that night.
Other Activities
After I warmed up a while, I headed towards the second light trail. I took a few minutes to look at the snowless tubing hill. If you've never seen one before, a snowless tubing hill is like a giant carnival slide. As far as I could tell, the kids who were sliding loved it!
For 2023, Santa Claus will be present every night from 5:00-8:30 pm from November 17th to December 23rd. Santa goes back to the North Pole on Christmas Eve of course, and won't return until Christmas 2024.
In previous years, Christmas at the Garden included an ice skating rink, live reindeer, or pony rides. Although these activities are not listed for 2023, check back again in the future because each year has different options.
Wrapping up the Evening
The second light trail ran through the garden between buildings, under the cottages' patios.
I walked through Whoville and spotted the Grinch and Cindy Lou. Giant Christmas ornaments, as well as rocking horses and flowers, were dotted throughout. It's hard to imagine a more magical holiday light experience!
Planning Your Visit to the Silverton Christmas Market
The Silverton Christmas Market runs from November 17-December 31, 2023. It's closed on November 22-23 (Thursday and Friday of Thanksgiving Weekend) and on Christmas Eve and Christmas Day. The final day is New Year's Eve.
Tickets are now available for purchase. For 2023, no tickets will be sold at the gate. Entry tickets and snowless tubing tickets will be pre sold online, and entry ticket sales will close at 3 pm each day for that evening's activities.
In 2023, entry tickets will be set at specific times (5 PM, 5:30 PM, 6 PM, 7 PM). You may not enter before your assigned entry time.
Children under 5 are free; price range for ages 6 and up varies by age and day of the week ($5-$20). There's a discount for Silverton residents (with proof of residency).
You can also book a resort package that will include Market admission during your stay.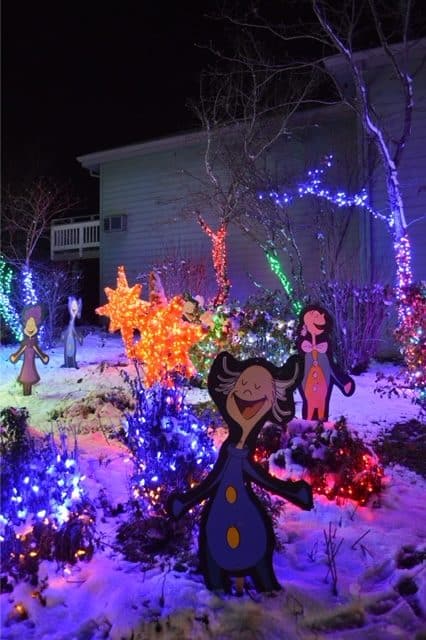 Parking, Pets, Shuttle, and Cashless Pay
If you're not staying at the Resort, there is no free parking at the Market. You can pay $20 online in advance for VIP parking.
Otherwise, take the free shuttle that runs between the city of Silverton and the Market. The off-site parking is at Silverton school parking lots, check the Market Website for specific details. No pets are permitted on the free shuttle.
Everything at the Silverton Christmas Market is cashless, so plan to pay with a credit/debit card.
The Oregon Garden Resort Package
The best thing about staying at the Oregon Garden Resort during the Silverton Christmas Market is that there's no hassle!
When I was done looking around, I headed back to my room and tumbled straight into my comfortable bed. No parking issues, no buckling any kids in, and a nice fireplace to warm me up!
I bundled up the next morning to enjoy the complimentary breakfast in the on-site Garden View Restaurant. The buffet-style breakfast was good.
Later, I enjoyed an excellent lunch at the Garden View Restaurant as well. I ordered iced tea and a blue cheese and bacon burger, medium-rare. After a short wait, my meal arrived, scalding hot and perfectly cooked. I enjoyed every bite!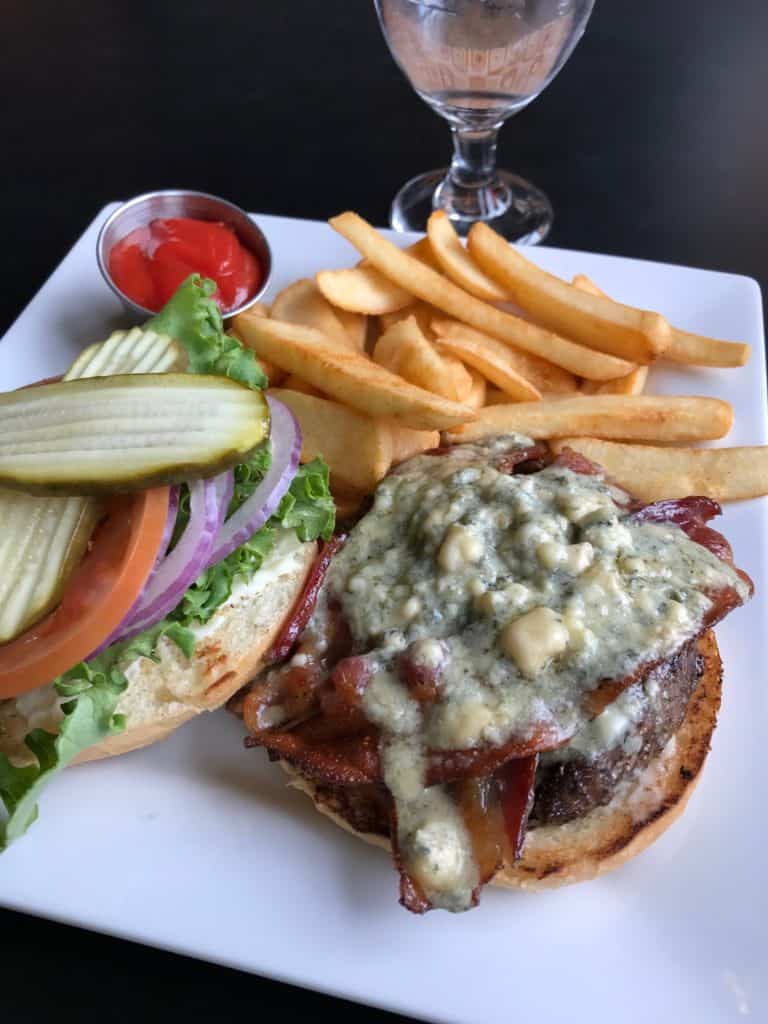 For dinner, you can also enjoy good food and live music (depending on the night) in the Fireside Lounge. I didn't visit the Lounge because I was at the Market, of course!
Note: if you'd like to dine somewhere else locally, Silverton has dozens of fantastic eateries only minutes from The Oregon Garden Resort. We've reviewed several of our favorite restaurants individually.
Relax at the Moonstone Spa
As part of my getaway, I scheduled a massage at the onsite Moonstone Spa. The Moonstone Spa is for massage and facial treatments only. There is no hot tub or sauna or other "spa destination"-type amenities.
I arrived a little bit early to fill out paperwork, but check the website for current COVID protocols.
I could feel the tension melting away as I sat in the dimly lit relaxation room — quiet music, hot tea or lemon water, and no phone notifications. The Moonstone signature massage was professional and effective.
I tend to have tension headaches and stiff shoulders, but after the massage, everything felt relaxed. The hot stones were a nice additional touch.
Deals and final notes
My stay at the Oregon Garden Resort was exactly what I needed in terms of rest and recuperation. Every staff member I interacted with was attentive and helpful.
I definitely recommend the Oregon Garden Resort for a restful getaway!
Now is the time to find great deals for your Silverton Christmas Market visit. Please note that Oregon Garden admission is not included in the Oregon Garden Resort packages.
The package deal on the website is good, but check Groupon or other discount sites, because they often run deals there as well.
Visiting the Oregon Garden
The Oregon Garden is just a few steps away from the Oregon Garden Resort. This pet-friendly botanical garden features multiple themed areas and is gorgeous year-round.
The Children's Garden is one of our favorite places for imaginative play. It's also a great place to take a quiet walk with your significant other, or on your own.
Staying in Silverton, Oregon
Even if you aren't staying at the Oregon Garden Resort, historic Silverton has lots to offer families year-round. Unique shops, beautiful murals, and excellent restaurants such as the Magnolia Grill and the Noble Fox make Silverton a popular stop on the way to or from Silver Falls State Park.
December is particularly special, with a huge tree lighting right downtown, and the North Pole mailbox next to the Santa Claus mural. Local volunteers respond to letters placed in the box (from Mrs. Claus or an elf) so come take part in a fun Silverton tradition!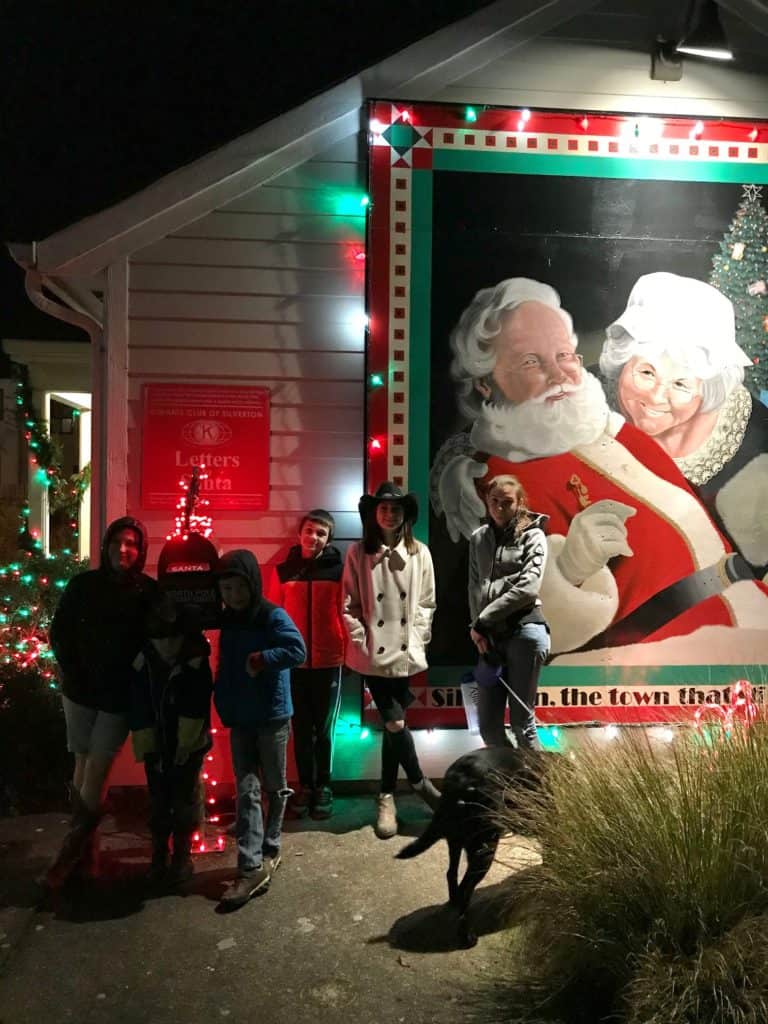 Way more than just Christmas in the Garden Oregon!
For an unforgettable holiday experience, add the Silverton Christmas Market to your calendar! Then enjoy exploring all that Silverton has to offer in December— don't forget to check the Silverton Chamber of Commerce Calendar for even more fun events.
And if you're in the area, check out the Christmas lights in Salem Oregon and Portland area Christmas light displays!
Have you visited the Silverton Christmas Market (or its former location, Christmas in the garden Oregon)? Let me know what you thought in the comments!
© Copyright 2022-2023 Jenn D. Warren. UPDATED: October 24, 2023. All rights reserved.