Rockhounding Riches
The Oregon Coast is the place for agate hunting. The forces of nature that formed Oregon's rugged coastline also make it a perfect region to beachcomb and rockhound. In this post we'll share the best agate beaches in Oregon.
This post contains affiliate links. As an Amazon Associate I earn from qualifying purchases made from the links on this site, at no extra cost to you. Thanks for supporting our family business!
We'll also provide you some tips for making the most of rockhounding with your kids. Note: if you need a beach packing list so you don't forget anything, check out our Essentials for a Family Beach Packing List.
Table of Contents
Agate hunting is great fun for families. The adventure and activity helps children's mental and emotional health by getting them off of their screens and into nature. Rock hunting excursions provide an excitement and variety that especially appeals to children who have ADHD.
The Pacific Northwest is the ideal family rockhounding area. Families can put together a perfect getaway as long as they are willing to put in some planning and preparation.
NOTE: we have a post specifically about the best beaches in northern Oregon that you'll find helpful in your planning.
Oregon's coastline is publicly owned and accessible, and this makes for easy and enjoyable rockhounding. Coastal cities and ocean resorts bring a comfort and convenience that can't be had on typical rockhounding adventures.
You can spend the day searching for treasures, and end the day in the hot tub!
Here's how to make the most of agate beaches in Oregon.
Getting Started: Tips and Tricks
Rockhounding is an outdoor activity akin to hiking or fishing. You'll have a much better experience if you plan ahead and come prepared!
Get Informed
You won't find much if you don't know where to look. Up-to-date field guides provide relevant information on where to go and what to know in a given area.
A good field guide provides all of the information relevant to a site. This includes:
rocks to be found
the lay of the land
tools you'll need
how accessible the site is
if the site is on private or public property
Field Guides take the worry and hassle out of rockhounding so you can truly enjoy the experience and engage with your children.
We depend on Rockhounding Oregon by Lars W. Johnson. This Falcon Guide Field Guide gives us all the essentials as well as information on nearby accommodations and attractions. The large color photographs are especially helpful in identifying sites and the riches they hold. The five sites described in this post come right out of this book's list of 98 rockhounding sites.
Get Equipped
You don't need much equipment to go agate hunting on the Oregon coast. It's a good idea to take a shovel, geology pick, and safety goggles on any rockhounding expedition. However, none of these are absolutely necessary on the coast.
Agate beaches in Oregon consist of creeks and river ways that empty into the Pacific Ocean.
Creeks and rivers erode volcanic rocks located in Oregon's coastal mountains, exposing semiprecious stones and tumbling them gradually to the sea. This process results in the agates and other gemstones that are found in rocks beds and beaches along the Oregon Coast.
No shovel or pick is necessary because erosion has already done the work for you!
Get Wet?
What you will need is warm, water resistant clothing. Winter and early spring are the best time of year for agate hunting. Strong winter storms clear sand out of Oregon beaches and expose rock beds for agate hunters.
Big storms wash fresh stones from the coastal mountains and churn up stones that were once buried under summer sands.
Finally, wet conditions make for wet rocks, and wet rocks are easier to spot and examine.
Do you cringe at the thought an off-season trip to the Oregon Coast? You may be in for a surprise. Oregon has a majestic beauty in winter's misty months, and is rich with wildflowers in the Spring months. Summer crowds are gone and travel discounts aren't hard to come by during the off-season.
The weather is not tropical but it is generally mild in this quiet and wild part of the country. All of this makes coastal Oregon a great destination during the spring and winter months.
That said, you're going to want to have the right getup. Cotton clothing and tennis shoes aren't going to cut it. Instead, look into polysynthetic clothing made by brands such as Columbia or North Face.
A good pair of galoshes or mud boots are critical for keeping you warm and steady in those cold Oregon beaches and gravel beds.
Safety First
Oregon beaches can be dangerous and even deadly if you're not careful.
The rocky coastline is known for dangerous sneaker waves. Sneaker waves are extra large waves that can appear without much warning or notice. Don't turn your back on the ocean or leave your children unattended.
You'll also want to keep an eye on the tide if you're working in a secluded cove. Coves that are accessible at low tide may become inaccessible at high tide, leaving careless beachgoers stranded. Be sure that you have plenty of space (in square feet and time) before settling into a cove.
Finally, much of Oregon's coastline is made up of tall headlands and steep cliff faces. Carelessness can result in tragic falls. Children should always be accompanied by an adult when visiting an Oregon beach.
How to Hunt for Agates
Do you want the best pickings of agate beaches in Oregon? Then visit a site at low tide after a storm has passed through. Look over the creek or river bed and the surrounding beach area, keeping an eye out for vibrant colors.
Mindset matters when it comes to rockhounding. Like fishing, you may come back with heaps or you may come back with only memories.
First-time agate hunters are sometimes surprised not only at how long it takes but also what they find. Natural agates look different than the polished, cut specimens sold at the store.
Every adventure provides opportunities for connection and life lessons. Be prepared to model abundance thinking to your kids. Oregon beaches yield all kinds of treasures including sand dollars, sea glass, and pieces of driftwoods. Chances are that your children will find something fun even on those days when there aren't any gemstones to be found.
5 Great Agate Beaches in Oregon
Now that you know the how-tos of agate hunting, it's time to talk about where to go. All five of these agate beaches in Oregon come from Rockhounding Oregon by Lars W. Johnson. Most of these beaches are closed enough to Portland to make for a day trip.
North Oregon Coast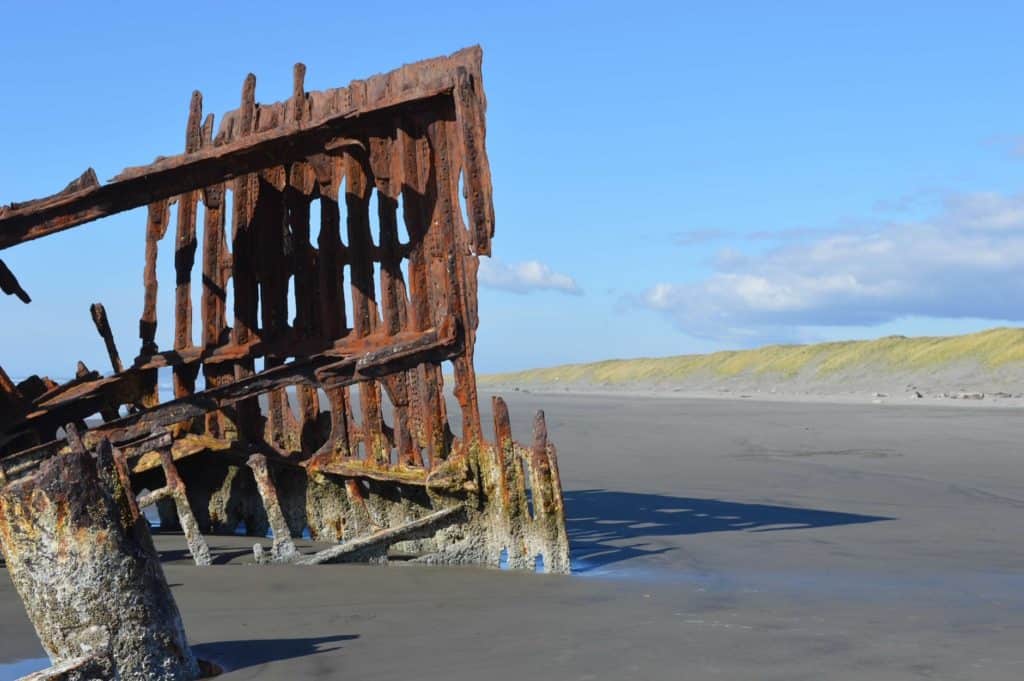 Northern Oregon stretches from historic Astoria down to beautiful Neskowin. This incredible coastline includes breathtaking ocean views and beautiful beaches. Seaside, Cannon Beach, and Pacific City all provide great places to stay and play in this remarkable area.
Short Beach
The north Oregon coast has only one agate beach, but it couldn't be better located. Short Beach is found immediately south of Cape Meares National Wildlife Refuge, one of the best refuge sites on the Oregon Coast. Short Beach is also less than half an hour from Tillamook, the home of the Tillamook Creamery and the Tillamook Air Museum.
Short Beach is easy to miss, even if your know where you're going. There's no parking lot, so you'll need to park along the highway shoulder. When we visited this summer, the only restroom available was the portable toilet at the top of the trailhead.
Also, note that Short Beach is not wheelchair accessible. The staircase and beach access trail is steep and in need of repair. It would be a difficult trail for anyone with limited mobility.
For families who can navigate the trail, it's well worth the hike! You can view the beach from above by walking out over the covered concrete bed of Larson Creek Falls (watch your kids carefully!). Once you get down to the bottom, a beautiful rocky beach is yours to enjoy.
Even if you aren't there for the semi-precious stones, Short Beach is an incredible place to be. The outgoing tide over the rocky shore creates a beautiful sound, and there's lots of driftwood and large rocks to clamber over.
A rockhound's dream come true!
You can find a wide range of semiprecious stones at Short Beach including agate, jasper, chalcedony, and petrified wood. Simply walk around the beach looking for stones that stand out from the gray gravel. Our children found lots of beautiful treasures to take home.
Agates and other minerals can also be found in the basalt boulders of Short Beach. Agates, zeolites, and even geodes can be obtained by breaking open these boulders with a rock hammer or geology pick. Basalt is a tough rock, so be prepared to work.
Central Oregon Coast
The central Oregon coast is one of Oregon's most popular areas. From whale watching at Depoe Bay to dune riding the Oregon Dunes, there's something for everyone along this stretch of coast.
Lincoln City
Lincoln City has its own kind of beach treasure. If you're lucky you might stumble upon some art glass!
The city sponsors the creation and release of art glass floats into its coastal waters. Beachgoers who find the floats are welcome to keep them. The art floats project celebrates an old-time custom of collecting Japaneses glass floats as they washed up on the beach.
Moolack Beach & Beverly State Park
Moolack Beach is another agate beach with a fantastic location. The beach is just south of Beverly Beach and Beverly State Park, one of Oregon's most picturesque beaches. It's also close to prime Newport attractions including the Oregon Coast Aquarium, the Hatfield Marine Science Center, and the superb Yaquina Head Outstanding Natural Area.
Agate, jasper, petrified wood, and fossils can all be found along the Moolack creek and the surrounding beach area. Time your arrival after high tide, so you can comb through the beach as the tide heads out.
Cummins Creek and Neptune State Park
Cummins Creek requires some hiking and is not as accessible as other agate beaches. However, the natural beauty and rich finds are well worth the effort that you will put out. Agate, jasper, petrified wood, and marine fossils can be found among the many gravel beds that make up Cummins Creek and beautiful Neptune Beach.
Big Creek and Roosevelt Beach
You can find agate, jasper, petrified wood, and more at this ocean beach. Big Creek's gravel bars often hold semiprecious stones, and some of these wash up onto Roosevelt Beach. Marine fossils and zeolites are also found at this site.
Southern Oregon Coast
Oregon's south coast is the ideal place for agate hunting. For one, this region holds more agate beaches than the rest of the Oregon coast.
Oregon's southern beaches are treasured for their remote and wild beauty. They are also known for having warmer temperatures than the rest of the state coastline.
Bullards Beach
Bullards Beach is located in Bullards Beach State Park. The site supplies rockhounds with agate and quartz, but is best known for its petrified wood and jasper. Gravel beds of the Coquille River yield large quantities of good-quality petrified wood. You can also find jasper in a wide range of colors.
Treasure to be Found
Agate hunting holds a lot of promise for families. Rockhounding is a real-life treasure hunt that ignites children's imagination and curiosity, while getting them outdoors and into the dirt. The activity is low-cost and low-commitment, making it easy to fit into a family roadtrip.
We wish you the best on your next agate adventure. Happy traveling!
© Copyright Brian A. Warren 2022. Updated and expanded: September 25, 2023.