Are you planning a family camping trip? Or do you have little adventurers who love exploring the great outdoors? Our list of camping gifts for kids will walk you through essential camping gear, fun camping toys, comfy clothes, and even some DIY ideas to make your kid's next camping trip unforgettable.
TL:DR – our entire list is available for easy browsing at our Amazon storefront.
This post contains affiliate links. As an Amazon Associate I earn from qualifying purchases made from the links on this site, at no extra cost to you. Thanks for supporting our family business!
Table of Contents
Family camping together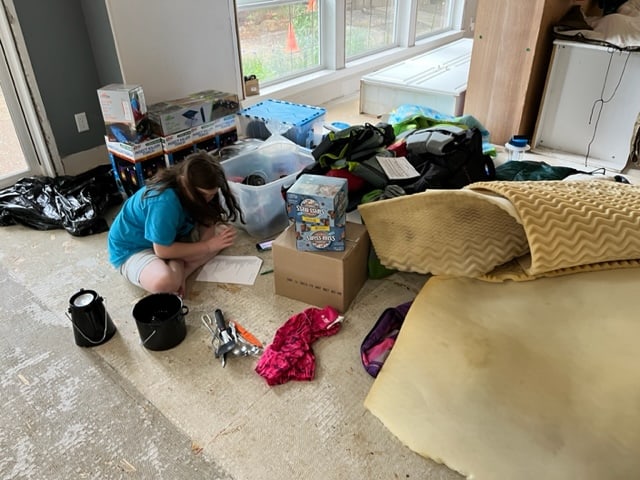 We started camping again with our whole family last summer, after many years of not camping, and had so much fun!
We also ended up needing to replace or buy a lot of camping gear—some things were old, and some things our older kids had outgrown! In the process, we discovered some great gift ideas that we'll be giving as birthday gifts before our next camping trip.
Finding the perfect gift for your kid can be a tricky task. From practical gear to fun toys, there are so many options out there. But don't worry, we've got you covered with this awesome gift guide for kids of all ages!
Essential Gear for Tent Camping
When it comes to camping, having the right gear can make all the difference. Good camping gear is an investment, and one that pays off every time you use it! Practical items can help keep your child safe, comfortable, and entertained while camping, which will help build their love of the outdoors.
We have often given big-ticket camping gear (tents, camp stove, specialized tools) as Christmas gifts for the entire family. We also give multiples of some items in different, fun colors to each kid so that everyone has their own camping gear to maintain.
Sleeping bags and more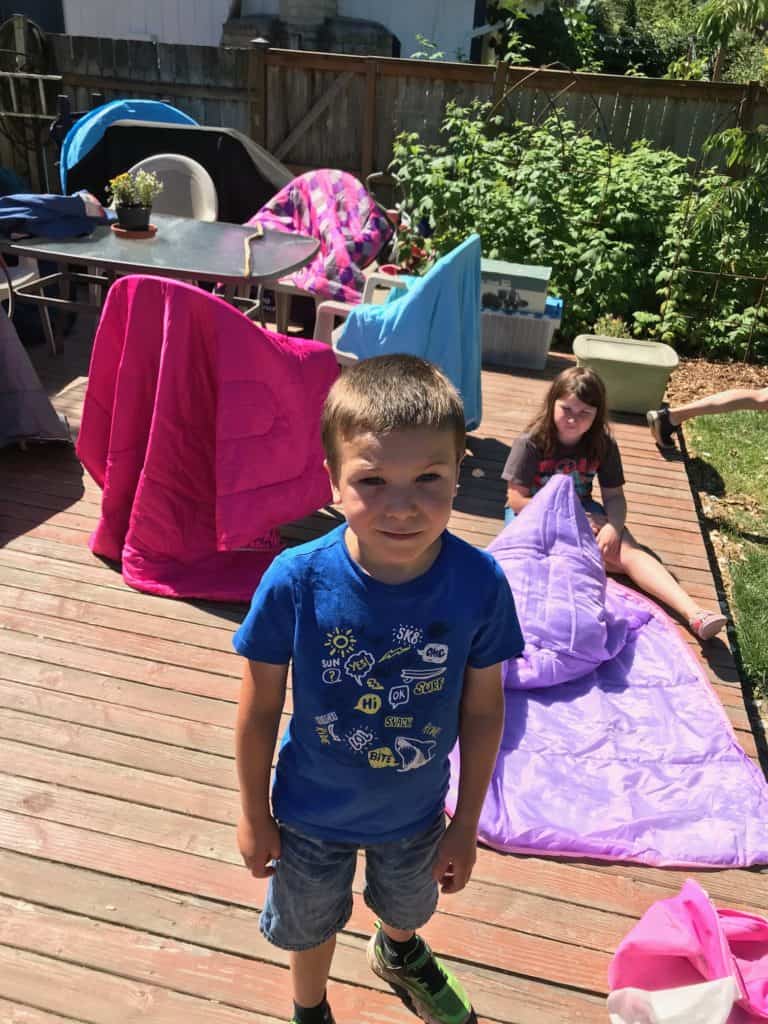 First on our list is a high-quality sleeping bag. A good sleeping bag will keep your child warm and cozy throughout the night, even if the temperature drops. Look for one that is lightweight, easy to pack, and has a temperature rating that suits the climate and season of your camping destination.
For tent camping, some kind of mat or cushion between the sleeping bag and the floor of the tent is essential. Young kids don't usually mind the hard ground for sleeping, but an older child will certainly appreciate an inflatable mat or foam pad. It also reduces heat loss if you're in cold weather.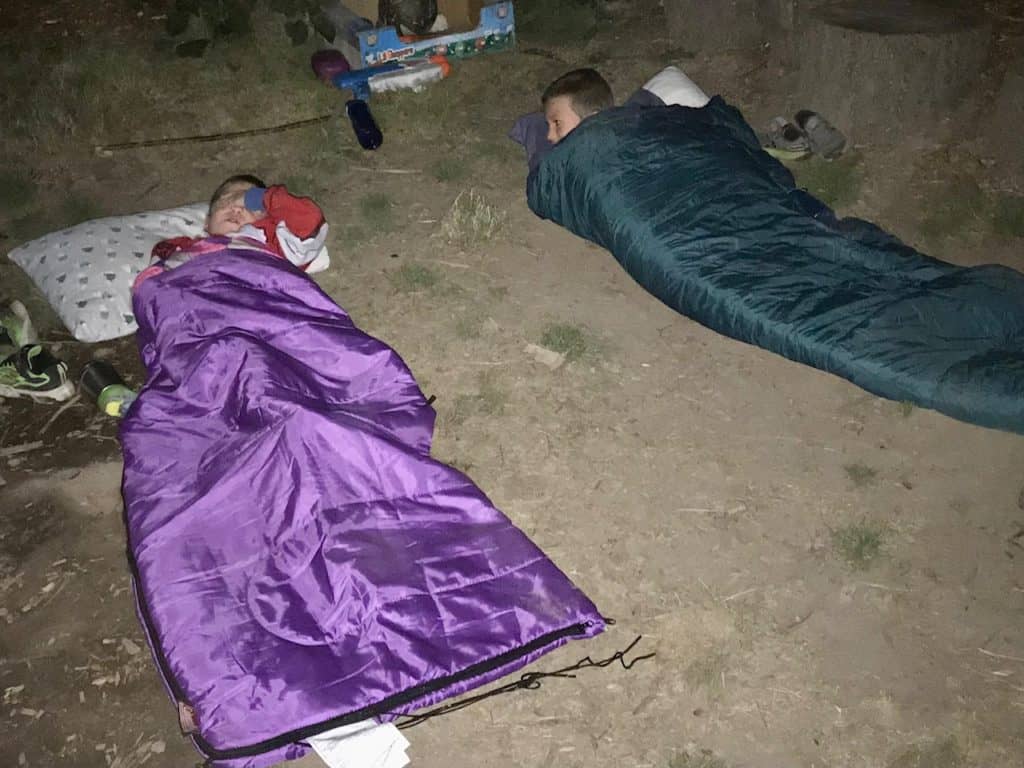 Here's our recommendations for sleeping bags and mats that we purchased last year for our camping trip. We've also included some alternatives (for different weather conditions) that had great reviews.
1. Coleman Kids 45°F Sleeping Bag: Indoor/Outdoor Use, Machine Washable
We've been using Coleman Kids sleeping bags for years, and they are great for basic camping needs. I love that they are machine washable! Kids sometimes have accidents while camping, so being able to wash the sleeping bags is essential.
2. Coleman Sun Ridge Cool-Weather Sleeping Bag, 40°F for Teens/ Adults
Here's a great all-around sleeping bag for teens and adults. This one is perfect for sleepovers or camping in warm weather.
3. Columbia 10 Degree Mount Tabor Mummy Sleeping Bag
If the weather will get cold at night, get a mummy sleeping bag. Last summer in the Oregon high desert, we were getting down to freezing temperatures at night and our standard bags weren't warm enough. We ended up buying mummy bags for all the kids.
This sleeping bag is also available in an extra-long length for your super-tall teens.
A great option for those who get claustrophobic in standard sleeping bags, or for tall/ bigger teens.
5. Kid's Nap Buddies Character Preschool Nap Mat, Toddler Sleeping Bag
We used to have two sleeping bags like this for our toddlers. They were ideal for taking to a grandparent's house. I would only recommend this kind of a bag for indoor "pretend" camping.
6. Cascade Mountain Tech Camping Sleeping Pad with Pillow Carry Bag
After our first inflatable queen mattress pads went flat on us the first two nights camping, we bought several of these mats. They were so comfortable, and they provided great insulation from the cold ground.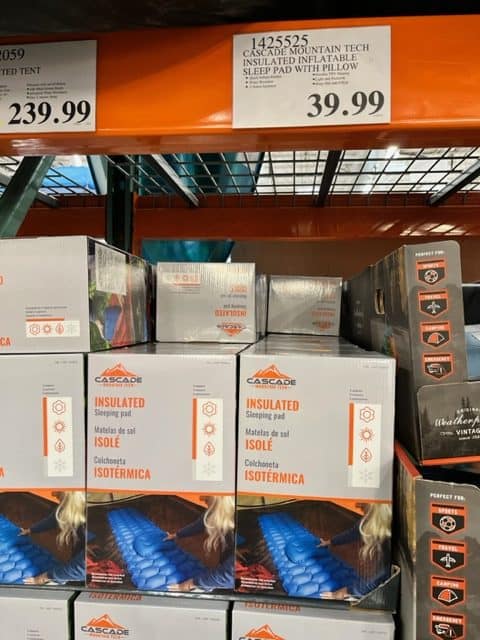 A foam mat is another good option, particularly if you don't want to bring an inflation pump with you. Several of our kids used foam mats like this on our camping trip.
Backpacks and camping luggage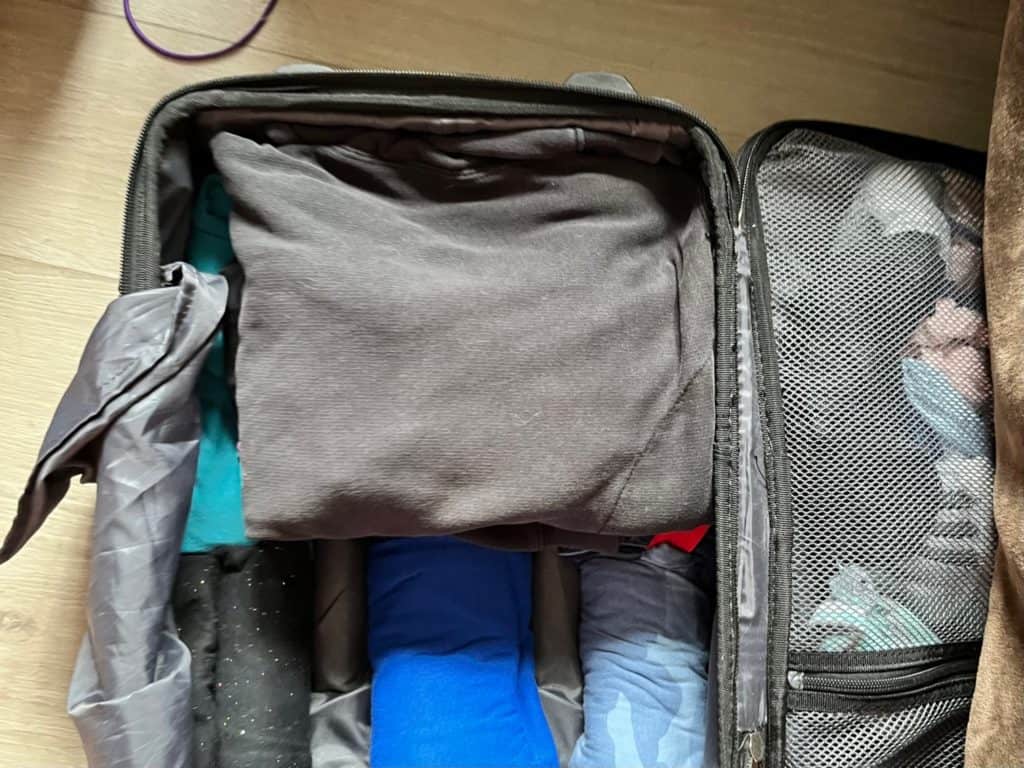 In previous camping trips, we've used our standard travel suitcases for keeping clothes and toiletries. The advantage of this is that you don't need to buy luggage specific to camping, which is a budget-saver.
However many people prefer to use a duffel bag or soft-sided bag for camping, and that's what we will be doing in the future. A soft-sided bag can more easily fit in a corner of the tent. Tent camping includes a lot of dust, dirt, and campfire smoke, which is difficult to clean from a suitcase.
A good backpack is also essential for carrying all your child's gear and supplies during hikes or outdoor activities. Look for one that is adjustable and comfortable for your child to wear, with enough space to hold snacks, water, sunscreen, and any other essentials.
Here's our recommendations for kids backpacks and duffle bags for camping.
I've had a Jansport bag that we used as a diaper bag for over 10 years! They last forever, and are easy to clean. We've bought each of our kids a backpack to use for travel, and we just use them for camping too.
9. High Sierra Loop-Backpack, School, Travel, or Work Bookbag
Here's another great option that's a little less expensive. Costco often carries these backpacks around back-to-school season, which is when we got ours. I love all the pouches and the laptop sleeve is great for screens of all kinds, not just a laptop (Kindles, iPads, etc.).
Our oldest daughter loves the hydration backpack! As an ADHD teen, it's especially difficult to remember to hydrate, especially on hikes or while camping. Wearing a hydration pack really helps her with getting enough water.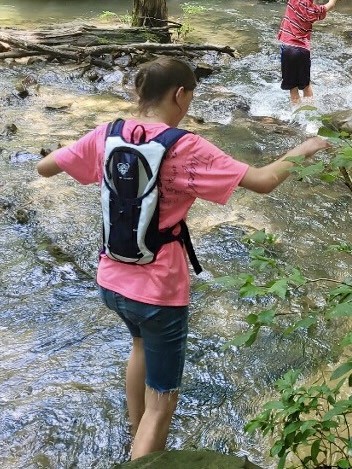 11. CamelBak M.U.L.E. 12 Mountain Biking Hydration Backpack
My husband prefers this brand of hydration pack. He's been using his CamelBak for years on day trips and hikes. Don't forget to grab a cleaning kit along with the backpack so that you keep it free of mold growth!
12. Bago Travel Duffel Bags for Traveling
This is the bag we'll be getting for our camping trips going forward. I love that there are lots of sizes and colors to choose from, and it completely folds up for easy storage!
This is an excellent sized duffel with backpack straps for easy carrying. It's also water repellent, which is a must in Oregon! If I needed to walk a long distance from my vehicle to the camp site, or if I needed to have my hands free to tend to kids, this would be my top choice.
17+ things to include in a hiking daypack / camping backpack
Choosing what to include in a kids' hiking backpack is greatly dependent on what you plan to do, and the age of your child. Younger children will need a few basic personal items. Older kids or teens can be responsible for carrying essential gear that may be needed on the hike.
One of the best gifts for kids of all ages is a flashlight or headlamp. A durable flashlight or headlamp can help your child navigate the campsite and trails after dark. Look for one that has multiple settings and can be easily recharged or replaced.
Here's a few other recommended outdoor gifts to add to your kids' camping/ hiking backpack. They make great stocking stuffers too!
14. KJLAND 8 Pack Led Headlamp Flashlight for Adults and Kids
These were perfect for our family's camping trip! Super bright, easy to use, and the soft bands are comfortable to wear on your head.
15. Dorcy 55 Lumen Floating Water Resistant LED Flashlight
It floats! This is exactly what you need if you're camping near a body of water or stream. Plus there's at least 5 different colors, so each kid can tell which one is theirs.
16. Binoculars for kids 8X21
One of my boys has always been a huge nature observer. We got him these binoculars, and he adores them! They're sturdy enough for a kid to use, and they really work.
17. Hontry Binoculars for Adults and Kids, 10×25
These are the next step up for teens or older kids who want something a little nicer. We usually keep a couple sets of binoculars in our vehicle and always take some with us on hikes or camping trips so that our kids can see the wildlife up close.
18. 75mm 10X Handheld Magnifying Glass Shatterproof
We also have a few magnifying glasses around for our kids to use while they're exploring nature. This one is nearly indestructible, with a bright handle so it's harder to lose.
19. Maps
Most national parks and state parks have one available for free at the ranger station. Teaching kids to read a map is still an important skill, especially in areas with no cell phone reception!
I like this compass because in addition to the actual compass, it includes a map scale on the edge to help gauge distances. Plus, the cord makes it harder to lose.
21. WEREWOLVES Insulated Water Bottle
We bought three of these water bottles for our teens last Christmas and they are fantastic! They're sturdy stainless steel, with two different options for the mouthpiece (screw-top opening or straw).
Werewolves water bottles come in 10+ fun colors and each one includes a matching paracord handle with a longer carrying strap. It even comes with a cleaning kit! My girls love them and use them everyday, even when we're not camping.
22. Contigo Kids Water Bottle with Straw – 2 Pack, 14 oz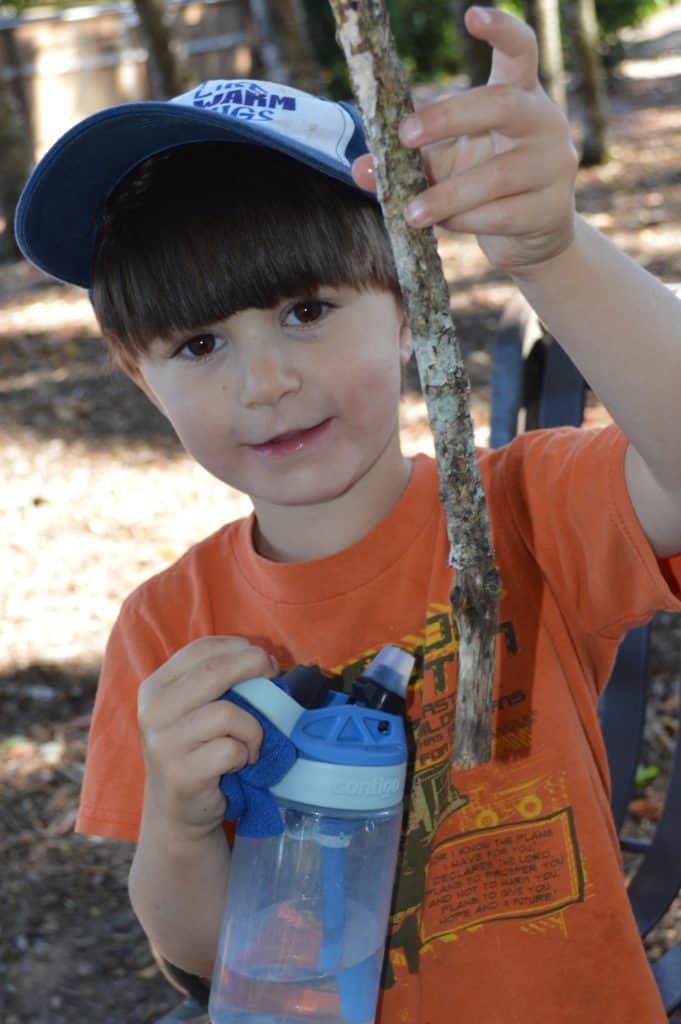 I prefer these Contigo water bottles for my younger kids because they are smaller. Plus, I can run them through the dishwasher at home for easy cleaning. They fit nicely in a backpack side pouch and come in lots of designs so you always know which one belongs to which kid.
23. Sunscreen or bug spray
Depending on where you're camping, sunscreen and / or bug spray might be a great addition to your kids' backpack. We go through so much sunscreen as a family of 8, so I buy the biggest containers I can find wherever it's least expensive (usually Costco or Wal-Mart). I also buy UV protectant clothes and swimsuits whenever possible, so we have less skin to spray.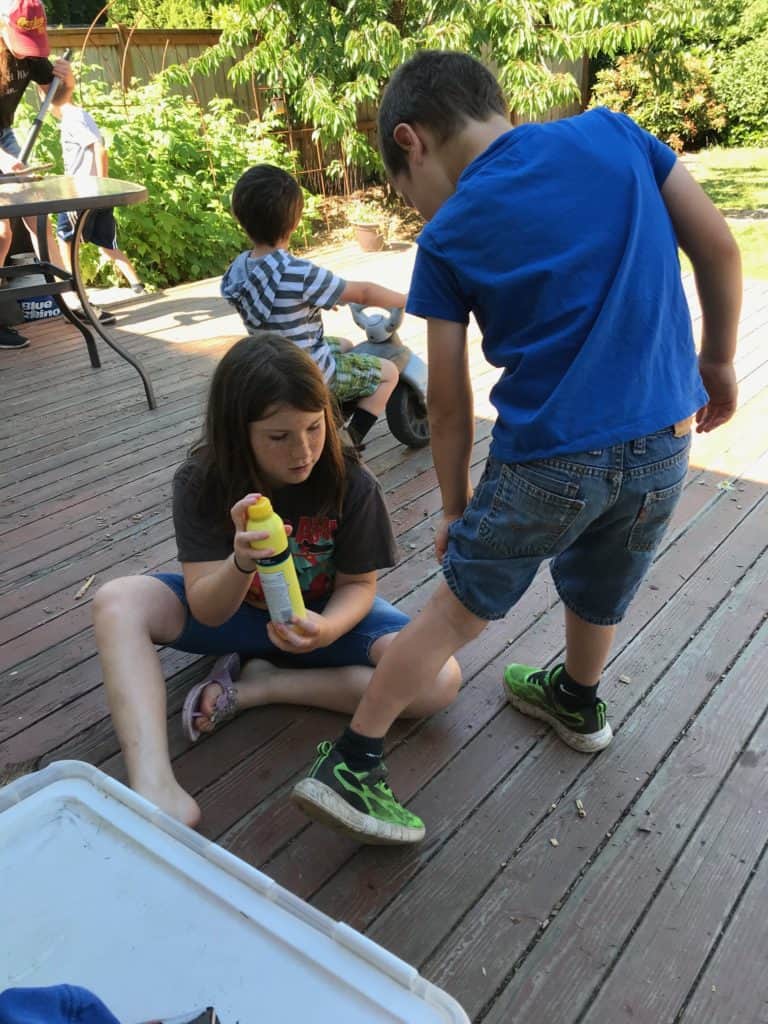 24. Hand sanitizer
We bring lots of hand sanitizer on camping trips, since it's harder to wash hands often. Giving your kid their own mini hand sanitizer is a fun and easy way to encourage clean hands.
25. Kids Pocket Knife & Camping Essentials Kit – Multi-Tool Card, Whistle & Fire Starter
This is the perfect gift for older kids or teens who are ready to start learning how to start a fire or help with other camping tasks! Teach your kids to start a fire without matches, and they can use the safety whistle if they get lost to attract attention. The pocket knife is easier to use than standard adult pocket knives, but just as sharp and functional.
26. Two Way Radios for Adults, Topsung M880 FRS Walkie Talkie
We were gifted several of these walkie-talkies for our kids, and they had a blast playing with them! I like these ones because they're brightly colored (and therefore harder to lose). You'll need batteries for these walkie-talkies.
27. Smart Care Hot Wheels On-The-Go First Aid Kit
Some kids love to be in charge of their own first aid supplies, and this kit would be perfect for them! The tin case is reusable, so grab a few extra sets of decorative bandaids to add when the first ones get used up.
28. First Aid Only 298 Piece All-Purpose First Aid Emergency Kit
My youngest daughter loves to be prepared on camping trips and family outings, so we allow her to pack her own first aid kits. If you have older kids or teens, they might love being in charge of the family's first aid kit too.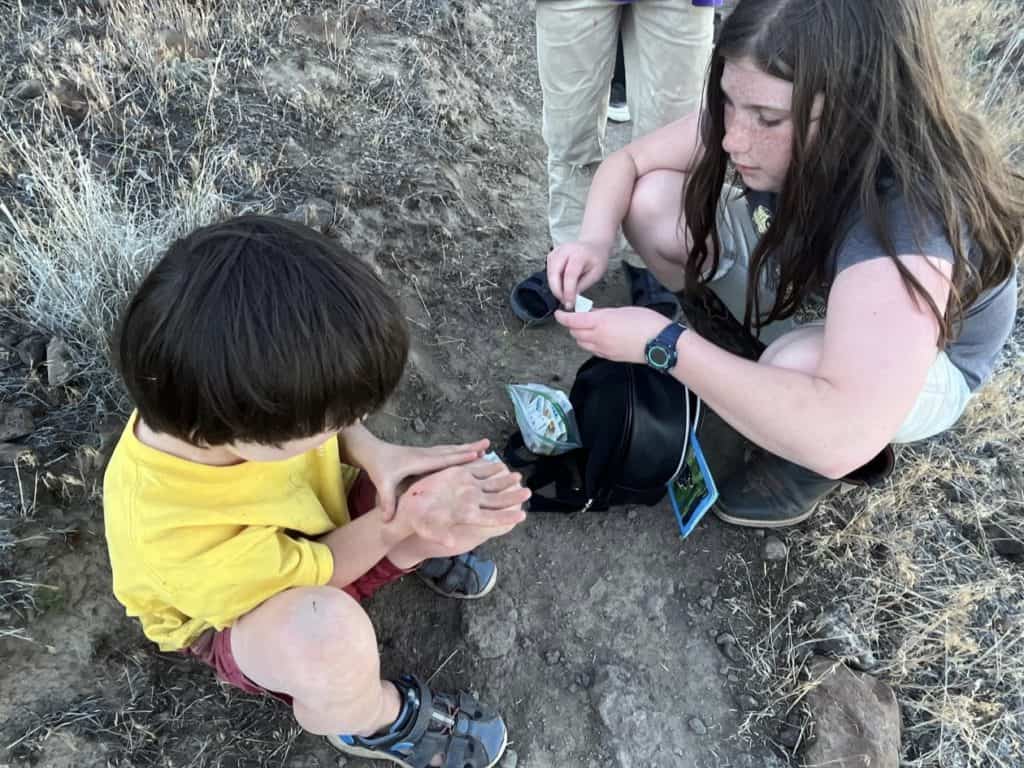 29. My Awesome Field Guide to North American Birds: Find and Identify Your Feathered Friends
Our kids love this book! My son Panther packs it on every outing, along with his binoculars, so that he can add to the nature journal pages any new birds he sees. It lists some of the most common birds, so it's a great starter book for birdwatching.
30. Ultimate Explorer Field Guide: Insects
Here's a similar book for insect lovers. We also use this book when we go hiking so that our kids get used to identifying bugs. It's a great STEM activity for homeschool or extracurricular fun.
31. Camera
If your kids or teens have a device that they already use, it probably comes with a decent camera. Our boys take photos on their Kindles, and our older girls use their phones, iPads or iPods.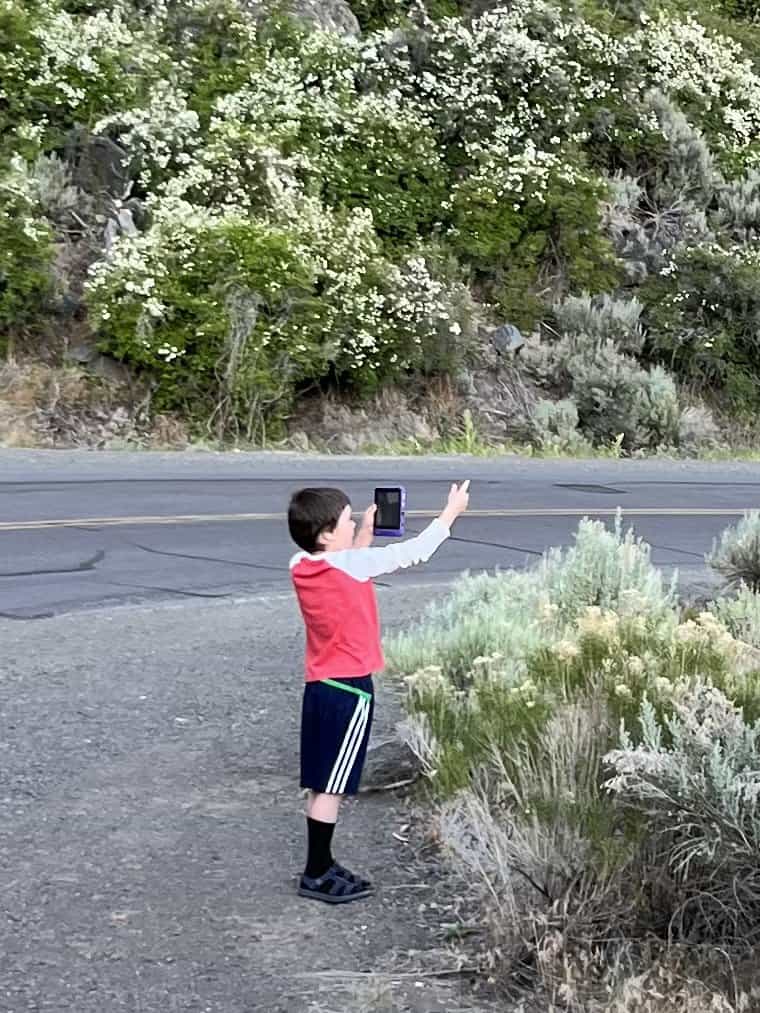 However if you're looking for a dedicated camera for your kid to use while camping, get one that's waterproof and shockproof! I spent some time looking for the cameras we used to have, but many have been discontinued by the manufacturers. So I don't have a specific kids camera recommendation at this time.
32. O2COOL Deluxe Handheld Battery Powered Water Misting Fan
If you're hiking in warm weather, a misting fan will be a lifesaver! Kids have a much lower tolerance for heat, and a handheld misting fan will help them feel a little more comfortable. Less complaints on the trail will make a much better hiking experience for everyone.
Kid-sized Camping Accessories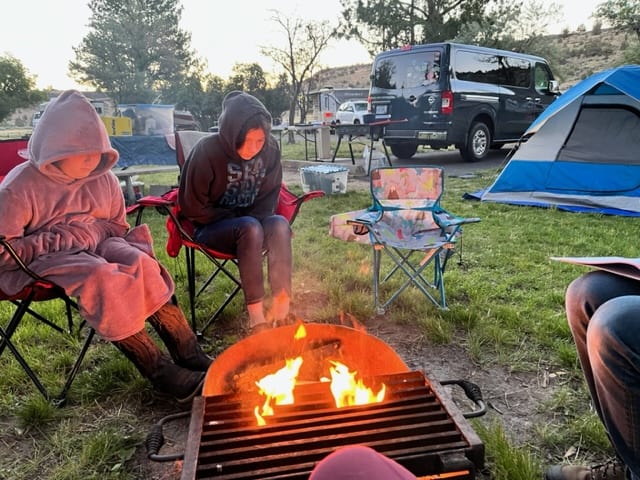 This chair is the perfect size for kids 6 and under. It's important for little ones to have a camp chair their size, otherwise they frequently fall over in the adult chairs! We learned that lesson the hard way.
This is also a great gift to use at home when you can't go camping. I like this chair because it comes with a cup holder: when your child is eating, a cup holder makes it easier to balance a plate on their lap.
What kid doesn't love a hammock? Hammocks are especially appealing for kids with sensory issues, but most kids enjoy some time swinging. It might be just the ticket for getting your older kids to take a nap while you're camping.
This hammock comes in multiple colors and shrinks down to a pinecone-sized bag!
If you have a kid who's afraid of the dark, this camping lantern would be the perfect solution! It's super bright, but small enough for your toddler or preschooler to handle on their own.
36. UCO 6-Piece Camping Mess Kit
This is a standard size adult mess kit, but the bright color options and sturdy plastic make it perfect for kids too. It also has a grip surface on the bottom of the plate so it's less likely to fall off or dump if your child sets it down.
37. ODDSPRO Kids Fishing Pole Pink, Portable Telescopic Fishing Rod and Reel Combo Kit
We have a few old fishing poles, but this is the one we'll be getting our younger kids before our next camping trip.
Don't get sucked into buying the cute superhero / princess ones at the sporting goods section of Target or Wal-Mart! Fishing is challenging enough with kids- it's best to get a proper, kid-sized set rather than a glorified toy version.
Camping Clothing for Kids
First and foremost, consider the weather. If you're camping in a cooler climate, make sure your child has warm layers like a fleece jacket or wool socks. If it's going to be hot, opt for lightweight, breathable fabrics like cotton or linen. As the saying goes, "There's no bad weather, only bad clothing!"
Several of our family members have sensitive skin that is allergic to most sunscreen. So instead we buy long-sleeved, UV protective shirts and clothes and wide-brimmed hats. Costco often carries them during spring and summer, so that's our usual source.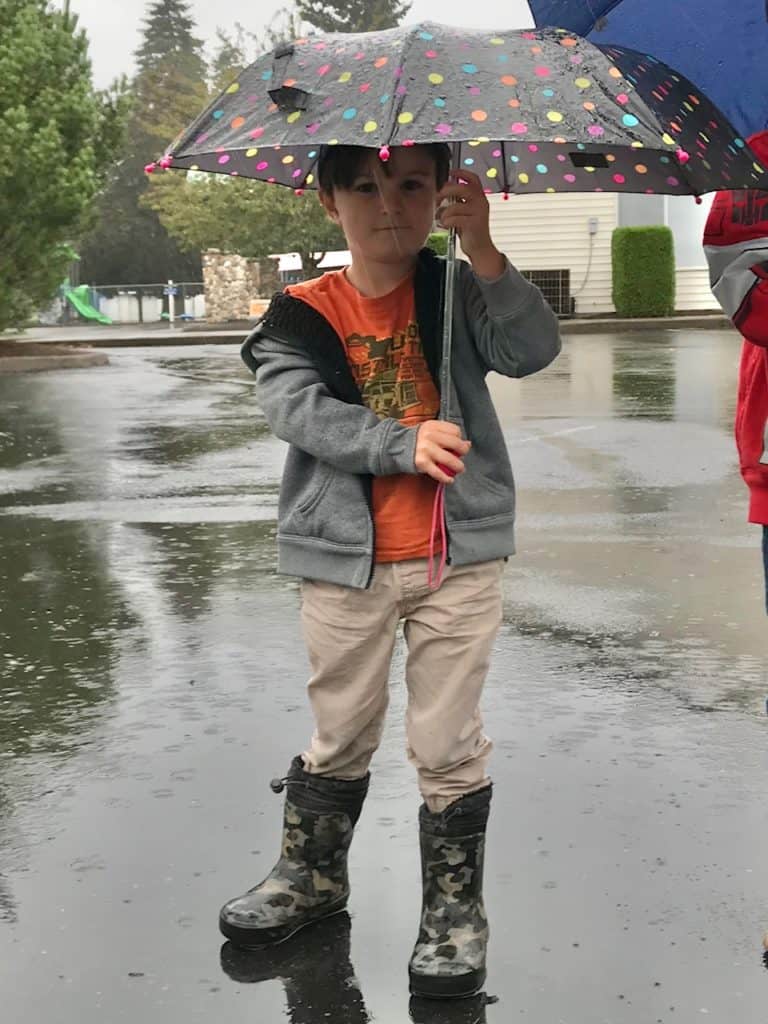 It's also a good idea to invest in some practical, high-quality clothing items like sturdy hiking boots, a waterproof rain jacket, a hat, and sunglasses. Here in Oregon, we anticipate rainy days year-round, so we always include waterproof clothing.
But don't forget about the fun factor! Camping-themed clothing options for kids, like t-shirts with fun designs, or pajamas printed with tents and campfires, make cool camping gifts too.
Toys and Outdoor Games for Camping
When it comes to camping, outdoor toys and games can be a great addition to keep your child entertained during downtime or while waiting for meals. So how do you decide what to bring?
First, make sure camping toys/ games are sturdy and can withstand outdoor conditions. Second, consider how much space you have in your camping gear and pack accordingly.
Here are a few fun toys to consider:
38. Airplane Toy Foam Glider Plane for Kids
This looks like so much fun! I'm thinking to grab one for each of my kids and teens for our next camping trip – these airplanes are super sturdy, perfect for camping trips.
39. Frisbee: Discraft 175 gram Ultra Star Sport Disc
You can get a frisbee at almost any toy, sporting goods or dollar store. However if you want a flying disc that flies decently and doesn't break the first time it hits a tree, grab this one. It also comes in multiple colors, so each kid can have their own.
40. Card games
Card games are a fun way to while away an afternoon while camping. Some of our favorites are Phase 10, Uno, Exploding Kittens, and Monopoly Deal. You could also bring a standard deck of playing cards and play classics like Gin Rummy, Go Fish or Slap Jack.
41. Other games
There are lots of other great games that would be fun to play while camping. Some of our favorites for big kids and teens are Catan, Castle Panic, Apples to Apples, and Mysterium. We also love classics like chess, checkers, Jenga and Battleship.
42. Bubbles or bubble wands
Who doesn't love blowing bubbles? It's a simple and fun activity that your child can enjoy on their own or with their camping friends.
43. Balls: football, playground ball, softball…
Tossing a ball back and forth is a great activity for kids of all ages. For younger kids, a sticky ball set like this works well. Our girls love playing slingball, a variation on the traditional game of catch.
44. Outdoor lawn games: croquet, badminton, bocce, corn hole, and more!
My husband grew up playing croquet with his family. They even invented their own variation of epic croquet that they played while camping- the rocks, trees and brush are just hazards to work around! Whatever lawn games your kids enjoy will probably also work while camping, if you have a little open space to work with.
45. Kite
Kites aren't the easiest toy for kids, but they can be great if you are at the beach or lake with a wide open space and a steady breeze.
46. Water guns and water cannons
These are a MUST if you're camping in warm weather! My husband had the brilliant idea to grab big water guns for all the kids for our camping trip last summer, and they were a hit!
47. Nerf guns
Nerf guns are a great alternative for camping trips where there's not much water available, or it's too cold for water guns. Get some for the adults too, and watch the fun relationship-building that happens! We strongly recommend wearing safety goggles while playing with Nerf guns.
48. Books
We always have a quiet hour in the afternoons while camping so that the adults can catch up on some sleep. Books are perfect for camping, or you can bring a Kindle tablet so your child can read digital books. We've got several book lists for kids and adults, if you need some ideas.
49. Art supplies: coloring books, crayons, markers, acrylic paints
We often do some kind of nature themed craft or art when we go camping. Bring along acrylic paints for painting rocks or driftwood. You can also encourage kids to sketch things they see on a hike.
50. Sand toys: shovels, sifter, sand castle toys
We usually think of sand toys for the beach or lake, but camp sites in dry desert areas would also be great places to use these. Someone gave our girls this Melissa & Doug set years ago, and we still have some parts of it around, so we can vouch for its sturdiness!
51. Water toys: buckets, inflatables
We've used an inflatable raft in streams near our campsites, and the kids have a great time. Standard pool noodles or other inflatables make water play even more interesting.
52. Telescope and star chart / guide
Camping is a great time to see the stars without the glare of city lights. Even our teens enjoy looking at the beautiful astronomical features that can be seen while camping. Our oldest daughter uses a star app (Night Sky) to find constellations by pointing it at the sky, and we've all learned so much from her interest.
Since mobile phone reception isn't always available while camping, we recommend bringing additional stargazing tools. Grab a telescope, a guide to the night sky or a star chart, and you're good to go! Check with the local rangers, they may even have a special stargazing program available.
I love this set because the bug vacuum makes it easier for kids to collect bugs without hurting themselves or the bugs. We used to have one just like this.
54. Microscope
If you have older kids who enjoy looking at nature up close, a basic microscope would be a great camping gift. I couldn't find the one our family uses, but I like this portable version for a camping trip.
55. PartySticks Glow Sticks Party Supplies 300pk – 8 Inch
These are one of the best camping gifts for kids or teens! There's so many things to do with glow sticks, plus they make ideal tent lighting at night when you want something that won't keep adults awake. Our kids loved having glow sticks on our camping trip last summer.
56. Just Jump It 8′ Foot Single Jump Rope for Kids
Even if your child doesn't love jumping rope, a jump rope is useful for many other open-ended play ideas. Our jump ropes hardly ever get used for actual jumping, but they are always in use for swinging from branches, hanging towels or blankets, and other pretend play.
DIY Camping Gifts for Kids
If you want to take gift-giving to the next level, why not get crafty and make something yourself? With a little bit of effort and creativity, you can create personalized and unique camping gifts that your kids will love.
One idea is to make a DIY camping-themed journal. Grab a blank notebook and decorate the cover with camping stickers, stamps, or even hand-drawn designs. Include a pen or pencil with the journal and encourage your child to document their camping adventures and memories.
Another DIY idea is to create a personalized campfire mug. Purchase a plain white mug and some ceramic paint or markers. Use stencils or freehand drawing to decorate the mug with camping-themed designs, such as trees, tents, or campfires.
Lastly, you can make an outdoor scavenger hunt game. Provide your child with a list of the items they need to find, and they'll have a fun and engaging activity to do while enjoying the outdoors. For lots more ideas, check out our Kids Camping Pinterest Board.
Camping themed gifts for outdoor lovers
Sometimes going camping isn't possible. If you've got a kid or teen who loves camping and the great outdoors, here's some fun camping gift ideas that will be great for at-home use.
Camping gifts for imaginative play
57. LEGO Friends Holiday Camping Trip 41726, Camper Van
I love the little fire pit and s'mores in this Lego set! You could add on this smaller set with waterfalls and trees that reminds me of lots of National Parks here in the Northwest US.
58. LEGO City 4×4 Off-Roader Adventures 60387, Camping Set
My boys would love this Lego set that comes with a monster truck, bikes and a tent!
59. Kids Teepee Tent for Kids – with Light String
We've bought several variations on indoor tents for our kids to play with, and they've all been loved to shreds (literally!). This one comes with a light string for playing in the dark too.
60. Meland Kids Camping Set with Tent 30pcs
This has everything your toddler or preschooler needs to pretend camp at home! If you have a child who just can't get enough of camping, they can make a play fire, cook dinner, and 'sleep in a tent' from the comfort of their bedroom.
61. Melissa & Doug Let's Explore Camp Stove Play Set – 24 Pieces
I love Melissa & Doug's high-quality toys! They make pretend play so much fun, and this camp stove set will help your kids have all the fun of camp cooking with none of the mess.
Camping Experiences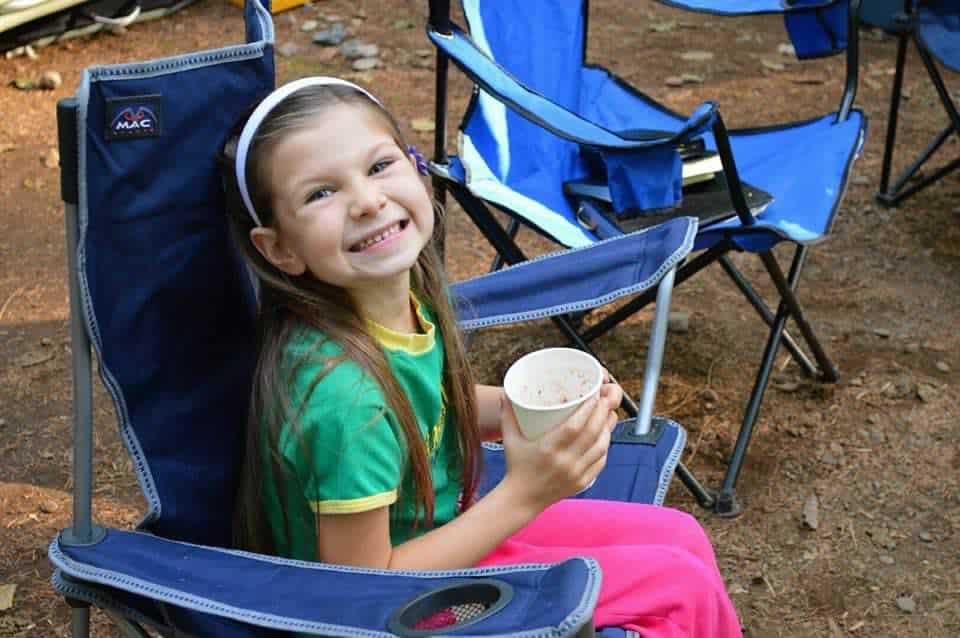 Giving an extra special camping experience might be the perfect outdoor adventure for your adventurous kids! Here's some camping experience ideas that go beyond a standard camping trip.
Overnight Hiking trips/ backpacking in the backcountry
Fishing trips
Boating / Kayaking / Canoeing trips
Rock climbing / horseback riding / tree climbing
Stargazing / photography trips
Geocaching trips
Birdwatching trips / wildlife watching
Camping gifts for kids of all ages!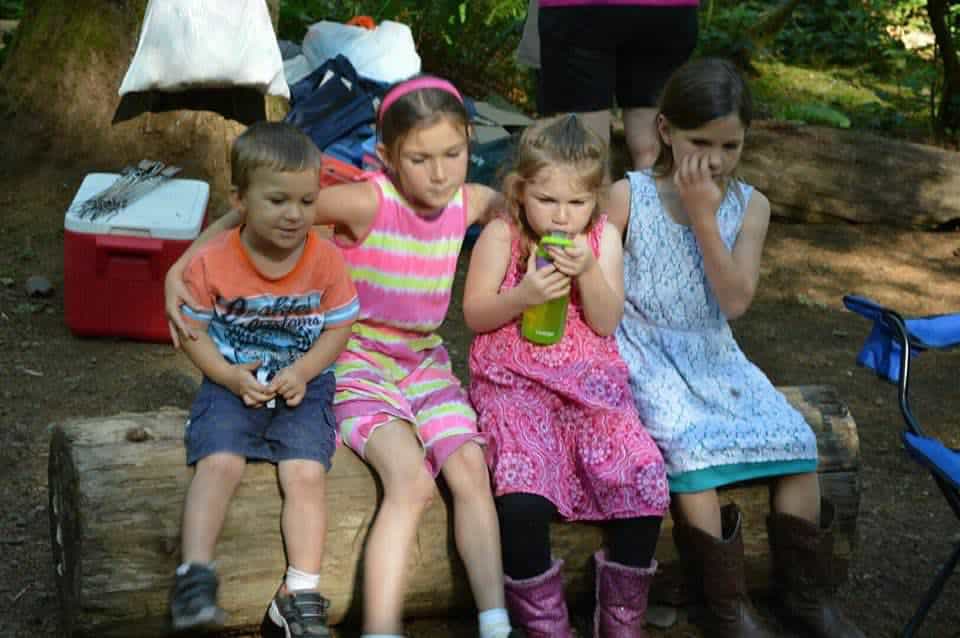 Finding the perfect camping gift for your kid doesn't have to be overwhelming. Our ultimate guide to camping gifts for kids gives you practical gear, fun toys, camping clothing, DIY gifts, and more to choose from. Your kid's next camping trip will be the best ever!
©️ Copyright Jennifer D. Warren 2023.