The reality is that there's nothing ordinary about this place. I've been to several aviation museums and Tillamook Air Museum is by far the most unique and memorable of all of them. The former blimp hangar is among the largest wooden buildings in the world and a remarkable remnant of wartime history.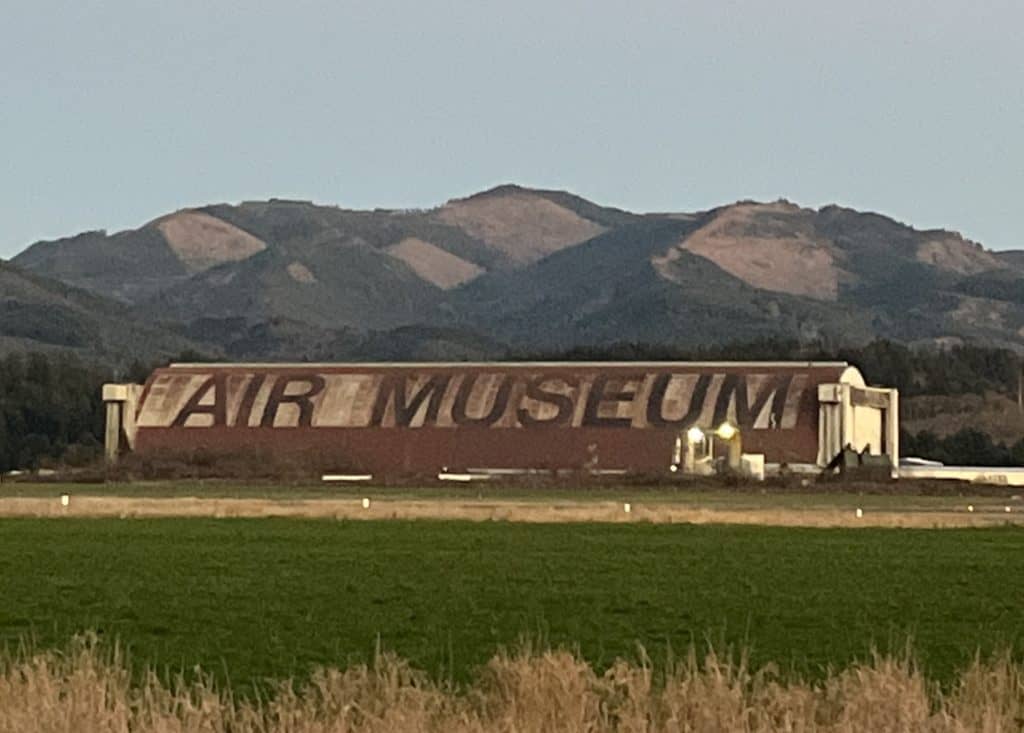 Table of Contents
Backyard Blimp Hangar
Sometimes the greatest wonders are right in your own backyard. Our family has been in and out of Tillamook more times than we can count. Why it took so long for us to visit the Tillamook Air Museum is beyond me! Perhaps its incredible size made it just another feature of the landscape.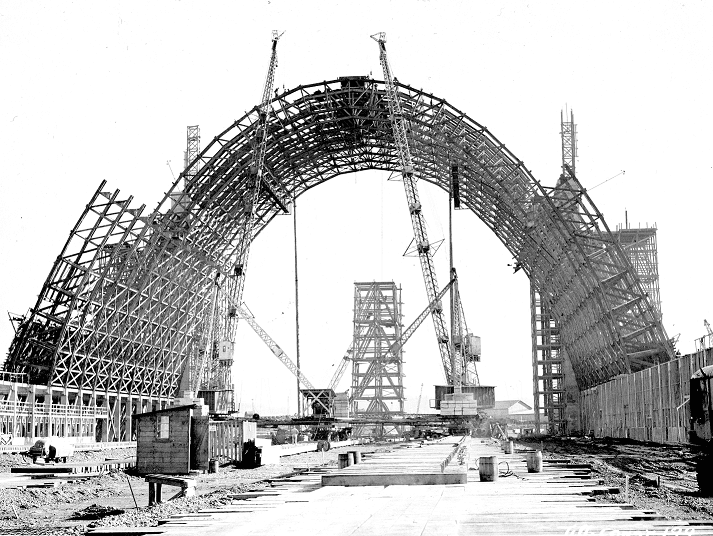 The museum's monumental proportions give the impression of enduring strength, but there's no guarantee that this aviation museum will survive our lifetime. Here's nine reasons to visit this marvel and what you'll want to know before you go.
#1: Hangar B
Hangar B is the uncontested, first place reason. The larger-than-life building is incredible to behold. This WWII era blimp hangar is over 15 stories tall, over 1,000 feet long, and encompasses more than 7 acres.
Hangar B is one of the largest wooden structures in the world, composed of 3,170,000 board feet of lumber. Each of its six hangar doors are 120 feet tall and weigh thirty tons. Photo and film can't do justice to the experience, you have to be there.
#2 Unique WWII History
Hangar B is a remnant of what was once a nationwide airship program. The United States government invested millions of dollars into the development of blimps and rigid airships for military use.
Tillamook's massive hangar building was one of two hangars of Naval Air Station Tillamook, a U.S. Navy base that served K-class airships.
Naval Air Station Tillamook was one of several installations built to protect the United States from the threat of submarine activity. Before 1943, around 450 US merchant vessels were sunk by enemy submarines and the US mainland had been attacked on three occasions by Japanese submarines. Read about one of these mainland attack sites in our review of Fort Stevens State Park.
Naval Air Station Tillamook was one of seventeen K-class bases built to provide anti-submarine patrol throughout the United States. This network of bases provided a comprehensive way of protecting the United States coastline from Japanese submarines and German U-boats.
The invention of jet aircraft spelled the end of the Lighter Than Air Program and Naval Air Station Tillamook was decommissioned in 1948. Today, only seven K-class hangars exist, and not all of them are open to the public. Tillamook Air Museum stewards a rare wartime treasure that tells a story that most people have never heard.
History Housing History
Hangar B is an ideal location for learning about WWII, and its museum has taken that calling seriously. Exhibits abound and feature a wide range of subjects.
You can learn about the ins and out of the US navy base or consider the critical role women played in the war effort.
Whole rooms feature detailed displays on important events and naval craft from both the Pacific and Atlantic theaters of World War II.
The exhibits don't stop at with the close of the Second World War. You can follow almost the entire course of aviation and military history via the variety of displays and aircraft featured at this fantastic museum.
#3: Case Study in Non-Renewable Resources
Hangar B offers a great opportunity to teach children about an all-too-relevant topic. Helium, like petroleum, is a non-renewable resource that is difficult and costly to obtain.
Helium can be found in earth's atmosphere, but not in the concentrations necessary for industrial purposes. The helium we use is actually mined from pockets in the earth, and these pockets are limited just like gold, petroleum, and lithium.
Visit Hangar B's Helium Room to learn how helium was pumped into and out of airships in order to use and reuse this precious resource. The scarcity of helium provides a whole new perspective on the loss of an airship and the Lighter Than Air Program. Was it responsible for policy makers to put the nation's helium supply at risk by using it in frail aircraft?
The Helium Room offers fertile soil for real-world discussions about physical science, history, and government.
#4: Remarkable Aircraft
Collection museums can easily suffer from "collector-itis": the irritating overabundance of one kind of thing. You won't find that problem here!
The Tillamook Air Museum offers a strong collection of airplanes and aviation artifacts. In fact, you get the sense that the museum's curators were careful in the aircraft they chose.
Aero-spacelines Mini-Guppy is a great example of what I mean. I can't think of an aircraft with a storied history akin to the Tillamook Air Museum's mini guppy.
The museum's exhibit hall features several military and civilian aircraft including an F-14 tomcat, a Corsair II, and a Bell helicopter.
You can climb into the cockpit of an F-4 Phantom or a Boeing B-52 Stratofortress.
Altogether, there's plenty to interest your plane enthusiast at this place.
Reason #5: Local Flavor
I found the Tillamook Air Museum to be genuinely refreshing. Museums can get a little too slick. One glossy museum looks like another glossy museum and it's easy to think, "Why would I want to see another one of those?"
The Tillamook Air Museum is a local museum with a local feel. It's not for everyone and it doesn't try to be. Local history is proudly displayed here.
A full size exhibit features the tragic crash of Hellcat airplane in the Tillamook's nearby coast range. You can walk through a careful reproduction of a secret Cold War air station once located at Mt. Hebo, Oregon.
Plans are underway for a future exhibit about the farmland that was seized for the creation of NAS Tillamook and the impact that this action had on the community.
We were floored by rooms of exhibits that were as much art as they were history.
#6 Family Fun
Tillamook Air Museum is a great place for kids. There's plenty of room to run around, lots of stuff to touch, and no concerns about being too loud!
An extensive gift shop is packed with good stuff and we had no difficulty finding toys for our little ones and a bumper sticker for the van.
#7 Good Eats
Who's up for some grub? Fat Head BBQ offers good eats in a fun setting. We purchased the Family BBQ Dinner which features a half pound of each of their smoked meats along with three large sides.
The Family BBQ Dinner and a plate of Fat Head Fries was more than enough food to feed our family of eight. We also spotted some pulled pork sandwiches that looked pretty good!
#8 Ideally Located
Tillamook is one of the easiest cities to reach on the Oregon Coast. State Route 6 provides relatively easy access from the Portland Metro area. The well-built highway brings you over the coastal range and into Tillamook in just under an hour and a half.
The hour and a half drive from Salem is more challenging but also more interesting. State Route 22 brings you past the Grande Ronde Indian Reservation and Fort Yamhill State Park before leading you through beautiful stretches of mountainous forest land.
Tillamook is perfectly positioned for a day or weekend of exploration on Oregon's North Coast. The town itself is home to one of Oregon's most famous attractions, the Tillamook Creamery, and not far from several of Oregon's best beaches including Pacific City Beach and Rockaway Beach.
The museum's location at the Port of Tillamook Bay places it right next to Highway 101, making it an easy stop as you explore the Oregon Coast. Tillamook Air Museum offers such value as a family stop that we felt that we had to enter it as family-friendly site on our GoWhee App.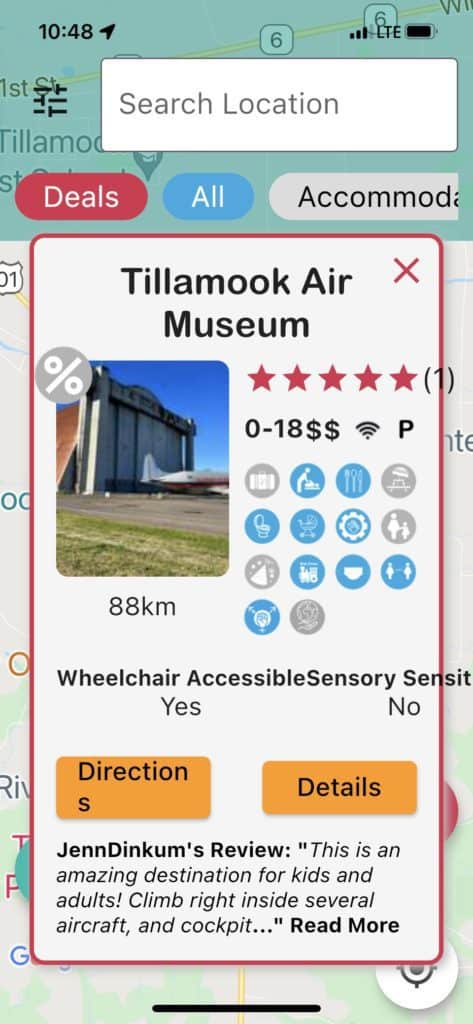 #9: A Story Worth Telling
Naval Air Station Tillamook may be gone but Hangar B is still here for now. You don't have to look far to realize that this important historical site could disappear quickly. Not far from the building stands two tall towers, all that remains of what once was Hangar A.
The enormous wooden hangars are susceptible to fires. In 1992 a fire destroyed Hangar A in a matter of minutes.
Tillamook Air Museum and Friends of Tillamook Air Museum offers several ways to support this important part of wartime history. Perhaps the best way to start, however, is to come see Hangar B for yourself and get the word out about this remarkable place. But before you buckle up, here are our Know-Before-You-Go tips:
Tillamook Air Museum: Know Before You Go
Plan your Route: Tillamook Air Museum is located on the outskirts of Tillamook. The museum is surrounded by farmland and industrial facilities, so services are largely limited to the museum itself. Pack what you need, plan to get what you need at the museum, or be prepared to drive into town.
Bring a Sweater: Cavernous Hangar B is always cold regardless of the weather outside. This may be a plus on sizzling summer days, but high temperatures aren't the norm on the Oregon Coast. There's no cost-effective way to condition the enormous wooden hangar, so dress as though you're visiting an outdoor venue.
Hold your Little One's Hand: Hangar B is abuzz with strange sights and sounds. The building is probably unlike anything your child has seen before. The museum is consistently well-lit, but it's impossible to light every inch of the gargantuan building. The scene could feel spooky to young children.
101 Wonder at the Tillamook Air Museum
Tillamook Air Museum is a piece of local and national history that you won't want to miss. Take your kids and enjoy exploring a place truly unlike any place in the Pacific Northwest.
Special thanks to Tillamook Air Museum and Director Rita Welch for guiding us through the museum and answering all our questions. Tillamook Air Museum provided us free admission to their exhibits. As always, all opinions are our own.
Frequently Asked Questions about the Tillamook Air Museum
How much does it cost to go to the Tillamook Air Museum?
General admission is $13, Seniors are $11, Youth ages 7-17 are $8 and Children ages 2-6 are $4 (as of October 2023). Discounts are available for military and there is also an annual pass option.
How long is the Tillamook Air Museum?
Length: 1,072 feet. Width: 296 feet.
How big is the Tillamook Air Museum?
Hangar B at the Tillamook Air Museum covers 7 acres.
Who owns the Tillamook Air Museum?
The Port of Tillamook Bay administers the museum currently.
How long did it take to build Tillamook Air Museum?
Hanger A (destroyed by a fire) was built in only 27 working days.
Where is the Spruce Goose located now?
The Spruce Goose is located at a nearby Oregon aviation museum, the Evergreen Air and Space Museum in McMinnville.
@dinkumtribe Here are some of the featured aircraft at the Evergreen Air Museum in McMinnville: -Hughes H-4 Hercules (Spruce Goose): The Spruce Goose is the largest flying boat ever built. It was designed by Howard Hughes and flew for the first time in 1947. -B-29 Superfortress: The B-29 Superfortress was a heavy bomber that was used in World War II and the Korean War. It is best known for its role in the atomic bombing of Japan. -SR-71 Blackbird: The SR-71 Blackbird is a retired spy plane that was the fastest aircraft in the world. It could fly at speeds of over Mach 3. These are just a few of the many aircraft that are on display at the Evergreen Air Museum. It is a great place to learn about the history of aviation and space exploration. @DinkumTribe ADHD family travel @DinkumTribe ADHD family travel @DinkumTribe ADHD family travel #mcminnvilleoregon #mcminnvilleor #airmuseum #sprucegoose #airplanetiktok #oregontravelideas #oregontravelguide #travelwithkids #adhdfamilytravel #thingstodoinoregon ♬ Wow. – Instrumental – Post Malone
© Copyright Brian A. Warren March 2022. Updated and expanded: October 16, 2023.