Not a fan of cooking? Me neither. One of the biggest obstacles I had when we started thinking about camping with our kids was the camp cooking. It overwhelmed me. No-cook camping meals were a lifesaver for me, allowing me to spend less time cooking and more time enjoying the camping trip!
I've assembled this list of our favorite easy camping meals and no-cook camping meals based on years of tent camping experience. We also use these easy prep meals on road trips as a great way to save money and time.
Table of Contents
This post contains affiliate links. As an Amazon Associate I earn from qualifying purchases made from the links on this site, at no extra cost to you. Thanks for supporting our family business!
A general note about our family's eating habits
I'm increasingly thankful for the fact that no one in our household has any food sensitivities or allergies. I know that's not the case for many families. Also, we don't have any restricted foods or special diet requirements.
When I plan our meals, I aim to have at least one of each of three main categories: protein (meat, fish, dairy, or legumes), carbohydrates (bread, pasta, grains, or starchy vegetables), and fruit or vegetables. Our no cook camping meals follow this same framework.
Kids need all of these food categories, and each of my kids eats some foods from each category. Of course not all my kids eat the same foods, but there's a pretty good overlap.
Meal planning and snacks at home
I try to vary the offerings for each meal based on what was served for the other meals. Ideally, each kid gets at least 2 meals in a day where something they eat is being served.
I also offer snacks a couple of times per day as a way to make sure everyone is eating enough. ADHD medications can impact kids' appetites, so I aim to be flexible with our meal planning and mealtimes.
Camping meals for a big family
As I mentioned in the beginner's camping guide, we prefer to camp somewhere where there's a grocery store within easy driving distance. Trying to pack food for eight people for more than 3 days (10 meals plus snacks) takes a lot of space, so you should plan to refill the groceries once or twice during the week.
I prefer to cook a few meals, mostly because there's nothing quite as satisfying as a delicious meal cooked in the fresh air over an open fire or camp stove! However, it's always useful to have a few meals that don't require any cooking.
If fire restrictions don't allow for open fires, or for those times you arrive late to the campsite after a long day of driving, you want to be able to eat something more than meal bars! No-cook options and make-ahead meals are a lifesaver on days like that.
Here are our suggestions for no-cook camping meals, make-ahead dishes, and easy to cook camping meals.
20+ no-cook breakfast meal ideas
Cereal or Overnight Oats
We got the individual cereal bowls for our recent trip so we could save on doing dishes. However, if you are limited on space, get some of the bulk bags/family-sized boxes instead and pack bowls.
Bagels with cream cheese and 10+ other fixings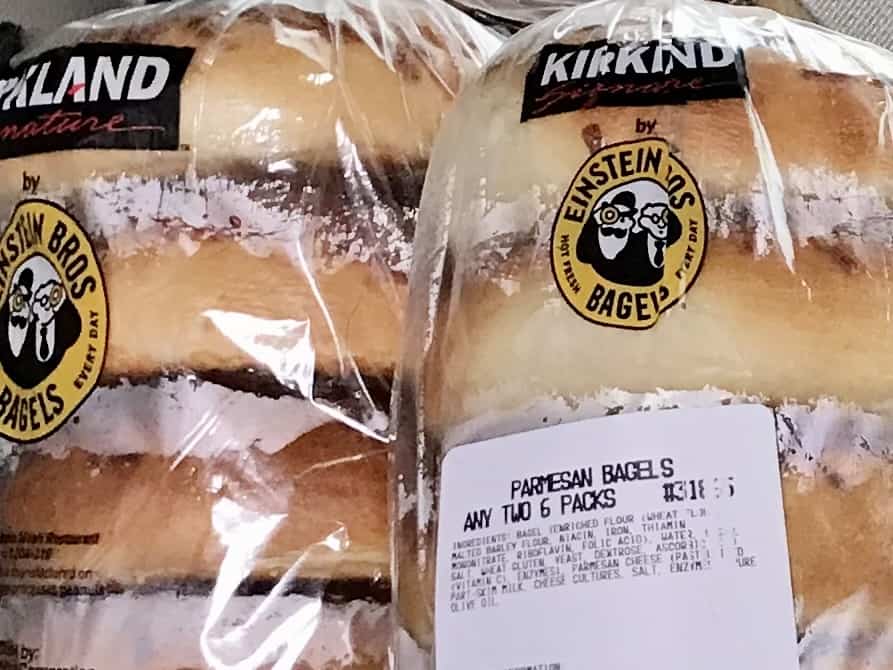 I prefer my bagels toasted, but you can just serve them at room temperature. Cream cheese is the traditional spread, but we've also served bagels with:
lox (smoked salmon)
capers
red onion
tomato slices
peanut butter and jam
deli meat
cheese
eggs (hard-boiled egg slices or fried eggs)
bacon
sausage patties
Muffins, pastries, quick breads (store bought or homemade)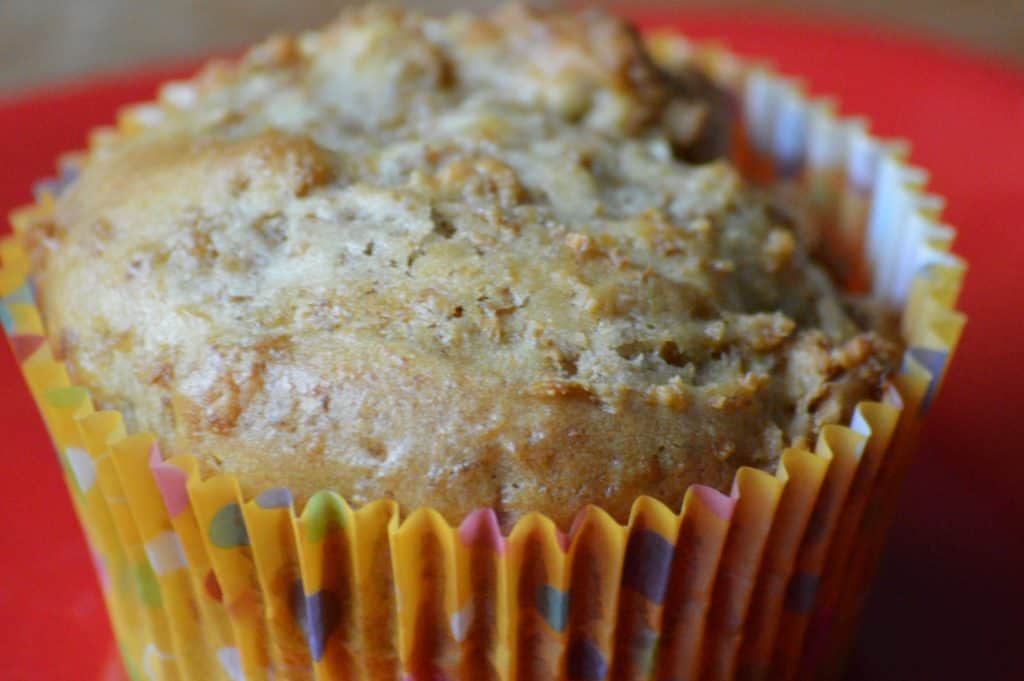 We typically grab several of Costco's muffin or pastry packs. To make them last longer and taste fresher, you can freeze them before the trip. Then allow them to thaw to room temperature overnight before serving.
Hard-boiled eggs, yogurt or yogurt parfaits
For the eggs, you can make them yourself or buy them pre-cooked. For the yogurt, I bought the individual cups this time because I wanted less dishes to wash. However, you can also make yogurt parfaits in mason jars by layering Greek yogurt, then fruit, then granola.
Fresh fruit
I usually bring a melon because it requires no refrigeration before cutting it. Dried fruit can be a good choice for camping for the same reason.
I love to buy seasonal fruit to enjoy, as long as it can be stored without getting smashed. If it's a fruit that requires refrigeration, I serve it the first day.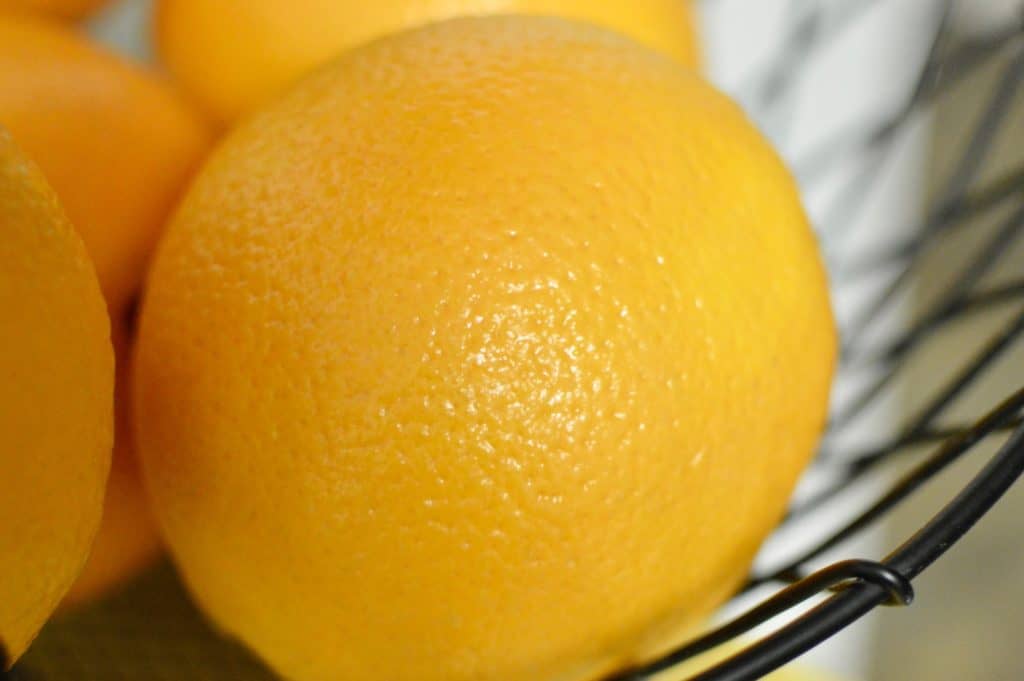 More easy camping breakfast ideas
Instant oatmeal packets
Just boil water and pour into individual bowls for a hot and easy breakfast!
Waffles, pancakes, and French toast
Make these at home and freeze for the trip, then warm them up over the campfire and serve. We like to use jam, maple syrup, honey, Nutella, or peanut butter for toppings – and all of these can be stored at room temperature (yay for saving cooler space!).
Breakfast burritos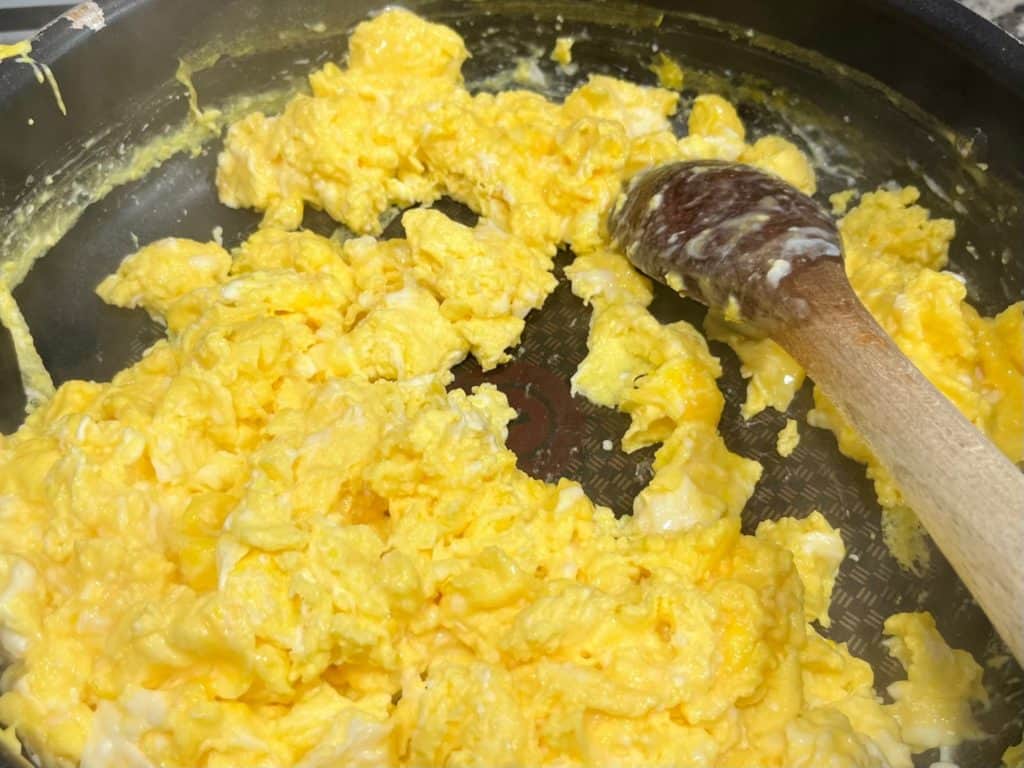 Cook up scrambled eggs, then add shredded cheese, premade guacamole, salsa, and sour cream for an easy meal.
Fresh pancakes
You can buy pancake mix or bring pre-measured dry ingredients and then add the wet ingredients before cooking. I use our standard family recipe for this (recipe is listed in our Valentine's Day breakfast ideas for kids post).
We love to make bacon first, then cook the pancakes in the bacon grease on the griddle– it adds so much flavor! We mixed in chocolate chips, but another great addition would be blueberries. My kids ate the leftover pancakes as snacks later that day, and they were delicious!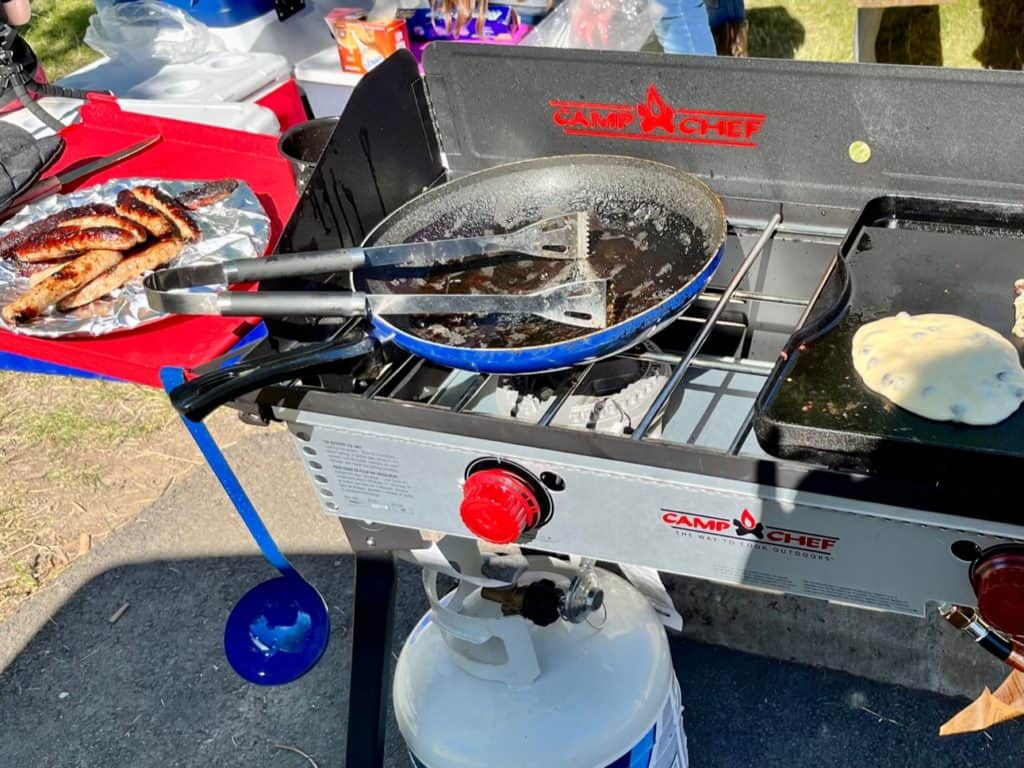 Breakfast Sandwich
The classic breakfast sandwich is a fried egg with cheddar cheese on split English muffins. However you can also add in sausage patties, bacon, ham, or turkey slices, and swap out the English muffins for toasted bread instead. This is a great make-ahead option if you want to assemble the sandwiches at home first, then just warm them at the camp site.
16 + no-cook lunch or dinner ideas
Hummus, pita bread, and fresh veggies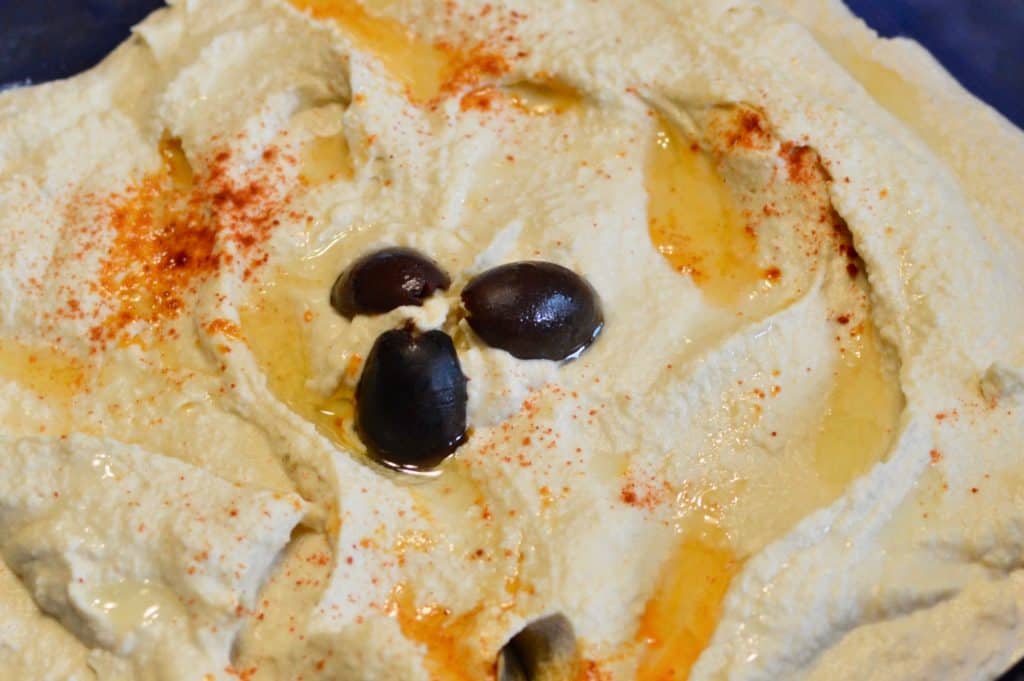 We buy hummus ready-made, but it's super easy to make at home with a food processor/ blender. You can even get it in single-serve packs that don't need to be refrigerated. It's one of our favorite easy camping meals.
We serve the hummus and pita with cherry tomatoes, cucumbers, baby carrots, bell peppers, olives, or artichoke hearts. It's a good way to get veggies into the kids who don't like them.
We also serve Greek yogurt with a little olive oil on top for those who don't like hummus. Sometimes we also include feta cheese to top the hummus.
12+ sandwiches and wraps- so many possibilities!
Choose your favorite bread/ rolls/ croissants, then have any of these combinations:
nut butter with jam/ honey/ Nutella
deli cold cuts and cheese
chicken salad
tuna salad
egg salad
BLTs (use precooked bacon); also add sliced avocado!
Sandwiches are easy to take with you for outdoor activities, so we always have one or two packed lunches that are sandwiches. Tortilla wraps are another easy lunch to pack.
Crackers or crisps (instead of bread) with sandwich toppings are another fun variation for an easy camping lunch.
Charcuterie board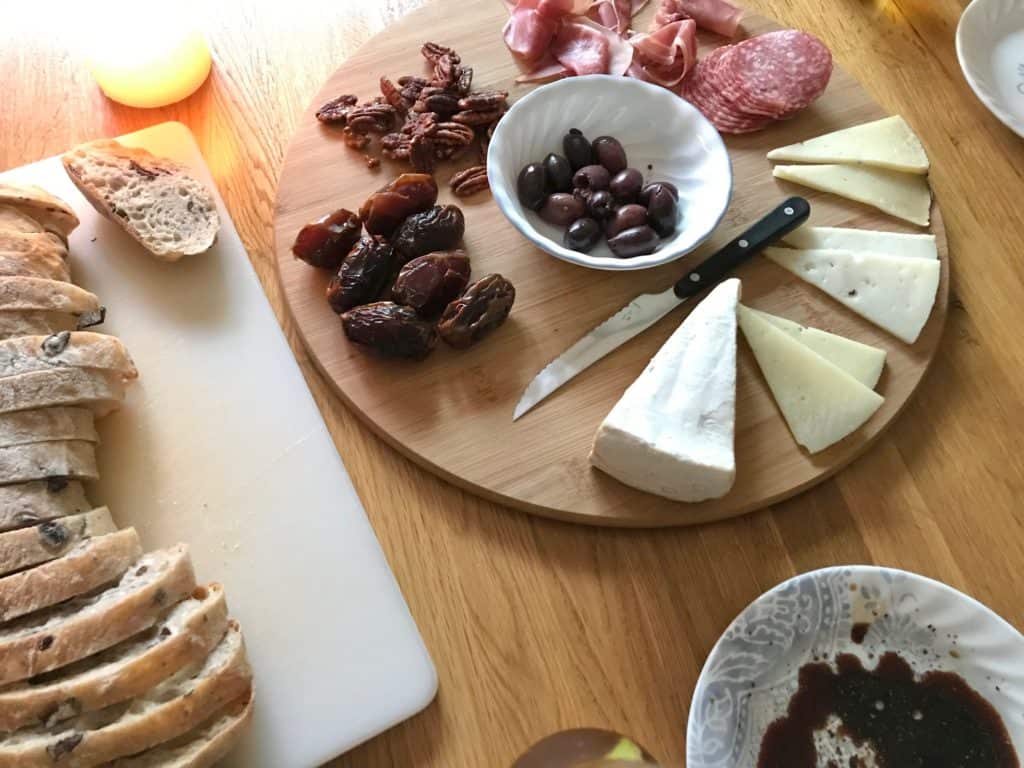 Who doesn't love a variety of delicious food set out beautifully? Charcuterie boards don't have to be complicated. A few sliced types of meat (summer sausage, salami, or chorizo), some soft cheeses and hard cheeses, then add in some extras like nuts, dried fruits, and crackers, and you're set! It's the perfect way to use up little bits of things from previous meals too.
Caprese salad and bread
We love Caprese salad, and it's super easy to make. Make it in the summer when fresh tomatoes and basil are readily available.
All you need is sliced mozzarella cheese, tomatoes, fresh basil leaves, salt, pepper, and balsamic vinegar. Arrange the mozzarella, tomato slices, and basil leaves around a plate, alternating them. Then sprinkle with salt, pepper, and a dash of balsamic vinegar. Your taste buds will thank you!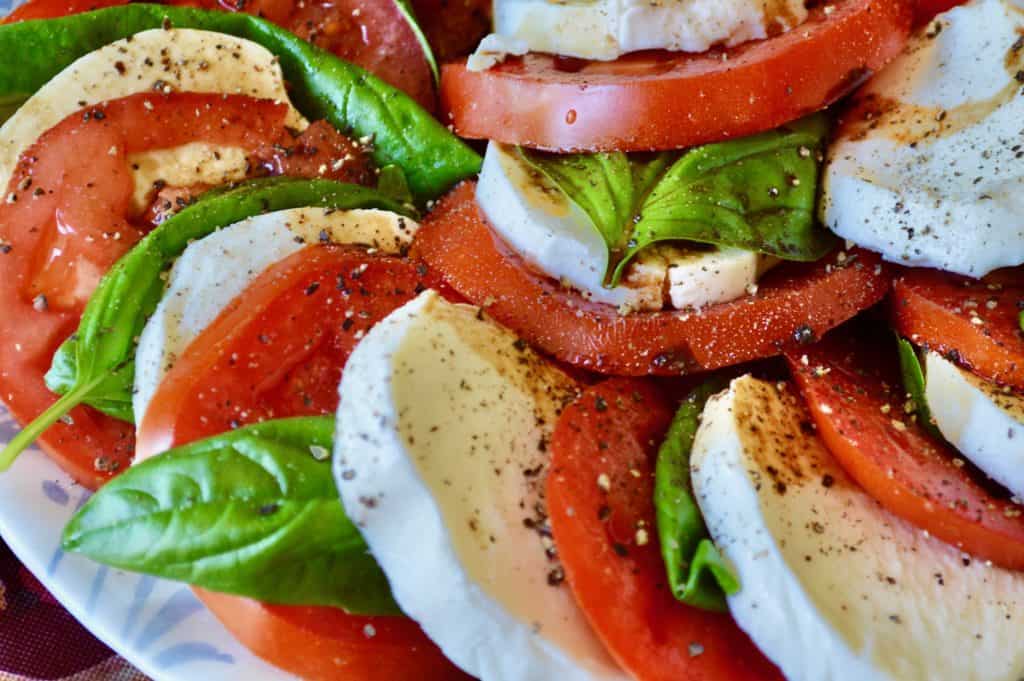 Rotisserie chicken, rolls, bagged salad
Grab one (or two!) rotisserie chickens from the local grocery store on your way to the campsite, or chill and serve cold later. Add some rolls and a salad with leafy greens and you have a tasty dinner. (Bonus tip: we often have this as an easy dinner after making our massive Costco shopping trip).
11+ easy camping dinners that require minimal cooking
These camping meals can be made over an open fire (roasting sticks, Dutch oven, or foil wrapped) or with hot water.
Ramen noodles / instant soups / canned soup / baked beans / chili
Foil packet meals
When you make lunch or dinner in foil packs, you get the added benefit of easy cleanup! Some of our favorite foil packet meals are potatoes and fish filets, or nachos. It's easy to try a few of these camping meals at home first in your oven to see if you like them. Make sure you grab the heavy duty aluminum foil for the foil packets!
Baked potatoes with toppings (chili, green onions, cheese, bacon bits, salsa, butter, sour cream)
Hot dogs
Roasting hot dogs on sticks over an open fire is the best way to cook hot dogs, in my opinion! Bring more than you think you'll need because someone always drops one or two in the fire.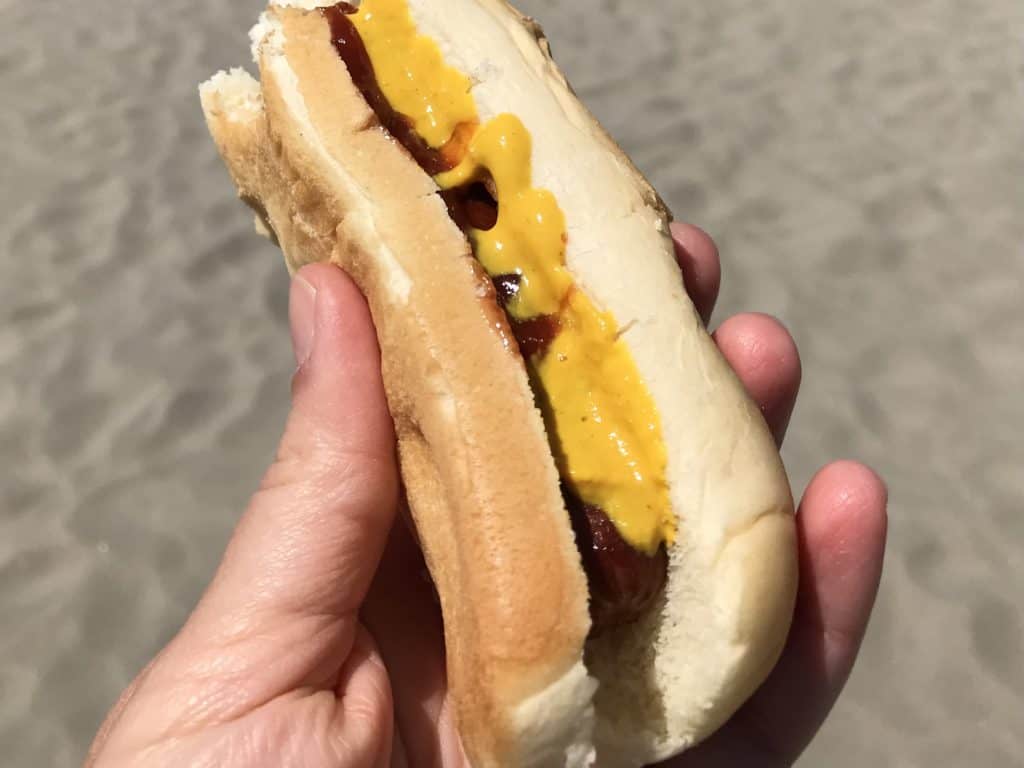 You can also cook hot dogs wrapped in crescent roll dough, or top classic hot dogs with chili, onions, shredded cheese and more for more variety.
Taco salad / taco night or nachos
Ground beef is easy to cook up in a frying pan with taco seasoning and water, making for easy camping lunches or dinners. You can also make the taco meat ahead of time, or go meatless with canned black beans or refried beans.
Pasta with marinara / meat sauce / Alfredo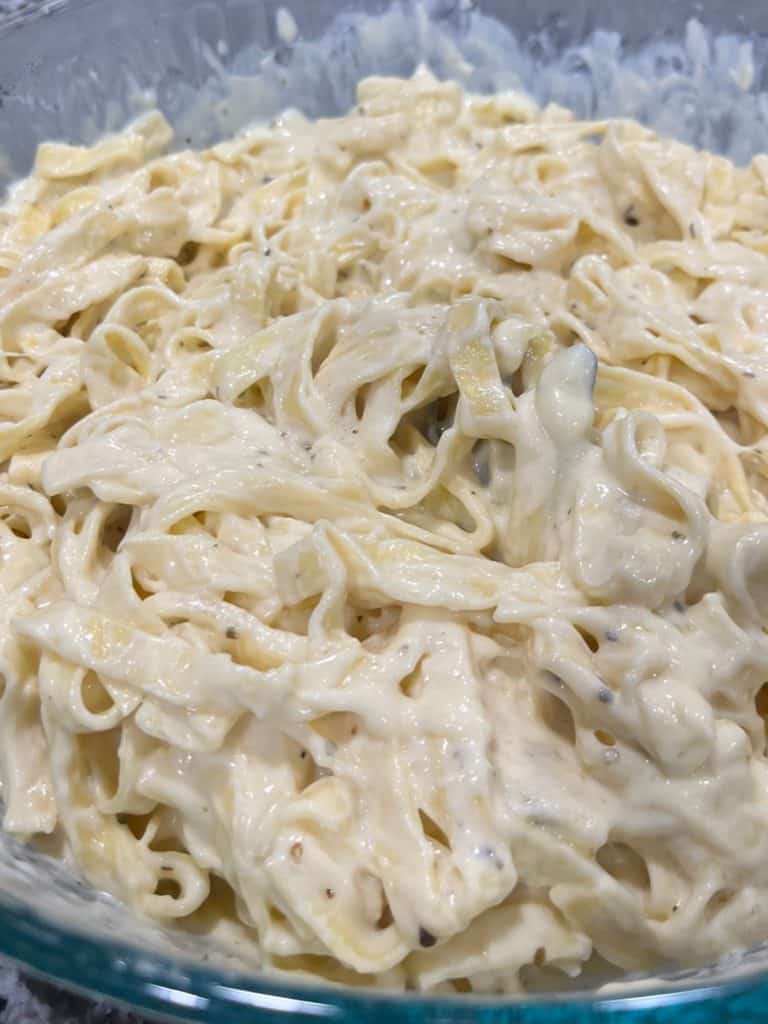 Here's my simple marinara and meatballs recipe that I make in the crockpot at home. It would be a snap to make ahead and freeze to reheat while camping.
12+ easy no-cook camping snacks
-Trail mix, cookies, chips, energy bars
Any one of these makes a great snack for hiking or grabbing on the go.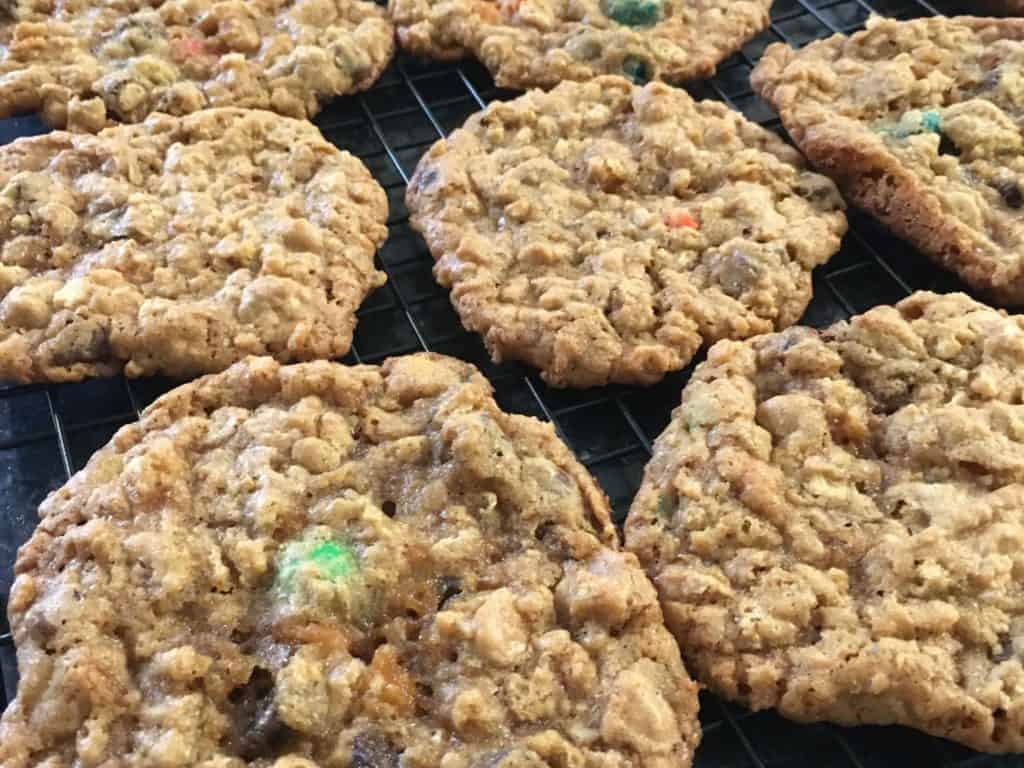 -Tortilla chips and salsa
Variation: my family loves to stick a block of cream cheese in a bowl, dump salsa on top, and eat it with corn tortilla chips. It's our standard poolside or creekside snack.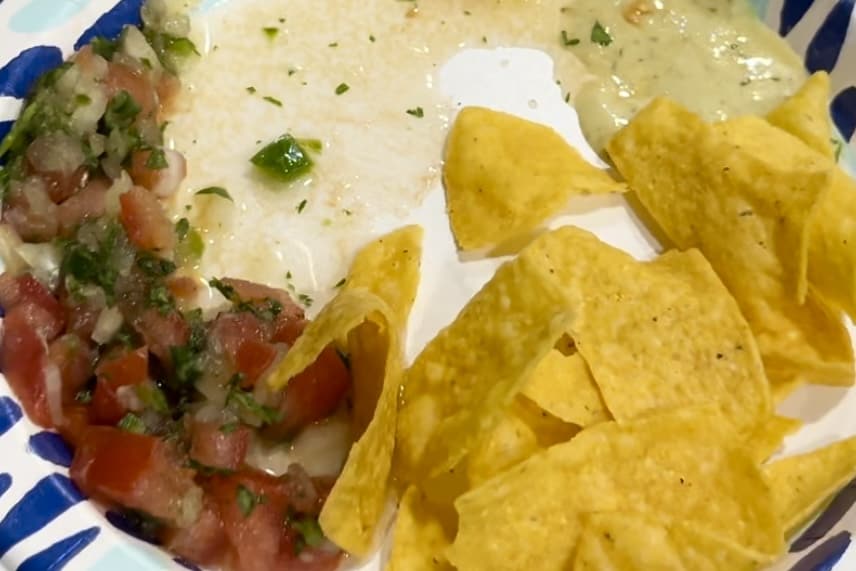 -Pudding cups or Jell-O cups
-Fresh vegetables with ranch dressing packets, or fresh fruits
This is also an easy way to help everyone stay hydrated since fresh produce usually contains a lot of water.
-Beef jerky, steak strips, or cheese and meat sticks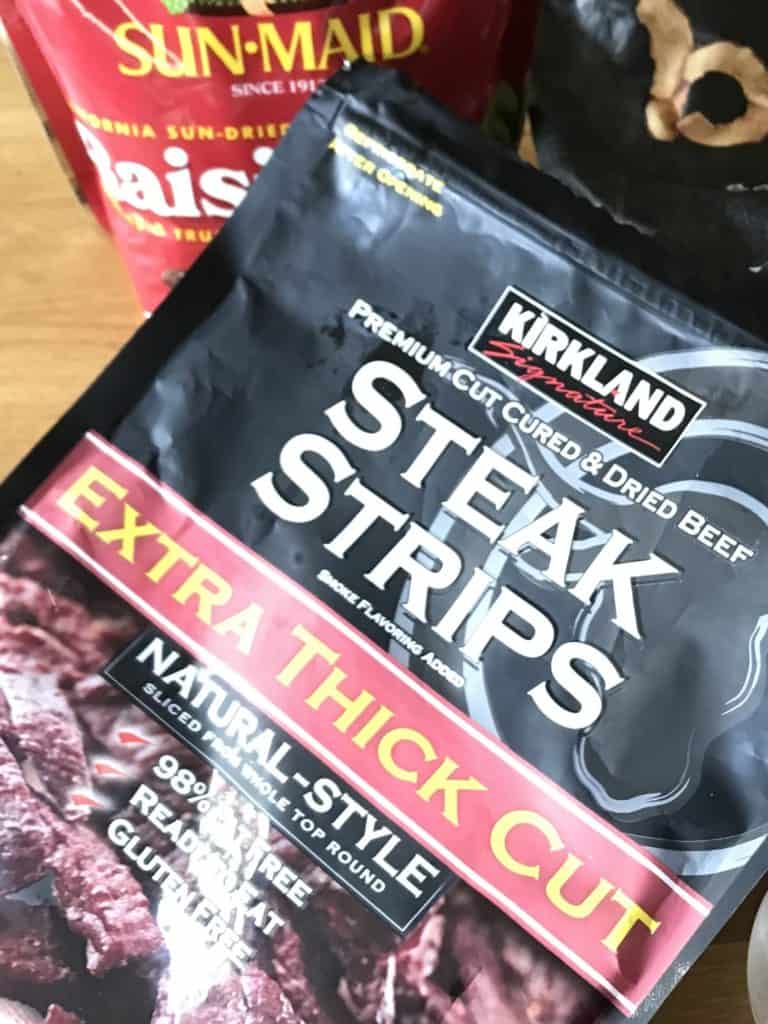 High-protein snacks like beef jerky help to fuel the camping adventures without having to stop for a full meal.
-S'mores
S'mores aren't a no-cook snack, but they are a necessary part of our camping trips! We only brought the standard marshmallows, graham crackers, and chocolate bars on our last trip.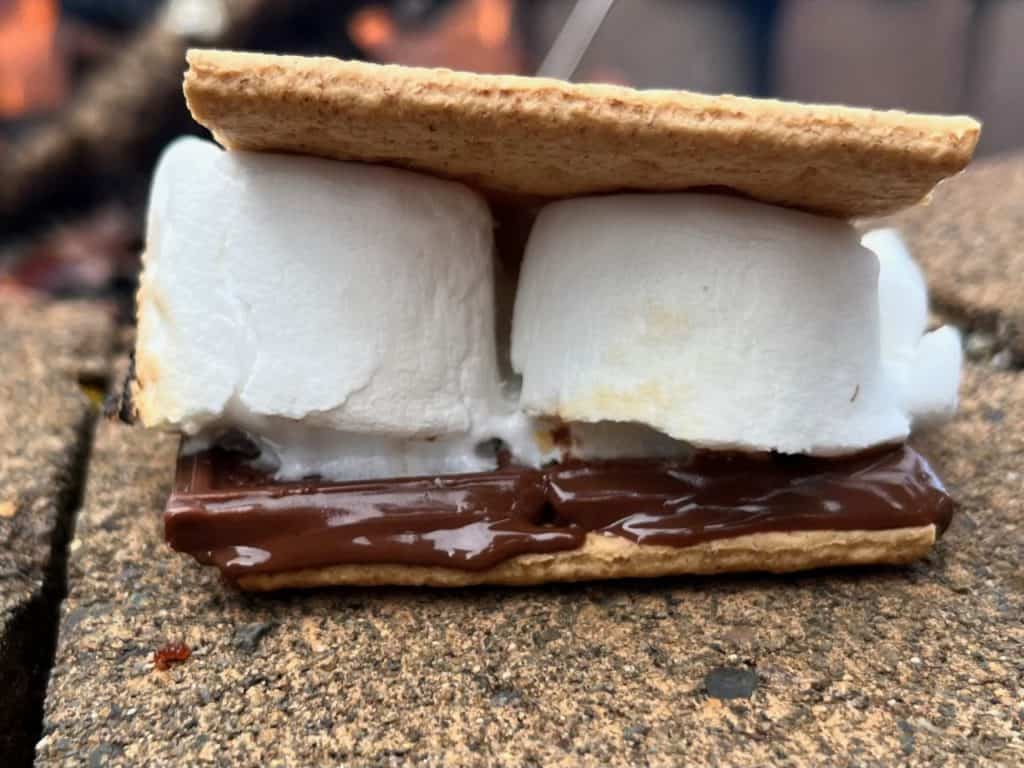 Next time, we'll add in some variations like Reese's peanut butter cups and Heath bars, or use different flavors of graham crackers. You can even get extra large square marshmallows that are just the right size for s'mores!
Again, bring lots of extras. Half of the fun is watching a dropped marshmallow melt or catch fire while it's cooking!
Make-ahead camping meals
It's easy to cook some meals ahead of time and bring them on your family camping trip. The most important thing about this will be keeping them appropriately cold so that there's minimal risk of food-borne illness.
When I make things ahead of time that need to stay chilled, I freeze them (if possible) before the trip. Then I serve them early on in the trip, usually the first or second day.
Some make ahead meal ideas:
chicken salad or tuna salad for sandwiches. If you use canned meat / tuna you could even whip this up at the campsite.
bean dip
pasta salad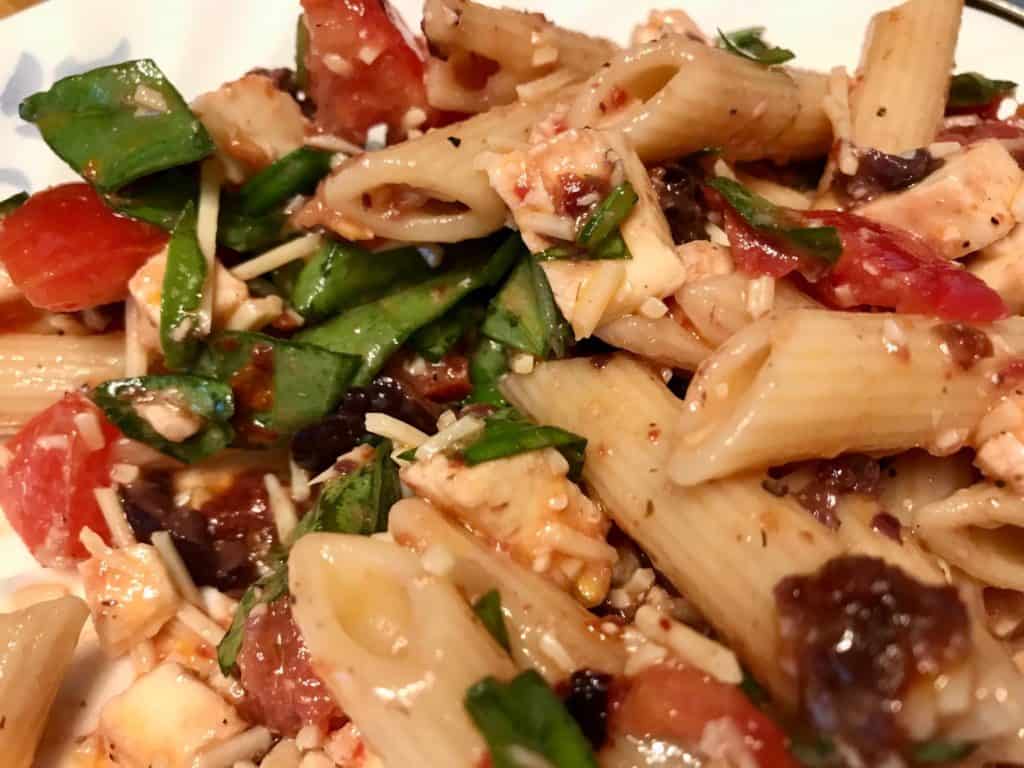 Make-ahead easy breakfast options include:
pancakes
waffles
french toast
muffins
breakfast bars
Make-ahead snack ideas:
energy bars
fruit leather
Final thoughts about no cook camping meals
My suggestion as you plan your family's menu is to choose one or two great meal options that you know your whole family will enjoy, and plan to serve those multiple times.
I hope this snapshot of our family's no-cook camp meals and easy food ideas helps make your next camping trip even more fun. Please add your favorite easy recipes in the comments – we'd love even more great ideas for no-cook meals!
© Copyright Jennifer D. Warren 2022-2023. Updated and expanded: June 1, 2023.