Want to spend more time exploring the great outdoors while camping, instead of prepping food? Canned foods are the perfect solution for your next trip! In this post we've got a huge list of canned and non-perishable foods that we use while camping, as well as easy meal ideas that appeal to the whole family.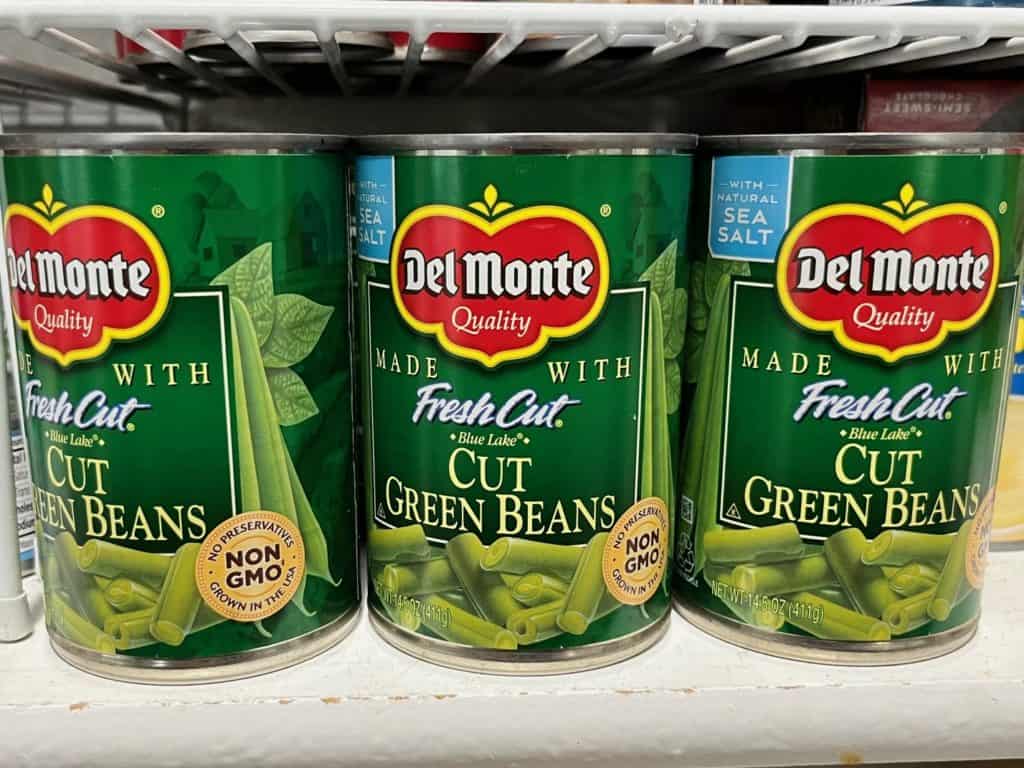 This post contains affiliate links. As an Amazon Associate I earn from qualifying purchases made from the links on this site, at no extra cost to you. Thanks for supporting our family business!
Table of Contents
Be Prepared for Emergencies!
Camping isn't the only time when canned foods come to the rescue. Many of these foods are good to have on hand in your emergency supplies in case of a natural disaster or power outage that goes on for a long time. Keep this post handy for restocking your survival kit or your pantry emergency food.
Why Choose Canned Foods for Camping?
Canned foods are a good choice for camping trips for many reasons. They are incredibly convenient—easy to pack, store, and transport. Non-perishable foods and canned foods have a long shelf life. Most are still good even past the expiration date, although the taste and quality starts to decline.
Another benefit of canned foods is that they are easy to prepare. Most canned foods can be eaten straight out of the can, without any need for cooking or heating. That saves time and energy, as well as making canned foods ideal for emergency situations or unanticipated weather challenges.
Canned foods and non-perishable foods retain much of the same nutritional value as the fresh produce or meat. The canning process locks in most of the nutrients. However, if you have concerns about the higher salt content, you can always choose low sodium options.
Easy Camping Food Ideas with Canned Foods
We typically include non-perishable foods as well as fresh foods in our camping meals. That's simply a matter of preference— it's entirely possible to create a hearty meal using only canned, non-perishable foods. If you have limited food storage available, or you can't bring a cooler, canned foods are one of the best options.
Throughout the post we'll provide lots of examples of complete meals that can be made from canned or non-perishable foods.
Breakfast options
Granola bars or protein bars
Dry cereal with evaporated milk / long life milk
Dried fruit such as mangos, raisins, apricots.
Canned fruit juice
Meat jerky, SPAM, Vienna sausages
Peanut butter toast or sandwiches (or other nut butters)—Nutella is a family favorite for us!
Canned Soups and Stews
Canned soups and stews can be a lifesaver on a cold night of camping! It's easy to warm up a hearty meal of soup or stew after a long day of hiking or exploring.
One popular option for canned soups is chicken noodle soup, which provides a great source of protein and carbohydrates. For those who want something a bit heartier, canned beef stew or chili can also be a great choice.
An easy way to round out soup or stew is to serve them with crackers, breads, or additional canned vegetables. Here's some of our favorite camping meal ideas using canned soups/stews:
Clam Chowder
Tomato Soup
Beef Stew
Ramen (plain, or with canned or fresh veggies like peas, diced green beans, corn, etc.)
Chili (serve as-is, or you can use it to top hot dogs or baked potatoes)
Chicken noodle soup
Vegetable Soup or Minestrone
If you have limited space or weight to pack food, most of these soups are also available as dry soups at your local grocery store. You can reconstitute them with hot water at your campsite, and the dry soups are much smaller/ lighter to carry than the canned versions.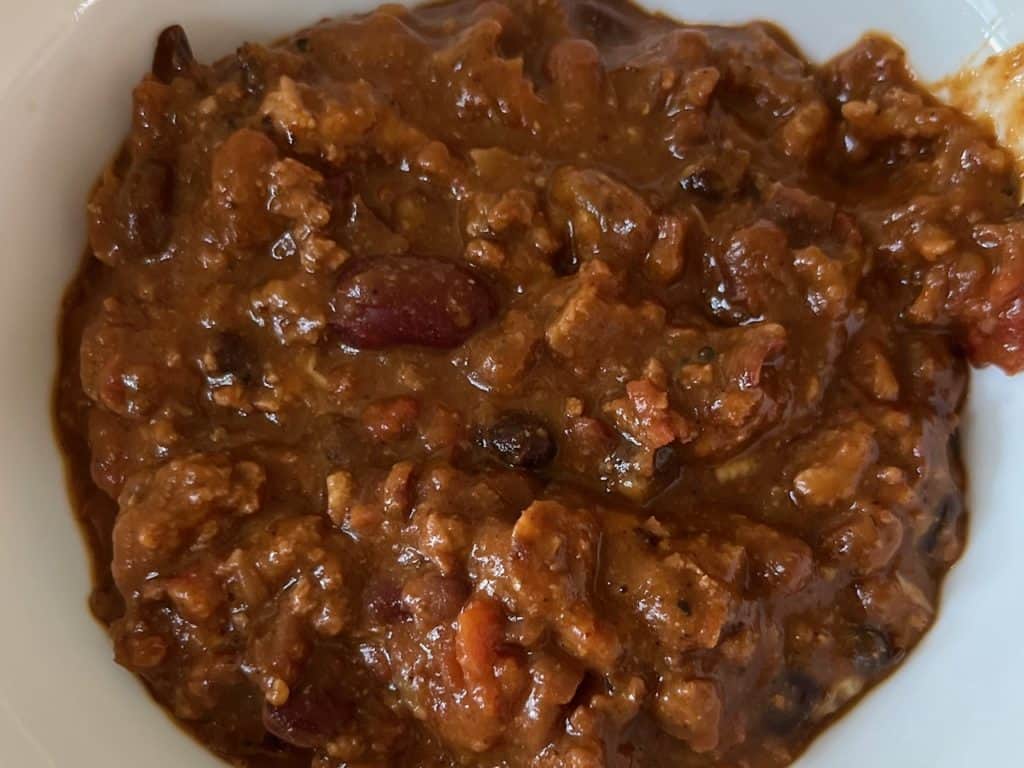 Canned Meats, Dried Meats and Fresh Meat Alternatives
When you're out in the wilderness, it's crucial to have enough protein to keep your energy levels up and your body functioning properly. Our family prefers fresh meat for most camping trips, but sometimes we need some options that can be stored at room temperature.
Here are some good options for meat and meat products that are canned, or don't require refrigeration until they're opened.
Canned tuna (albacore has the best taste) or salmon
Canned chicken
Spam or canned ham
Beef or turkey jerky
Summer sausage or salami
Corned beef or corned beef hash
Canned ground beef
Steak strips (similar to jerky, but with more moisture)
Freeze-dried meats (reconstitute with water)
Bacon bits (bagged or canned)
Delicious Meals Using Canned Meats
For breakfast, canned corned beef hash or canned sausages are quick and delicious options that will give you the protein boost you need to start your day. We've also pan-fried slices of SPAM or ham for breakfast protein.
For lunch and dinner, sandwiches made with chicken, tuna or corned beef filling are tasty and hearty. You could also add canned ground beef to canned spaghetti sauce, or add seasoning to make tacos/burritos.
We frequently serve sliced salami/summer sausage with cheese and crackers or on sandwiches while camping because it's easy and requires no cooking.
Beans For the Win!
Canned beans are another fantastic way to add protein and fiber to your camping menus. Whether you serve them on their own as the main dish, or add them to the meal, canned beans make many camping dishes better.
Chili is the quintessential camping meal that calls for beans. You can make your own chili by adding meat, canned tomatoes and seasonings, or just grab some premade canned chili.
Pork and beans are another favorite option that's fantastic on its own, or as a side dish with hot dogs. Canned refried beans are a fantastic vegetarian meal option to serve with tortillas, salsa and other veggies. Or you can add refried or black beans to campfire nachos.
Beans make great salad toppings too— my favorites to add to salads are black beans, garbanzo beans or kidney beans.
Convenient Canned Fruits and Vegetables
Our kids love fresh fruit and raw veggies! We eat fresh produce so fast that it makes sense for us to bring it when we camp, but we still pack canned fruits and veggies as well. They're easy to serve as sides to a main dish and we love the convenience (straight from the can or heat-and-serve).
Easy Veggies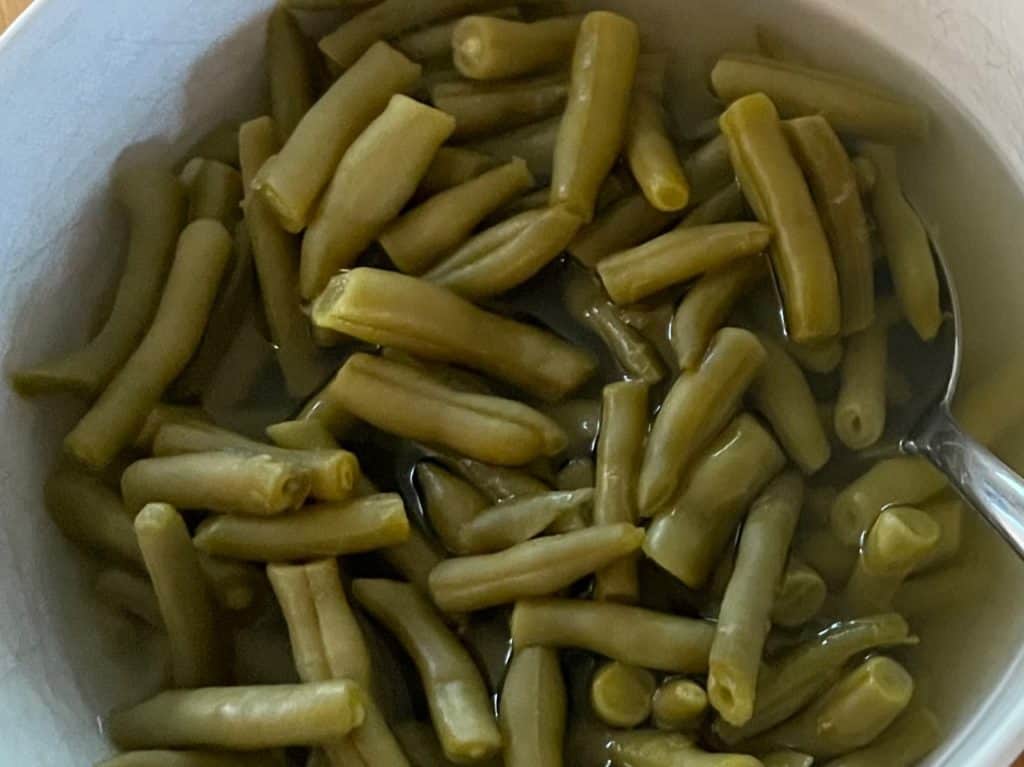 Our favorite canned vegetables to serve as sides are corn, green beans or mixed vegetables. Some of our kids enjoy pickles, olives, and artichoke hearts, so we often bring those along as a treat too.
We usually make our own marinara from canned diced tomatoes, tomato sauce or paste, Italian seasonings and ground meat or meatballs. Served over fresh spaghetti noodles, it's one of the easiest pasta dishes to make while camping.
Canned mushrooms can be added to many meat dishes or pasta sauces. Canned mushrooms and olives make a great addition to campfire pizza or nachos too!
Dried and Canned Fruit Ideas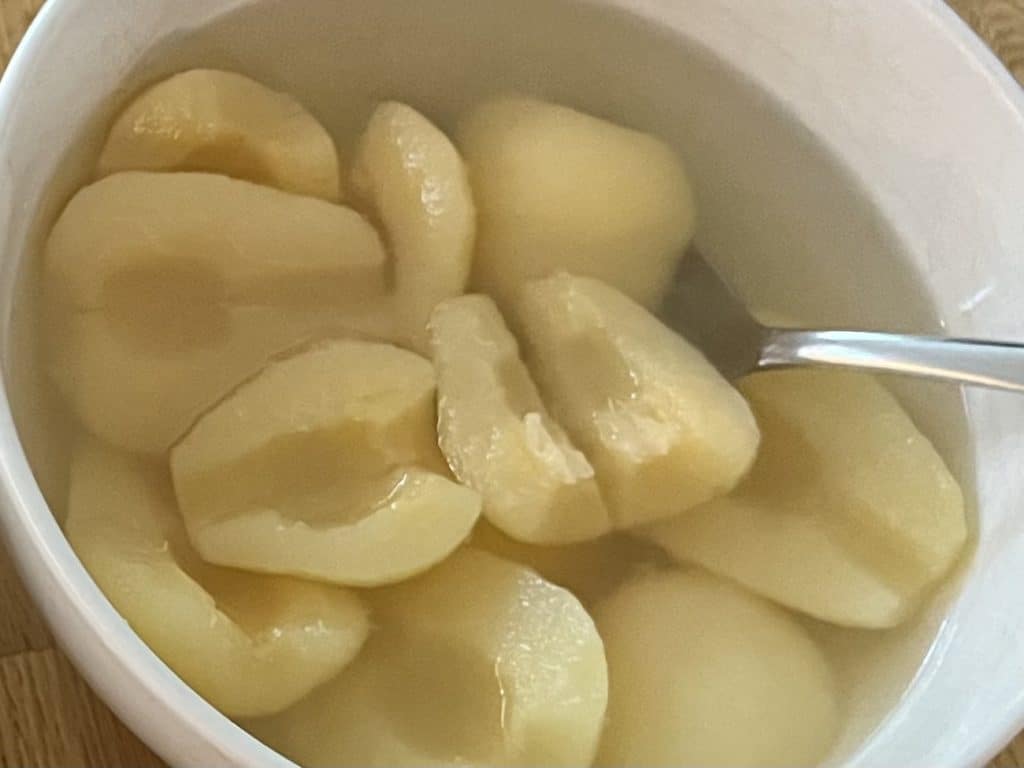 Some of our family favorite canned fruits are mandarins, pears, peaches, pineapple, and fruit cocktail. Just open and serve! Sometimes we grab the individual serving cups to make cleanup even easier, or to eat as healthy snacks.
We're not huge fans of canned applesauce, but that's another healthy option. Most commercial jams and jellies are another great way to add some fruit to a menu, and small jars can be used up without having to worry about refrigerating the leftovers.
Dried fruits are perfect camping foods! Whether you add them to your own unique trail mix, or just pop a few handfuls as snacks on their own, dried fruits can be used in so many different ways.
Our favorite dried fruits are raisins, craisins, dates, dried mangos, apple chips and banana chips. Dehydrated fruits and freeze-dried fruits are also great options for camping foods.
Canned and Non-perishable Dairy Products and Eggs
Our family loves fresh dairy items of all kinds— butter, milk, most cheeses, yogurts, and of course ice cream! However most dairy products require refrigeration, so it's more practical to include some canned or non-perishable dairy while camping.
Here's some items we enjoy, and ideas for how to use them.
Canned cheese: I grew up eating this in Jamaica with spiced bun, which is also available as a long shelf life product. You can also serve canned cheese with bread or crackers.
Nacho cheese or Velveeta: use this for delicious nachos or grilled cheese sandwiches.
Evaporated milk or powdered milk: we use this for adding to pancake or waffle mixes. The taste is off-putting for people who usually drink fresh milk, so we don't recommend it for cereal or drinking.
Margarine or canned butter: some people actually prefer these options to fresh butter, and you can substitute margarine for butter in many recipes.
Cheese spray: if you enjoy this, it's a great idea for camping.
Eggs are another item that our family prefers to eat fresh. However there are powdered or freeze-dried eggs available. If you need to pack light or don't want to deal with the challenge of keeping fresh eggs from breaking on a camping trip, grab one of those options.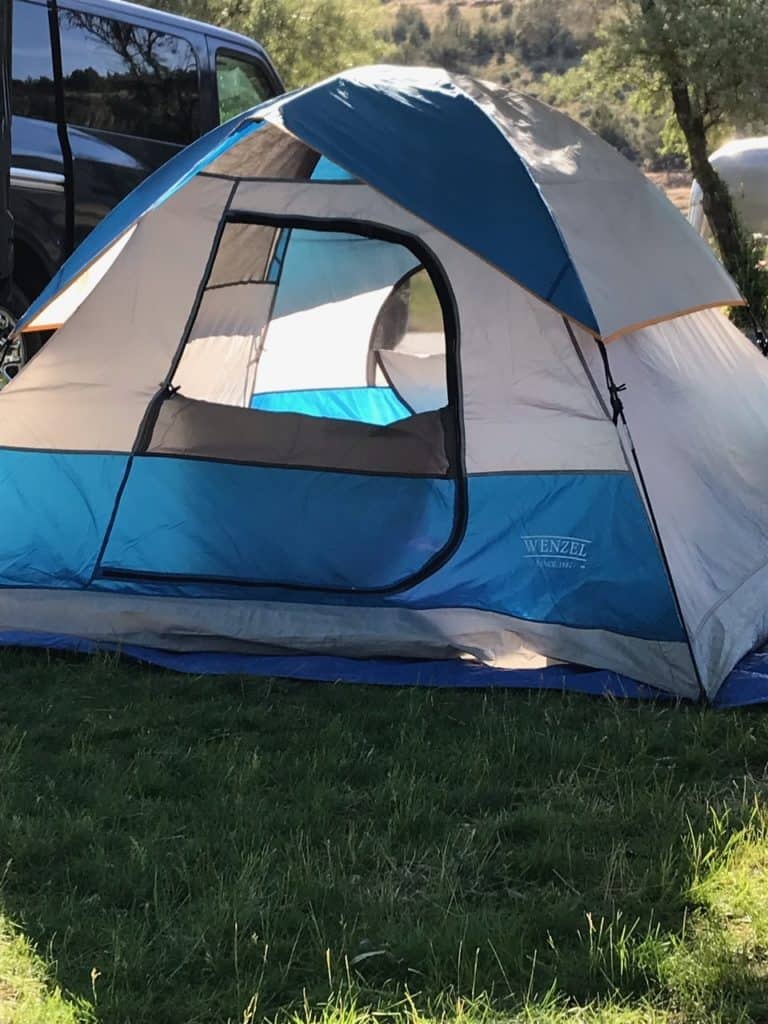 Pastas, Breads, and Grains
We nearly always include some pasta dishes on our camping trip because it's easy and convenient—cook in hot water over the camp stove and you're set! For an even easier meal, grab some cans of Chef Boyardee and warm them over a heat source.
Rice is another great side dish that's easy to cook, and if you serve it with beans, it's a complete protein. For an even faster, easier meal, precooked rice is an option that only requires a little oil or water to warm over a heat source. Costco sometimes has shelf-stable packs of precooked white rice or quinoa that would be great for a camping trip.
Most breads and baked goods are last at room temperature for several days, so those are fine for a short trip. For longer trips, or if it will be hot weather, bring some canned or vacuum-sealed breads and baked goods instead.
Don't forget about tortillas, wraps and tortilla chips—versatile for meals and they don't need refrigeration. We love to make soft tacos, burritos, quesadillas or nachos with tortillas and tortilla chips on our camping trips. Sometimes we put out the tortilla chips as a snack with canned salsa or queso dip too.
Canned Desserts and Non-perishable Sweets
The most obvious option for amazing non-perishable camp desserts is s'mores! Graham crackers, marshmallows and chocolate bars are the classic camp dessert for a reason. We love to use Reese's peanut butter cups or dark chocolate instead of plain milk chocolate on our s'mores.
Doughboys are a fun individual dessert to make with pie filling and biscuit dough or crescent rolls. Toast some biscuit dough on the end of a clean wood bough or branch, or bake inside of a metal cup or bowl (make a hollowed well in the middle). Once the dough is cooked, spoon your favorite pie filling in the middle and enjoy!
Pie filling is also easy to enjoy spooned over cake mix and baked in a Dutch oven for a quick and easy dessert.
Individual pudding cups are shelf-stable and easy to enjoy while camping. You can add in crumbled cookies, mini marshmallows or pretzels if you want something a little fancier.
Snack Options and Extras
We've discovered that kids and adults get hungrier when camping. Something about being in the great outdoors really works up an appetite. It's a good idea to pack more food than you think you'll need, and if you pack lots of canned snacks or non-perishables, you can always bring the unopened food items home to enjoy after the trip.
We enjoy treating ourselves to items we wouldn't usually have every day when we're camping. Chips, cookies, candies and soda are some special foods that we bring to enjoy.
Nuts are an easy snack, and you can get them in so many flavors if you don't prefer the plain, unsalted varieties. We love habanero almonds or sweetened hazelnuts, but be sure to try a few different kinds before your camping trip to find your favorites.
Condiments, Beverages and Extras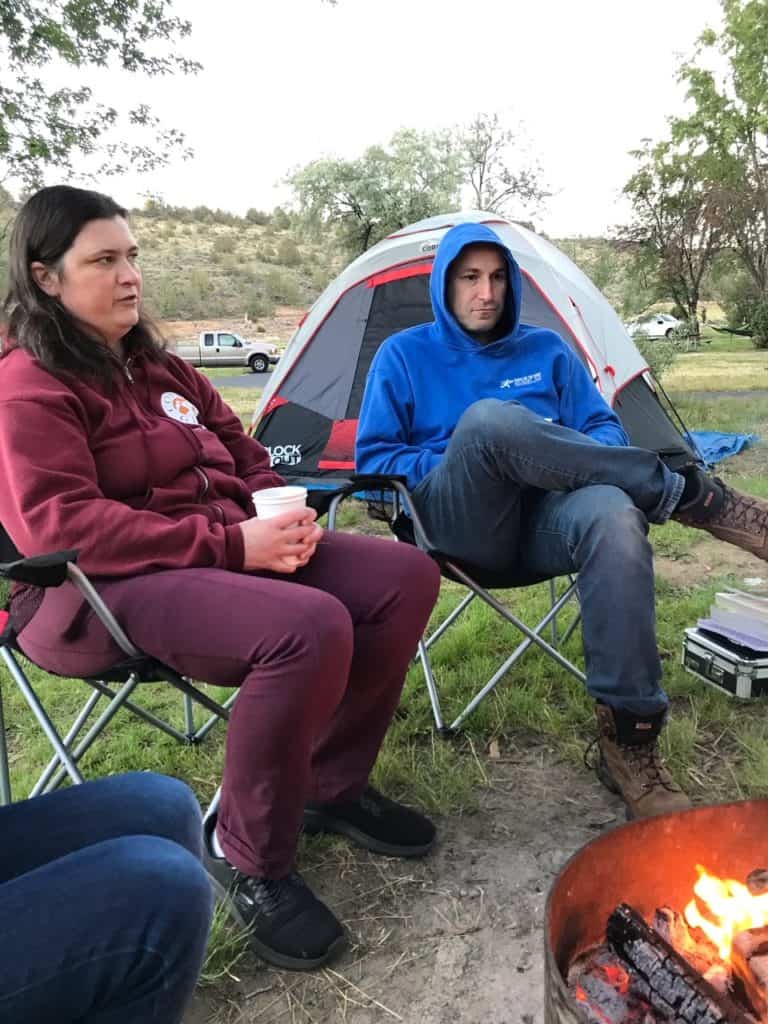 We always bring coffee, tea and hot cocoa powder on our camping trips. We don't mind brewing coffee each day, but if you don't have a full stove or campfire to cook on, instant coffee or espresso is a great alternative that only requires hot water.
We opt for the individual half-and-half minis or creamers for our coffee and tea, and sugar packets or a small honey container for sweeteners.
Of course it's always fun to pick up some local brews from a craft brewery in the area. If you didn't bring a cooler, you can always chill your bottles or cans in a stream!
Condiments and Extras
Our camping kitchen supplies aren't as fancy or well-stocked as the at-home kitchen. Bringing along some hot sauce, Pickapeppa sauce or sriracha sauce is a great way to add extra flavor to canned foods that aren't as flavorful as their fresh counterparts.
Don't forget that many condiments and jarred foods are great additions to round out your camping meals. Grab small containers or individual packets of ketchup, mustard, mayonnaise and relish to add to sandwiches. Small packets means that you can use them up without having to save any to refrigerate for later.
Selecting, Storing and using Canned Foods for camping
When you're selecting canned foods for your camping trip, there are a few key things to remember. Check the expiration dates on your cans to make sure they are still good to eat. Although it's uncommon, consuming expired canned goods can cause food poisoning.
Avoid purchasing cans that are dented or bulging, since this can be an indicator of food spoilage.
When possible, aim to store canned and non-perishable foods in a cool, dry place. If you're traveling in a hot climate, try to pack canned goods in a cooler or insulated bag to keep them as cool as possible.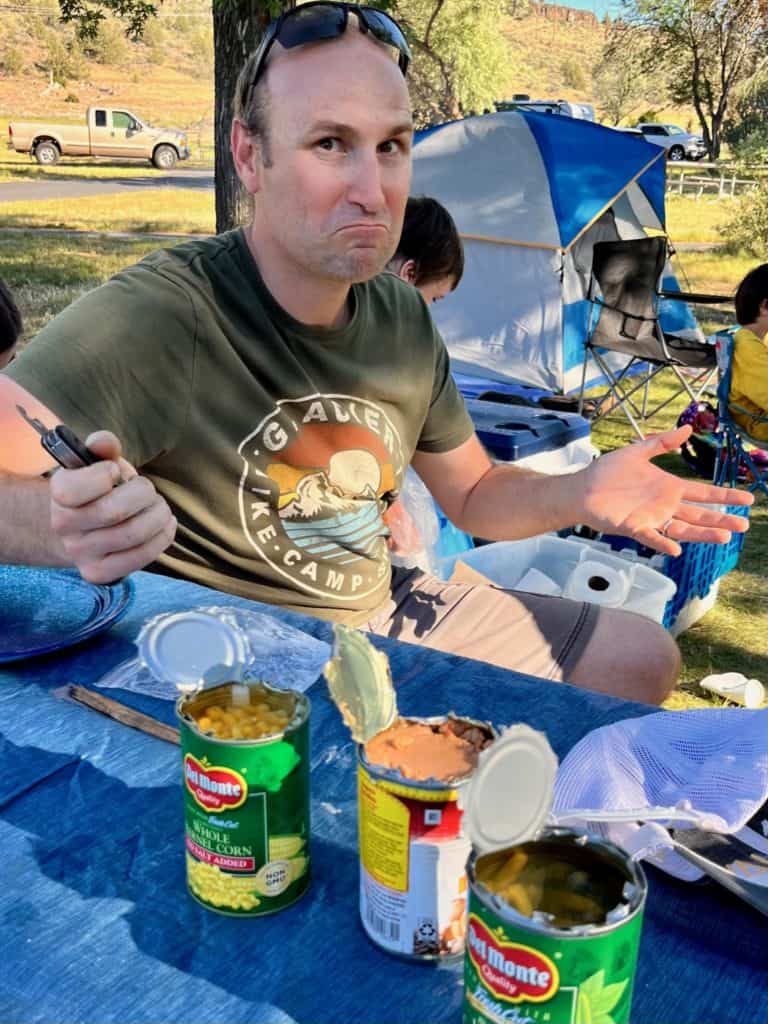 Lastly, be sure to bring a can opener with you! Easy-open cans are another great option, although it's best to still have a can opener on hand. On our last camping trip, we brought a can opener that looked fine, but we discovered it was incomplete! Don't be like us!
Delicious Canned Foods for Camping
We love to bring a combination of canned, non-perishable and fresh foods on our family camping trips. Including some canned foods and non-perishable options helps us to save space and make fewer trips to the local grocery store on a longer trip.
We hope you've found some great new ideas for your next camping menu that are delicious and easy to make. For even more ideas, we've put together some make-ahead and no cook recipes that our family enjoys. Happy Camping!
©️ Copyright Jennifer D. Warren 2023.