Central Oregon has a reputation for incredible craft beer. In this post we'll introduce you to the best breweries in Redmond Oregon and the Central Oregon region.
Alcohol should be used responsibly. Not all craft breweries are appropriate for families. Exercise discernment when deciding when and how to consume alcohol.
Table of Contents
This post contains affiliate links. As an Amazon Associate I earn from qualifying purchases made from the links on this site, at no extra cost to you. Thanks for supporting our family business!
Breweries in Redmond Oregon
Bend is the place that comes to mind when people hear Central Oregon breweries. But Bend's preeminence may not last for long. The city of Redmond is developing its own collection of breweries, brewpubs, and tasting rooms.
Wild Ride Brewing
Wild Ride was my first taste of breweries in Redmond Oregon. Their Nut Crusher Peanut Butter Porter blew my mind!
Nut Crusher (6% ABV, 18 IBU) is delightful, with the soft richness of a chocolate peanut butter cup. This beer took gold in the 2019 craft beer awards and is on draft year round at Wild Ride's family-friendly tap room.
Whoopty Whoop Wheat Hefeweizen (5.5% / 20 IBU) stands out as another of Wild Ride's award-winning beers. This beer claimed five medals alone including Golds in the 2022 Best of Craft Beer Awards and the 2020 Great American Beer Festival.
You can find Wild Ride in Redmond and Prineville. Their flagship taproom and brewery are located in the heart of downtown Redmond.
Initiative Brewing
Here's another Redmond start-up. Initiative Brewing offers a variety of interesting beers including their Shane-ful Imperial red (7% ABV) and their export stout, Redemption Stout (7.4% ABV).
Tent Life! Hazy Pale Ale may be Initiative's most unique beer. This brew is produced with wild Medusa hops first found in the mountains of New Mexico.
Kobold Brewing
This highly-rated Redmond brewery might be difficult to spot. Their downtown Redmond location goes by "The Vault Tasting Room".
Kobold's brews include their Mystic Daze Hazy IPA and their Hazelnut Porter. Food trucks and outdoor seating are both available at the Vault.
Cascade Lakes Brewing Company
You don't have to go to Bend to enjoy a Bend brewpub. Cascades Lakes' Redmond location brings Bend to you.
Cascades Lakes bills itself as "Central Oregon's first and only not-for-profit brewery." The semantics are unusual (compare to nonprofit), and seems to stress that the brewery is committed to charitable work.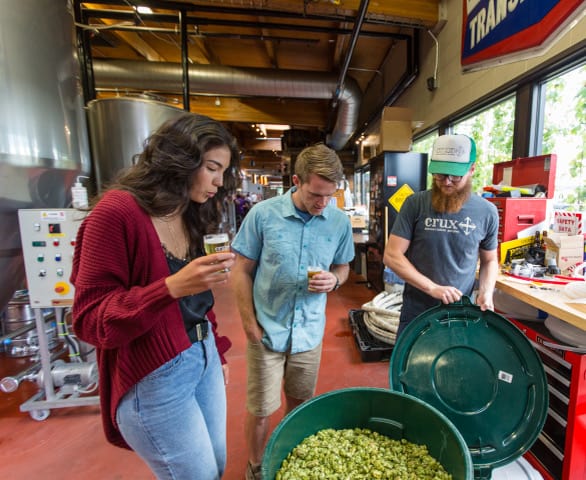 You can join Bend's not-for-profit brewery by purchasing one of their charity inspired beers. Their 2021 Pawsitive Pale Ale (5.1% ABV / 30 IBU) was produced to benefit Brightside Animal Shelter.
This breweries' award winning beers include Blonde Bombshell (4.3% ABV / 14 IBU), which won double Gold in 2022's Best of Sip Magazine. Their Lotus Pils Bohemian Pilsner (4.8% ABV / 20 IBU) was awarded silver by Best of Sip Magazine in 2021.
Breweries in Redmond Oregon Obituary
Unfortunately, some breweries in Redmond Oregon have closed their doors. Geist Beerworks is no longer in business and the Porter Brewing Company has closed their Redmond location.
Breweries near Redmond Oregon
Bend is the capitol of Central Oregon's craft culture. Here are ten Bend breweries to consider when visiting breweries in Redmond Oregon.
Deschutes Brewing, Bend
Central Oregon's premier brewery is a must-see when visiting breweries in Redmond Oregon. Deschutes Brewery boasts two noteworthy Bend locations: their public house and brewery tasting room.
Deschutes Brewery Bend Public House is a large brewpub that's known for its good food and family-friendly atmosphere. The Deschutes Brewery Tasting Room is located on the brewery campus and feature tours of the actual brewery!
This brewery has a mind-boggling array of beers, but here are two to consider: the Black Butte Porter and their Jubelale.
The Black Butte Porter (5.5% ABV / 30 IBU) is probably Deschutes' best known beer. This porter is a tad too bitter for me, but lots of people love it.
Deschutes' offers at least four additional varieties of this beer: Black Butte³ (15.1% ABV), Black Butte XXXIV Imperial Porter (11% ABV), Black Butte Raspberry Porter (6.8% ABV), and Black Butte Non-Alcoholic.
Jubelale Festive Winter Ale (6.7% ABV / 65 IBU) is one of our favorite brown ales. The brews strong malty flavor and sweet notes make for an enjoyable everyday drink.
Crux Fermentation Project, Bend
Crux produces remarkable beer. Jennifer and I got a chance to try one of their wonders and we were floored.
We split a Lost Love Barrel-Aged Imperial Rye Stout (14 ABV% / 70 IBU), a decadent, well bodied beer that reminiscent of coffee liqueur. This intense drink has rich flavors and would be superb dessert drink.
Crux produces a wide variety of beers include their Bochi Bochi Japanese Rice Lager (4.9% / 17 IBU) and Half Hitch Imperial Mosaic IPA (9.5% ABV / 80 IBU). They also produce three kinds of nonalcoholic beers: N0M0 IPA, N0M0 Hazy IPA, N0M0 Golden.
Their family-friendly brewpub is very popular and features a large outdoor space complete with games and fire pits. Try to come during the weekday to avoid the crowds.
10 Barrel Brewing, Bend
Here's another Bend behemoth. 10 Barrel Brewing boasts two family-friendly Bend brewpubs among its five Pacific Northwest locations.
This brewery has a fun tradition of serving its kids meals in foiled frisbees. Parents can wrap up the left-overs in the foil and let the kids play with their new toy!
10 Barrel's best known beer is their West Coast IPA, the Apocalypse IPA (6.8% / 70 IBU). I appreciate their Pilsner (5% ABV) which has a delicious, clean, and crisp taste. 10 Barrel Brewery also produces their own line of cocktails.
Bridge 99 Brewery, Bend
Bridge 99 is a well-rated brewery that has a lot to offer. Their beers include the Barrel Aged Rock Crawler Red (10% ABV, 10 IBU), Tiramisu Porter (6.5% ABV, 15 IBU), and Wizard Falls IPA (7.1% ABV, 85 IBU). This brewery also serves mixed drinks and has wine on tap.
Oblivion Brewing Company, Bend
Oblivion Brewing has a number of interesting brews including On the Dubble DIPA (8.5% ABV, IBU 70), Road Ryder Red India red ale (5.9%, IBU 38), and Knockout Stout (7.0% ABV, IBU 35). Their tasting room can be found in Northeast Bend.
Bend Brewing Company, Bend
Bend's second oldest brewery can be found in downtown Bend, not far from Mirror Pond. This spacious pub is known for large food portions and good brews. Their beers include Ching Ching Sour Ale (4.5% / 5 IBU), Distance Learning Oaked English IPA (5.6%, 45 IBU), and their Canadian Coldfront Imperial Smoked Coffee Porter (9.3% / 25 IBU).
Worthy Brewing, Bend
Here's one of central Oregon's most interesting brewpubs. Worthy Brewing's enormous brewery and restaurant includes lots of green space, an OSU partnership garden and an observatory!
Worthy Brewing is a great choice for families. Their beers include Secret Spot Pacific Pale (4.9%), Lights Out Stout (7.7%), and Delusional Juicy Double IPA (8.5%).
Bevel Craft Brewing, Bend
Celebrate beer and disc golf at this woman-owned brewery. Bevel Craft's brewpub is family friendly, dog friendly, and surrounded by food carts. Their beers include the Imperial Black Ace Cascadian Dark Ale (8.3% ABV) and their Courtesy Violation Sour (5% ABV).
Spider City Brewing Company, Bend
This brewpub is family-friendly, but both of their locations are on the small side. Spider City's beers include Pavuchky Brewski Polish Lager (4.6% ABV / 22 IBU) and Zygoballus IPA (ABV 6.8%, IBU 45).
GoodLife Brewing Company, Bend
GoodLife produces one of one my favorite Oregon beers: the delicious Sweet As! Pacific Ale. Sweet As! is brewed with New Zealand and Australian hops that give this beer a soft mixture of floral, spice, and citrus highlights.
GoodLife's Beirhall is a great location. Large windows allow you to watch their brewery and distillery in action, and a roomy beirgarten offers the chance to relax outdoors.
This Bend brewpub has themed events for every day of the week. GoodLife's Beers include Lava Cave Triple IPA (11% ABV / 100 IBU) and 150 Hippies Fresh Hop Ale (5.5% 21 IBU).
More Breweries in Remond Oregon
There's much more to enjoy when it come to Central Oregon and craft beer. Subscribe to our newsletter and follow us on TikTok, YouTube, and Facebook as we continue to explore craft beer in Redmond Oregon and all of the Pacific Northwest.
Cheers!
©️ Copyright Brian A. Warren 2023