Looking for an amazing family-friendly beach vacation? You've found it! Visiting Pacific City, Oregon with kids gives you so many options, everyone in the family will find something to interest them. Read on for 27 ways to enjoy Pacific City, Oregon with kids of all ages.
This post contains affiliate links. As an Amazon Associate I earn from qualifying purchases made from the links on this site, at no extra cost to you. Thanks for supporting our family business!
Table of Contents
Why Pacific City?
Pacific City is the local secret of the North Oregon Coast. This beach city is within easy driving distance of Salem and only two hours from Portland International Airport, making it a perfect road trip stop for a full Oregon Coast exploration.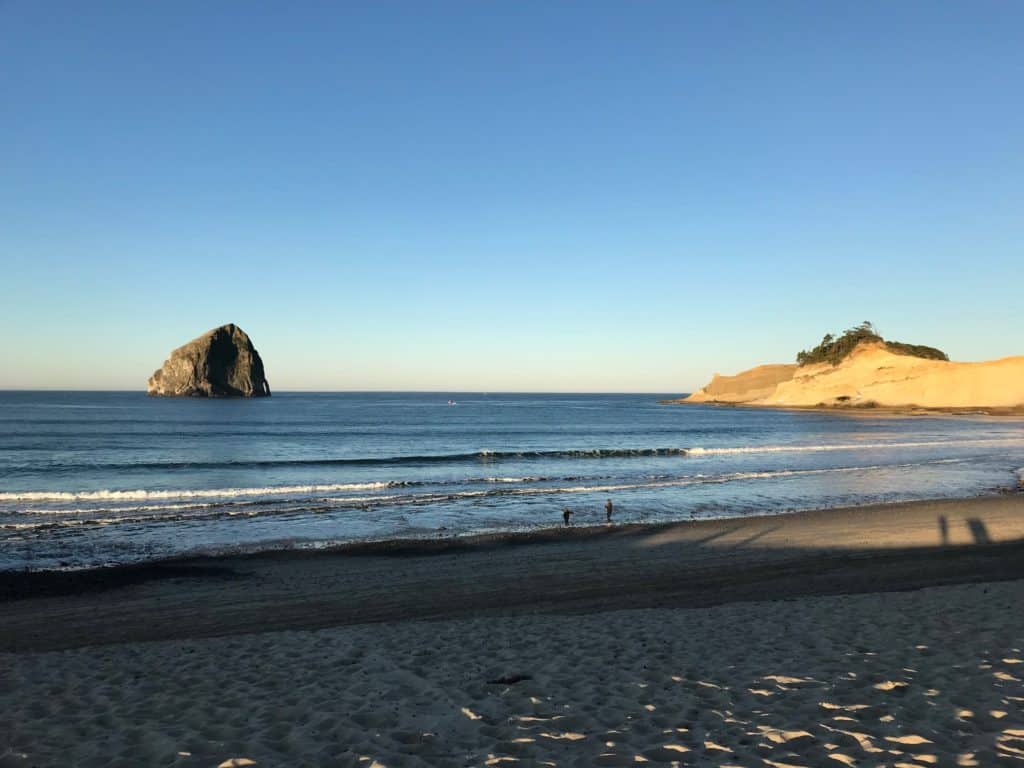 Better yet, it's not well known outside of Oregon, so it doesn't draw the kind of crowds that you find at Seaside or Cannon Beach. We've curated 27 ideas for adventures in and near Pacific City, as well as lodging options, day trip notes, and seasonal considerations.
Adventure 1: Cape Kiwanda State Natural Area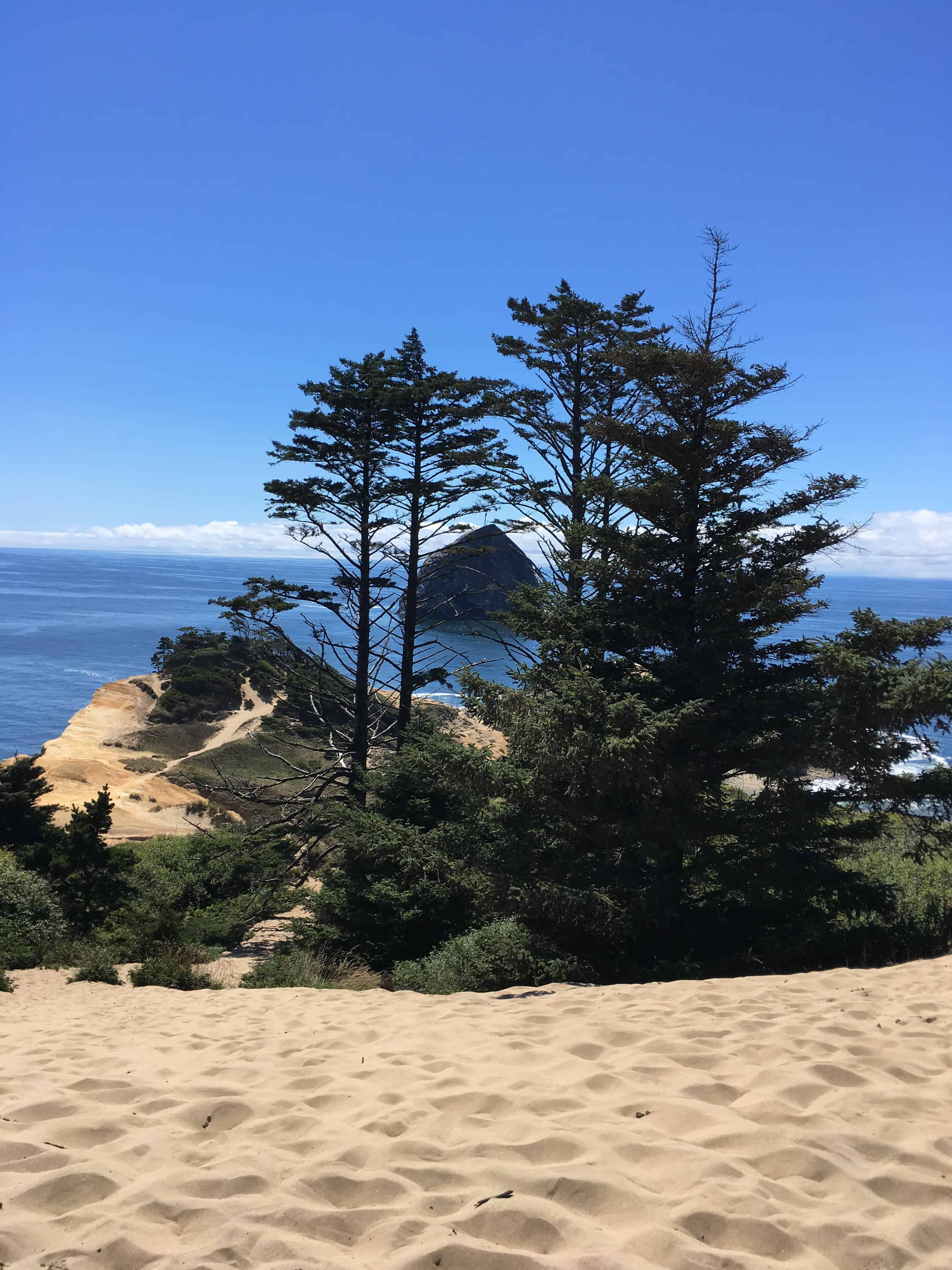 Cape Kiwanda is renowned for its dramatic beauty. In fact, this cape is better known than the coastal town nestled up against it!
The cape's most striking feature is the 240-foot high sand dune on the north end of the beach. The dune crowns a large natural area encompassing the entire cape.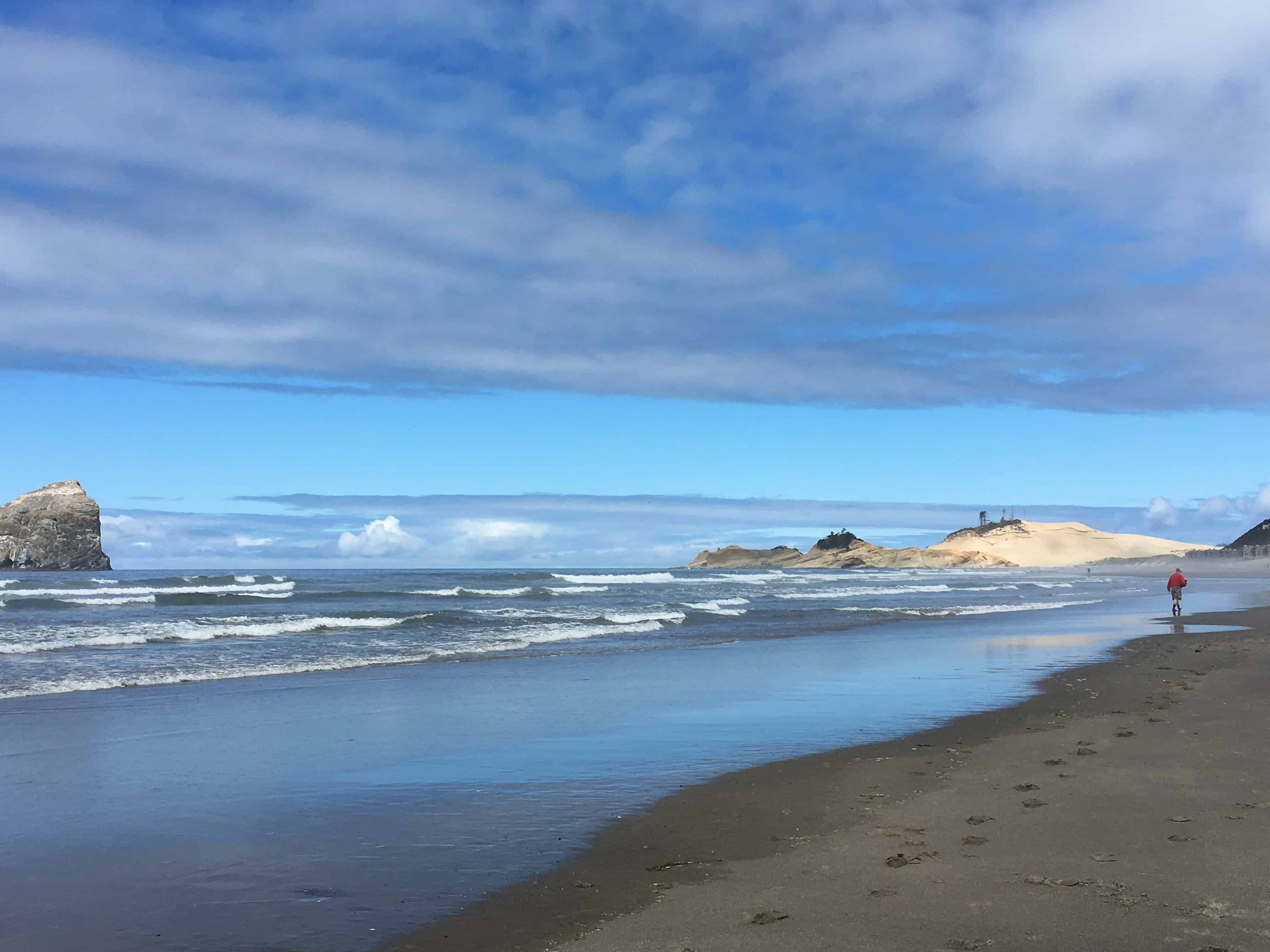 Well-worn paths traverse this natural park, so you can explore nearly all of the cape, including a hike to the top of the majestic dune.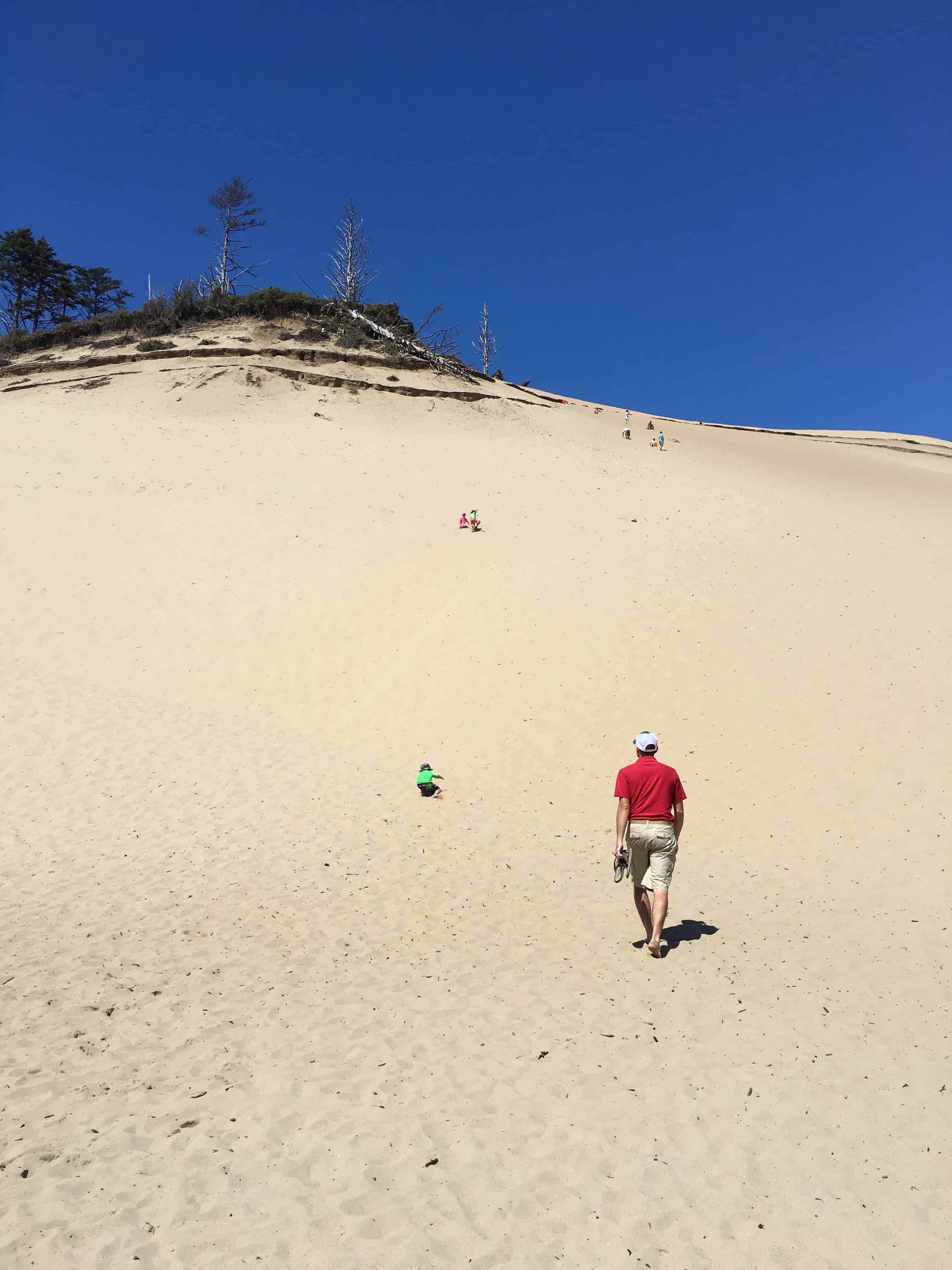 However, you may find it best to do some people watching before you get started. You see, the steepest side of the dune faces the beach and that means that you may be in for a show if you know where to look.
Many people take the dune head on, having little idea of just how hard it will be.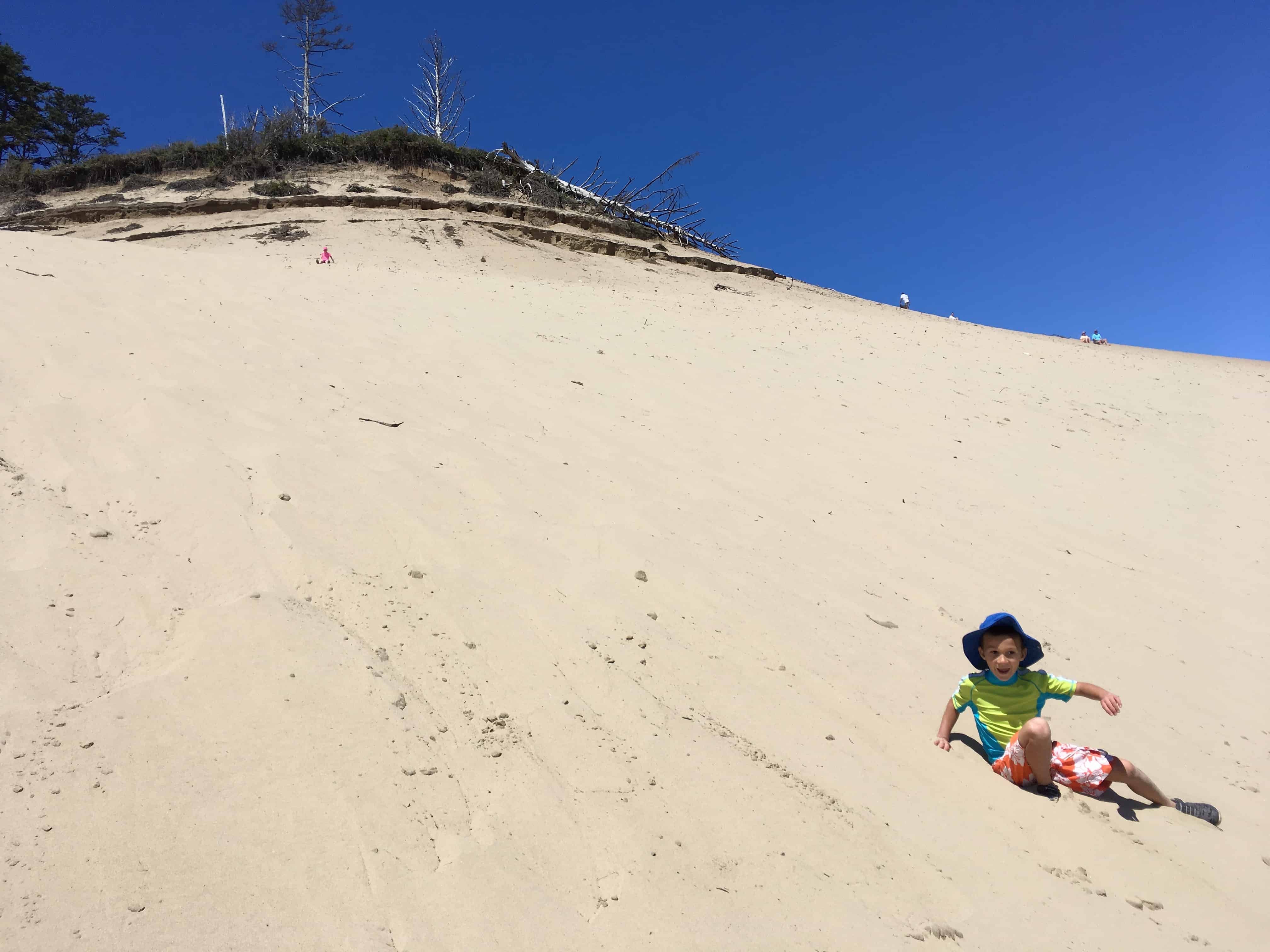 Let your kids have at the big heap of sand! They'll burn a lot of energy and learn a thing or two.
Exploring the bluffs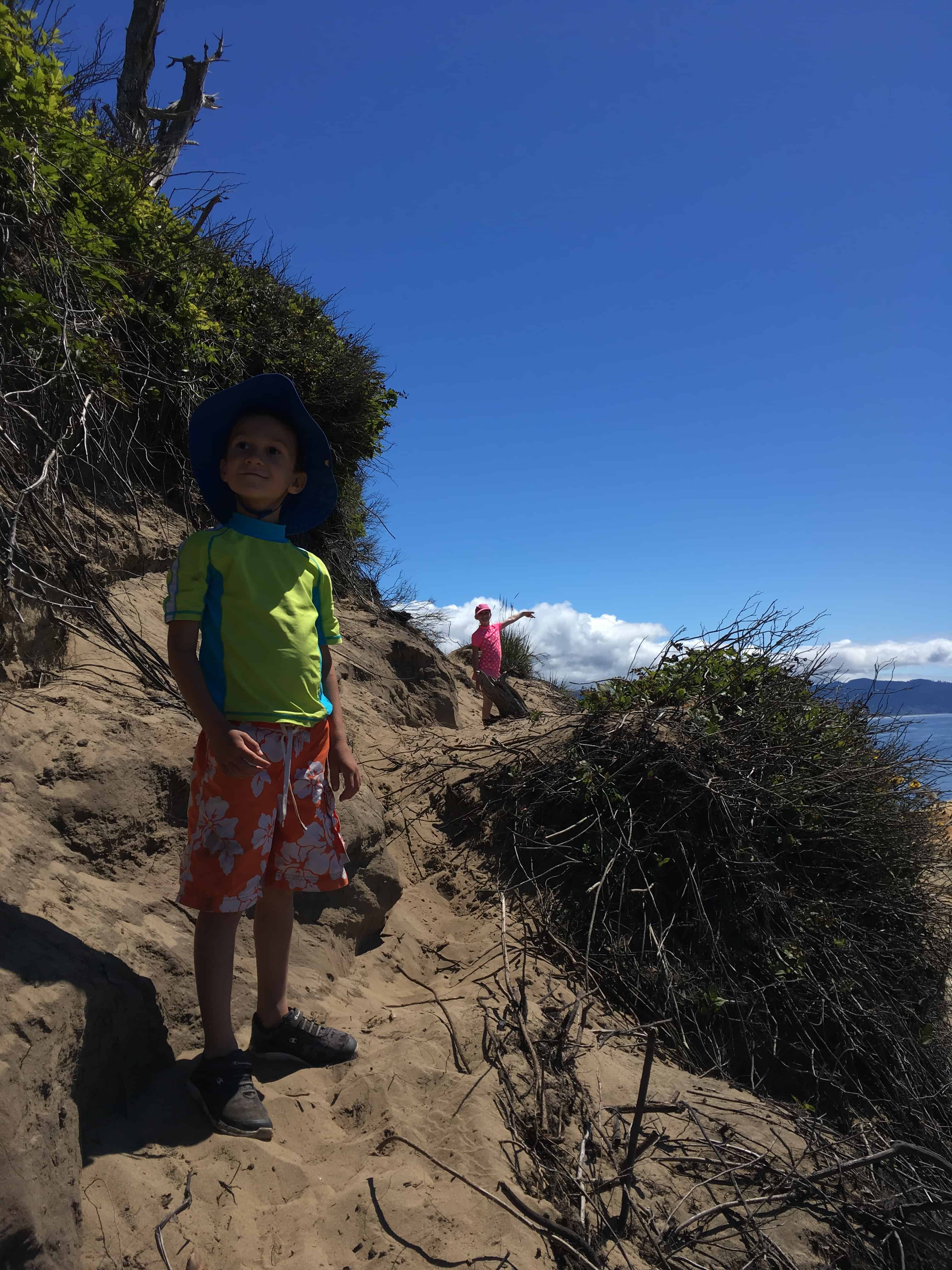 The best entrance into the natural area can be found by moving toward the seaward side of the great dune. This involves cutting across its lower face instead of ascending its formidable front face.
By trekking toward the seaward side of the dune you gradually ascend up onto the the sandstone bluffs that make up Cape Kiwanda.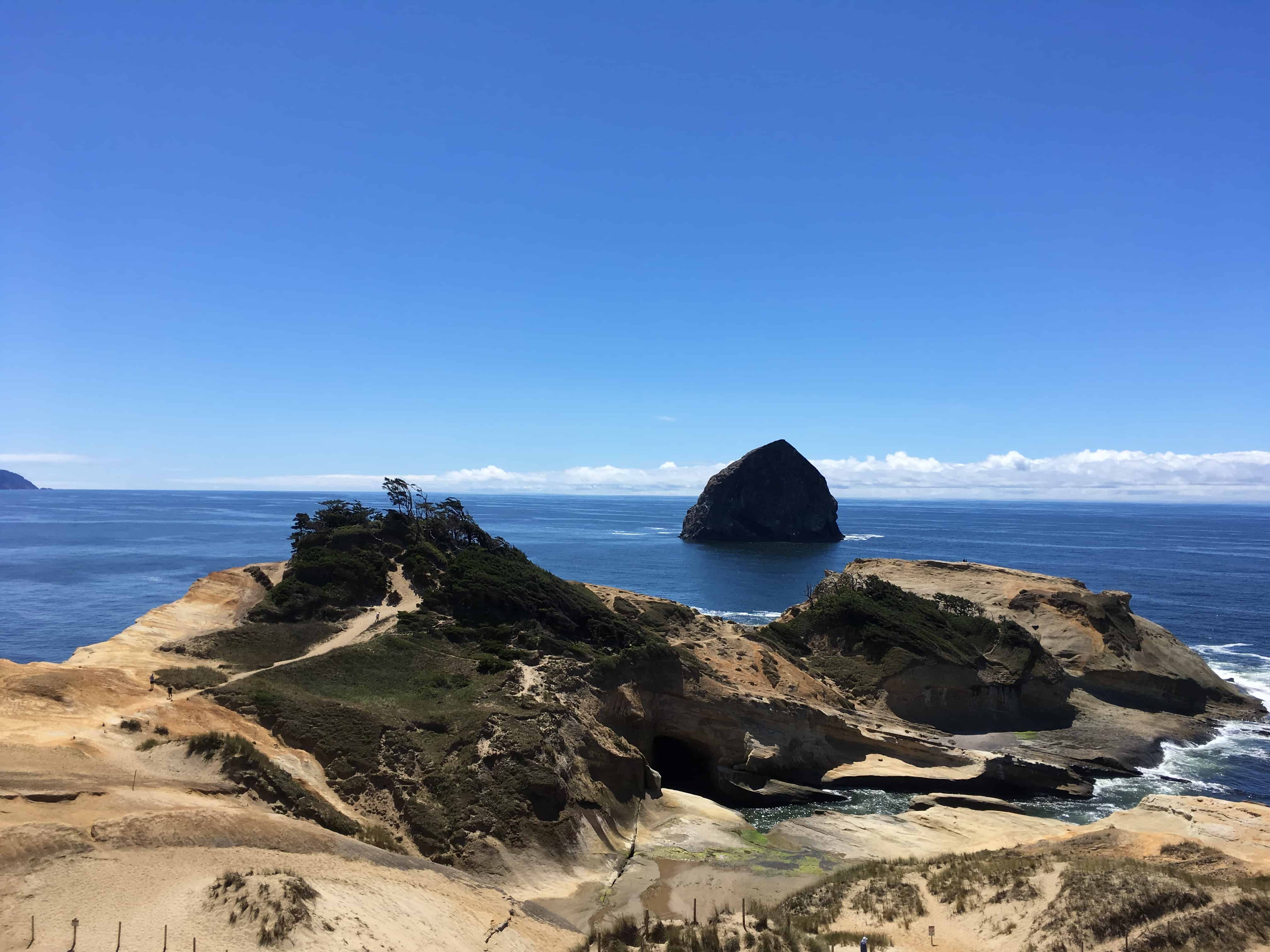 The bluffs not only provide better footing, but also lead you into the unmarked paths that allow you to enjoy stunning views of the many coves that punctuate the cape. Crashing waves, lively creatures, and swaying trees give plenty to consider and contemplate.
Safety first!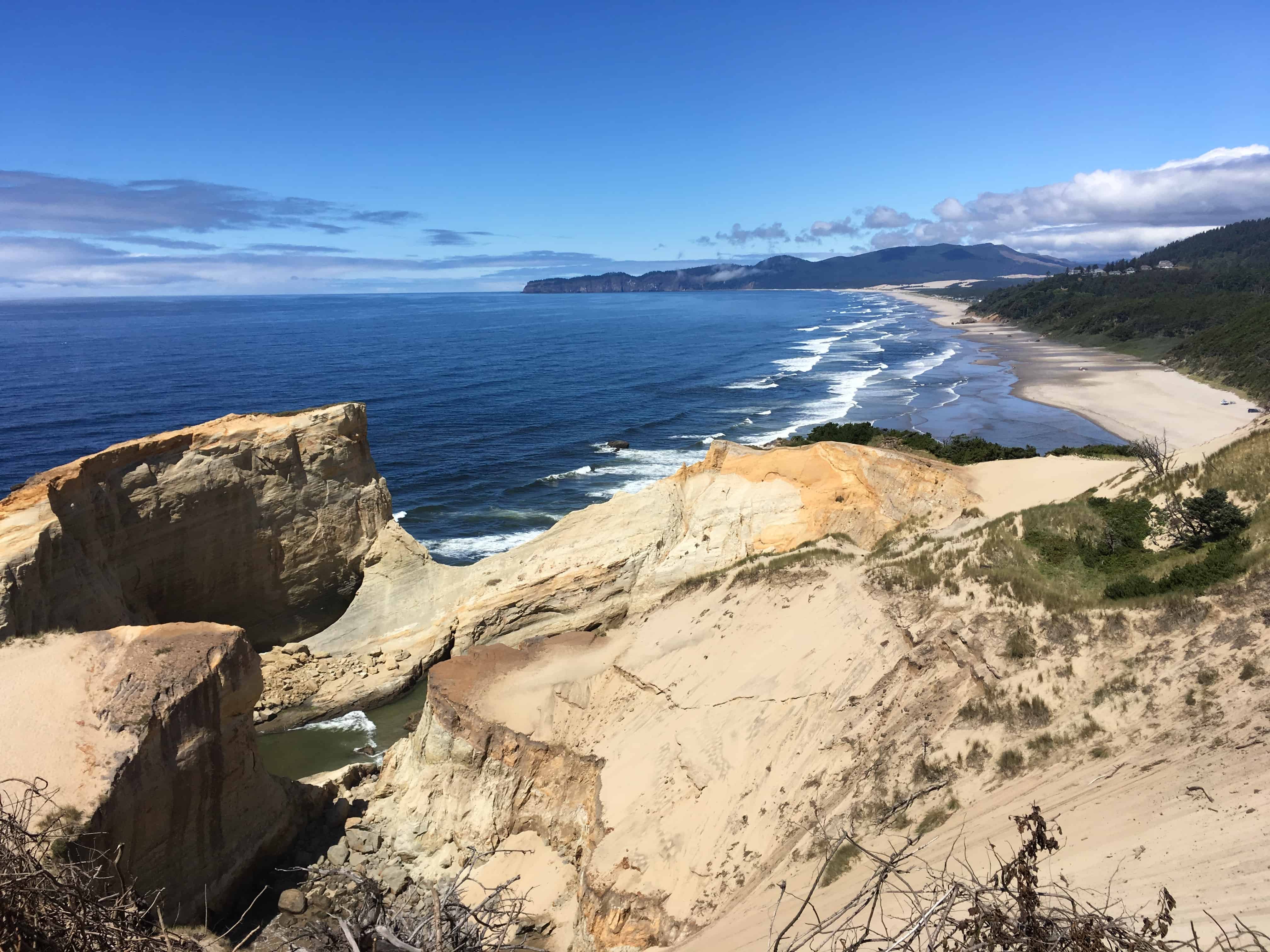 But don't let the beautiful scenery bring you too close! Posted fences are provided to protect visitors from the sandstone cliffs and people have died from ignoring of the danger.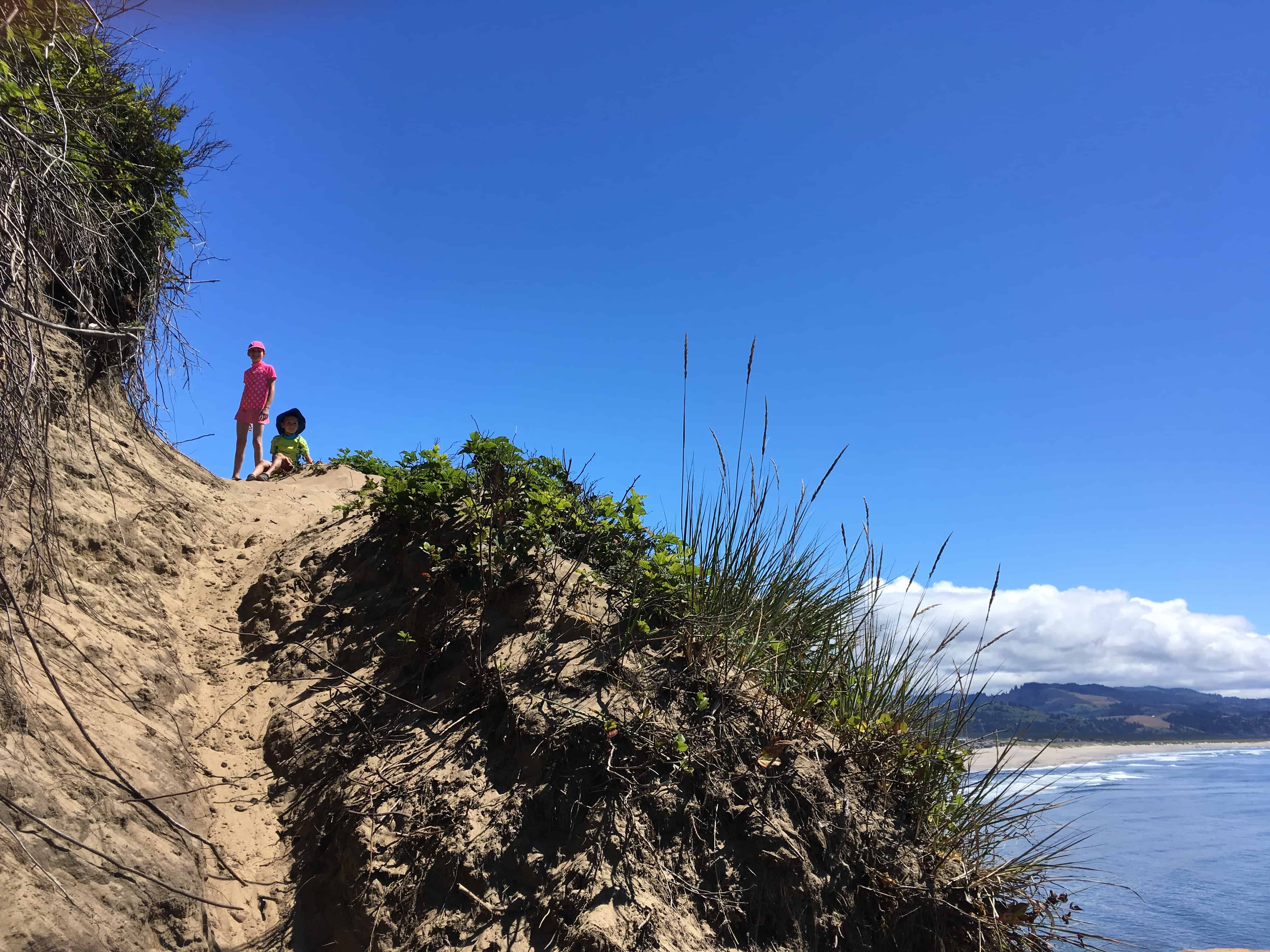 The bluff trails provide the easiest access to the top of the cape. Unlike the dune face, they are predominantly made of sandstone, meaning that you won't have to scramble much until you get toward the top of the dune.
Best of all, this side of the dune offers greater protection from the sun and the wind!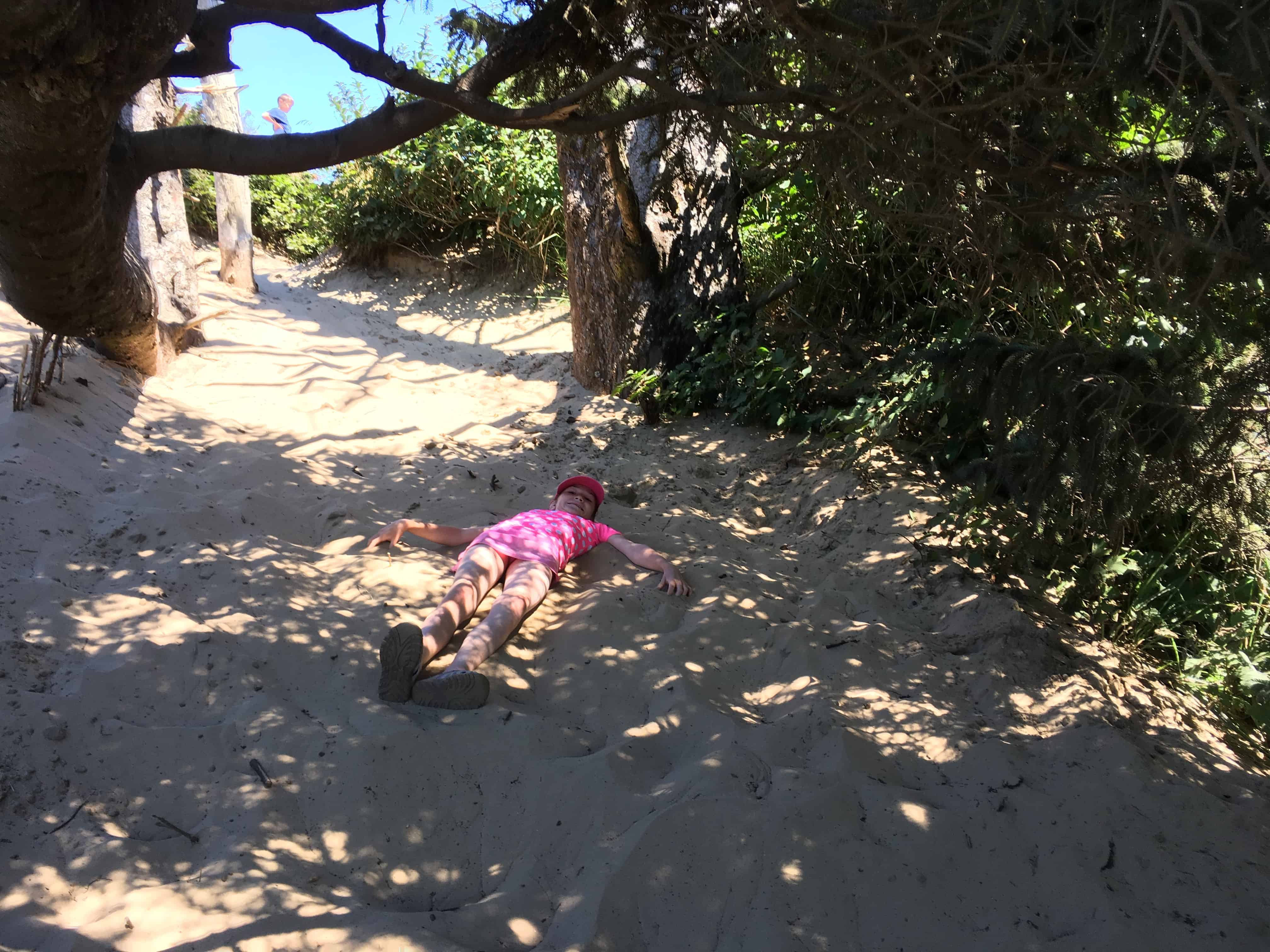 That said, you should know that it gets hot on that pile of sand! We were grateful to have some good hiking sandals and especially thankful for the grove of trees that awaited us at the top.
The views are nothing short of spectacular.
Cape Kiwanda is largely barren and the scarcity of trees provides hikers with vistas that they simply can't get on many of Oregon's thickly wooded headlands.
Perched high on the summit, you can take in the entire cape and see miles of coastland both north and south of your position. It's a great place for whale watching too, so bring along your binoculars!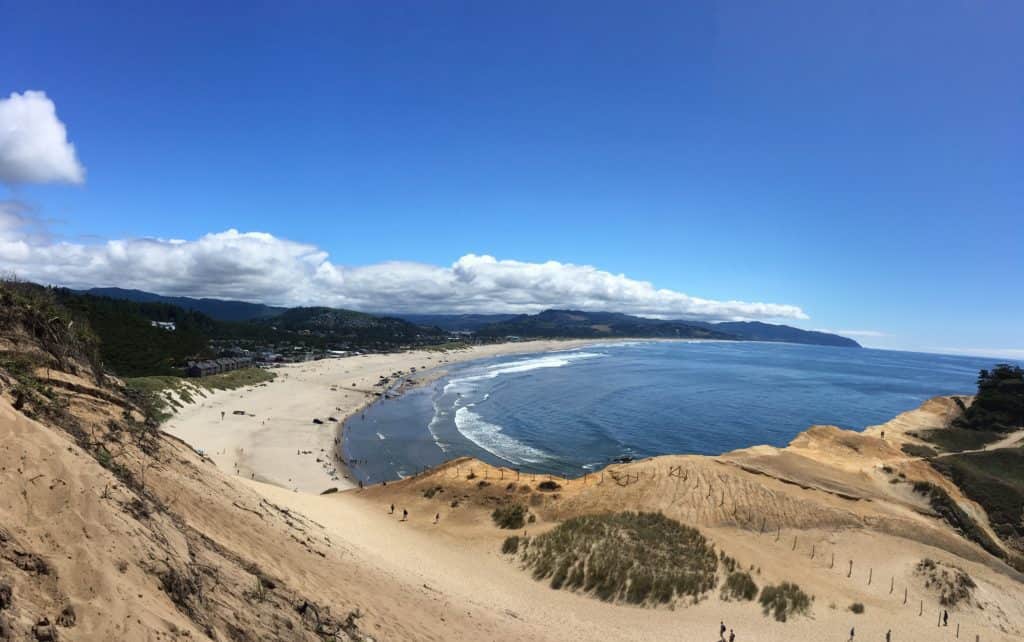 Taken as a whole, Cape Kiwanda's natural area is reason enough to visit this remarkable beach.
Here is the Cape Kiwanda State Natural Area official page.
Adventure 2: Tide pools
At the base of the Cape Kiwanda dune there are several rocky areas at the water's edge. It's a great spot to check out tide pools teeming with marine life.
Crabs, sea anemones, starfish, and all sorts of other small creatures make their home in the pools that can be explored when the tide goes out. Make sure to wear sturdy shoes!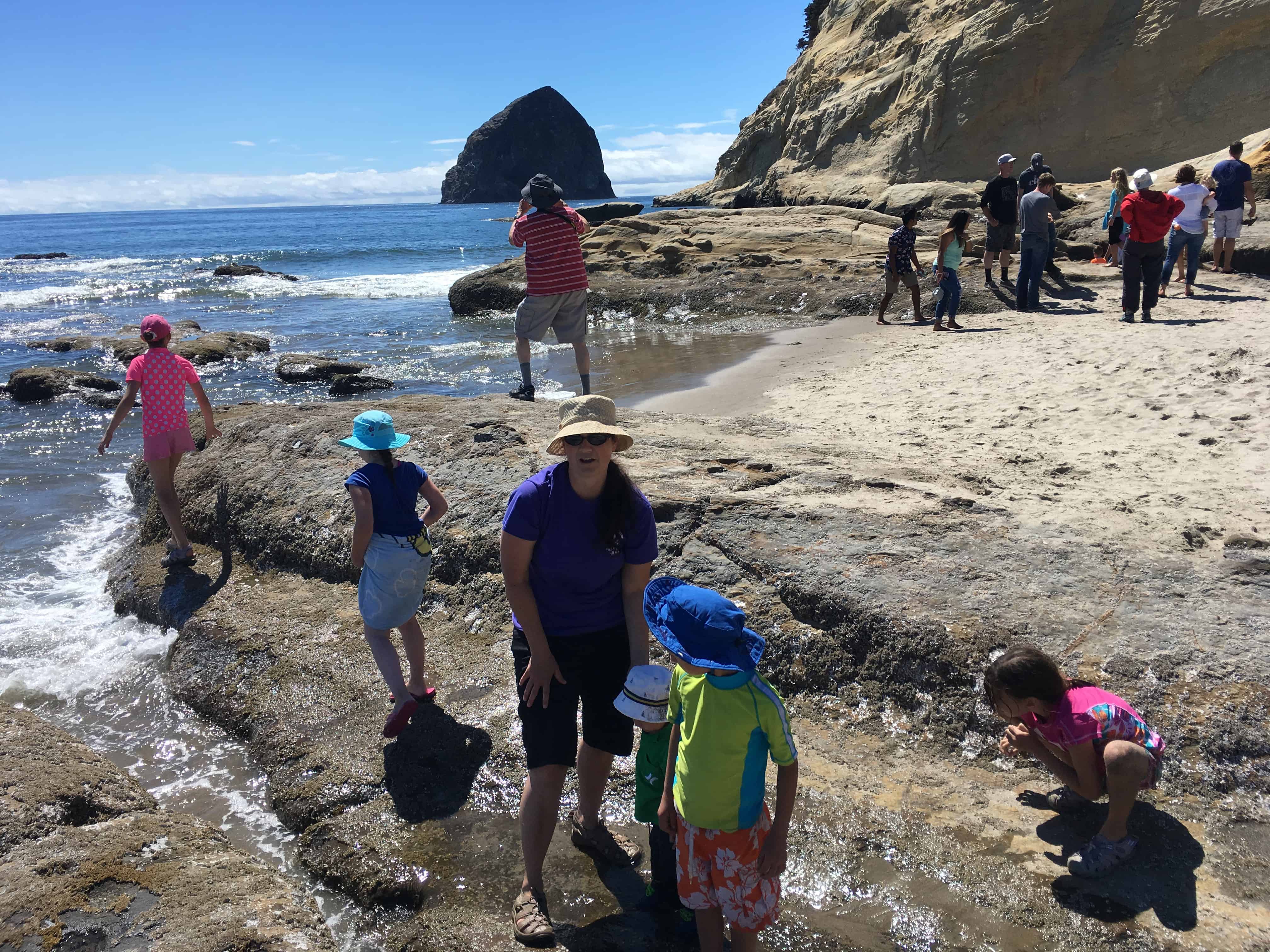 Also, keep an eye on the water since sneaker waves are a common occurrence on the Oregon Coast. Sneaker waves are extra large waves that show up unexpectedly in between normal-sized waves. Posted warning signs on many Oregon beaches provide additional information.
Adventure 3: Chief Kiawanda Rock
The Oregon coast is famous for its rugged natural beauty and this is no less the case with Cape Kiwanda.
Not far from the cape stands an iconic sea stack commonly known as Haystack rock. The name fits, but it breeds confusion because Cannon Beach has its own (and more famous) Haystack Rock.
Google uses an earlier name: Chief Kiawanda Rock. The name both predates "Haystack Rock" and ties the landmark back to some of its earliest inhabitants. Chief Kiawanda was a well known chief of the Nestugga Tribe, who also provided the name for Pacific City's river, the Nestucca.
The Nestugga and the Killamook tribes (compare to Tillamook) inhabited this part of the Oregon Coast until they were forced onto the Siletz Reservation near Lincoln City.
But how did it get there?
The rock's natural history is equally colorful. It doesn't take much to notice that the dark sea stack is an oddity, having nothing in common with the sandstone bluffs of Cape Kiwanda. What is a basalt sea stack doing out there in the ocean?
Geological research has discovered that the basalt stacks and cliffs of Oregon's coast actually had their origins in incredibly powerful eruptions in what is now eastern parts of Oregon and Washington.
Massive volcanic pressure split open cracks in the earth's crust, unleashing enormous amounts of lava. The flows were so extensive that they covered most of Eastern Oregon and Washington, dammed the Columbia, and proceeded into the Pacific Ocean.
Today's sea stacks are what remains of heavy, molten lava that sunk under the the ocean's sand and cooled in place—incredible stuff!
In spite of its volcanic history, Chief Kiawanda Rock is now the gentle host of a wide range of marine life. Flocks of sea fowl abide on the rock with seals and sea lions resting along its shore line.
Often the seals swim closer to shore near the tide pools. From time to time, migrating gray whales can be seen out just past the rock.
If that wasn't enough, the rock has its own natural arch that is easily visible from the shoreline. Photo ops abound if you have a family shutterbug! A good camera or pair of binoculars will provide you with plenty of fun and beauty to take in. Iconic shots are everywhere when visiting Pacific City, Oregon with kids.
Adventure 4: Pacific City's Famed Dories
Jennifer and I have seen our share of beaches. She grew up in on Jamaica's South shore and I was a SoCal surfer boy.
But we were both stunned when a fishing boat literally flew onto Pacific City beach. That was a first for us!
What we'd witnessed was a dory boat returning home. Pacific City boasts a well-respected, seasoned dory fleet. Dorymen and dorywomen fish Oregon's coastline for salmon, Dungeness crab, albacore tuna, and rock fish.
These fishermen carry on a tradition that goes back to Pacific City's earliest days, providing a glimpse of a fishing industry that no longer exists in many parts of the country.
Cape Kiwanda's dory launch goes along the sandy beach to the water's edge. Big trucks can be seen towing small fishing boats to the water throughout the day.
But the most fun is watching the dories come in. The boats have to gather speed and shoot themselves past the surf and right up onto the sand so that they don't get stuck!
Watching dory boats fly out of the water and onto the sandy beach was one of our kids' favorite things to do.
Adventure 5: Watch Surfers (and Suckers)
Cape Kiwanda is a popular destination for local surfers, so there are usually several out at any point of the day. Watching them catch waves, or wipe out, provides lots of people-watching opportunities.
Equally entertaining is when inexperienced drivers bring their big vehicle down onto the sandy beach…and get stuck! This tends to happen a few times every day during the peak summer months.
Don't worry though—there are local tow trucks that make their living pulling people out of the sand, so the stuck vehicles don't stay stuck for very long.
Adventure 6: Classic beach fun in Pacific City Oregon with kids
The beach at Pacific City offers several miles of beautiful walking. Dogs and kids run happily along the waves, and plenty of sand castles rise and fall along the length of the beach.
The shallow water area near the beach is short, as the water deepens quickly. If your kids are not yet confident swimmers, a life vest will give you peace of mind while they enjoy splashing.
Note that the Pacific Ocean is frigid in Oregon year-round, although most kids seem unbothered by the cold water! You'll want towels and beach blankets.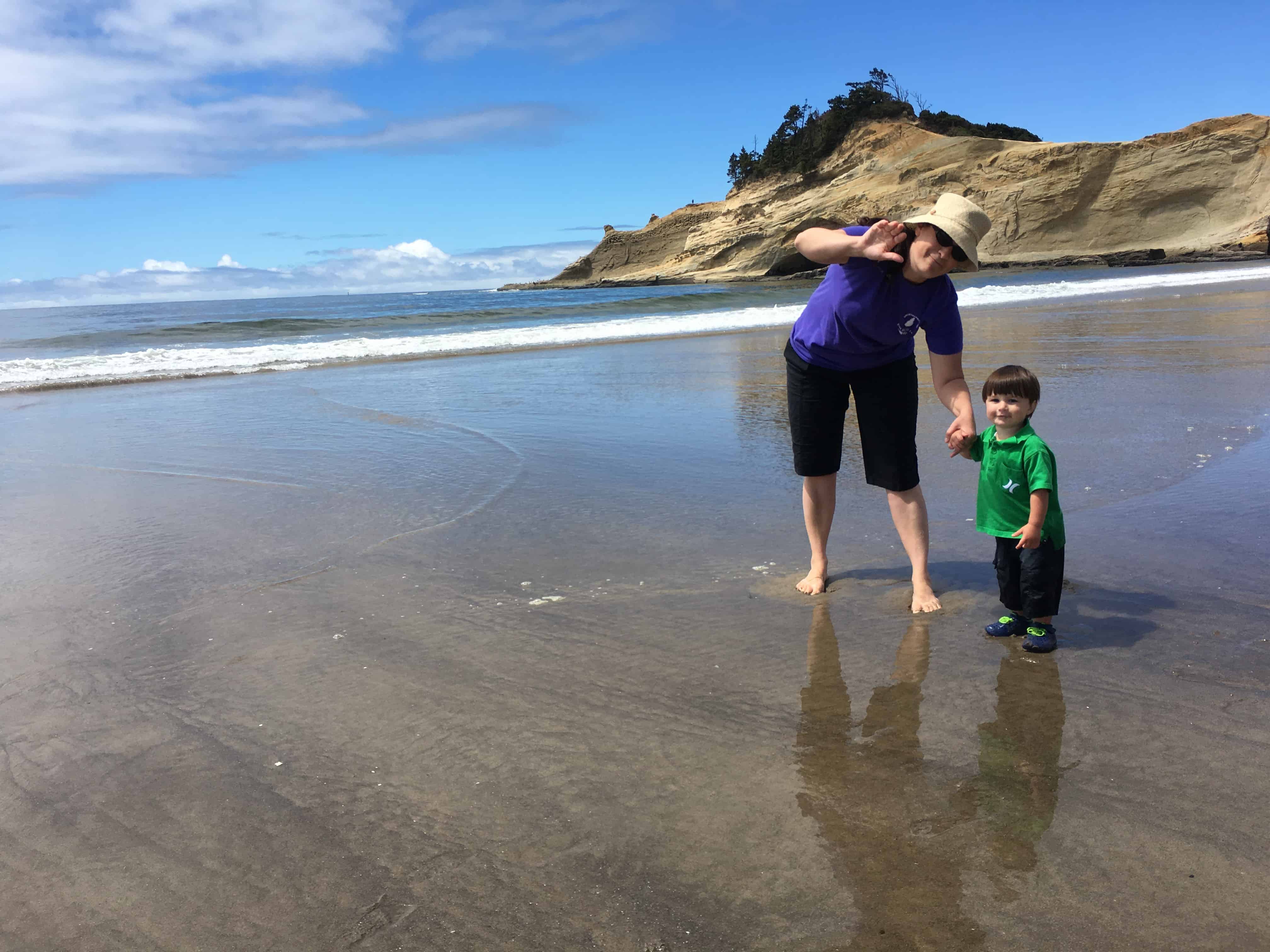 Adventure 7: Beach Combing in Pacific City Oregon with kids
The Pacific Northwest has a lot to offer to treasure seekers. The simple fact that they draw less crowds means that there's less eyes roaming the beach. Oregon's rugged coastline hasn't seen the kind of development found throughout much of the Pacific Coast, so it isn't uncommon to find nice shells and even whole sand dollars on the beach.
Adventure 8: Go Rockhounding
Streams flowing from nearby coastal mountains often bring agates and other semiprecious stones to the shoreline. You can find these occasionally at the Pacific City Beach and other local beaches.
But if you don't mind a short drive, nearby Short Beach is one of the best agate beaches on the Oregon Coast. It's a well-hidden and less popular beach with a unique staircase entry. Besides being picturesque, Short Beach has an abundance of agates and jaspers to be found along the shore. Our kids each found several handfuls of beautiful natural souvenirs!
Adventure 9: Clamming
One thing that I love about the Oregon Coast is the connection you see between the land and the people who live in it.
I remember the first time I saw a group of people digging out of an estuary at low tide. I was puzzled—what were these people doing and what was that strange tool in the fella's hand? These normal folks were out clamming, digging up clams from Oregon's shoals.
You can join the experience if you're willing to get the right tools and put in some manual labor.
Adventure 10: Fishing
Pacific City has a prime location for fishing. Miles of sandy beach and charter boats welcome ocean fishing.
The city is located at the mouth of the Nestucca River. The Nestucca's calm waters are known for their 50 pound Chinook salmon! Oregon's Coast range offers additional freshwater opportunities.
Adventure 11: Crabbing for dinner
Crabbing is another fun way to experience the beach. We got to go crabbing with a family at Newport Bay and never forgot our time.
You purchase or borrow a crab trap, a rope, and some bait. The trap is a metal cage that looks kind of like a basic, collapsible dog kennel.
Our group went a public dock that provided access to Newport Bay. We secured the a rope to the cage, baited it with some meat, and let it sink to the bottom of the bay. That's it!
Pull the cage up after an hour or two and see if you have some crab to cook.
Adventure 12: Pelican Brewing Company
Pacific City is home to one of Oregon's best craft breweries. Pelican Brewing Company has developed a wide range of award-winning beers. Their flagship Pelican brew pub has a fantastic location on Pacific City Beach.
The parents can finish the day with a good meal and a good beer before getting those kiddos to bed!
Favorite Pelican Brewery beer recommendations
We are particularly fond of their Kiwanda, a pre-prohibition cream ale that makes you think twice about what beer can be. This soft, creamy beer is simply a delight for the senses. We've also come to love their American Style Hefeweizen, which has a refreshing, but subtle flavor.
For those of you who are looking for a kick in the pants, Pelican has a crisp Pale Ale brewed with a heavy dose of New Zealand hops.
And for those of you who like a kick in the face, Pelican has a double India Pale Ale that features an overwhelming dose of Mosaic, Citra, and Centennial hops. I can't get through a bottle of Pelican's double IPA, but it may be just what you're looking for.
Pelican Brewing Company has three additional locations on the Northern Oregon Coast. You can find them in Tillamook and Cannon Beach, plus the glamorous new Pelican pub in Siletz Bay (Lincoln City).
Adventure 13: Stimulus Coffee and Bakery
No trip to Oregon is complete without good coffee. In fact, no day in Oregon is complete without good coffee!
Right across the street from the Cape Kiwanda State Natural area is the Stimulus Coffee and Bakery. This convenient location also provides tasty baked goods and excellent coffee and espresso drinks.
Grab a window seat (if you can find one!) and enjoy the ocean views over a steaming mocha.
Adventure 14: Oregon Wine Tasting
Are you able to catch a date on your family vacation? If so, take the chance to try Oregon's renowned pinot noir.
If you've never tried Oregon's wines, prepare to be impressed! Pinor noir may be Oregon's top wine, but it's not the state's only winner.
Pinot gris, Syrah, and Gewurtztraminer are only a few of the many varieties cultivated in Oregon's wine regions. So there are plenty of options to try and explore at Oregon wine tasting rooms.
Not far from the Cape Kiwanda State Natural area is a fun wine tasting room called Twist Wine Company. They offer reasonably-priced wine flights and tastings, and you can purchase wine to be shipped to your home.
Adventure 15: Sweet treats
Got a craving for some saltwater taffy or local chocolate creations? Your family will love Pacific Coast Candy, just a few steps away from Twist Wine Company. Our kids thought they had gone to candy heaven as they carefully selected their favorite treat from this boutique candy shop and ice cream store.
We tried several different gummy candies, enjoyed a bag of assorted saltwater taffy, and our friend Aly love the chocolate marionberry truffle (a local Oregon flavor). There's a coffee shop and deck with picnic tables right outside so you can enjoy the sunshine.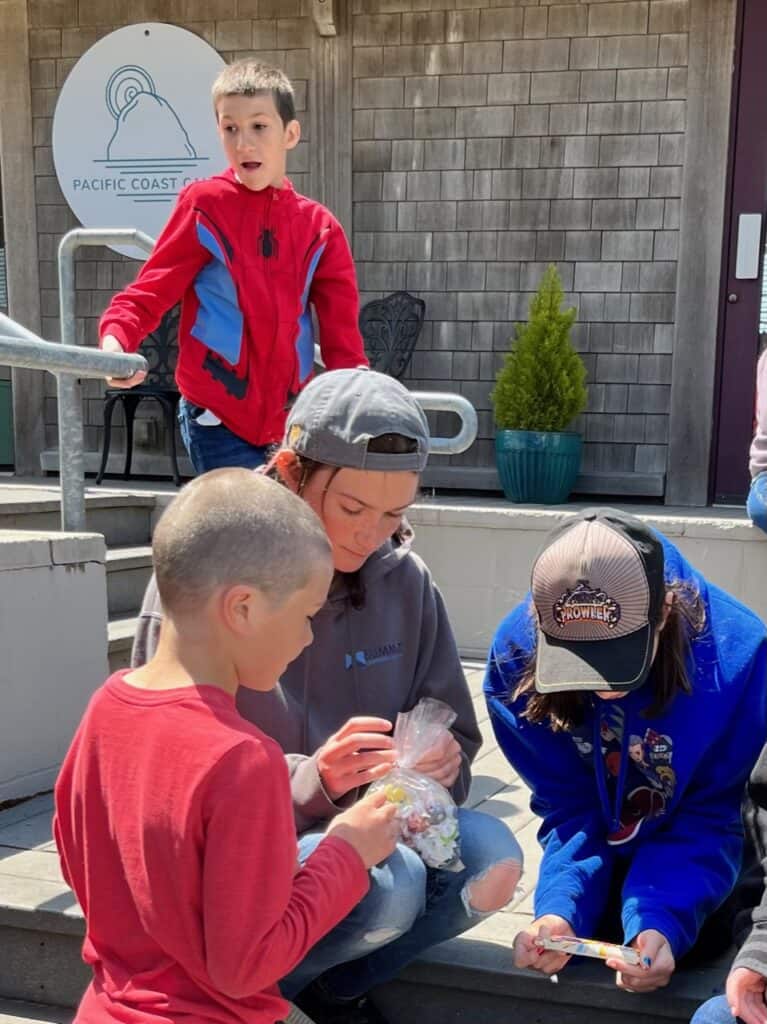 Adventure 16: Explore Bob Straub State Park
You don't have to go far for outdoor adventure in this quiet corner of Oregon. Bob Straub State Park borders Pacific City. The park encompasses the Nestucca Sand Spit, allowing for beautiful beach walks, fishing, hiking, and horseback riding.
When you're done exploring the Pacific City beach, check out the beach at Bob Straub. Kids can spend hours exploring these tide pools, looking for crabs, sea stars, and other marine life. They can also climb sand dunes or build sandcastles.
The park has several hiking trails, including a one-mile trail that is open to horses as well. The Nestucca River borders one side of the State Park, and is a popular spot to fish for salmon, trout, and bottom fish. You can fish from the shore or rent a boat from a local charter company such as Haystack Fishing or Nestucca Adventures.
Adventure 17: Enjoy horseback riding on the beach
Just north of the Bob Straub SP beach is Green Acres Beach (privately owned and operated). Green Acres Beach & Trail Rides offers horseback riding on the beach and through the surrounding forest. The beach is open to the public for day use, but horseback riding is only available to guests of Green Acres Beach & Trail Rides.
Adventure 18: Get into Nature at the Nestucca Bay NWR
Nestucca Bay National Wildlife Refuge also borders Pacific City. The Refuge provides a haven for waterfowl, salmon, songbirds, and Oregon's threatened Silverspot butterfly. Nestucca Bay NWR is open year-round, but the best time to visit is during the spring and fall when the weather is mild and the birds are migrating.
The Nestucca Bay Wildlife Refuge is home to over 200 species of birds, including bald eagles, ospreys, and herons. You can spot birds from the trails or from the observation deck near the front entrance. Our kids enjoyed looking at the bird identification guides and signs to figure out what birds they were seeing.
We recommend driving in past the observation deck to take a hike if you have time. There are two easy hiking trails at the refuge, the Pacific View Trail and the Two Rivers Nature Trail. The Pacific View Trail is a 0.6-mile paved trail with great views of the ocean and the bay.
The Two Rivers Nature Trail is a 2.2-mile loop trail that takes you through forests, meadows, and along a river. We only had time to take a short walk, but we were awed by the fields full of wildflowers in early July. We also got to meet some conservationists who are working to understand the endangered Oregon Silverspot butterfly.
Hunting, fishing, birding, clamming, hiking, photography, and wildlife watching are a few of the outdoor activities offered at Nestucca Bay NWR. The refuge has several fishing spots where you can fish for salmon, trout, and other fish. You can fish from the shore or rent a boat to fish in the bay.
Adventure 19: Ride on the Wild Side at Sand Lake
Sand Lake Recreation Area is another great option in the Pacific City area. The park includes acres of coastal sand dunes and the Sand Lake Estuary. OHV riding and camping is permitted.
Other activities include fishing, swimming, crabbing, and kayaking. Sand Lake RA is located 10 miles north of Pacific City on the stretch of coast between Cape Kiwanda and Cape Lookout along the Three Capes Scenic Route.
Adventure 20: Join the Party at a Local Event
Small town warmth is one of the great charms of the Oregon Coast. Pacific City has little more than a thousand residents but offers a surprising array of events. Here are four of the best:
For animal lovers
Music and migration meet at the Birding and Blues Festival. The weekend festival includes guided bird walks, special speakers, and blues music.
Yappy Days has been one of the city's most colorful events. The one-day festival celebrates the simple fact that dogs and the beach belong together. The city hosts the festival to raise funds for the Tillamook Animal Shelter.
Events range from face painting and parades to grooming and adoptions. This would be an ideal event to catch while visiting Pacific City, Oregon with kids!
Ocean fun
Dory Days is a summer festival that has been running for sixty years. The July festival celebrates local fishing culture with boat displays, including a kid's dune climb and a fire fighter dune climb.
The Cape Kiwanda Longboard Classic and Brewfest is much more than the name implies. The surf competition also features skilled artisans and handcrafted surfboards. The festival include silent auctions, live music, and Pelican beer.
Adventure 21: Tillamook's dairy delights
Pacific City is located on a fantastic stretch of the Oregon Coast. The Tillamook Coast offers so much to families in the way of interest, fun, and convenience. Tillamook is a fun town within easy driving distance of Pacific City.
The Tillamook Creamery has become nationally renowned for its cheese and ice cream. Our kids love to visit the Creamery whenever we're in Tillamook, and we never tire of the self-guided tour of the factory. Try the Tillamook Mudslide ice cream, or the PepperJack cheese!
Adventure 22: Blue Heron
This fun place has a little bit of everything! A huge gift shop, a separate candy shoppe, a picnic area, petting zoo, double decker bus and lots of fun photo ops… If you need a little change of pace from your beach vacation, stop by the Blue Heron!
Adventure 23: Aviation history at the giant blimp hangar
Tillamook also boasts one of the most unique aviation museums in the world. You can't miss the hangar as you drive past on Highway 101! We spent several hours at the Tillamook Air Museum exploring the huge collection of aircraft, historic vehicles, and fascinating exhibits.
Adventure 24: Three Capes Scenic Loop
The Three Capes Scenic Route is a beautiful drive along the Oregon Coast that takes you past three stunning capes: Cape Meares, Cape Lookout, and Cape Kiwanda.
The iconic Cape Meares lighthouse is a great place to stop and take in the views of the surrounding area. Besides the lighthouse, our kids always want to see the Octopus Tree, a large spruce tree that has grown into the shape of an octopus. Be sure to also check out Cape Meares National Wildlife Refuge, one of the best wildlife refuges on the Oregon Coast.
Cape Lookout State Park is another amazing spot. This park has stunning views of the Pacific Ocean and Netarts Bay. There are several hiking trails in the park, including the Cape Lookout Trail, which is a great option for families with young children.
Adventure 25: Nearby Rockaway Beach
Rockaway Beach is a charming beach town with wonderful sandy beaches and great winds for kite flying. This town has real character! One of our favorite stops was the Troxel's Gem Shop and the Rock Garden / mini golf right next door.
Be sure to stop by Pronto Pup, the home of the original corn dog. Our kids loved riding the mechanical corn dog!
Adventure 26: Oregon Coast Scenic Railroad
If you've got a train-loving kid, it's hard to beat a trip on the historic Oregon Coast Scenic Railroad! The Oregon Coast Scenic Railroad (OCSR) starts in Garibaldi, Oregon and operates a 46-mile line between Garibaldi and Rockaway Beach, with additional special trips to Wheeler, Nehalem River, and into the Salmonberry River canyon.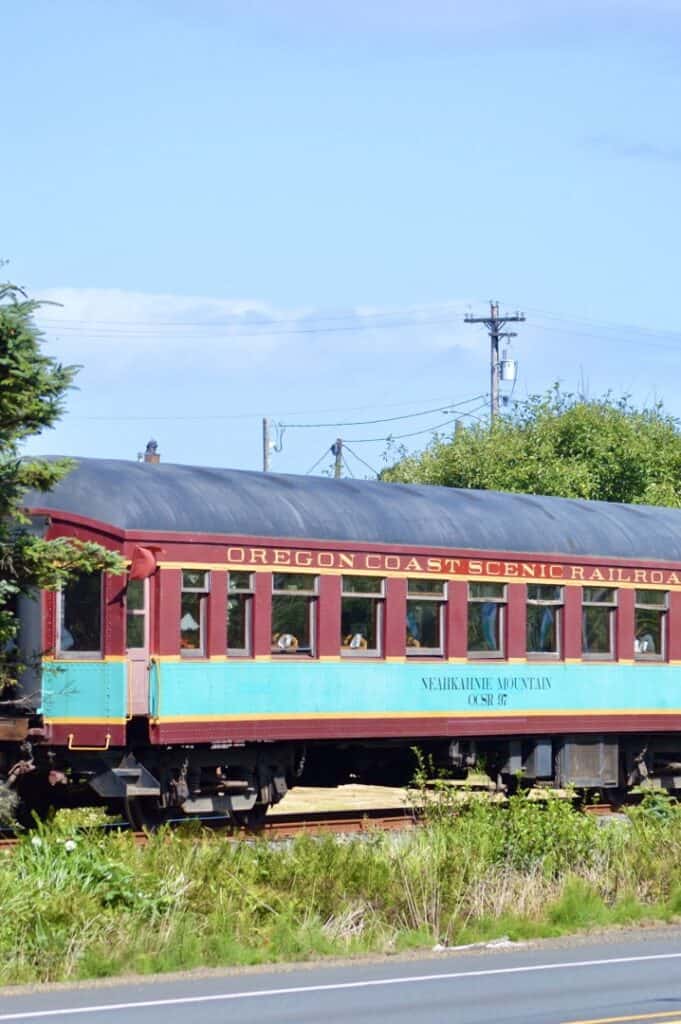 Check the website for special ride options, such as the holiday Candy Cane Express and fall foliage trips.
Adventure 27: Neskowin Ghost Forest
If you've never heard of a Ghost Forest, you're in for a treat! The Neskowin Ghost Forest is a remnant of an ancient Sitka spruce forest that was destroyed by an earthquake or tsunami in the 1700s. The stumps of the trees were buried under sand for centuries, until they were unearthed by storms in 1997-98.
Plan ahead of time for your visit by checking the tide tables and weather. We arrived at a negative low tide (lowest of the day) and we still had to wade through a creek in order to access the stumps. It was well worth it though: the tide pools on the bigger stumps and the foggy day made the experience eerie and otherworldly.
Planning Out Your Adventure in Pacific City, Oregon with kids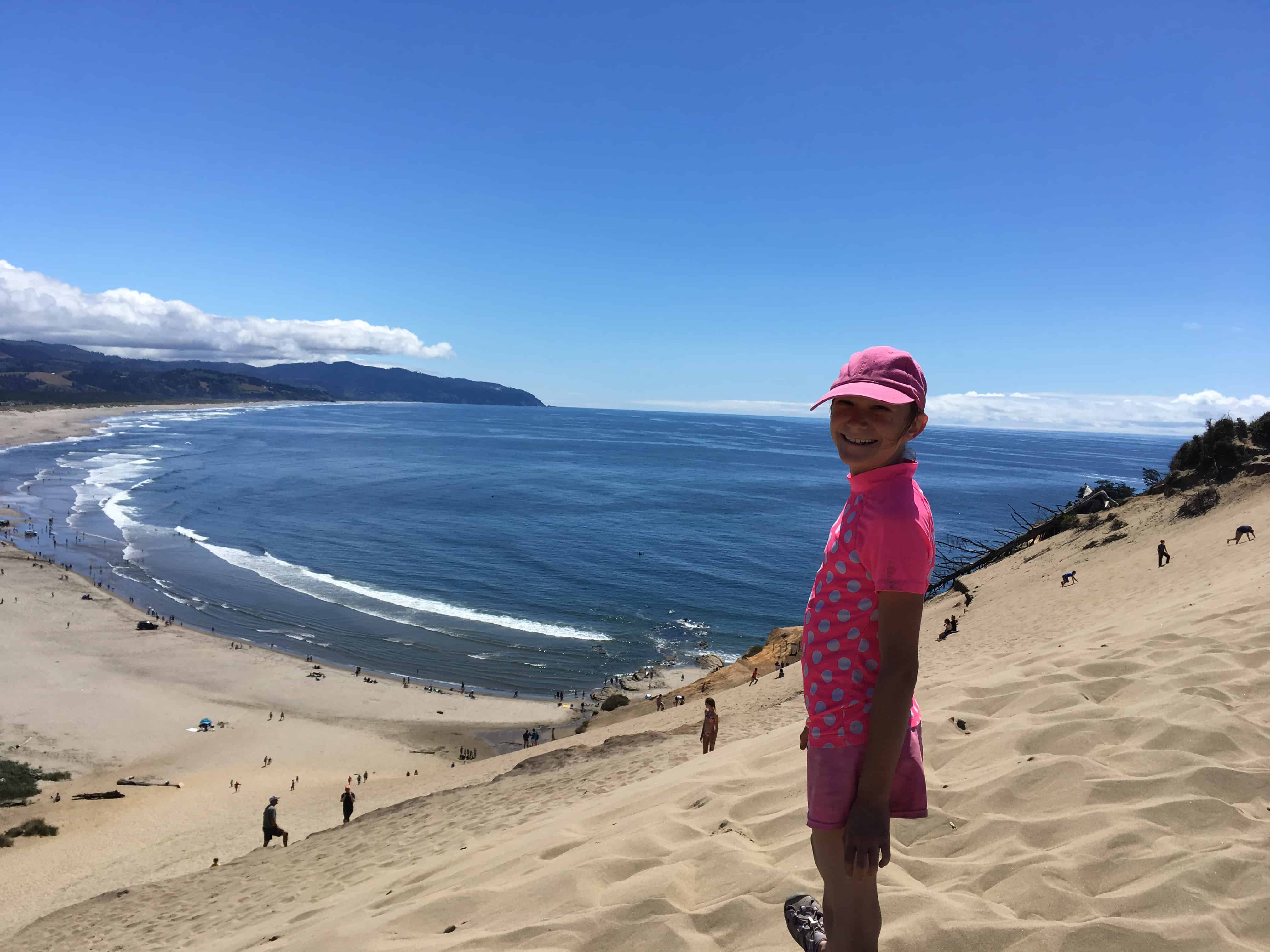 Parking and Bathrooms
There is a small parking lot adjacent to the Pacific City beach that charges a $10 day-use fee. It fills up quickly, so plan to get there early if you want to find a space. There are free public portable toilets at the parking lot as well.
Parking is prohibited on most nearby residential street for non-residents.
Family Accommodations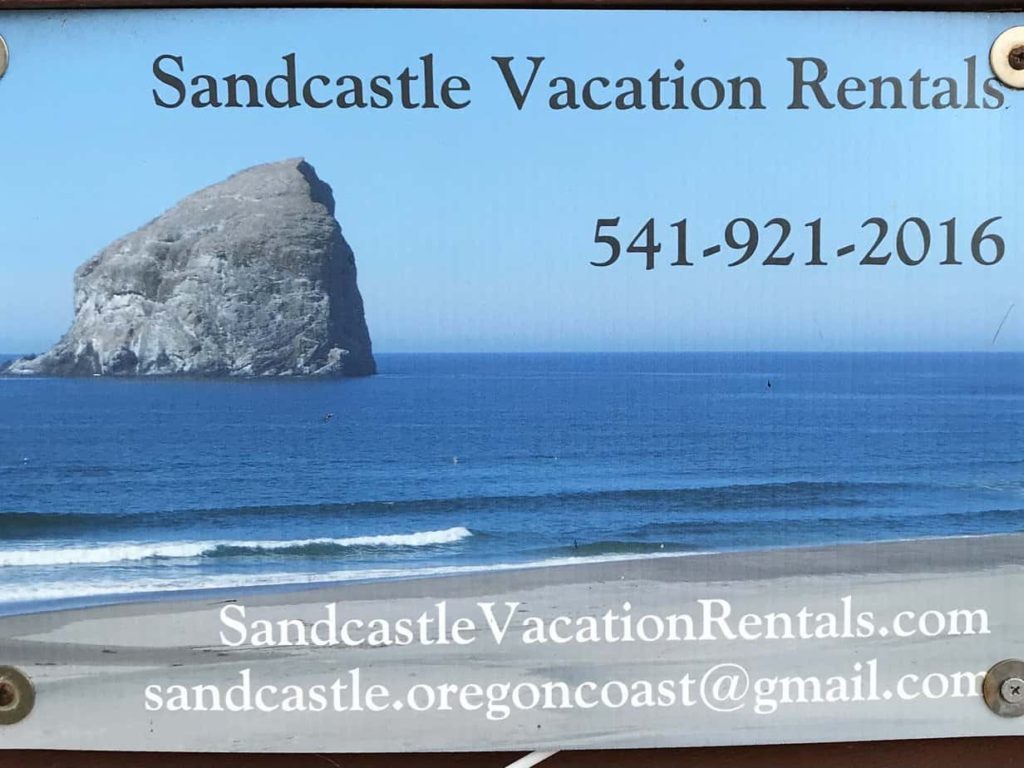 Pacific City is a popular destination for Oregonians, and there are numerous houses available for rent within a mile of the Cape Kiwanda State Natural area. Jennifer has stayed in two different rental houses, and both were well-maintained and comfortable.
The easy walking distance from the beach, shops, restaurants and grocery store made staying in a rental house an enjoyable getaway. Check out AirBnB, VRBO, and other similar home rental sites for some great options.
If you have an RV, or are looking for camping sites, there is a fantastic facility right across the street from the Cape Kiwanda State Natural Area. The Cape Kiwanda RV Resort and marketplace offers tent camping, rustic cabins, RV spots, and has any other needed facilities. Plus it backs onto a path through the woods, so there's lots of places for families with kids to let the children run around.
Couples Getaway Lodging
For those looking for a luxurious getaway in Pacific City, the Headlands Coastal Lodge and Spa is your spot! Set on a hill above the Cape Kiwanda Natural area, you will enjoy incredible views of the Oregon coastline.
The in-house restaurant, Meridian, has won several traveler's awards and will give you the opportunity to savor some of Oregon's incredible foods and wines. Enjoy quiet rest and rejuvenation in the Headland's spa too.
The Inn at Cape Kiwanda is a beautiful hotel directly across the street from Cape Kiwanda. Every room has an ocean view, and the Inn is a more affordable, but still comfortable, option for staying in Pacific City. For sheer convenience and easy access to everything, you can't beat the Inn.
Seasonal Considerations
The Oregon Coast can be downright frigid in the winter! If you are visiting at that time, be sure to pack gloves, hat, heavy jacket and whatever else you need to stay warm and dry.
Rain is a possibility year-round, although in the summer and early fall it is least likely. The best time of year to visit the Oregon Coast is typically from June through October, which is also the busiest tourist season.
Even so, Pacific City is rarely as crowded as other, better-known coastal cities.
We hope you have a blast at our favorite beach! Be sure to check out our post about the best beaches in Northern Oregon for other great nearby spots. We also have a family beach packing list to help with your visit. Happy Travels!
Frequently Asked Questions (FAQs)
Is Pacific City Oregon worth visiting?
Absolutely! Whether you're looking for a beach day, surfing, people-watching, amazing natural wonders and wildlife, or delicious food and drink, Pacific City has it all! It's a local Oregon favorite.
What is the best beach in Oregon for kids?
Depends on who you're asking, but Pacific City Beach is generally right near the top of the list. With incredible tide pools, a huge sand dune to climb, boats and surfers and seals to watch, and easy access to basic amenities like food and shops, Pacific City Oregon is a popular spot for family beach days and beach vacations.
Other kid-friendly Oregon beaches to check out are Seaside Beach, Rockaway Beach, and Cannon Beach.
How big is Pacific City?
Bigger than it looks at first glance, since it's arranged around the Nestucca Bay and Nestucca River. It's just under 4 square miles (Wikipedia).
Where is Pacific City Beach?
It's directly next to the Pelican Brewery in Pacific City and across the street from the Inn at Cape Kiwanda.
© Copyright 2021 Brian A. Warren and Jennifer D. Warren. Updated and expanded August 11, 2023.