Looking for a great pumpkin patch in Salem Oregon or nearby? We gotcha covered!
Updated with current farms info: September 29, 2023. Originally published July 21, 2022.
This post contains affiliate links. As an Amazon Associate I earn from qualifying purchases made from the links on this site, at no extra cost to you. Thanks for supporting our family business!
Finding the perfect pumpkin is one of those harvest season traditions that our whole family looks forward to each year.
Table of Contents
Note: if you need some new ideas for fun fall activities to do with teens, we've made a free printable list of 30 ideas!
I also love to buy different varieties of pumpkins and squash to set out around the house for autumn decor. Halloween season wouldn't be the same without some gorgeous orange pumpkins!
Many local farms in the Pacific Northwest host some sort of annual pumpkin patch or harvest festival. If you're new to the Willamette Valley, you'll soon discover that everyone has their favorite pumpkin patch to visit for fresh produce, apple cider donuts, and pumpkin pies.
Here's our roundup of the best pumpkin patches in or near Salem, Oregon.
We update this post with current information regularly throughout the 2023 season.
Pumpkin Patches in Salem, Oregon
EZ Orchards (Salem) – 2023 INFO
5504 Hazelgreen Rd NE, Salem, OR 97305
EZ Orchards is a historic farm located just outside Salem. The farm market is open year-round and sells all kinds of fresh produce, as well as various gourmet foods and fresh donuts. The donut flavors vary by day of the week, so be sure to check the website for the current selection.
The raspberry donuts we got were so fresh, they were still warm!
There's a picnic area and a play area outside the market too. This creates a perfect setup for customers to enjoy their ice cream or strawberry shortcake (early summer).
EZ Orchards grows several apple varieties and produces hard apple cider in the French style, as well as an apple dessert wine. This is a wonderful place to visit any time of the year with the whole family! We added it to our favorites on the GoWhee app, too.
The HarvestFest at E.Z. Orchards is family-friendly and focused on education. Their goal is to be a resource for the local community, and many school groups enjoy a farm tour in the fall.
E. Z. Orchards HarvestFest (2023 information) September 30-October 30
Admission: $4 per person weekday AM (no hayrides); $6 per person weekday PM (hayrides included); $10 per person on Saturdays, Sundays and Fridays 10/8 and 10/22 (ages 2 and under FREE)
Activities: Pumpkin Patch, Corn Maze, Hayrides, Petting Zoo, Face Painting, other outdoor games, playground, some live music on weekends.
Pumpkin pricing: 45 cents/ lb. up to 100 lbs., 41 cents/lb. over 100 lbs.
Open 7 days a week in October, Mon-Fri: 9 am-6 pm, Sat: 10 am- 5 pm, Sun: 11 am- 5pm
NO PETS (except service animals)
https://www.ezorchards.com/harvest-festival
Fordyce Farms (Salem) – 2023 INFO
7023 Sunnyview Rd NE, Salem, OR 97305
Fordyce Farms is a U-Pick farm that is particularly known for its berries. The farm store also sells locally handcrafted goods and baked goods.
There's a good-sized outdoor play structure, as well as some tables and chairs available outside for picnics.
Admission: Free
Weekday Activities: U-pick pumpkin patch and apples, playground, Hay Fort, Indoor Hay Maze, Coloring station, Corn Maze (ages 5 & under free, 6-13 $4, 14+ $5.25), Farm Store with Fall Decor, Bakery, Milkshakes, Ice Cream, Apple Cider Donuts, Produce, & Gift Shop
Weekend activities (starting first weekend in October): all weekday activities, Corn Cannon ($2 for 3 shots), Grill Station (starting at lunchtime), Travelin' taphouse truck (some weekends), Hay Rides (Sat/Sun), Starting October 13, Fri/Sat 7-9:30pm Haunted Corn Maze
Open Monday-Saturday 9 am-6pm, Sundays (October ONLY) 12-6 pm
Check Facebook page for updates and information: https://www.facebook.com/fordycefarminc/
Vince Woods Farm (Salem) – 2023 INFO
6435 62nd Ave NE, Salem, OR 97305
Vince Woods Farm offers simple seasonal activities like pumpkin picking and a corn maze in a family-friendly setting. You can buy your farm fresh fall decor here, such as wheat bundles, hay bales, and lots of gourds and pumpkins.
Vince Woods Farms is a great place to enjoy the fun of choosing a pumpkin from the "pumpkin forest," without a ton of extras. The corn maze is simple but fun, especially for younger kids, and the pumpkin prices are some of the lowest around.
Admission: Free
Activities: U-pick, corn maze ($1.00 for ages 3 and up), shop
Open Friday September 22- Monday October 31 from 10 am- 6 pm
Check the Facebook Page for the most up-to-date information.
Pumpkin Patches within a short drive of Salem, Oregon
Fir Point Farms (Aurora) – 2023 INFO
14601 Arndt Rd, Aurora, OR 97002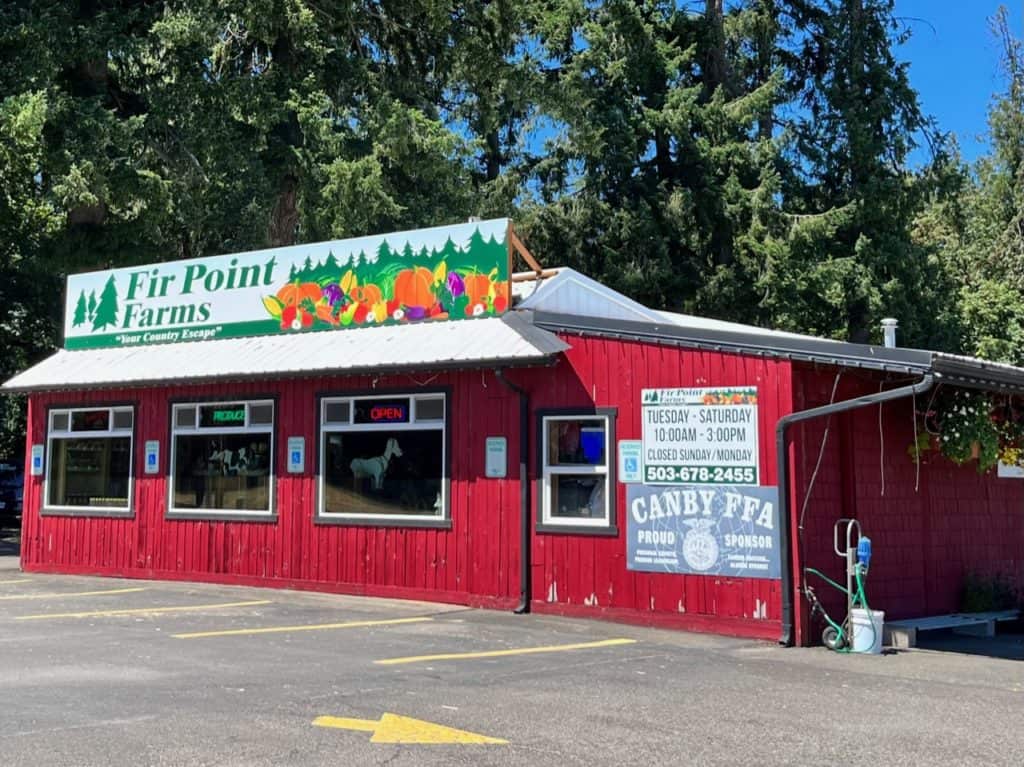 Fir Point Farms has so much to offer, it's worth stopping by even when it's not pumpkin season! Their bakery and cafe serves lunch, and there's plenty of indoor and outdoor seating.
Pets are welcome as long as they remain outside the food service area. Kids will love visiting the farm animals, too.
The Country Market at Fir Point Farms carries a wide variety of local gourmet foods. However its most unique feature is the row of presidential pumpkins along the top of the wall!
Admission: Free
Activities (some free, others require a fee): U-pick pumpkin patch, corn maze, hay wagon ride, mini pumpkin painting, "polka dot express cow train" (barrel train), bounce houses, paintball shooting gallery, Noah's Ark, Nature trail, Nut House, CornHole Toss, Petting zoo, Beer Garden.
Wristband for activities available Saturdays and Sundays – $28
Open September 30-October 28th (Closed Mondays and Tuesdays, OPEN: Wednesdays-Sundays 10 am-5 pm).
https://www.firpointfarms.com/harvest-festival-1
Bauman Farms (Gervais) – 2023 INFO
12989 Howell Prairie Rd NE, Gervais, OR 97026
We heard about Bauman's Farm when our girls went there for a fall youth group event. Even though it was pouring rain the day they went, this popular destination was jam-packed with people. Our girls still had a fantastic day, despite the mud and crowds.
Bauman Farms has a huge selection of plants and garden supplies, as well as home decor and gift items.
There's a bakery, coffee bar, fresh apple cider bar, fresh produce market, and lunch items for sale year-round. And that's only inside the buildings!
Outside there are several seating areas, a barn and petting zoo, a giant play area, and a tire pyramid. These are all open during the rest of the year, not just in the fall.
Please note that if you want to enjoy the playground activities with your kids, a minimum $20 purchase at the farm store is required.
DON'T MISS THIS! The last 2 years, Bauman Farms has hosted a GIANT PUMPKIN DROP at the opening of their Harvest Festival. It's epic, and we hope to see it firsthand this year! The drop for 2023 will be on October 7 at 1 pm.
The Harvest Festival includes even more activities (listed below). There are also several themed weekends for 2023, including a Sunflower Festival, Family Rewards Weekend, and the Bauman's Cider Festival.
You can spend a full, fun day enjoying Bauman Farms.
Dates: Sept 23-Oct 29, 2023.
Admission (2021): $10 for standard activities, $25 for additional weekend activities
Activities (not all available on weekdays): Animal Petting zoo, Apple cannon, Barnyard bridge, Bauman Cidery, Bug Train (barrel train), Corn Maze, Dark Maze, Cider demo, giant slides, Gopher holes, Hayride, Jumping Pillows (bounce houses), Kids Zone, Little Tykes Zone, Nut House, Obstacle Course, Playground, Rope Maze, Tire Pyramid, Pumpkin Hill, Cider, donuts, other baked goods.
Wristband for activities available
Open Tuesday-Sunday (closed Mondays). Not all activities available on weekdays
Detering Orchards (Harrisburg) – 2023 INFO
30946 Wyatt Drive, Harrisburg, OR 97446
Detering Orchards is another great destination even when it's not pumpkin season. U-pick products, as well as pre-picked options, make it a good spot to get your in-season fruits and veggies, and you can enjoy a cool brew in the Saloon after a hot day of picking produce.
Year-round activities include a fenced playground, petting zoo, a mechanical bull, the Cider Barn, Treasure Mining, and a cow barrel train. There's plenty to keep kids of all ages busy at Detering Orchards!
Admission: free
Activities (fee required for some): U-Pick, kids playground, mechanical bull rides, animal corral, the Cider Barn, treasure mining, Cow Barrel train rides, wagon rides, apple blaster, corn maze, hay maze.
Open 7 days a week June-December
https://www.deteringorchards.com/activities/other-activities/
Bose Family Farm (Albany) -2023 INFO
357 Cyrus Road NE, Albany OR
Bose Family Farm's claim to fame is the huge corn maze – the aerial shot from 2021 was a wolf's head! Here was the design for the 6-acre corn maze in 2022.
They have previously offered an entry for a prize drawing if you find all 6 of the scarecrows – the prize was half a hog! My teens would love the maze, but little kids may find it a bit overwhelming.
There are various harvest decor items for sale, as well as their U-Pick pumpkin patch with over 35 varieties of pumpkins for sale. Last year's pumpkin pricing is from 50 cents to $20.
Dates: September 29-October 29, 2023
Admission: $5 per person, kids 5 and under FREE
Activities (fee required for some): U-pick, corn maze, pumpkin patch, tractor hay rides ($2 per person, ages 5 and under FREE). NOTE: tractor rides are available at limited times.
Open Thursday & Friday from 12-6 pm; Saturday & Sunday 9 am-6 pm
https://bose-family-farm.business.site
French Prairie Gardens (St. Paul) – 2023 INFO
17673 French Prairie Road NE, St. Paul, OR 97137
French Prairie Gardens is a huge family operation with activities and events going on throughout the growing season. The Pohlschnieder family works together in various capacities to run the farm according to their differing interests.
The site includes a bakery, garden center, farm market, and facilities for the many agri-tourism events they host. We highly recommend the Cookie Monster milkshake if you have a sweet tooth!
French Prairie Gardens also has a sunflower festival in September before the Pumpkin Patch event in October.
The sunflower festival is followed by the famous Pigtucky Derby pig races each weekend in October. It's hard to think of an activity that's missing from this incredible annual harvest festival!
Admission: Tuesday & Wednesday = $15.99 (ages 2+); Thursday-Sunday = $25.99-$29.99 (ages 2+)
Activities: varies by date – check website for special events. Includes: pumpkin patch, Pigtucky Derby pig races, corn maze, sunflower maze, rope maze, obstacle course, tube slide, farm ninja course, pig barrel train ride, tire swing, hand pump duck races, and more.
Open Tuesday-Sunday October 7-29, 2023. Hours vary by day.
NO PETS (except service animals)
https://fpgardens.com/pumpkin-patch/
Lee Farms (Tualatin) – 2023 INFO
21975 SW 65th Ave, Tualatin, OR 97062
Lee Farms has a store and bakery that is open year-round with fresh baked goods and farm fresh produce.
This year they are also hosting a sunflower festival in August and September before their pumpkin patch opening. Pumpkins, hay bales, corn stalks, and other fall produce items will be available to decorate for autumn.
September 23- October 29th
General Admission (everyone over 1 year old): $15. Includes hay ride, corn maze, play area, animal viewing pens, access to farm grounds and parking
Activities (wristband available for $28 which includes general admission): Hay maze, Slide, Bounce pillow, jump pad, barrel wagon rides, tricycle rides
Open hours Tuesday-Saturday, 10 am-6 pm, Sunday 9 am-5 pm. Closed Mondays.
NO PETS (except service animals)
https://www.leefarmsoregon.com
Heiser Farms Pumpkin Patch (Dayton) – 2023 INFO
Heiser Farms is an affordable option for a pumpkin patch, particularly since they offer family group admission. With lots of activities available for all ages, it looks like a great destination for your fall fun!
Open September 30th-October 29th on Saturdays and Sundays
Hours: 10 am-5 pm
Attractions: hay maze and corn maze (additional fee), petting zoo, pedal tractors, Hay pyramid and slide, Farmerville, pumpkins for sale, Grand Island Railroad, Water ducky races, inflated giant pumpkin, fire engine rides, petting Zoo, pumpkin cannon and more
Admission: $7 per person over age 2. Family/ Group pricing available for 7 people or more
Attraction wristband: $20
https://www.heiserfarms.com/pricing
Green Gable Pumpkin Patch (Philomath) – 2023 INFO
24689 Grange Hall Road, Philomath, OR 97370
Green Gable Pumpkin Patch is ideal for families looking for a non-scary, autumn feel with no Halloween vibes. They grow over 200 varieties of pumpkins, squash and gourds so there's plenty to choose from. Green Gable also has a corn maze and a Cinderella carriage for photo ops.
Admission: FREE. Only pay for pumpkins, food or corn maze admission
Dates: open September 22 – October 31
Attractions: U-pick pumpkin patch, corn maze with scavenger hunt, Cinderella carriage, gift shop
https://www.greengable.com/pumpkin-patch
Looking for another pumpkin patch in Salem Oregon?
Here's three more farms hosting pumpkin patches near Salem in 2023.
Thistledown Farm (Junction City) – 2023 info 
91455 River Road, Junction City, OR 97448
Thistledown Farm has a nice farm market stand, yummy apple cider donuts, and offers free wagon rides out to the pumpkin patch Fridays through Sundays starting October 6. Group wagon ride pricing available on weekdays (Mondays-Thursdays), reservations are required.
Admission: FREE
Activities: U-pick, wagon ride to the pumpkin patch (Friday, Saturday and Sunday only) bakery goods, cider.
Open 7 days a week
https://www.facebook.com/thistledownfarmOregon
Beal Pumpkin Patch (Dallas) – RETIRED as of June 2023
700 Oak Villa Road, Dallas, OR 97338
https://www.facebook.com/BealPumpkinPatch/
On The Edge Farm (Dallas) – NEW for 2023!
https://www.facebook.com/ontheedgefarm/
Yesteryear Pumpkin Patch and Christmas Trees (Wilsonville) – 2023 INFO
26801 SW Stafford Rd, Wilsonville, OR 97070
Admission: free
Activities: pumpkin patch, 8-acre corn maze (NEW FOR 2023), hay maze, hay tower, fall character appearances (such as Jack Skellington and the Sanderson sisters), food and beverage trailer serving popcorn and drinks, food trucks and more.
Opens September 7th- October 29th Thursdays & Sundays, 9:30 am – 7 pm; Fridays and Saturdays 9:30 am – 9 pm
https://www.yesteryeartreefarm.com
These farms may be having harvest festivals (based on previous year's information), but had limited information available at the time of publication. We'll update you as we hear more.
Davis Family Farm (Corvallis) – 2022 info
1480 NE Hwy 20 Corvallis, OR 97330
Admission: $5.50 for activities
Activities: U-Pick, Hayrides (3-5:30 pm only), corn maze, Hay pyramid, cider, donuts, pumpkins
Open 7 days a week through October, 9 am-6 pm (Facebook page only)
https://www.facebook.com/DavisFamilyFarms/
Greens Bridge Gardens (Jefferson) – 2021 info
3730 Jefferson Scio Road, Jefferson, OR 97352
Admission: free
Facebook page only
Activities: U-pick, corn maze, hay maze
Open: 7 days a week
https://www.facebook.com/greensbridgegardens
What to Know Before you Go to a Pumpkin Patch in Salem Oregon
Check the website
Always check the websites to confirm current open hours and upcoming events! These pumpkin patches are all working farms. Poor weather, or high demand, may cause the harvest events to end early.
Call ahead for specific items
Call ahead if you want a specific kind of produce, pumpkin, or item. The phone number listed on the website or Facebook page will give you the quickest answer to your farm question, and you might save yourself a trip by checking ahead.
Sometimes demand exceeds supply, especially towards the end of the season – some pumpkin patches closed a week early in 2021 because they sold out of pumpkins.
Dress for the weather
Wear clothes appropriate to the weather. You are visiting a farm, so if the weather has been wet, mud is guaranteed!
Crowd control
Weekends are going to be incredibly busy at the farms, and you will be in closer contact with people. If you have low immunity or if your kids have sensory issues, it may be best to visit on a weekday when things are quieter.
On the other hand, live music and many events may only be available on weekends, so decide which is more important to you before visiting.
Support Local Farms after Pumpkin Season
Many of these farms have additional agri-tourism events through December. It's not uncommon for a pumpkin patch to also have Christmas trees or wreaths available in November and December. Ask at the farm, and make a plan to come back for your Christmas tree or holiday-baked goods and local craftsman gifts!
And while you're thinking about Christmas activities, we highly recommend visiting the Silverton Christmas Market! It's a favorite holiday event in the Salem, Oregon area.
We'd love to hear from you if you have a favorite pumpkin patch in Salem Oregon! Tell us which one you recommend and why in the comments.
© Copyright Jennifer D. Warren 2022. Updated and expanded August 11, 2023.