Planning a family vacation to the beach or just a day trip? In this post I'll talk about what you need to include on your beach packing list for your family.
This post contains affiliate links. As an Amazon Associate I earn from qualifying purchases made from the links on this site, at no extra cost to you. Thanks for supporting our family business!
TL,DR: We have this FREE printable version of our family beach packing list available for our email subscribers!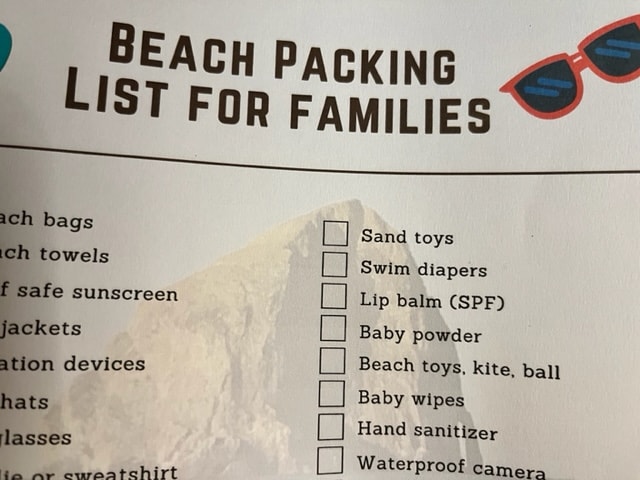 Both Brian and I grew up near the ocean. We've made trips to the beach as children ourselves, as teens and adults, and now with our own family. Depending on what kind of beach you're going to, the following items are must-haves for a beach trip.
Beach Essentials
Note: Shop the full list in our Amazon storefront!
1. Beach bag (or several)
For kids, a beach bag that wears like a backpack will probably work best. For parents or teens, a huge, sturdy tote that can be carried hands-free is ideal for lugging all the beach gear.
2. Beach towel
The bigger the better I say! I love to get the beach towels that are big enough to lay down on as a blanket and thick enough so that they actually keep me warm if the wind is blowing.
I recommend bringing one or two extra towels, in case one of the kids drops their in the water which they inevitably will!
We give each child a different color beach towel (or a different pattern) so that no one gets mad at someone accidentally using their towel.
3. Reef-safe sunscreen
I recently learned that some sunscreens damage the coral reefs. As someone who grew up enjoying snorkeling in the Caribbean reefs, I am all for using reef-safe sunscreen.
We usually have to get two kinds of sunscreen: one for my kids who have sensitive skin, and a different standard one for the rest of us.
Buy as much as you can in the summer if it goes on sale. You don't want to skimp on sunscreen!
Reapply often, and after toweling off. We end up using about 1-2 cans each day for our family.
4. Life jackets or flotation devices (eg water wings)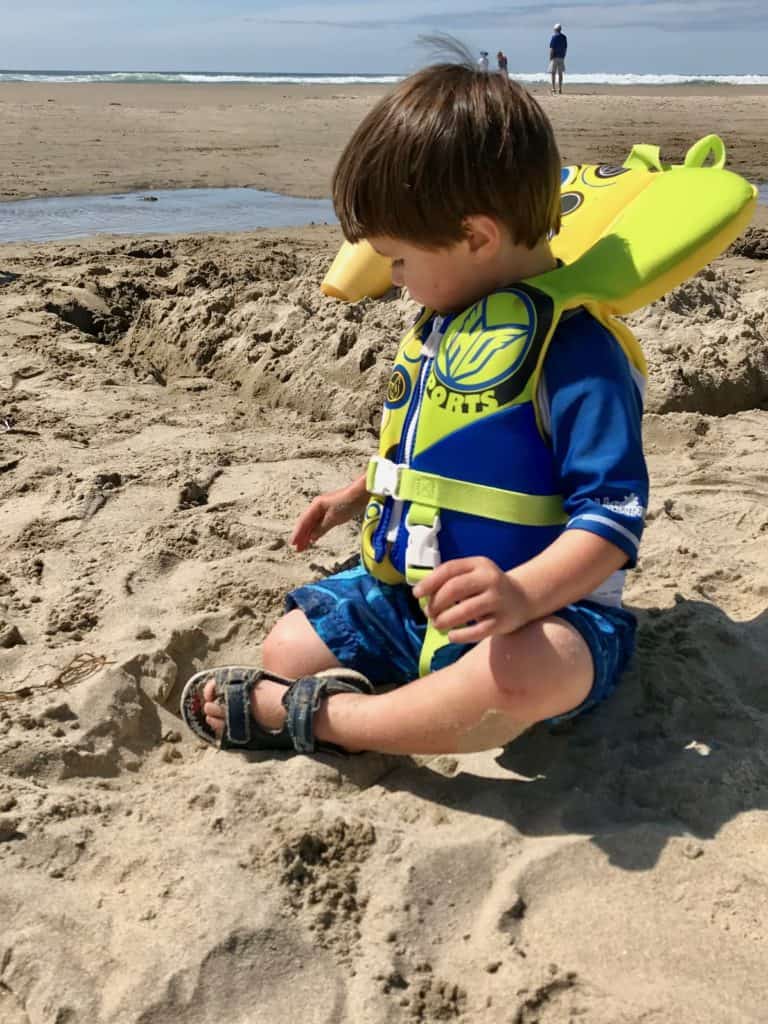 If you have kids who aren't confident swimmers, a life jacket is great for peace of mind. Bright colors make it easy to find your kids in the water if they happen to get swept out to sea by a sneaker wave.
Make sure you have the correct size for your child's weight.
Water wings are a great option for kids who are learning to swim and have some practice swimming. Remember: water wings are not lifesaving devices! Adult supervision is still required.
5. Sun hat
A wide brimmed hat means less sunscreen has to be applied. I love my Walleroo hat because it's crushable, and then returns to its original shape. It also has built-in UV protection.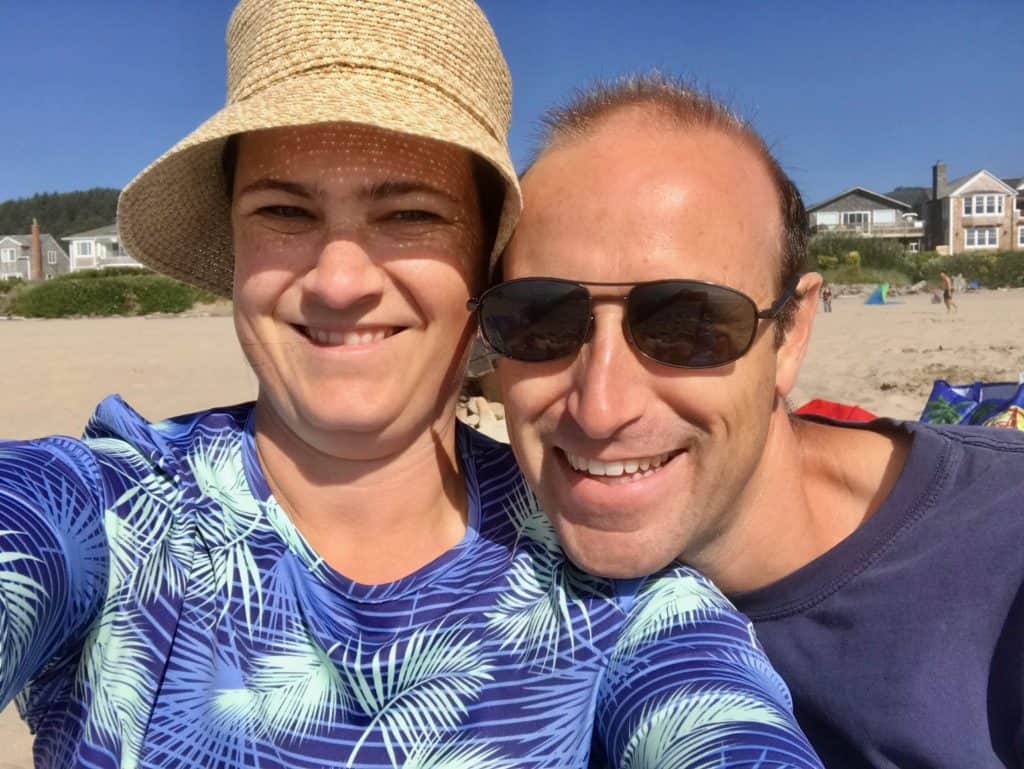 6. Sunglasses
I don't know how anyone stays out in the sun without sunglasses! I've been wearing them consistently since I was 13.
We keep at least one pair per person and a couple of spare pairs if possible. The local dollar store often has inexpensive pairs of sunglasses.
7. Hoodie / sweatshirt
Here in Oregon, the beaches are often cold even on sunny days.
We nearly always bring a hoodie or sweatshirt for everyone because it can easily be tossed over the swimsuit to keep you warm on the walk back to the car, or in case of sudden cloud cover.
8. Beach chairs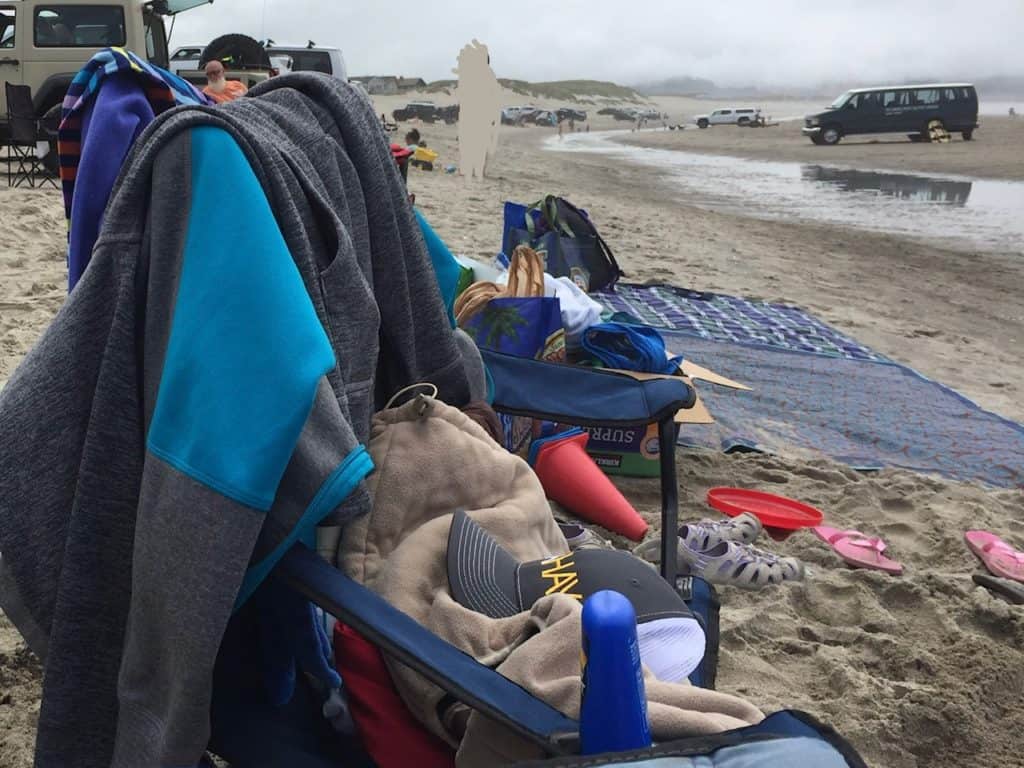 We like to use collapsible camp chairs for the beach because they usually come with a carry strap and they're not expensive. We try to bring one for each adult.
9. Bag (or purse) for personal items
I like to have a bag that zips closed completely to keep my cell phone, medications, wallet, keys, and other personal items in. That means less sand gets in my stuff.
10. Beach tent or beach umbrella
A pop-up tent or a big beach umbrella isn't required, but it sure can be nice for adults who may not spend as much time in the water. Also, if you have a baby or toddler who may need a nap at some point, a beach tent makes sense.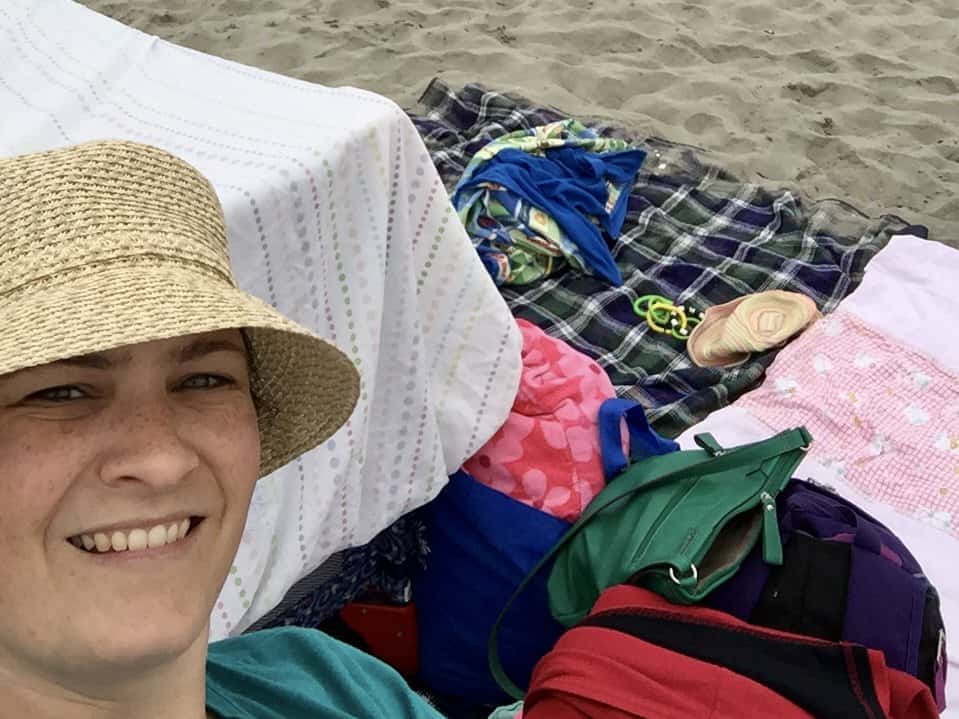 When we had babies, we frequently brought a pack and play crib right down to the beach. That way the baby was contained and had a safe place to nap that could be covered from the sun.
11. Plastic bags
Bring several small Ziploc bags for kids to bring home their beachcombing treasures. Two garbage bags doubled up make a great wet bag for clothes that need to stay away from dry items.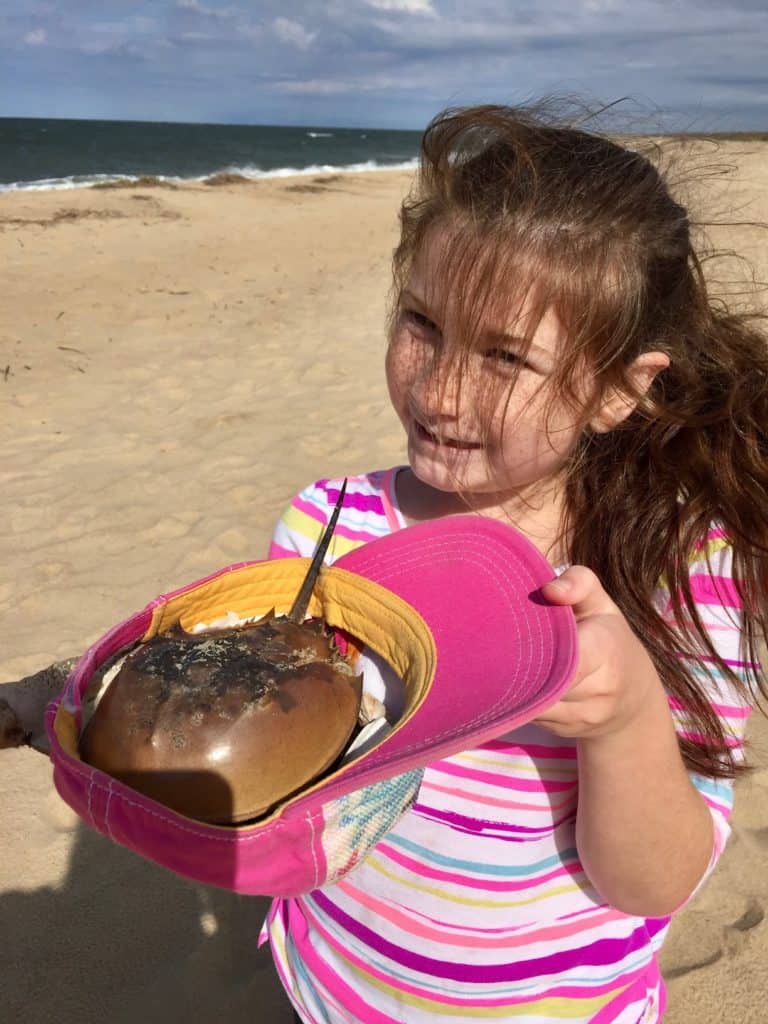 12. Water shoes or flip flops
I prefer flip-flops if I'm going to mostly be walking on a sandy beach. However, if there are tide pools or if I'm going to be spending time in the waves, water shoes make more sense.
If the parking area is a long distance from the edge of the water, sturdy sandals are easier to walk in, particularly on hot sand.
Whatever kind of sandals you choose, it's definitely a good idea to bring at least one extra pair of footwear for every person in case the first pair gets soaking wet or washes away (yes, it's happened!).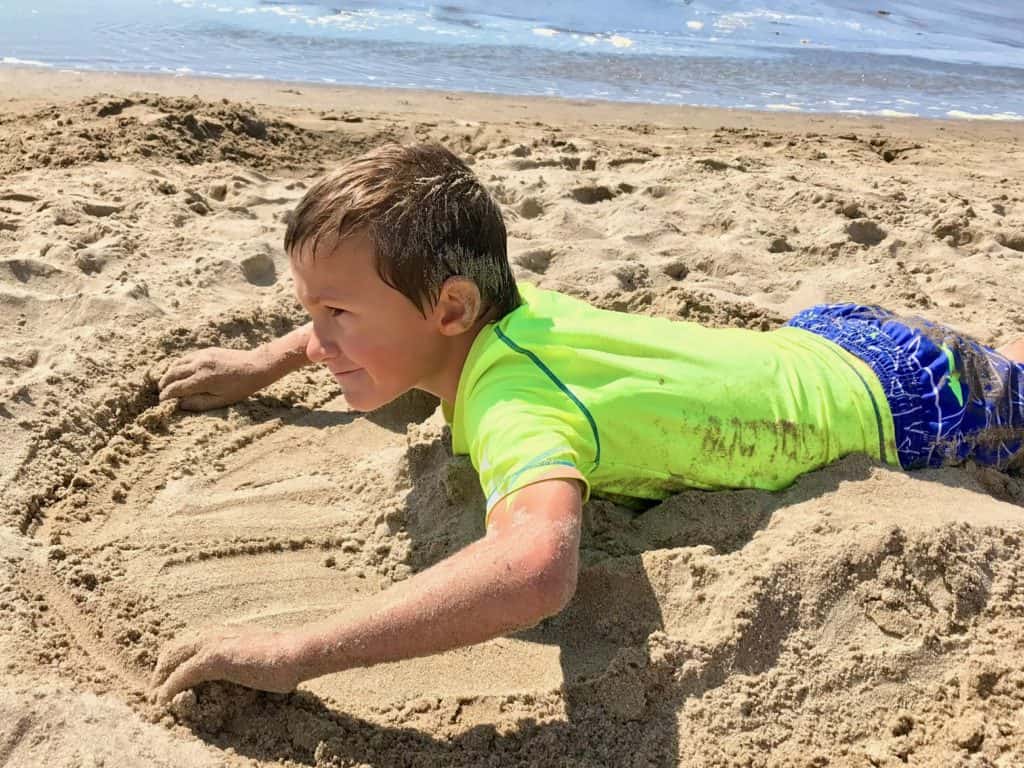 13. First aid kit
A jellyfish sting, bee sting, or small cut can really make a beach day trip miserable. I recommend packing Band-Aids, antibiotic ointment, a bee sting kit, instant ice packs, and some over-the-counter pain medication and allergy medication. That way, your day doesn't get cut short by an unexpected injury.
14. Water bottle
Something about being surrounded by water can make you extra thirsty. I recommend bringing at least one refillable water bottle for each family member.
Sometimes we use disposable water bottles that we freeze to keep the cooler food cold and then drink as they thaw throughout the day.
15. Credit cards and a small amount of cash
While credit cards are accepted nearly everywhere, a few places still require cash for parking. Having both on hand will ensure that you can park and also pick up what you need if you discover you've forgotten something essential.
16. Rash guards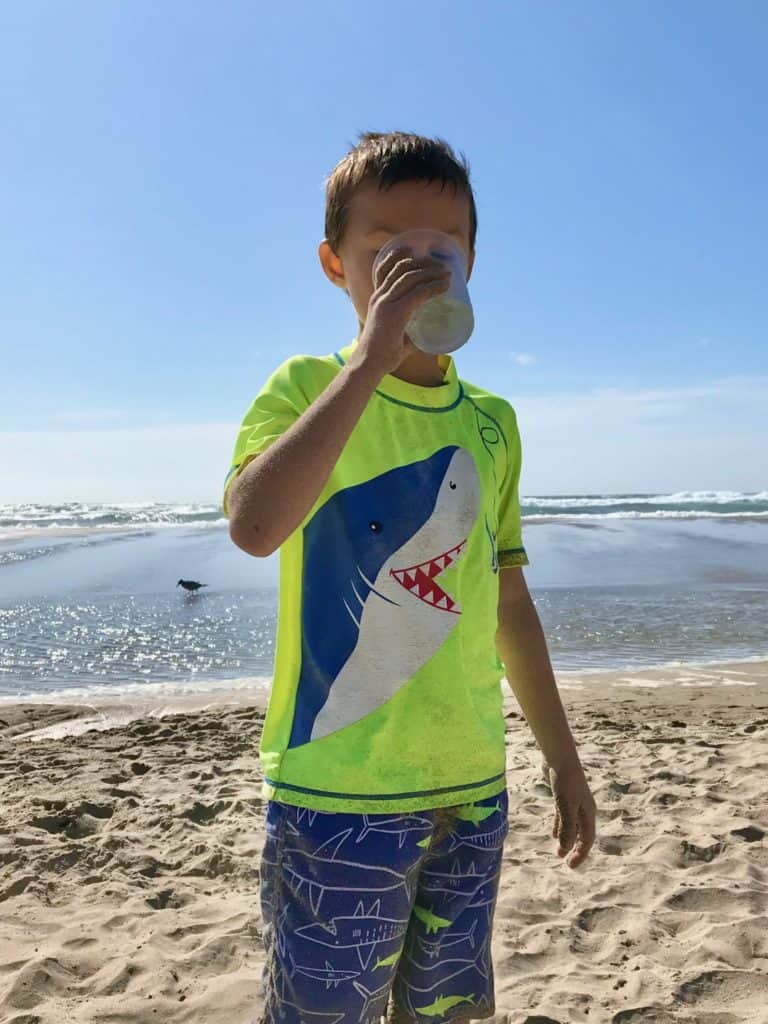 These are long-sleeved high-neckline shirts made with thin, UV-protective material. Since I despise wearing and putting on sunscreen I've started buying rash guards to wear whenever I am at the beach.
I usually try to buy them for our kids to since it means less sunscreen and some of my kids have sensitive skin. Rash guards are a great way to spend less of your beach day reapplying sunscreen!
17. Sand toys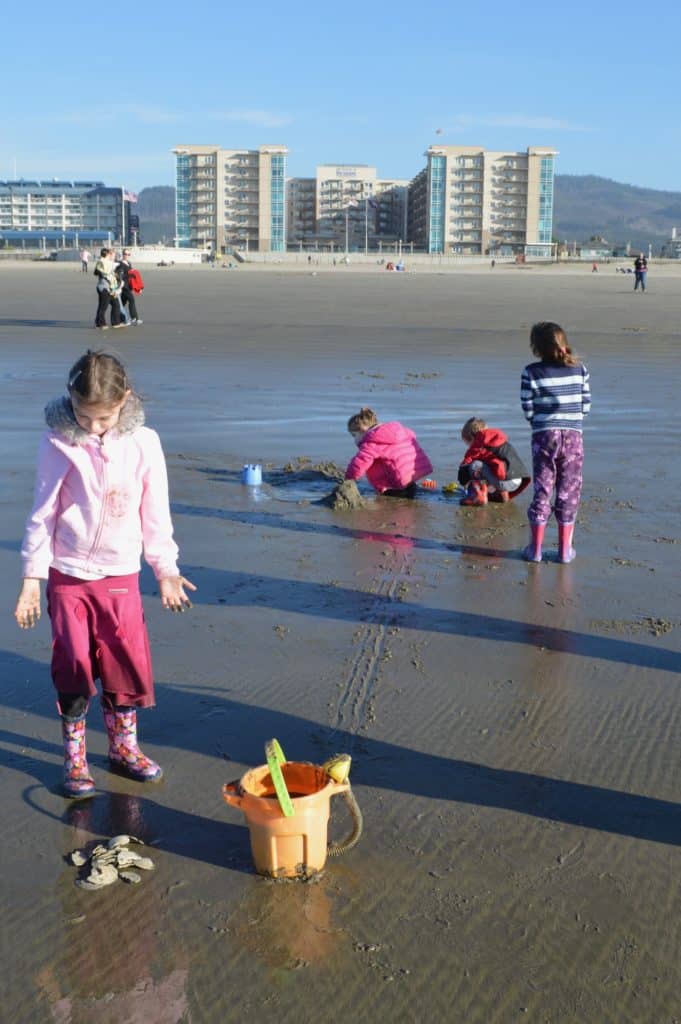 One of my favorite childhood memories when we were living in Jamaica was building massive and incredible sandcastles. We only had basic cups, spoons and knives from the kitchen, but today you can get awesome sandcastle-making toys.
Building a sandcastle is popular with kids from toddler to teen, so be sure to bring sand toys.
18. Swim diapers (for babies/ toddlers)
Bring double the amount that you usually would in case of blowouts or accidental destruction in the sand.
19. Lip balm
The constant breeze and sunshine at the beach makes lips dry out faster. If you can, get hold of a lip balm that contains UV protection as well.
20. Baby powder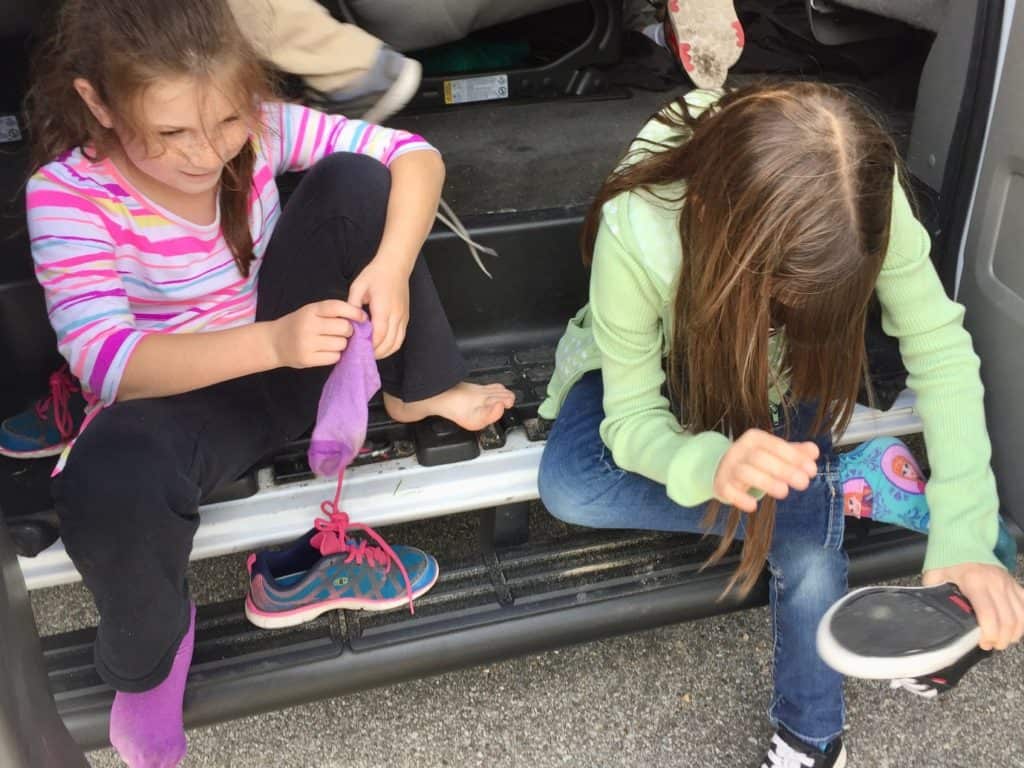 Baby powder is the easiest way to remove sand if you don't have a shower or rinse off station. We learned this from a friend of ours in North Carolina. You simply sprinkle baby powder on your sticky, sandy feet and then brush off the sand and baby powder together. It's like magic!
21. Beach toys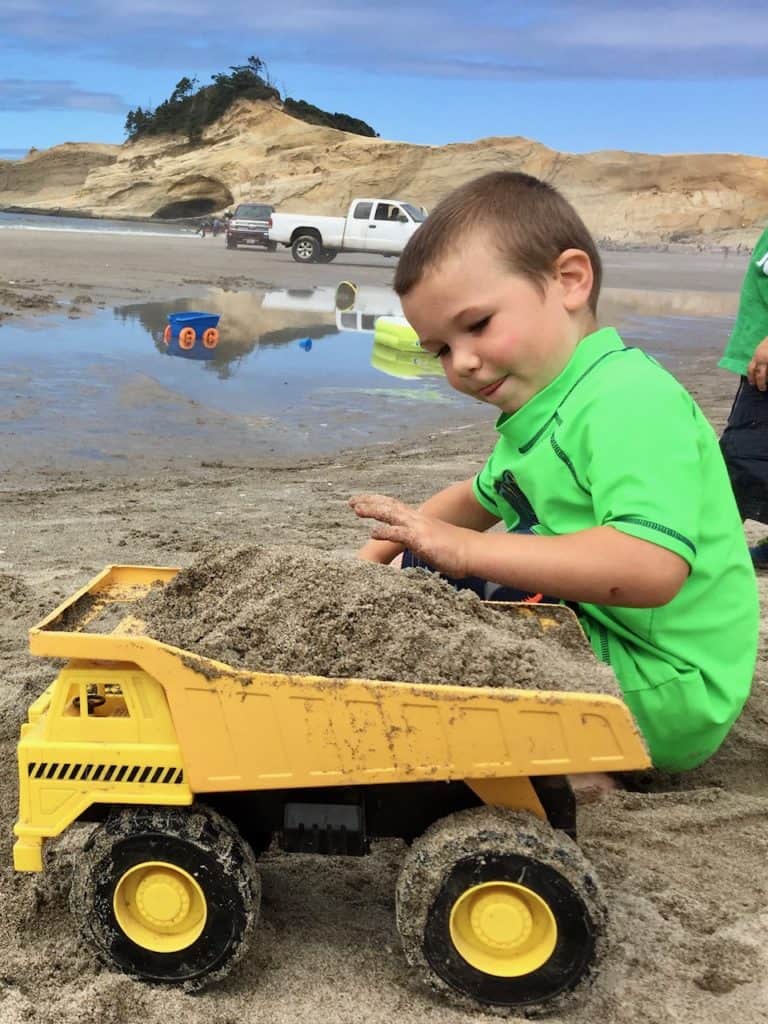 It's so much fun to play at the beach even with toys that aren't specifically for sandcastles. We've brought large plastic dump trucks, kites, frisbees, and a football to play with when we get tired of water and sand play.
22. Baby wipes and hand sanitizer
Kids love to explore at the beach and sometimes that means they get into something messy. Baby wipes will clean off the gunk, or the sticky mess from the beach ice cream stand.
Hand sanitizer is great for making sure that their hands are clean enough to eat with after using the public beach bathrooms (ew!).
23. Waterproof camera
A waterproof camera or waterproof case for your regular camera will allow you to get amazing water and action shots.
You could also get pretty great shots with your cell phone by bringing along a special cell phone pouch to keep the sand and water off.
24. Beach blanket
We keep waterproof picnic blankets in our car all the time, and they are especially handy at the beach. We like to get the blankets that have a carrying handle or strap.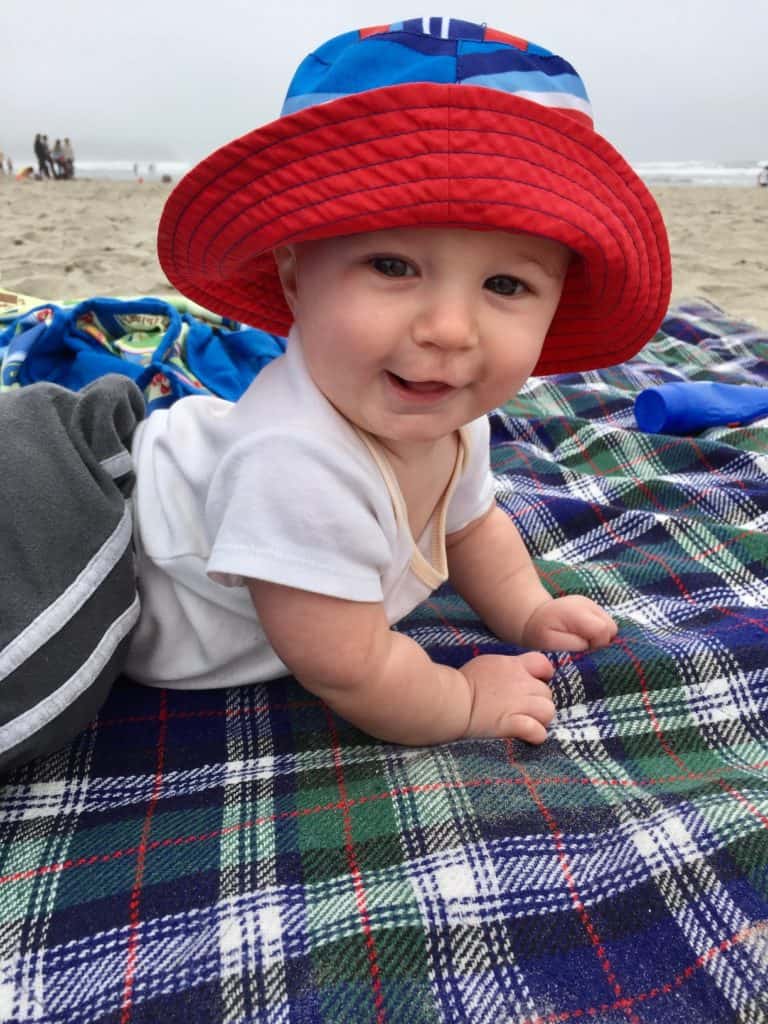 25. Boogie boards or pool noodles
I learned to body surf on small waves as a kid. Once kids get good at swimming and body surfing, they will have so much fun with boogie boards.
Pool noodles are another great idea, and there's so many ways they can be used. That is, if you can keep your kids from spending the whole day using them as pretend lightsabers…
26. Snorkel gear
I associate snorkel gear with a tropical beach vacation but there's no reason you can't use it at any standard beach. If you have kids or adults who love to snorkel, bring along the gear and see what you can see in the water!
27. A good book
And to be fair, I've never actually had the freedom to read a book on a beach since having kids. However, I have memories of my mom reading a book at the beach when we were older, so I'm confident that it's possible at some point. Here's a list of 21 books I love in case you need ideas.
28. Wet wipes (or a roll of toilet paper)
Having used public beach bathrooms for years and years, I can assure you that most will be out of toilet paper soap, or hand sanitizer. Bring your own so that you're not stuck.
29. Change of clothes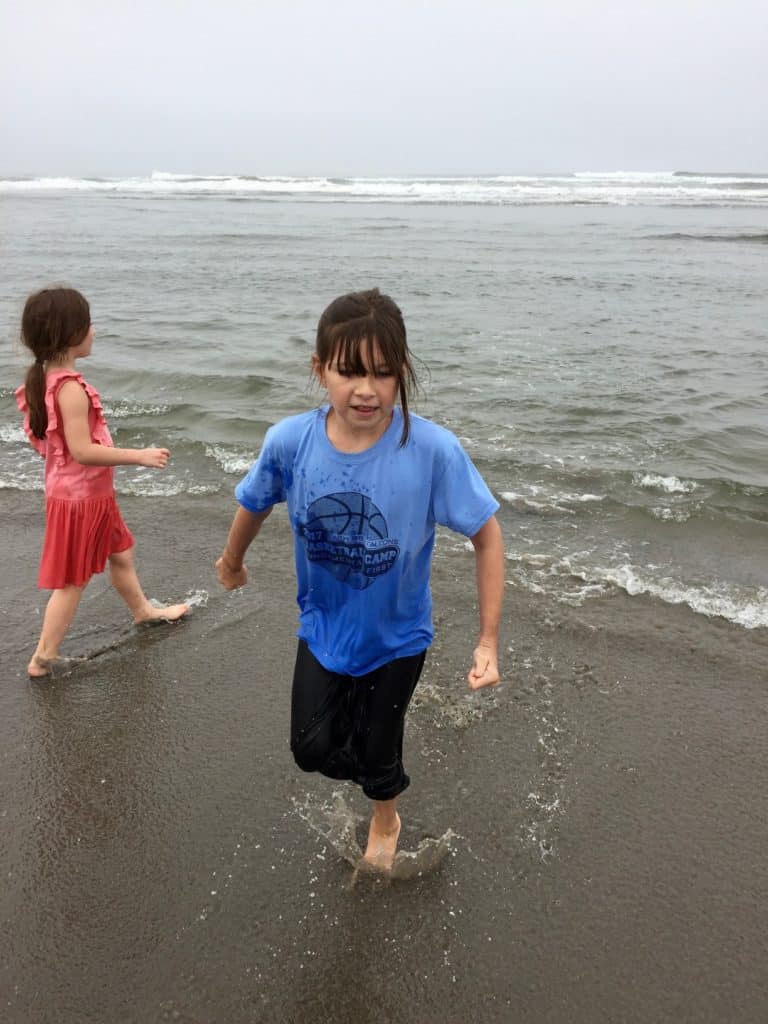 Depending on how far away your home for hotel room is from the beach, it may make sense to have everyone change into regular clothes before leaving the beach. Sitting in sandy clothes or wet swimsuits for hours of driving is incredibly uncomfortable.
If you have young children, changing them into a fresh outfit before you start the drive home may help them sleep comfortably in the car. Nothing tires a kid out like a day at the beach!
30. Snacks
The beach may have unpredictable weather and can be very busy depending on the time of year. It's always a smart idea to bring snacks for everyone, even if you plan to eat out.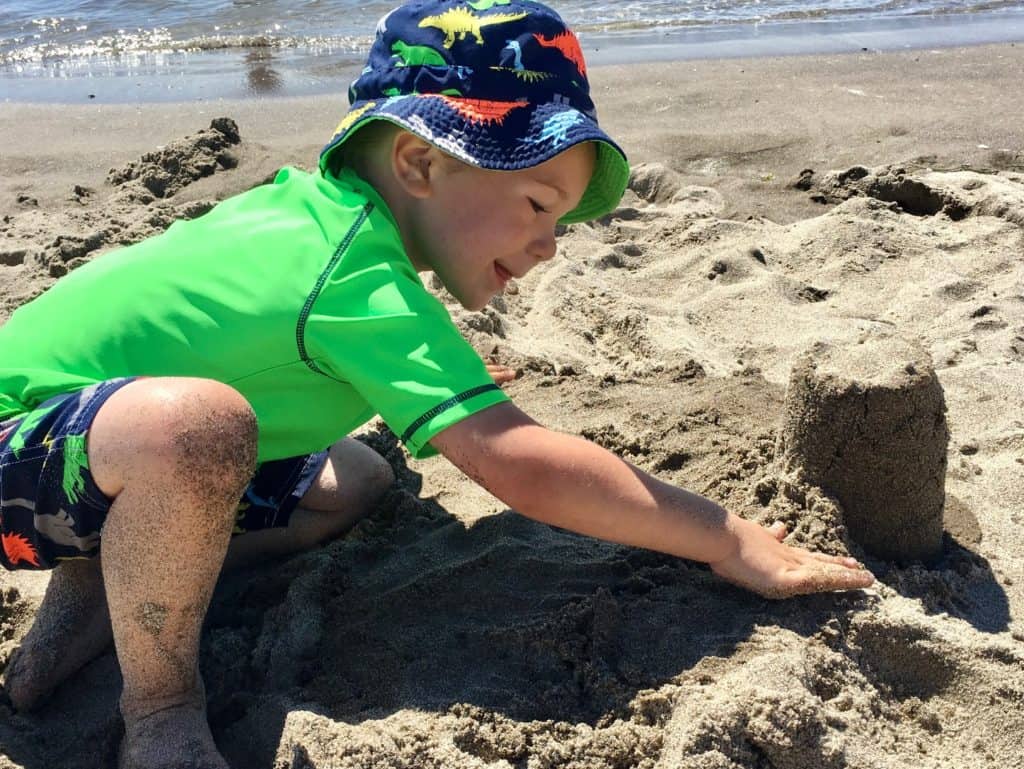 Everything takes a long time when you're at the beach, including buying food from stands, and walking to and from the bathrooms. You'll be glad you can give your child a quick snack so they don't get cranky while they're waiting.
31. Binoculars
The beach has so many unique and different things to see, from surfers, to whales spouting, to dory boats. A decent pair of binoculars will satisfy your curiosity when you're wondering if the dark spot in the waves is a seal's head, or just another patch of seaweed.
Our Ultimate Beach Packing List
I hope this family beach packing list makes your family beach trip less stressful. We've found that best way to enjoy our family beach holiday is by being well-prepared.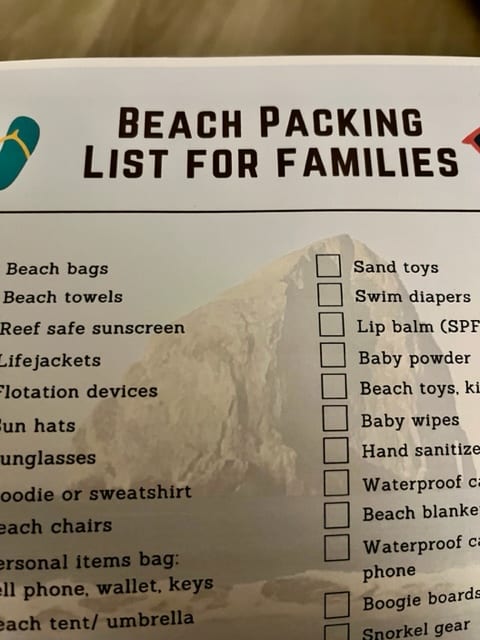 We've created a free printable packing list (beach edition) for our DinkumTribe Patreon members, along with many other exclusive products and additional information. Join our Patreon here to get your copy!
If you're road tripping to your beach destination, be sure to grab your free copy of our road trip packing list printable.
Don't forget check out our list of the 21 best beaches in northern Oregon for families, as well as our list of stops along the Oregon coast with kids. If you're a rockhound, we have a list of the best agate beaches in Oregon as well.
© Copyright Jennifer D. Warren 2023.