Beach Bound?
Some road trips are memorable and some are unforgettable. Road trips along the Oregon Coast with kids easily make family memories that last for for a lifetime.
The coast of Oregon offers the most natural and intriguing roadways on the entire West Coast. Oregon's stretch of Highway 101 yields a host of adventures for families with children, but where to start?
First published: February 4, 2022. Updated: August 16, 2023.
This post contains affiliate links. As an Amazon Associate I earn from qualifying purchases made from the links on this site, at no extra cost to you. Thanks for supporting our family business!
Our Top Picks for the Oregon Coast with Kids
Our family has traveled the Oregon Coast for years. We've built this list of things to do on the Oregon Coast with kids from trips that we've made all along "the People's Coast". These 61 best places are arranged geographically and grouped by city.
Please note that hours and availability are subject to change. Check attraction websites for updated information as you travel the Oregon Coast with kids.
How to Use this Post
If you're flying into Portland, then go ahead and read this post from top to bottom. That will give you a good sense of what you'll find driving from North to South.
Driving north from California? Simply begin at the bottom of the post and work your way North.
Planning to visit one of Oregon's gorgeous beaches? Grab our free printable beach packing list! Let's get started!
Table of Contents
Things to Do on the Northern Oregon Coast with Kids
Oregon's North Coast is renowned for its natural wonders and historic significance. Here tall sea stacks defy the waves at Cannon Beach and the mighty Columbia River empties into the ocean near Astoria.
This popular coastline has also gained notoriety as a foodie paradise. Artisan foods, craft brews, and other quality products await you in this remarkable region.
Table of Contents
Seaside: Portland's Playground
Tillamook: Country Meets Coast
Pacific City: Oregon's Best Family Beach Town
Astoria: Where Oregon Began
Astoria is the King of the Coast. This historic city is situated on the mouth of the Columbia River, and is rich in beauty, culture, and lore.
You can find all kinds of curiosities here from ancient Chinook culture to the Goonies, from shipwrecks to giant rhododendrons.
Astoria is a prime location for exploring Northern Oregon. The city sits beside the Oregon/Washington border, right where the Columbia River meets the Coast. Little wonder then that Astoria offers more sites than any other place on our list.
#1. The Astoria Column
Get a bird's eye view of the Columbia River, Astoria, and the surrounding region at the Astoria Column. This monumental tower portrays the history of American exploration and settlement in the region. The column's twisting timeline is ironically fitting because Astoria's story had some legendary plot twists.
Indigenous History on the Oregon Coast with Kids
A nearby monument remembers Chief Comcomly, a Lower Chinook leader who was instrumental in the peaceful and prosperous development of the region. Comcomly worked with nearly every significant explorer who came into the area including Robert Gray, George Vancouver, and Lewis & Clark.
Comcomly provided inestimable service to the Hudson Bay Company by piloting its boats over the treacherous Columbia River bar.
Know Before You Go
Super Affordable: The Astoria Column is one of the most affordable attractions in the Astoria region. Admission is free, although there is a $5 parking fee per vehicle.
Limited Accessibility: The Astoria tower yields expansive views in all directions, but first you must ascend an enclosed, winding staircase. Thankfully, the Astoria Column is located on tall Coxcomb Hill so you can still have a nice view even if you opt out of climbing the tower's 164 steps.
2 Fun Activities: The gift shop sells inexpensive, balsa wood planes to fly from the top! I also recommend picking up one of their comfy ball-caps. Take a moment to ask the docent about the elusive treasure hidden on the hill where the monument now stands.
#2. Columbia River Maritime Museum
Countless ships have met their end at the mouth of the Columbia and its surrounding coastline. You can explore "the Graveyard of the Pacific" at one of Oregon's finest museums.
The Columbia River Maritime Museum features the hazards and history of maritime work on the Columbia River and the Oregon coast. The museum pays tribute to two groups of heroes in particular.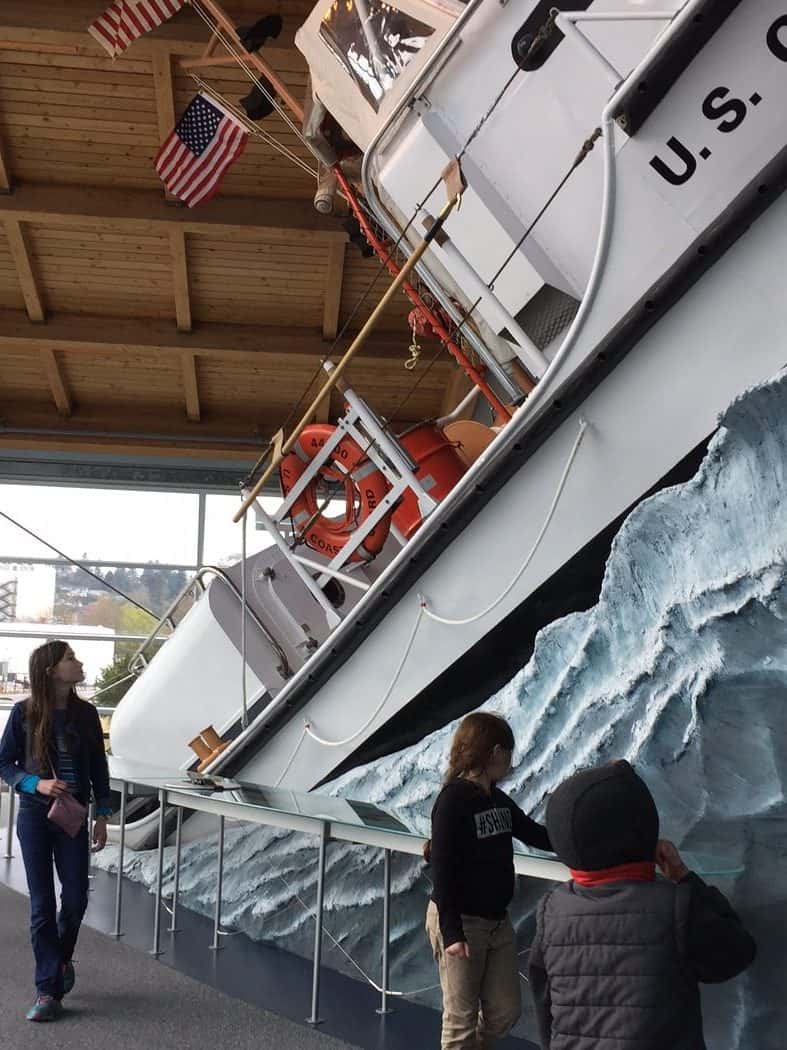 Columbia Bar Pilots & the US Coast Guard
The first group are the seasoned sailors who routinely guide ships in and out of the Columbia River. These Bar Pilots use special training and advanced equipment to prevent ships from running aground on the river's ever-changing shoals.
The Coast Guard is the second set of heroes. The Oregon Coast is notoriously dangerous and the men and women of the US Coast Guard play a critical role in rescuing sailors from imminent death. The Columbia River Maritime Museum not only features an impressive display on the US Coast Guard, but also stewards a historic US Coast Guard lightship: The Columbia.
Lighting the Way
Lightship Columbia served as a lighthouse where no lighthouse could be. The ship sat anchored at the mouth of the Columbia for years in order to ensure safe navigation into and out of the river's mouth.
Today you can walk through Lightship Columbia and get a sense of what it was like to provide this essential service.
A Key Museum when Exploring the Oregon Coast with Kids
The Columbia River Maritime Museum is an impressive learning center and an essential stop on any lighthouse roadtrip. Interactive exhibits on weather forecasting, barge shipping, and navigational skills let children get a sense of what it takes to ply the waters. The museum's movie theater provides interpretive presentations, and an entire museum wing is dedicated to the maritime history of the Pacific Northwest.
Overall, the Columbia Maritime Museum is one the best destinations for families visiting the Oregon Coast with kids. Learn through play and experience the heroes and hardships that made the Pacific Northwest what it is today.
#3. Lewis & Clark National Historical Park Sites
Lewis & Clark's Voyage of Discovery was a watershed moment in the history of the United States. The expedition was the first systematic exploration across the North American interior. Its findings ended years of speculation about a Northwest Passage.
The Corps of Discovery's time in Oregon helped the United States to eventually claim the region as its own territory.
Join the Corps at a Critical Moment
However, none of this was certain in 1805. In fact, when the Corps of Discovery reached Oregon there were reasons to wonder if they would even make it home. Today you can follow the Lewis & Clark expedition through one of its most dangerous and rewarding parts of the journey.
Follow Lewis & Clark along the Oregon Coast with kids.
Join up with the expedition in their desperate stay in the Dismal Nitch. Get a glimpse of what the Columbia may have looked like in 1805 at Tongue Point in the Lewis & Clark National Wildlife Refuge. Learn about the Chinook People at Middle Village & Station Camp.
Tour a historical reconstruction of the Corps of Discovery's winter quarters at Lewis & Clark National Historical Park.
Share in the triumph of reaching the Pacific Ocean at the Lewis & Clark Interpretive Center in Cape Disappointment State Park (Washington). These sites make up Lewis & Clark National Historical Park, one of the best national parks in Oregon and Washington.
Lewis & Clark National Historic Trail
The Astoria region is the turning point of the Lewis & Clark National Historic Trail, a national parks trail that traces the expedition from beginning to end. Lewis & Clark NHT sites can be found all along Oregon's North Coast from Astoria down to Tillamook.
#4. Fort Stevens State Park
Fort Stevens State Park is a local secret and our family's favorite Astoria stop. The park offers an incredible array of interests in its 3,763 acres. I'm not exaggerating!
What other place offers:
up-close views of the mouth of the Columbia
a shipwreck
native elk
a Civil-war period military fort
a WWII battle site
And miles of breathtaking beaches?!
Watch the powerful Columbia pour into the Pacific, visit the wreck of the Peter Iredale, and see where a Japanese submarine shelled Fort Stevens! Then, come another day to spot elk and other wildlife as you bike the paved paths that run throughout the park. Have I said enough?
Fort Stevens State Park is one of Oregon's most popular camping locations. You'll want to reserve your camp or lodging site several months in advance.
#5. Oregon Film Museum
Astoria holds the title as the filming capitol of Oregon. The city's renown is closely tied to the 80's cult-classic The Goonies.
However, ten other major motion pictures and three television shows were shot in Astoria and Clatsop County. In fact, the Oregon Film Museum is located in a historic jail that appears in three different films: The Goonies, Short Circuit, and Come See The Paradise.
The Oregon Film Museum gives the story behind the 400+ productions that have been filmed in Oregon. Interactive exhibits allow you experience what's involved in movie making. Goonie Fans can get their mug shot, write a note for the Goonies, and cast their vote for the best Goonie character.
Explore with Us!
We love to find hidden treasures, local secrets, and fun-filled family adventures. You can join in on the fun by subscribing to our newsletter. You'll receive our Ultimate Road Trip Prep Kit free as our thanks for subscribing!
Seaside: Portland's Playground
Seaside is Portland's coastal playground. Whether you're looking for an arcade or art, mini-golf or mountain biking, you'll probably find it here. Seaside's abundant activities and amenities draw big crowds in the summer, and make it a great north coast stop in the rainy winter.
#6. Seaside Beach and Promenade
Seaside Beach is Oregon's version of a California surf city. Miles of sandy beach lay alongside the city's many stores, hotels, restaurants, and attractions. Ride the waves or build a beach fire and roast hot dogs.
Take a stroll or bike along the beach promenade. Can you find the Lewis and Clark saltworks? Set up your beach chairs and enjoy the many concerts, tournaments, and other events hosted at this cool beach city.
#7. Seaside Aquarium
The world's best local aquarium is found in Seaside. The Seaside Aquarium features a colorful collection of Oregon marine wildlife housed within one of the city's most historic buildings. Children love the touch pools and the opportunity to feed the seals. And don't forget to pay homage to the aquarium's legendary lobster.
Cannon Beach: Natural Wonder
Cannon Beach is the poster child of the Oregon Coast. If you've seen a picture of the Oregon coastline, there's a good chance that it was taken here. The small town is ideally placed and surrounded by incredible beauty. No wonder it's become a haven of creativity and culture.
Cannon Beach is a rewarding family stop, but it can be a challenge to visit during peak season. The region's mountainous geography makes for a quaint town that has limited parking. Local know-how can go a long way in improving your experience.
#8. Ecola State Park
One of the most photographed beaches of the West Coast, and for good reason! Ecola State Park offers spectacular views of forested, rocky cliffs and forbidding outcrops.
The park is an endpoint of the Lewis & Clark Trail due to a not-so-spectacular breakfast– but I'll let the historical marker explain. Ecola State Park also contains one the most beautiful beaches on the North Oregon Coast.
#9. Haystack Rock
Here is Oregon beauty at its finest. Visit Cannon Beach at low tide to walk beside its famous landmark, Haystack Rock. This iconic outcrop is home to several species of marine birds and you'll find no lack of wildlife in the tide pools dotted throughout the beach.
Beach access is provided by a parking lot complete with picnic tables and a playground. Altogether, this chill beach offers variety for the kids and a romantic walk for the parents. It's a must-see as you explore the Oregon Coast with kids!
#10. Oswald West State Park
Oswald West State Park may be the best state park on the coast of Oregon. The park's location puts it at a distance from the coast's largest cities and its humble highway entrance doesn't draw attention.
Rugged rock formations shelter pristine beaches. The park is a feature presentation of the Oregon Coast's natural beauty.
#11. Short Sand Beach
Short Sand Beach is the centerpiece of Oswald West State Park, and one of the best beaches in all of Oregon. This is one stop that you don't want to pass up.
For one, Short Sand Beach is gorgeous. This immaculate beach is sheltered within a cove that's accessed via a 1.2 mile trail. The lack of road access and nearby development has made Short Sand Beach one of the most natural, and visually stunning beaches in Oregon's North Coast.
The Short Sand Beach Trail is just as remarkable as the beach itself. This easy, gravel trail gently descends beside Short Sand Creek and passes beside enormous, old-growth Sitka Spruce trees.
The ancient forest floor is a natural playground, encouraging children to explore and discover. Our kids loved running through tunnels of roots and spotting banana slugs along this fantastic trail.
Short Sand Beach is also a popular surfing location, attracting surfers, boogie boarders, and sand boarders throughout the country. The epic surroundings make Short Sand Beach a natural stop for any surfing road trip.
Know Before You Go
Save Your Spot: Short Sand Beach is popular. Arrive on the early side so you can claim a parking spot.
No Services: There are no services at Short Sand Beach or inside Oswald West State Park. Use the GoWhee App to find the best, kid-friendly services in this area.
Limited Accessibility: The Short Sand Beach Trail is fairly wide and level, but it could be challenging for a wheelchair, especially during the winter months.
#12. Neahkahnie Viewpoints
If hiking is out of the picture then take a moment to pull off at the North Neahkahnie Viewpoint and South Neahkahnie Viewpoints. You'll take in unparalleled ocean views while exploring the history and culture of Oregon's North Coast.
These two vista points are located within Oswald West State Park, but are mere pull-offs from Highway 101. This is one of our favorite places to watch the sunrise, take a family picture, or make one last roadside stop before heading home.
Know Before You Go
Finding the Viewpoints: You'll find the Neahkanie Viewpoint immediately South of Elk Flats Trailhead. If you're driving North, the viewpoints will be appear on your left not long after leaving Manzanita.
Watch Your Kids: These Viewpoints are situated on a steep ocean cliff. Keep your children behind the stone fence at all times.
Multiple Options: The Neahkanie Viewpoints are composed of at least four pull-outs of varying sizes. All four pullouts are connected by a pedestrian walkway, allowing you to walk from one viewpoint to another.
No Services: Like most viewpoints, the Neahkanie Viewpoints lack bathrooms, food, and other services. Check out the Gowhee App for nearby kid-friendly locations.
Rockaway Beach: Surf & Sun
Are you looking for a classic, cozy beach town? Rockaway Beach is small surf town with a big personality. This town is situated between Cannon Beach and Tillamook, making it a great spot to stay if you're exploring the North Oregon Coast with kids.
#13. Rockaway Beach
Rockaway Beach is a beautiful, seven-mile, sandy beach with no lack of accommodations. Over 100 rental houses and 200 hotel rooms put ocean fun at your doorstep in this family-friendly town.
It's not hard to see why Rockaway Beach is so popular. This chill beach is super accessible and only a short drive away from Cannon Beach in the North and Tillamook in the South.
Fly your kite in the beach's strong, steady winds. Kites are a popular activity to do on the Oregon Coast with kids. Better yet, attend one of the largest kite-flying festivals in the Pacific Northwest at this remarkable coastal town.
#14. Nedonna Beach
Nedonna Beach is our latest Oregon Coast discovery. This is the beach to go to when you want to avoid the crowds at Rockaway Beach.
You can easily spend a day at Nedonna Beach. Our children loved playing along the wide, sandy shoreline and the nearby jetty.
Sand dollars and shells can be found throughout the beach. Many folks use the abundant driftwood to build makeshift castles and other structures.
The jetty provides opportunities for fun and exploration. Climb along the rip rap or discover the marine life that covers the lower boulders.
Know Before You Go
Stong Tide: Nedonna Beach's location makes for strong tides. Keep a close eye on your children and watch for rip tides and other tidal hazards.
No Life Guard: Like most Oregon Beaches, Nedonna Beach does not have a lifeguard.
Climb at Your Own Risk: The jetty was not built as a human walkway. Exercise care when climbing on the jetty and never climb a jetty during storm conditions.
#15. Rockaway Beach Big Tree Trail
Rockaway Beach holds one of Oregon's best hiking trails. The Big Tree Trail leads through a remarkable coastal swampland and old growth forest.
We were amazed at the abundance of plants and animals to be found along this boardwalk trail. We spotted nesting osprey, banana slugs, and enormous native plants over the course of a one-hour walk.
The Big Tree is the culmination of the 1.2 mile, there-and-back trail. But "Big Tree" doesn't really do the tree justice.
The massive Red Cedar is incredibly huge, with a base circumference of almost 50 feet! This ancient tree is 154 feet tall and is estimated to be between 800-1200 years old.
Rockaway's Red Cedar is one of the largest trees in North America. It's also one of the few trees that survived the powerful Cascadia tsunami that struck Oregon in 1700.
Know Before You Go
Blink & You'll Miss It: The trailhead is not well marked. You'll find the parking lot on the south end of Rockaway Beach, just south of Pronto Pup.
Super Accessible: The Big Tree Trail is one of the most accessible attractions in the Rockaway Beach area.
Limited Parking: The trailhead parking lot is on the small side but you're allowed to park along the highway shoulder.
Limited Services: The Big Tree Trailhead doesn't have much more than a porter potty. Find nearby, family-friendly amenities on the Gowhee App.
#16. Pronto Pup
Rockaway Beach's Pronto Pup was one of our best discoveries of 2022. This classic, beach-town eatery is the birthplace of the all-American Corn Dog, and it takes it's calling seriously!
There's a lot to be said for Pronto Pup. For one, this place is good, cheap fun. The enormous corn dog is great, but there's a corn dog to ride as well! The kids loved "breaking in" this deep-fried bronco.
The freshly made corn dogs were delicious (and the deep fried Oreos were even better!) We were most struck by the friendly and welcoming staff, who gave us much more than we anticipated even though they didn't know who we were or why we were visiting.
#17. Troxel's Rock Shop & Garden
Troxel's Gem and Jewelry Company is the most unique attraction at Rockaway Beach. It may be the most kid-friendly store on Oregon's North Coast.
Mr. Troxel is quite a character. We found him dressed in a punked-out coat and top hat with matching spikey shoes.
He followed us into his store, riding his Segway, and told his robot, Astro, to offer us free bubble wands. Printed signs posted at the entrance set the tone:
"If you break it, don't worry. Accidents happen."
"Smile, You are NOT on camera."
He talked freely with our kids and happily answered their questions. Astro gave it's best try at being an tiger and a monkey.
Troxel's shop sells all kinds of interesting rocks and minerals, as well as an odd cosplay wig here or there. His rock garden doubles as a home-made miniature golf course.
#18. Lake Lytle
Lake Lytle may be the most convenient lake on the Oregon Coast. Route 101 runs along its entire length and the lake is only blocks away from downtown Rockaway Beach.
In spite of its urban location, Lake Lytle is largely undeveloped. The lake is a favorite location for fishing, kayaking, and other water sports.
#19. The Three Graces
The Three Graces is another location that draws photographers to the Oregon Coast. Three tree-topped islands sit serenely in Tillamook Bay, peaceful watching the ages roll by.
The three graces are full of interest for families and photographers alike. For one, the islets and their surrounding tide pools become accessible at low tide. One of the graces keeps a hidden arch that can only be seen from one side. Our children especially love to scramble along the jetty rocks and discover the animals that live among them.
Know Before You Go
Finding the Three Graces: You won't find a sign telling you that you're at the Three Graces. However, Google Maps does include the location. The Three Graces stand at the north end of Tillamook Bay, immediately south of the town of Barview.
Railroad: A railroad line runs between the parking area and the Three Graces. This rail is still used so exercise extreme caution when parking your vehicle and crossing the tracks. Do not park close to the track or leave children unattended at any time.
No Services: This informal pull-off area has no services at all. However, you can find great amenties by using the Roadtrippers App.
Tillamook: Country Meets Coast
Country meets coast in the city of Tillamook. This quiet coastal town brings out the best of both in a variety of ways. Enjoy the eats, dig for clams, or admire vintage aircraft in this quiet corner of the Oregon Coast.
#20. Tillamook Creamery (Tillamook Cheese Factory)
Don't miss the place that put Tillamook on the map! The Tillamook Cheese Factory is a fantastic family stop for several reasons.
The visitor center offers a great self-guided tour, allowing you a bird's eye view of all stages of the production and packaging process. A top-notch video, interactive exhibits, and a wealth of interpretive displays make it easy for all learners to follow the process from begin to end.
You can sample cheese curds as well as the factory's excellent cheeses. The creamery even provides culinary experiences, allowing you an up close, hands on introduction to the art and science of cheesemaking. But, to be honest, most people don't go there for the cheese…
Ice Cream!
Ice cream trumps cheese and this place does ice cream like no one else! More than that, the factory's ice cream parlor offers a much larger selection than what you'll find in the supermarket. And of course all this is available in any number of cones, assortments, and options.
I'm thankful that there's a good distance between this place and my house.
Tillamook Creamery's Visitor Center is an excellent family stop. Several educational displays provide opportunities to learn about the Tillamook area and Oregon's North Coast.
The farm store sells the creamery's products, including a number of Tillamook specialty cheeses that don't appear of grocery shelves. This store is a great place to find Oregon-made foods, drinks, and other quality items.
The creamery's cafe serves excellent food that both adults and children enjoy. Altogether, Tillamook Creamery is one of the top attractions for any road trip along the Oregon Coast with kids.
#21. North Coast Food Trail
Explore the Oregon Coast one bite at a time on the North Coast Food Trail. This delicious travel route features culinary experiences and eateries from Astoria, Seaside, Cannon Beach, and the Tillamook Coast.
The North Coast Food Trail is a self-guided tour of some of Oregon's best restaurants, breweries, artisan foods, farms, and culinary experiences. It's like taking a progressive dinner or a day-long shopping trip at one of the most beautiful places on earth: Oregon's North Coast!
Use the North Coast Food Trail website to build you own adventure. You can build an entire itinerary or simply choose where you want to have lunch.
Jennifer and I enjoy making a stop or two on our family day-trips. It's our grown-up treat for a family play-day. The trail is an excellent place for discovering quality products such as artisan cheese, specialty salts, and craft beer. It's also the funnest way to find gifts to bring back to friends and family.
Know Before You Go
Check Hours of Operation: Nearly all of the trail destinations are small businesses and farms. Use the Roadtrippers App to check hours of operation before visiting.
#22. Tillamook Bay
Tillamook sits near one of Oregon's largest bays, providing ample opportunity for fun. The bay's calm waters are ideal for a kayak or a standup paddleboard.
Five rivers flow into Tillamook Bay making it an prime place for bay fishing, clamming, and crabbing. Bayocean Peninsula Park and Cape Meares Beach are ideal locations for enjoying both the beach and the bay. The Crabbing Dock at Garibaldi is another good place to consider.
Want to turn your fishing trip into a full-day adventure? Tillamook has a strong selection of fishing guides. The nearby town of Garibaldi hosts several ocean charters. So get out there and earn some dinner!
#23. Tillamook Air Museum
Tillamook is strong on superlatives. It has the best creamery, the biggest bay in Northern Oregon, and the largest freestanding wood structure in the United States. The enormous blimp hangar isn't hard to find and it's well worth the stop.
Hangar B was one of two WWII airship hangars built in Tillamook to house blimps of the USN's anti-submarine patrol. I'll let the stats say the rest:
Over 15 stories tall
1,071 feet long
Enclosing over 7 acres (6 football fields)
120 foot high doors
This isn't your average air museum! 30 aircraft and 6 vehicles provide plenty of ways to experience and enjoy aviation history.
You can get the fun started early by downloading their paper airplane templates and aircraft coloring pages. It's sure to be a highlight of your vacation on the Oregon Coast with kids. We would like to thank Tillamook Air Museum for granting us admission to their excellent attraction.
#24. Cape Meares State Scenic Viewpoint
Tillamook boasts one of the most scenic viewpoints on the Northern Oregon Coast. Cape Meares State Scenic Viewpoint is located in Cape Meares National Wildlife Refuge, one of best public-lands parks on the Oregon Coast.
The forested bluffs and rich coves of Cape Meares host an abundance of wildlife. Thousands of seabirds nest on these cliff faces and sea stacks including common murres, cormorants, and peregrine falcons. Harbor seals, sea lions, and dolphins can be spotted in the waters below.
Cape Meares' elevated heights make it a great place for whale watching. Migrating whales make their way along the Oregon Coast in early winter and early spring.
More than just wildlife at Cape Meares
Wildlife is only one of the attractions at Cape Meares State Scenic Viewpoint. The vista also offers incredible views of Oregon's coastal beauty and numerous interpretive signs.
The historic Cape Meares Lighthouse holds a kerosene-powered, first order Fresnel lens. Short hiking trails lead through old-growth Spruce forest, to the largest Sitka Spruce in Oregon, and around the bizarre, beautiful Octopus Tree.
#25. Three Capes Scenic Loop
The Three Capes Scenic Route is one of the best ways to explore the Tillamook Coast. This 40 mile loop brings you from Tillamook to Pacific City and along the three capes of the Tillamook Coast: Cape Kiwanda, Cape Lookout, and Cape Meares.
The Three Capes Scenic Route works well for families. For one, the loop begins and ends in Tillamook, one of the best places to stay, eat, and play on the North Oregon Coast.
From Tillamook the route runs south through Hebo and Cloverdale before turning northwest toward Pacific City. Here you can enjoy Oregon's best family beach, Pacific City Beach, and explore Cape Kiwanda State Natural Area.
The route continues north past Sitka Sedge State Natural Area and Sand Lake Recreation Area, until it reaches the heights of Cape Lookout. Cape Lookout State Park is the largest and most varied natural area along the Three Capes Scenic Route.
After descending Cape Lookout, the route follows the length of Netarts Bay before entering the beautiful coastal town of the Netarts. From there, the route progresses north toward its final cape, Cape Meares.
This stretch passes adventurous Tunnel Beach and agate-rich Short beach, before arriving at Cape Meares State Scenic Viewpoint. The route finally returns to Tillamook, but not before passing Bayocean Peninsula Park and tracing the south shore of beautiful Tillamook Bay.
Few scenic routes can match the Three Capes Route in beauty and convenience. You can experience and explore the Tillamook Coast over the course of a leisurely day's-drive with this spectacular itinerary.
#26. Short Beach
The Oregon Coast is a great place for rockhounding. Agates, jaspers, and other gemstones can be found on many Oregon beaches.
Short Beach is one of Oregon's best agate beaches and is only half an hour from Tillamook. Agates and Jaspers can be easily spotted amid the gravels of this beach and zeolites can be removed from the boulders along the walls of the cove.
But you don't have to be a rockhound to enjoy Short Beach. This secret spot has a wild entrance that captures the imagination. You can't help but think that you're entering a pirate's lair.
The beach is beautiful. Jennifer loves the sound that the tide makes as it shifts the gravel back and forth along the beach. She sits and soaks it in while the rest of us scamper about looking for treasures.
Agate hunting is an easy, inexpensive way to enjoy the Oregon Coast. It doesn't take much to get started on this family-fun activity.
Know Before You Go
Finding Short Beach: Short Beach isn't easy to find, but that's what makes it a local secret. The Short Beach trailhead is immediately south of Radar Road. Do not take Radar Road to get to Short Beach.
Limited Accessibility: Unfortunately, Short Beach can only be reached by a long, winding staircase (see video below). It isn't ADA accessible in any way, shape, or form.
Be Careful: Children should not go unattended at Short Beach. The staircase has several hazards (see video above), and strong tides pose risks to small children.
#27. Cape Lookout State Park
Cape Lookout State Park is one of the North Coast's best kept secrets. This beautiful, little-known state park offers secluded beaches, incredible views, and comfortable lodging.
Cape Lookout is one of Oregon's largest state parks encompassing all of Cape Lookout as well as the Netarts Spit. Families appreciate Cape Lookout's Deluxe cabins and yurts, spacious campsites, and hot showers.
We've enjoyed visiting Cape Lookout while driving the Three Capes Scenic Loop. This coastal route leads you along the three capes that make up the Tillamook Coast: Cape Meares, Cape Lookout, and Cape Kiwanda.
Pacific City: Oregon's Best Family Beach Town
Pacific City is one of our family's favorite places. This secluded beach town offers premium fun with minimal crowds. In a lot of ways, Pacific City is like the best of the coast wrapped into one place.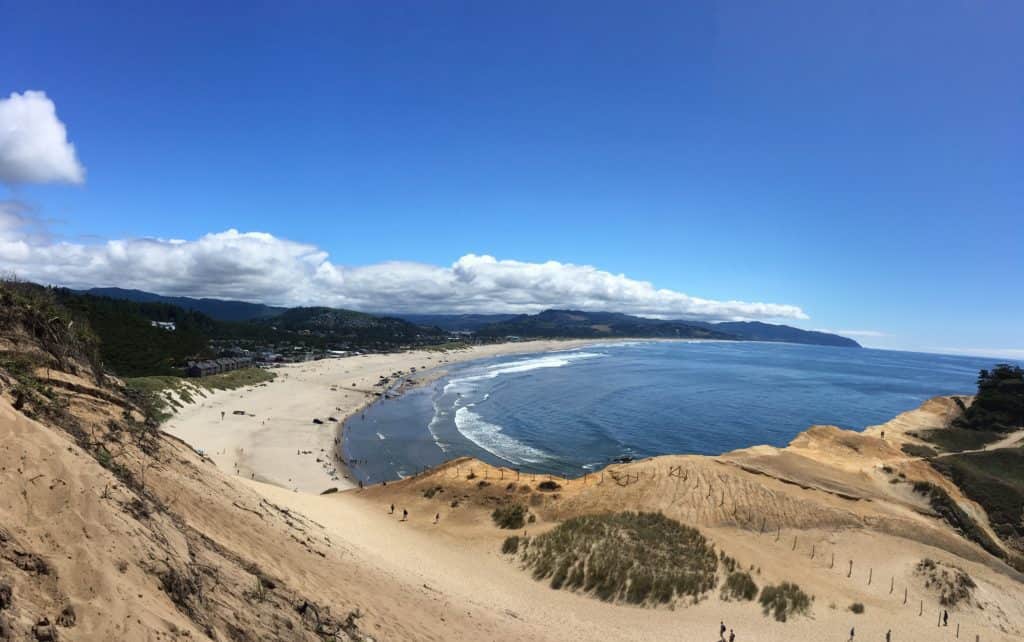 #28. Pacific City Beach
Pacific City Beach is an ideal Oregon beach. For one, the long, sandy shore offers classic beach fun, and borders a remarkable natural area (see below). The beach is easily accessible and within reach of the city and its attractions.
There are two features that make this beach truly unique. Pacific City hosts a vibrant dory fleet and Pacific City Beach is their domain. This traditional fishing fleet ventures out into Oregon's coastal waters to fish for salmon, dungeness crabs, albacore tuna, and rock fish. Dory boats launch and return from the shore line, and the spectacle is worth the visit.
The gem of Pacific City Beach is Haystack Rock, a beautiful outcrop situated just off the shoreline. It's not uncommon to see whales and other wildlife moving around this beautiful landmark.
#29. Cape Kiwanda Natural Area
Cape Kiwanda is one of Oregon's most dramatic capes, and its natural area allows you to take it all in. The state-protected area includes an enormous sand dune, as well as the bluffs and coves that make up the cape. Well-worn paths provide you with a fun adventure that yields beautiful views.
#30. Pacific City
Pacific City is one of our family favorites. It's relatively unknown so it doesn't draw the kind of crowds that you encounter at Cannon Beach or Rockaway Beach.
This chill beach town is full of treasures. Find a treat at a local candy store, grab some coffee, or enjoy a beer at Pacific City's very own Pelican Brewery.
#31. Sand Lake Recreation Area
One of the North Coast's best recreation zones can be found just north of Pacific City. The Sand Lake Recreation Area is a great place to play around on your OHV of choice. The park's 1,076 acres of sand dunes and forest land also hosts a variety of activities including camping, kayaking, hiking, fishing, and wildlife viewing.
#32. Sitka Sedge State Natural Area
Sitka Sedge is one of Oregon's newest state parks. Forested wetlands, saltwater marshes, tidal flats, sandy beaches, coastal dunes, and uplands are all enclosed within the parks 357 acres.
Sitka Sedge State Natural Area is an important habitat for coastal birds, including the Western Snowy Plover. The park also holds value as the ancestral lands of the Nestucca and Tillamook tribes.
This is the place to go if you're looking for a natural encounter with the Oregon Coast. Sitka Sedge SNA is both secluded and undeveloped.
#33. Bob Straub State Park
The Pacific City area is less developed than other parts of the North Coast, and is located several miles from Highway 101. This geography has kept the region both quiet and natural.
So it's no wonder that parks like Bob Straub State Park make great stops for experiencing nature and watching wildlife. Bob Straub SP protects the North Spit of the Nestucca River, giving you the opportunity to enjoy beach, dune, and bay ecosystems. The 480 acre park borders the Nestucca Bay National Wildlife Refuge, providing a truly natural encounter with the Oregon Coast.
#34. Nestucca Bay National Wildlife Refuge
Nestucca Bay National Wildlife Refuge is an excellent place for exploring the natural beauty of the Oregon Coast. This preserve sustains a wide range of animals including migrating geese, salmon, and the Oregon Silverspot Butterfly.
Nestucca Bay is an important migration location for Canada Geese. Anybody can identify a Canada Goose, but did you know that there are actually six subspecies of the Canada Goose? All six of them spend time at Nestucca Bay NWR.
We were amazed at the abundance of wildflowers that covered the coastal prairie. It wasn't hard to see why this location would be important for the threatened Oregon Silverspot Butterfly.
In fact, the researchers were out in force. You could watch them checking various butterfly tents and catching butterflies with nets.
Nestucca Bay NWR features two nature trails and welcomes a range of activities including fishing, clamming, hunting, and kayaking.
#35. Tunnel Beach
The small town of Oceanside holds one of Oregon's funnest beaches. Tunnel Beach features a historic tunnel that links Tunnel Beach with Oceanside Beach.
The tunnel was created a century ago by a local resort. Resort owners wanted to provide their customers with the opportunity to enjoy both beaches.
Tunnel Beach and Oceanside Beach have also been known to bear agates and other gemstones. This is a great beach to explore with the kids!
Know Before You Go:
Limited Parking: Oceanside is a small coastal town with limited parking. Arrive on the early side to save yourself a spot.
Check the Tide Chart: Check the tide chart for Oceanside before you make your visit to Tunnel Beach. You will need to arrive at low tide to safely access the tunnel.
Bring a Flashlight: You will need a flashlight to help you manage your footing. Driftwood and other debris make their way into the tunnel.
Things to Do on the Central Oregon Coast with Kids
The Central Oregon Coast is beloved for its natural allure and abundant recreational opportunities. Three large coastal cities lie within this region: Lincoln City, Newport, and Florence. Each of them have their own collection of noteworthy attractions, luxurious accommodations, and quality restaurants.
Table of Contents
Lincoln City
Lincoln City has a lot going for it. It's one of the largest cities on the coast and offers an impressive array of quality hotels and shops. Better yet, its location puts it within reach of Interstate 5, making it one of the easiest coast cities to visit.
#36. Neskowin Ghost Forest
Stroll through a strange landscape at this truly unique Oregon experience. Ghost Forests are remnants of once-vibrant forests, now drowned by the sea. Low tides expose the stumps and trunks, allowing you to walk the beach in an entirely new way.
The Ghost Forests testify to the tremendous power of subduction quakes and the role they have played in shaping the Pacific Northwest. It appears that these ancient trees were once 150-200 feet tall.
The forest was destroyed around 2000 years ago, most likely by an earthquake or tsunami. Sea sands buried and preserved the trees until they were unearthed by winter storms in 1997 and 1998.
We enjoyed our visit to the Ghost Forest. I mean, what can you say about a tree that's now a tidepool? That said, our visit turned out to be quite an adventure. Here's what you'll want to know before visiting:
Know Before You Go
Getting There: The Ghost Forest is located at the south end of Neskowin Beach State Recreation Site, twelve miles north of Lincoln City.
Check the Tide Chart: The Neskowin Ghost Forest can only be seen at low tide.
Very Limited Access: Neskowin Beach does have a public easement, but it is several hundred feet from the Ghost Forest. You will have to walk a good 10-20 minutes down the beach to reach the Ghost Forest.
Prepare to Get Wet: We visited the Ghost Forest on the lowest tide of the year, but we still had to get wet to reach it. That's because there's really only two ways to get there. You either have to wade your way around Proposal rock or ford Neskowin Creek. We chose to ford the creek.
Summer Means More Sand: Oregon Beaches fill up with sand during the summer months. The Ghost Forest is more exposed during the winter months.
#37. The Cheeky Cauldron
Enter into the magical world of Harry Potter at The Cheeky Cauldron. This delightful restaurant serves the fandom with Harry Potter themed treats, meals, and memorabilia.
Special events include High Tea, and even a Potions Class. You'll want to plan ahead and make reservations, especially if you're visiting on a weekend. This will be a fun and novel addition to your drive along the Oregon Coast with kids!
#38. Beachcomb for Art Glass
You can beachcomb at any beach, but at Lincoln City you might just find a piece of art! Hand-blown glass floats are often placed on Lincoln City's seven-mile stretch of beach.
The floats are part of a city-sponsored program that celebrates the old-time tradition of collecting Japanese net floats as they washed up on Oregon beaches. "Float Fairies" leave the art glass for you to find and collect, so don't worry, this is a real case of finders keepers!
Find the Best of the Pacific Northwest:
Subscribe to our e-newsletter and follow us on TikTok, YouTube, Facebook, Pinterest, Twitter, and Instagram. Better yet, get our best content and travel resources as a Dinkum Tribe Patreon Member!
#39. Drift Creek Falls
One of Oregon's best waterfall hikes awaits you in the mountains east of Lincoln City. The Drift Creek Falls Trail is a moderate, 3.2 mile, there-and-back again path that features a majestic waterfall, a wonderful suspension bridge, and miles of coastal forestland.
The Drift Creek Falls Trail Head is a forty minute drive from Lincoln City. This trail is well loved, so try to visit in the morning or during the off-season.
Depoe Bay
Depoe Bay is a picture-perfect, Pacific Northwest fishing town. Shops and neighborhoods frame the world's smallest harbor. The town's tall bluffs make it a great place to spot whales or watch winter storms.
#40. Whale Watching
Oregon has a prime location on the migratory route from Mexico to Alaska, so its whale watching season is nearly year-round. Depoe Bay offers plenty of ways to spot migrating grey whales.
Start at the Whale Watching Center, an Oregon State Park offering wide vistas of the surrounding waters. The viewing deck and binoculars aid you as you look for the 20,000 gray whales that pass the bay every year. Displays and park rangers are at the ready to answer your questions and provide additional ways to understand these incredible creatures.
Want to get an even closer look? Book an early morning charter. Several friendly charter companies can safely take you out on the waves to see these gentle giants.
Otter Rock
This sea town stole our hearts! Otter Rock is a tiny community located just north of Newport. The quiet hamlet offers incredible scenery, a laid-back style, and lots of peace and quiet. We've been to Otter Rock several times and we plan to return several more.
#41. Otter Crest Marine Gardens
What's a marine garden? Imagine huge tide pools of remarkable diversity. I grew up on the coast, but was blown away at how much could be found here.
A low-tide stroll features sea plants of all shapes, sizes, and colors. Marine creatures abound in this beautiful tidal landscape. Otters can often be spotted playing about at high tide.
The marine gardens are located just north of Devil's Punchbowl, on a beach directly below Otter Crest Resort.
#42. Devil's Punchbowl State Park
Kids love this collapsed sea cave. Devil's Punchbowl SP is a bite-sized State Park can be enjoyed from several vantage points. The Punchbowl forms the southern end of the same beach that hosts the Otter Crest Marine Gardens.
At low tide you can explore the marine gardens and scamper about the inside of the Punchbowl.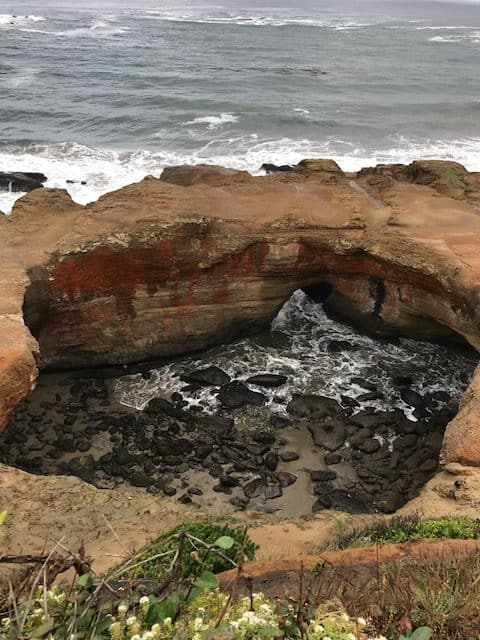 High tide is no less fantastic. A bluff-top viewing area allows you to watch surging tides smashing into the bowl and its adjoining cliffs.
Good weather gives great views of Beverly Beach and Yaquina Head Lighthouse. Foul weather offers great storm watching, and a hot bowl of clam chowder at Mo's!
#43. Beverly Beach
I think Beverly Beach is Oregon's most beautiful beach. The long sandy beach is framed by forested bluffs, and closes with Yaquina Head and its noble lighthouse.
There's nothing quite like walking along this beach, admiring the misty pines and the light emanating from the nearby lighthouse.
Beverly Beach is immediately south of Devil's Punchbowl State Park. The beach can be accessed from the town of Otter Rock or from Beverly Beach State Park.
Newport
If Astoria is king of the coast, then Newport is the queen. No other coast city offers so much in the way of beauty and amenities. The City of Newport, Oregon is blessed with some of Oregon's best beaches, including the famous Nye Beach.
Newport hosts Oregon's best aquarium and one of the state's best natural areas. The queen of the coast boasts a wide a number of historic, artistic, and culinary attractions. Finally, Newport is located at the end of highway 20, making it easy to reach from Interstate 5.
#44. Rockhound at Moolack Beach
Here's another stop for that family member who's all about rocks and minerals. Moolack Beach is one of a handful of Oregon beaches that yield treasures to the careful seeker. Streams from the nearby mountains bring down marine fossils, agates, and jaspers that can be collected off the beach.
For best results, stop by Moolack after a storm and look over the creek beds and the surrounding beach. Moolack Beach is located south of Beverly Beach and north of the city of Newport.
#45. The Oregon Coast Aquarium
Oregon's top aquarium gives visitors up-close access to the creatures of the Pacific Northwest. Admire sea feathers, walk among puffins, face-off with spider crabs, or stroll through the aquarium's shark tank.
We love the size and value of this aquarium. You can see everything in matter of hours, but the selection and exhibits are of a quality that leaves you more than satisfied.
The Oregon Coast Aquarium is located in one of the best spots in all of Newport. Its Yaquina Bay location puts it within walking distance of the Hatfield Marine Science Center, Rogue Brewery, and the iconic Yaquina Bay Bridge.
Walk across the bridge to see the Yaquina Bay Lighthouse and visit the shops and restaurants of Newport's historic harbor.
#46. Yaquina Head Outstanding Natural Area
As the name suggests, this is the place to see marine wildlife. I don't understand how so much marine life can abound right next to Newport, but it's there!
Seals and sea lions pack the coves, creatures fill the tide pools, and marine fowl cover the rocks.
On our visit we witnessed a bald eagle capture a puffin. It happened on the rocks directly in front of the lighthouse viewing platform!
The historic Yaquina Head Lighthouse stands at the center of all this natural beauty. Tours of the lighthouse are available. All of this can be reached with an easy hike from the visitor center.
The visitor center provides excellent displays and activities about the natural and human history of Yaquina Head and its surrounding area.
Waldport & Yachats
Waldport and Yachats are small cities with beautiful beaches. These two communities are located on a quiet stretch of the Oregon coast next to national forests, and lovely state parks.
#47. Cape Perpetua
Take in incredible views of the Oregon coast on top of an 800-foot tall headland. Cape Perpetua boasts the highest scenic viewpoint on the Oregon Coast.
Formidable Cape Perpetua was named by the British Captain James Cook in 1778, but it bears evidence of over 6,000 years of indigenous occupation. Today Cape Perpetua Scenic Area includes 2,700 acres of coastal forestland, accessed by 26 miles of trails.
The cape's rocky coastline includes a number of noteworthy landmarks. Devil's Churn, Thor's Well, and Cook's Chasm are curious natural formations that lend their own wonder to this foreboding stretch of coast.
Many of the park's trails were constructed by the Civilian Conservation Corps, a key component of the New Deal. The CCC camp once stood where the Cape Perpetua Visitor Center stands today.
Cape Perpetua's Visitor Center features exhibits on the area, and provides information and services to ensure a good time for your entire family. Cape Perpetua Scenic Area is located three miles south of Yachats.
#48. Haceta Head Lighthouse State Scenic Viewpoint
Haceta Head Lighthouse is the most photographed lighthouse on the entire Oregon Coast. Haceta Head Lighthouse State Scenic Viewpoint offers one of the most scenic experiences of the Oregon Coast.
This state park includes a secluded beach, beautiful trails, and a Bed and Breakfast at the historic Haceta Head Lightkeepers House. Haceta Head Lighthouse State Scenic Viewpoint is 12 miles north of Florence, Oregon.
Florence
Florence is known as Central Oregon's Coastal playground. You can ride a dune buggy, go fishing, shop for antiques, and enjoy fresh seafood all in one place.
Located at the end of Highway 126, this city is in close reach of Eugene and the Interstate 5. Florence is about four hours from Crater Lake National Park, so it's a good stepping stone if you're looking to go from Cascades to coast.
#49. Sea Lion Caves
Here's a big attraction with a tame name. As a beach boy, I'd always wondered why you'd want to visit the Sea Lion Caves. It sounded a lot like "trees with squirrels," not all that fantastic on the coast.
However, there's quite a lot to this place. For one, you take an elevator to North America's largest sea cave. The enormous cave is the only Steller Sea Lion rookery in the lower 48 United States. The attraction is located on high cliffs situated ten miles north of Florence.
#50. Oregon Dunes National Recreation Area
Florence is located just north of one of the largest expanses of temperate coastal dunes in the world. Oregon Dunes National Recreation Area allows a host of outdoor activities while also protecting this strange and beautiful ecosystem.
Oregon's sand dunes are best known for its off-road adventures. People take to the dunes in ATVs and dune buggies in the three designated areas allowing vehicle recreation. A number of companies provide guided tours of the sand dunes via dune buggies and other off-road vehicles.
Things to Do on the Southern Oregon Coast with Kids
Oregon's southern coastline is wilder and less populated than the central and northern coast regions. The "Banana Coast" often enjoys 70 degree days even in January and February. These two factors make the South Coast a great choice when traveling the Oregon Coast with kids.
Table of Contents
Port Orford
Port Orford begins Oregon's wilderness coast, a sparsely populated stretch of southern Oregon. This small fishing town is also the oldest settlement on the Oregon Coast, and a great place for making memories.
#51. Port Orford Heads State Park
Step into nautical history at the Port Orford Lifeboat Station. Your children can learn about the heroes who hazarded storms to save sailors in need. The park includes an observation tower, crew quarters, and a self-righting lifeboat.
Port Orford is just one of several nautical landmarks that punctuate Oregons rugged southern coast line. Keep an eye out for the Umpqua River, Cape Arago, Coquille River, Cape Blanco, and Pelican Bay lighthouses as you cruise your way south.
52. Prehistoric Gardens
Prehistoric Gardens is just plain fun. Imagine that your childhood dinosaur dreams came to life, and you've pretty much pegged it. Colorful, life-size dinosaur statues stand among beautiful coastal rainforest.
The family run business is a great surprise for young kids and a great way to stretch the legs after hours of driving the 101. We visited Prehistoric Gardens on the last day of our Holiday National Park Roadtrip and our kids lit up!
Prehistoric Gardens offers much more value than you would expect from the entrance. The walking path features a varied selection of prehistoric creatures from different epochs of natural history.
The path also gives extensive information on prehistoric plants. In fact, some of these plants can be seen growing right in front of you!
The pathway was accessible and the children enjoyed the easy-to-use map that guided them through the coastal rainforest and its exotic inhabitants. We'd like to thank Prehistoric Gardens for providing our admission to their fun, educational attraction.
Gold Beach
Gold Beach is a historic sea town located at the mouth of the wild, scenic Rogue River. The town's location makes it a natural destination for quiet moments, outdoor adventures, and wild encounters.
#53. Mary D. Hume Shipwreck
One of the Gold Beach's best attractions is literally right off the highway. The Mary D. Hume shipwreck is a fitting memorial to Oregon's colorful maritime history.
The Mary D. Hume was built in Gold Beach in 1881 for service as a coastal freighter, hauling goods from San Francisco to points along the Oregon Coast. Over the course of her 90 year career, the "Mary D." served as an arctic whaling vessel, Nushagak River tugboat, ocean tugboat, and halibut fishing boat. Today she rests only only a short distance from where she was originally built!
The sight of a shipwreck was cool, but we were even more delighted to encounter the dozens of harbor seals resting only yards away! These kind of moments make it so rewarding to travel the Oregon Coast with kids.
#54. Rogue River-Siskiyou National Forest
The federally protected lands of Southern Oregon offer true wilderness experiences. These sparsely populated areas are rich in natural beauty and abundant in wildlife including elk, seals, osprey, eagles, otter, sea lions, and bears.
The community of Agness, Oregon offers rich, wilderness seclusion. This mountain settlement is situated at the fork of the Rogue and Illinois rivers. Agness is one of two river communities in the United States that still receives mail by river boat (see below).
#55. Jetboat Tours
Explore the wild Rogue River from a jet boat at Jerry's Rogue Jets. Specially designed jet boats offer a variety of ways to experience Southern Oregon's mighty river.
These Rogue River boat tours are modern off-shoot of what was once a vital, daily need. Mail boats bore mail and news up the Rogue River to settlers who lived in the mountainous interior of Southern Oregon. Today, the shallow-keeled boats allow you to go deep into Southern Oregon and explore places you can't get to in a car.
Brookings
Brookings is the Oregon Coast's border city. At only six miles from the California border, Brookings enjoys warmer weather and unparalleled access to Redwood National Park. Brookings is situated near to three of the best state scenic corridors on the Oregon Coast.
#56. Samuel L. Boardman State Scenic Corridor
Oregon's best loved scenic corridor lies only minutes away from Brookings. The Samuel L. Boardman State Scenic Corridor is a jaw-dropping series of a pristine coves and serene arches, flanked by rainforest, topped headlands.
We took a hike down just one of the corridor's many trails and we found ourselves more than rewarded for our efforts. The lush forestland and dramatic views are simply incredible, and entirely free of human development.
#57. McVay Rock State Recreation Site
Here's a little known treasure! We visited McVay SRS on a hunch, and did we hit the jackpot! For one, the weather was amazing. We'd dressed for December weather but found ourselves quickly stripping down and wading in the water.
McVay Rock State Recreation Site is packed with things to explore. The most obvious of these is an enormous, bleached Redwood stump.
The massive stump contains a natural hollow that's so deep that I had difficulty getting back out of it. I could stand within the stump and not see out over its rim. We had never thought about Redwood driftwood, but here it was in all its glory.
An equally impressive Redwood log was laying just around the bend. The "drift-tree" was lodged next to a minuscule cave passage and a strange, mushroom shaped rock. We'd stumbled upon a delightful, natural playground.
Our children loved scrambling over the rocks and exploring the tide pools at McVay Rock Beach. Our oldest son perched himself on the top of one of tallest rocks and watched the harbor seals for a full half hour.
McVay Rock Beach is one of several Oregon beaches that bear gemstones and we enjoyed picking jaspers out of the beach and creek gravels. Over the course of the day we also discovered a full-grown Dungenous crab and caught a harbor seal spying on us from the nearby waves.
It's stops like McVay Rock SRS that make it so worthwhile to explore the Oregon Coast with kids. This remarkable coastline has attractions that go beyond sand and sunshine, and this makes the coast a fantastic road trip destination all year long.
#58. Chetco Point Park
Chetco Point Park is a worthwhile stop when exploring the Southern Oregon Coast with kids. A gentle pathway leads to Chetco Point, a small headland that commands sweeping views of the surrounding coastline.
Coves on either side of Chetco Point offer as much interest as the views themselves. We found Chetco Point Park to be an ideal place to watch the sunset together as a family.
#59. Azalea Park, Natures Coastal Holiday
Brookings host one of biggest holiday celebrations in the Pacific Northwest. Nature's Coastal Holiday is an enormous holiday light displays that takes over Brooking's Azalea Park.
The Nature's Coastal Holiday display is on a scale unlike anything I'd ever experienced before. We spent nearly an hour walking the paths and exploring this beautiful and bizarre lightscape.
#60. Quail Prairie Lookout
Ready for a view with a capital V? Quail Prairie Lookout Site stands 3,033 feet above sea level, providing rangers the perch they need to watch over the Kalmiopsis Wilderness.
Not high enough? Then take the 52-foot climb up to the primitive cabin that tops the viewing tower! Quail Prairie Lookout is a fantastic place to watch a sunrise, a sunset, and admire beautiful starry skies.
#61. Redwood National Park
We found Brookings to be an excellent home base for exploring Redwood National Park. At less than half and hour away, we could enjoy the park without paying a premium rate.
Oregon has a lower cost of living than California, and no sales tax. Adding a little bit of drive time allowed us to enjoy more while spending less.
Better yet, people don't typically put the words "Oregon" and "Redwoods" together. This fact makes Brookings a convenient backdoor into one of the most popular national parks in the United States.
Oregon Coast with Kids FAQs
FAQs Table of Contents
What is the best month to visit the Oregon Coast?
What is the prettiest section of the Oregon Coast?
Is Cannon Beach good for kids?
How many days do you need for the Oregon Coast?
Is the Oregon Coast worth visiting?
What should I not miss on the Oregon Coast?
Which is better, Cannon Beach or Seaside Oregon?
Why is Seaside Oregon so popular?
Why is Cannon Beach so popular?
What is the warmest beach on the Oregon Coast?
What is the most scenic beach on the Oregon Coast?
What is the best month to visit the Oregon Coast?
September and October is the ideal time to visit the Oregon Coast. There are less crowds and the weather is still pleasant. Late spring is also nice, but by that time most Oregonians are itching for a break and head to the coast.
Summer is the time to go if you plan to swim. The Oregon Coast is cold. So go with a warm weather visit if you want to get wet.
That said, we visit the coast year round. Coastal temperatures are generally mild and inclement weather doesn't tend to stay long. Winter mist and snow adds to the beauty of Oregon's wild, rugged coastline, while whales and other wildlife are easiest to spot in the winter months.
What is the prettiest section of the Oregon Coast?
Personally, I think the North Coast is the prettiest section of the Oregon Coast. The South Coast comes in at a close second, and then the Central Coast.
The North Coast hosts a number of world-class locations including Cannon Beach (#9), Ecola State Park (#8), Oswald West State Park (#10), Cape Kiwanda Natural Area (#19), and the Mouth of the Columbia River (#4). The region has a wonderful balance of forested cliffs, majestic sea stacks, and long sandy beaches. Get our best North Coast know-how on Patreon.
The Southern Oregon Coast is the most rugged and wild section of the state's coastline. This region includes three scenic corridors including the famous Samuel L Boardman State Scenic Corridor (#42).
The Central Oregon Coast has a beauty of its own, being the home of the Oregon Dunes (#36). In addition, the headlands north of Newport and Florence are notably beautiful.
Is Oregon good with kids?
Oregon is very good with kids. We came from Southern California, the land where no one has time for anyone. Oregon has both a slower pace and a richer community life.
Oregonians are generally soft-spoken, accepting people who welcome families and children.
Is Cannon Beach good for kids?
Our family has visited Cannon Beach many times and we've never felt unwelcome. The cozy beach town depends on travelers and welcomes them warmly regardless of their ages.
Cannon Beach has a parks, playgrounds, and family friendly restaurants. The wide beach and its many tide pools are easy to get to from almost every part of the town.
Like most beach towns, Cannon Beach does have its share of art galleries and wine tasting rooms. Children are expected to be closely supervised in these kind of settings.
How many days do you need for the Oregon Coast?
The answer to this question depends on the nature of your trip. First, is the Oregon Coast your single destination or a stop en route to another destination? Both options are good, but they will determine what you can do and how much time you need.
The Oregon Coast is a great place to relax and explore. If that's your goal, we'd recommend that you pick a part of the coast that most interests you and make that region your destination.
Our best beach vacations have involved stays of four days or more, exploring a part of the Oregon Coast at a relaxed pace. However, we've enjoyed the benefit of living only two hours from the coast. Be sure to allot additional days for travel if you're flying in or driving from out of state.
The coast is still enjoyable even when its a route to another destination. However, this travel approach will limit your options as to what activities you can do.
It is possible to get the best of both options if you plan it well. For example, we spent three days exploring the Brookings area on a recent Holiday National Park Roadtrip. On our last day we returned home by touring along the Oregon Coast before taking the Umpqua Scenic Corridor east to the Interstate 5.
A nonstop drive along the 101 will take you at least 7 hours. We would recommend allocating no less than three days if you plan to tour your way along the full length of the Oregon Coast.
Is the Oregon Coast worth visiting?
Yes! For one, its natural beauty and native wildlife are distinct from the California Coast, including Northern California. Furthermore, the Oregon Coast is generally overlooked and less crowded than its counterparts in California, Washington State, and British Columbia.
Finally, "the People's Coast" has benefitted from state protection for decades, making it one of the least developed and most accessible coastlines in the United States.
What should I not miss on the Oregon Coast?
Three places are not to be missed on the Oregon Coast:
Newport: The city of Newport is one of the most beautiful and dynamic locations on the Oregon Coast. The Newport region has stunning natural beauty, lovely beaches, great culture, and an abundance of attractions. Review stops 26 through 32 to get a sense of what's to be found in and around this remarkable city.
The North Oregon Coast: We've driven along the North Coast several times and we're still taken with it. This stretch of coastline is simply breathtaking and offers a good deal of variety. The first third of this post is dedicated to stops along the North Coast.
Astoria: There's no place on the Oregon Coast (or even the West Coast) that's quite like Astoria. I vividly remember the first time I crossed the Columbia River via the Astoria-Megler Bridge. I was in eighth grade and the sheer size and power of the Columbia River was awesome to this middle-school city boy. The Astoria region has a depth of history and culture beyond any other location on the Oregon Coast. You'll find 5 great stops in and around Astoria at the very beginning of this post.
You can benefit from exclusive content and resources on all three of these regions as a Dinkum Tribe Patreon member.
Which is better, Cannon Beach or Seaside Oregon?
The answer depends on what you're looking for. Seaside is a Surf City kind of place not unlike Coney Island, Santa Monica, or Huntington Beach. Seaside is bigger than Cannon Beach (pop. 6,457 in 2010) and is the chief coastal getaway of the Portland Metro region. If you're looking for fun-in-the-sun and lots of amenities then this is the place for you.
Cannon Beach is a small coastal enclave ideal for people who are looking for secluded beauty. The Cannon Beach region is not unlike what you find along the Central California coastal towns of San Simeon or Paso Robles. The small town setting (pop. 1,690 in 2010) makes it a great location for people who value quiet, conversation, reflection, nature, and art.
Why is Seaside Oregon so popular?
Seaside is the most convenient beach city on the Oregon Coast. This surf city is located at the end of Highway 26, making it the easiest Oregon Coast destination to reach from Portland.
Seaside has a large number of hotels and accommodations to choose from. So it's relatively easy to find quality lodging that also fits your budget.
Seaside also has tons of things to do including Seaside Beach, the Promenade, the Seaside Aquarium, the Carousel & Arcade, Paddle Boats, and more. Finally, Seaside is only a short drive from several popular Oregon Coast locations including Cannon Beach, Ecola State Park, Fort Steven's State Park, and Astoria.
All of these factors make Seaside a destination of choice when you're visiting the Oregon Coast with kids. Discover Seaside's best features and local secrets as a Dinkum Tribe Patreon member.
Why is Cannon Beach so popular?
Cannon Beach is so popular because for two reasons:
First, Cannon Beach is stunning. This world-class beach is arguably the most beautiful beach in Oregon. The daunting sea stacks, dramatic cliffs, and forested hills bring together the most iconic aspects of the Oregon Coast.
Second, Cannon Beach is surprisingly easy to visit. The famous beach lies at the end of Highway 26. This makes Cannon Beach one of the easiest beach locations to reach from Portland Oregon.
What is the warmest beach on the Oregon Coast?
You will find the warmest beaches in Brookings, Oregon. Average high temperatures range from 67 degrees (summer) and 54 degrees (winter). Average low temperatures ranged from 54 degrees (summer) and 43 degrees (winter).
Brookings experiences an average of 191 sunny days per year, which is not far from the US average of 205 sunny days per year, (compare to Newport at 156, or Seaside at 128).
We can personally testify to Brooking's warm weather. We bundled up for a beach day at McVay Rock State Recreation Site in early December. However, we quickly found ourselves stripping down, going barefoot, and even wading in the water. The weather was mild and pleasant over the course of our three night stay in Brookings.
What is the most scenic beach on the Oregon Coast?
The Oregon Coast is packed full of scenic beaches. The following beaches are especially scenic:
Northern Oregon Coast:
Cannon Beach
Delaura Beach (Fort Stevens State Park)
Central Oregon Coast:
Beverly Beach
Haceta Head Lighthouse State Scenic Viewpoint
Southern Oregon Coast:
Samuel L. Boardman State Scenic Corridor
Pistol River State Scenic Viewpoint
63 Fun Things for an Oregon Coast Road Trip with Kids
This concludes our list of favorite things to do the Oregon Coast with kids. As you can see Oregon's stretch of the 101 is packed full of fun for kids of all ages.
Do you know a spot that we're missing? Do you have a question about one of the stops we featured? Leave a comment and we'll be happy to talk with you. Happy traveling!
© Copyright 2023 Brian A. Warren. First published: February 4, 2022. Updated: January 11, 2023.