Are you thinking about visiting Seaside, Oregon with kids? It's one of our favorite places to visit, either as a couple's getaway, or with our children for a family vacation.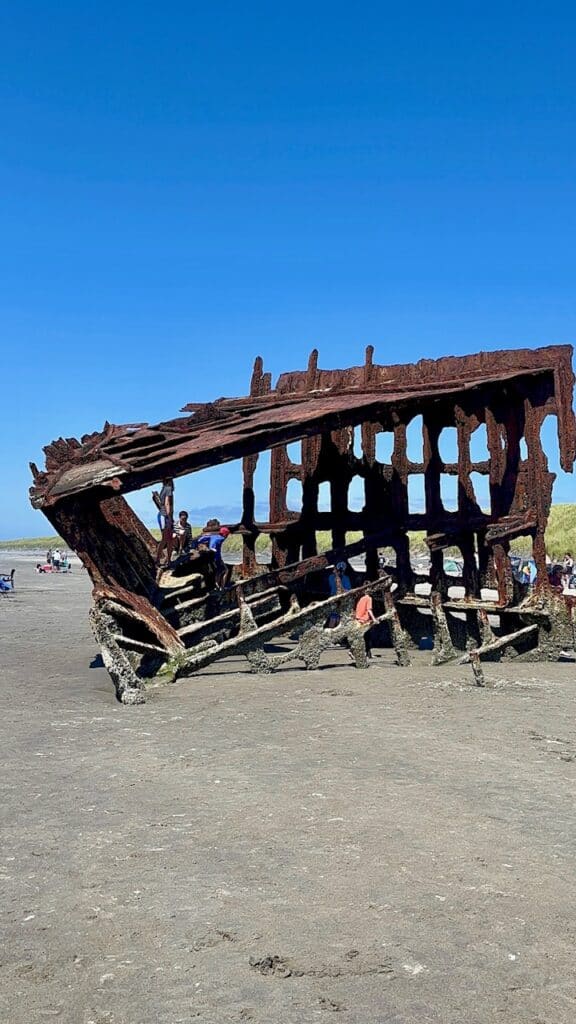 One major reason for this is that there are many fun options for activities that can be done even when it's raining. Oregonians are used to the rain, so we have learned to expect it and make plans that a rainy day will not ruin.
This post contains affiliate links. As an Amazon Associate I earn from qualifying purchases made from the links on this site, at no extra cost to you. Thanks for supporting our family business!
Table of Contents
Seaside, Oregon is ideally situated on the northern Oregon Coast. It's a 15-minute drive from Seaside to Cannon Beach and Ecola State Park, and Rockaway Beach is less than an hour south (with an incredibly scenic drive along the way).
Here are our top 23 favorite things to do if you visit Seaside.
1. Norma's Seafood Restaurant
This place has a family friendly atmosphere, and award-winning clam chowder! We make a point of enjoying seafood when we are near the ocean, so we frequently have at least one meal here when we stay in Seaside Oregon with kids.
It's a casual place, but also has enough variety so that the whole family can find something they'll enjoy. Our kids usually order the grilled cheese, and they also steal the garlic toast from my plate. Norma's is centrally located just steps off Broadway Street, which is the "main drag" for downtown Seaside.
2. Seaside Aquarium
The aquarium is housed in a historic building that is decidedly unimpressive. It's one of the oldest aquariums on the West Coast of the United States, and the building was converted from an old indoor swimming pool and salt water bath center. Between the building and the low tech website, I didn't expect much when my daughter begged me to take her here on our mother-daughter getaway.
I was mistaken—this place is fantastic! Reasonably priced for the entire family, and an excellent variety of marine life for such a small space. A couple of hours is more than enough time to see it all, but it was a worthwhile way to pass the time.
**************************************************************
Here's my daughter's thoughts about this incredible Aquarium:
"The Most Fun Aquarium in All of Oregon!
Now, I know what you're looking for. "What aquarium will teach you about the ocean, is worth your time and not far from your hotel, and doesn't bore your kids to death?"
Believe me, this one is what you've been waiting for. Trust me, I'm a teenager, easily bored, and I loved every minute. Located at Seaside, Oregon, it's small but awesome, right on the boardwalk, and only a short distance away from the Seaside Promenade. 10, 20 minutes walking time, 5 minutes by car, but it's so worth it!
Let me walk you through the Seaside Aquarium.
Basic information about the Seaside Aquarium
First off, the entrance. It's a big, wooden boards—style building, with a huge yellow sign. Can't miss it.
Then, once you go inside, you'll see the first thing that makes this aquarium cool: The seals. They're in a huge tank positioned helpfully right next to the entrance/exit, admission pay stand, and gift shop.
Admission is $9.00 for adults, $4.50 for kids ages 6-13, 5 yr olds are free if the rest of their group has paid admission (Woo-hoo!), Seniors (64+) are $7.75, and yes, they are wheelchair friendly and dog friendly. Families are $31.00 if there's 6 of you. We'll get to the gift shop later.
Marine animals
The highlight of the aquarium is the seals. There are 11 seals, all of which have different fun ways to get your attention.
Parent Alert! Your kids are gonna want to feed them! It's only $2.00 for a tray of sardines, but be prepared to get wet, as they will do anything to get a snack from you.
There is also a giant orca over the entrance. Just a friendly heads-up so you don't freak out! Next up, a shelf full of aquatic animal skulls and other such things. Yawn. I thought it was cool, but most kids will probably be bored by that, so, moving on, the next thing you'll see is a bunch of tanks!
This aquarium has several types of fish, wolf eels, a moray eel, some sharks, (small ones, but still cool!) and a rather small octopus who likes hiding. I call him Fred. 😊 The information on whatever creature is in the tank you're at is posted helpfully right above it!
Touch tanks and other tanks
There are also 3 touch tanks! Complete with sea cucumbers, sea urchins (which can't hurt you, but they will hug you if you rest your finger on them long enough,) sea anemones, crabs, all sorts of small creatures.
There's also another tank in the touch area with baby fish in it, but, spoiler alert, you can't pet them. ☹️ There's all sorts of interesting things around the touch tank area, including shells from Japanese mollusks, and a giant 6-ft-long squid (preserved, not alive).
There's also a large tank about three feet deep, with a giant Pacific octopus! Sadly, again, no touchy. However, it is pretty cool to watch.
History and more
For the fellow history nerds out there, this place does have history. Look for the funny-shaped tank. No more hints, though.
When you're done, and your kids are thoroughly bored, don't forget to check out Victor the Lobster on your way out. His weight and size may surprise you, but no spoilers here!
Other amazing stuff
Do not skip the gift shop. It's really cool, and you can get all sorts of cool things for great prices. They have glass statues, Christmas ornaments, books, stuffies, toys, you name it. Your kids (and you!) are gonna love it, so give them time to save up!
Once you leave, don't miss this amazing photo spot. On the outside wall–get this– on the outside wall facing the street, they have a (model? real? I don't know!) whale skeleton on display! And a seal one! (Again, I dunno). And some other cool stuff! I don't remember exactly, but I do remember that it was cool.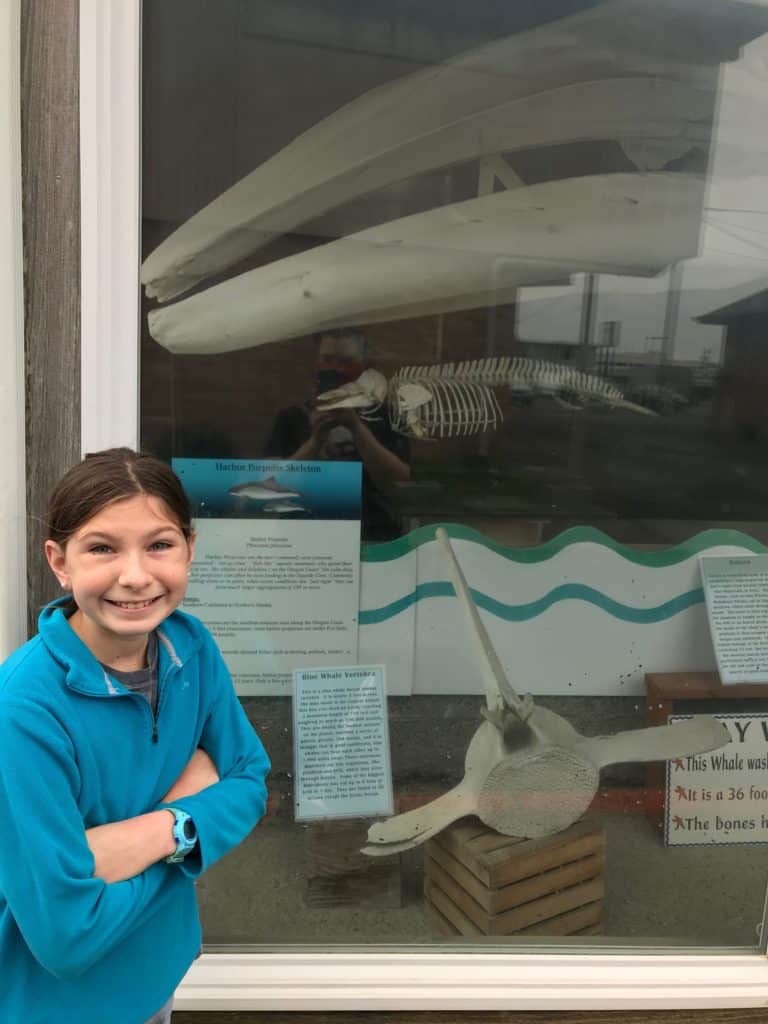 So people, put this on your vacation list when visiting Seaside Oregon with kids! It is definitely worth visiting! Have fun! " -Burro
*************************************************************
This was a great spot to have lunch with my husband. The food was delicious and creative – we loved the sriracha bacon appetizer and the pretzel knots.
The building is an old theater, and they sometimes show movies there. When the movie is not playing, the stage has all the brewery apparatus on it. My understanding is that they also give brewing demonstrations.
4. The Wreck of the Peter Iredale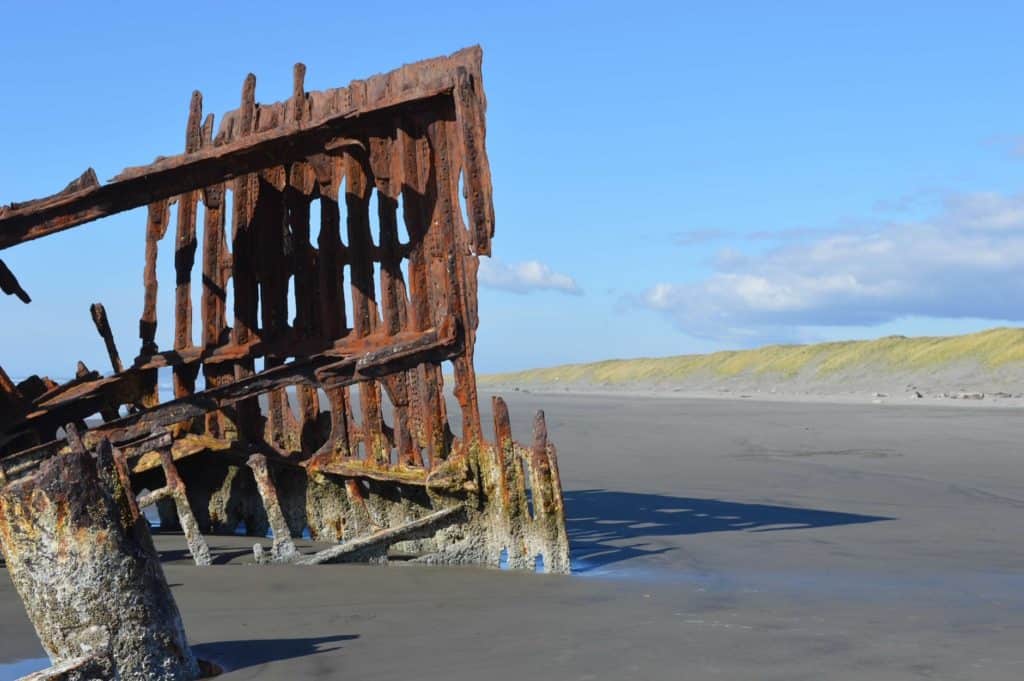 Fort Stevens State Park has so much to offer families, but perhaps its most interesting feature is the wreck of the Peter Iredale, a ship that ran aground not far north of Seaside. Salvagers took away what they could, leaving only the metal ribs of its hull.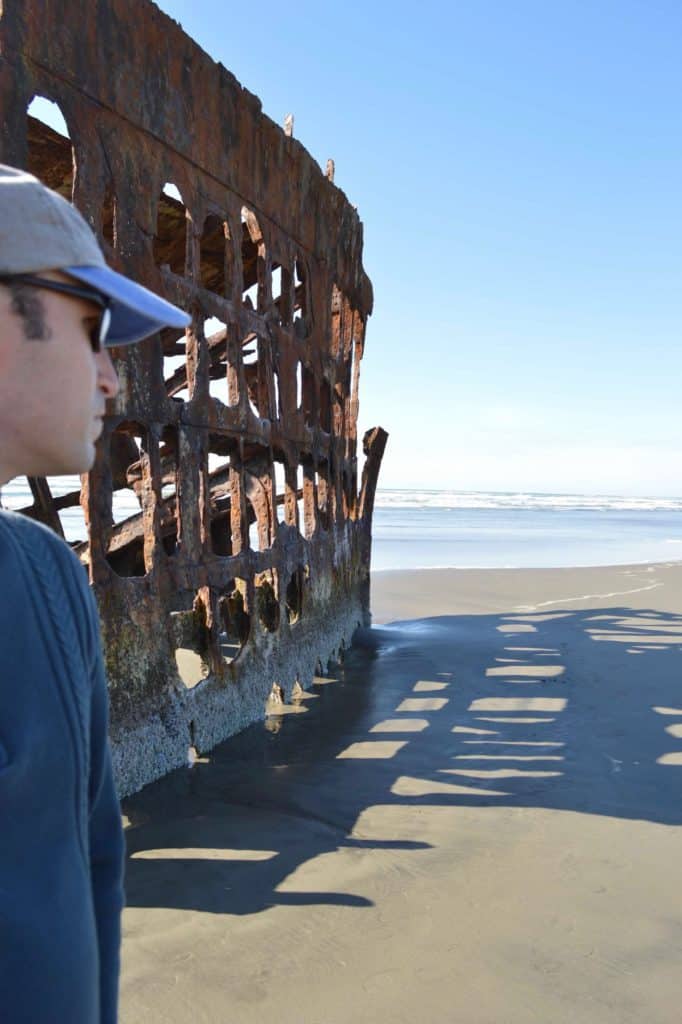 Depending on the tides, recent storm activity and other factors, you may be able to see more or less of the wreck. I found it eerie and romantic to walk around the skeleton of an old ship.
@dinkumtribe "Peter Iredale was a four-masted steel barque sailing vessel that ran ashore October 25, 1906, on the Oregon coast en route to the Columbia River. She was abandoned on Clatsop Spit near Fort Stevens in Warrenton about four miles (6 km) south of the Columbia River channel. Wreckage is still visible, making it a popular tourist attraction as one of the most accessible shipwrecks of the Graveyard of the Pacific." (From Wikipedia). @DinkumTribe ADHD family travel @DinkumTribe ADHD family travel @DinkumTribe ADHD family travel ##shipwrecked##graveyardofthepacific##oregontravelideas##coolplaces##shipwreckbeach ♬ Beautiful Day – U2
The Shipwreck is one of many wonders of Fort Stevens State Park, which we discuss at length further down in this post, as well as in our Astoria post.
5. Stroll along the Seaside Promenade
The boardwalk runs along the edge of the Seaside beach and the town. In roughly the middle, there's a statue commemorating Lewis and Clark's arrival at the Pacific Ocean, the final stop on the Lewis and Clark expedition.
Walking along the Prom is a great way to enjoy the views after a meal, and yields incredible views of the sunset at the right time of day.
6. Quick stop: Lewis and Clark Salt Works
Towards the southern end of the Promenade, about a block away, you can look peek at the Lewis and Clark salt works. There's not much to see, but history buffs will enjoy the novelty. It's also an easy stop to make if your kid is working on the Lewis and Clark National Park Junior Ranger badge.
I'm no fan of salt water taffy, but this place is worth visiting. With over 150 flavors of saltwater taffy, you're sure to find something. It's a kid's dream world!
There's also a little free crazy hall of mirrors right around the corner, which made for some funny pictures with my daughter.
Fort Clatsop is one of a series of units for the Lewis and Clark National Historic Trail that thread along the Oregon and Washington Coast. This location is further inland, and is the spot where the Corps of Discovery made its winter encampment.
The Visitor center has excellent exhibits, and lots of trails to walk along. Unless it is pouring rain or freezing cold, this is a park you could enjoy most days.
Kids will love working on earning a wooden Junior Ranger badge here!
It's a short drive (20 minutes) from Seaside. Fun fact: there are plenty of elk in the area. We came upon an entire herd on our way back to our hotel!
Good pizza, and something for everyone. We happily passed a couple hours playing video games and other arcade games. Fruit Ninja, Mario Kart, Guitar Hero – nearly all the most popular games and traditional favorites like air hockey and Skeeball.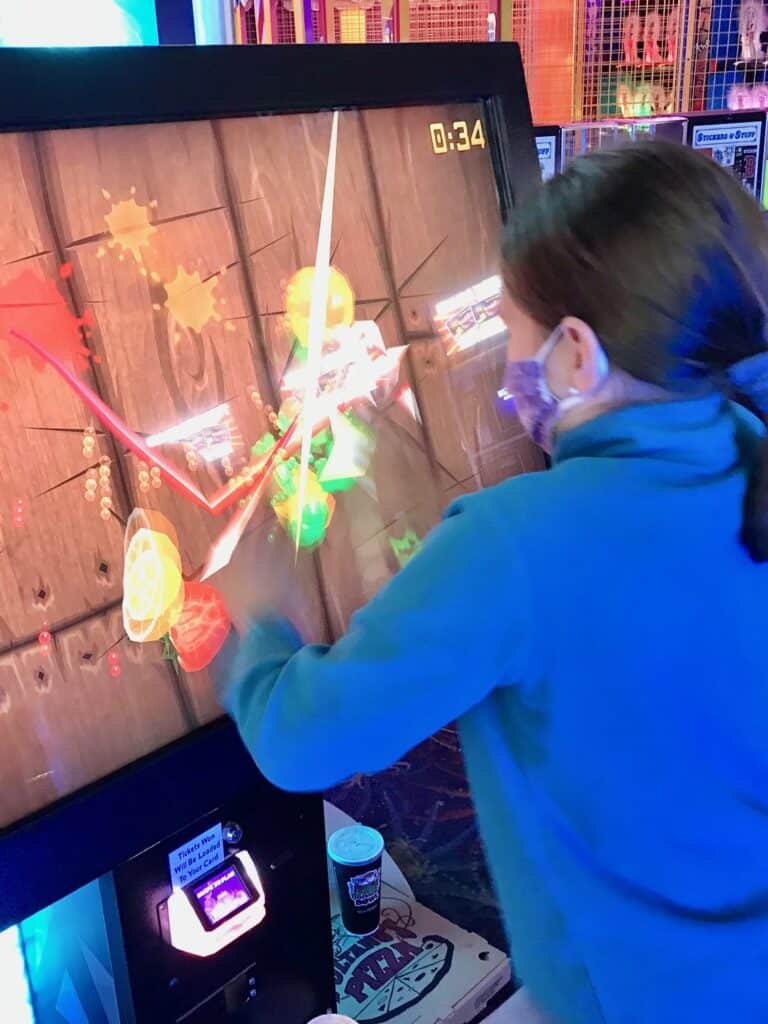 Funland Arcade is walking distance from most of Seaside's local hotels. It's the perfect spot to hang out on rainy days. Exploring Seaside Oregon with kids requires some flexible options like this.
10. Campfire on the beach
We make a trip out to the beach at Seaside at least once every summer. Most recently we decided to bring wood and make a fire so the kids could roast hot dogs and marshmallows. Sheer happiness.
There's always a lot of interesting things to find on the beach, from stranded jellyfish, to driftwood, to sand dollars. Lots of people dig for razor clams here too at low tide, although we haven't yet attempted it.
There are decent changing rooms right below the Promenade, and parking in Seaside is generally not too much of a challenge.
Here's a list of Essentials For a Family Beach Packing List, so you can make the most of your Seaside Beach visit.
11. Stroll along the Necanicum River boardwalk
There is a second, shorter boardwalk a few blocks up from the beach. The river walk is quiet and there are often ducks in the water, or shorebirds.
You can rent paddle boats and kayaks, but somehow we are never in Seaside when they are open. Guess we have a good reason to return!
12. Captain Kid Amusement Park
Captain Kid Amusement Park is a small, family-owned amusement park located in Seaside, Oregon. It's open from March to October, and offers a variety of rides and fun activities for all ages.
Some of the rides and attractions at Captain Kid Amusement Park include: mini golf course, go-karts, small rollercoaster, helicopter/airplane ride, a water slide complex, bumper cars and a gem mining sluice. The park also has a covered area available to rent for parties.
13. High Life Adventure Park
High Life Adventure Park is an aerial challenge course located in Seaside, Oregon. It's open from May to September, and offers several courses for you and your kids and teens to climb, swing, and balance on.
With four levels of difficulty and over 50 different obstacles on the courses (zip lines, rope swings, balance beams, and ladders), it's a great place to test your skills. Trained staff members can help you if you need some assistance and they're on hand to ensure your safety.
High Life Adventure Park is one of the best places for adults and kids ages 4 and up to have fun and challenge themselves.
5 great state parks near Seaside
Ecola State Park
This park is located between Seaside and Cannon Beach, and it offers stunning views of the Pacific Ocean. It's a popular spot for whale watching, and several times when we've visited, we've seen whales spouting just offshore. Ecola SP also has excellent hiking trails, tide pools, and includes access to Indian Beach, one of the more secluded beaches on the Oregon Coast.
Fort Stevens State Park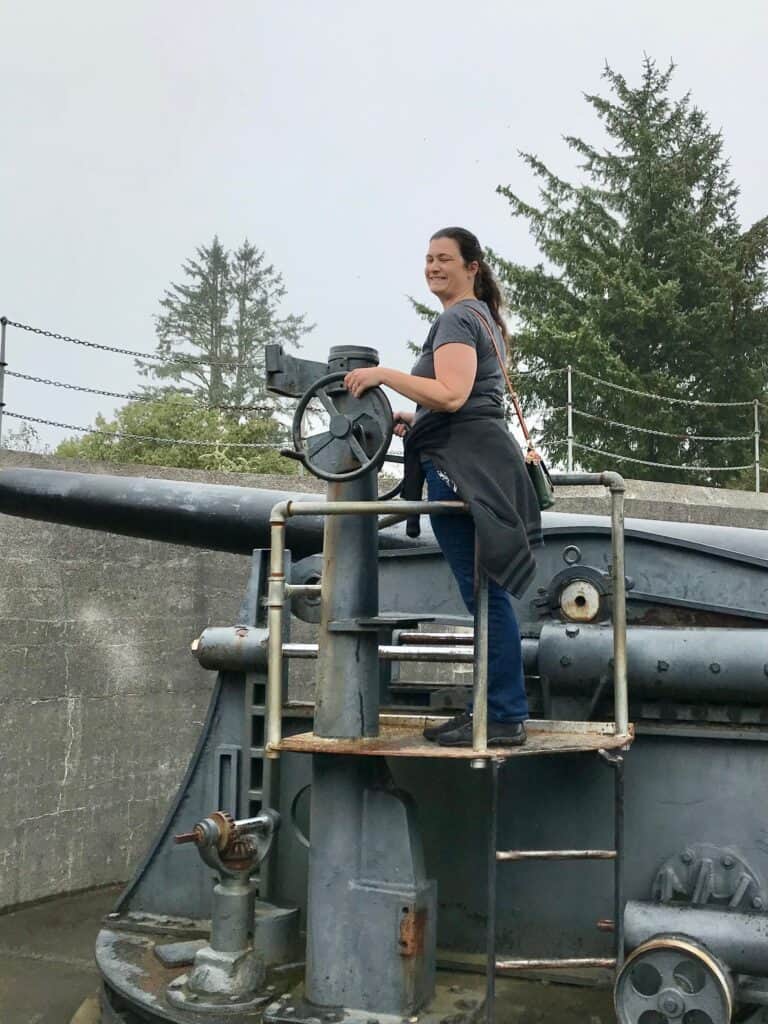 This park is located just north of Seaside, and it was once a military fort. We spent several hours here, exploring the World War 2 barracks, military battlements and even the Civil War earthworks. There's also an annual Civil War battle reenactment on Labor Day weekend (September).
This is a popular camping destination, and in the summer months the reservations fill up quickly. Disc golf, biking, hiking trails and access to the South Jetty Viewpoint of the mouth of the Columbia River make this a definite must-see!
Arcadia Beach State Recreation Site
This park is located south of Seaside, and it offers sandy beaches for swimming, sunbathing, and tidepooling. There are also hiking trails and a campground.
Del Rey Beach State Recreation Site
This park is located near Gearhart, Oregon. It's most unique feature is the horse trail that winds through the dunes.
Oswald West State Park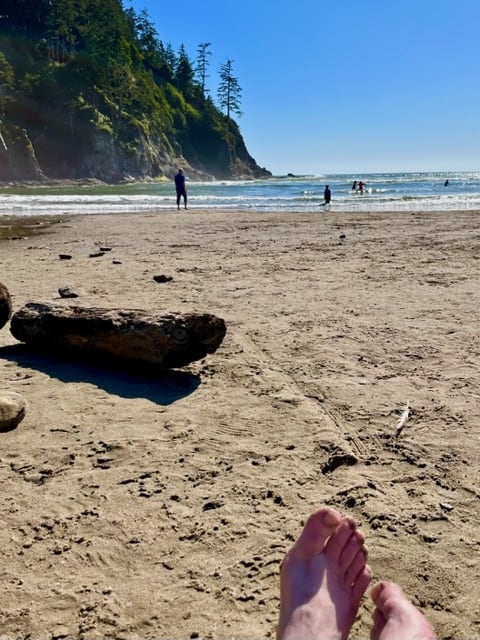 Just south of Cannon Beach, Oswald West SP offers stunning views of the Pacific Ocean. Short Sand Beach is a great spot for surfing or just playing in the waves. We had a great afternoon there, and the mile-long hike down is manageable for most kids.
If you're limited on time, drive up to Neahkanie Viewpoint near sunset. It's the perfect place to watch the sun go down over the Oregon Coastline.
19. Dundee's Donuts
Dundee's Donuts is a locally owned and operated donut shop in Seaside, Oregon. It's my favorite spot to grab a coffee and donut before a busy day of exploring the beach town. And what kid doesn't like donuts?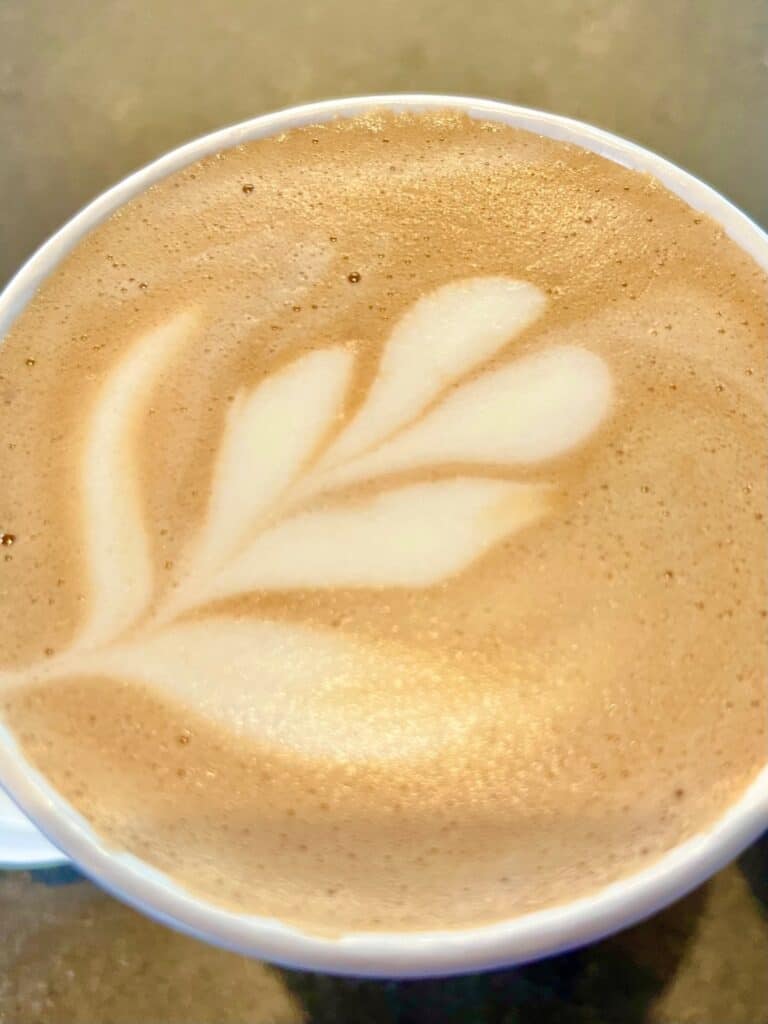 Dundee's Donuts is known for its wide variety of donuts, including traditional favorites like glazed and chocolate donuts, as well as more unique creations like the Official Pink Dundee Donut and the Maple Bars. The donuts are made fresh daily using only the finest ingredients, and they are always cooked to perfection.
Dundee's Donuts also serves a variety of other baked goods, such as muffins, cookies, and croissants. They also offer a full coffee bar, featuring Sleepy Monk Coffee from Cannon Beach.
20. Seaside Carousel Mall
Right in the heart of downtown Seaside is the Seaside Carousel Mall. We love browsing its different unique shops, and grabbing a cup of coffee while the kids take a couple of spins on the beautiful carousel. There's also an arcade and laser tag, so this is another fantastic spot to explore on a rainy day.
21. Pig 'N Pancake
Pig 'N Pancake is a casual family dining restaurant located in the heart of Seaside, Oregon. The restaurant is known for its large menu of pancakes, including the signature Pig 'N Pancake, which is a stack of six pancakes topped with whipped cream, strawberries, and a dollop of butter.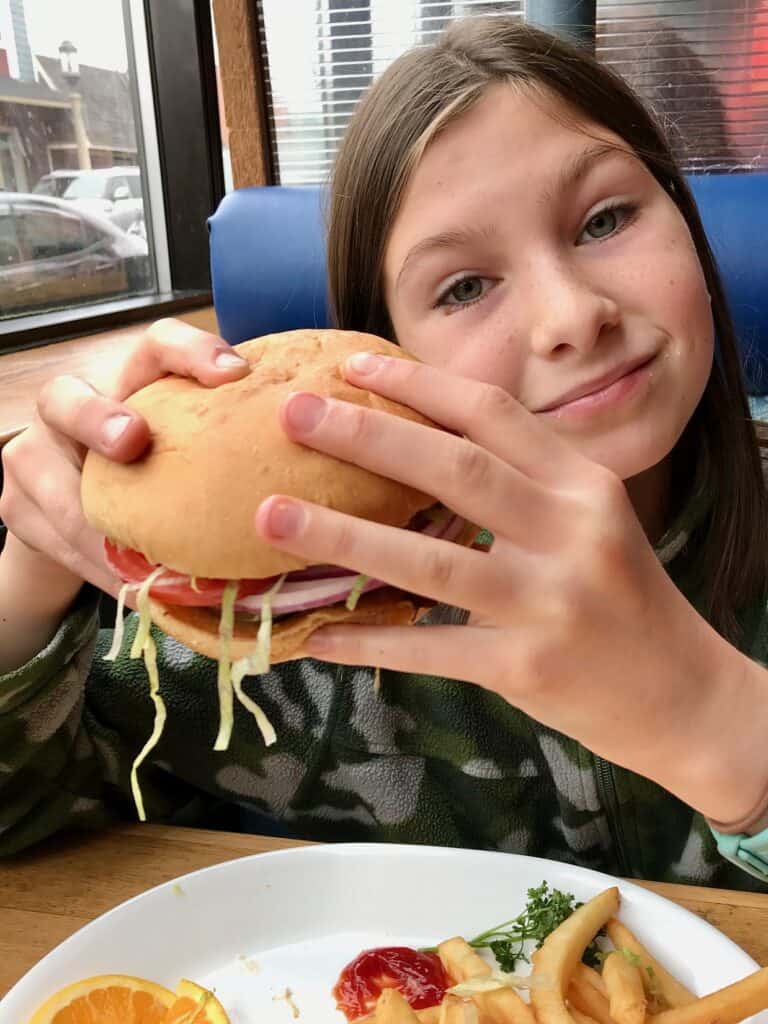 We stopped by for lunch, and my daughter loved the burger and fries! For lunch and dinner, Pig 'N Pancake offers a variety of American dishes, including steaks, seafood, pasta dishes, and burgers. The restaurant also serves desserts, including pies, cakes, and shakes.
22. Dooger's Restaurant
Dooger's Seafood & Grill is a popular seafood restaurant in Seaside, Oregon. It is known for its fresh seafood, casual atmosphere, and friendly service. We've enjoyed dinner there twice, and it's quieter than some of the other casual dining options in Seaside.
My husband loves anything with crab, so the crab cakes are our standard appetizer. I prefer calamari, which Dooger's also offers. We still talk about the amazing Diablo (spicy) shrimp we enjoyed on one visit!
After dinner, enjoy a slice of key lime pie, or share a hot chocolate lava cake. If you're willing to share, that is!
23. Seaside Outlet stores and Seaside Cinema
For families that love bargains, the Seaside Outlet stores have got it covered! Grab discounted items from brand names, and then finish off your shopping spree by catching the latest movie at the Seaside Cinema. We've watched two of The Hobbit movies there when we vacationed without kids, and it's a nice quiet theater.
Visiting Seaside Oregon with kids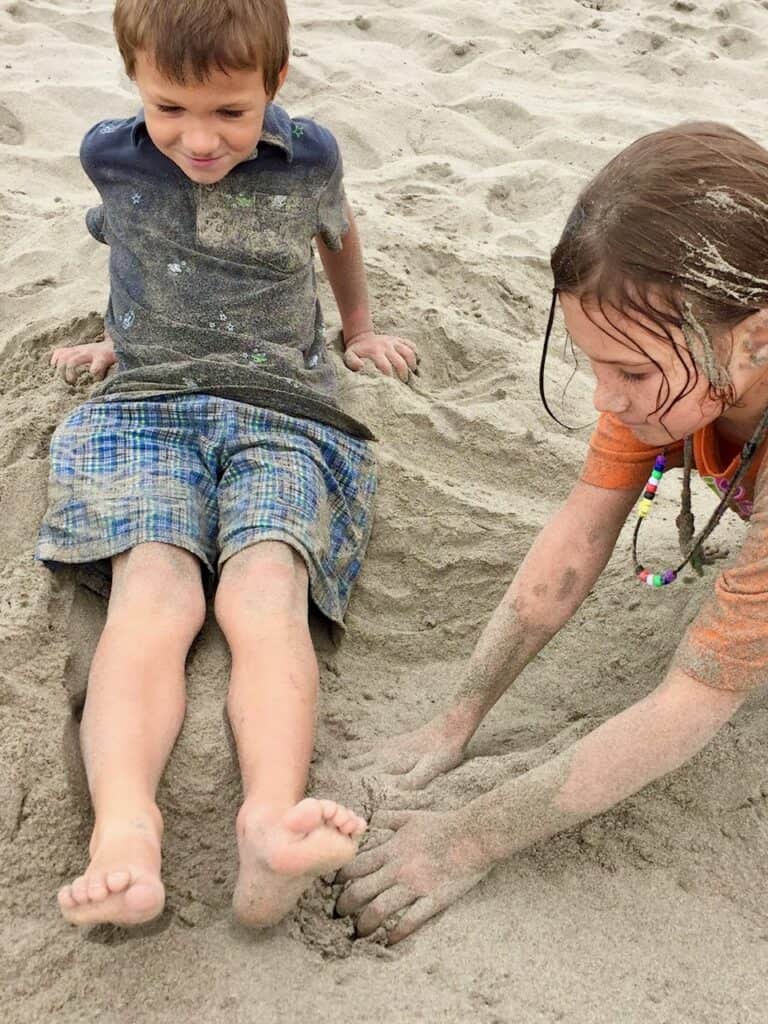 Seaside has so much to offer families! Exploring the city of Seaside Oregon with kids will make for a memorable and fun family vacation.
When you're done exploring this adorable little coastal town, drive half an hour north to Astoria, Oregon and check it out. Or drive a few hours south and check out Rockaway Beach or Pacific City, Oregon!
Have you been to Seaside, Oregon? Tell us your favorite places in the comments!
© Copyright 2022 Jennifer D. Warren and Burro Dinkum. Updated August 14, 2023.