Our Ultimate Road Trip Packing List Printable Set contains all the printable road trip checklists and tips in this post, plus bonuses! So if you're pressed for time, feel free to grab a copy and print it out to read later.
The printable contains:
This post contains affiliate links. As an Amazon Associate I earn from qualifying purchases made from the links on this site, at no extra cost to you. Thanks for supporting our family business!
Table of Contents
Road Trip with Kids – Yay or No Way?
Most people fall into one of two opinions about road tripping with kids. Either they love the idea, or they shudder at the thought of being trapped in a car for long drives with young children.
We are firmly of the opinion that a family road trip can be a happy and memorable experience! We say that based on our own childhood road trip experiences, as well as from our road trip experiences as parents of six children.
Expert Family Road Trippers
Our family has made several long trips from San Diego, California to Edmonton, Alberta and back. We have driven the I-5 from Portland to Los Angeles dozens of times. Last summer, we completed a month-long cross country road trip from Oregon to Georgia and back.
We've taken babies as young as eight weeks old on road trips, and logged more than 100,000 miles with our children in tow. Our whole family has traveled in cars, minivans, and full-sized vans.
We've made road trips in cold weather, and in hot weather. We've done lots of low-budget road trips, and a couple "blow-the-budget" trips too!
The best way to ensure a successful trip with your family is to plan ahead by using the most complete road trip checklists available. It's a good idea to be flexible in your thinking, but also to prepare well.
Dinkum Tribe's Complete Guide to Road Trips With Kids
In this post we're going to give you all of our best tips for fun and memorable road trips with your family. At the end we'll share our best road trip packing list printables and variations (such as a winter road trip packing list). Read on to plan your best trip ever!
Basic Planning Questions
There are so many factors to consider when you are planning a road trip. Get clear on your priority for the trip, and go from there.
For many of our previous trips, the priority was to attend an event: Christmas with grandparents, family reunion, church conference, and so on. If that's the kind of road trip you are planning, that will preempt some of the questions below.
However on our most recent road trip, we had complete flexibility in terms of dates and timing, and a big budget. The priority for that trip was to see my cousins in the American South, but everything else could fit in around that. That flexibility made our summer trip our favorite so far!
So here's some questions to help guide your planning.
How long will your trip be?
Where are you going?
What budgetary considerations are there?
Travel Flexibility
We have made many trips where the timing, budget or destinations were fixed and there was little flexibility to our plans. Those trips were stressful for us as parents, and difficult for the children as well.
When you are traveling with young children, we strongly recommend building in lots of margin. Margin in the budget, margin in the timeline, flexibility in the activities. This will make road tripping so much more fun for everyone, and you will be surprised at how many new discoveries you make when you are willing to go with the flow!
Travel insurance can be a great way to give some peace of mind in case your plans unexpectedly change. The extra cost involved in purchasing travel protection is much less than the cost of cancelling your entire trip due to an unforeseen emergency.
Things to think about as you set up your itinerary/route
What time of year are you going?
Many places have special events or festivals that are seasonal and definitely worth seeing! Visiting hours at many museums and other destinations have hours that change based on the the time of year. Always check ahead to make sure your planned activity or destination will be open when you arrive!
Are there weather considerations you need to prepare for?
Blizzards, extreme heat, tornadoes, dust storms, hurricanes, can all throw a wrench in your plans! For example, in many years of driving Interstate 5 from Los Angeles to Portland, Oregon, we learned to check the winter weather forecast for snow.
The mountain passes often shut down completely for a day or two when a snowstorm goes through. Alternate routes add anywhere from 6-18 hours of drive time—ask us how we found out!😉
How will you handle unexpected illness?
We dealt with two colds that went through our family over the course of our road trip last summer. We ended up sleeping in later, and dropping some activities because people were simply too tired.
Talk things over with your fellow travelers so that you're on the same page about unexpected developments. If you have to cut out an activity or two, which ones will you eliminate?
Are there local events happening that may impact tourism and travel options?
Take time to visit the destinations travel website, sign up for newsletters and free travel guides so that you can travel proactively.
Last year we stayed in Custer, South Dakota for several days in August. We did not realize until we got there that the Sturgis Motorcycle Rally was in full swing. Every popular tourist destination was full of loud motorcycles, and our kids with auditory sensitivity found that difficult.
How long do you want to be driving each day?
Our family gets cranky and unreasonable past 7 or 8 hours total drive time. Even if the drive time is broken up by interesting stops, we're all done with being in a vehicle after 7 hours. We try not to do more than 2 long drive days in a row, because that causes more fatigue.
We found that we could drive until midnight but when we did our kids would wake up fresh out of six hours of sleep. We'd pull into the hotel exhausted and our kids were refreshed and ready for action! Tired parents hushing excited kids at midnight is not a happy situation.
Likewise, we've tried our share of overnight hauls. We found that the time savings for the trip wasn't worth the risk of driving while fatigued. If you have older children who can help with the driving, this might work for your family, but it didn't work for us.
Another limit for us is how many nights we have in one place. Every two or three nights, we try to plan for a place to lodge for more than one night, so that we can do laundry and not have to pack up again every single day.
What kinds of things do you want to do and see on your trip?
For our big road trip, we let each person, adult and child, decide one thing that was their top pick. Then we made sure to hit that for each person.
My big one was Mt. Rushmore, and my husband's was the Badlands. One of our kids was dying to see the whale sharks at the Georgia Aquarium!
Once we had our trip set up to hit our big items, we filled it in with activities and stops that would appeal to several family members. It made for an epic and memorable trip, and every kid felt like they got to do their thing.
We also built in a couple "regroup" days. These were days when we caught up on sleep and did all the adulting things that need to happen to keep life going. That included bank errands, car care, phone calls, laundry and so on. We highly recommend planning in a couple regroup days, based on the specific needs of your family.
Lodging options
Now that you have your route and basic itinerary set up, it's time to make preparations! The first thing we did for our road trip was to book lodging.
It's pretty hard to visit a place for any length of time if it's not near somewhere you can stay overnight. We stayed in several hotels, two AirBnBs and also stayed with several family members in the South. Each option has advantages and disadvantages.
Hotels
Hotels are one of the more expensive options, especially as a family of 8. We have found very few hotel suites that can accommodate all of us, so we nearly always have to book two hotel rooms.
We don't want our minor children staying in a room by themselves yet, so the hotel option means Mom and Dad have to sleep separately. That gets frustrating after several nights on a long trip! Also kids usually have to share beds in a hotel room, so they don't sleep soundly.
Pros and cons
Hotels have rules about noise, rules about when to arrive, and when to leave. Breakfast is on a schedule, if there is one, and options for doing your own cooking/ eating in are minimal. Hotels are frequently the least flexible option for lodging on a trip.
However the major advantage of a hotel is that they are everywhere, and often close to major attractions or tourist areas. Free breakfast may be included, and cleanup is minimal. A hotel is a great option if you just need a place to bunk for one night.
A hotel may be near an attraction, but it's also right next to the busy street, the mini-mall, and the highway. You're going to be pressed to find a place to hang out with the kids other than the pool and the parking lot. It's a lot like a studio apartment— it's a good place to sleep, but you'll have to do a lot of life elsewhere.
Airbnb/ VRBO/ Rental properties
AirBnbs, or other similar rental properties, are fantastic options for a large family. You can usually ensure a bed for everyone, which means better sleep all around.
There is usually a full kitchen and laundry facilities, so you can have a more "at-home" comfort experience. There are often open areas to spend time together, and you don't have to worry so much about the noisiness that is ever-present with lots of kids in a family.
The disadvantages of a rental property are that there is more work involved. You usually have to do some basic cleaning before you leave. You will have to do the cooking yourself, or order in. No one cleans up after you each day.
There are also rules about when to arrive and when to leave. With a rental property, it's hard to know what exactly you'll be getting at the place until you walk in. It's easy for pictures to look amazing. But then you walk in and realize that the floorboards are super creaky, or there's a lot of dust, or a strange smell.
Hotels are less likely to have those unexpected issues. When they do, there is usually another room available on short notice.
Staying with family, or with local friends
Staying with family, or with local friends, can be a fantastic option! We were specifically making our trip so that we could spend time with our cousins and our kids could get to know each other. By staying in our cousin's homes, we all got LOTS of time together and it wasn't all structured around a meal, or an activity. It was just everyday life together.
If your goal is to spend time with people and get to know them staying in their home is a great way to do that, if people are able and willing to host you. You will also find out about local favorites that may not be as well-known or as "touristy" as other places.
The challenge of staying with local friends or family is that you will have less freedom to determine your routine and schedule. If your lives and general approach to life are super different, you'll find it stressful to be together for such a long time. You'll have to be ready to work with your hosts for scheduling and food, and activities.
Camping
Camping is another option we considered, but ultimately decided against for this trip. Of all the lodging options, camping requires the most prior preparation.
You will need to think ahead about weather and temperatures for your location. Be sure to check the weather forecast frequently as you get closer to the camping days.
You will probably want to reserve your campsite ahead of time. Popular national park destinations need to be reserved several months, or even a year in advance. Many campsites require minimal to no reservation— however if you pull into a campsite at 11:00 PM on a "walk-in" basis you're likely to get stuck with the last (and worst) option.
You will need to bring appropriate gear for all the activities you plan on doing – hiking, sleeping, cooking, hygiene, everything. Experienced campers who have camped a lot near their home may find camping on a road trip to be manageable and fun.
However we hadn't done much camping, so for this trip we decided to stick with more predictable options. My cousins, who often camp on trips, recommended that you be prepared to book a hotel as a backup plan if something just isn't working about the camping experience.
The app that does it all!
We HIGHLY recommend using the Roadtrippers app for this process! We used the app to plan our month-long road trip from Oregon to Georgia and back last summer. It made the entire trip so much more fun and smooth!
We made over 45 stops at different places along the route coming and going. That's a lot of information to track, but the app does it perfectly.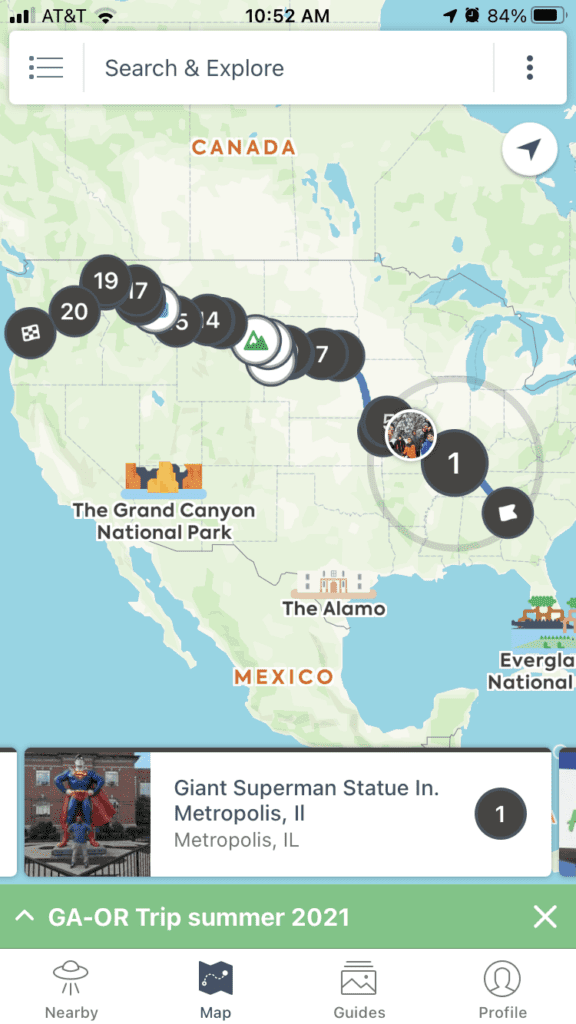 Read our full review, and use our affiliate link to sign up for a discount on the year-long membership. We make a small commission on eligible purchases—thanks for supporting our family business!
Should you use a rental car?
We have done a couple of road trips with rental vehicles. Honestly, we prefer our own car whenever possible. We already know all the ins and outs, and idiosyncrasies. We found that we drive most comfortably, and safely, in our own vehicle.
The other thing is that a rental vehicle has requirements when you turn it in, that can add time and stress to the end of your trip. No thank you!
We also recognized that with a rental car or van, we did not have the same freedom to explore. We might risk a gravelly side road with our own van, but definitely not with a rental!
Getting things ready!
We had 6 weeks to get ourselves ready for a month-long road trip. I do NOT recommend such a short preparation window! Having said that, here's the timeline we followed to make it happen.
1. Booked lodging
Book rental houses first, as they tend to be full near prime locations. Hotels are more likely to be able to accommodate you on short notice.
2. Booked pet lodging/ care
We discovered that finding a place to board our pets on short notice was difficult. During holidays and vacations the pet boarding facilities tend to fill up quickly If we knew our neighbors better, or had good friends living nearby, we might have opted for a house sitter instead, since we have 3 cats and a dog. Pet boarding was one of the most expensive things about our recent trip.
3. Prepped home
We set up our timer watering system, put a hold on our mail, communicated with our neighbors. Every home is different, but I have included a list of standard considerations in the next section of this post.
4. Prepped vehicle
Have your local trusted mechanic give the vehicle a once-over to make sure that tires are in good condition, an oil change is up to date, and wipers work. Make sure that you know how to change a flat tire, and have the mechanic check your spare tire.
If you are driving in remote areas, you will also want several things in your vehicle to ensure you're prepared for unexpected eventualities, such as a flat tire, dust storm (Arizona) or blizzard (many states in winter). We have a complete vehicle prep list in our road trip packing list printable set at the end of the post!
5. Reserved destinations and activities
Many National Parks require reservations, or have capacity limits, especially during the COVID era. We found out on this trip that the Gateway Arch NP required reservations several days ahead of time, and we were not able to go up into the Arch. ☹️ On another occasion we discovered that Alcatraz required a two-week prior reservation! Look for more tips about National Parks further down in this post.
If you tend to be a "fly-by-the-seat-of-your-pants" traveller, be aware that you may miss some discounts by not reserving your important destinations ahead of time. We got discounted entry into Worlds of Fun and Oceans of Fun by buying ahead of time, and our preschooler was able to sign up for the free preschool entry ticket. Yay for discounts!
6. Purchased trip necessities
Car needs, snacks, entertainment for long drives… It's best to do this at least few days ahead of your departure date. That way you have a couple days to purchase a few unanticipated items that show up in the last days leading up to your departure.
You'll also want to download audio books, apps, games, and videos while at home if possible. Wifi in other places can be unpredictable and not as secure.
We have loved listening to audio books with our kids on trips! We find that it greatly enhances our enjoyment of the trip, especially if the audio book is relevant to the places we're seeing.
On our recent trip, we listened to Laura Ingalls Wilder's first three Little House books as we drove through the areas she lived in. Our kids really got a feel for life on the prairies!
7. Checked packing lists and updated clothing as needed
We needed to get all of our kids water shoes for this recent trip, so that took a bit of extra preparation. We also make a point of having at least one brightly colored shirt per kid so that they are easy to find in crowded theme parks or other locations.
Matching family shirts can make it super easy for other adults to connect you with your kid if there's any sort of mix-up.
8. Preordered prescription medications.
Ugh. This one smacked us around last trip. We found out that ADHD medications cannot just be ordered from any pharmacy in other states.
If you have specific medications that you need, check in with the doctor ahead of time to make sure you won't run out while you're away. The important thing is to ensure you can get it locally on your trip, or bring enough with you.
We wound up with no ADHD medications for 4 members of our family on the last two weeks of the trip. We still had a great time, but it would have been less stressful for everyone if we had done a better job of getting that set up ahead of time.
9. Started packing
I tend to get out the packing lists about a week ahead of time to make sure my kids actually have enough clothes before the trip. Somehow there is always a kid who discovers that all their socks are hole-y right before we leave!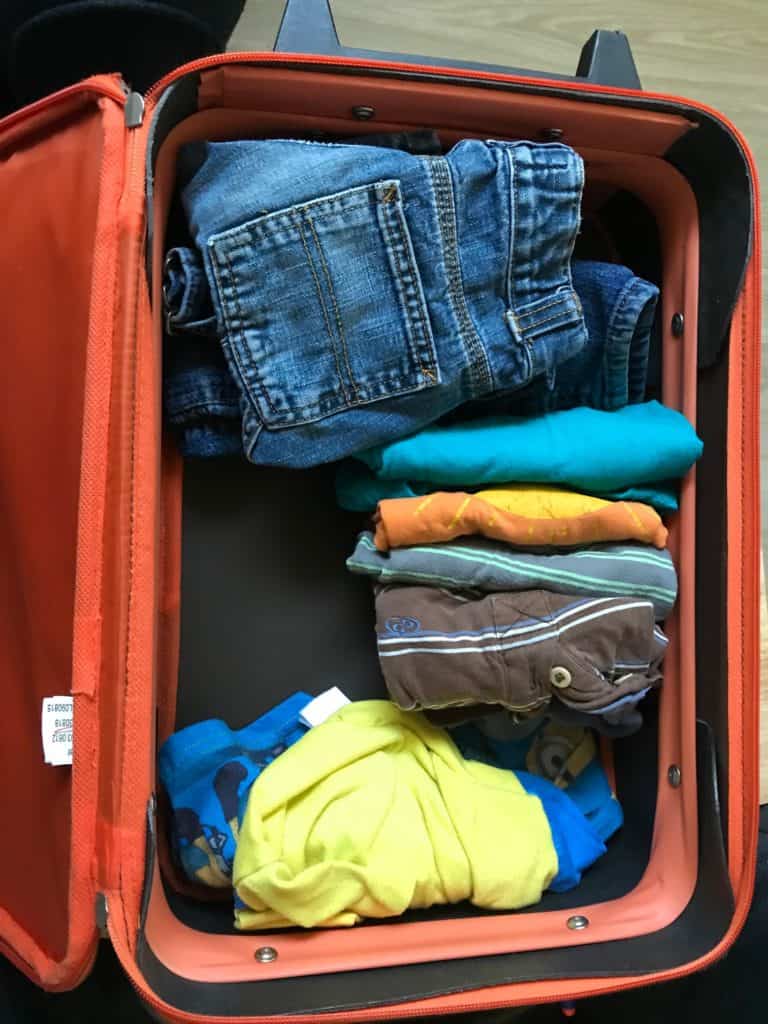 I don't mind buying things on a trip, but since Oregon has no sales tax, it's cheapest to buy stuff here! We do a "dry run" on packing for that reason.
I typically allow my kids a lot of freedom when it comes to choosing clothes for a trip. However, sometimes a specific event or destination will require more specific types of clothing (like a wedding). In that case, I choose my kids' clothing and pack those specific items needed for the event in big labeled Ziplock bags or packing cubes. It's a huge timesaver!
House preparation list (for a long trip)
1. Mail forwarding or mail hold
We highly recommend this if you will be gone more than a week. We have also signed up for the email updates from USPS, and we love the ability to see what's coming!
2. Turn off water/ unused utilities
If you have an option to pause utilities certain utilities, such as water/ gas that are not needed when you're not home, this is a great help. However if you have someone housesitting, or a watering system for your yard, make sure it is all functioning properly before you leave.
3. Plants/ lawn
Decide what will happen with plants or garden while you are away. Automatic watering may work, but indoor houseplants will need a friend to take care of them. We've lost quite a few houseplants due to long road trips!
4. Alarm System
If you have one, decide who you will ask to attend to it if it gets set off while you are out of town. A trusted neighbor, or local friend, should have their name on the system alerts in case there is an issue while you are away.
5. House watching
We have been thankful for good neighbors or church/ local friends when we are out of town for extended amounts of time. On one occasion, our home was broken into, and our neighbors had called the police before we got home and secured the place even before we knew about it.
Another time, a neighbor informed us that street repaving was happening while we were out of town, so we needed to have our non-travel vehicle off the street. It is a good thing to develop your relationships with neighbors, so that you can all look after each other's properties when you are out of town.
6. Install smart home devices
These are a lifesaver if you travel often! You can set the thermostat off so your utility bill will be less when you come home. You can then use your smartphone to remotely set the A/C to cool the house a few hours before your arrival in the summer. Or set it to warm the house for a few hours before your arrival in the winter.
You can also set up automatic lighting for your rooms and even music, which gives the impression to a casual observer that there is someone home.
Our smart doorbell alerted us when an unexpected Amazon delivery arrived. Even though we were half way across the country we could ask our neighbor to pick up a package We could also keep an eye on the property when we were away.
Your Vehicle Road Trip Packing List
1. First aid kit
I usually make sure I have both acetaminophen and ibuprofen (chewable for the kids, tablets for the adults); bandaids and antibacterial ointment, a thermometer (you don't want to be wondering if your child has a fever); antihistamine (in case of insect bites) and an instant ice pack.
2. Credit card
We like to use the Alaska Airlines one because we get points. Even if you don't usually use a credit card, having one on road trips is helpful if you run into a major emergency. Also not all establishments will accept debit cards or local bank cards, so a major credit card is a good backup plan.
3. Toilet paper
Often rest stops or gas stations are out of toilet paper. If you get stranded somewhere far from civilization and a bathroom, you'll be really glad you have some!
4. Phone charger and stand/ clip
We bring several to plug into any available outlets of our car/ van. A car charger to go in the lighter outlet is handy for older vehicles. I charge my cell phone all the time while I drive, so it can always be at the ready for photos, Google Maps navigation, or music.
Be sure it has: supplies to change a flat tire, flares, a working flashlight, a tire pressure gauge, and a window sign to call for help. If you're traveling in winter, carry chains that are sized correctly for your tires. Make sure you know how to put them on before you leave on your trip!
6. Plastic bags
You can use Ziplock™️ bags for smelly food remains or other items. A large plastic garbage bag is great for wet/ muddy clothes or rags in case you have to sit/ lay on wet ground while dealing with a flat tire change or some other issue in inclement weather. You can also spread a couple plastic garbage bags out on the ground to keep from getting muddy while you work.
A grocery store plastic bag makes a great mini trash bag! We ask our kids to stop and collect any trash from around their seats, then we toss the bag of trash at the next stop. Every little bit helps keep the van clean.
7. Sleeping bags, up to one per person (optional based on weather)
A sleeping bag is a good thing to have if you are traveling in remote areas, or in harsh winter weather. Bring at least one below-zero sleeping bag per person in case you wind up stranded in a winter storm.
We often bring a couple of standard sleeping bags to use at hotels. Our kids usually share a queen bed, but having sleeping bags available means that if someone is sick and needs the bed to themselves, another kids can bunk on the floor for a night. Some nights kids kick each other awake while they sleep, so having the option of a sleeping bag is super handy.
8. Daypacks (based on activity)
If you are planning to go hiking, especially in a national park or wilderness area, bring a decent day pack. Bring several if you have lots of kids.
9. Backpack/ tote (1 per passenger plus a couple extra)
If you are not planning hikes longer than a couple of miles, a tote bag or standard backpack per kid will probably be more than sufficient. We give each of our kids a backpack to carry their own personal items, travel games, and entertainment for the long drives. Comfort items, like a blanket or favorite stuffed animal go in there too.
10. Hand sanitizer/ sanitizing wipes
Use these when a sink with soap and water is not available. Anytime we stopped at a public place, we had everyone sanitize their hands upon return to the van. Road trip stops can be pretty germ-filled!
11. Baby wipes
These will clean most grease, sticky mess, and miscellaneous stuff off of surfaces easily. We always have them with us. They are also gentle enough to use on sticky faces or fingers.
12. Clorox wipes
These are great when you are going to be handling something that is publicly used. Use Clorox wipes if you have any doubt about the cleanliness of hotel and gas station restroom facilities, or at the grocery store. No one wants to pick up illness on a road trip!
13. Swiss Army knife
Somehow we always need scissors, or a small knife, or a corkscrew at some point on our trip. Keep them all at your fingertips with a Swiss Army knife.
14. Rags/ paper towels
We were driving through South Dakota, and went through about 20 minutes of driving where there were so many bugs, our windshield fluid ran out! We couldn't see through the windshield because of the bugs, so every few minutes we had to get out and manually clean them off.
Learn from our mistake, bring extra windshield fluid! Or at least plastic bottles of water and rags (that's what we used until we got to the next gas station).
15. Reusable water bottles (for drinking) and travel mugs for hot drinks
We like water bottles for the kids that are spill resistant and have a handle for clipping to a belt loop. Our oldest daughter prefers a Camelbak. Travel mugs are the best things for keeping your drink hot for hours of driving. "Hydrate or die-drate" as our daughter says!
16. Printed map and itinerary
If you are traveling where cell service is limited, you will be glad to have printed/ downloaded maps of unfamiliar areas. A printed itinerary with lodging information is also handy if you can't access your digital copy on your phone.
17. Pack n Play (for babies and toddlers)
This is a must-have if you are traveling with a baby or toddler. Our personal preference was to bring our own whenever possible. That way you know whether it's up to current safety standards, and it's already familiar to your child. You can also use it to corral a kid safely at picnic areas when needed.
These are the most important items to have in your vehicle. Check out our list of new vehicle must-haves for extra items that make great additions to your car or van!
National Park Know-How
If you are planning to visit one of the amazing sites in the National Park System of the USA, there are some fantastic helpful hints we discovered along the way.
Free For Fourth Graders and Their Families!
Yup, you read that right. If you have a child in the 4th grade, you can sign up for the Every Kid Outdoors pass, and your whole family gets in free. Here's the website: https://everykidoutdoors.gov/index.htm
NPS App
The National Park App provides downloadable maps and general information for each National Park in the system. When you are headed to the park, download that park's maps and you will not have to worry about no wifi or spotty cell service.
Annual Pass Savings
If you are planning to visit more than 3 parks in a single year, it's worth it to get the yearly pass for $80. There are discounted passes available for certain groups too, so research that if you are in the military, or over a certain age.
Reservations Required
If there are specific activities you know you want to do at a particular park, get on the website and see if reservations are needed. Otherwise you may arrive and find that you can't do something that you planned on doing.
Summer of 2021 was the busiest year yet for popular national parks such as Zion and Arches, and some parks hit top occupancy for the day by 9 am. Do your homework to make sure you can have fun at the park.
Our Road Trip Printable Planning Guide has a cheat sheet with basic info for the 25 most popular NPS sites in the US for 2022. It's super handy for planning ahead!
Junior Ranger Program, Stamps, and Souvenirs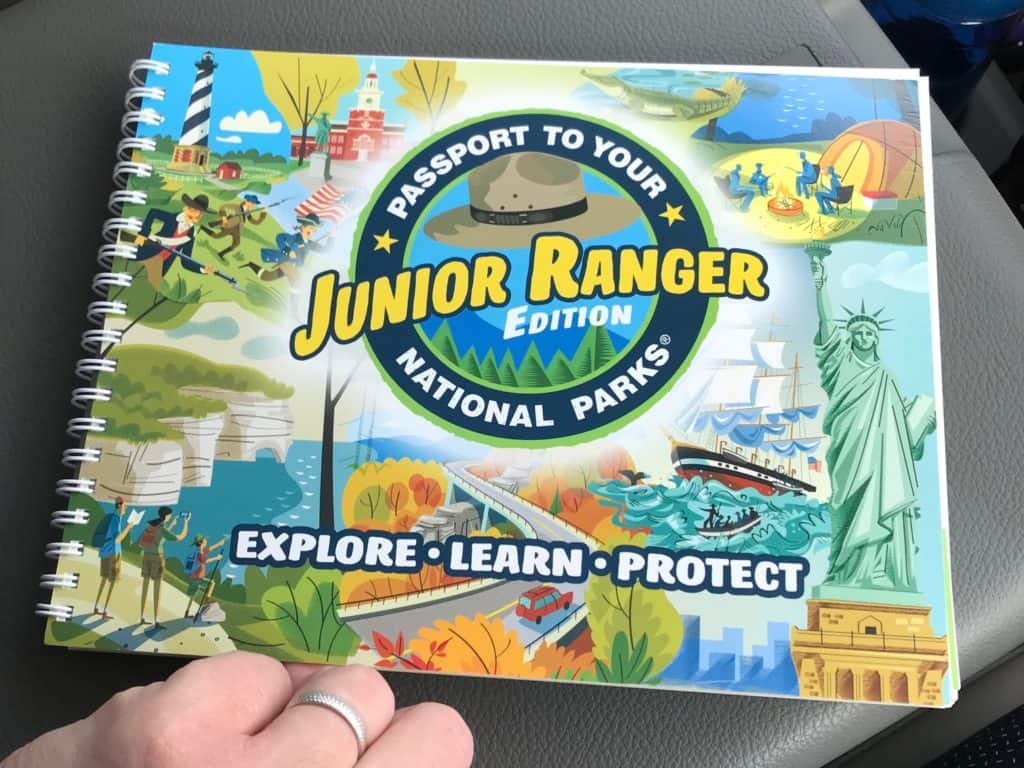 Many National Parks and even many state parks have programs specifically for children. Our kids loved doing the activities and earning a free Junior Ranger badge! They learned so much more, and they got to take home a souvenir. It's a win-win for kids and parents. Be aware, though, that it takes some time to earn the badge, so it's not the thing to do if your time is limited.
For adults and children, most parks have a stamp program. You can usually buy an NPS stamp passport at the gift shop, and we bought a cute book for each of our kids to collect their stamps. For ourselves, we collected a coffee mug at each park.
Dinkum Tribe's Road Trip Packing List Printable Set
Preparing to take your family on a road trip can be overwhelming, even when you have lots of travel experience. That's why we developed our Road Trip Packing List Printable Set!
This set contains all the information written in this post in organized, printable formats. There are our three free printable packing lists (also available separately as a subscriber freebie). We also included our Top 10 Road Trip Hacks for 2022 and various printable road trip checklists for different kinds of trips (beach vacation, anyone?).
By signing up for our subscriber list, you'll be first to hear when we add new printables too!
We love to hear new ideas and tips for making travel with kids fun and enjoyable. Share your best tips in the comments!
© Copyright 2022-2023 Jennifer D. Warren. First published: February 7, 2022. Updated and expanded: June 2, 2023