It's no surprise that driving through Badlands National Park is a popular plan for seeing this NPS site. Badlands NP is beautiful but remote, and there are so many other amazing things to see in this part of South Dakota! We drove through it with our kids recently, so here's our take on driving through this unforgettable place.
This post contains affiliate links. As an Amazon Associate I earn from qualifying purchases made from the links on this site, at no extra cost to you. Thanks for supporting our family business!
Table of Contents
When we planned our itinerary for our epic road trip last summer, two of us had our top "must-see" stops in South Dakota. I wanted to see Mount Rushmore National Memorial, and Brian wanted to see the Badlands. 4 days in South Dakota seemed like enough time to see everything. Hint: two weeks would've been better!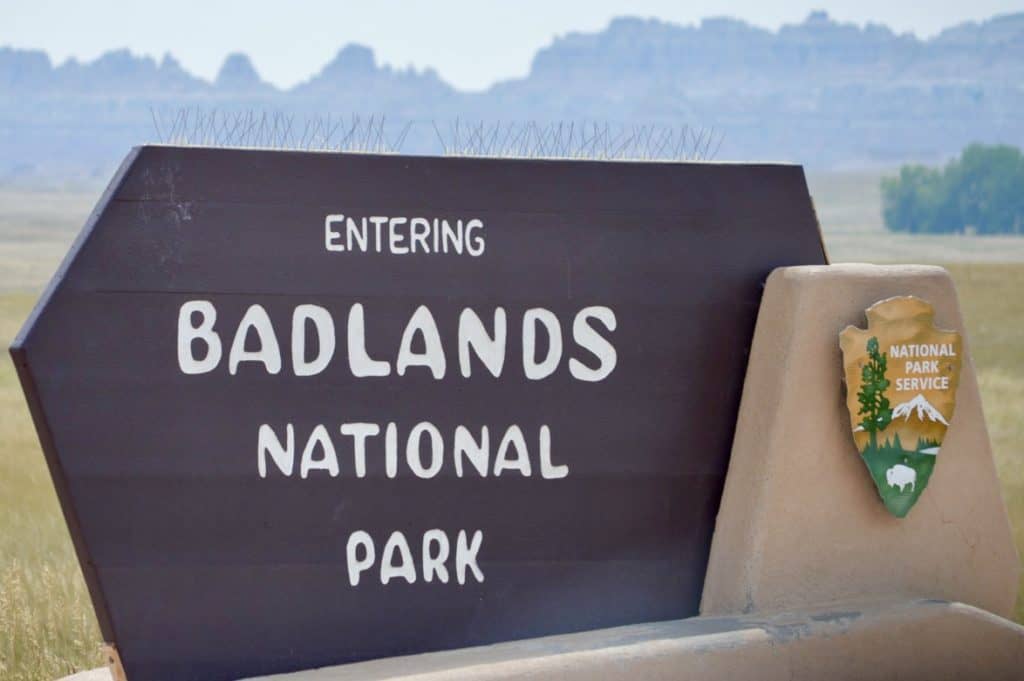 Our Plan For Driving Through Badlands National Park
We booked an AirBNB in Custer, South Dakota, which was about 2 hours' drive from the Badlands. We would have about 4 hours' drive to cover to get from our hotel in Oacoma, South Dakota to Custer. That would give us enough time to spend a full day driving the Badlands Loop State Scenic Byway with stops to walk some short trails.
An Unexpected Detour
What we did not realize, was that the Minuteman Missile National Historic Site is literally 15 minutes from the entrance to Badlands! So as we got closer, we made a quick decision to stop at Minuteman for a detour.
Note that the three Minuteman sites as well as the North Unit of Badlands National Park are within the US Forest Service Buffalo Gap National Grassland. Part of the challenge when visiting the area for the first time is keeping all the different names and locations straight.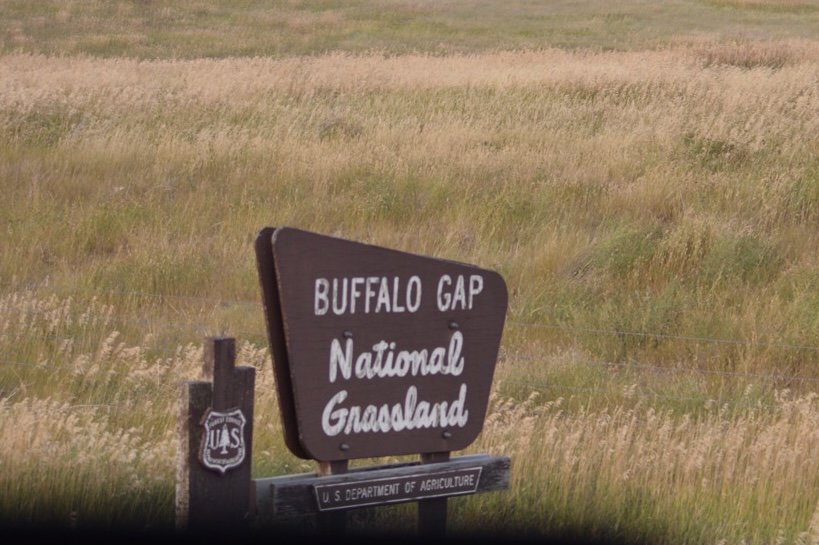 Just south and connected to the Badlands NP North Unit is the Stronghold Unit, which is part of the Pine Ridge Indian Reservation. The Badlands and Black Hills of South Dakota are sacred to the Lakota people, and we would've loved to spend some time at the White River Visitor Center in the Stronghold Unit, but we didn't have time on this trip.
Weather, Timing and Starting Point
We pulled into the northeast entrance of Badlands National Park at about 2 pm. For a hot August day, that wasn't a great time to be exploring this nearly treeless rocky park. Oh well, that's life! Next time, we'll try to visit in early fall, which is the best time in terms of temperature, weather conditions, and wildlife viewing.
First Look
Armed with our National Park Service Maps, we began the scenic drive along Badlands Loop Road. Our first stop came only minutes into the park, at the Big Badlands Overlook. It's a panoramic spot that gives you breathtaking views of the world famous rock formations as well as miles of the surrounding grasslands.
We were awestruck at the sheer quantity of the rock formations, and at the natural beauty of the Great Plains visible all around.
Thank goodness we had binoculars, because our kids could see a bighorn sheep making its way along the rocks! We could also see in the distance herds of buffalo grazing in the Grassland.
Short Hikes
Our next stop along the scenic loop road was at Door Trail. This was the first of four short hikes we took while driving through the park.
Door Trail, Window Trail, Notch Trail and Castle Trail all start from the same parking area. There are bathrooms at the parking lot, but no water. Door and Window Trail are both short and easy trails.
The Notch and Castle Trails are moderate/ strenuous hiking trails. Castle Trail takes you across the most famous area of the park, intersecting several other trails along the way. It ends at the Fossil Exhibit trail. If you want to attempt Castle Trail, bring lots of water and plan on spending a full day just doing that.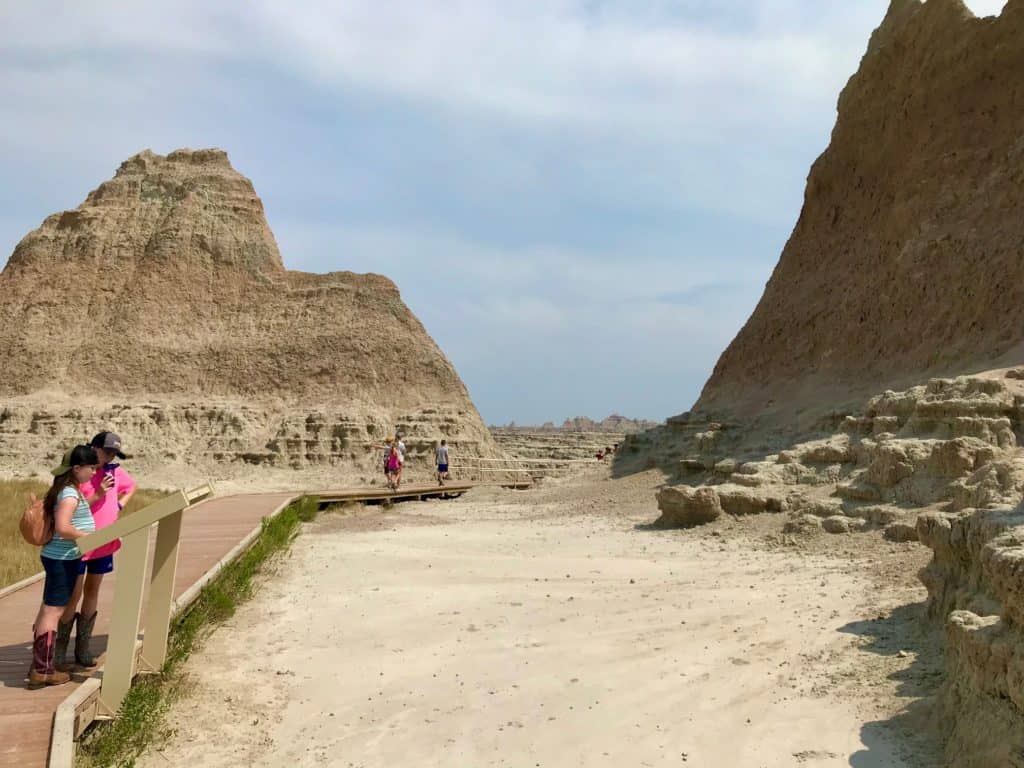 Door Trail
We walked the Door Trail boardwalk, marveling at the close-up views of the rock formations. The interpretive signs told the story of how the Badlands got their name, as well as their significance in Native American History. At the end of the boardwalk, you can leave the trail and climb around amongst the rocks.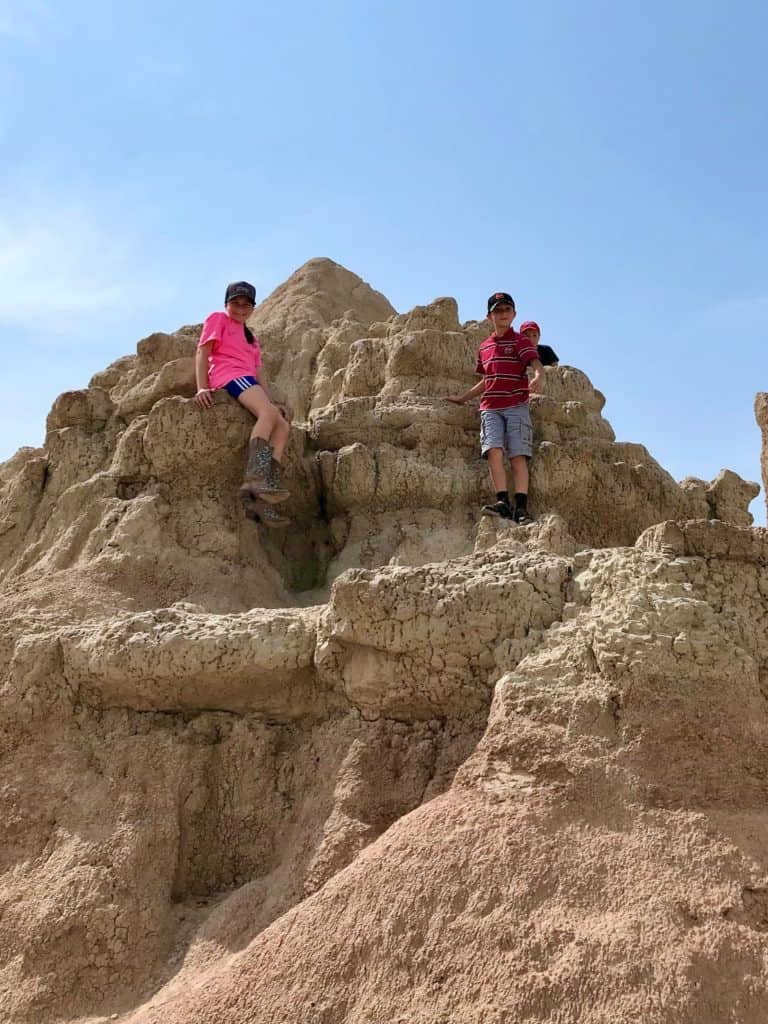 It was the perfect place for some amazing action shots and allowing our ADHD kids to run off energy! These otherworldly-looking formations just beg to be explored and our kids loved challenging themselves to climb higher and go deeper.
We would've enjoyed staying longer, but the heat (and forgetting to put on suncreen) convinced us to continue on our drive. We continued along the main road, enjoying the beautiful vistas at every turn.
Driving through Badlands National Park is one of the best ways to see the Badlands Wall from multiple angles. The two-lane road takes you right over the Wall to the other side, so you can see the formations from the ground level, as well as from high up.
Ben Reifel Visitor Center
We arrived at the Ben Reifel Visitor Center around 3:30 pm. There are some picnic tables at the Center if you're looking for a place to feed your family. We just fed our kids a quick snack, since the Center was closing at 5 pm.
We highly recommend hitting the Visitor's center at nearly any National Park, especially if you're traveling with kids! It usually has the best amenities (a water bottle fill station and flush toilets at Badlands). It's also the spot to grab Junior Ranger books and to collect the Badges.
Paleontology Lab
The highlight of the Badlands National Park Visitor Center is the paleontology lab. We got in just before it closed for the day, and our kids got to watch and talk to a paleontologist who was working on cleaning a fossil!
Another paleontologist answered every question our kids could think of, and he seemed to thoroughly enjoy their enthusiasm. He showed us a fossil that another child had found inside the Park.
Park visitors often find new fossils after rainstorms, so it's important to know what to do to preserve the fossil. Our kids learned so much.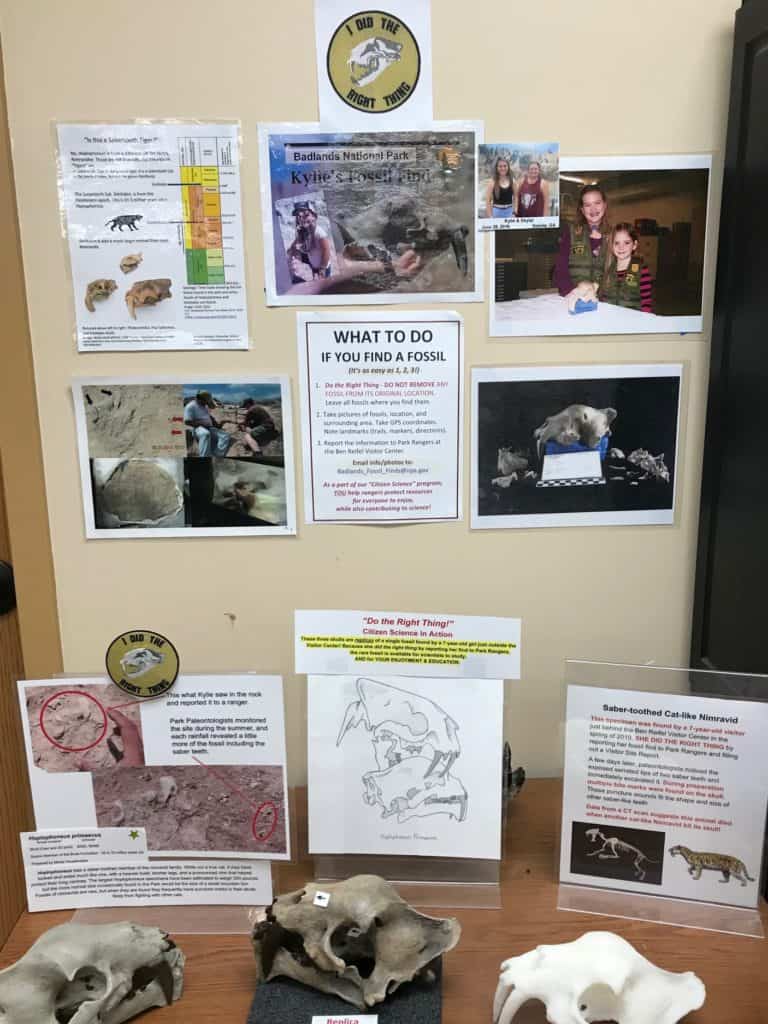 Visitor Center Exhibits
As parents, we appreciated the excellent exhibits that explained what we were seeing in the rock formations.
The dioramas of prehistoric animals helped bring the fossils to life.
Helpful diagrams showed us the timeline that we were seeing in the different rock strata.
If your kids are determined to complete the Junior Ranger booklet, plan on at least 2 hours at the Visitor Center.
Our kids felt rushed trying to get enough of the booklet finished to earn their badges in the short time we had before closing. The Park Rangers permitted us parents to collect the badges to give to our kids later when the kids finished their books.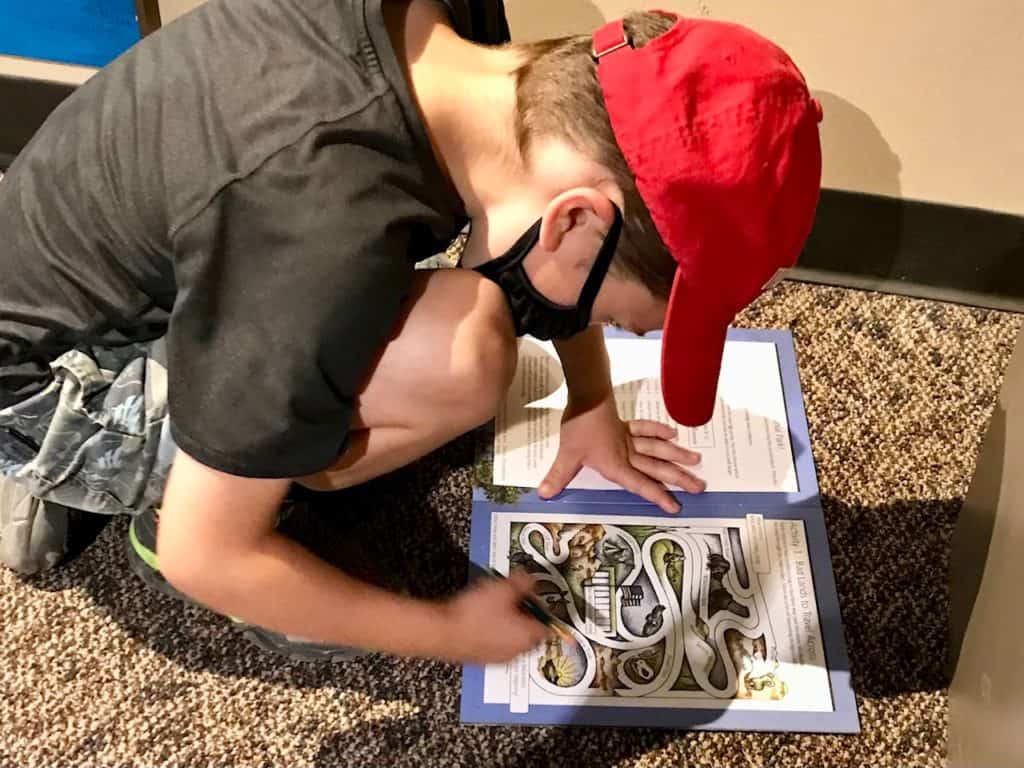 The gift shop had excellent homeschooling resources. We only bought our standard souvenirs of a bumper sticker and a clay mug, but as usual, we could've bought the store!
Cedar Pass Lodge and camping
Right near the Ben Reifel Visitor Center is the Cedar Pass Lodge area. We were just passing through, so we didn't stop there ourselves. The Cedar Pass campground has individual and group sites for tents, and some RV sites also.
Check the website for more details if you plan to camp, or to stay or dine at the Lodge.
Cliff Shelf Nature Trail
The Cliff Shelf Nature Trail is a short distance up the road from the Visitor Center. This trail was highly recommended for its scenic overlooks and has some of the best views in the park. It did not disappoint!
Beautiful juniper trees along the Trail gave off a sharp smell in the heat. We kept a close lookout for rattlesnakes that might be hiding in the brush along this path. Some of us tried to walk quietly in hopes of seeing wildlife, but with 6 kids, quiet is relative. 🙂
Climbing up along the shelf of the Badlands Wall while watching a turkey vulture ride the air currents— this hike was my favorite! At the highest point you can see for miles around, as well as get some great shots of the Wall.
Even with the additional vegetation, it was still plenty hot at 5:30 pm in August. Bring lots of water if you're planning to hike at all. The air is dry, so you'll dehydrate quickly.
A slow drive
We drove slowly along the Badlands loop, stopping again to let the kids scramble along below the Badlands Wall. We highly recommend taking time to just explore at some of the pull-offs!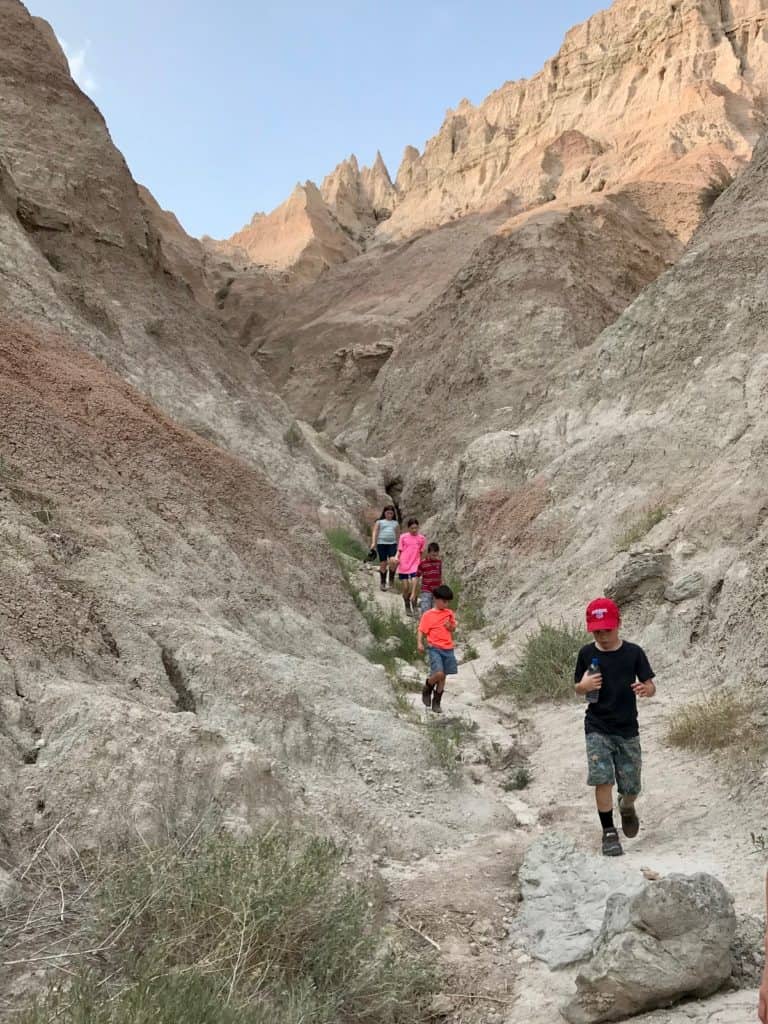 Our kids found a small animal carcass left by a predator (coyote, most likely) and lots of evidence of other wildlife.
The kids enjoyed challenging themselves to climb up some of the big colorful hills. Seeing the van and the road from far away really emphasized the majesty of the Badlands.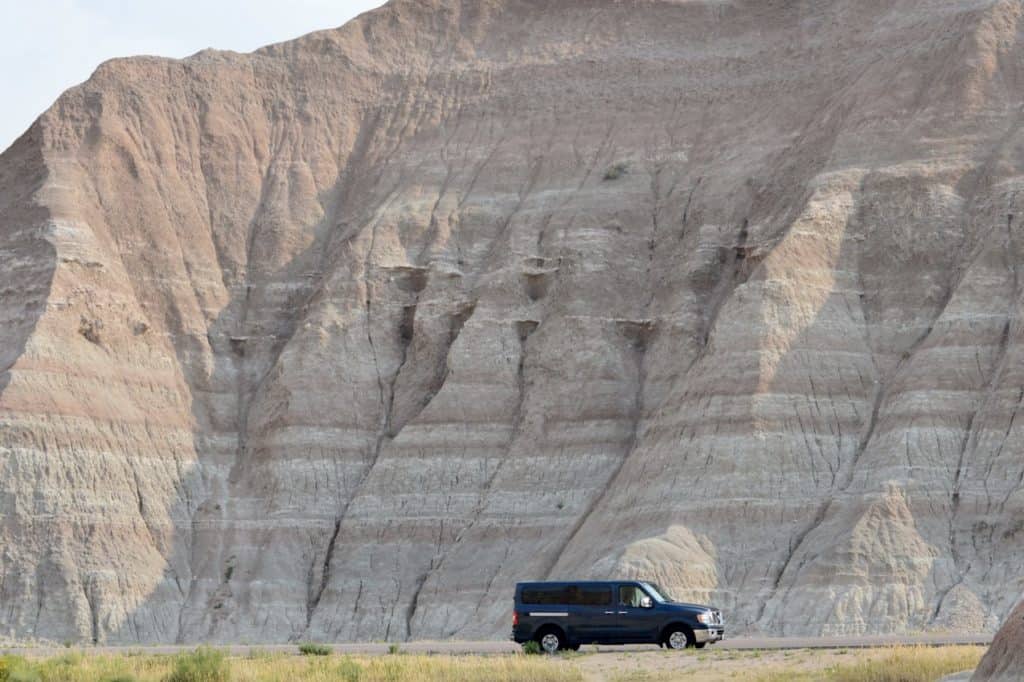 This is one of the most scenic routes in North America, and we enjoyed every minute of our drive!
At every turn, colorful peaks and hills meet the empty dry Plains spotted with a few small bushes or dry grass patches. "Epic" hardly does it justice.
Fossil Exhibit Trail
We passed the Saddle Pass trailhead and made our last stop at the Fossil Exhibit Trail. It's an interpretive boardwalk trail, and a great place to find new fossils!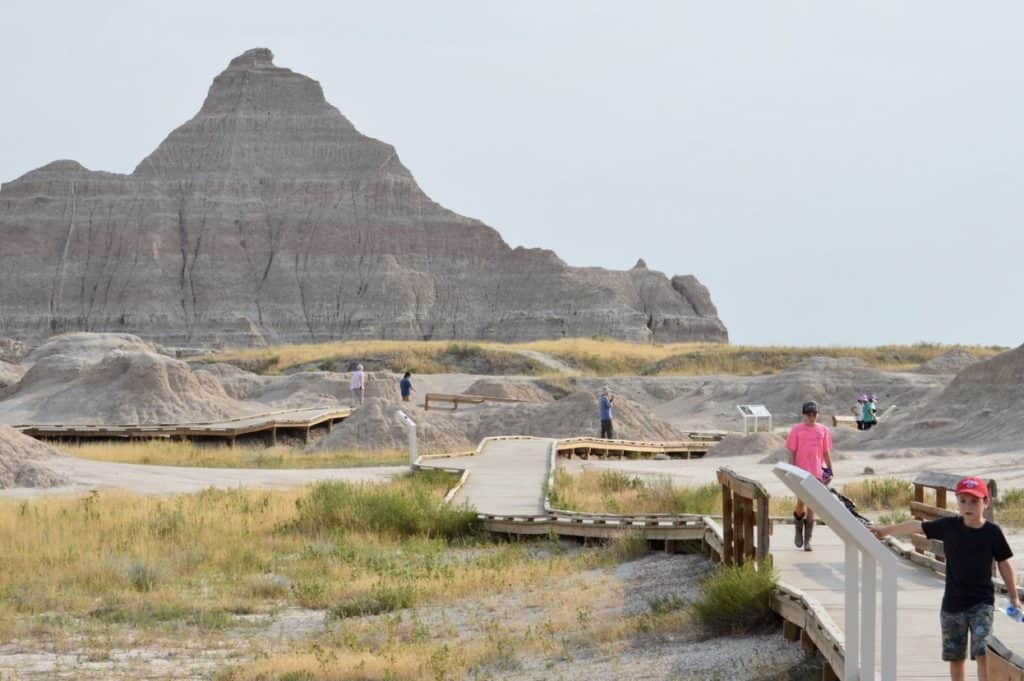 We all kept our eyes peeled for any new fossils we might spot, but no such luck. The fossil replicas made it a worthwhile detour for our future paleontologists. It's also one of the few stops with restrooms!
The Scenic Drive
With all that we had seen and done so far in the Park, we felt like we must be almost to the other entrance near the town of Wall. A quick look at the map showed us otherwise – it was nearing 7 pm, and we still had most of the 31-mile stretch of the loop road to cover!
We decided it was time to move quickly, with no more stops to get out and look around. That actually worked out just fine, because most of the rest of the drive has scenic overlooks that can be easily enjoyed from your vehicle.
The evening light made for some gorgeous scenery, and being out close to sunset meant that we started to see many more animals. We wrote a whole post about the best places to see animals in Badlands, and in nearby Custer State Park, so read that for our best recommendations.
Scenic Overlooks and Picnic Facilities
If you are planning to picnic in Badlands, there are two picnic area at or near scenic overlooks. Big Foot Pass Overlook and Conata Picnic Grounds (near Conata Basin Overlook and Yellow Mounds Overlook) both have picnic tables available.
We slowed to a stop at several of the other overlooks, such as Homestead Overlook, Panorama Point and Ancient Hunters Overlook. Each overlook offers unique views and beautiful scenery, as well as interpretive signs.
At Pinnacles Overlook we saw several bighorn sheep clambering over the rock formations. A little further along, a whole herd was grazing right off the side of the road.
The lambs were adorable! They are so used to people that you can get some beautiful close up photos even from the vehicle with only a standard telephoto lens.
Other Points of Interest
If you're interested in a more rustic camping experience, you can take the Sage Creek Rim Road just north of the Pinnacles Overlook. After passing a few more overlooks as well as Roberts Prairie dog town, you'll take a dirt road out to the Sage Creek campground. Check online for more details.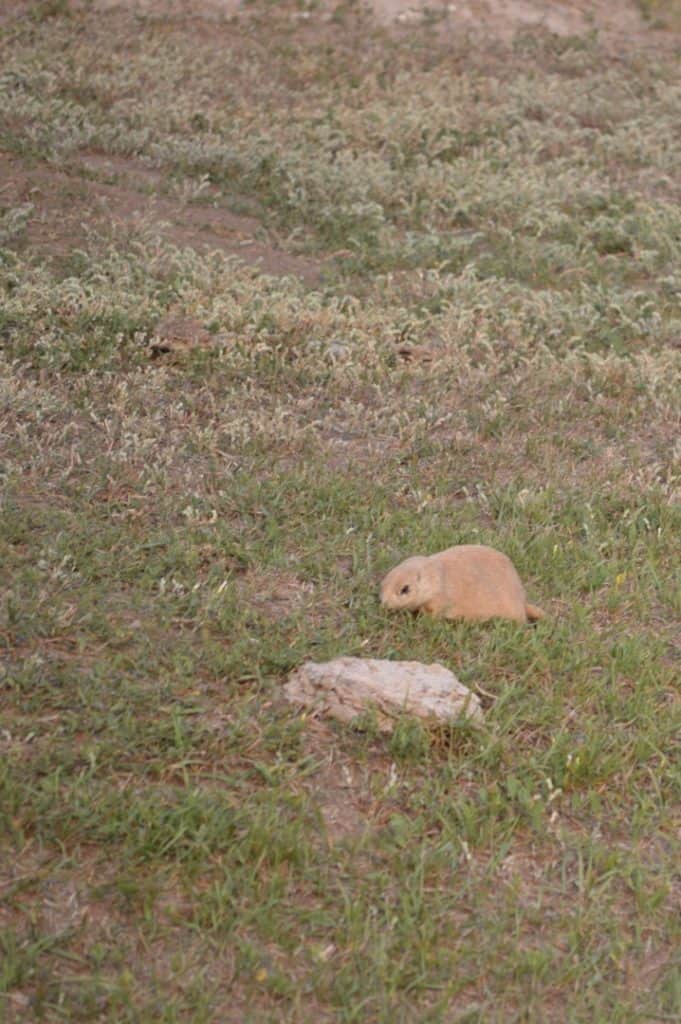 We skipped the detour for Roberts Prairie dog town because we had already seen plenty of prairie dogs right off the road. It was getting late, we were hungry, and we still had a full two hours' drive to our AirBNB in Custer. We headed towards the Pinnacles Entrance to leave.
One Last Surprise- Bison!
Literally leaning on the gatepost was a huge bison bull! We hesitated to pass him, but as we inched towards the gate, he leisurely scratched his belly against the post. We slowed to a crawl and passed within 10 feet of him and he just looked at us, clearly unbothered.
It's hard to describe in words the incredible grace and power of the American bison. This was our first time seeing them in the wild, and the sheer size is shocking! Bison are well-known to be unpredictable, so don't disregard the "safe distance" warning.
Final Notes about driving through Badlands National Park
We made it to Wall Drug store just before they closed at 8 pm! After seeing over 50 signs for Wall Drug and their "free ice water", we obviously needed to stop there… more on that in another post.
We only spent about 5 hours total in Badlands. While that gave us a great experience, we definitely want to go back and spend several days there. We would love to walk several of the longer trails when it's not scorching hot weather, and see the night sky while staying at a campsite.
Nearby stops for your South Dakota Road Trip
Badlands National Park is within a two-hour drive of Mount Rushmore, the Crazy Horse Memorial, Custer State Park and the Needles Highway. A little further west, there's also Jewel Cave National Monument and Wind Cave National Park. We spent four days in the Custer area, and still didn't see everything!
Driving is a great way to see this part of South Dakota, since so much of the beauty is along the way, not just at the destination. However if you wanted to fly in and rent a car, Rapid City Regional Airport is the nearest spot to Badlands.
We loved visiting South Dakota and Badlands, and still have more to share about our visit. Check back soon for our visits to Mount Rushmore, the Crazy Horse Memorial, and other fun things to do in the Custer area!
Frequently Asked Questions (FAQs)
Can you just drive through Badlands National Park?
Yes, you absolutely can just drive through without stopping. The entrance fee is still required.
Is it worth driving through Badlands National Park?
The Badlands Loop Road is one of the more scenic routes in the US. Many of the Park's outstanding features are clearly visible from the road and you're likely to still see lots of wildlife. So if you only have time to do a drive-through, do it!
However the best way to experience Badlands National Park is to spend a couple of days in the area exploring at a more leisurely pace.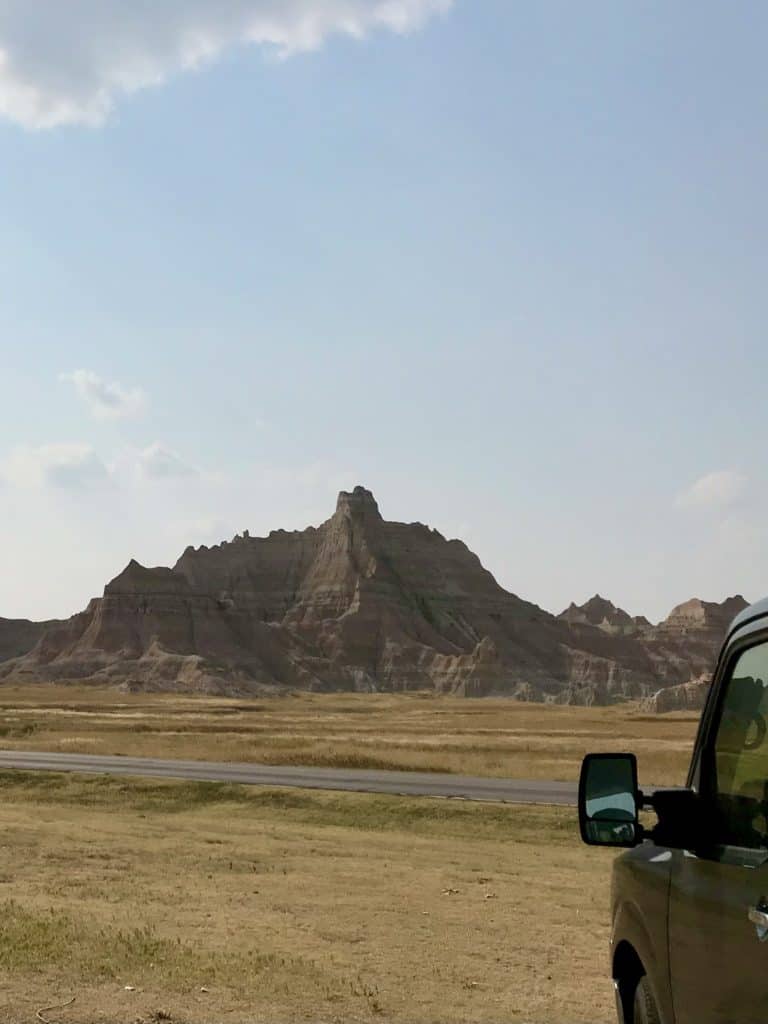 How long does it take to drive thru Badlands National Park?
For a straight through drive with no stops, 1 or 2 hours. We drove the entire Badlands Loop Road and made several stops, including an hour at the Visitor's Center and two short hikes, and the entire trip took about 5 or 6 hours.
Can you drive through the Badlands without paying?
No. The entrance fee is required for all vehicles.
© Copyright Jennifer D. Warren June 11, 2022. Updated: August 4, 2023.