Table of Contents
An Important Question for Two Reasons
"How to get to Redwood National Park" may seem like a silly question, especially if you've grown up on the West Coast. Take the Interstate to the correct State Route and then go west to PCH, right? Well, not quite.
This post contains affiliate links. As an Amazon Associate I earn from qualifying purchases made from the links on this site, at no extra cost to you. Thanks for supporting our family business!
How to Get to Redwood National Park Safely
Redwood National Park is located in a remote part of the Pacific Northwest. GPS programs and online-maps often have inaccurate route information. Travelers can find themselves driving their car, RV, or trailers up backcountry roads and into trouble. This won't be you if you learn how to get to Redwood National Park.
How to Get to Redwood National Park Enjoyably
But there's another reason to ask this question. The best national parks involve a journey. Iconic parks like Grand Canyon, Yellowstone, and Yosemite require you to trek through their surrounding countryside before reaching the park gate. And this kind of trip is almost as rewarding as the destination.
Redwood National Park is no different. Highways cross steep gorges, mighty rivers, and stunning vistas en route to reaching the actual park. Historic and interesting stops aren't hard to come by either.
Our family had a blast exploring nature, visiting historic places, and eating great food on our five-day Redwoods road trip.
In this post, I'll provide you with the travel planning tips you'll need to navigate the Redwood National and State Parks. Then I'll walk you through the best routes for an epic redwood national park roadtrip.
I've outlined our complete roadtrip route so that you can get a sense of what's possible. I've also included pertinent info for flying into the area.
Driving Redwood National Park & State Parks
When it comes to Redwood National Park, GPS means "getting pretty stressed." Satellites and computers don't take into account differences in road conditions or the limitations of your vehicle.
Motorists who blindly follow their GPS can easily get stranded on remote logging roads. Here's how to get to Redwood National Park without all the trouble.
Plan Ahead
The National Park Service provides three downloadable maps of the Redwood National and State Parks. These maps provide excellent details that are essential for knowing how to get to Redwood National Park.
Notice that each road comes with its own description, including vehicle limitations. Park Visitor Centers feature prominently on the map, showing you where to get your questions answered.
I strongly suggest that you use this map to determine where you'd like to start your tour of Redwoods National Park. Identify the sites that you'd like to see, prioritize them, and identify the visitor centers that correspond to those sites.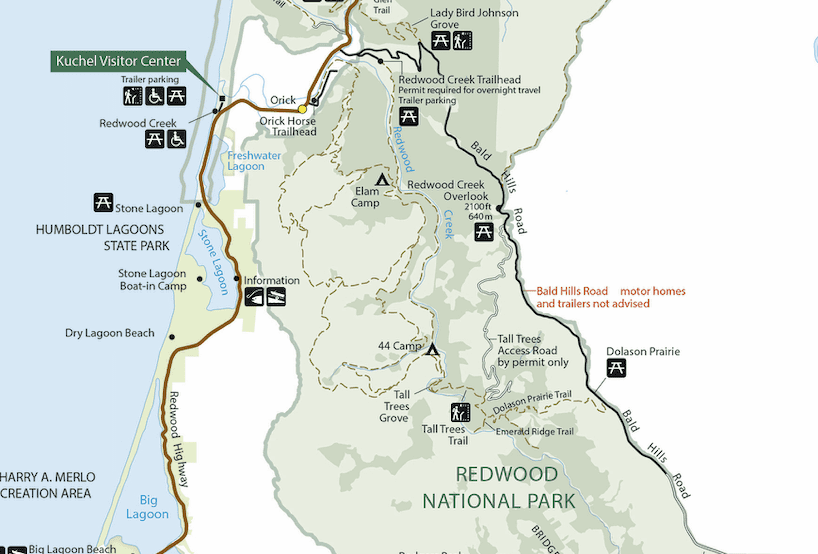 Ask Question & Go Analog
You can't afford to skip a trip to the visitor center at this park. Here's why:
Paper Map: Reception is poor and GPS is unreliable in the Redwoods. Be sure to pick up an official park map and written directions from a park staff member.
Current Conditions: Inclement weather, road closures, and other factors will impact your experience. It pays to know these details ahead of time and plan according, rather than "winging it" in the wilderness.
Check the Sunset: The forests grows very dark as the sun begins to set. Build your itinerary around the daylight or be prepared to navigate in night time conditions.
Avoid Pitfalls: Check over your route and itinerary with an experienced Ranger. Park Rangers know where you're likely to run into trouble because they're the ones who are always getting visitors out of trouble.
Read Your Map with Care
Many national parks have a scenic, easy-to-use, auto tour design. Redwood NP isn't one of these parks. The history and geography of the park don't allow this. Instead, you're going to have to do a little thinking before getting behind the wheel. Let me give an example of what I mean.
Epic Fail: Klamath River Overlook to WWII Radar Station
The north/south orientation of Redwood National Park can be deceptively simple. I studied the map several times before our trip and I quickly became familiar with the series of stops that we would encounter as we worked along Highway 101.
What I failed to see was that not all of these stops were equally accessible from the 101. A cluster of park sites are located around the mouth of the Klamath River. My epic fail in map reading occurred when I focused on the attractions and overlooked the obstacles.
In reality, an enormous river separated the Klamath River Overlook from the World War II Radar Station and neither of these attractions were located right on the 101 Fwy. The actual route required me to return to the 101 via the steep, bumpy Requa road, drive across the river, and then drive several miles along Klamath Beach road.
Yes, I know: simple geography right? But after years of being spoiled by no-brainer auto-tour loops and GPS assistance I'd forgotten how to read a map well.
How to "Auto-Tour" Redwood National Park
You can do an auto-tour of sorts through the park by driving along the 101 and the Newton B. Drury Scenic Parkway. These north-south routes guide you through most of the park and provide easy access to several of the park's attractions. The Newton B. Drury Scenic Parkway brings you through the heart of the park system allowing you to get the most out of a drive-by experience.
That said, many of the best Redwood attractions will only be found by exiting the parkway and the 101 freeway. And that will require you to look at a map and think.
Know Your Road Before You Go
Redwood National Park has several roads that are narrow, rough, and potentially hazardous. We can attest to this personally.
A Close Shave: The Grove of the Titans
The Grove of the Titans is absolutely worth visiting, and absolutely worth getting directions to reach. Thankfully, a park staffer was more than ready to prepare me for the journey.
The staffer walked me through the directions using a highlighter, ball-point pen, and laminated pictures of key landmarks that occur along the route. He also provided me with printed directions. All of this proved helpful because the actual route was windy, narrow, and counterintuitive.
The Grove of the Titans is accessed via Howland Hill Road, a narrow gravel road that doesn't accommodate RVs or Trailers. Getting to Howland Hill Road poses its own set of challenges. You actually have to leave the park and backtrack up Highway 199, cross the Smith River, and drive up Douglas Park Road!
Douglas Park Road is a small, paved road that meanders through tiny forest neighborhoods before entering Redwood National Park and transforming into the unpaved Howland Hill Road. At this point I was thanking my lucky stars for that park staffer and that we'd chosen to do this trip during the off-season.
Our experience at The Grove of the Titans was fantastic, but it would have been a nightmare if we tried it without assistance. Use the park map and list of roads to learn about the road that you'll be using before you set out on a Redwoods adventure.
Key Roadways for Redwood National Park
Three highways are important when it comes to knowing how to get to Redwood National Park:
Highway 101: Leads north and south along the center of the park system.
Highway 299: Navigates from the southeast park area.
Highway 199: Navigates from the northeast park area.
The Newton B Drury Scenic Parkway is a key thoroughfare of Redwood National and State Parks. This scenic parkway is particularly important for Prairie Creek Redwoods State Park.
Bald Hills Road
Beware of Bald Hills Road! This road is not a primary road into Redwoods National Park. A paved section of Bald Hills Road leads you from the 101 to Lady Bird Johnson Grove.
Other than this initial section, Bald Hills Road is a rough, unpaved road that is prone to strong winds. This country road leads to remote parts of the park including Dolason Prairie and the Lyons Ranch.
Redwood National Park & State Parks In Order
Over half a dozen parks protect the California Redwoods. These parks stretch along the entire coastline of Northern California. Three California state parks actually lay within the boundaries of Redwood National Park!
All of these details and options can quickly get overwhelming, especially for first-time visitors. Here's a quick rundown of the most important Redwood Parks and their key attractions. We've listed these parks in order from south to north:
Humboldt Redwoods State Park
This is a remarkable park that's known for the Avenue of the Giants. Humboldt Redwoods SP is at least 90 minutes away from Redwood National Park. We will return to Humboldt Redwoods SP in our section on the best roadtrip routes to take to Redwood National Park.
Humboldt Lagoons State Park
Humboldt Lagoons State Park is located just south of Redwood National Park.
Stone Lagoon Visitor Center
The largest lagoon system in the United States
A unique variety of salt water and freshwater habitats
Redwood National Park
Redwood National Park preserves a long stretch of Northern California coastline and coastal redwood forests located just below the Oregon state line. The national park boundaries enclose not only federal land but also three California state parks: Prairie Creek Redwoods State Park, Del Norte Coast Redwoods State Park, and Jedediah Smith Redwoods State Park.
Thomas Kuchel Visitor Center (South)
Crescent City Information Center (North)
Prominent Sites include:

Tall Trees Grove
Lady Bird Johnson Grove
Trillium Falls Trail
Big Tree Wayside
WWII Radar Station
Klamath River Overlook
The Coastal Trail
Prairie Creek Redwoods State Park
The Prairie Creek Redwoods State Park is located about midway up Redwood National Park.
Prairie Creek Visitor Center
Prominent sites include:

Fern Canyon
Gold Bluffs Beach
Del Norte Coast Redwoods State Park
Del Norte Coast Redwoods State Park is a large state park located in the northern half of Redwood National Park.
Crescent City Information Center
Prominent Sites include:

Mill Creek
Enderts Beach
Crescent Beach
Jedediah Smith Redwoods State Park
Jedediah Smith State Park is located at the northernmost tip of Redwood National Park.
Hiouchi Visitor Center
Prominent sites include:

The Grove of the Titans
Stout Grove
Boy Scout Trail
How to Get to Redwood National Park: 4 Routes
Redwood National Park is an ideal roadtrip destination because the journey holds as much value as the park itself. Here are four routes to consider as you plan how to get to Redwood National Park. You'll find our personal review of the routes 3 and 4 under Our Redwoods Roadtrip Itinerary: Southbound From Oregon.
Northbound From California
The Bay Area and Sacramento Area provide the fastest southern routes to Redwood National Park. The National Park is around a 6-hour drive from either of these metropolitan areas. These two routes lead you through some of the best aspects of wild and rustic Northern California.
Route 1: Cruise the Coast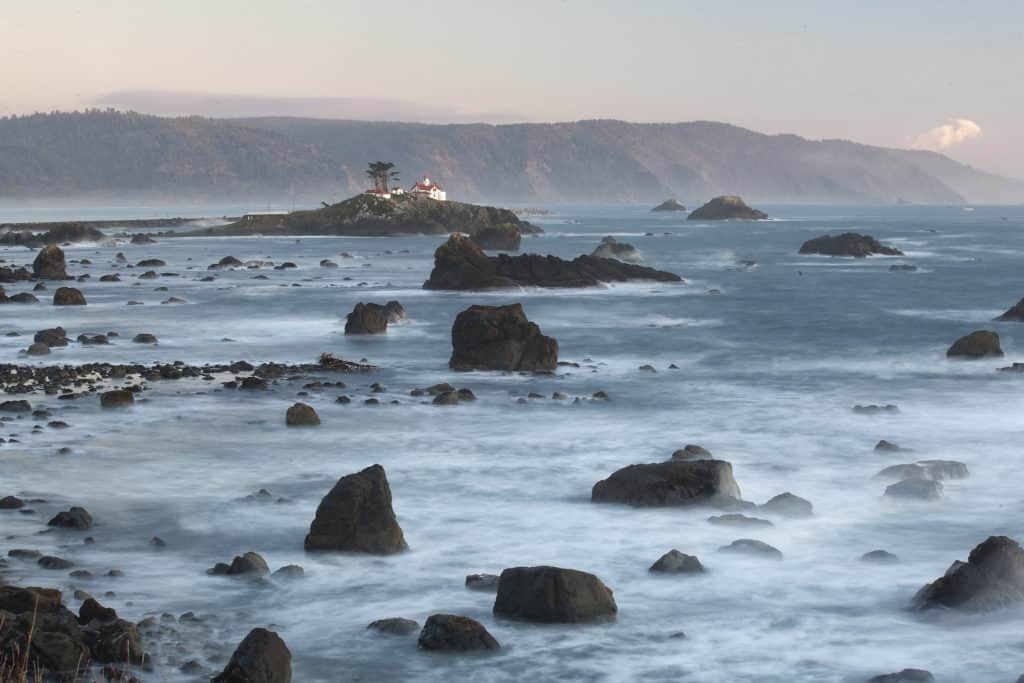 San Francisco and the Bay Area may be the ideal starting point for a Redwood National Park roadtrip. Redwoods naturally grow in the Bay Area. In fact, three Redwood California state parks lie just west of San Jose!
The Bay Area Redwood Parks and other forest greenways are a great place to take a "dress rehearsal" for your National Park visit. You can test your stamina and equipment while you're still in the big city.
Better to make those last-minute adjustments or purchases before you get out into the small towns and limited options of the Redwood Coast.
The Bay Area is the gateway to the wild, rugged coastlands of Northern California. More than half a dozen Redwood state parks and federal reserves lie along this northern route.
Some of these parks are located on the Pacific Coast Highway, while other are on Highway 101. These lesser known parks allow you the chance to get more time in nature with less crowds. That's a big plus when you're roadtripping with a family.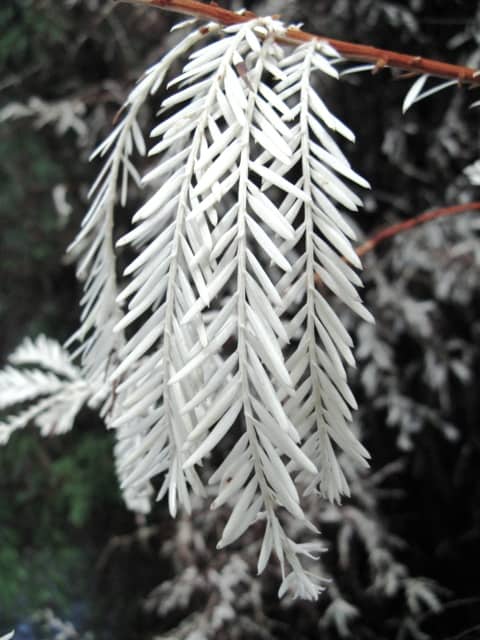 Redwood Coast Stops & Sites
There's a lot more than just redwood trees along this coast. Here's a sample of what can be discovered along California's Northern coastline:
Point Reyes National Seashore: A dramatic and historic coastal region.
Fort Ross State Historic Park: A historic Russian fur outpost.
The Lost Coast: The longest undeveloped coastline in the contiguous US.
Humboldt Redwoods State Park: The largest expanse of ancient redwoods on earth.
Headwaters Forest Reserve: A lesser-known preserve of old-growth redwoods.
Ferndale: A Victorian village in California's Coastal Range.
Eureka: The Victorian Queen of the North Coast.
Sue-Meg State Park: A complete Yurok Tribal Village.
Route 2: Follow the Valleys to the Coast.
Sometimes the inland route is the better way to go. You can avoid Bay Area traffic by beginning your roadtrip on the Interstate 5 and then taking a state highway west to the 101 and the California Coast.
State Highway 20 may offer the best bang for your buck. Exit I-5 at Williams and take the 20 west and you'll be able to journey most of the North Coast en route to the National Park (see Route 1). The 20 West has at least three interesting stops:
Anderson Marsh State Historical Park: A historic ranch site.
Clear Lake State Park: California's largest natural lake.
Hot Springs: hot springs and even a geyser inhabit this area.
A second option is to drive north on I-5 and exit at Red Bluff. Follow the 36 West through the rugged mountains of Northern California until connecting with the 101 a little south of Eureka. Frankly, I would avoid this option, especially if you have young children. It's 134 miles of mountain driving through one of the emptiest parts of California.
If you do need to take this route, then be sure to make the most of these two stops:
William B. Ide Adobe State Park: A historic adobe with pioneer history.
Grizzly Creek Redwoods State Park: A secluded, quiet redwood park.
Our Redwood Roadtrip Itinerary: Southbound from Oregon
Call me biased, but I think these two southbound routes are the best options for family roadtrips. What the routes lacks in redwoods they more than make up for in scenery and convenience.
Unlike California's northbound routes, these two routes are equally appealing. Finally, more Oregon means less sales tax on your pricey road trip!
Our family took the valley route (Route 3) to Redwood National Park and then returned home by way of the coast (Route 4). I've outlined our complete trip in the two routes below.
Route 3: Exploring the Valleys en Route to the Redwoods.
We began our journey by following the Interstate 5 south through the Willamette Valley and into the mountain ranges of Southern Oregon. From there we took Highway 199 to cross into Northern California and Redwood National Park. Along the way we encountered several remarkable stops:
Applegate Trail: California National Historic Trail
The Applegate Trail is a dark chapter of American history. Trail blazers led by Jesse Applegate sought to find a southern route into Oregon. Unfortunately, they sent emigrant wagon trains down the trail before a road was completed or even fully blazed.
These wagon trains found themselves in a race against time. They had to build a way through the wilds of Southern Oregon in spite of winter weather and hostility from the indigenous tribes.
We followed the hardest stretch of the Applegate Trail from its end-point in Eugene Oregon to the Rogue River Valley.
Historic sites and interpretive stops can be found along the Interstate 5, making it easy to learn about the trail as you travel. Grave Creek and similar landmarks tell the harrowing story of the first Applegate emigrants and the heroism that brought them into safety.
There's even more to find if you're willing to do a little research. Highway 99 was built over the Applegate Trail and you can still find signs of the trail along some portions of the 99.
It's easier to envision what life was like for indigenous tribes and early settlers when you're driving the scenic and undeveloped valleys of Southern Oregon.
Wolf Creek Inn State Heritage Site
One Applegate Trail site welcomes guests with warm food and a comfy room! The Wolf Creek Inn and Tavern is a historic stagecoach stop and one of Oregon's oldest operating businesses. We stopped in for dinner and were more than satisfied.
Wolf Creek is a quiet stop along a mountainous stretch of Interstate 5. There's nothing to see from the actual highway and most people don't know that it's there. The town is a little pocket of history, that appears just when you could use a break from all the driving.
Wolf Creek Inn State Heritage Site is well designed and maintained. The Inn staff are friendly and happy to give tours of the Inn and its various rooms. An Applegate Trail Interpretive Park stands just across from the Wolf Creek Inn.
A leash free dog area can be found behind the Inn and an EV charging station stands in the parking lot. Be sure to also check out the old apple grove that still growing beside the parking area!
Historic Jacksonville
We followed the stagecoach road south until we reached an Oregon boomtown. Jacksonville is one of Oregon's best preserved frontier settlements. The charming town now sits at the heart of the Southern Oregon Wine Country.
We came to Jacksonville to experience a Victorian Christmas. Every year the Town decks the halls with traditional holiday decor, carriage rides, carolers, and a first-rate Christmas parade. Jacksonville was easily one of the best stops on our holiday redwoods roadtrip.
The Rogue River Valley
You can get a lot of bang for your buck in the Rogue River Valley. This scenic part of Southern Oregon is relatively undeveloped, but only a short drive away from the small cities of Grants Pass and Medford. In an afternoon you can get into nature, get to the grocery store, and get back to the rental home for a nap.
We were able to find an affordable rental home located right on the Rogue River. The accommodation was just what we needed as we geared up to head southwest to California and Redwood National Park.
Oregon Caves National Monument
Our holiday redwoods roadtrip did have one downside. Our off-season itinerary meant that we'd have to miss out of Oregon Caves National Monument and Preserve. This national park site only operates from spring through fall.
Oregon Caves National Monument & Preserve is located in Oregon's wild Illinois Valley, right along the Oregon route to Redwood NP. The marble caves are beautiful, the lodge is historic, and the preserve occupies an entire mountainside.
Oregon Caves NM offers a variety of guided tours including a Candlelight Cave Tour and an Off-Trail Caving Tour. Visitors must meet certain fitness requirements to take part in a cave tour.
Siskiyou Smokejumpers Base Museum
Our children were quite struck by the Siskiyou Smokejumpers Museum. It's heroic enough to fight forest fires, but to parachute into them is something else entirely. The Siskiyou Smokejumpers provide immediate response to forest fires, keeping them small and easy to contain.
Oregon's smokejumper units included the Triple Nickles, an African American infantry battalion that protected the US during WWII. Imperial Japan launched Balloon Bombs at the US mainland in order to start forest fires and stir up panic.
The Triple Nickles not only countered this wartime threat but also participated in the successful desegregation of the US military.
The Siskiyou Smokejumpers Base was a great place to stop for lunch. We could enjoy a picnic and tour this remarkable, quiet place at our own pace.
Smith River National Recreation Area
The final leg of our journey to Redwood NP was breathtaking, and we hadn't even reached the park! Highway 101 winds its way toward the coast through the beautiful Smith River Canyon. The crags and rapids of the Smith River are a fitting gateway for one of America's most remarkable parks.
Smith River NRA is right next to Redwoods National Park. This park may be an excellent alternative to camping in the National Park.
Route 4: Returning North Along the Oregon Coast
The Oregon Coast route to the Redwood NP has a lot going for it. For one, it follows the Oregon Coast, which is legendary for its natural beauty. Better yet, Oregon's stretch of the 101 holds closely to the coastline. That means that you spend less time in coastal valleys and more time watching the waves.
Oregon's southern coastline offers plenty of beauty, culture, and opportunities to see wildlife. We found more than enough to interest us on our return trip along the coast.
Oregon's Redwood Coast
We had a fantastic time in Brookings, Oregon. Oregon's southernmost coastal town is an ideal setting for a holiday redwoods roadtrip. The weather was warm, the food was good, and the sights were incredible.
McVay Rock State Recreation Site is a case in point. Massive, bleached Redwoods lay along the beach. These landmarks are truly awesome and a joy to climb and explore. The beach rocks were filled with rich tide pools and harbor seals rested and played just off the shoreline.
If that wasn't enough, the beach gravels bore agates and jaspers! I can't remember the last time we found so much fun at one beach.
Samuel L. Boardman State Scenic Corridor
We didn't get very far out of Brookings before we had to get out of the car. The Samuel L. Boardman Scenic Corridor is arguably the most beautiful part of the Oregon coastline. This rugged, undeveloped region is known for its pristine coves, formidable cliffs, and verdant rainforests.
A hike is the best way to experience this area. Our family took a moderately strenuous walk to explore the forest, bluffs, and coves before resuming our trip home.
We passed no less than three scenic coastal corridors on our way north. The Pistol River State Scenic Corridor and Cape Sebastian State Scenic Corridor are two great places to take in Oregon's coastal splendor.
Gold Beach & Port Orford
The Southern Oregon Coast has a rich past. We enjoyed exploring Oregon history as we cruised through the coastal towns of Gold Beach and Port Orford.
The children enjoyed the wreck of the Mary D. Hume, a shipwreck located along the 101 in Gold Beach. We were even more delighted by the harbor seals that were resting on a nearby pier!
The Geisel Monument was a somber stop. This family grave marks the resting place of a father and two sons who were killed by Native Americans in 1856.
Port Orford is the oldest town on the Oregon Coast and the nearby Cape Blanco Lighthouse was the first lighthouse built in the state. You can explore the history of this remarkable region at the Port Orford Heads State Park, the Old Port Orford Jail, and Cape Blanco National Historic Site.
Prehistoric Gardens
Our roadtrip closed with a roar at Prehistoric Gardens. This delightful park is a life-size dino diorama.
A gentle walking path guided us through acres of Oregon rainforest inhabited by full-size dinosaur statues! The children were delighted at the prehistoric flora and fauna that they found along their journey.
I was impressed by Prehistoric Gardens. The tour was packed full of information on prehistoric eras, animals, and plants. Our walk presented a variety of animals from various eras including an Archelon, Ichthyosaur, and a Terror Bird. Our dino-loving children came away knowing more about prehistoric life than they already did.
The tour also included prehistoric plants. Interpretive displays provided extensive information on the natural history of plants and their role in the prehistoric world.
Prehistoric Gardens was a worthwhile stop on our return trip home. We found it to be a great way to wrap up a week of family fun.
Prehistoric Gardens provided us with free admission to their attraction. As always, our opinions are our own.
Flying In
The closest airports to Redwood National Park are Humboldt County Airport (ACV) and Del Norte County Airport (CEC). The Humboldt County Airport (also known as Eureka-Arcata Airport) is located south of the park, while the Del Norte County Airport is located north of the park.
Two airlines provide service to Humboldt County Airport. United Airlines offers flights from Los Angeles (LAX), San Francisco (SFO), and Denver (DEN). Avelo offers flights from Burbank, California (BUR).
Del Norte County Airport only oversees flights to and from Oakland, California (OAK) through Contour Airlines.
Got Questions on How to Get to Redwood National Park?
Thank you for reading our guide on how to get to Redwood National Park. Please drop us a comment or send me an email with your questions, thoughts, ideas, or memories. We're always happy to hear from our readers. Happy traveling!
© Copyright Brian A. Warren 2022