The first time I remember feeling grief during the holidays was our first Christmas on the mission field as a 10 year old. I missed everyone and everything! My mom and I wept off and on most of that Christmas Day.
Ugh. I tend to skip this song when it comes on. As a missionary kid, I have so many memories of wishing I was wherever "home" was, and feeling sad because I could not be with people I loved during the holiday. Grief during the holidays has often been my experience.
This post contains affiliate links. As an Amazon Associate I earn from qualifying purchases made from the links on this site, at no extra cost to you. Thanks for supporting our family business!
Table of Contents
Like many people this year, our fall and winter holidays will look different. This past two years, we have all experienced difficulty; whether from pandemic restrictions, loss of family and friends, or changed life circumstances. Globally, people are grieving.
In the last three years, my husband and I made several decisions to protect our family's mental health, and this necessitated some changes around holiday celebrations.
It was difficult, but we made it through, and learned a few things about how to survive and even thrive in difficult situations.
As I face yet another year of changed holidays, my aim is to walk through this time with purpose. I share our experience here in hopes that someone else who is grieving at this time will find hope and courage to weather this holiday season well.
Grief stages and how they show up
Grief responses vary greatly from person to person, but there are several stages that most people find themselves dealing with at some point. Remembering the different forms grief can take helps me to be patient with myself and others. The stages of grief generally include:
1. Shock. This lasts the shortest amount of time (seconds, minutes, hours). It's important to note that if you receive new information about an event you have already grieved, this may cause a shock reaction again. Numbness, disbelief, inability to respond— shock is like an electric charge running through your system, or jumping into cold water.
2. Denial. Denial is a refusal or inability to accept the information or situation. This can go on for years. Many people don't even realize they are in denial about a situation.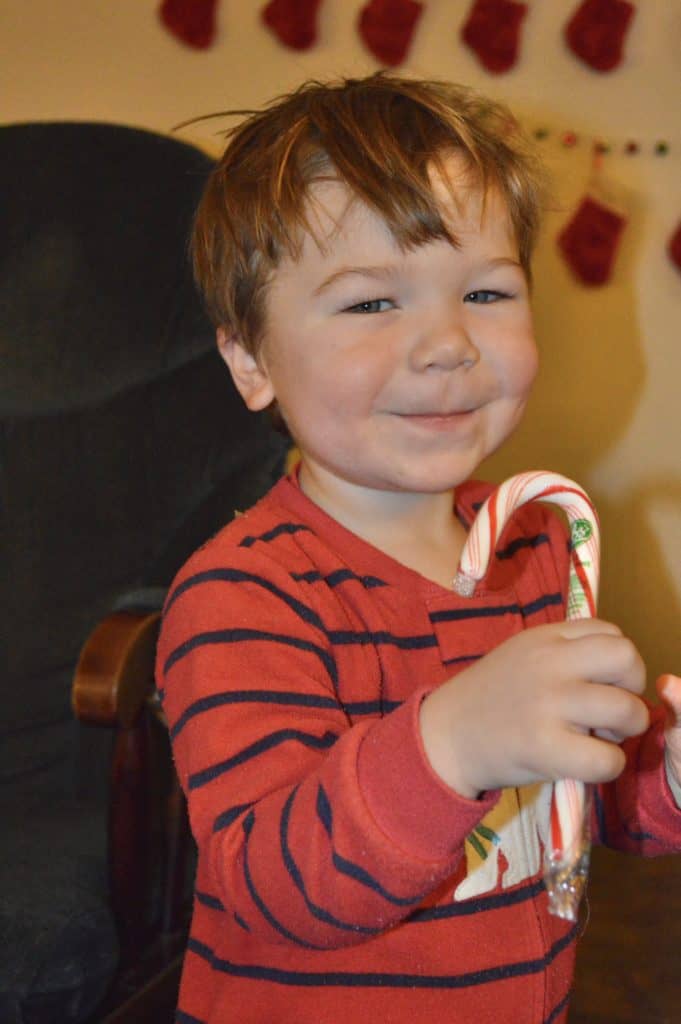 3. Anger. Just what it sounds like. You are recognizing the loss and you are angry at anyone/ anything that is connected to the loss.
4. Bargaining. Now you are trying to adjust to the reality of the loss, but you want to change it. It sounds like, "If only I had…" or "This would not have happened if…" or "I can prevent this from happening again by doing…"
5. Sadness. You are feeling the loss. Heaviness, weeping, discouragement, depression, are all things that you may be dealing with.
6. Acceptance. You have dealt with the loss so it is no longer at the forefront of your life. You have integrated your grief into your "new normal". Typically this is the point where you will start to make decisions and move in new direction.
It took some time for me to understand that even though these are called "stages" of grief, there is no particular order. Also, you may experience each stage more than once as you grieve.
You may find yourself dealing with anger one day, and the feeling sadness another day. I have often thought that I had arrived at the acceptance stage, only to be bowled over by anger or denial again unexpectedly.
Adjust your expectations
If you are grieving a loss of any kind, you will find that your general capacity to do normal life things is substantially lower. This is especially important to remember during busy holiday times of the year! Do yourself a favor, and give yourself lots of margin in your schedule and routine.
Grief feelings tend to show up unexpectedly, and at inconvenient times. Allow for this by cutting things out of your schedule that are not necessary for this time. Taking care of yourself and allowing yourself space to grieve will help you to move through it in a healthy way, and may speed the process somewhat.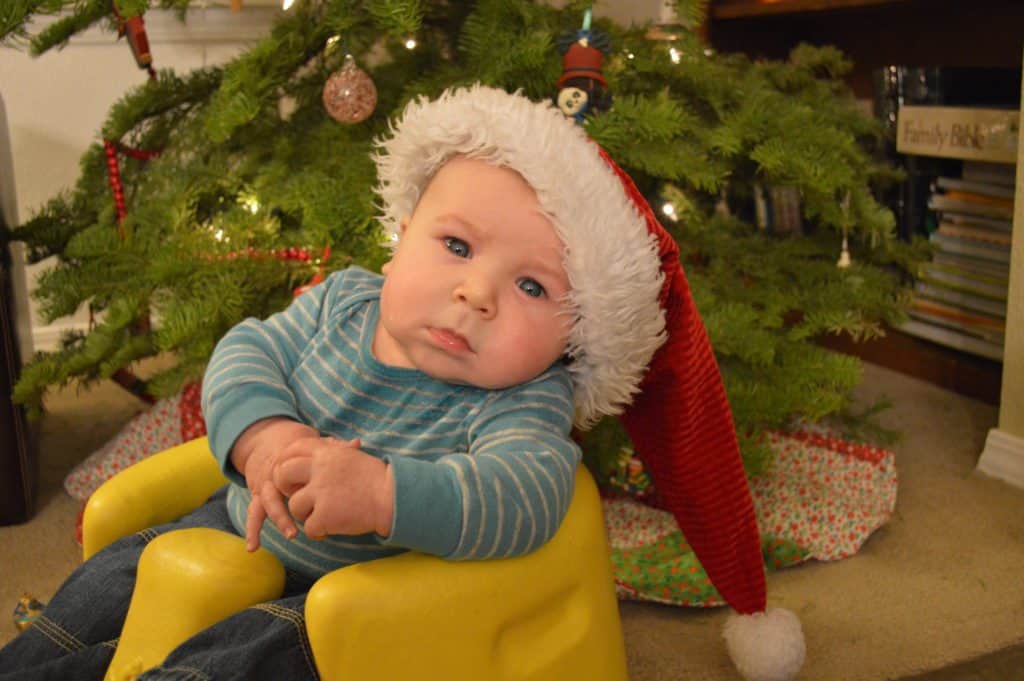 Now that we have a framework for understanding grief, we can think about how we want our holiday celebrations to look. Here are the specific steps we are taking to do that with our family this year.
Stop and consider – Managing Grief During the Holidays
Take the time to sit still and understand what you are feeling.
Sad because you can't have your celebration at Aunt Edna's house anymore because she's gone?
Anxious at being with your family because they do not respect your life choices?
Stressed because you usually host the Thanksgiving meal but you have a newborn and everyone is still expecting you to do it?
Brian and I spent some time last year thinking through things. We also asked our children (teens down to toddlers) what things they loved and what things they did not love about our previous holiday traditions. We were so glad we asked!
New revelations
As it turned out, only two out of eight of us liked turkey, and the other traditional fixings! For years we had been eating that, and only one kid actually likes it—but it was tradition, so we never asked.
I also found out that one of my children dreaded the holiday get-togethers. She has ADHD, and traditional holiday celebrations with our extended family are not child-friendly, and especially not ADHD friendly.
Our daughter was expected to sit quietly at the meals with the grown-ups (or at the kids table, but still quietly).
She had to be indoors, because we live in Oregon and the rain and cold make outdoor gatherings impractical. She had to keep quiet and not run or bounce or be physically active, because we all have small homes.
In short, it was torturous for her, and she always got in trouble. No wonder she dreaded holidays!
Reality check
I felt so heartbroken upon hearing this. For so long we had been going with our extended family's traditional holiday expectations and events, trying to create "memories". The reality was that our children were not enjoying it, and the memories were negative.
How thankful I was that my daughter felt free to tell me this! Brian and I determined immediately that we would no longer do things just because it was family tradition. It was time to create some new, happy memories that would become our own family's traditions!
As a family of eight with four people having an ADHD diagnosis, and several battling chronic anxiety, our family's celebrations needed to change. So that's exactly what we decided to do.
Another issue we worked through was cooking. I don't enjoy cooking, and many traditional meals for holidays require the cook to be cooking all day, or constantly returning to the kitchen.
This meant that for all the years we have been married, I have missed out on playing games with the family, or doing a walk in the park, or whatever fun activities we were doing together, in order to make sure the meal was handled. No more!
Make Decisions
We asked everyone what they wanted to do, and what they wanted to eat. We all decided that for Thanksgiving, cheese fondue for dinner with chocolate fountain for dessert sounded perfect.
The best part is, it's easy enough that everyone can help and the meal only takes about 20 minutes to prepare.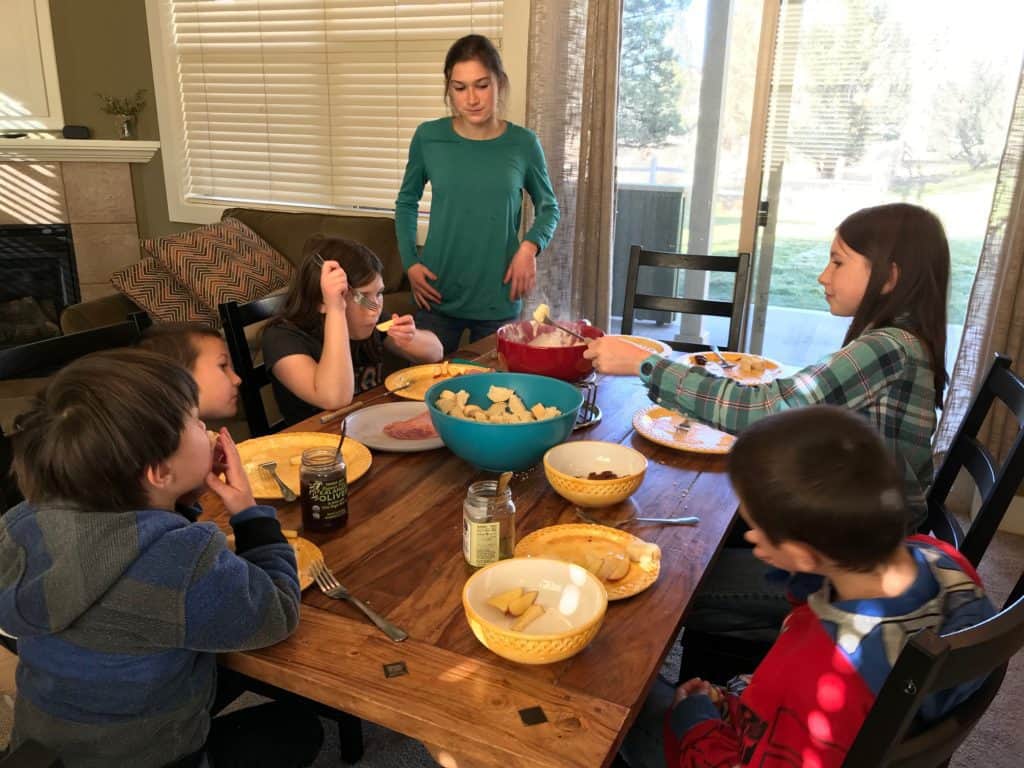 We also decided that it would be best for us to celebrate Thanksgiving away from home. At the time we were living next door to my parents.
We recognized that in order to truly make the holiday our own, we needed physical distance from our extended family. So we went away for a week to an AirBnB for Thanksgiving.
Communicate as needed
We began communicating about our plans as soon as we made them. Brian and I let our family know when we would be available for family time, and when we were not available. My parents had expectations that we would spend most holidays with them.
Some family members were upset by our choice to spend Christmas and Thanksgiving with only our own children. We knew that would be the case, so we communicated clearly to allow for lots of time to adjust their plans if they wanted to be with us when we were available.
We also communicated to our children exactly what we wanted to do, and how things would look different. Although it felt strange to not spend the days with Grandma, Grandpa, uncles and aunts, our kids really enjoyed not having to conform to someone else's meal timetable.
For years we had been trying to arrange naps and mealtimes around the adult's preferences and needs. Last year we put our children's needs first. We all had a much less stressful Thanksgiving and Christmas!
We also made clear to our children that we would be focusing more on doing fun things together, and less on gifts. This helped them manage their expectations too. Our kids really enjoyed the relaxed time we spent together doing fun activities.
Build something new
We decided that not only would we have some new traditional meals and foods, we would also do some new activities that most of our kids could participate in.
We set out puzzles and built them together. The kids did crafting activities, silly turkey cookies, and turkey hats. We went to the playground and tossed a football around. Everything happened on our own timetable, and when we were tired, we could simply head home for a nap.
We did make plans to spend time with the grandparents and other relatives on other days. We simply determined that our Christmas Day and Thanksgiving Day would be for just us and our children.
Skipping the holiday altogether?
I know there are those who suggest skipping the celebration altogether. After all, it's just a day, or a season—anyone can ignore that or bypass it, right?
I have tried to do this. For many years, we actively avoided participating in Halloween celebrations. I will not go into the reasons why here, but I do want to say that it is difficult to truly avoid a holiday.
Even if you are not participating actively in activities, lots of other people and community groups will have activities around this. The reminders will be everywhere! We found ourselves declining invitations and avoiding conversations for weeks before and after the holiday.
On the positive side, there is a lot to be said for reclaiming a holiday that is painful for you. Celebrations are an important part of life; for marking milestones, for connecting with our community and family or friends, and for helping us to remember why life is worth experiencing.
In our family, we created some new traditions so that we and our children could still enjoy the opportunity to celebrate. We also chose some favorite traditions from both my family traditions and Brian's family traditions to carry into our new holiday celebrations.
After all, many of the things we do during holidays are not painful in themselves— they are simply activities. The pain is in our connection to them, and our memories associated with them.
Creating new memories with people we love can powerfully alter our thought processes around the holiday. In my experience, this also helps me to move through my grief faster, and win a more healthy way.
Be gentle with those who are experiencing grief during the holidays
Change is difficult. Some people hate change. I have a couple of kids who fall into that category. Last year was emotionally hard in many ways, due to changes we chose, and some changes we did not choose.
This year is different again. We live further away in our new house. We are not currently in contact with several family members, due to setting boundaries on abusive behavior.
I am anticipating that there will be some sad and hard moments for us and our kids this holiday season.
When the hard, sad feelings show up, I plan to give myself permission to feel them. We are keeping a relaxed schedule. This creates space for grief during the holidays. We will participate in activities we all can enjoy, and not feel guilty when we do what our family needs.
Self-care is super important during difficult holidays. I make a plan to take care of my own needs before, during, and after the holidays. Planning for self-care ahead of time helps me ensure that it happens, and creates space for me to support my kids and husband as well.
Self-care does not have to be complicated or expensive. It's just being mindful of the activities that refresh you, and making room for those activities in your schedule.
One of my favorite holiday self-care activities is to sit out by our Christmas tree with a cup of hot cocoa after everyone else is in bed, enjoying the quiet house and the pretty tree lights.
Hang in there!
It can be hard to discontinue traditions and disappoint people's expectations. However, as parents, we only have a few years together with our children in our homes. This time is precious, and we want to enjoy it, not endure it.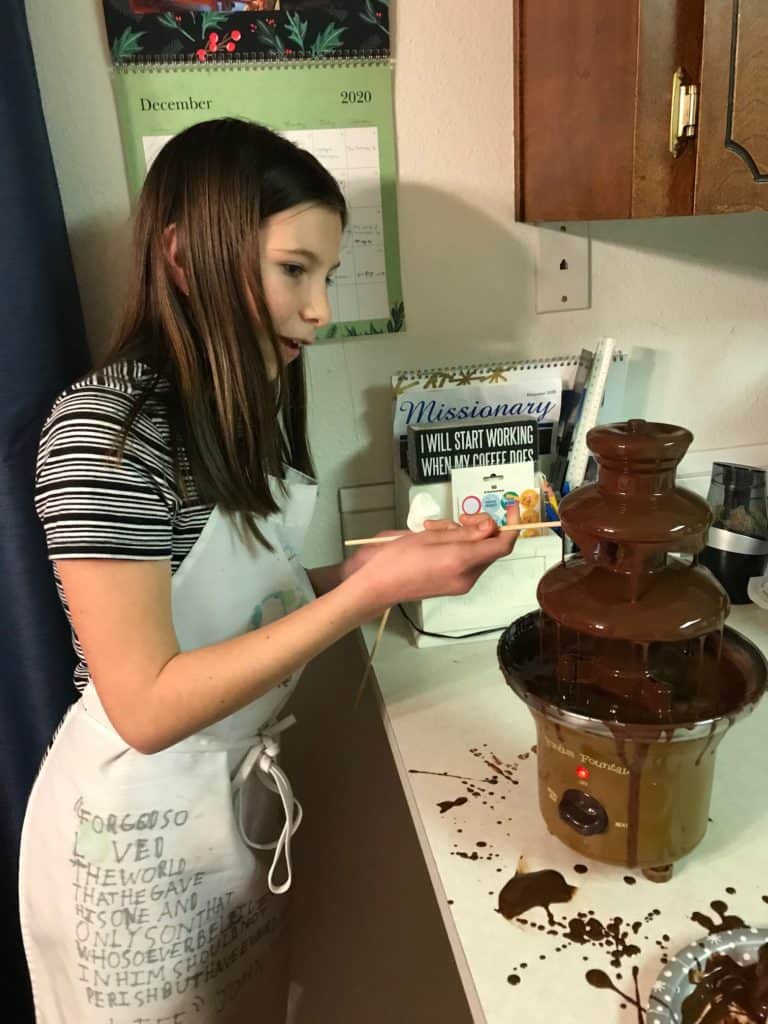 If that means disappointing some adults, they are adults! They are responsible to manage their own expectations and feelings.
My hope is that sharing openly about some of the choices and changes we have made as a family will help those of you who find yourself in similar circumstances this year. There is nothing magical about following traditions, especially those that cause pain and grief for your kids.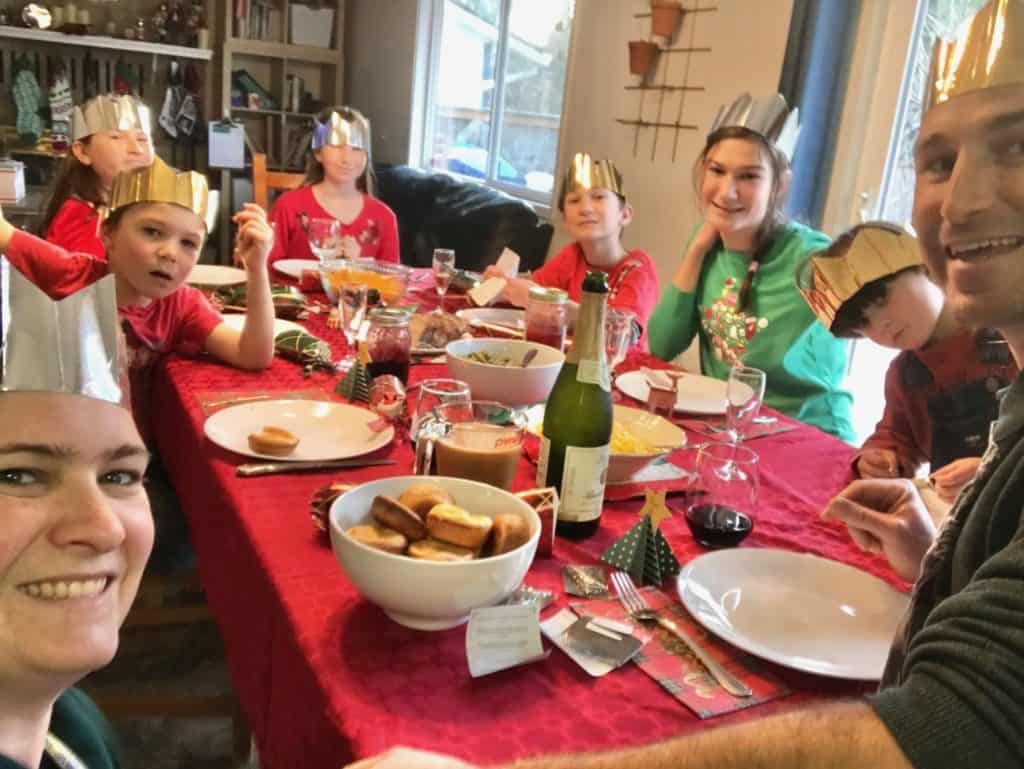 Do what you need to do for yourself to be present with your kids. You won't regret it.
© Copyright 2021 Jennifer D. Warren. Updated: May 31, 2022.