There's a National Quilt Museum?!
Visiting a quilt museum was never a bucket-list item for me. Frankly, until 4 years ago, if you told me there was a museum for quilts, I probably would've laughed at the idea. But as I plotted our route through Paducah, Kentucky, and the Roadtrippers app showed me the National Quilt Museum, it only took a moment's consideration to add it to my list of "gotta see that!"
This post contains affiliate links. As an Amazon Associate I earn from qualifying purchases made from the links on this site, at no extra cost to you. Thanks for supporting our family business!
Table of Contents
(This is a continuation of our epic summer 2021 family road trip from Oregon to Georgia and back. To start at the beginning of the trip, visit our Ready, Set…Reset! post.)
Jumping in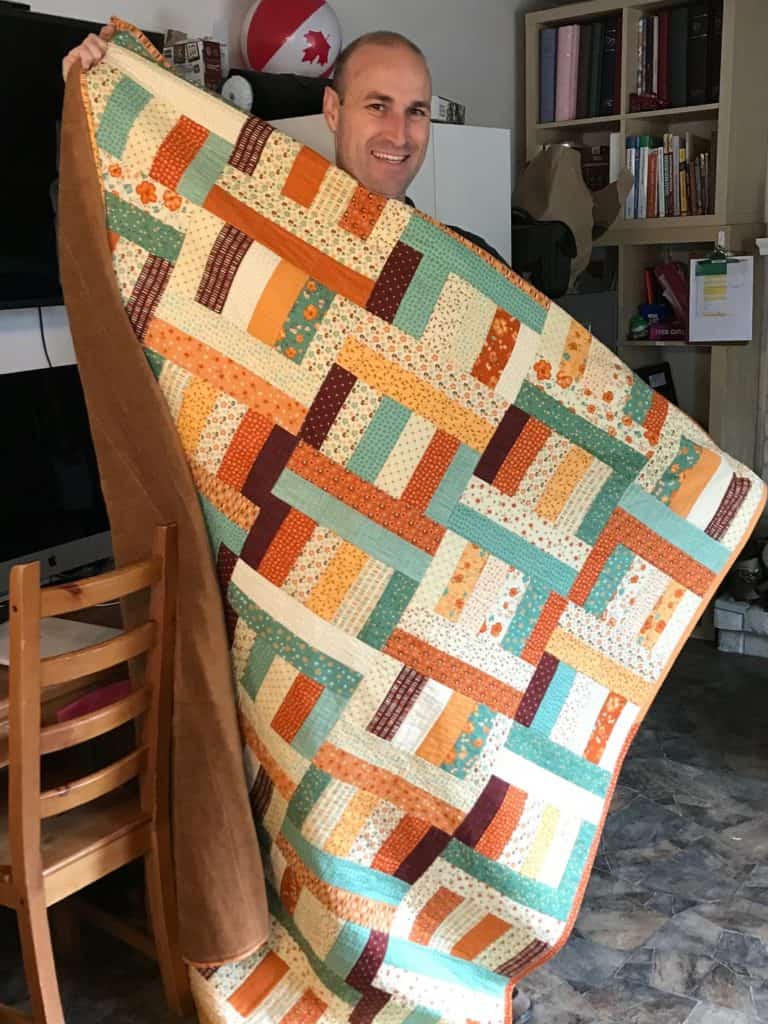 I have always been interested in learning to sew, but I lacked the opportunity. Then in 2018, I was lamenting to a friend that I wanted to learn quilt making, but the only classes I could find never worked with my schedule. Her response stopped me in my tracks: "Just YouTube it!". So I did.
Several quilts later, I love my new hobby and don't know why it took me so long to jump in! As we started planning our road trip, my discovery of the National Quilt Museum right along our route made me giddy. A whole museum dedicated to quilts? How many amazing ideas would there be?!
Arriving in Paducah, Kentucky
I did have one major concern: would the kids be able to enjoy it? Many modern art museums have come a long way from the hushed tones and "Look but don't touch" that I grew up with. But what about the National Quilt Museum? What kind of experience would it offer my six kids (preschoolers up to high school age)?
We arrived in Paducah around 1 pm, hungry for a good meal. Although our major destination was the Museum, we decided that our best bet for an enjoyable visit would be to feed everyone first. Since Broussard's Cajun restaurant was right across the street, we made a detour there.
Discovery
After lunch, we made a short stop to look at the statues on the museum lawn and made a surprising discovery — the National Quilt Museum is on the Lewis and Clark National Historic Trail!
As good Oregon residents, we took a few obligatory Lewis and Clark photos, then headed inside.
Brian knew I was beside myself with excitement, and he gallantly took charge of the boys so I could explore freely.
I needn't have worried. The colorful and intricately designed quilts were more than enough to keep all of my kids interested for over an hour. We each wandered happily at our own pace, enjoying the different areas and gallery sections.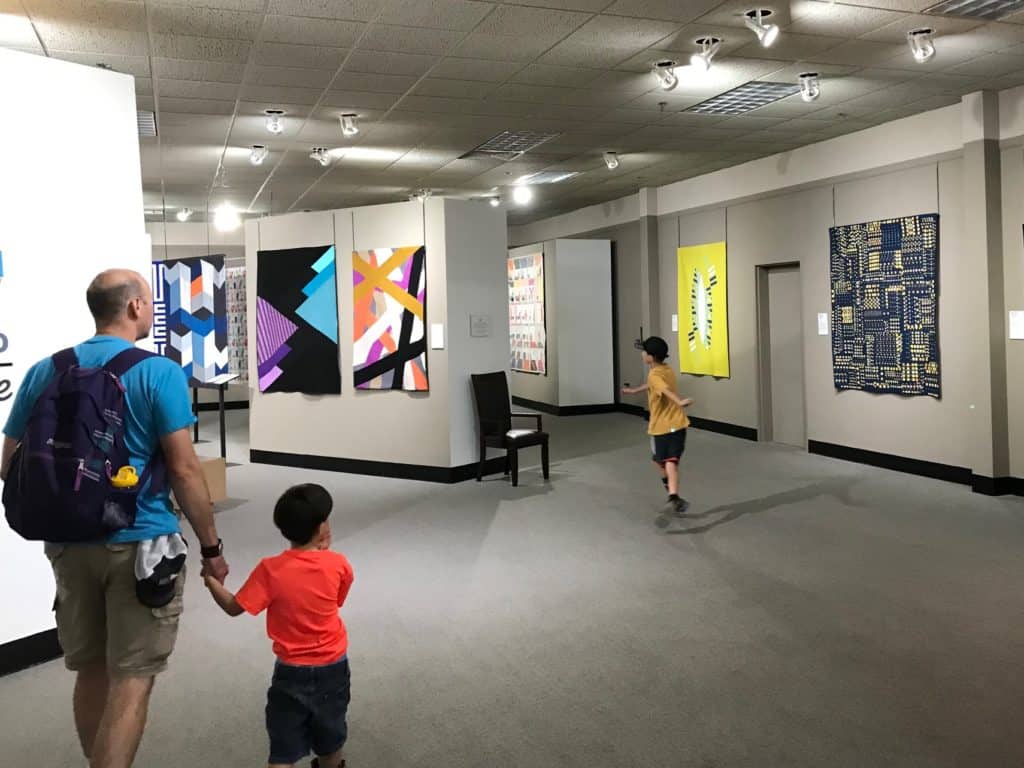 The History and Mission of the National Quilt Museum
The National Quilt Museum was founded in 1991 by a local couple, Bill and Meredith Shroeder, of Paducah. When they first opened it, it contained over 80 quilts on loan from their personal collection.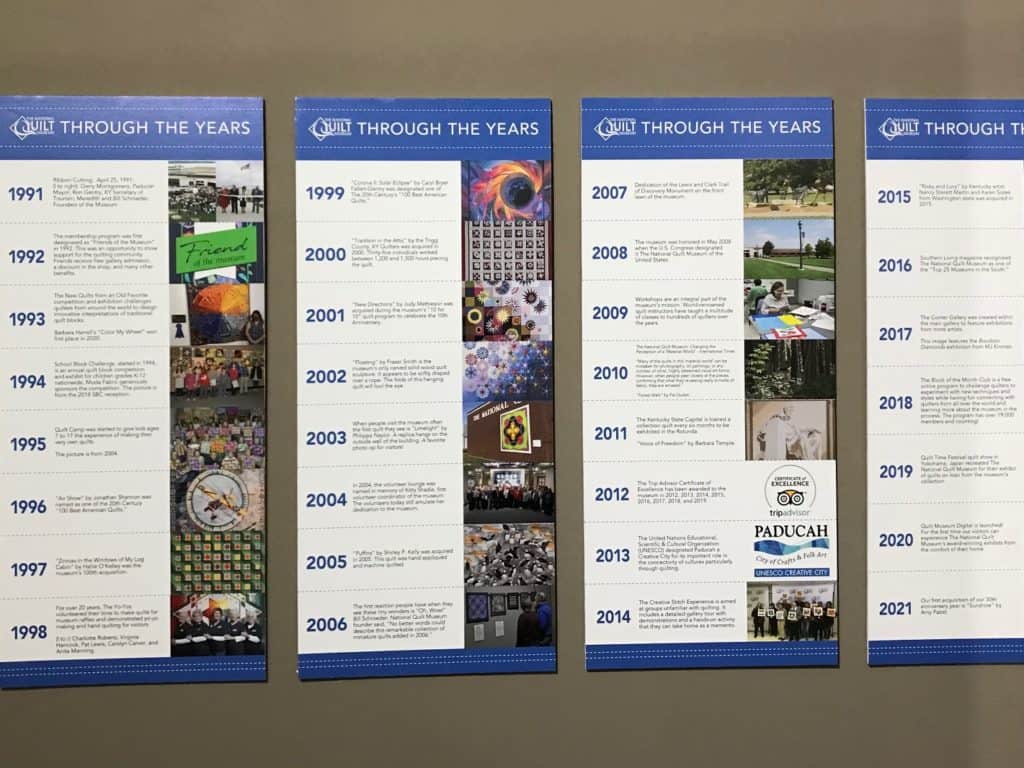 The mission of the National Quilt Museum is to celebrate the work of today's quilters and advance the art of quilting by bringing these works to new audiences. If you are used to thinking of quilts as "my great aunt's bed coverings" or antique blankets, you may be surprised at the contemporary quilts on display at this textile museum.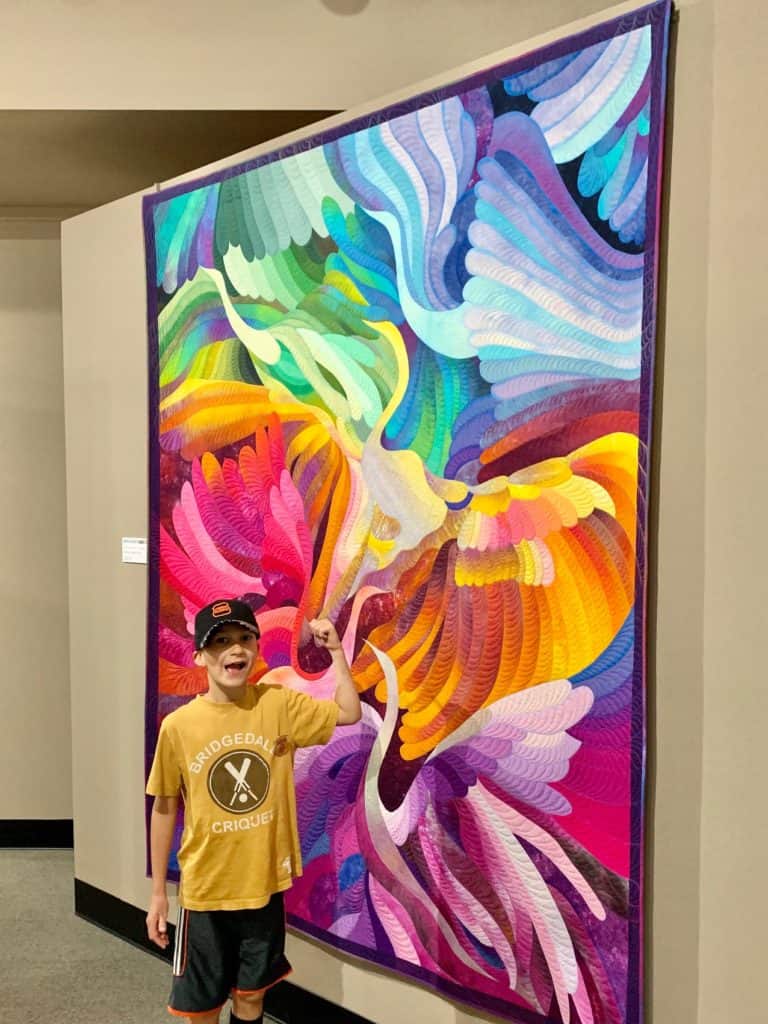 Over the years, the Museum's collections have grown to include over 600 quilts. The main gallery displays a rotating selection of new quilts and older favorites. So a returning art lover can have a different experience every time!
Educational Opportunities
The Museum runs many education programs for children and adults of varying skill levels. Well-known and expert quilters offer classes and lectures regularly. The annual School Block challenge encourages children around the world to create a quilt block. Then the contest winners' projects are displayed at the Museum.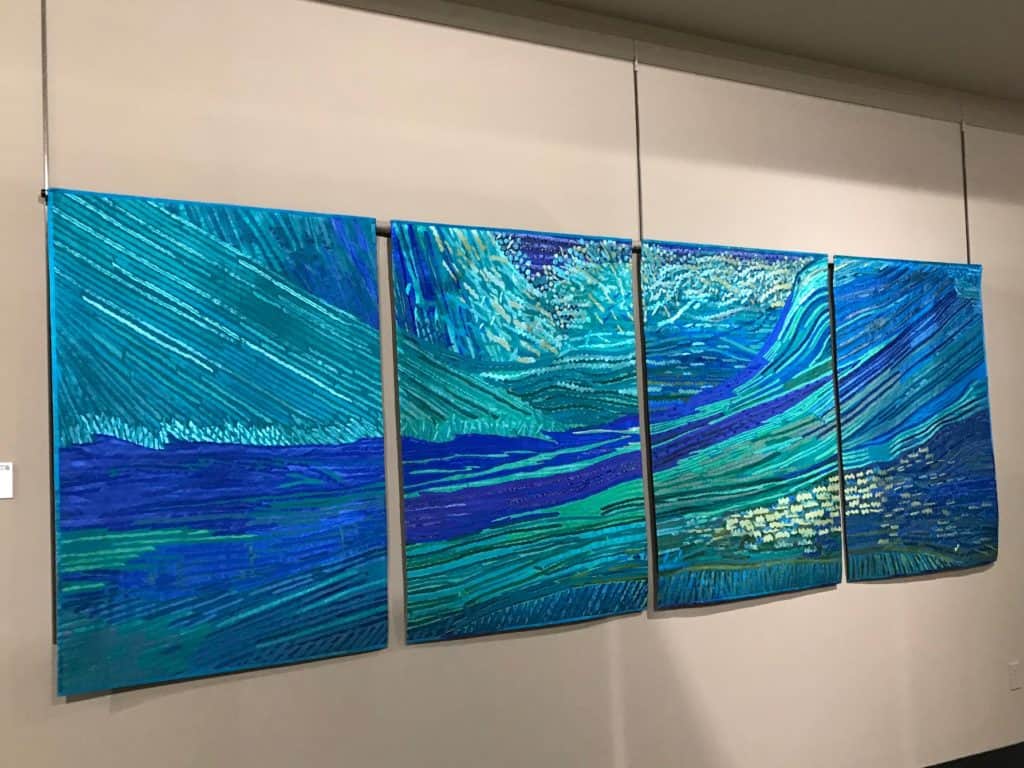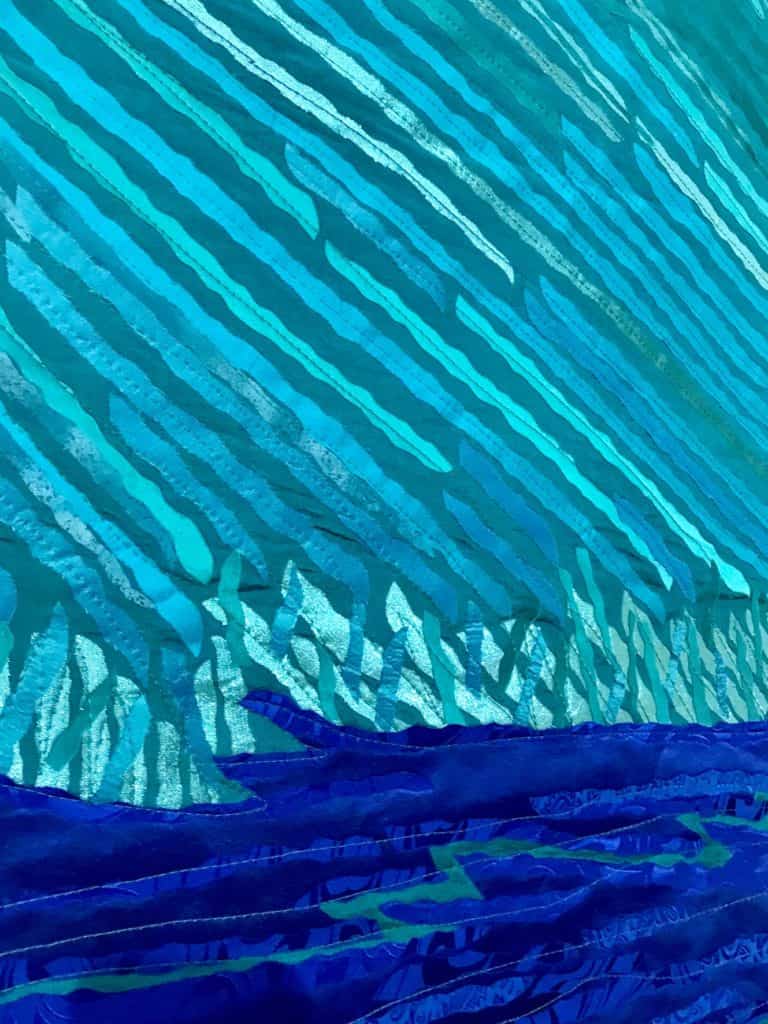 We also saw a collection of fabric art created by junior quilters in one gallery. My boys found those especially interesting as they started to realize that quilting is not just a hobby for adult women. Visiting the National Quilt Museum is a great way to help expand kids' ideas about what art is, and who can create it.
Pandemic Exhibit
The first section that caught my eye was a collection about the pandemic. There were about a dozen quilts on display there. Various artists created them to express their thoughts and feelings about the COVID-19 pandemic.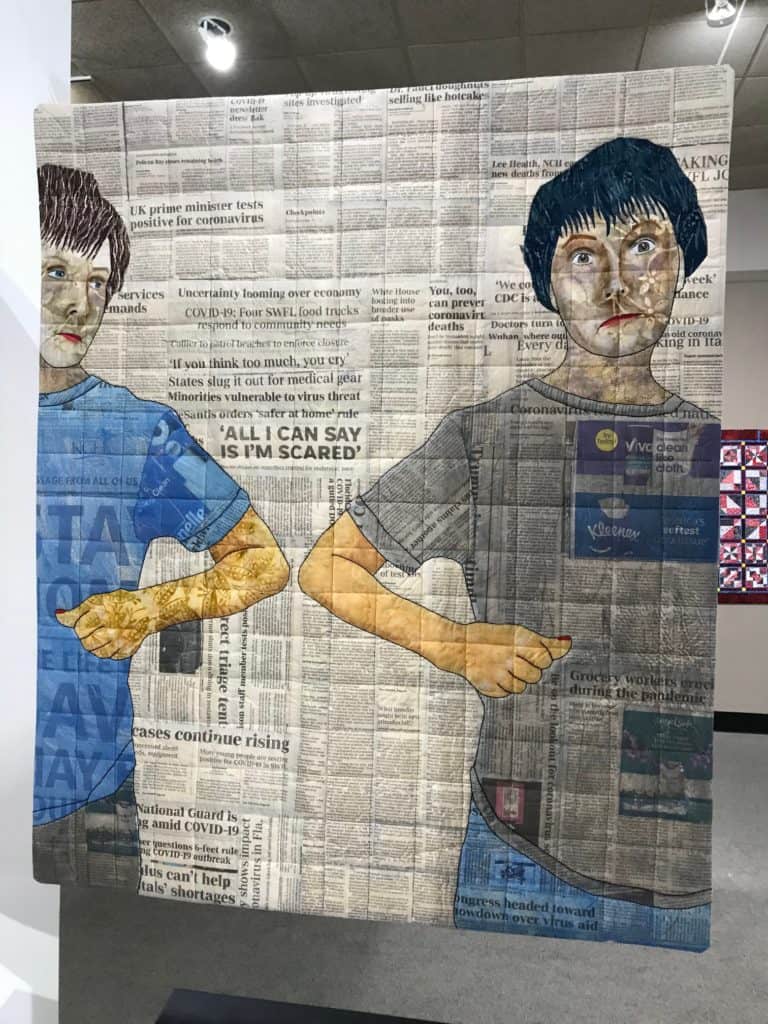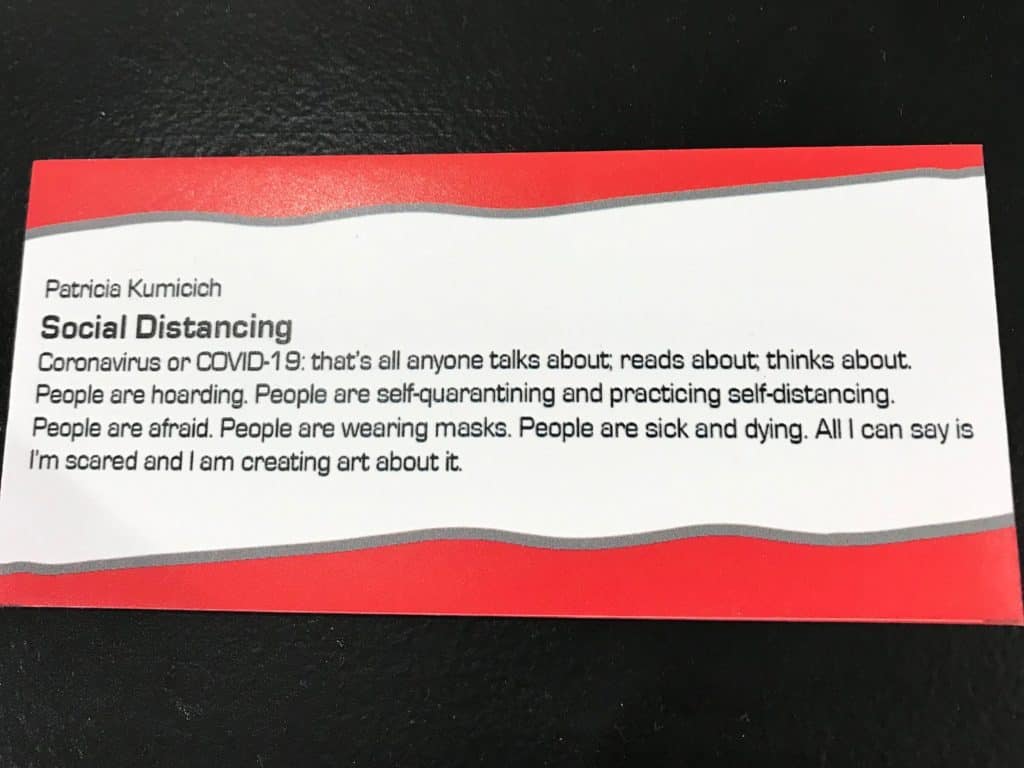 My kids found those quilts moving and relevant to their experiences. Standing in front of a quilt showing two people elbow-greeting, or another showing a woman grabbing the last toilet paper package, really brought home to each of us the universality of the pandemic struggles we all have lived through.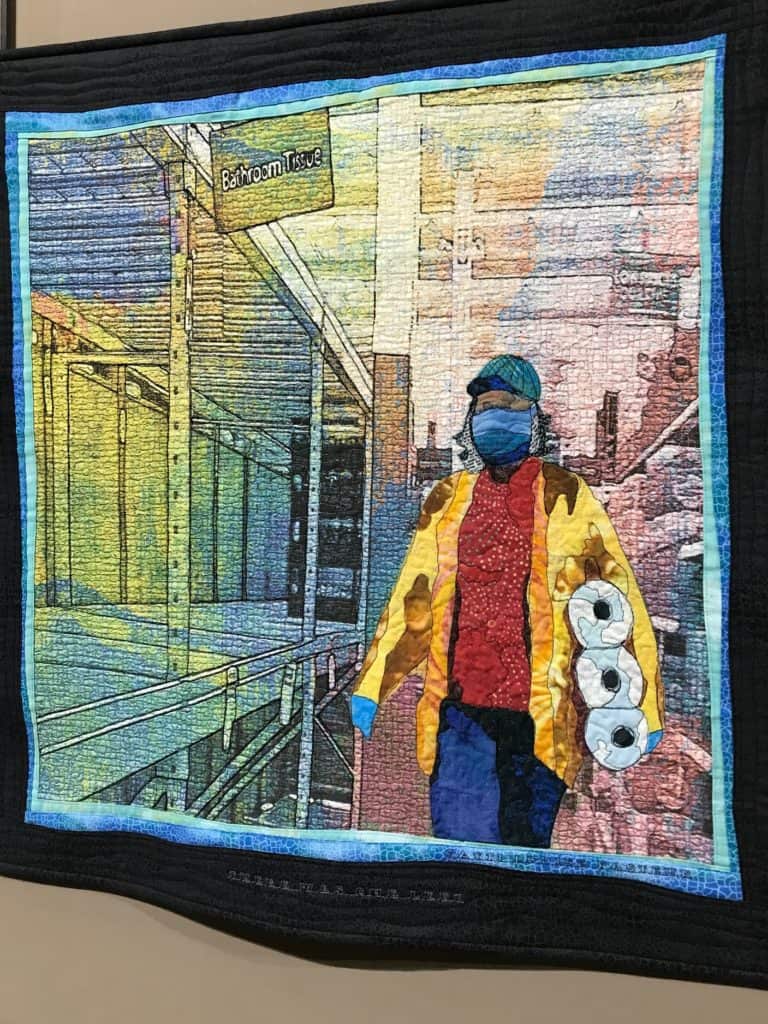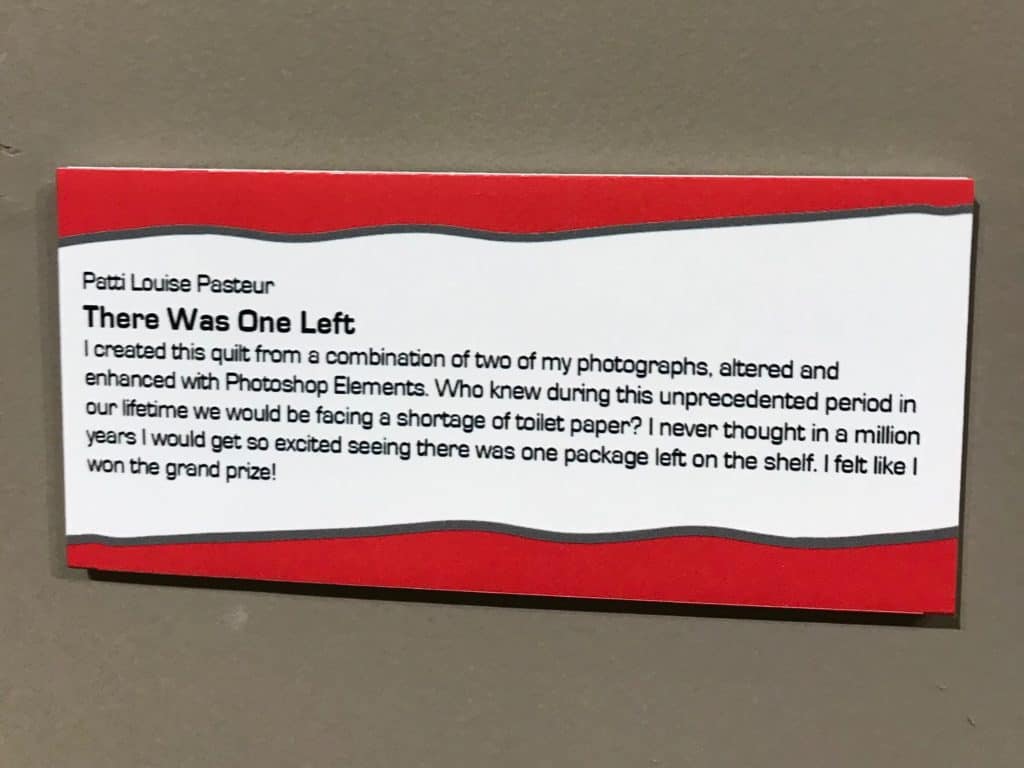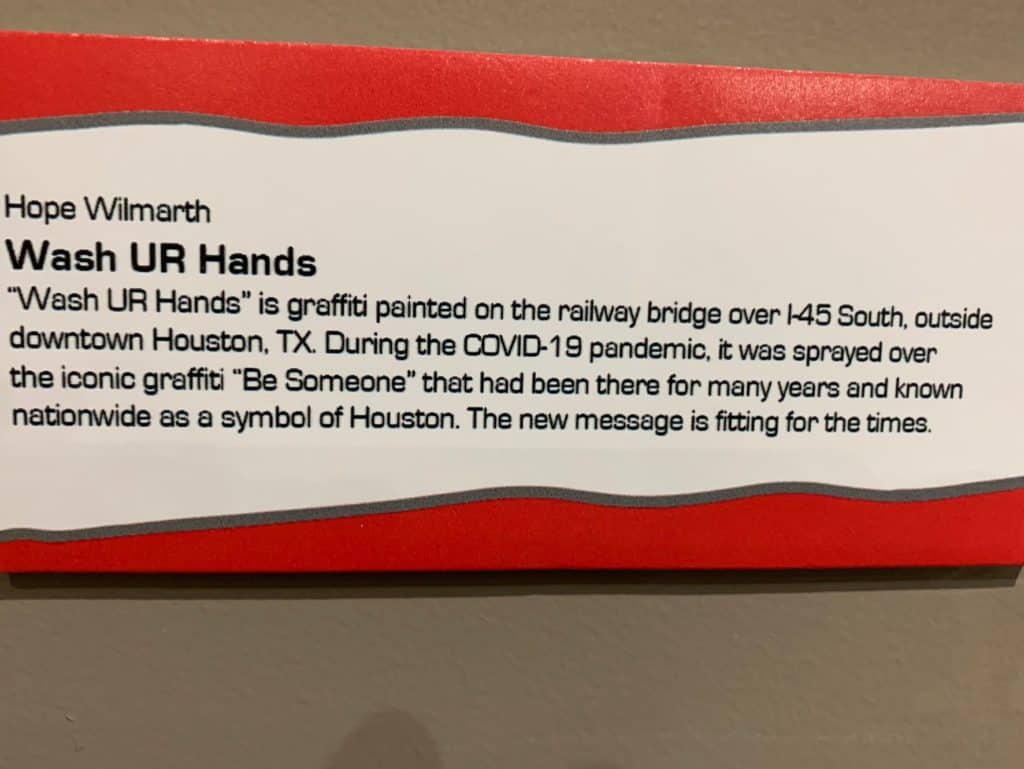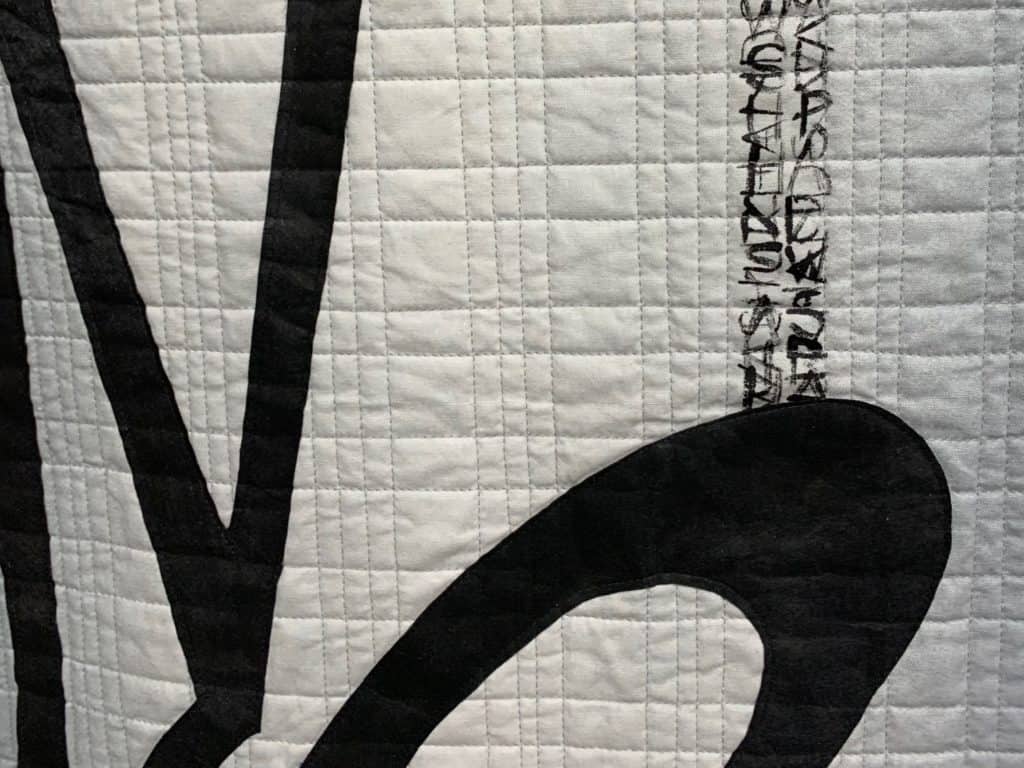 National Artisan Examples
As I continued through the Museum, I was in awe of the skill and diverse creativity of the quilts on display. Many of these quilts are winners from national contests, and demonstrate the finest quilting in existence.
This quilt showing stacked pillows looked like a photograph, it was so detailed and sharp!
One of the best things about these breathtaking exhibits is the opportunity to study the quilt up close. Of course, you can't touch them, but you can get up close and study the incredibly fine details that make the quilts come to life.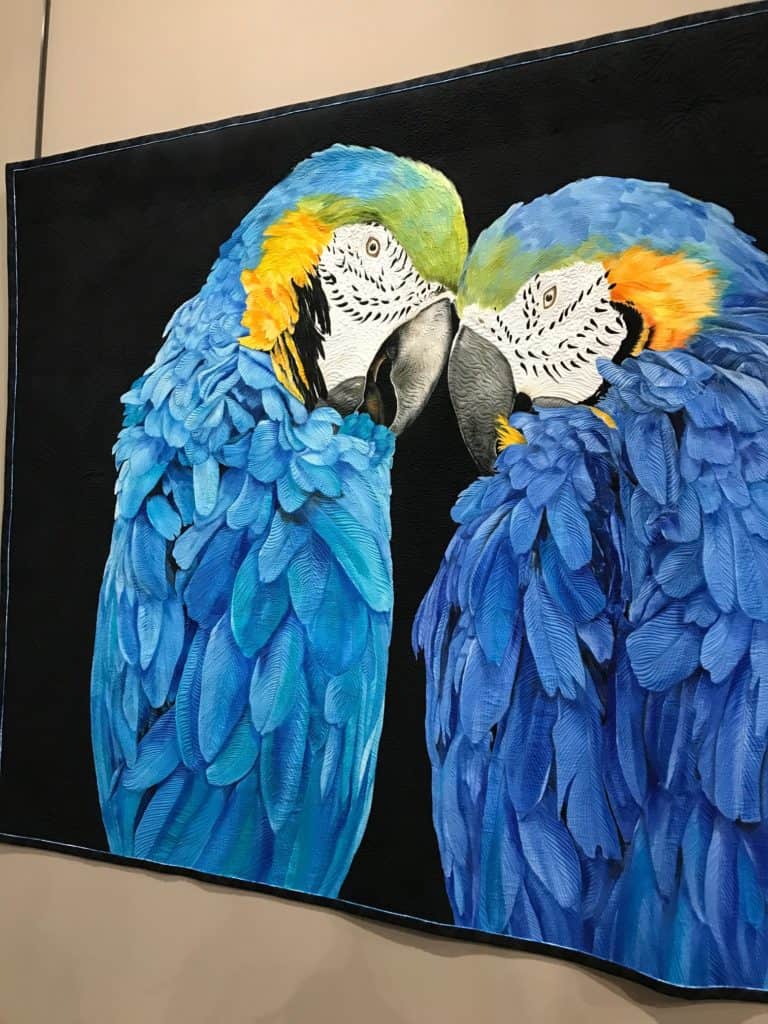 Seeing the individual threads that made up the lemur's furry tail hairs, or the fine, even stitches that make the macaw's feathers look real is a quilting enthusiast's dream come true.
Besides the main gallery, the two other galleries feature fiber art exhibits rather than traditional quilts. The definition of a "quilt" is two fabrics with another layer of fabric in between that are stitched together. Fiber arts may include quilter's materials, and quilter's techniques, but the resulting art is not a "quilt".
Distinctive features of the National Quilt Museum
The US Congress recognized this prestigious museum as the "official" National Quilt Museum of the United States in 2008. It's the only quilt museum that is dedicated particularly to preserving and promoting the work of today's quilters. Quiltmaking has a long history, but all the quilts in the National Quilt Museum are from the last few decades.
Unique and Innovative
Many of the quilts on display use innovative techniques that would make a traditional quilter balk. As I started to learn quilting, some beginning basics I found helpful were to always use cotton fabric and to avoid mixing different fabric types.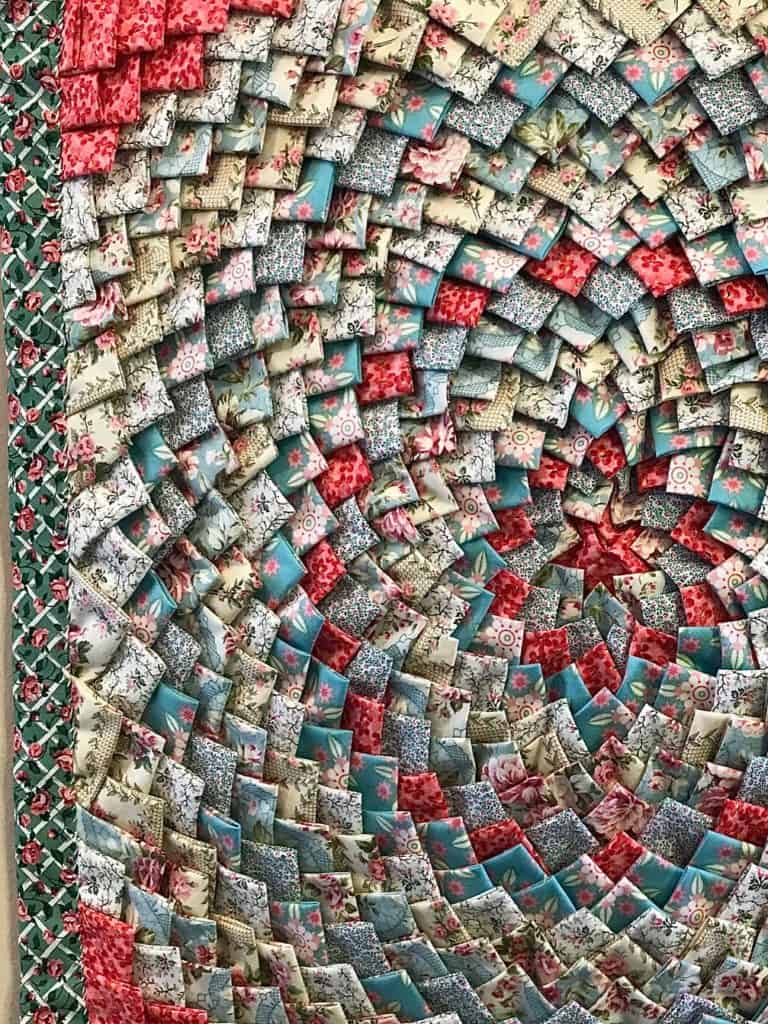 Some of the most stunning quilts in the collection break all the rules! I saw one that included sparkly sequined material. Another quilt had reflective material like the material used on traffic safety vests!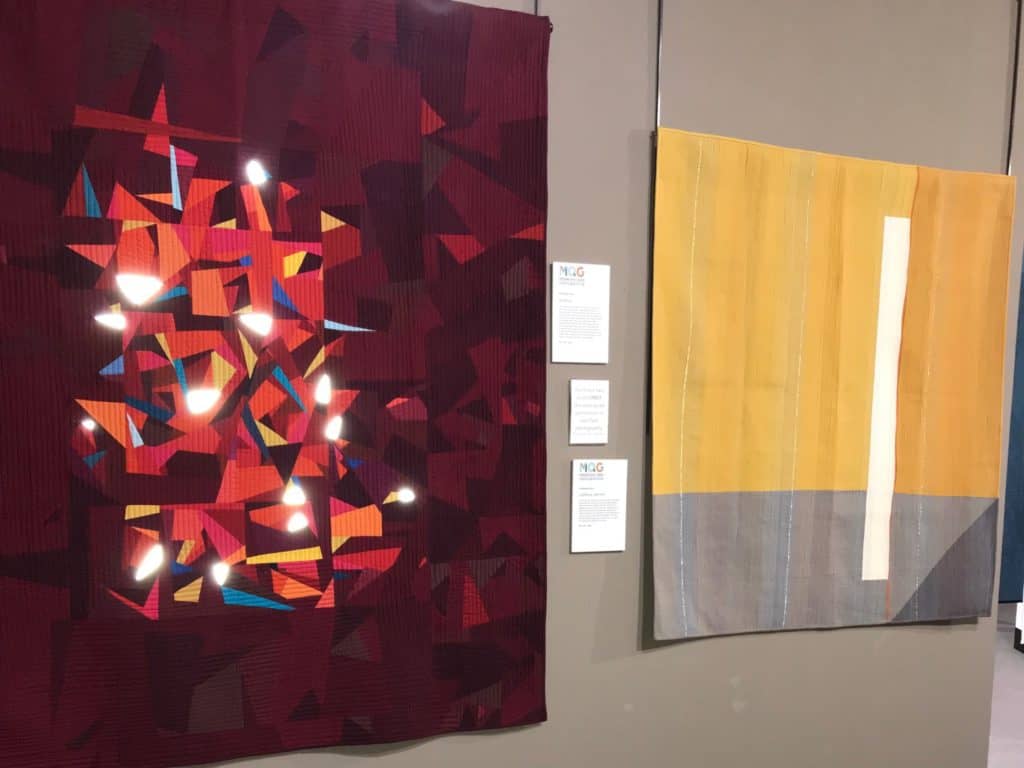 One of my boys' favorite quilts had a tiger leaping, but the quilter had hidden several other tigers in the image. Some were in the stitching, others in the trees and the background.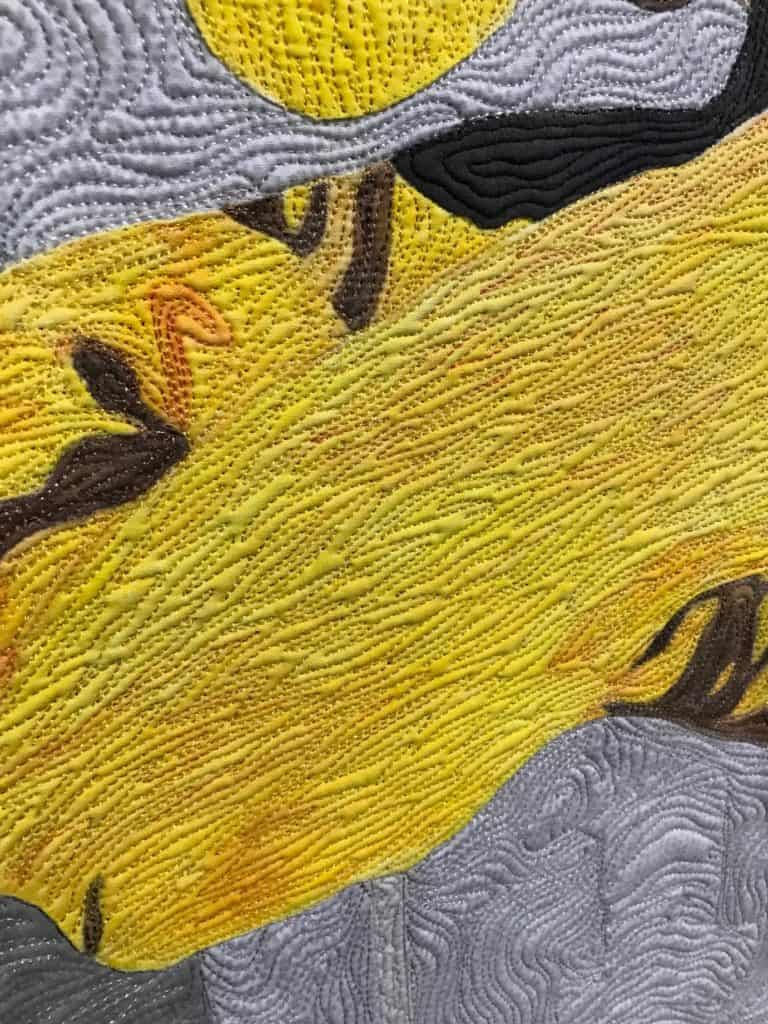 There's even a wooden quilt in the conference room. That's right, a wooden quilt. Not only was it gorgeous and brightly colored, but the wood was so skillfully crafted, you almost had to touch it to assure yourself it wasn't fabric!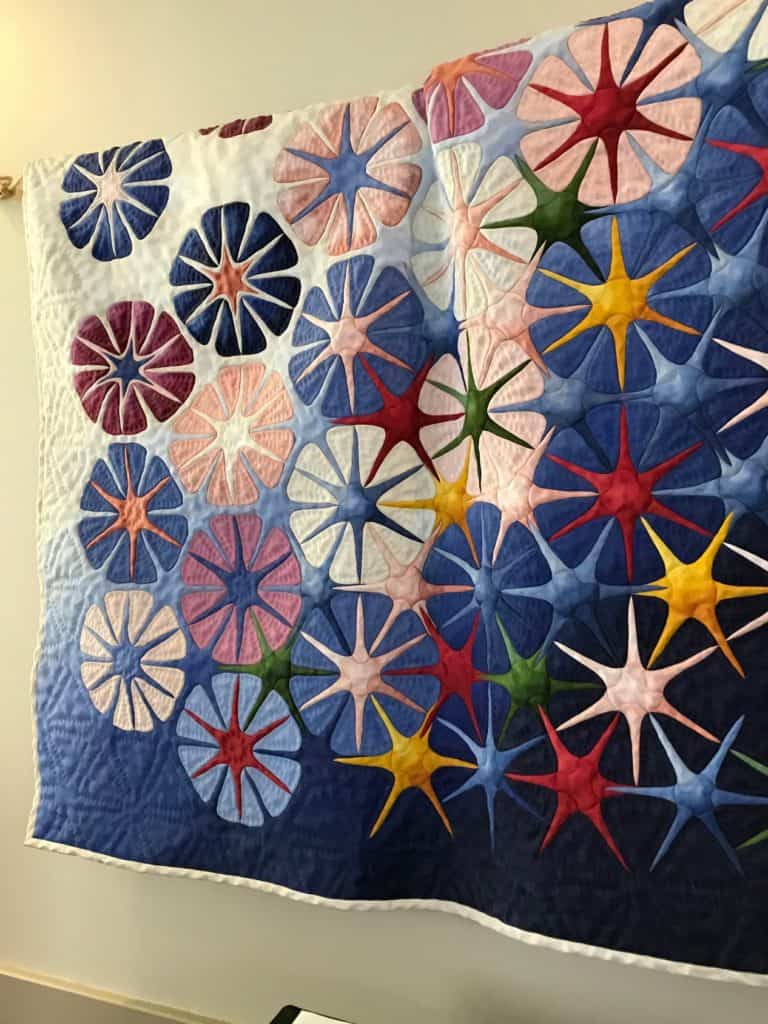 I would have loved to spend more time there, but, as with many art museums, the brain and eyes have limits. The kids had seen enough, and we needed to continue on our drive, so I grabbed the collection book to peruse later on the trip or at home, and we headed out.
My daughter agreed to share her experience at the Quilt Museum. Here is what she thought:
Appaloosa's Review of the National Quilt Museum
"When we finished up at the Crocodile restaurant, we walked across the street to the museum, and there was a Lewis-and-Clark statue (five hundred and one, five hundred and two). It was a nice statue so we took pictures and then we went into the museum.
There were a LOT of quilts. At least a hundred, and all of them were beautiful with lots of details and some information about who made them.
They also had a section of Miniature quilts and dollhouse quilts (which are apparently a thing!).It was interesting to see the stories and thoughts behind the art.
My favorite would probably be the tiger quilt (because everyone knows Tigers are the BEST) or all the forest and jungle ones, like the lemurs and pandas!
Art Experience
I think the National Quilt Museum is actually more of an art museum than a place to learn about the history of the quilts, and that was what I liked the most. I really loved being able to just wander through the Galleries without feeling pressured to learn anything.
They have a lot of events if you want to learn more about the history behind the quilts and they also have quilting classes and Quilt camp.
If you're thinking of visiting, definitely look at the website, it's very informative and tells you about the events, so check it beforehand. The museum is next to the Ohio river and a wall full of murals, if you're interested in that kind of stuff.
After we were mostly done looking at the quilts some of us went to the gift shop, which was cool. After walking around for about an hour we got back into the car and basically just drove until we hit our hotel." –Appaloosa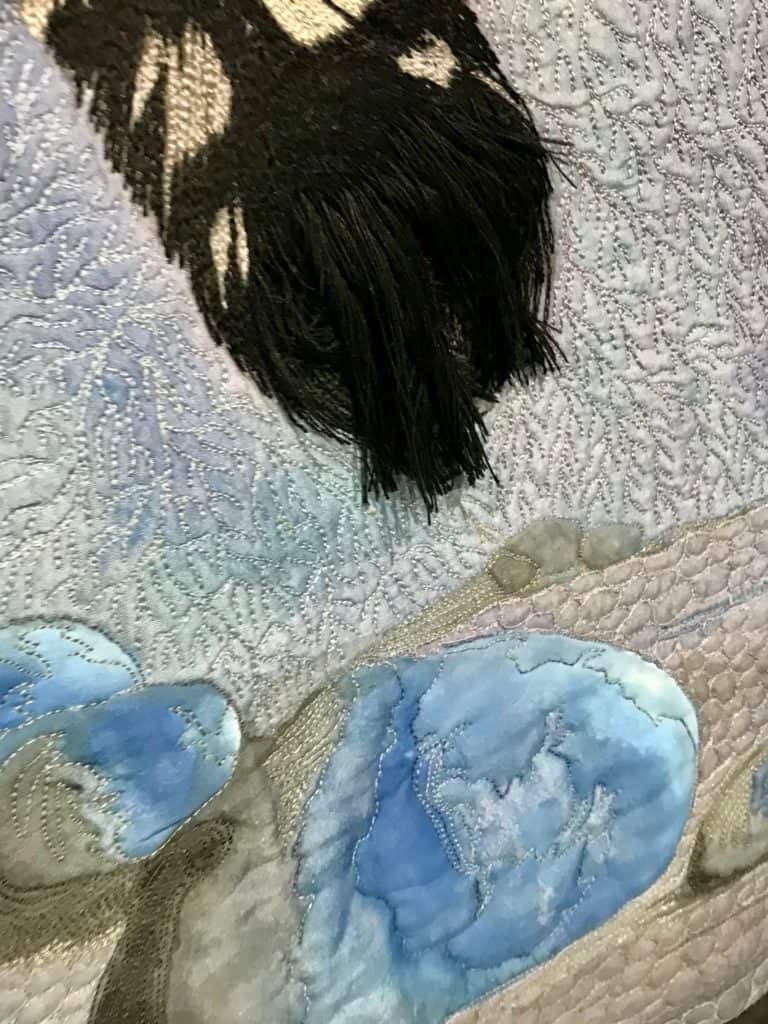 An Amazing Attraction
This is a world-class museum. It has won the TripAdvisor certificate of excellence several consecutive years in a row, and quilters of all skill sets will find it inspiring. It's an amazing museum even for non-quilters, and a can't-miss attraction in Paducah, Kentucky. I can't wait to go back and see what new quilts they have next time!
© Copyright Jennifer D. Warren and "Appaloosa" 2022
The next stop on our road trip was the Nashville Parthenon.