Babies are a money-making machine for retailers. Hence the invention of the baby registry.
There! I said it.😜
As a first-time parent, you want to do everything just right for your new little one. You read all the books, watch all the YouTube videos, and attend all the prenatal classes. You want to have everything that your new baby needs, and everything that will lead to picture perfect memories.
Retailers know this, and capitalize on it. Baby registries contain suggestions for so many items that you could easily fill a small house with all the stuff! But what do you truly need, and what will you actually use? 
I have raised six babies, three girls and three boys over the course of eleven years, and often kept items to use with the next child. So here's my list of items you definitely want to have for a new baby, as well as some for mama.
To make creating a baby registry as easy as possible, I suggest using Amazon's Baby Registry program. Click on the link below to start now!
Shop Amazon – Create an Amazon Baby Registry
For Mama
Please note: I struggled with breastfeeding with my first baby, so I know firsthand the kind of mom guilt that can show up whether you're using formula or breastfeeding. FED IS BEST. So while these recommendations will include things specifically for breastfeeding moms, please understand that I am in support of whatever works best to keep you and your baby healthy.
1. Nursing pads (at least 30).
You will go through nursing pads (and shirts) so fast while breastfeeding! Have lots of extras so you can change whenever leakthroughs happen (several times a day, in my experience). This set comes with a super cute carrying bag to keep them clean in the chaos of the diaper bag.
2. Nursing covers (at least 2).
One cover can be in the laundry while the other one is in use. One of our babies would spit up her entire meal at least once a day, so we started buying multiples of items like this.
I prefer the kind with a support ring that allows me to see the baby's face, but isn't too hot for summer (5 of our babies were born in the summer). If you live in a cooler climate where heat is not an issue, this kind would probably be great.
3. Reusable straw cup with lid (2 or 3).
I loved having one of these cups at each spot where I might be breastfeeding the baby. So one near the crib, and another near the couch. That was the best way I found to keep hydrated. Trust me on the lid and straw, babies start flailing while they nurse and they have scary good aim!
4. Nursing pillow with three or more washable covers.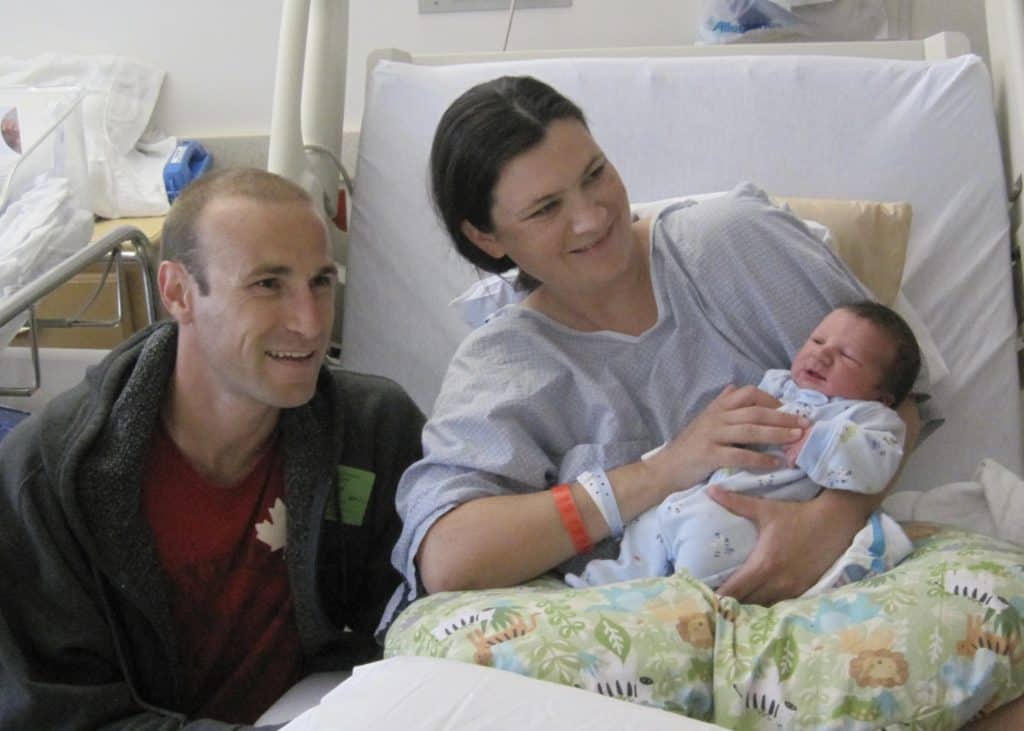 The Boppy was given to us when we had our first baby, and ours lasted through 6 years of breastfeeding infants. Love that thing! We found many uses for it beyond breastfeeding, too.
5. Breast pump
If you are breastfeeding, this is a must-have. Manual pumping takes forever, even if it is substantially cheaper. A good breast pump pays for itself in less time spent pumping and ease of use.
Even if you don't plan to breastfeed, you may find it useful to borrow or rent one of these for a couple of days after birth when your milk comes in. It can be super uncomfortable if you are engorged and have to try to manually relieve that pressure.
For Baby- Clothing
1. Footie pajamas with zippers (7-9 outfits).
We loved the Carter's brand, particularly since Costco often carries them inexpensively. You'll want fleecy warm ones if you live in a cold place (or are having a winter baby); lightweight, thin ones if you live in a warm place (California, Florida).
Get the zippered kind! Snaps will make you lose your mind as you are buttoning up at 2 am. Ask me how I know…😒😴
2. Onesie shirts (7-9).
These are great to use as an extra layer if it's cold. If it's a hot summer day, use alone as a shirt. They also come in so many fun designs, like your local MLS team.
3. Baby socks (12-18 pairs).
Pro Tip: use to cover hands too so that baby can't scratch their face accidentally. You'll thank me when you realize how terrifying it is to try to trim baby fingernails! Also, these tiny little clothing pieces get easily lost in the laundry, so buy extra.
For Baby- Medical Needs
*Disclaimer: I am not a medical professional, nor is this meant to be medical advice. I am simply sharing what items I found indispensable for my own babies. A good baby registry should include some of these items.
1. Humidifier.
In an ideal world, your babies would not get sick until they were a year old and more easily soothed. Reality is, baby will get a head cold. They can't take any decongestant, so this is the next best thing. Cool mist humidifiers are safer for baby, but harder to keep clean.
If it needs a filter, or distilled water, keep those on hand. You do not want to be running to the store at 10 pm hoping they have it in stock!
2. Thermometer.
Get one that scans the forehead without touching it. They are more expensive, but you will thank me when you do not have to wake your baby up to take their temperature with another type of thermometer.
We actually have an ear thermometer that we have used since we had our first baby, but they are not accurate on infants under 6 months, and the new forehead ones are incredibly reliable.
3. Nasal bulb syringe
EEEWWW. I was grossed out by this concept at first. However I quickly discovered that when my baby was miserable and stuffy, I was pretty desperate to find a way to make him or her more comfortable. This is one I do not recommend keeping for the next baby. Often hospitals will give a nasal bulb syringe to you for free.
4. Nail trimmers
Trimming your baby's nails may be one of the most stressful experiences you will ever have. Tiny fingers and even tinier nails on a squirming infant is a recipe for pinching a fingertip.
This is a pretty basic trimmer that will do the job.
Nowadays they also have little electric files, and if you can swing it, totally get one of those! If not, a glass of wine after completing the nail trimming job would probably be a good plan. Just kidding… or am I?
For the Nursery
1. Swaddling blankets (3 or 4)
How often do you want to do laundry? If it's not five times a day, at midnight and 3 am, make sure you have several extra of these blankets.
Some babies sleep best swaddled, while others only need it for a couple of weeks. Thinner blankets tend to work best for swaddling.
2. Pack N Play with extra sheets
So much better than a traditional crib! We were gifted a sturdy wooden crib for our first baby, but it was bulky and soon destroyed by teething babies. For our last baby, we got a Pack and Play with the bassinet conversion, and we used ours until baby was nearly two years old.
These are sturdy, and can go everywhere, perfect for travel. We started with the baby in our room, then later moved baby in with older siblings. You'll want lots of crib sheets—diaper blowouts and spit up happen. Plan for them.
3. Diapers and wipes (or cloth equivalent)
Have enough on hand for a 2 week supply if possible. However don't get too many of the smaller sizes (newborn and 0-3 months), you will be amazed at how fast they grow out of them!
I'm not going to get into the cloth vs. disposable debate here, because in my opinion you should do whatever works for you and your family. Raising kids is hard enough without getting into debates on things like diapers.
4. Bottles (for breastmilk or for formula)
Get whatever kind is easy to clean and not too expensive. You will use a lot of these. Quite often you can't reuse bottles with the next baby because the rubber nipples degrade over time, so keep that in mind when you buy.
5. Baby monitor
This is really only necessary if you have a huge house, or if the baby won't be sleeping in the room with you for the first few weeks. I found that after 3 months, I could hear the baby crying from any room in the house. Prior to that, the baby went with me throughout the house in a little bouncer seat or swing, and was always in sight.
An audio monitor is really all that's necessary- video monitors have their own safety issues.
6. Rocking chair
Test drive as many of these as you can. I find that it's a really personal choice which one will work best for you. I did find that the wooden glider ones tend to pinch fingers if you have older kids, and may need tightening occasionally to prevent squeaking.
Get as comfortable a chair as you can afford, because you will be spending a lot of time in it, and probably dozing off in it.
7. Swing/ bouncer seat
A swing or bouncer seat is great for when baby just won't be happy, and you're needing a break. Also for when you are doing something that requires baby not to be next to you in a carrier (such as cooking bacon).
Some people do manage to cook with baby on their back, but I found that too much for my brain to attend to at once, so the swing was a huge help.
Baby Gear on the Go
1. Car seats
You will want one seat for each car if possible. Otherwise get multiple bases, so you can plug it into whatever car you need. Some car seats also coordinate and snap right into a stroller, and this is definitely a system you will find useful!
2. Car Seat Bumper
Some car seats come with this extra support ring that is meant to support your newborn's head. You can also buy them separately. Newborn babies are so tiny that their head easily flops around in the seat if they don't have this added support.
3. Car seat mirror
if you are taking your baby on a long drive somewhere, you want to be able to see their face without pulling the car over. Peace of mind is a big thing when you're driving a vehicle.
This mirror attaches to the seat that the baby's car seat is facing, so that you can see the baby's face using your rearview mirror.
4. Stroller
Look for models that are convertible, allowing you to lay your baby down or sit your baby up. Many models are also designed to integrate with a car seat, allowing you to move your baby from the car seat base right into the stroller—boom!
You won't always want to carry your infant. Plus strollers are awesome for toting all the gear!
5. Baby soft carrier/ sling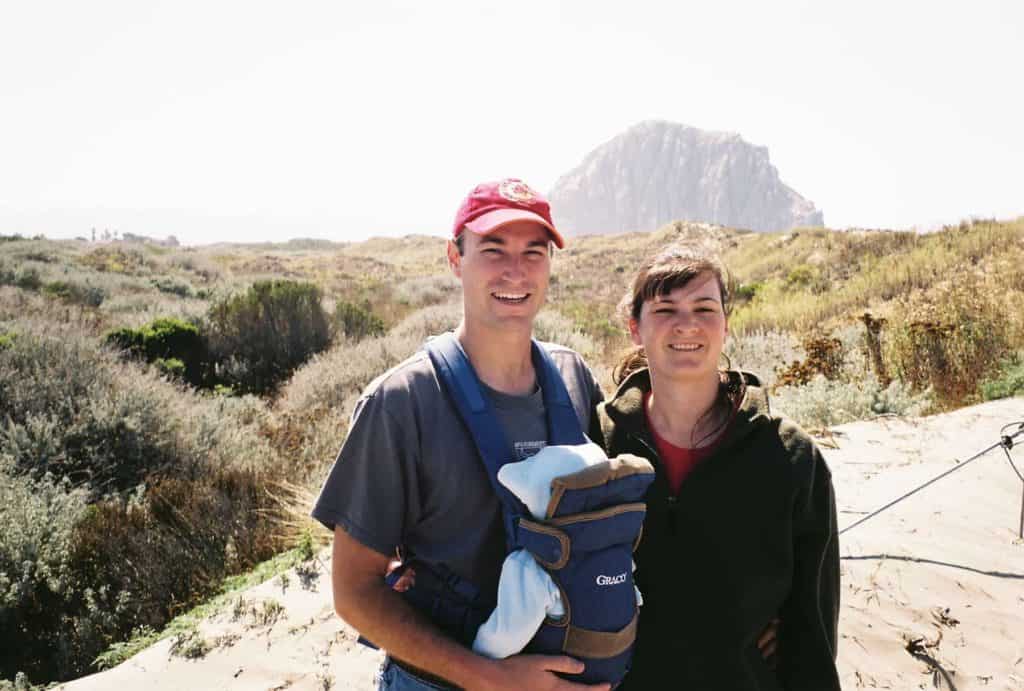 Again, having more than one carrier or sling is worth it if you can swing it. Slings take some training to learn how to safely secure the infant, so plan to practice getting it right with a partner to help before going out with it for a long time.
Spend money to get the comfy baby carriers. Babies may not weigh much, but that weight starts to be uncomfortable fast if you don't have a well-built carrier.
6. Diaper bag
Definitely get a backpack style bag! For the last 2 babies, I didn't even bother with a specific diaper bag, I just used a Jansport backpack.
However, now they have diaper backpacks that even give you a changing area like this, and if we have more babies, I am for sure getting one of those! Those changing tables in public restrooms are scary with germs, so plan to bring your own changing pad everywhere, or cover the public table with paper towels.
Some final suggestions
This isn't exactly a baby item, but rather a general suggestion. Now is the time to get a discount warehouse membership, such as Costco or Sam's Club, if you have one nearby. Diapers, clothes, food, etc., are all common items that are available at a discount at these stores.
We got our Costco membership when our first child was born, and it more than paid for itself with the additional items we were purchasing.
I'm sure there's more items I could add, but I'll let the retail registries do that for me. So many things we needed for one baby, but not for others. Pacifiers are a good example of this- some babies really love them, others couldn't care less. So I did not include them on my list.
This guide contains the tried and true items I used with every baby, and reused again and again. If you plan to have more than one baby, and have the storage space, it's worth it to invest in quality products that can be reused. In another post I will talk about my method and organization for storing items that I plan to use again later.
Experienced moms, what would you add to this list? Tell us in the comments! 
© Copyright 2021 Jennifer D. Warren