One of the things we did when we were planning our huge family road trip from Oregon to Georgia was to ask each person what their top "must-see" stop was for the trip. For two of our children, the Georgia Aquarium was the place they most wanted to visit. "Rattlesnake" was excited about the sharks, while "Burro" couldn't wait to see the whale sharks.
This post contains affiliate links. As an Amazon Associate I earn from qualifying purchases made from the links on this site, at no extra cost to you. Thanks for supporting our family business!
Table of Contents
If you're not familiar with Atlanta, the Georgia Aquarium is located directly across the lawn from the World of Coca-Cola, and just steps away from SkyView Atlanta (Ferris wheel). There's plenty to do for a day if you are in that area of Atlanta.
We felt that the best way to share the Georgia Aquarium with our readers was to give you Burro's experience in her own words. So without further introduction, here's Burro's review of the Georgia Aquarium.
"You're gonna love this place!
Take it from me, the Georgia Aquarium is not to be missed. They are the only aquarium in the USA to have whale sharks. And they don't have just one, they have three!
The gift shop is huge, with all sorts of fun stuff, like giant stuffies, glow-in-the-dark, well, everything, and much, much more. Did I say gift shop? I meant gift shops. They have two! One is the huge one located conveniently by the exit, and the other is just below the food court on the second floor.
Something For Everyone at the Georgia Aquarium
This aquarium has dolphins, belugas, sharks of all shapes and sizes, and literally something for everyone. Your 5-year-old adores otters (of all kinds)? They have two otter exhibits, a sea otter one and an Asian small-clawed (freshwater) one. Take it from me, you're gonna want to watch them forever.
Got a 9- or 10-year-old boy who's not a huge fan of ocean life? Try the Alligator Crossing exhibit. You can watch them from above or below, and they even have an albino gator!
Does anyone like to play "Where's Waldo," or is there a huge Disney fan in your house? They don't have an area for that specifically, but they do have a huge coral reef exhibit with, yes, lots of clownfish and blue tang. I played Spot the Fish for at least 30 minutes, possibly more. There were so many!
General Information
But, so that you don't get lost in this post, let me give you a tour of the Aquarium as best as I can. I'm no tour guide, but I'll try! Let's start at the start– the Main Entrance.
Now, for the best experience, we recommend that;
a) you book tickets ahead of time (far ahead, because when we got there the theater was booked till like September, and so was the dolphin show) and;
b) you make sure ahead of time that you have at least 3-4 hours open to check everything out.
(Note: You don't have to go through the aquarium in the order this post does. There's no particular order.)
Start at the main entrance. Masks are required, and no outside food or beverages are allowed except for small snacks for children or people with food allergies.
Specific Exhibits at the Georgia Aquarium
Once you are inside, go to Tropical Diver. That's the one with the coral reef. It has lots and lots of colorful fish, not to mention moray eels and some gorgeous jellyfish.
Your kids will probably get bored with the jellyfish pretty fast, but the coral reef takes up like half a room and is fun for everyone!
Next up, River Scout! This is the one with the freshwater otters. Asian small-clawed otters are the smallest kind of otter! And for your fans of sharp things and powerful creatures, there are piranhas!!!!
Disclaimer: They weren't as cool-looking or exciting as I thought they'd be. They just looked like salmon. Really grumpy salmon with sharp little teeth. But the teeth ARE pretty cool!
You can also see the gators in Gator Crossing from below. They're American alligators, so they're kind of small and adorable. And you can see their cute scaly bellies!
And now, Cold Water Quest. Penguins, puffins, and starfish galore!
There's also belugas, and a beluga calf! Awwwwww! They look like something between dolphins, marshmallows, and pillows. You'll know what I mean when you see them.
There's also southern sea otters, who are super cute. All the animals in Cold Water Quest are! They're also all super active.
Upstairs Exhibits
Next, head upstairs and check out the gators! They're even cuter from above, but, y'know, don't get too close. Predators are predators. I'm just kidding! They have barriers to keep us safe from alligators, and keep the gators safe from us.
While you're up there, visit the touch pool. There are male and female stingrays that you can pet (if they're willing). Follow instructions and you'll be fine. I loved it! Their skin was surprisingly soft, almost like felt. And the patterns were very pretty.
After that, first sanitize your hands, and then it's off downstairs again (don't worry, they have escalators, so if your kids are anything like me and my siblings, they'll LOVE this bit) to see–yep, the thing any young boys-or anyone, period-wants to see–Sharks! (Sharks! is the literal title of the exhibit.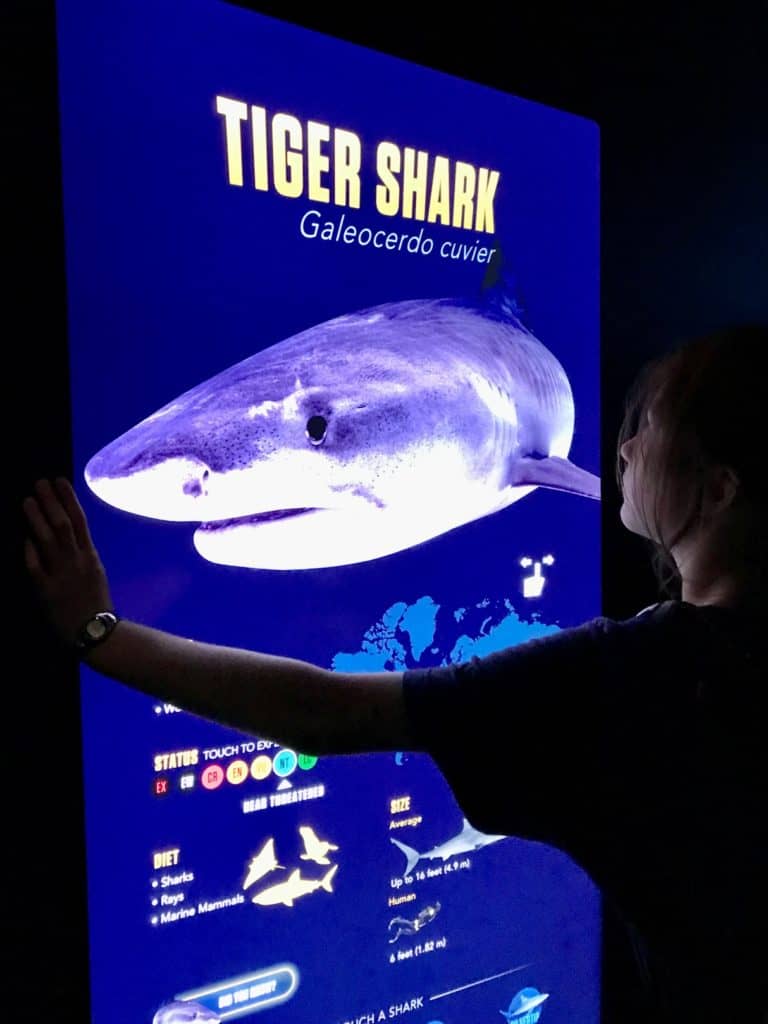 Sharks and Dolphins
They have a bunch of fun educational stuff, and then when you get to the actual shark bit, they have like 10 giant glass viewing windows and even a couple little glass ledge things where you can watch the sharks swim overhead.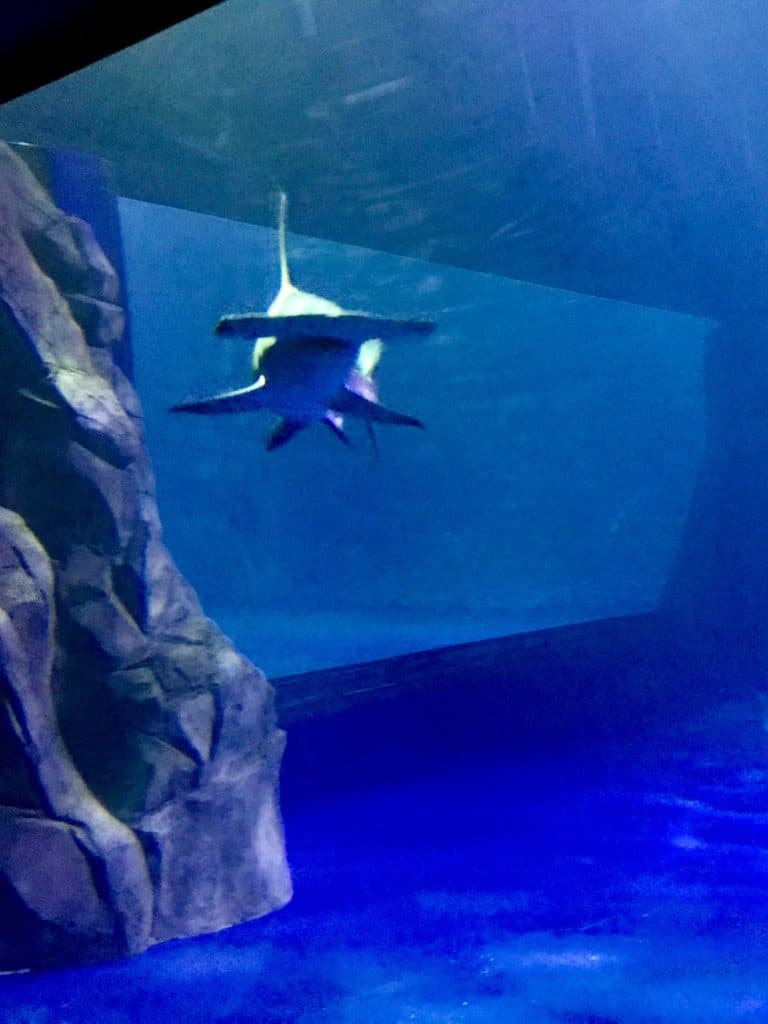 Lots and lots and lots of sharks, and lots of ways to see them, not to mention plenty of places to get a good picture. Or 23.
Once you've done that (although, and I speak from my own experience here– your kids might want to stay there forever,) head over to the dolphins! Friendly and photogenic, they make everyone smile, and they'd love a group pic with you and your kids!
Finally, finish up your little tour with Ocean Voyager. Seriously, I highly recommend saving this for the end for maximum effect, not to mention maximum happiness for your kids! Prepare to have your mind blown by the beauty of the coral reef, and get ready to experience the ocean as never before.
Inside Ocean Voyager's Amazing Exhibit
There's an acrylic tunnel, built into the tank, and it's see-through. You can walk through! You'll see the manta rays majestically flapping overhead, and the green sea turtle swimming slowly by.
Of course, there's the awe-inspiring whale sharks cruising slowly through the water. 12 feet long, 20 tons, navy blue with white spots, and absolutely breathtaking. It feels like you're actually inside the tank!
There's also 2 small moving sidewalks, and you can step onto those and watch the tank go by overhead. Near the exhibit's exit, there's a ginormous viewing window that basically takes up the whole wall.
There's a small ring of seats, like in an amphitheater, and you can just sit there and watch the ocean life go by. I would say the whale shark circles by about every 20 seconds. It's very peaceful, just watching the whale shark swim.
Final Thoughts about the Georgia Aquarium
It's pretty dark in most of the exhibits, so watch your step carefully. This aquarium was totally worth it, if only for the whale sharks. And there's even more stuff I didn't describe in this post, so obviously, go check it out for yourself.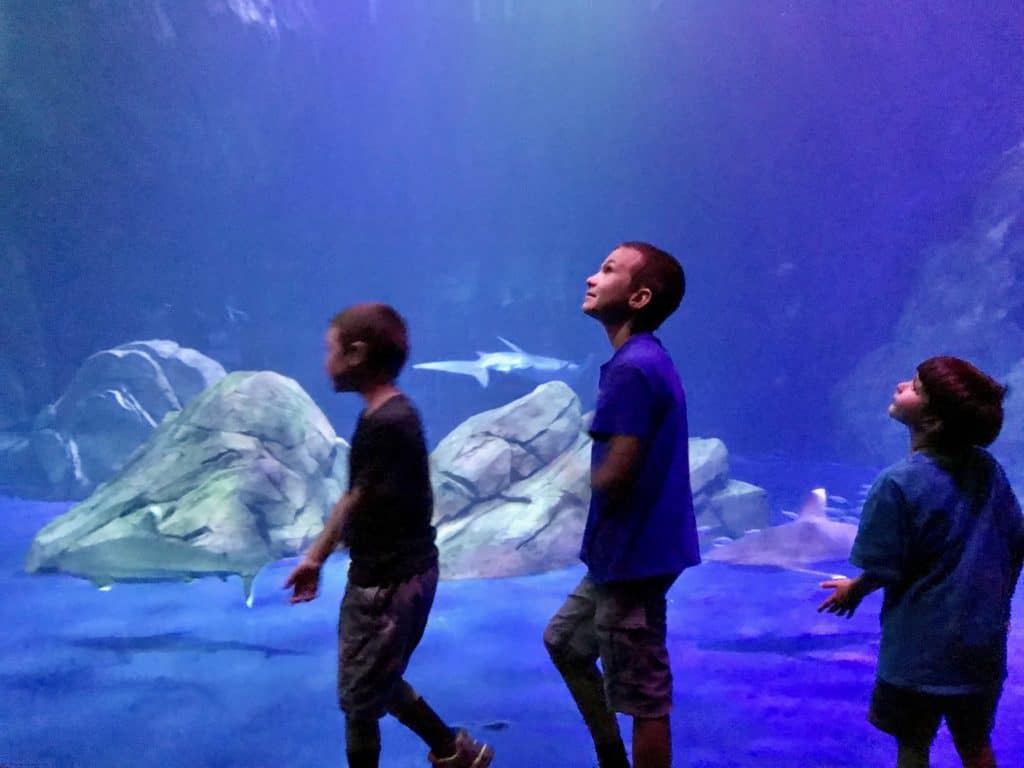 Have a blast and make a splash at the Georgia Aquarium!
© Copyright Burro Dinkum 2022.