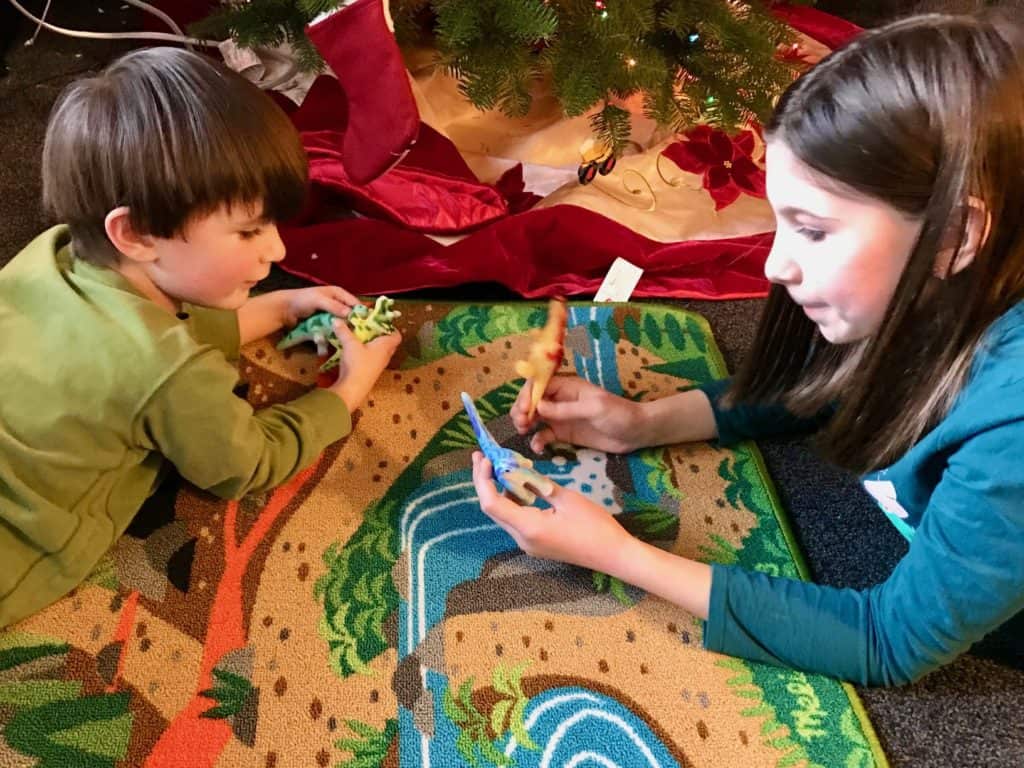 Need some awesome dinosaur gifts for a 5 year old (or any age between 3 and 8 years old)? I've curated the best dinosaur toys, books and gifts, based on our family's longtime fascination with dinosaurs. You're sure to find the perfect gift for little kids as well as older children who love dinosaurs!
*TL:DR All of our dinosaur recommendations can be found in our Amazon Storefront or in our Dinosaur collection at Society6 for easy browsing!*
Table of Contents
We also include reviews of two dinosaur experiences towards the end of our post for families who want to gift experiences rather than a physical gift. Check out our reviews of Prehistoric Gardens and Jurassic Quest!
We Love Dinosaurs!
As a little boy, my husband Brian loved dinosaurs, and spent a lot of time memorizing every dinosaur fact. We both enjoy watching the Jurassic Park movies even now. Several of our children have inherited this love of dinosaurs too.
We've had dinosaur toys, books, movies and activities in our home almost since our first child was a toddler. Most of the recommendations in this list are either products we have owned, still own, or would gladly purchase for our current dino lover.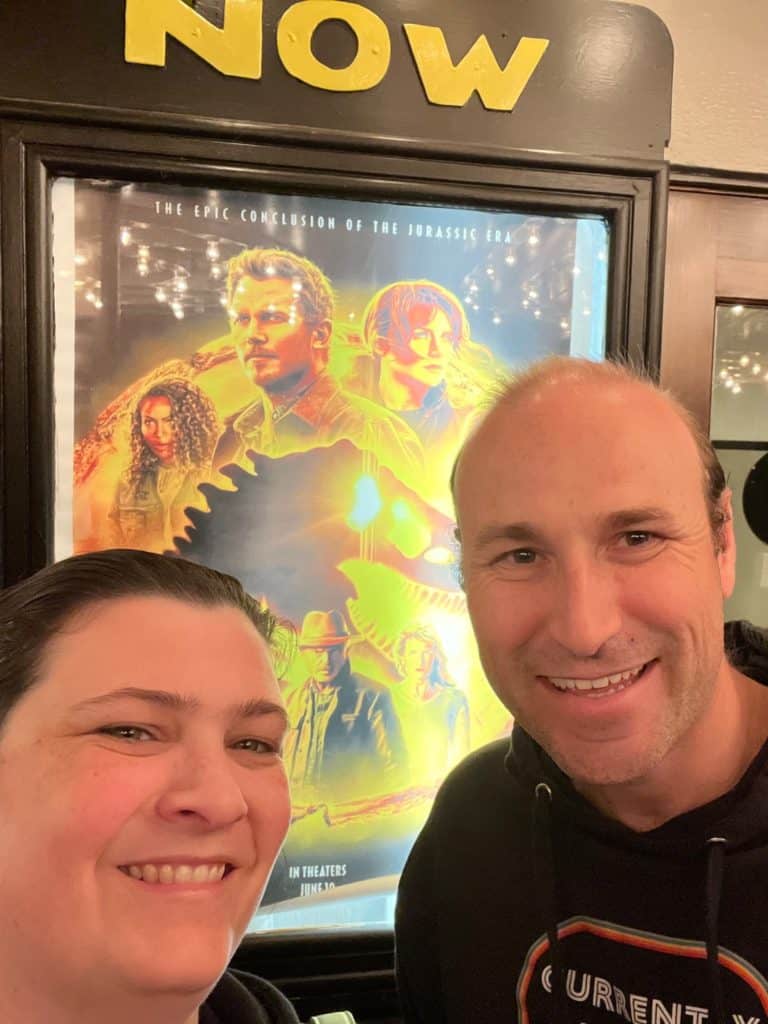 This post contains affiliate links. As an Amazon Associate I earn from qualifying purchases made from the links on this site, at no extra cost to you. Thanks for supporting our family business!
How to choose the right dinosaur gift for a child
With so many possibilities for unique gifts, how do you decide which ones to get your dinosaur-obsessed child?
The first thing to consider is age and safety concerns. Some gifts are not recommended for kids under 3 because they contain small parts that may become a choking hazard.
Young children develop fine motor skills as they grow and play. Some toys aren't recommended for little kids because they don't have the hand-eye coordination to play with the toy. Their little hands are just not ready yet.
Age-appropriate gifts
We discovered this firsthand with our kids and standard Lego sets. The age rating on the box is based on the age at which most children are ready to build the set.
When our children received Lego sets rated higher than their current age, our kids were often frustrated because they couldn't do it all by themselves.
The best toys for kids are those that are designed to be at their current skill level, with room to learn just beyond their current skills. If you follow the toy manufacturer's age recommendations, most of the time you won't go wrong.
How These Gift Ideas are Organized
I've arranged this post into 3 main sections. The first two sections are arranged for younger kids aged 2 to 4 years old, and older kids aged 5 to 8 years old.
The last section has ideas that are not age dependent, as well as ideas for dinosaur experiences that will appeal to kids of all ages (and many adults too).
Gifts that are best for younger kids (ages 2-4)
Best dinosaur books for kids under 5
1. How Do Dinosaurs …? Series by Jane Yolen and Mark Teague
We love these dinosaur books because of the funny storytelling and beautiful illustrations. The dinosaurs in this series forget the rules or their manners in the first half of the story, then learn to do better in the second half. So much fun!
This series also comes in a board book format perfect for littles!
In this fun series, plastic dinosaurs come to life and cause all sorts of trouble. This book series was inspired by real parents and the Dinovember challenge (think about Elf on the Shelf, but with dinosaurs in the month of November). Kids and adults will love seeing what mischief the dinosaurs have caused!
I've included this as a non-fiction option for dinosaur lovers. It has bright illustrations and less text than a standard dinosaur book. It also has a handy pronunciation guide for the adults helping to read this book to the child.😊
Dinosaur board books
Board books are perfect for little hands that may struggle to hold a big book. They are also great for kids who may still be putting things in their mouth, or for toddlers who are still a little bit rough on books. Here's a few favorites.
4. Dinosnores (Boynton on Board)
Dinosaurs go about their bedtime routine, and go to bed. Watch for the funny ending!
A book about paleontology, with flaps and dials to turn so that kids can interact with the pages.
6. Dinosaur ABC board book by Roger Priddy
A fun book that illustrates 26 dinosaurs from A to Z.
Best Dinosaur Activity Books for Kids under 5
Activity books are perfect for road trips or an airplane ride, giving younger kids a screen-free alternative. Here are some great options.
8. Dinosaur Busy Book: Montessori Toys for Toddlers, Newest Dinosaur Themes Busy Book for Kids
Dinosaur Plush Toys (for kids of all ages)
Cuddly stuffed animals are popular with most kids. We've found several high quality dinosaur plush toys that are beautifully made and look like your child's favorite dinosaurs from Jurassic World or popular kids shows like Dino Dana and Dinosaur Train.
9. WILD REPUBLIC Stegosaurus Plush, Dinosaur Stuffed Animal
Our youngest son received a plush stegosaurus very similar to this one as a Christmas gift a couple years ago, and it's his absolute favorite stuffy! Just check out his happy face in this photo!
Bigger really is better when it comes to stuffed animals for kids, so don't hesitate to give your favorite little dinosaur lover a stuffed dinosaur that they can really snuggle.
10. WILD REPUBLIC T-Rex Plush, Dinosaur Stuffed Animal
A T. Rex as a plush dinosaur was a weird concept for me, but my son had no trouble with it. Wild Republic has several different dinosaurs as plush dolls, so check for your child's favorite.
Dinosaur toys and figures (Best for Kids Younger than 5)
I've had great success in finding sturdy plastic dinosaurs (like the larger ones in this photo) at the local dollar store, so if you're on a budget, check there first.
A dinosaur play mat or a set of dinosaur figurines can be a great gift for little kids. Just be sure that the set you get has larger dinosaurs if the child is under 3, and no small removable pieces.
11. Terra by Battat – Toy Dinosaur Set with Ceratosaurus (5pc)
Here's a good collection of different dinosaurs that are about the right size for little ones to maneuver comfortably.
The Schleich toy company makes incredibly accurate plastic figurines that are sturdy and have realistic features. They are made of hard plastic, and there are sharp edges that could injure a child if they threw the dinosaur or played too rough.
They are more expensive than standard plastic dinosaur toys, and have a heavier feel. If realistic figures are important to your young scientist, Schleich is the toy you'll want. They have several harder-to-find dinosaurs, so if your child has a less popular favorite dinosaur, search the Schleich collection and you may just find it.
This is the perfect gift for a child who has lots of dinosaurs already and just needs a place to play with them. Our boys loved having a dedicated play spot for dinosaur adventures, and this rug fit the bill.
A word of caution: the dinosaurs that come with this mat aren't fantastic quality, and have fur that comes off easily if your child is still in the "everything-goes-in-the-mouth" stage. We used this for the rug, and quietly replaced the included dinos with our own.
Dinosaur Costumes and Clothes for Younger kids (Ages 2-4)
Dressing up as a dinosaur is a great way to encourage creative play! Here are a couple good dinosaur costumes or clothing accessories that will give your child the chance to let their imagination run wild.
14. Morph Costumes Dinosaur Costume Kids Dinosaur Costume For Toddler
This costume comes in Triceratops and two different colors of Tyrannosaurus Rex.
I love this super sweet dinosaur costume, and there's even a cute pink version!
16. Little Hand Boys Hoodies Dinosaur Toddler Boys Jacket Kids Sweatshirts
Kids love having clothes that also allow them to pretend. A hoodie like this is both a functional and fun way to make a dinosaur lover happy!
I've also found fun Jurassic World hoodies and pajama sets at Target and Fred Meyer, so check your local clothing stores for more dinosaur clothing.
Dinosaur Puzzles and Duplos for Younger Children
Little kids need big pieces to play with puzzles and Lego Duplos. We have enjoyed several different dinosaur wooden puzzle sets, floor puzzles and Duplo building sets with our kids. Below are a few favorites.
A big puzzle like this is fun for a toddler or preschooler to do with a bigger sibling or adult. A friend of mine once gave our kids several puzzles, including one similar to this as Christmas gifts. All the kids from toddler to teen enjoyed working on the huge floor puzzle.
18. Melissa & Doug Dinosaur Dawn Jumbo Jigsaw Floor Puzzle
This slightly smaller floor puzzle would be great for a preschooler to practice working on their own.
Look at the adorable baby dinosaurs in this building set! Duplos are sturdy and continue to be popular even after kids graduate up to working with standard sized tiny Legos. Just ask my teen girls, who will often jump in to play with Duplos with their younger brothers.
Here's another really fun set including T. rex and Triceratops dinosaurs, plus a motorcycle! One of the best things about Lego sets is that even if a child has the same set already, the pieces can be used to build new creations. This would be a great addition to a standard Lego Duplo set.
Great Dinosaur Gifts for a Kids' Bedroom
Since so many of us love dinosaurs, having some dinosaur decor in our kids' rooms was a no-brainer. We've included a few ideas for decorating a kid's bedroom that are good dinosaur gift ideas for the kid who has all the toys and books already.
I got this as a surprise for our kids when we moved into our new house last year, and it's been well worth it! It's also sturdy and stands up to occasional washing.
22. Personalized Dinosaur Sign Children's Room
Every kid loves to see their name on their things, so this sign would make a perfect gift for your little dinosaur lover. It's a great way to encourage early readers (ages 4, 5 and 6) too.
A framed print of a favorite dinosaur like this is a classy gift idea that will excite a dinosaur enthusiast while not being an eyesore for the parents.
Who wouldn't love this whimsical dinosaur print? It's one of the best dinosaur gifts for a 5 year old, surely! Or any little guy with a sense of humor…
Here's a cute dinosaur rug that will complement nearly any kid's room decor.
My son came over and saw me looking through the dinosaur gift ideas, and he LOVED this. So if you're for unusual dinosaur gifts for a 5 year old kid, give this goofy mug a shot!
Dinosaur Gifts for Older Kids (Ages 5-8 and Beyond)
Dinosaur Books for Big Kids
1. Dinotopia by James Gurney
My husband was determined to get this book when our boys started becoming interested in dinosaurs, because he had such fond memories of Dinotopia from his childhood. He has been reading it to our boys, and the in-depth storyline and beautiful illustrations make for excellent connecting time.
There are several sequels to Dinotopia, as well as a live action series that our kids have also enjoyed.
If you're looking for extra special dinosaur gifts for a 5 year old, Dinotopia is a safe bet.
Here's an excellent and comprehensive guide to all things dinosaur, written at a kid's level. This book has lots of colorful illustrations and the authors are two of the best in the field of paleontology.
We picked this book up last summer at the Museum of the Rockies in Bozeman, Montana, where it captured my boy's interests.
It's a graphic novel (comic book) style story about how Sue (the most famous T. Rex) was found, and all of our kids have enjoyed reading it or having it read to them.
I don't agree with everything National Geographic puts out (their ideology has some serious flaws), but they've done an excellent job in producing good quality, interesting kid's books. This book shares some of the most interesting dinosaur facts in a colorful, engaging format.
I love this beautiful, Victorian-style book about dinosaurs! It's the kind of book a child can just quietly enjoy for hours.
Dinosaur Activity Books and Games for kids age 5 and up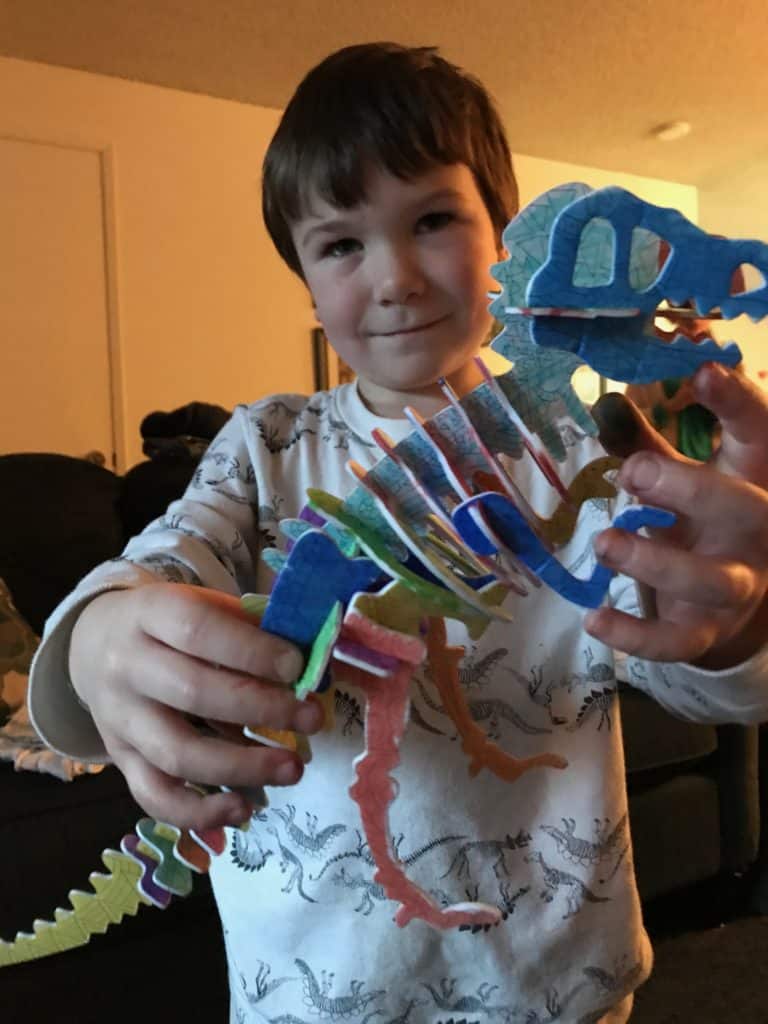 6. How to Draw Dinosaurs: Step-by-Step Drawings! (Dover How to Draw)
We got this book for our second son's birthday, and he loved tracing the dinosaurs, though he didn't feel confident enough to draw them himself. The whole series by Barbara Soloff Levy is excellent.
Whoever created this coloring book clearly understands kids, because they included so many of the specific things that kids tend to like. Our boys love this coloring book for the big illustrations and different drawing styles. I loved it for the thick pages that worked well even for markers.
8. Ultimate Sticker Activity Collection: Dinosaurs and Other Prehistoric Life: More Than 1,000 Stickers and Tons of Great Activities (Ultimate Sticker Collection)
With so many stickers and activity pages, your child will have hours of entertainment in this book! This would be an excellent travel activity book for road trips or air travel.
9. Skillmatics Card Game : Guess in 10 Deadly Dinosaurs (ages 8 and up)
These cards would be perfect for kids who enjoy learning fun facts and sharing them with everyone. If your child reads well before age 8, they would also enjoy these cards.
Play dinosaurs for big kids
This set comes with dinosaur figures, a play mat, trees, and a handy carrying case. Everything a kid would need to play a fun dinosaur story is included. This is one of our favorite dinosaur gifts for a 5 year old.
11. Dinosaur Toys, Create A Dinosaur World Road Race, Flexible Track Playset
Dinosaurs, a race track, cars that really race: what more could a kid want? Our kids have gotten so many hours of play from this play set! The track pieces connect and flex in many different ways, so kids can build the race course over and around objects.
This is one of our family's favorite dinosaur gifts for a 5 year old.
11. Remote Control Dinosaur Toy for Kids 5-7 – RC Walking Dinosaur Toy
There are so many remote control dinosaurs available now! This Raptor lights up, walks, and roars realistically.
While many kids would love to have a dinosaur that moves, roars, and lights up, be aware that for some kids, the realistic sounds might be a bit too much. We found this with our children when they received a big roaring T. rex: the toy had to be removed from their bedroom at night because it was a bit too scary.
12. Jurassic World Dominion Dinosaur Toy, Brachiosaurus Action Figure 32 Inches Long with Posable Joints
Big dinosaur toys are definitely better in this case: Brachiosaurus is nearly 3 feet long! The long neck can be posed in different positions too.
13. Jurassic World Colossal Carnotaurus Toro Dinosaur Action Figure Camp Cretaceous with Stomach-Release Feature
Here's one of the coolest dinosaur toys I've ever seen! Not only is it huge (even bigger than the Brachiosaurus toy I mentioned previously), it also eats smaller plastic dinosaurs and has a stomach opening to take them out and do it all again! To be honest, I kinda want one myself.
For the young paleontologist – dinosaur gifts for a 5 year old & up
If your child is really excited by the idea of finding fossils and learning the science behind dinosaurs, these paleontology gifts will be the perfect way to spark their imagination!
We got this kit for our son one year, and he absolutely loved it. The fossil sorting kit comes with everything you need to identify fossils, and dozens of actual fossils to clean and sort. We also bought an additional magnifying glass to help with the process.
15. Fossils for Kids: An Introduction to Paleontology
The perfect beginner's guide to the science of paleontology, this booklet is detailed without being too tedious. Our kids love flipping through guides like this when they can't be "in the field" discovering their own fossils.
Here's another simple but informative guide for kids who love dinosaur bones and fossils.
Did you know that one of the first paleontologists was a girl? Mary Anning was the first one to discover Ichthyosaurus, and made many other discoveries as well. If you have a girl who loves dinosaurs and paleontology, this book will inspire her to keep learning and dreaming.
Dinosaur building toys and model sets for big kids
Lego sets based on current movies and video games are regular favorites in our house. Even though our boys aren't old enough to watch the Jurassic World movies, they see the photos and clips everywhere. It feels grown up to be able to play with toys themed on popular movies. This Lego set includes a dinosaur, a mini figure (which are also collectibles) and a motorcycle, plus scene-building pieces.
19. PLAYMOBIL Dino Rise Triceratops: Battle for The Legendary Stones
Playmobil is another high-quality toy company that focuses on details and true-to-life (or historically accurate) features. They have small pieces so we don't recommend Playmobil for kids under 3, and even a 4 or 5 year old may struggle to build some of the more complicated sets. This set features a triceratops!
With a carrying case for all the pieces, this dinosaur play set would be a perfect road trip gift or plane ride toy. It's one of the best dinosaur gifts for a 5 year old.
Many kids love to craft, paint and draw, so a dinosaur painting set would be well appreciated. This set includes the paints and 12 plastic figures, so it's an open-and-go kit.
Unique dinosaur gifts for a 5 year old (and up)
22. ArtCreativity Magic Growing Dinosaur Capsules, 2 Packs with 12 Expanding Dino Capsules Each, Grow in Water
I couldn't resist adding this classic 1980's toy to the list. Drop the dinosaurs in warm water and watch them pop open and grow into cute sponges!
Another classic toy, this dinosaur-shaped grabber even growls! This would be a fun birthday gift or stocking stuffer to wake up to on Christmas morning.
Sometimes it can be challenging to find gifts for girls who love pink and purple as well as loving dinosaurs. This pouch would be perfect!
Everyone needs one (or several) water bottles. Help your child's water bottle stand out from the crowd by getting this Society6 water bottle with pink dinosaurs all over.
Sturdy and adorable, this backpack would be just right for a child who wants to have something different from the other kids. There are several other unique dinosaur printed backpacks in our Society6 dinosaur collection, so if this one doesn't appeal, check the shop.
Experiences make perfect dinosaur gifts!
If you want to give a dinosaur gift that will be remembered for years, may I suggest that you give an experience?
Many parents of young kids are trying to limit the number of toys and stuff that their children receive. An experience may cost a little more money, but the wonder in a child's eyes as they encounter life-sized dinosaurs, fossils, or replicas is well worth it.
Here are some favorite dinosaur experiences we've enjoyed. These experiences are meant to be a starting point for your own local experiences to look for.
Review of Jurassic Quest
Jurassic Quest is the perfect destination for young dinosaur lovers! We took our whole family ages 6-16 and everyone had a great time!
Brainy Beth is one of the dinosaur handlers, and she introduced us to Tyson, an adorable baby Tyrannosaurus rex. Our kids enjoyed petting Tyson gently and asking lots of questions about dinosaurs, how they grew, and how they lived.
Life-sized Dinosaurs
Next, we explored the stationary, life-size, dinosaur models. Each dinosaur model had a video that explained lots of details about the dinosaurs, eating habits, growth, and family life.
We also got to ride the Carnotaurus, Pachycephalosaurus, Triceratops, and Allosaurus! While our kids waited their turn, they were able to dig in some fossil pits just like real paleontologists, or jump around in a bounce house until their favorite dinosaur was available to ride.
Our boys loved driving around in the mini jeeps near the huge Pteranodon. They also got to ride animatronic baby dinosaurs (Ankylosaurus and Triceratops). We were struck at how life-like these dinosaurs were—their fleshy bodies move and their eyes actually blink.
Meet the dinosaurs!
One of the highlights of our day was watching Diego the Utah Raptor at the velociraptor show. Diego's handler taught us how to give commands for Diego to follow, and then Diego went around to everyone and posed for selfies or videos with whoever wanted them.
Jurassic Quest does a great job off making dinosaurs fun without making them terrifying. There was some scare factor but even more fun. We saw lots of smiling faces and got some epic photos!
When we needed something quieter to take a break, there were lots of photo ops set up as well as tables where you could break open a fossil or make a dinosaur mask. It was all included with the unlimited wristbands we received.
Even more dinosaur fun
The fun didn't stop when we headed home for the day! Jurassic Quest's website offers alphabetical coloring pages, folded paper crafts, and other fun activities that would make great pre-learning, homeschool projects.
We'd recommend Jurassic Quest especially for kids age 4-10. However, any person who loves dinosaurs or enjoys costume and special effects, is likely to have a great time. Each of our kids was able to have a great day.
Tickets to a local Jurassic Quest event would be perfect dinosaur gifts for a 5 year old!
Know Before You Go
Jurassic Quest is an incredibly popular event. An hour after the official opening time, the lines were long and it was already crowded. If you have little ones, or kids who don't do well waiting in lines over an hour, we strongly advise arriving early or towards the end of the day.
Jurassic Quest often has a dedicated time for families with special needs to enjoy the exhibits without as many crowds. If that's something your kids will need, call ahead before purchasing your tickets to ask about accommodations.
We'd like to think Jurassic Quest for providing us with free admission and unlimited wristbands to enjoy our visit.
Prehistoric Gardens (Port Orford, Oregon)
We loved walking through this old growth rainforest while seeing life-sized dinosaur dioramas! Our kids did the walking tour twice, to be sure not to miss anything. Our full review of Prehistoric Gardens is number 38 in our Oregon Coast with kids post.
Museums with Dinosaur Bones
If you search in your local area or in an area you'll be visiting soon, you can probably find some museums that have dinosaur bones.
The ultimate dinosaur gift guide
I hope you've found some great dinosaur gifts for a 5 year old, 6 year old, or any other age! If you're looking for other gift recommendations for a hard-to-buy-for child or adult, check out our other gift guides:
Dragon Gifts for Her or for Him
Here's hoping these dinosaur gifts will help a special child in your life celebrate their love of dinosaurs!
© Copyright Jennifer D. Warren 2022. Updated: April 10, 2023.