It's easy to forget what day, week, or month it is when you're homeschooling, especially during summer break. If it weren't for all the first day of school pictures and "Back-to-School" sales, I probably would miss it altogether!😂 If you're like me and find yourself scrambling for back to school homeschool celebration ideas come August, this post is for you!
This post contains affiliate links. As an Amazon Associate I earn from qualifying purchases made from the links on this site, at no extra cost to you. Thanks for supporting our family business!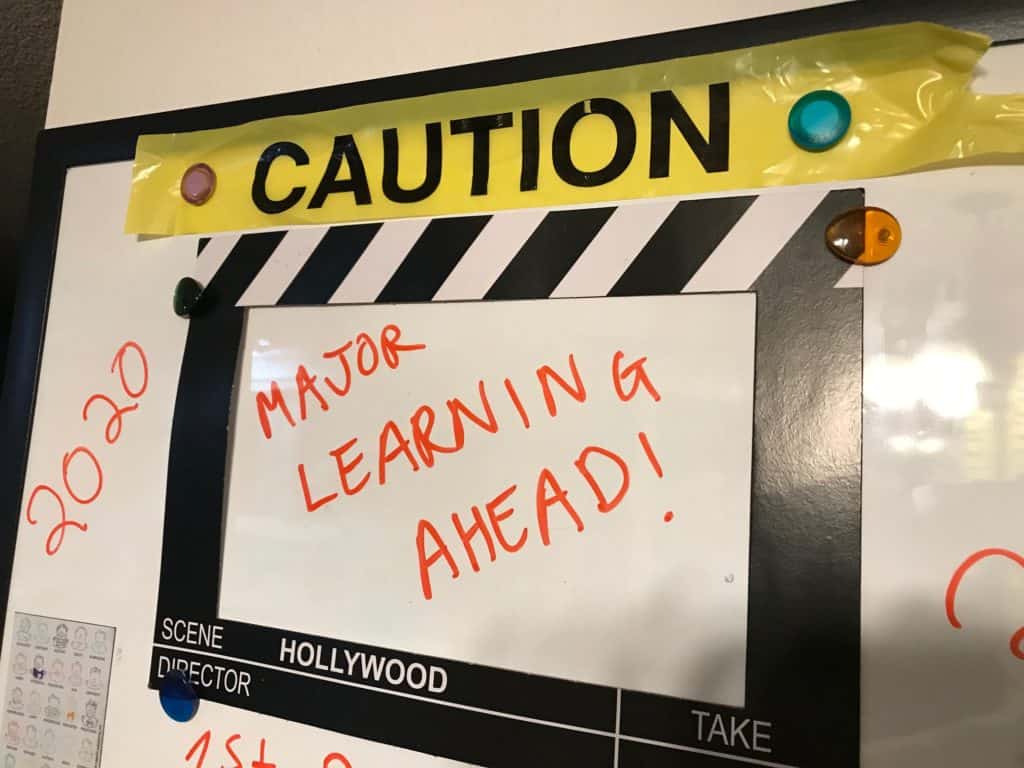 Table of Contents
Why we celebrate Back to School
Why would homeschool parents celebrate "Back to School" anyway? Do you need any first day of homeschool traditions if you homeschool year-round (as many families do)?
Back to Homeschool is a great way to make sure we are documenting and acknowledging each child's hard work over the last year. Having a specific day to begin a new homeschool year helps create the feeling of a fresh start for many homeschool families. It can also be the day when your child officially moves up to the next grade level.
A back-to-school celebration is a fantastic way to preview the upcoming school year. Kids can look over their new homeschool curriculum and any changes to the school schedule.
How our family celebrates Back to Homeschool
I keep our Back to School celebration pretty simple, with a few fun traditions that I include each year. Scroll down for a list of ideas from fellow homeschool moms, if you're in a hurry.
If you're looking for great gift ideas for a fellow homeschool mom, check out my homeschool mom gift guide.
Timing: when to celebrate?
September is a really busy month here in the Pacific Northwest. Homeschool groups and extracurricular activities start up after summer break.
Additionally, when we grew a big garden, we had most of the harvesting and processing in September. So our back-to-school celebration would normally be at the end of September, or even the beginning of October.
This year we have two high schoolers and one middle school student who will be attending a virtual public charter school. That means we'll schedule our family celebration this year around their first day of public school (possibly on Labor Day).
All that to say, choose a time that works for you and your family!
Preparation: keep it simple
Choose a theme and get some basic party supplies and decor (a dollar store has some good options). Last year we did a superhero theme, but other fun options include:
I use free printables, like a grade and year sign for each child, or sometimes silly store-bought photo props. I also print out an interview with questions that ask about our kids' favorites and their dreams and goals. It's an easy way to see how our kids have changed each year. These interviews get put into our family photo yearbook to enjoy later.
We plan a special breakfast (like waffles with ice cream), or pick up donuts as a special treat. Some families may find it easier to do a special lunch or dinner instead– do what works for your family's routine!
New school supplies
I set out a small pile of new school supplies for each child at their spot on our family table. Sometimes I also have new books for each child or new clothes.
Our favorite homeschool supplies
All of these homeschool supplies can be found in our Amazon storefront as well.
Back to Homeschool Party Schedule
On the first day back, we enjoy our yummy breakfast and the kids open up their new things. Then we take a little time to put things away neatly. During breakfast, I ask each child what they would like to learn about in the upcoming year, or what they are most excited about.
First Day of Homeschool photo tips
Getting good photos requires time and patience. Each kid gets individual "first day of school photos", and later we take some sibling shots. I aim for several photos with their grade sign, as well as some silly, fun pictures too.
In recent years I've also included photos of myself and Brian holding all those grade signs, because teachers should be in homeschool photos too!
Pro photo tip: I almost always tell my kids to give me one nice, serious photo, then we will do some silly ones. This usually makes them much more cooperative and helps them be patient with the process.
I usually ask each child to choose a few of their photo props to include. This gives a feel for their personalities in the photos. Some of my favorite memories with our kids involve interests that quickly passed (like Egyptology, mushrooms, or dinosaurs), but I'm glad I have the pictures to remind me!
Video option
Last year I filmed each of our kids answering some of the questions on the yearly interview form. It's even more fun to have the videos because you can hear how the child's voice and talking change over time!
Growth Documentation
Years ago, I visited a friend's house and saw a small section of wall in their kitchen marked up with lines, dates, and names. Every year (or whenever it was obvious that someone had grown substantially taller!) the children and adults would stand with their back to the wall and draw a line marking their height. They would label the line with their name and the date.
Over the years some guests had done it too, so it served as both a guestbook and a growth chart. We are looking forward to doing this in our home once we repaint. The first day of homeschool each year would be a great time to do the measuring!
Alternate suggestion: If the idea of marking directly on the wall bothers you, or if you have to move frequently, you could nail a board to the wall and mark the board instead.
Taking It Slowly
The rest of the day is spent filling out the grade interviews and maybe organizing our school spaces. I don't plan on any schoolwork for that day, because nothing ruins good photos like ridiculous expectations.
The excitement means that there's not much brainpower left for actual work to get accomplished, so why fight it? Even public school kids spend the first few days of school learning procedures, finding classrooms and supplies, and so on. It makes sense to plan for the disruptions that we know are going to happen.
I often spend some time helping kids get to set up on the first day of homeschooling. This is a great time to talk through any new curriculum or get logged into any new digital learning tools.
Starting Homeschool Work/ Lesson Plans
We have done a "soft start" to our homeschooling for the last few years, and I LOVE IT. In short, we don't jump into full school the day after our celebration. We gear up a little bit at a time, like a juggler adding in one ball, then another.
The first day we don't do any school worksheets, then the next few days we start on one or two subjects. By the end of the month, we are up to a full schedule. Learning a new routine for school days takes time, but it starts you off on the right foot for a great school year.
I usually plan to launch changes to our chore system in August and follow that with our new school schedule in September or October. Too many changes at once can be overwhelming, especially for ADHD kids or kids who struggle with anxiety.
Even More Back to School Homeschool Ideas
If you need more suggestions for "first day of homeschool traditions", here are some fun ideas from other homeschool families.
Look through old schoolwork or family scrapbooks together to reminisce about previous years
Design a homeschool vision board, or let each child create a vision board for the upcoming year
Have a scavenger hunt throughout the house for old school supplies and curriculum from the previous year that needs to be stored. Or put the new supplies throughout the house for kids to find!
Have a fun dance party together
Set up your school room or school area with the new school supplies and curriculum
For younger kids, set up tubs or stations where they can play with specific items that are only allowed to be used during homeschool hours
Have Homeschool Spirit week: in the first week, have a Crazy Hair day, a pajama day, or a costume day…
I hope that sharing our family's back to school homeschool ideas and traditions has been helpful for you. Please share in the comments any other fun first day of homeschool traditions that you have!
© Copyright 2021 Jennifer D. Warren. UPDATED: August 11, 2022.