Mom's Perspective of Oceans of Fun. Scroll down to read a review from our youngest daughter!
(This is a non-sponsored review, and Oceans of Fun Waterpark was not notified that we would be reviewing their park. As always, all opinions are our own.)
This is part of an ongoing series about our family road trip from Oregon to Georgia and back. To start at the beginning, click here.
Oceans of Fun was our family's first waterpark experience, and all the kids were excited about it! We chose to do this waterpark after about a week on the road. After lots of driving and educational stops, we knew that all of us would need something that was just for fun! 
Oceans of Fun and Worlds of Fun are actually two parks connected to each other. We got the tickets that got us into both parks, with the intent of trying both parks over two days.
It was additional peace of mind to know that if we didn't enjoy the waterpark, or if it was too hot to enjoy the amusement park, we could switch to a better option at no additional cost at the last minute.
Handy App
Oceans of Fun did not disappoint! We had prepaid for our tickets and our youngest was able to get in free because he was still under age five. We also downloaded the app ahead of time and paid for our parking through the app.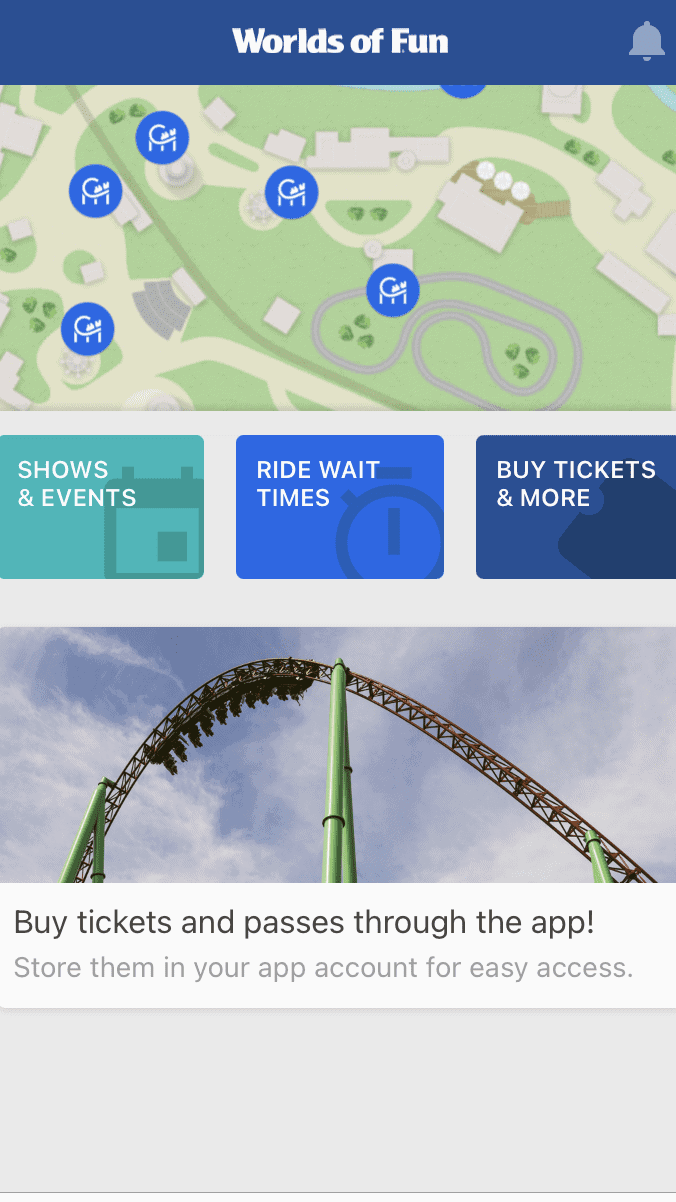 I cannot recommend the Worlds of Fun app enough! It made both our visits (to Oceans of Fun and later to Worlds of Fun) so easy and pleasant. Apple Pay is enabled throughout the park, so all you need is a smartphone for most of the day. Less stuff to haul is a major advantage at any big theme park!
I could pack all my things into a locker (including my sizable purse) and just have my phone on me. The Worlds of Fun app gives you ride wait times, and allows you to show your ticket digitally if you have to leave the park temporarily. It just made the whole visit more carefree. 
Getting ready
We were glad we had bought sunscreen before going into the park, because of course everything is more expensive inside. We did not bring towels, but we also found that they were not really necessary. 
One of the things we do anytime we are taking the family to a place with lots of people, is to get a family photo of everyone all together. Part of the reason for that is of course to remember the day. 
An even more important reason is so that if someone gets lost, we have a photo of what they were wearing that day. We can easily give that information to staff or authorities who are helping us look for our child. I don't want to be in a panic trying to remember what my kid is wearing. Better safe than sorry!
Into the water!
We had packed the boys' life jackets, since they are still gaining confidence in the water. That also made our day less stressful. When you are at a waterpark, the last thing you want is to be wondering if your kid is managing the deep water safely. 
The lifeguarding staff was attentive and watched everyone carefully—another thing that made the day less worrisome. We also observed them checking the chemicals in the water several times throughout the day. As a former pool chemical store employee, that made me feel much better about the safety of the water, particularly during these pandemic times. 
At one point, several of the pools were out of commission for about thirty minutes as the staff made some adjustments to the chemical balance of the water. That was hard for our kids to wait on, because we had just gotten settled into lounge chairs and were about to turn the boys loose!
However there are so many pools and splash pads that we just went to another area to let our boys play. The staff had it sorted out within the hour. 
But how's the food?
Brian and I really enjoyed the barbecue food that we ordered for lunch. We were surprised because most amusement park food is only a step or two above hospital food—but it was truly decent. The drink deal in the reusable cups was worth every penny, but my daughter talks about that in her review, so I won't repeat it here.
The kids were not too enthused, though. Barbecue is not all that big in Oregon, so our kids have not eaten it often. We didn't really expect the kids to eat much anyway, because they were too busy having fun!
Fun in the sun
The park was busy, but not more than a standard waterpark in the summer. There was an adult swim area with a bar, but since we had the kids with us, we did not go there. 
We'd looked seriously into getting a cabana but found that it was actually unnecessary for our family. Cabanas were sold out for the day within the first hour! Thankfully, there were plenty of places to rest and relax. Our boys were constantly moving and going, so the ability to move to different seating areas was important to us. 
We only saw the girls occasionally to check in. Oceans of Fun has excellent variety as a waterpark—big thrill rides, wave pools, kid splash pads, adult pools… Both Brian and I have visited several waterparks around the US, and we felt that this waterpark was up there with the best ones. It was just what our family needed after a week on the road! 
Our boys spent most of the day playing in the splash pad areas and the shallow pools. It was a perfect set up for Mom and Dad to take turns sitting in a lounge chair watching them play. One of us would watch the boys, the other would go on the bigger rides with the girls.
We all did the Lazy River together as a family. It was pretty funny to watch the boys trying to get on and off the tubes! There may have been a couple of overturned tubes along the way…
My youngest daughter loved Oceans of Fun, and really wanted to share her thoughts about it. Here is her review. 
A review from our daughter (middle school)
"Hi, Appaloosa here. I get to write about my favorite place on THE WHOLE TRIP! Oceans of Fun was my first waterpark, and I loved every bit of it. 
General information
Something that I really appreciated was that every ten minutes they played an announcement that told you what to do if you got lost. That announcement was very reassuring in a busy waterpark.  
First of all, we bought four large cups at the front desk. These cups got us free or cheaper drinks all day! That probably saved us a lot of money.  And they work all year long, in case you want to come back.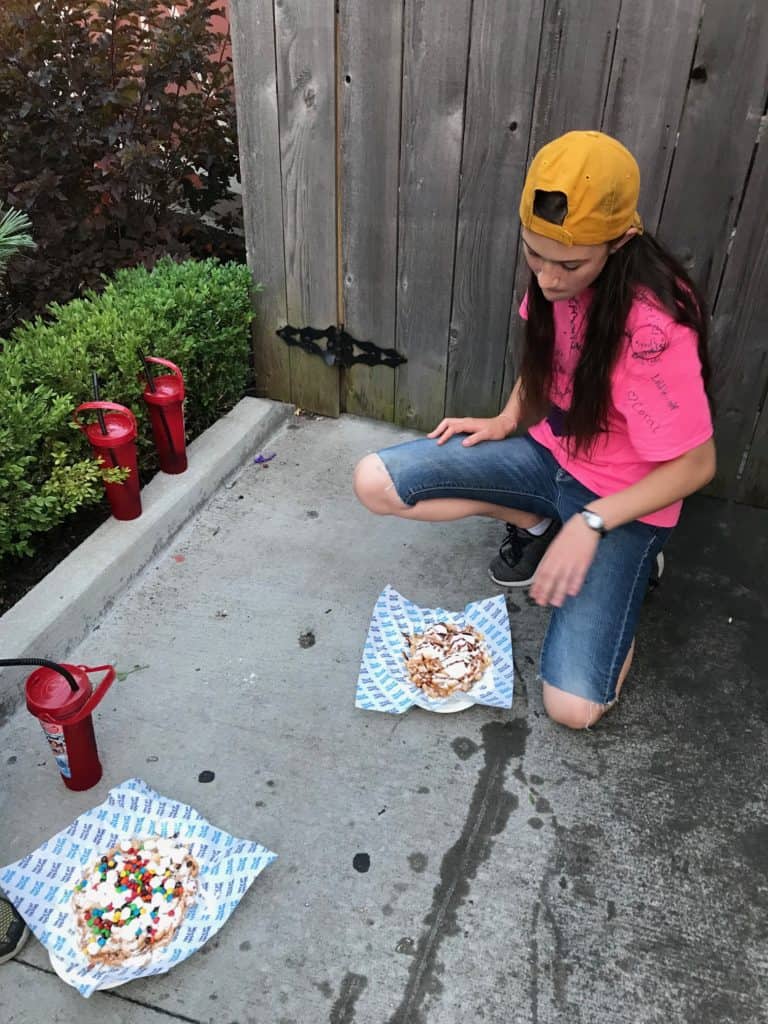 Then we all went to the changing rooms and got into our swimsuits. And of course, we had to put on sunscreen. Yuck. Do you know how hard it is to wait when you can see all the water slides?!  But then… 
Water Slides!
Mom, dad, and the brothers went to go on the milder stuff ( you know, splash pads, small slides, shallow pools, etc.), while us girls tackled the big rides. 
First up, Hurricane Falls. The top of the slide was at least a hundred feet up (lots of stairs), but the actual slide was fun and barely scary. 
After that we did the wave pool. I really enjoyed the wave pool because the waves were so high that they could lift you off the bottom of the pool! But don't resist it, otherwise your head goes under (learned from experience). 
Lunch was sometime around there, and the food was horrible! The only people who liked it were the parents. How strange!
Afternoon at Oceans of Fun
After lunch we all headed over to Monsoon. I loved Monsoon, because you went higher and higher and then you dropped down into water and it made a huge splash! Also they have a bridge that you can stand on and you get soaked either way! 
After that I think we went to the lazy river, which was fun. They have normal tubes and double tubes if you and someone else want to do it together. I think we all enjoyed the lazy river, however getting out was a little tricky. 
Another attraction we did was Coconut Cove, which was just a huge pool with water slides and an aquatic obstacle course. I do not recommend the obstacle course for anyone younger than eight, as it is in a deep area. 
Constrictor and Aruba Tuba were up next. Constrictor was a lot of fun and not scary, and Aruba Tuba was the same, however you use a tube for Aruba Tuba (surprise, surprise). 
We found that the best restaurant was Calypso Cafe. This was seriously the best place on the whole trip! The website is very informative and will get you very excited."
Waffle House provided us with the perfect easy dinner! In an upcoming post we'll share our our second day in Kansas City, MO. We checked out the National World War 1 Museum and Slap's BBQ across the border in Kansas City, KS.
© Copyright 2021 Jennifer D. Warren, "Appaloosa" and Dinkum Tribe.