We just got back from our family's first camping trip! Although my husband and I have both grown up camping, it was our first family camping experience with just our kids and no other adults. We learned a lot, had a great time, and are excited to plan our next camping trip!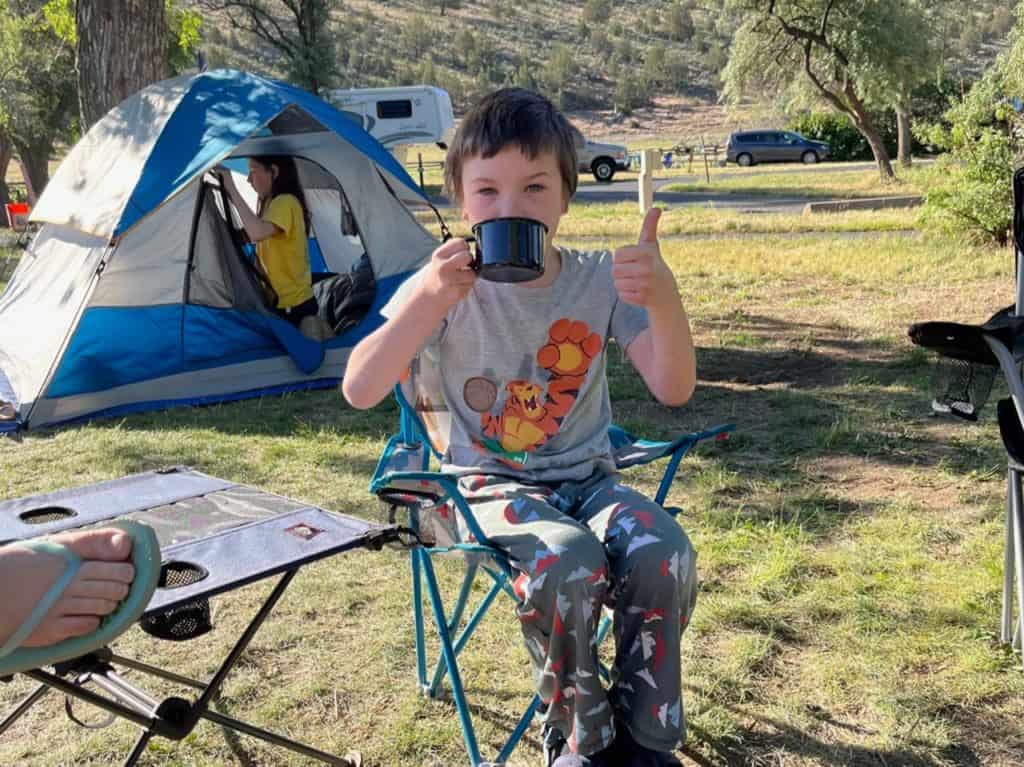 This post contains affiliate links. As an Amazon Associate I earn from qualifying purchases made from the links on this site, at no extra cost to you. Thanks for supporting our family business!
Camping with kids requires some extra planning and preparation, but it's so worth it to get out in nature and enjoy quality family time together. Here are our best camping ideas for families to have a memorable, fun, and safe first camping experience.
Table of Contents
Planning and Preparation for Family Camping
The first thing to consider is where and when you will be camping. Campgrounds tend to fall into two basic types: modern camp facilities and rustic campgrounds.
Most of my childhood camping was at campgrounds with no running water at the site, no electricity, and no flush toilets. This would be considered a rustic campsite, and involves substantially more planning, especially for a family with younger children.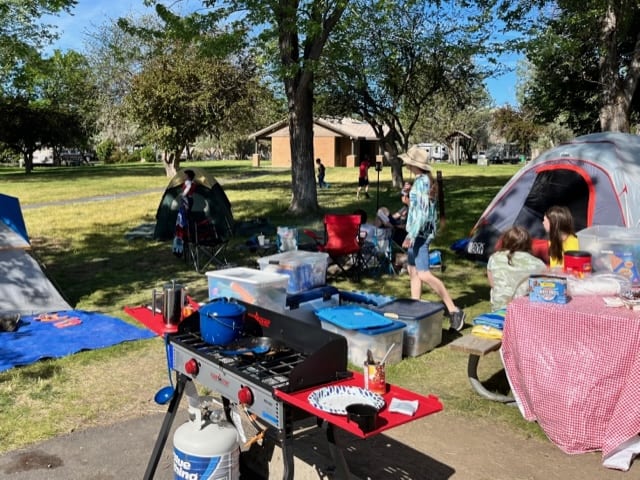 Modern camp facilities (such as KOA, national parks, and many state parks) typically have running water, electric hook-up sites (for RVs, but often still available to tent campers), flush toilets, and showers. If you are going camping for the first time, this type of site makes for an ideal first-family camping experience.
How to choose a location
As you are looking into locations, make sure to research a couple of things before making your reservation.
Weather
Camping in bad weather is simply no fun for a first camping trip. Check to see what the weather is like for the time of year you plan to camp.
I remember camping as a kid in the California mountains, and on one camping trip, we had an unexpected snowstorm blow in. After a freezing night bundled up in our tent, my parents were up and out as fast as soon as there was morning light!
Grocery store
I highly recommend camping somewhere that has a grocery store within 30 minutes of your site, particularly when camping with kids. I can guarantee that on your first camping trip, there will be things you forget or don't realize you need until you are at the campsite.
General tips about choosing when and where to camp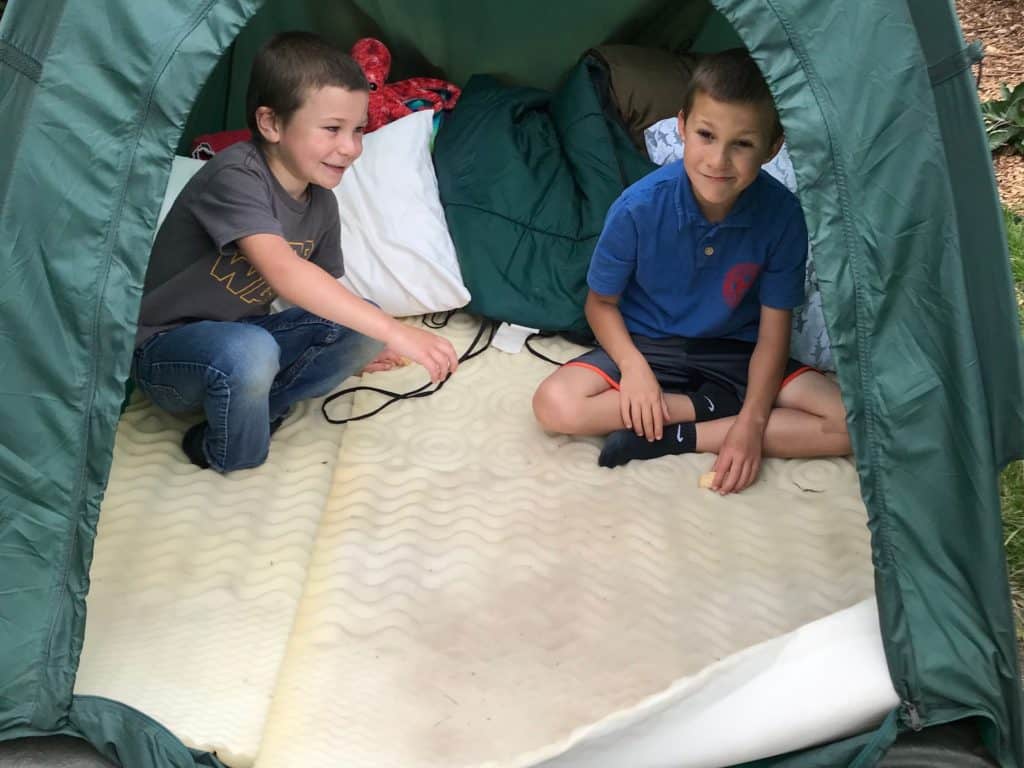 If you want to camp in a national park or popular state park, you'll probably have to make a reservation as far out as a year in advance. National park campgrounds fill up quickly, often selling out within minutes of reservations being released to the public.
As a family just starting to camp with your kids, I strongly recommend going with someone else who is an experienced camper. You'll pick up so many great tips and ideas from seeing how another camper handles things. Plus, you can temporarily borrow items that you may have forgotten until you have the chance to go to a store.
We went on our recent camping trip with friends from church and it was so much fun! Our older kids had friends to hang out with, and there were more adults available to keep an eye on the younger ones. We also picked up some of our best camping hacks from camping with friends!
Camping Gear: Investing
Camping gear has come a LONG way in the last 20-30 years! We've had some old camp gear handed down from family members who were done with camping. As our old stuff wears out, or as we can afford it, we've upgraded our gear along the way.
I recommend getting the best gear you can afford. Cheap camping gear still works, but spending a little more almost always results in huge benefits when you're camping. The better you sleep, the more you'll enjoy the trip!
For example, we bought 2 queen inflatable mattresses for our tents for about $20 each. On our recent trip, we discovered that these mattresses had slow leaks– by morning, we were touching the ground! We bought 2 new single twin mattresses from Costco for $40 each and found that they were more comfortable and stayed inflated.
Camping Gear: What to Bring
Here's a list of essential camping gear for families with kids (affiliate links included):
Tent
You'll need a tent (or two) large enough to fit your family comfortably. Note that the amount of people a tent "sleeps" is literally how many people can lay across the floor of the tent without much space to move. It doesn't account for gear, or space to maneuver!
We always buy our tent with space for 1 or 2 more people than we need. So for 3 kids to sleep, we buy a 4 or 5-person tent.
If you're planning to camp in the winter or wet weather, your gear will take up more space too. Our newest family tent has blackout technology that helped us all get more sleep while camping during the summer solstice when the sun was up at 4:30 am!
Sleeping bags
Make sure everyone has a warm sleeping bag for camping. The sleeping bag should be rated for at least 10 degrees lower than the lowest expected temperature for the place where you are going to be camping.
Trust me when I say that the last thing you want is to wake up in the middle of the night cold! It's hard to recapture body heat once it's lost. You'll be surprised how quickly temperatures drop at night when you're camping.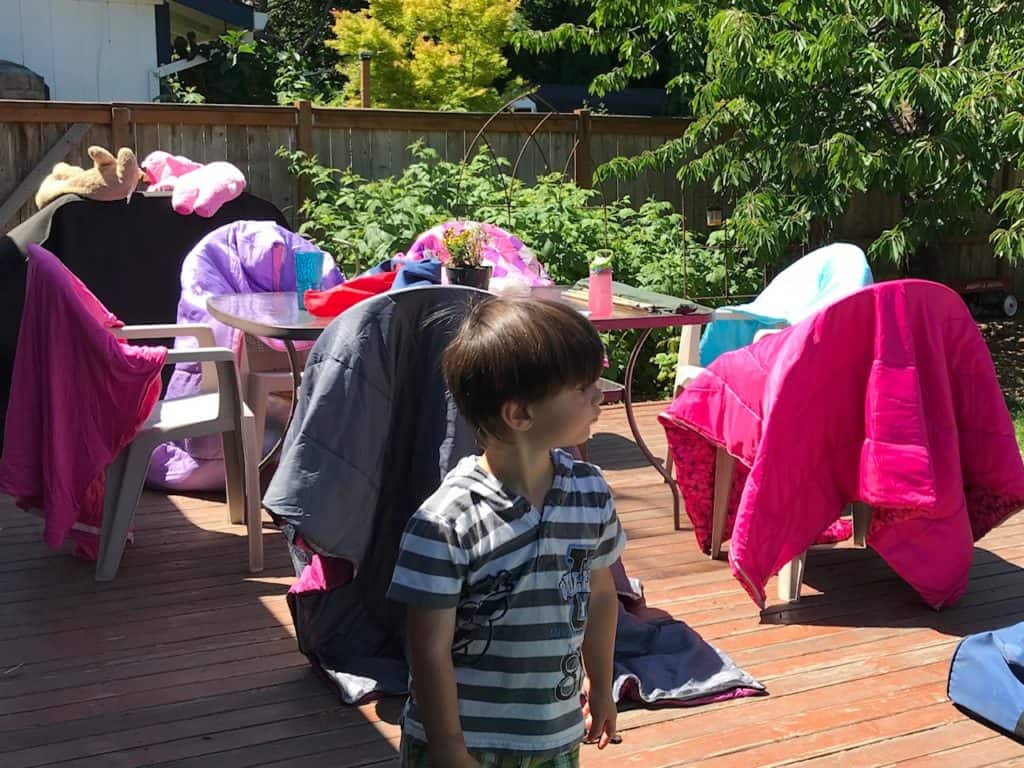 Extra Blankets
Bring some extra blankets for sitting around the fire, or for sleeping on top of the sleeping bag if it's too hot. They're also handy for warming up your kids who got too cold playing in the creek!
First aid kit
This is essential for any camping trip. Be sure to pack: bandages, antiseptic wipes, bug spray, sunscreen, pain relievers (child and adult medications), antihistamines (for those who have strong reactions to bug bites), and a thermometer.
Another handy thing to keep on hand is instant cold compresses to use in case of injury – if your cooler ice has melted, you'll be glad to have this!
Camp chairs
Camp chairs are great for sitting around the campfire or at the picnic table. We bought some collapsible camp tables this year too.
Cooler
You'll need a cooler (or several) to keep food and drinks cold. One of the best camping ideas for families is to freeze water bottles/ jugs before the trip to use in the coolers to keep things cold longer. Don't forget the ice! We usually have to buy ice every other day while camping.
Camp stove
If you plan on cooking meals while camping, you'll need a camp stove. You'll want to choose a stove that is big enough to accommodate your family. However, if you plan on hiking with your stove, you'll want to choose a lightweight one.
This is the one we used, and we LOVED it! Easy to set up and take down, with handy features like built-in tables and easy lighting.
Some stoves come with other features like a built-in oven or a windscreen. There are many different types of fuel, so be sure to choose one that is compatible with your stove.
Bring enough fuel to last for your entire trip, plus extra. If you have rainy days, you'll use more fuel making hot drinks and meals to keep people warm if you can't use the campfire.
Camping lanterns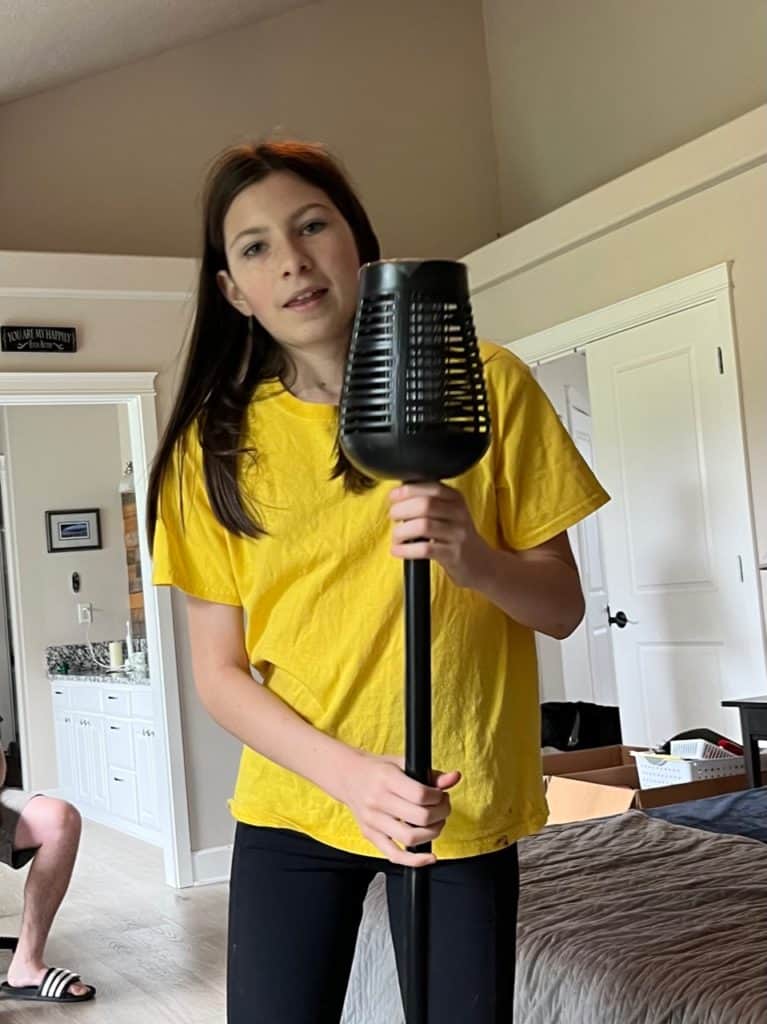 Camp lanterns are great for lighting up the inside of your tent at night, or giving light around your campsite.
We got several lamps from Costco that also act as bug-zappers– this saved us from a lot of mosquito bites! The solar powered ones are best for camping.
Dishes and silverware
You can get camping-specific dishes and silverware, or just use what you have at home. Bring cookware that is not breakable! In a future post, I'll share specific tools and camping meals/menus that we use. We also have ideas for no cook camping meals.
Campfire starting equipment
Don't forget lighter fluid and matches/lighter! Buy your firewood from somewhere near the actual campsite so that you don't bring in any insects/diseases from another area.
Here's the printable packing list PDF that I used for our recent camping trip. Please note: this is meant as an example, not a final product. I'll be making improvements and sharing the new version soon.
Camping Ideas for Families: Packing for Your Trip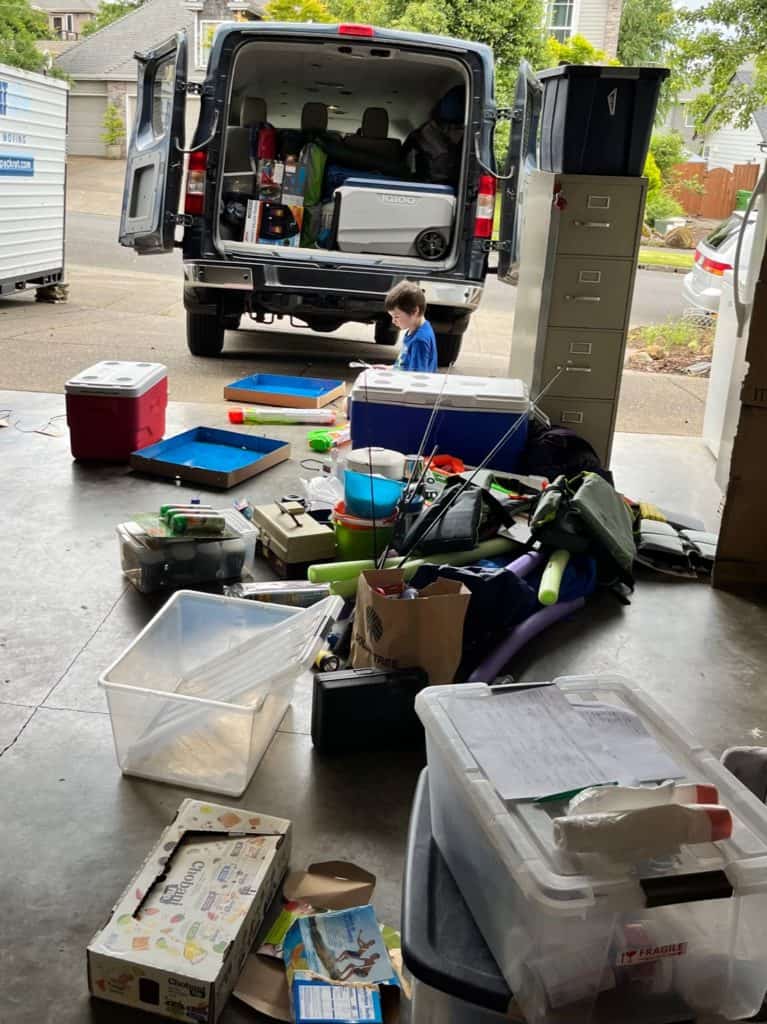 Once you have all the camping gear you need, it's time to start packing for your trip. Here are some tips for packing for a camping trip with kids:
1. Use lists
Lists are the best way to help you make sure you don't forget anything essential.
2. Plan your meals and snacks ahead of time
I recommend creating a menu of camping meals that are easy to make. More on this in the next section.
3. Start packing ahead of time
The larger your family, the sooner you will want to start packing. We spent about a week buying, planning, and packing for our recent week-long camping trip.
4. Involve the kids
Older children can help plan fun camping activities like treasure hunts and outdoor games to play. Young children can help pack their camping gear and clothes.
5. Bring comfortable clothes
You'll want to bring clothes that you can move around in and that will keep you warm at night. I highly recommend bringing clothes that can get dirty, stained, and ripped– camping is messy! I also recommend at least 2 pairs of shoes/sturdy sandals each, in case one pair gets soaked.
6. Pack for the weather
Be sure to check the forecast several times before you leave so you know what to expect. Often the most accurate weather predictions are only one or two days before the trip.
7. Tent camping prep
Set up your tent at least once before the trip so you know how to do it. Practice setting up and taking down your tent in your backyard. We assigned our teens this job, and that made setup at the campsite so much easier!
It's always a good idea to bring extra stakes in case some of them break, and extra tarps: a tarp can help keep the bottom of your tent dry and free from mud.
Easy Camping Meals
One of the best parts of camping is the food! I am always surprised by how much better food tastes after a day spent in the fresh air. Something about enjoying food surrounded by beautiful scenery just makes it that much better.
As Mom, the meal planning and most of the cooking falls to me. One choice I made that was different from my childhood camping experiences was to focus on easy camping meals. I wanted several meals that did not require cooking. I also wanted meals that required a minimum of preparation and ongoing attention, so that I could spend as much time enjoying the trip as possible.
For our camping menu, I chose family favorites as well as a few camping special meals that we all enjoy, like pancakes and bacon, and s'mores.
Camping Ideas For Families: Keeping Young Children Safe
Part of the fun of camping is the freedom to explore and see new things. As parents, we want our kids to have lots of fun on our camping trip, but we also need to be sure kids are exploring safely. Here are some tips for keeping young children safe while camping.
Supervise them at all times
This is especially important near water or in the woods. Check in with the park ranger or campground website ahead of time to find out what kind of wildlife may be present.
Teach them about camping safety
Be sure to teach them about camping safety before you leave home. This includes not wandering off, and basic fire safety. One of our top camping ideas for families is to practice. We practiced ahead of time with campfires in our backyard so that our kids would already know some basic things.
We also learned how to be safe from rattlesnakes or cougars that occasionally are present at the campsite we stayed in.
Have a plan
If you get separated, have a plan for how to find each other. We require our older kids to stay together in pairs if they are going somewhere outside of our direct supervision and line of vision.
Bring whistles and headlamps/ glow sticks
A whistle can help you signal for help if you need it. Headlamps or glow sticks are great at night for better visibility where needed. We used headlamps when walking to and from the bathrooms at night.
Glow sticks are one of the more versatile camping ideas for families. They were perfect inside the tents at night for not keeping others awake, but helping our little ones still have some light. Plus they're just fun!
Arriving at the Campsite
When you arrive at the campsite, check-in with the park rangers or camp fee station first of all. If you have a reservation, find out exactly which site is reserved for you. You may also need to have a camp receipt/parking permit displayed on your vehicle.
Try to get to the site a few hours before sundown, so you have time to set up while it's still light out!
If you don't have a specific site reserved, take some time to assess the available sites. When choosing a campsite, look for one that is close to amenities like bathrooms and showers. You'll also want to make sure there is plenty of space for camping games and activities.
Once you're at the campsite, set up camp and then explore! We made sure that our sleeping quarters were ready first, then our cooking setup. Once everyone had eaten, the kids were able to explore the campground.
Camping Activities for Kids
While camping, there are plenty of activities for kids to enjoy!
Exploring: Let them explore the woods/brush and see what they can find.
Collecting rocks and sticks: This is a great way to keep them occupied. Our boys especially love finding a "perfect" stick or rock!
Playing games: Bring along some board games or camping-themed games. Camping is a great break from technology!
Going on a nature hike: This is a great way to explore the outdoors and get some exercise. A nature scavenger hunt is a fun way to practice observation skills as well.
Stargazing: many campgrounds are located in remote areas that allow for incredible views of the night sky! Bring along binoculars or a basic telescope and a book on the night sky to enjoy a little bit of basic stargazing.
Rainy Day Activities
If you find yourself stuck inside on a rainy day, there are still plenty of activities for the kids.
Playing card games: Uno, Phase 10, Go Fish, War… google a few card game rules and print them before you leave. Rainy day camping is the perfect time to play games as a family!
Reading books: Bring along some camping-related books for the kids to read. Reading a book on a warm afternoon while camping is one of my favorite restful activities. On a rainy day, it can be an absolute lifesaver! Check out our list of favorite kids books here.
Drawing and coloring: Basic supplies, or some new ones from the local dollar store, are a great backup plan if the weather keeps you inside your tents.
Making crafts: There are many camping-themed crafts that kids will love.
Camping Ideas for Families – only the Beginning!
There are so many great camping ideas for families that I couldn't fit them all into one post. Check out our YouTube and TikTok channels for even more tips and product recommendations! I also plan to write more posts about camping food ideas, so be on the lookout for those.
Camping with kids is a fun and memorable experience. Both Brian and I have fun memories from camping as kids and teens that we cherish even now. I hope these family camping tips will help you plan a great first-time family camping adventure!
© Copyright Jennifer D. Warren 2022. First posted: July 4, 2022; Updated: July 6, 2023.