Alabama swept us off our feet. The state's wooded hills and beautiful streams are much like our native Oregon, but full of a wonder and heritage of their own. We were fortunate to experience three of the best hiking trails in Birmingham, AL.
This post contains affiliate links. As an Amazon Associate I earn from qualifying purchases made from the links on this site, at no extra cost to you. Thanks for supporting our family business!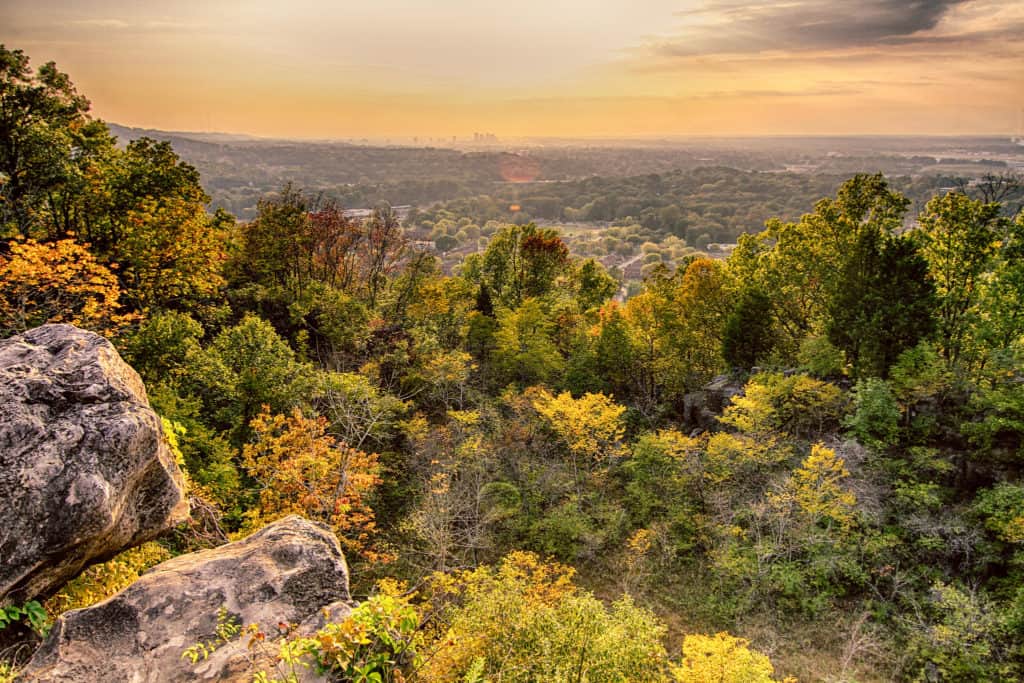 In this post we'll provide our personal review of three great hikes in the Birmingham area. We'll also guide you through a list of the best hiking trails in and around Birmingham AL. This list was put together with roadtripping families in mind, and includes a variety of settings, lengths, and levels of difficulty.
Table of Contents
#1: Moss Rock Nature Preserve, Boulder Field
Location: Hoover, Level: Easy
Moss Rock was a dream come true. We'd been itching for some Southern Appalachia adventure ever since we'd entered Tennessee. So we were ecstatic when our hosts brought us to this local secret.
Moss Rock Preserve is right out of a Mark Twain novel. The forested park is filled with enormous, fern-covered boulders and crags. The children loved scrambling up the rock formations and exploring hidden caves and clefts.
The large rocks cover the preserve, with boulders and crags only yards or even feet from one another. This forested maze is a perfect place for pretend or hide and seek. The gentle slope makes for easy walking and the trees and caves provide summer time shade.
And there's a creek with a waterfall! We were already enchanted, but the discovery of Hurricane Branch and Moss Rock Waterfalls really topped the cake. We spent nearly an hour splashing, exploring, and riding the falls.
Clean and Convenient!
Moss Rock Nature Preserve is located in the southern part of the Birmingham metro area. The preserve is surrounded by development and I was saddened to see a little graffiti on one of the boulders as we entered the Preserve.
But the sights and sounds of nature quickly surrounded us once we'd entered the park. Alabama's wooded hills absorb the traffic noise, making it easy to forget that you're in an urban area. The preserve was clean and undeveloped.
Lunch was the only thing that could lure us away from Moss Rock Preserve. Moss Rock is super easy to access. A short trail from the parking lot leads right to the fantastic boulders and the delights that follow.
Moss Rock Preserve is a great place for a family hike. The woodland setting is adventurous and truly natural. Yet the park is easy to access and only a short distance from eateries and other amenities. Read our daughter's in-depth review of Moss Rock.
#2: Red Mountain Park
Location: Birmingham, Level: Various
We were equally impressed with Red Mountain Park. This enormous park occupies a historic mountain ridge of southwest Birmingham and offers a wide selection of trails, outdoor activities, and venues. Red Mountain features a wide range of ways to get active and learn about Alabama's natural and human history.
Rich Alabama Red
The color red is a big deal in Alabama! You see it everywhere, from signs, to clothing, to the soil beneath your feet. Red Mountain gives the background to this phenomenon.
Rich iron deposits are the "why" behind the red. Red Mountain's iron ore put Birmingham on the map as a chief supplier of iron and steel in the United States. The mines of Red Mountain fed America's Industrial Revolution for over a century.
Eureka Mines Trail: Moderate
We enjoyed an afternoon walk on Red Mountain's Eureka Mines Trail. The wide, wooded trail brought us past beautiful forested slopes and overgrown tills before bringing us to the Eureka Mine shafts. Fences and signs allowed us to see the old mines without putting ourselves in any danger.
Red Mountain has a lot more than old mining sites. The park may be better known for its three fantastic tree houses, its outdoor classrooms, and Remy's Dog Park. You can even enjoy an audio tour of Red Mountain via TravelStorys!
Butler Snow Sensory Trail: Easy
Red Mountain Park has a trail designed for children and adults with developmental differences. The Butler Snow Sensory Trail offers fourteen sensory exhibits with access to anyone who wants to experience and explore the outdoors.
#3: Sloss Furnaces National Historic Landmark
Location: Birmingham, Level: Easy
Sloss Furnaces is another place where activity and learning go hand-in-hand. The massive industrial complex excites curiosity and invites exploration. Flat pathways and occasional stairs make for an easy hike through an extraordinary setting.
Sloss Furnaces is a fantastic educational stop. In this one place, you can learn about the process of steel production, the story of Birmingham's Steel Industry, and the racial injustice that was behind it all.
We had the opportunity to tour Red Mountain before going to the Sloss Furnaces. So in two hikes we traced the iron from raw material to finished product! Read more about Sloss Furnaces at our review of the 9+ Best National Parks in Alabama.
Hiking Trails Near Birmingham, AL
Birmingham's metropolitan area is full of good trails. Here are six nearby hikes that are known and appreciated.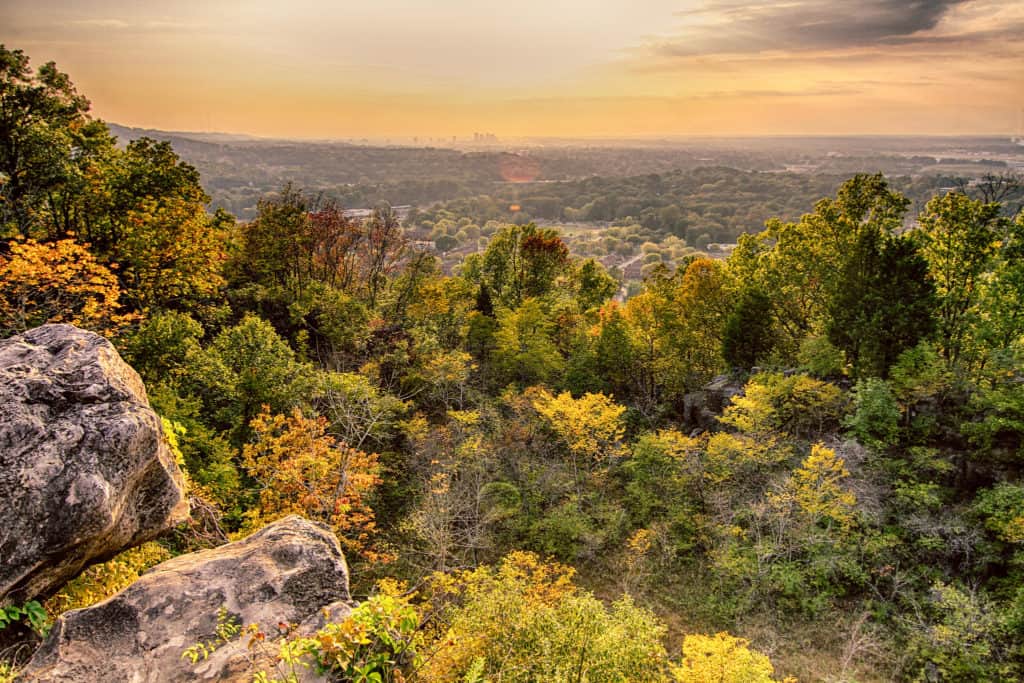 Vulcan Trail
Location: Birmingham, Level: Easy
This well paved trail guides you to the world's largest cast-iron statue and scenic views of downtown Birmingham. The enormous monument is another testament to the role that steel had in building Birmingham. At 4 miles there and back, this trail is another easy way to choose activity and education.
Ruffner Mountain Nature Preserve
Location: Birmingham, Level: Various
Ruffner Mountain Nature Preserve occupies a substantial mountain ridge in the eastern part of Metro Birmingham. The preserve includes a nature center, historic mining sites, and renowned overlooks. Keep in mind that parking is limited and that there's a $5 parking fee for nonmembers.
Railroad Park
Location: Birmingham, Level: Easy
Railroad Park is the premier urban green space of downtown Birmingham.
Natural and industrial meet together at this sleek park. Wall and seating areas are built out of items and materials that were unearthed on-site, allowing you to touch artifacts from Birmingham's past.
The Rail Trail path is specifically designed for runner and walkers. Railroad Park's 3/4 mile outer loop provides another option for exercise. Be sure to also check out the Rainbow LED Tunnel near the park's northwest corner.
Jamison Park Nature Trail
Location: Birmingham, Level: Easy
Enjoy a hike among shady groves, quiet waters, and country bridges. Jemison Park is a stretch of urban forest located in Southeast Birmingham. The paved path is 4.7 miles of woodland beauty, local art, and historic landmarks.
Homewood Forest Preserve
Location: Homewood, Level: Moderate
Explore 65 acres of wildflowers, local wildlife, and old growth forest at Homewood Forest Preserve. QR codes are posted throughout the trail so that you can learn more about the native features of Central Alabama. You'll find Homewood Forest Preserve in Homewood, beside Shades Creek and Samford University.
Homewood Shades Creek Greenway
Location: Homewood, Level: Easy
The Lakeshore Trail is a popular paved trail along the Homewood Shades Creek Greenway. You can wander over brook and meadow in this urban park corridor. At 5.1 miles round trip, the Greenway offers a great way to get outdoors with the family.

Hiking Trails in Central Alabama
Looking for something a little wilder? Check out these five Central Alabama locations.
Oak Mountain State Park
Location: Pelham, Level: Various
We couldn't write this post without giving tribute to Alabama's largest state park. Oak Mountain State Park's 11,632 acres includes four lakes, over fifty miles of trails, waterfalls, a petting zoo and more. Here are two trails worth walking at Oak Mountain SP:
Maggie's Glen Loop: Easy
This 2.2 mile loop is a great place for a quiet walk through nature. The trail is well marked and level, making it ideal for families with young children. People enjoy the abundance of bird calls and running water at this well-known trail.
Treetop Nature Trail: Easy
This is the trail for bird watching! The 1.8 mile loop includes a boardwalk where you can meet some of Alabama's birds up close. The trail is connected to the Alabama Wildlife Center, the state's premier rehabilitation center.
Turkey Creek Nature Preserve
Location: Pinson, Level: Easy to Moderate
If you want to encounter nature, then this is the place for you. This preserve hold 466 acres of biodiversity. Six endangered species live in the Turkey Creek Preserve, allowing you the opportunity to see the unique beauty of natural Alabama.
Five Mile Creek Greenway Trail
Location: Coalburg, Level: Easy
Get lost in Birmingham's historic Coal Country. The Five Mile Creek Greenway connects Fultondale to Mt. Olive. This wide, crushed stone trail is ideal for bicycling, jogging, or a quiet stroll.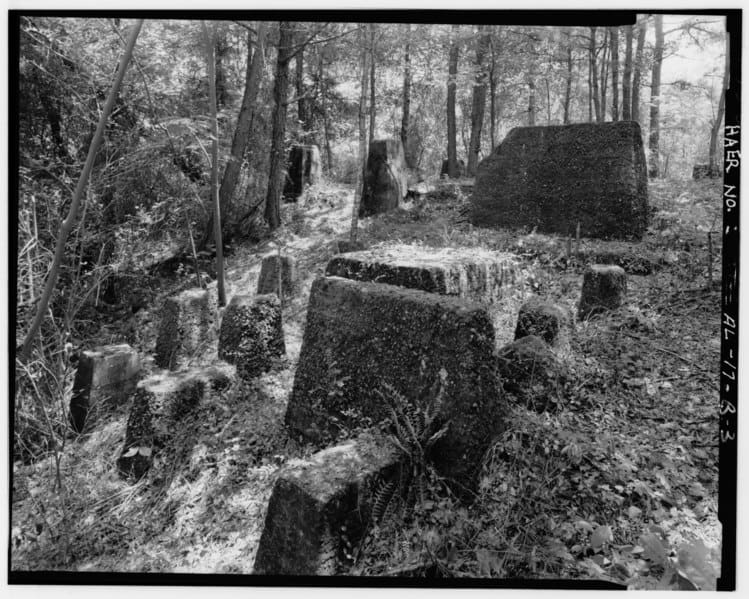 Horse Creek Trail
Location: Dora, Level: Easy
Encounter true Southern beauty on this level, multi-use trail. This 5 mile walking trail is a perfect place to play "I spy" with the children. Spot deer, horses, cherry blossoms, and church steeples on this trek through rural Alabama.
Location: Northeast Alabama, Level: Moderate
The Pinhoti Trail is a 325 mile path through the Southern Appalachian Mountains. This epic trek begins in Georgia's Blue Ridge and ends on Flagg Mountain near Weogufka. Pinhoti NRT is a great option if you're looking for a genuine outdoors adventure.
Bald Rock Boardwalk
Location: Cheaha State Park, Level: Easy
Bald Rock Boardwalk offers incredible views of Eastern Georgia. At 2,407 feet above sea level, you'll be walking the Alabama's highest mountain at Alabama's oldest state park. This 0.6 mile walkway is the place to take in the beauty of the Southern Appalachian range.
17 Great Hiking Trails Birmingham AL:
There's no lack of family-friendly hiking trails in Birmingham AL. Do you know a great trail that we missed? Please let us know in the comments. Happy traveling!
© Copyright Brian A. Warren 2022