The internet has no lack of "cowboy gifts for men". But how can you find the real treasures? In this post I'll introduce you to the world of western gifts and give you the tips you'll need to get the best gift for the right occasion.
This post contains affiliate links. As an Amazon Associate I earn from qualifying purchases made from the links on this site, at no extra cost to you. Thanks for supporting our family business!
Dude Disclaimer: I'm a shameless, "dude": a city-slicking, wanna-be cowboy. I've never roped a calf or done real time on a ranch. I just eat, drink, and sleep all things western. If you love someone like that, then this post is for you.
Affiliate disclaimer: "62 Best Cowboy Gifts for Men" is a list of products that I genuinely enjoy. I have owned and used many of these items, products, or brands and found them dependable.
Table of Contents
Cowboy Clothes
Western cowboy apparel is a great way to bless the man that you love. Cowboy fashion combines function with art, creating incredibly handsome clothing and accessories.
Western garbs features a wide variety of materials, styles, and items. This makes cowboy clothes a great way to celebrate a special day or surprise him with a just-because-I-love-you gift.
#1. Cowboy Hat
A cowboy isn't a cowboy without a hat. Thankfully, there's no lack of options. Western hats come in an astounding range of shapes, colors, materials, and styles.
I love my Outlaw Trouble Wool Felt Western Hat by Bullhide. My felt hat keeps me warm and dry during the rainy season. It's gunslinger rim is just my style. Best of all, the brown hue was easy to match with my jacket and boots.
Unfortunately, this combination doesn't carry on into summer. So I've been on the lookout for a straw hat to keep me cool and shaded. This Stetson may fit the bill.
TIP: Consider these three questions before purchasing a hat as a gift.
What Season? Temperature and climate will tell you the material to choose.
What Occasion? Occasion and/or occupation will affect the style and color.
What Preference? "Western" is a collection of cultures and styles. What western fashions and or themes is he most drawn to?
#2. Hat Care Items
A good cowboy hat can last for years, especially when it's well cared for. Hooks and hat boxes keep hats safe and clean.
Cleaners and conditioners make it easy to keep hats in good condition. Felt Hat Protector provides a protective coating that maintains the color and shape of felt hats. Leather cleaning kits allow you to keep your leather hat fresh and fine.
#3. Western Ball Cap
A cowboy hat can be more trouble than it's worth. A western ball cap is great for those days when we'd rather relax in a hoodie and some worn-out jeans.
And let's not forget this huge plus: a ball cap can be worn while driving the rig.
#4. Cowboy Boots
Boots are the best part of cowboy garb. A busy man can appreciate a good pair of cowboy boots because it's a tool he can wear. Better yet, they make you look good.
My favorite pair of boots are Roper Sidewinders. These boots are well-built, handsome, and designed for concealed carry.
The three hat questions (above) also apply to boots. Cowboy clothes double as casual and formal wear. Some folks wear the same boots to everything, while others prefer a work pair and a formal pair.
TIP: Here's two important words of caution.
Don't buy boots online, at least not a first. Sizing a cowboy boot is not straightforward, especially for the uninitiated. Go to a retail store such as Boot Barn and find your size with the guidance of someone who knows.
Think about the toes. Boots come in a variety of forms ranging from round toe, square toe, to steel toe. Some folks like a traditional round toe while others prefer the space afforded by a square toe. Know the toe or the boots won't go.
#5. Boot Jack
Want to really make his day? A good boot jack is blessing. Nothing takes the fun out of boots like fighting them off your feet for five minutes.
#6. Boot Care Kit
A boot care kit is an excellent gift for a Western man. Boots endure a lot of wear and tear, but a boot care kit can make a pair of boots last a good long time.
A standard boot care kit includes leather cleaner, leather conditioner, and a polishing brush. These three items are basic necessities for the boots clean and fresh.
A waterproofing spray is a big plus, especially for an especially fancy pair of boots. White and light-toned boots will also need a can of polish in order to keep them looking good.
Boot care items are a good choice for a frugal man. They allow him to preserve his boots and a wide range of other Western leather goods.
Individual leather care items are great stocking stuffers. Kits are a nice, no-nonsense gift for any Western man.
#7. Boot Cut Jeans
A pair of bootcut jeans complete a typical cowboy ensemble. They lend the right look and the loose fit that goes hand in hand with Western wear.
A standard jean cut can be awkward and bothersome when paired with Western boots. They also look silly.
It's choice is pretty clear. If your guy looks good in boots, then he'll look even better in bootcut jeans.
#8. All Purpose Work Boots
Traditional cowboy boots don't meet the demands of most modern jobs. For example, their lack of traction is great for stirrups but hazardous on a job site.
Thankfully, boot companies are aware of this fact and produce a wide range of Western-inspired workboots. I work as a commercial driver and my pair of Ariat workboots are the most important part of my professional wardrobe. They keep me steady and warm as I inspect my bus, drive my routes, and serve passengers.
Consider the option of a modern cowboy workboot. These boots fuse the traditional look of a cowboy boot with the many qualities of a modern workboot.
#9. Cowboy Shirt
Looking for a unique gift? A genuine cowboy shirt is a fun way to celebrate his western style. Cowboy shirts are long sleeve shirts that are known for a form fitting trim and in-your face patterns.
My Hooey cowboy shirt is the best piece of clothing that I've ever purchased. It always looks sharp, yet it's wrinkle-free, super breathable, and water-repellant!
Amazon offers some tame cowboy shirts. Check out Rockmount Ranch Wear for a real taste of rodeo wear. I haven't mustered up the courage to put on one of these wild shirts. When I do I'll be sure to post it!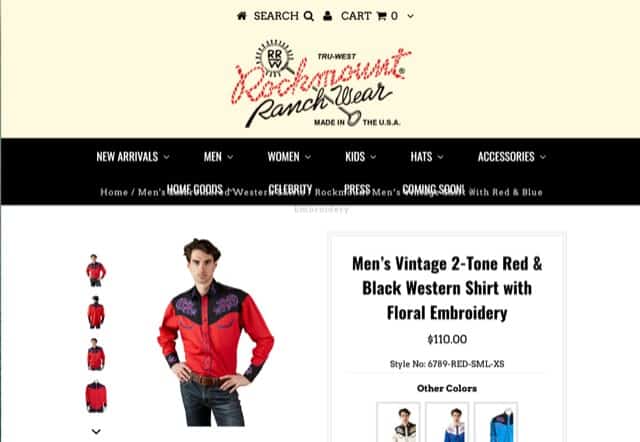 #10. Western Vest
A Western vest brings a men's style to an entirely new level. Guys look remarkably sharp in a fitted cowboy shirt and vest.
#11. Western Jacket
A handsome, well-made jacket is a real blessing. Western jackets give men a clean look while keeping them safe and warm.
As with boots and hats, jackets come in a wide range of colors, materials, and styles. And, like boots and hats, it doesn't hurt to have a formal jacket and an everyday jacket.
Three years ago I replaced my sport jacket with an embroidered Western Jacket. I've never regretted it.
My jacket's colorful native pattern is set against a brown tone that matches well with my hat and boots. If you're gonna go fancy, you might as well do it your way.
#12. Gloves
Gloves are an essential item for a hard-working man. They also make great stocking stuffers and small gifts.
Insulated work gloves keep hands safe and warm in spite of winter weather. Machine-washable gloves are another excellent choice!
#13. High Quality Hoodie
Cowboy garb is fun, but it's not always comfy or clean. A warm, thick hoodie can do a lot for a guy who just came in from work.
#14. Casual Shoes
Comfy western shoes offer another way for guys to relax in style. Ariat offers two shoes that are sturdy enough for household chores but comfy enough for the couch.
Cowboy Apparel
If the above clothing options seem daunting then accessories might be your path to a perfect gift. Western wear includes one of the strongest collections of men's jewelry in American culture. Any of the following ideas could furnish great gifts for special occasions.
#15. Bolo Tie
Bolo ties are a fantastic jewelry item. Bolos are stylish but also comfortable. He can wear a tie without wearing a tie. They also come in a range of styles, materials, and themes.
Amazon offers all kinds of bolo ties selling at $20 or less. But I wouldn't expect much from any bolo tie priced below $150. A well made bolo is usually made of precious metal and semiprecious stones.
Bolos are often handmade by skilled artisans. These two reasons alone usually price a standard bolo somewhere between $150 to $400.
TIP: A $20 bolo has its uses. I own a bolo that I can afford to be break or accidentally loose. It gives me the freedom to wear what I like without worrying about losing a treasure.
#16. Western Belt
Cowboy belts are absolutely stunning. Arts like leather working, silversmithing, and beadwork have transformed the ordinary belt into an extraordinary accessory.
Western belts come in all kinds of styles and forms. Tony Lama is my top pick for western belts. These quality belts are both functional and handsome.
#17. Western Belt Buckles
Belt buckles provide another way to celebrate. Buckles are a lot like bolos because they come in all kinds of themes and can be personalized for the wearer. Subjects vary from typical western scenes, to hobbies, to occupations, to beliefs and convictions.
TIP: You may want to buy a belt buckle before you buy a belt. I say this for two reasons:
Reason 1: Belt buckles are heavy so they require a certain degree of belt tension to prop them up. I learned this lesson the hard way when I added a buckle to one of my belts. The belt had enough holes to serve as a belt, but not enough to prop up the belt buckle. I plan to take the buckle to a retail store and find the size that I need to make the buckle work for my waist size.
Reason 2: Buckles come in a variety styles and colors. You'll want to match the buckle with the appropriate belt to make the combination look good.
Belt buckles make good gifts for special occasions or as a small token of love. Montana Silvermiths and similar companies fashion beautiful buckles for special occasions. Everyday buckles give men the chance to wear some jewelry that can take the rough and tumble of daily life.
#18. Wallets & Money Clips
Money clips and wallets are more than a useful gift. Like belts, western wallets and money clips are as handsome as they are handy. These good-lookin' accessories make great stocking stuffers. You'll give him something he needs while also complimenting who he is.
#19. Western Watch
The right watch can bring a man's style to the next level. A pocket watch goes well with a Western vest or jacket. Pocket watches can often be personalized with an engraving or personal photo.
Timex and Fossil offer a variety of handsome, practical wristwatches. Check out southwestern jewelry stores to find truly unique, incredible time pieces.
#20. Western Cuff Links
A handsome pair of cuff links is a great way to help your cowboy stand out. Cuff links come is a wide range of Western subjects and styles, including steer heads, shell casings, and buffalo nickles.
Southwest jewelers produce remarkable cuff links out of silver, turquoise, and other semiprecious stones. Personalized engravings are another great way to bring your gift to the next level.
#21. Western Phone Case
A Western-themed phone case is a fun "just because" gift. Amazon has a number of colorful, fun phone cases, but your best option is Society6.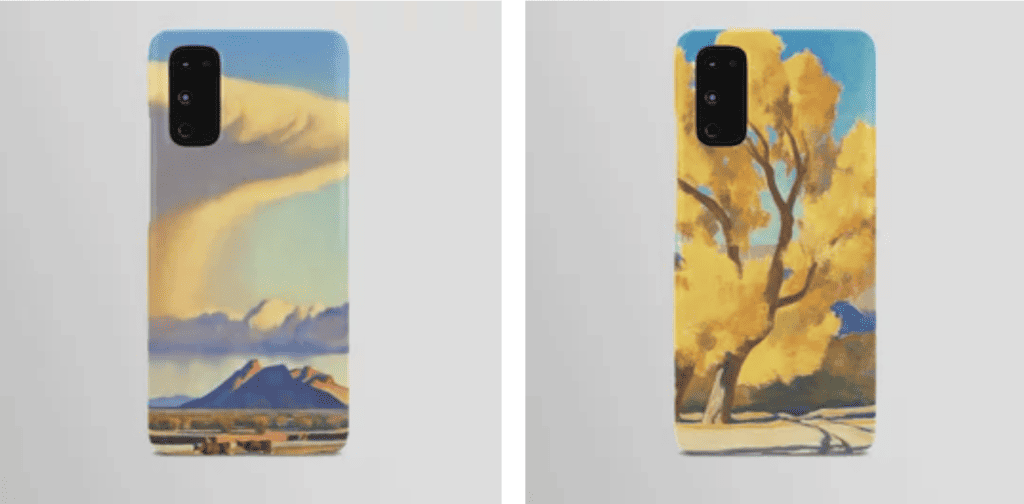 Society6 not only has its own range of Western themes, but it also allows you to select themes from well-known Western artists. I've been thinking about decking my phone in the vibrant hues of a Maynard Dixon print.
#22. Western Decals
Yup, guys like stickers too. Give your fella a set of decals to use on his rig, phone, water bottle, laptop, and other stuff.
Cowboy Tools
#23. Utility Tool
Utility tools are exceptionally useful and can be a great gift for a frugal man. My Swiss Army Victorinox is my most reliable tool, it's on hand the moment I need it.
But utility tools aren't limited to keychains. They're also an essential part of any home or vehicle emergency kit.
#24. MAG Light
A MAG light is a no-nonsense gift for a no-nonsense man. This practical gift is a great stocking stuffer for a dad who's serious about protecting and providing for his family.
MAG lights are durable, dependable, and double as a weapon. That makes them the flashlight of choice for emergency kits, tool kits, and camp trips.
#25. Tactical Knife
A utility tool has its limits. A tactical knife is an important tool for any outdoor enthusiast, providing enhanced ability and protection in the wild. Tactical knives are also an important item to include in your home and vehicle emergency kits.
Cowboy Rig
Does your cowboy love his rig? Here's a list of truck and car gifts that will make his day.
#26. Vehicle Emergency Kit
Every car needs a vehicle emergency kit.
An emergency kit needs to be built for a person's individual needs, so you can't buy a kit that covers all of the bases. That said, a well-stocked, prepackaged emergency kit can be a great starting point.
We've identified 39 items that need to be in every car emergency kit. Almost all of these objects can be given as stocking stuffers or "just because" gifts.
#27. Hat Hanger
In a perfect world truck seats would be compatible with cowboy hats. Unfortunately, it just ain't so.
A hat hanger is a huge convenience for a Western man. He can safely stow his hat where it won't be at the mercy of the kids, the dog, or someone's rear end. Believe me, this gift's a winner.
#28. Western Seat Covers
Speaking of rear ends, seat covers are another way to bless your guy.
Handsome seat covers can refresh an old, worn-out rig. They can also protect a new vehicle from wear and tear that comes with everyday use.
Hooey produces well-rated seat covers that are available on Amazon. Better yet, they also sell matching steering wheel covers.
#29. Floor Mats
A solid set of floor mats is one of the best investments a man can make in his rig. Our all-weather floor mats protect our Nissan NV 3500 all through Oregon's wet, muddy winters.
A number of floor mats come in Western themes complete with matching seat covers and steering wheel covers.
#30. Western Vehicle Trashcan
A trashcan is a real need in a family car, so why not make it a Western trashcan? An easy-to-use, handsome trashcan is a sensible gift for a man who values his car.
#31. Western Vehicle Organizer
A car organizer is even more useful than a trashcan. Unorganized rigs quickly become catch-alls, where any number of useful items go missing for years.
Vehicle organizers come in a wide range of shapes and sizes. A trunk or backseat organizer is typically the best way to store a car emergency kit as well as bulky items. Some backseat organizers even come with coolers!
Console and passenger seat organizers work well for general-use and convenience items. Mobile office organizers allow him to stay organized even when his job is on the road.
Car organizers are superb for family travel. The children have a place to stow all of their stuff, instead of emptying it all over the floor.
All told, a solid set of car organizers offers enormous relief to hardworking family men. They save time, energy, and sanity!
#32. Western Car Coasters
A set of car coasters lends style to a rig while also keeping it clean. This is another small gift that a frugal man can appreciate.
#33. Detail Putty
Detail putty is a practical gift to keep his car interior sleek and clean. It's incredibly satisfying to finally clean those crevices the vacuum and brush can't reach. Putty is also effective at cleaning keyboards, remotes, and similar surfaces.
#34. Western Window Decal
Back window decals are a great way to personalize and bring an added degree of privacy. Rear window screens offer the highest degree of shade and privacy while lending a handsome look to a truck or SUV.
#35. Western License Plate Frame
A well-chosen license plate frame is an easy way to spruce up a tired, old rig. Order a customized frame to make the gift truly personal.
#36. Truck Bed Tent
Now look me in the eye and tell me that this gift isn't cool. Talk about comfort, convenience, and versatility wrapped into one.
A truck bed tent provides shelter in a host of venues including campsites, beaches, kid's sporting events, and tailgate parties. It almost makes me wish I chose a truck over my rig.
#37. Truck Bed Air Mattress or Backseat Bed
A truck bed air mattress is a natural addition to a truck bed tent. A backseat bed is another way to make space for rest in a car or truck.
#38. Rooftop Tent
The rooftop tent is the latest advance in campsite versatility. Unlike a traditional tent or truck bed tent, rooftop tents stay high and dry above the campsite and its critters.
They also give you the option to camp just about anywhere. If you can park, you can camp!
Cowboy Kitchen
I have yet to meet a man who doesn't love food. Good food is a great gift idea period. Western-themed items that serve food are a close second. It's no secret that food items are ideal as small gifts or stocking stuffers.
#39. Water Bottle
Western water bottles are a fun way to add to the ordinary. Society6 produces water bottles with all kinds of western scenes, patterns, and quotations.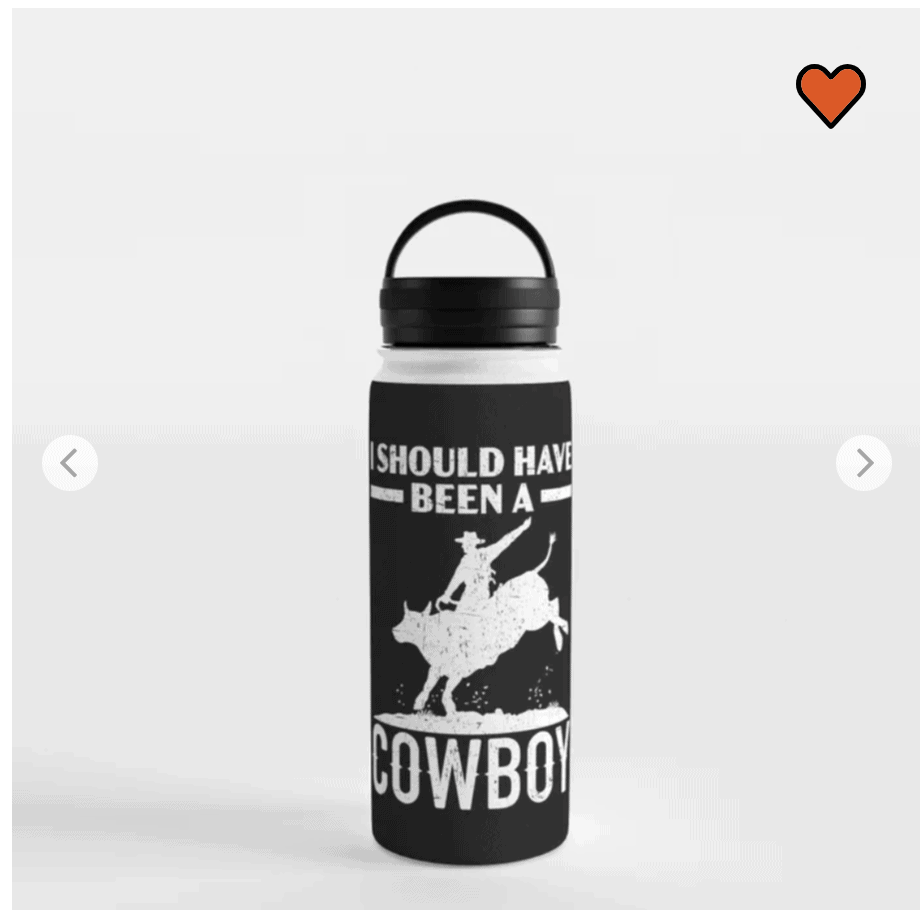 #40. Coffee Mugs
Check out my favorite coffee mug. Jennifer surprised me with this mug during the roughest part of the pandemic. Life had fallen apart and it took a lot to keep going.
I'm not a huge John Wayne fan, but he's definitely quotable. You can find the Duke's best quotations inscribed on a variety of coffee mugs.
I actually have two favorite mugs, because I can't get around the beauty of a Pendleton mug. My Pendleton mug is a colorful way to start the day no matter what the hour is.
#41. Beer Glasses
What is the Wild West without a saloon? Beer steins and glasses can be found on Amazon with a variety of Western themes.
Been Shot novelty glasses are another way to spruce up a drink. These glasses feature a real bullet embedded in their glass siding! This is a fun way to enjoy a beer over a Western movie.
#42. Shot Glasses
Western shot glasses are a fun way to enjoy a drink. Shot glasses with gold leaf bring some bling into the equation!
#43. Yeti Cooler
Life is too short to drink warm beer. Yeti has a well-earned reputation for keeping things cold. Top of the line coolers can bring comfort to a grueling workday. They also add to the quality of any outdoor excursion.
Cowboy Gifts that are Just Plain Fun
Don't miss out on giving a gift that's just for fun. Fireworks, candy, and similar gifts are simply good because they're fun. Here's a list of cowboys gifts for him that fall into that category:
#44. Bull Rider Pool Toy
I couldn't pass this one up. I don't have a pool but it's on my list anyway. One day I'm going to bring this to a pool party with a prize for whoever stays on the longest.
The reviews are what you'd expect for a huge, complicated, inflatable pool toy. I won't deny that it's a splurge but it would be fun!
#45. Blue Tooth Speaker
A blue tooth speaker is a double blessing. He can listen to Hank Williams in the garage and you don't have to! Blue tooth speakers are portable so he can enjoy his music as he works on a DIY or other project.
Cowboy Movies
Westerns are a good buy for Cowboy junkies if you know what to look for. Here's a rundown of the best Western movies and memorabilia.
#46. The Man Who Shot Liberty Valance
The Man Who Shot Liberty Valance is a cinema classic starring James Stewart and John Wayne. This film is a real work of art that combines a moving story with solid acting and excellent cinematography.
#47. True Grit
True Grit is a legendary western in its own right. This movie has heart. The real hero of the story isn't the rough and ready marshal (played by John Wayne) but the courageous girl who tells him to him what's what (Kim Darby).
#48. The Magnificent Seven (1960)
You can't get around the goodness of this movie. Seven men set aside their agendas and even their lives to do something noble for a town that won't ever be able to pay them back.
The story, the camaraderie, and a fantastic musical score have made The Magnificent Seven a cinema classic.
#49. The Good, the Bad, and the Ugly
The Good, The Bad, and The Ugly is an epic western that showcases the best and worst aspects of the Wild West. The film is not family friendly, but it is fantastic and thought provoking.
#50. Cowboy Movie Memorabilia
Memorabilia is a fun gift for a western-loving guy. I've been eyeing this Clint Eastwood inspired Pancho and hat on Amazon. Western movie posters and prints also make for fun decor for the home or garage.
Cowboy Art
Western art is another fun way to bless. Prints, statues, and photographs can bring the best of the West home in beautiful or comical ways.
Society6 produces Western prints in all kinds of forms including prints, murals, clocks, and more. Here are three Western artists whose work is featured on Society6: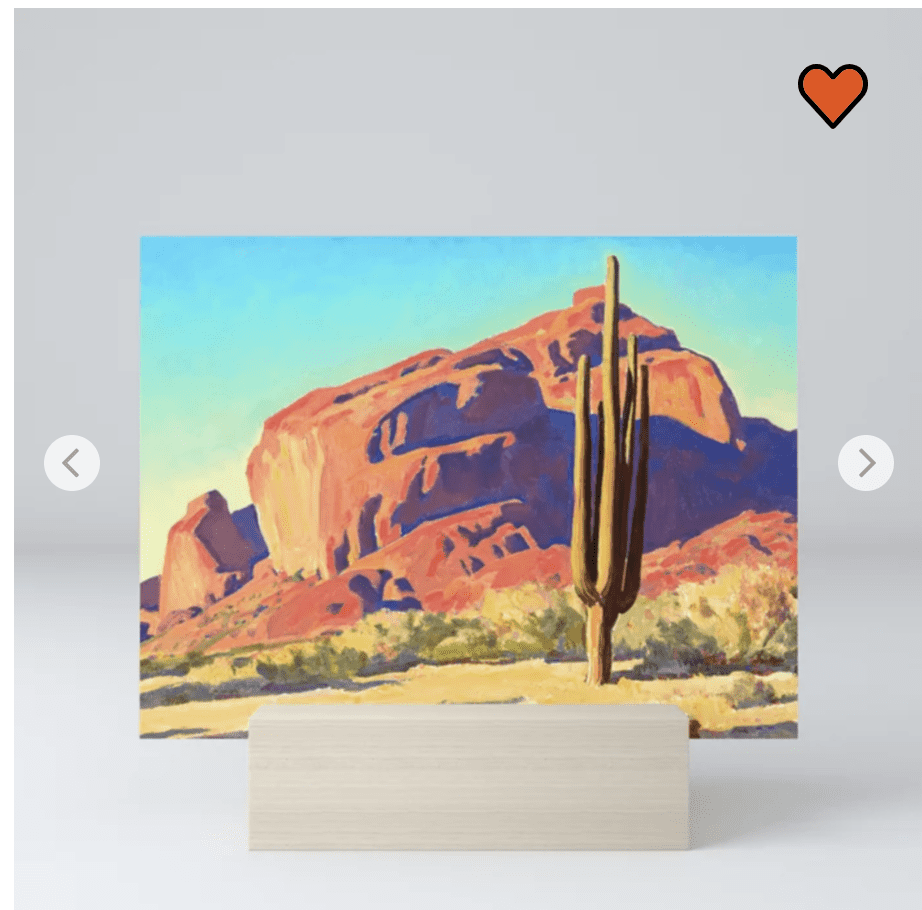 #51. Maynard Dixon
The works of Maynard Dixon bring the majesty of the west to any wall space. Jennifer and I love the print of Two Eagles that hangs in our bedroom. 
#52. Frederic Remington
Remington had a remarkable way of catching the drama and dynamism of the West. His colorful subjects seem to leap off the canvas, giving you the sense that you'd better duck and run for cover.
#53. George Catlin
We owe an incredible debt to George Catlin. He captured the likeness and lifestyles of several indigenous tribes before their cultures were swallowed up by America's westward expansion.
I've admired Catlin's work since I was a child. His vivid paintings capture the imagination and transport you to a world that disappeared long ago.
#54. Charles Marion Russell
Russell painted Western scenes that are full of life and detail. His works are unique and engaging.
#55. Wrought Iron Metal Craft
Wrought iron has a rustic beauty that can't be denied. Our family loves the way that wrought iron works are beautiful as well as useful.
#56. Rusted Metal Craft
Rusted metal craftwork is another beautiful form of Western artwork. This kind of decor makes a space look rustic and classy at the same time. 
Cowboy Books: Nonfiction
The Wild West is a state of mind and a place of adventure. Western books are one more way to give the west to your friend or loved one. Here are four western books that I'd recommend to any wild west enthusiast:
#57. Empire of the Summer Moon
In short, the best Western book I've read this year. The Empire of the Summer Moon tells the remarkable story of the Comanche, the most powerful tribe in United State history.
For three centuries the Comanche Empire dominated the North American interior. These incredible and infamously brutal warriors halted Spanish colonization, displaced the Apaches, and stalled American emigration for decades.
Empire of the Summer Moon surveys the rise and fall of the Comanche and provides insight into the development of Texas and the West.
#58. Three Cornered War
I'd been waiting for a book like this for a long time. Three Cornered War details the events and battles made famous in the Good, the Bad, and the Ugly.
Early in the Civil War, the South launched a campaign to take hold of Arizona and New Mexico territories. Harsh deserts and fierce tribes would make this fight unlike any other in the Civil War.
#59. The Irish General
The Irish General: This is a well-written biography of a complex western man. Thomas Francis Meagher was an Irish Revolutionary, Civil War General, and a controversial governor of Montana territory. You can read my full review here.
#60. Outlaws of the Pacific Northwest
Outlaws of the Pacific Northwest: This book is a colorful collection of stories about the highwaymen and criminal gangs that terrorized the Pacific Northwest.
#61. Native American Bolo Ties
Native American Bolo Ties: This coffee table book tells the history of the bolo tie. Beautiful color photographs showcase rare and remarkable bolos built by acclaimed artists.
#62. Southwest Art Defined: An Illustrated Guide
Southwest Art Defined: An Illustrated Guide: This lovely book is a great starting point for anyone who admires and enjoys southwestern jewelry and art. Colorful pictures and brief entries introduce the reader to the arts and crafts of Northern Mexico and Southwest United States.
So Much Good Stuff!
That wraps up my list of 19 best cowboy gifts for men. Be sure to check out all of the Cowboy Gifts featured in our Amazon Shop and Society6 shop.
Got a question or a comment on a buy for a western guy? Leave me a comment and I'll see what I can do!
© Copyright Brian A. Warren 2022.