Brian and I have been enjoying a weekly date night out in this season of our marriage. We love to try new things, and moving to a new area has provided us with a long list of "gotta try that!" places. Our most recent excursion was to the Markum Inn, a restaurant about 35 minutes' drive outside of Salem, Oregon.
This post contains affiliate links. As an Amazon Associate I earn from qualifying purchases made from the links on this site, at no extra cost to you. Thanks for supporting our family business!
Table of Contents
(This is a non-sponsored review, and the Markum Inn was not notified that we would be reviewing their restaurant. As always, all opinions are our own.)
We decided to try the Markum Inn on the recommendation of a friend who lives near there. I had driven past it once before and barely took note of its location. The Markum Inn is located on a beautiful country road intersection, in the middle of Willamette Valley farm country.
It's about 15 minutes outside of Silverton, which makes it a great stop for a day trip meal on your way to Scott's Mill, or Silver Falls State Park.
Western Feel
We arrived about 7 pm on a Thursday evening. The outside fire pit was blazing cheerily in the freezing February evening air. I was delighted to see an old covered wagon base outside the building – it gave the whole place an Old West feel.
When we came inside the first thing I saw was a freezer to the left of the door that contained a few dozen frozen meat packets. The Markum Inn sources its beef from the local Coleman Ranch, and also sells meat to the public. Prices were listed on the door.
The place was busy, but not crowded, and we were able to be seated within five minutes of arrival. We were excited to see the wood-fire oven, and chuckled at the muddy boots hanging over the bar.
There were a couple of TVs playing by the bar, but they were not so loud or large that they were a distraction from conversation.
The Markum Inn Specials
The Markum Inn has an extensive drink menu, and I ordered the Kickin' Muddy Boot Slide. I'm a sucker for chocolate, and the waitress assured me that it was good. It arrived in a boot-shaped glass topped with whipped cream and chocolate syrup.
The taste was like iced chocolate milk with a kick (the actual alcohol used is a secret). Yum! It's surely an attention-getting drink- the couple at the next table couldn't help but ask what I was drinking.
We ordered the fried TMK Creamery cheese curds, mostly out of curiosity. I expected them to be like fried mozzarella cheese sticks at an Italian restaurant. A basic, comfort food appetizer.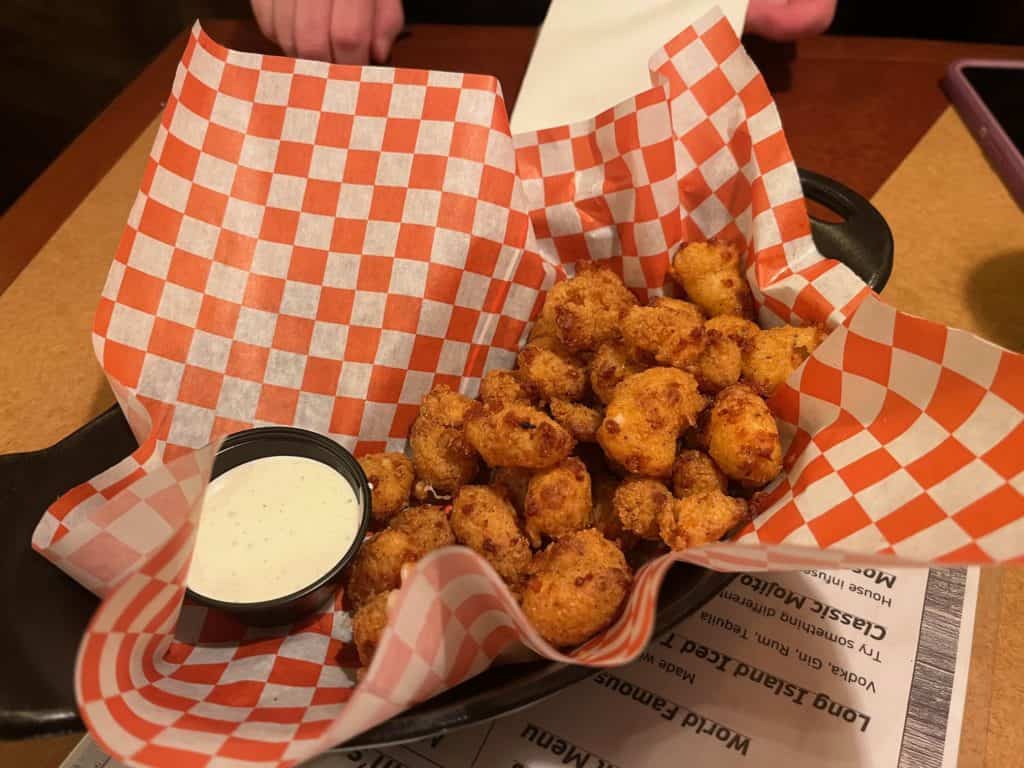 Oh. My. Goodness. The Golden Fried Cheese Curds were addictive! Slightly crispy and savory on the outside, fluffy melt-in-your-mouth cheesiness on the inside. Nothing like mozzarella cheese sticks; more like popcorn shrimp or chicken, but much softer.
The curds were even more amazing dipped in ranch dressing. We ate them as fast as our scalded fingers could manage to pick them up!
Brian ordered the cup of Prime Rib Chili (instead of salad) with his ribeye steak. I usually make my own chili homemade, so I tend to find restaurant chili unimpressive.
The Markum Inn's chili was good. It tasted fresh made, not canned, and also had that well-seasoned flavor that comes from spices that have simmered slowly for hours. The chili was slightly spicy, but not so hot that it overpowered the flavor.
Entrees
My Rodeo burger arrived just as we were scarfing the last of the cheese curds. It was still sizzling hot, hooray! It was also huge— I wasn't sure I'd be able to actually bite into it with the stack of onion rings inside.
Hey beef lovers, the patty was phenomenal! For the first time in my memory, I could have eaten just the meat, with no additional seasoning. The seasoned bacon, onion rings, barbecue sauce, pickles, bun were all just extraneous. Tasty, but completely unnecessary.
The Rodeo burger was the star of my entree, but everything else was good too. The truffle fries were hot and delicious, and the bacon was more than just standard— it was seasoned and served hot enough to burn my tongue. I ordered the burger medium-rare, and I was not disappointed.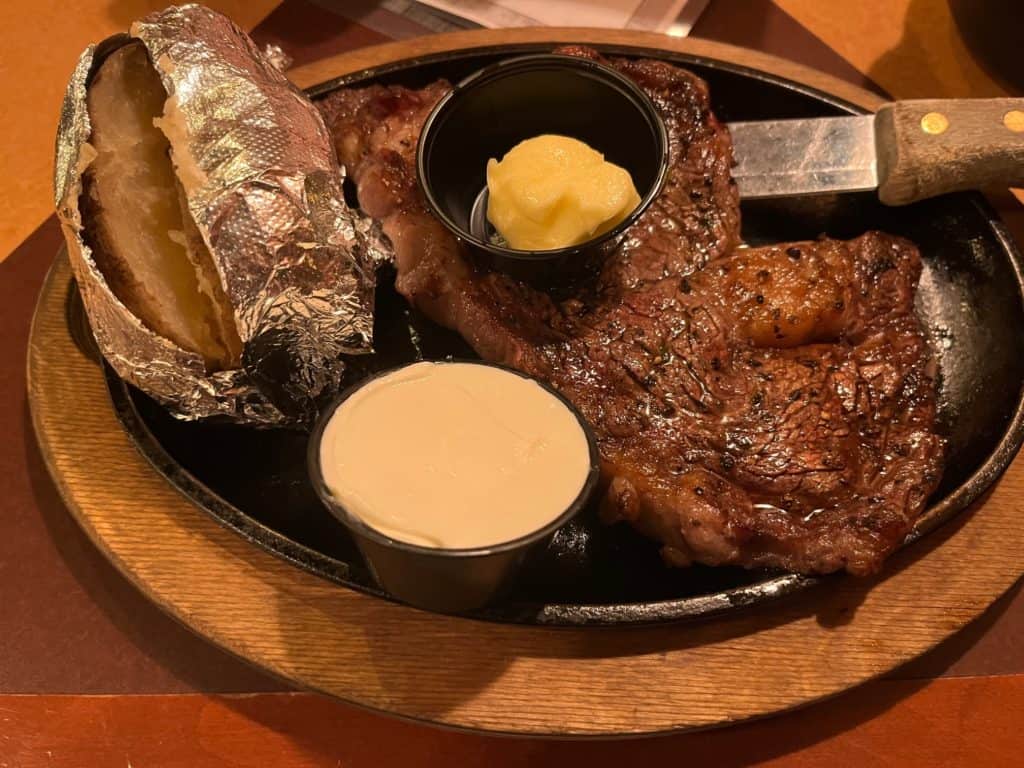 Brian's ribeye steak was no less impressive. He ordered it as rare as possible, and that's how it arrived. The steak hardly required chewing or cutting, it was so tender and juicy.
The Markum Inn most definitely knows how to cook beef! If you love steak, this is the place to enjoy it!
The Story of the Markum Inn
We really enjoyed our dinner at the Markum Inn. The service was timely and efficient, and the atmosphere was casual while still maintaining excellent quality.
Brian described it this way: "The Markum Inn is a quality restaurant with genuine character. I was most impressed at how original its flavors were. It's obvious that all their food is made on-site from scratch."
As we were preparing to leave, Brian asked the waitress if it was an actual hotel, since it's called Markum Inn. She was surprised at the question and immediately inquired if we were from out of town.
We found out that the Markum Inn has been open in this location since 1895, and has been rebuilt after more than one fire. Near the front door there is a black and white photo of the original owners and the bar!
The Markum Inn no longer houses guests, but is well known locally for great food.
How Soon Can We Come Back?
The Markum Inn would be a fantastic spot for a family to fuel up after a day of exploring Silver Falls State Park, about 30 minutes away.
It's family friendly, and has a large table for bigger groups, as well as a covered outdoor seating area.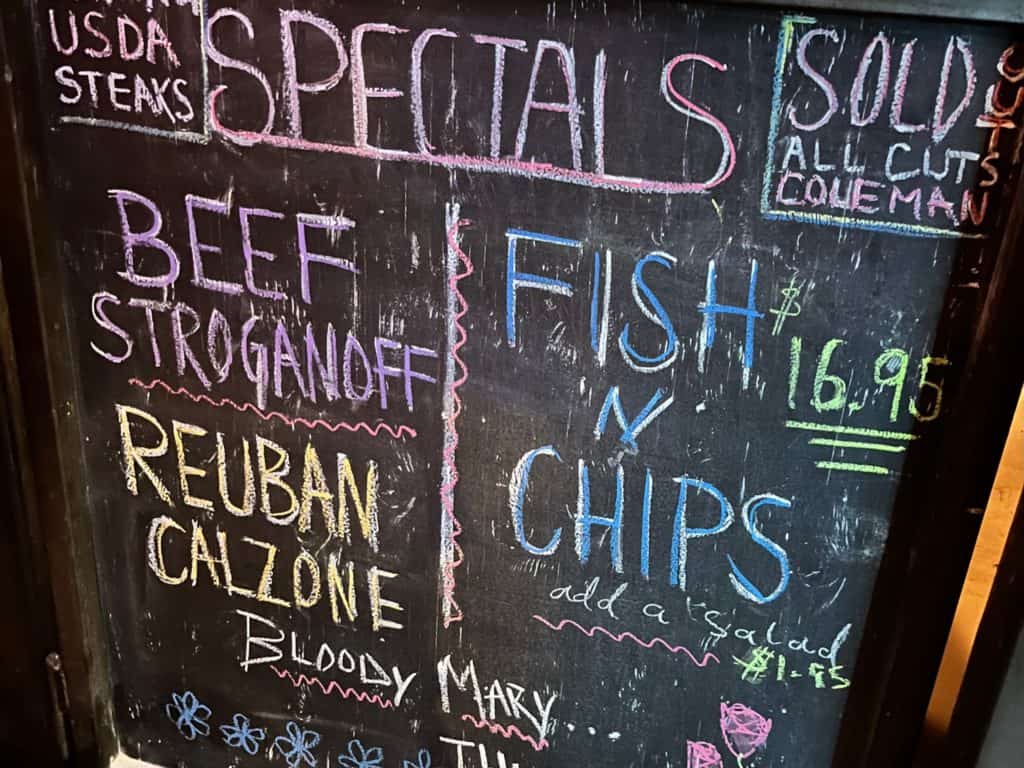 Brian and I love discovering new favorites, and the Markum Inn is definitely a well-kept local secret. We look forward to returning to the Markum Inn for their incredible steak and burgers, and those crave-able fried cheese curds!
For more nearby restaurant reviews, check out these Silverton restaurants:
© Copyright Jennifer D. Warren 2022.