A picnic is one of those ideas that never gets old. I've collected Valentine's Day picnic ideas to help you plan the perfect meal. Whether your Valentine picnic is indoors or outdoors, shared with your spouse and kids or just with your beloved, there are plenty of ideas here to make it unforgettable.
This post contains affiliate links. As an Amazon Associate I earn from qualifying purchases made from the links on this site, at no extra cost to you. Thanks for supporting our family business!
We have two other posts on Valentine's Day if you need more ideas: Valentine's Day breakfast ideas for kids, and Easy Family Valentine's celebrations.
Table of Contents
Outdoor Valentine's Picnic for the Family
If you live in an area where an outdoor picnic is an option in February, definitely go for that!
Even if you just take the picnic into your own backyard, it's so much fun to be outside. There's the added bonus that kids who finish eating early and get bored can run around a bit before dessert.
Choosing a Location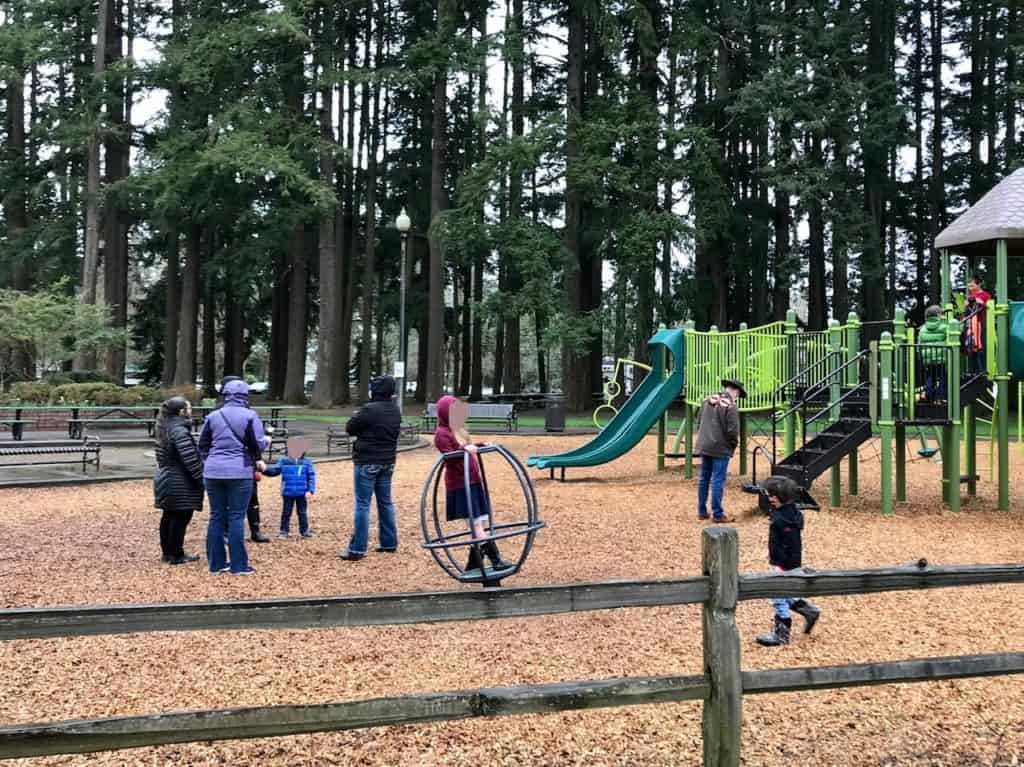 Pick a spot that is relatively quiet without a lot of foot traffic. It's hard to enjoy a picnic if you feel like every passerby is scoping out your spread!
For a family picnic, I would choose a park with a playground and some shade.
Supplies
For your outdoor picnic, I highly recommend a waterproof/ water resistant picnic blanket (or two for larger families).
You could also set out your picnic at a park picnic table and lay down an inexpensive plastic tablecloth first. Check your local craft store or grocery store for sales on these!
Pro tip: if you are planning to sit on a picnic blanket, you may want to bring a couple of camp chairs for the adults. Once the kids are done eating and off playing, you'll be glad to sit somewhere other than the ground!
A picnic basket or cooler works well for the food and drinks. Definitely bring unbreakable plates and cups, or use paper tableware!
We also include baby wipes for younger kids to clean up sticky fingers after the meal.
Indoor Valentine's Day Picnic for the Family
When you plan your indoor picnic, you'll want to consider a couple of things. First, will you us a picnic blanket on the floor for your spread, or will you set up on a coffee table or other suitable mini-table? Secondly, how will you seat yourselves comfortably?
Set Up Your Spot
If you're making a fun picnic for the kids, a washable sheet or blanket on the living room floor can be the perfect way to corral everyone.
Another option is to grab an inexpensive Valentine's tablecloth that is plastic on one side and fabric on the other.
Add some floor cushions or just standard pillows in washable pillowcases and you're all set!
For older kids, teens, or two adults, a coffee table and some foldable chairs may be a better option. Setting up the special food and drinks off the floor will help avoid spills too.
Valentine's Day Picnic Decor
A family Valentine's Day picnic can be simple decor with a traditional color scheme of reds, pinks, and purples. We use a paper plate or napkin with a Valentine's design because it looks bright and festive with minimal hassle.
We also let the kids cut out paper hearts for decorations, and string crepe paper streamers.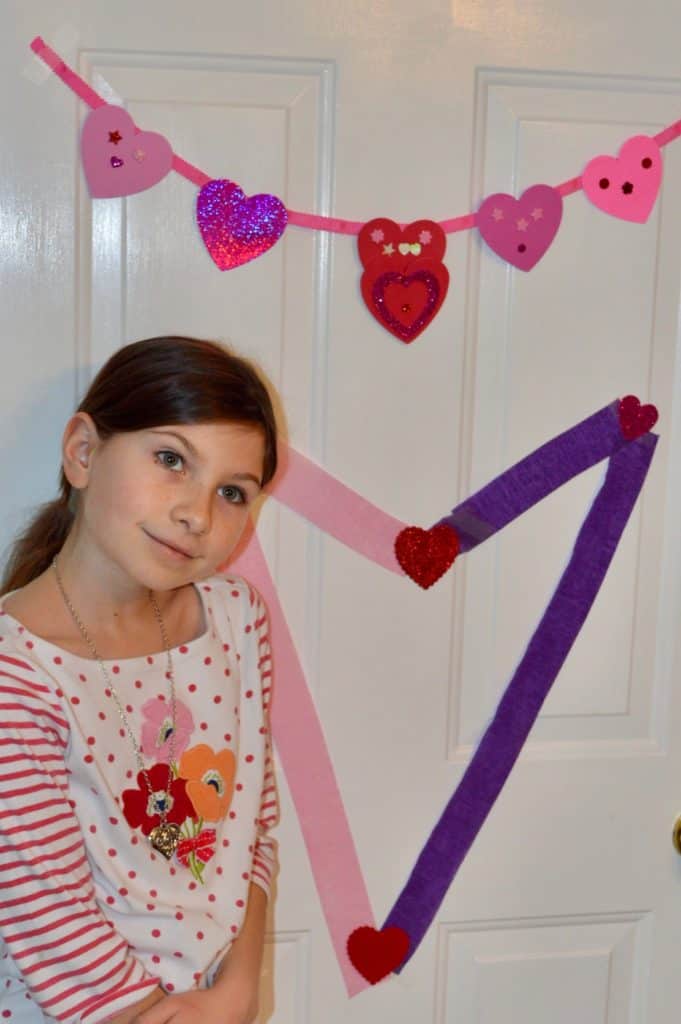 We love to use our flameless candles at special meals and enjoy a candlelit dinner. If you don't have candles, white Christmas string lights work just as well.
Foods for a family Valentine's picnic (kid-friendly)
Making the food for a Valentine's picnic can be a ton of fun for the kids! On the day before your picnic, grab a few heart-shaped cookie cutters and some red food coloring to make these fun treats.
Pink Sandwiches
If you have a local bakery, you can special order a Pullman loaf in pink (pullman loaves are sliced horizontally to make it easier to create finger sandwiches).
Or bake your own pink bread by adding a few drops of red food coloring and make pink sandwiches.
You can add your favorite sandwich fillings, or get creative by finding pink or red foods (ham and Swiss cheese, cream cheese with lox). Alternately, use the cookie cutters to create heart-shaped sandwiches.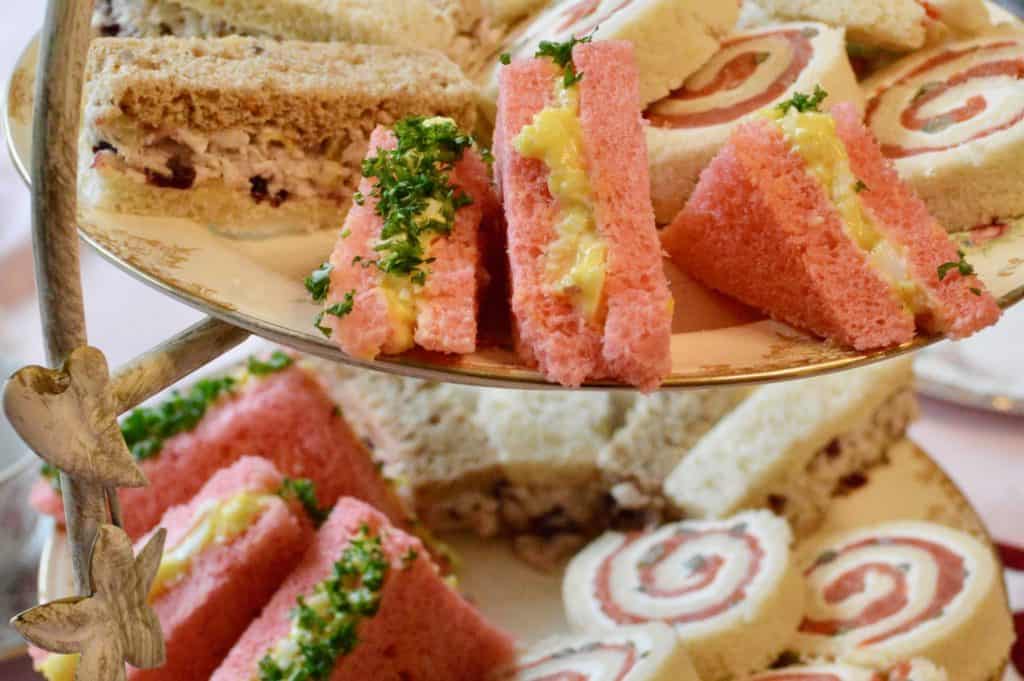 The ones shown below were created with Nutella and two different sizes of cookie cutter. The sprinkles were added before the top (smaller heart) slice.
Red fruits
It's easy to add some healthy foods to your Valentine's Day picnic— just go with red fruits or pink-colored berries. Apples, dried cranberries, strawberries, pomegranates, raspberries, lychee and goji berries are all great options.
Serve fruits alone, or add them to a charcuterie board spread. You can also cut watermelon into heart-shaped pieces.
Heart shaped foods
Around Valentine's day you can find lots of heart-shaped foods at your local grocery store, or simply make your own.
Cut sliced cheeses and deli meats with a heart-shaped cookie cutter, then arrange them in alternating rows.
Another good idea: arrange the standard slices in the shape of a large heart and put crackers in the center. If you're not confident in your heart-shaping skills, trace the shape before using kitchen string or wax paper (underneath) on the board.
Pink or red drinks
The possibilities for drinks are endless! We've added red food coloring to milk, or served strawberry milk. You can also serve red juice, pink lemonade, or strawberry/cherry soda for cold options.
Hot drink options include red raspberry hot tea, or hot chocolate with pink whipped cream or pink marshmallows on top. Red heart sprinkles are a special way to jazz it up too.
Kid-friendly Valentine's Desserts
Of course no list of Valentine's Day Picnic ideas would be complete without including some decadent desserts! Here's a few simple options for kids that can be made easily at home.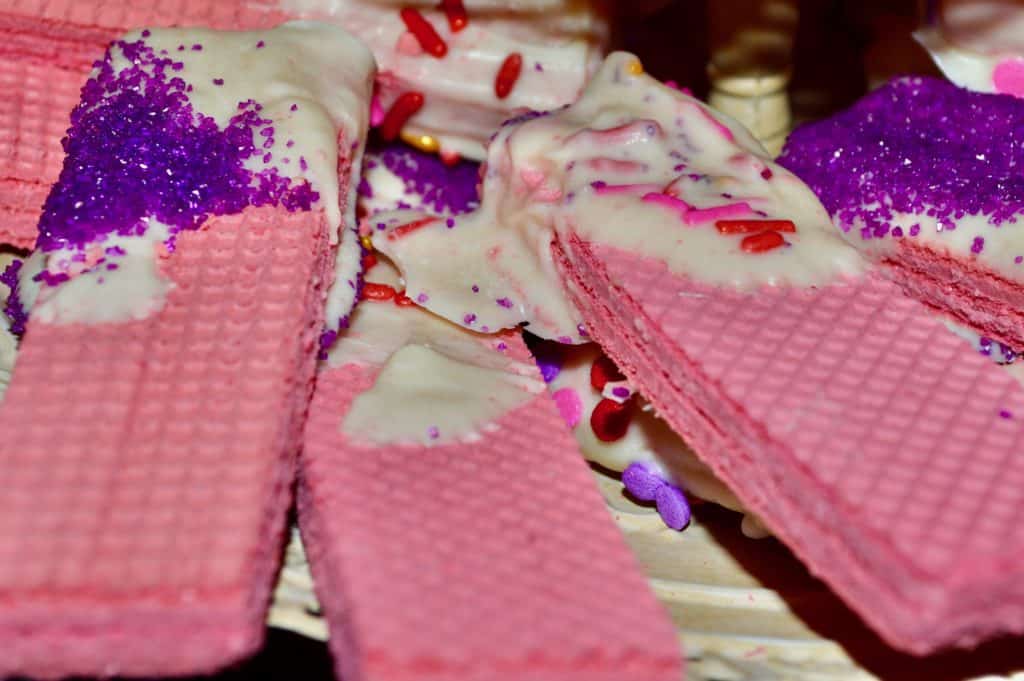 Chocolate covered strawberries
You can find chocolate-covered strawberries at almost any grocery store around Valentine's Day. They are also simple to make at home. We prefer ours made with dark chocolate, but use whatever kind your family likes.
Red velvet cake
This is a unique way to add some pizzazz to your standard chocolate cake. Use a red velvet cake mix, or just add some deep red food coloring to your family's favorite chocolate cake recipe. Spread with cream cheese frosting for a tasty end to your special meal.
Strawberries Chantilly
Strawberry and cream is one of the most heavenly combinations, and our friend Giangi shares this tasty and beautiful dessert that's perfect for a Valentine's Day picnic! Chantilly cream is delicious and simple to make at home. Grab the recipe for Strawberries Chantilly (along with some variations).
Romantic Ideas for the Two of You (Indoors)
An indoor romantic picnic is the ideal at-home date night for Valentine's Day.
As an introvert, I love a romantic dinner at home, and Valentine's Day crowds at a fancy restaurant give me the perfect excuse to stay in! Here's some tips to make the perfect Valentine's Day picnic inside.
Create ambiance
The first thing to do is cue the romance by lowering the lights and starting up the music. Candles or fairy lights make everyone look better, so go to town with lots of them. Sprinkle rose petals on the floor, picnic blanket or dining table.
Set up your bluetooth speaker and choose some romantic music. We love Spanish flamenco or big band swing, but you can often find a playlist specifically for romance.
Better yet, set up a playlist of your own sentimental music from your first date or your wedding day!
Create a setting that invites cuddling. Soft decorative pillows and snuggly blankets are a good thing to have a lot of for this special night!
Best Ideas for Picnic Food (for Adults)
Now that you've created the perfect ambiance, you'll want to match it with good food and drinks. It's perfectly fine to order in and simply plate the meal beautifully if you don't love cooking (or aren't good at it)!
Here's a couple of simple but elegant food ideas that are easy to pull together.
Bread, Oil and Vinegar
Grab a loaf of French baguette from the local grocery store and slice to desired thickness.
On a small plate, pour enough oil to spread over most of the plate (a few tablespoons should do it).
Pour a few tablespoons of balsamic vinegar onto the oil.
If you have some Italian herbs or salt and cracked pepper, you can sprinkle a little on top (optional).
Take turns dipping your bread in the oil and vinegar mixture.
Charcuterie Board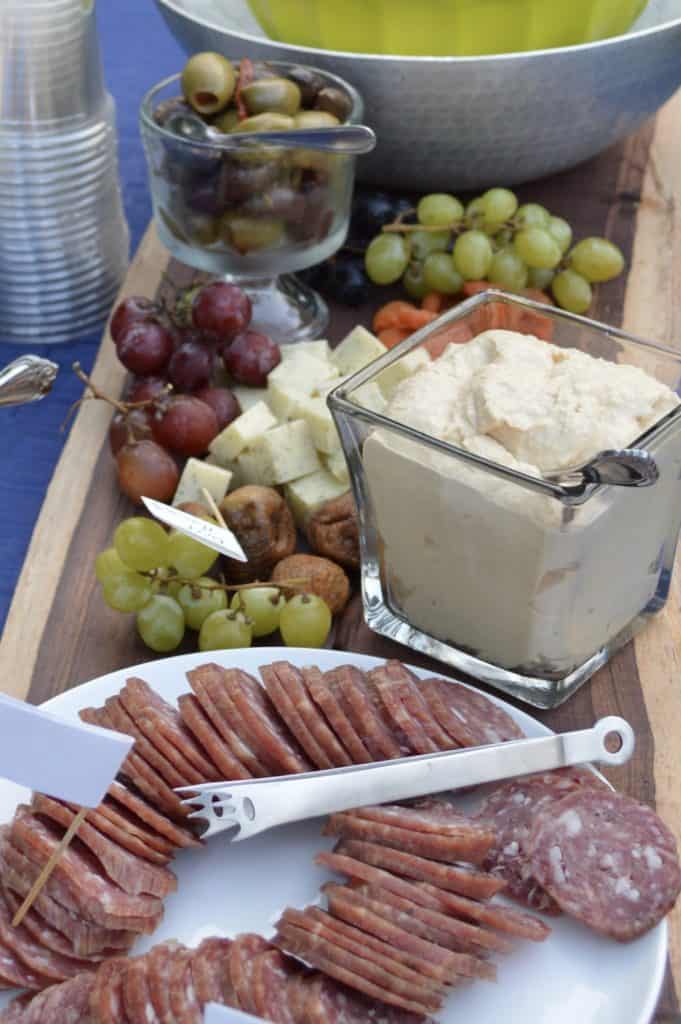 We love charcuterie, and experimenting with different cheeses, meats, fruits, nuts and other small bites. If you have a wooden cutting board, it can easily double as a charcuterie platter.
Choose three or four cheeses and set them out with a different cheese knife for each. Some favorites we like are Gruyere, Manchego, goat cheese with honey, and an herb-rubbed Fontal.
We add in one or two deli meats (you can often find pre-sliced packages that are perfect for charcuterie) and set them around the board artfully. Then we include a fruit (apples, pears, blueberries, grapes, dates) and some nuts or olives.
If you need ideas, Pinterest is a treasure trove!
Drinks and Dessert for your Romantic Night
Red wine is an excellent complement to cheese, and our favorites are malbec, syrah, or a Spanish red. You may prefer a red cabernet, merlot, Pinot Noir or even a rose'.
If you want something extra special, our friend Giangi has this amazing recipe for a Champagne Cocktail guaranteed to impress!
Sparkling water or berry-infused water are great substitutes for a non-alcoholic option.
For dessert, lava cakes or red velvet cupcakes are delicious and not too difficult to make yourself. Many stores carry one or the other if you're not a confident baker.
Of course, you can never go wrong with some fancy chocolates! Godiva, Ghirardelli, and Lindt are available nearly everywhere.
For those looking for something even more special, order some Moonstruck chocolate or See's candy online ahead of time!
Cheesecake is a great alternative for non-chocolate lovers. Grab one from your local bakery or the freezer section of your grocery store, or make it yourself.
Take it up a notch by sprinkling plain cheesecake with a little chocolate, strawberry, or caramel sauce and add some berries for color. Or you could create chocolate writing to add as decoration.
Outdoor Romantic Picnic Ideas for the Two of You (adults)
So you've decided to have your romantic Valentine's Day picnic outside, now you need to choose the perfect spot. A couple suggested locations:
A great view: a lake, river, creek, or the ocean is always a win
A favorite spot that is significant for the two of you: maybe your favorite park, or a place you had your first picnic together
A beautiful picnic spot: a garden or arboretum
Quick hack: be sure to check the location's guidelines so your picnic isn't shut down by a security guard! Some places may not allow picnicking.
Planning the setup
The next thing you'll need to figure out is how and when to set up. Are you planning to surprise your beloved, or will you set up together?
If it's a surprise, is your location secluded enough to set up the picnic and leave it unattended? Will you need a friend to watch it and then quietly disappear when you and your lover show up?
Will you need to ask your love to meet you there, or will you arrive together and ask your loved one to explore the area on their own while you set up? That's what Brian did for me one memorable day.
Our story: my favorite romantic picnic
My husband Brian proposed to me at a picnic he set up on the bluffs in San Simeon, California. He snuck everything for the picnic into the car trunk, and only told me that he had planned a special day.
Then he drove me 5 hours up the coast and set up. I was busy enjoying the views and taking pictures while he laid everything out.
When he said he was ready, I turned and found him on one knee!
Of course I said yes, and then we enjoyed the wonderful picnic he had prepared in the romantic setting of the ocean bluffs.
Details for an Outdoor Valentine's Day Picnic
For an outdoor Valentine's picnic, many of the same ideas described in the indoor picnic sections above are easily adapted for an outdoor picnic.
Picnic blankets, cushions that can be used outside, or a small foldable table and chairs will be helpful.
A beautiful picnic basket or cooler stocked with foods that are prepared ahead of time will make it easy to enjoy your special meal. Cloth napkins and real cutlery, plates, and glasses would be best for a romantic picnic.
One final note: check the weather before you set up at your spot. It won't be much of a romantic meal if you get rained out!
Outdoor picnic food considerations
Almost all of the food ideas listed previously work well for outdoor picnics too. Simply prepare foods the day before so that you only have to bring what you absolutely need.
The next day you can pack the foods into your cooler or basket and go to your picnic spot to set up. Before you go, check to make sure you have what you need to serve the food.
More than once we've planned a picnic and wanted to have a glass of wine with our picnic, only to realize we didn't have a corkscrew to open the bottle! Another time we planned to have French bread and cheese, then realized we had no bread knife to cut the loaf.
For dessert and drinks, individual servings are great options for an outdoor picnic. Cupcakes, cookies, pudding cups, or chocolates are easy and fun.
Memorable and Unique
I hope these Valentine's Day picnic ideas spark your imagination! If you need even more ideas, check out my Valentine's Day board on Pinterest where I've collected even more tips.
If you need even more ideas for a special date, check out our 50+ date ideas for married couples.
© Copyright Jennifer D. Warren 2022.