I love looking at old buildings with interesting architectural features! The Magnolia Grill has a prime location on the ground floor of the Silverton Inn and Suites— a historic and beautiful building in the heart of downtown Silverton, Oregon. So when my husband asked where I wanted to go for dinner on a recent date, the Magnolia Grill was my first choice.
This post contains affiliate links. As an Amazon Associate I earn from qualifying purchases made from the links on this site, at no extra cost to you. Thanks for supporting our family business!
Table of Contents
(This is a non-sponsored review, and the Magnolia Grill was not notified that we would be reviewing their restaurant. As always, all opinions are our own.)
We arrived on a below-freezing January evening around 6:30 pm. It was a clear evening, and the stars and sparkly lights all over the Inn invited you to stop and admire the view. Brian and I were out for a date without the kids, and the romantic lighting was a promise of a beautiful and quiet evening.
Atmosphere at the Magnolia Grill
The Magnolia Grill's covered patio and entryway make the restaurant look much smaller that it actually is. The door we entered was right near the bar, but the server took us through to the main dining room and seated us in a booth.
The main dining room has a high ceiling, giving a spacious feel. The string lights up in the front tower windows and the huge stone fireplace reminded me of an old ski lodge.
However this was softened by the booths and the quiet music, which conveyed a cozy and intimate atmosphere.
It was a Thursday evening, and while there were several parties dining, the place was not crowded.
Starters
I ordered my standard drink, a lemon drop martini, which arrived promptly and was entirely satisfactory. We also ordered the queso fundido appetizer.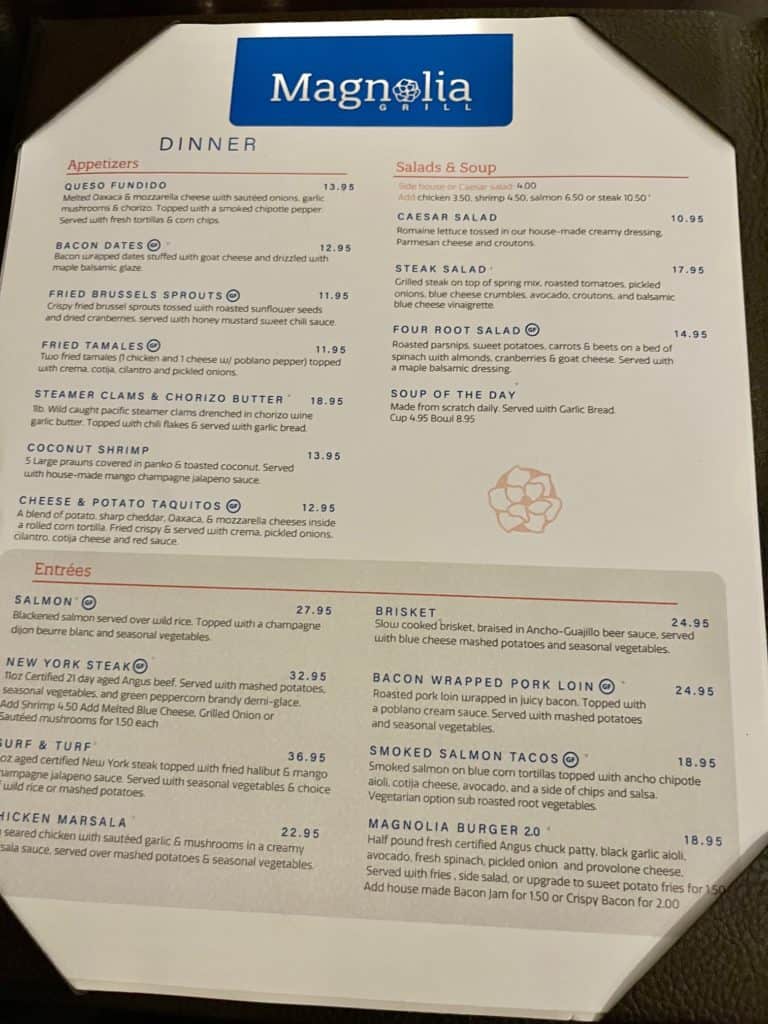 When the queso fundido arrived, it was sizzling hot— the edges were bubbling with hot melted cheese oil! The server warned us not to touch the cast iron serving dish. I waited as long as I could, but then grabbed a fresh chip and tried to dig in.
I say "tried" because the cheese was so melty and sticky that getting it our of the pan required some work with the fork. But wow, was it worth it! The queso fundido was amazing!
Smoky and slightly spicy, the flavors of chipotle and mushroom melded together perfectly. I felt like I could eat this classy "Mexican fondue" for dinner by itself, and I momentarily regretted having ordered an entree. Brian particularly enjoyed the homemade tortillas, while I scarfed down the chips.
We balanced the richness of the cheesy queso with occasional bites of Brian's house salad. The greens were fresh and crisp. However, what really made the salad shine was the balsamic blue cheese vinaigrette. The vinaigrette dressing was tart, yet perfectly balanced in flavor.
Entrees at the Magnolia Grill
I had ordered the Brisket braised in Ancho-Guajillo beer sauce. It was served on top of blue cheese mashed potatoes with broccolini on the side. We were still finishing our appetizer and salad when my entree arrived.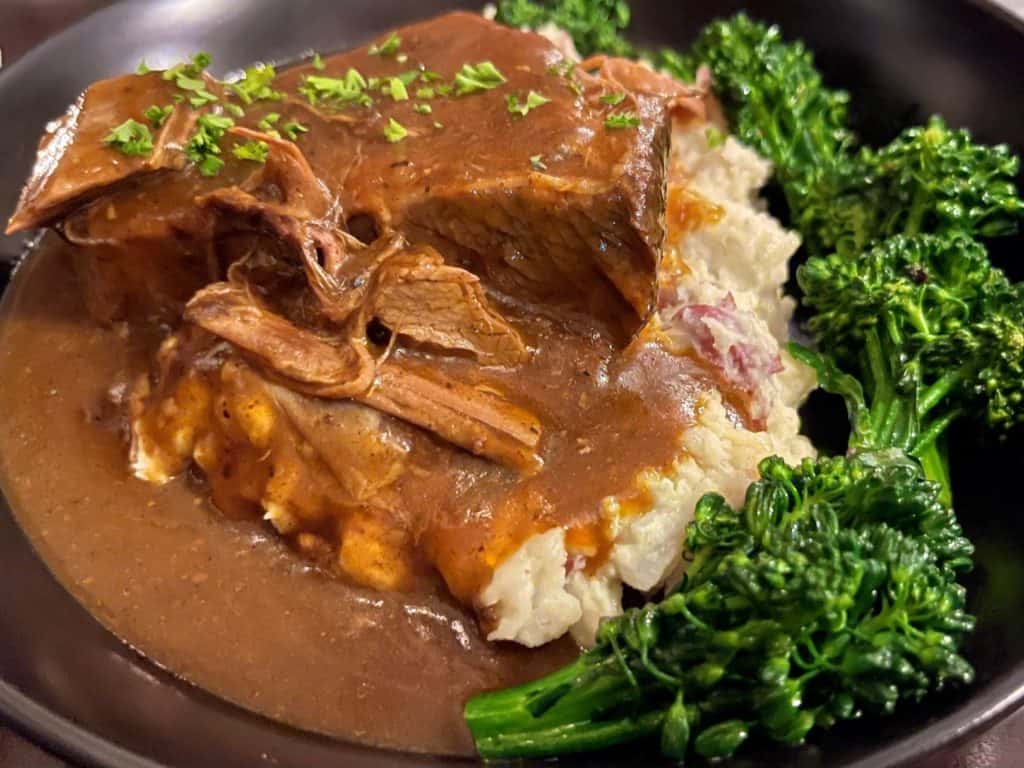 I went at the slow-cooked brisket with my fork, and it just peeled apart. So tender! And the beer sauce had just a hint of tangy spice from the chilies that made it difficult to put down my fork. This was grown-up comfort food— refined, flavorful and warming you up from the inside.
Then I tried the mashed potatoes. Honestly, I did not expect much— they're ho-hum, boring mashed potatoes, right?
Nope. The blue cheese mashed potatoes were so good I almost wanted to cry! My mouth relished the buttery, savory cloud of fluffy warmth. I could not get enough of them.
Local flavor
By this point I had finished my drink and felt like branching out a bit. I ordered a marionberry lemon drop.
For anyone not from the Pacific Northwest, marionberry is a locally grown varietal hybrid of raspberries and blackberries, named after Marion County, Oregon, where it was developed. It's widely available in Oregon cuisines.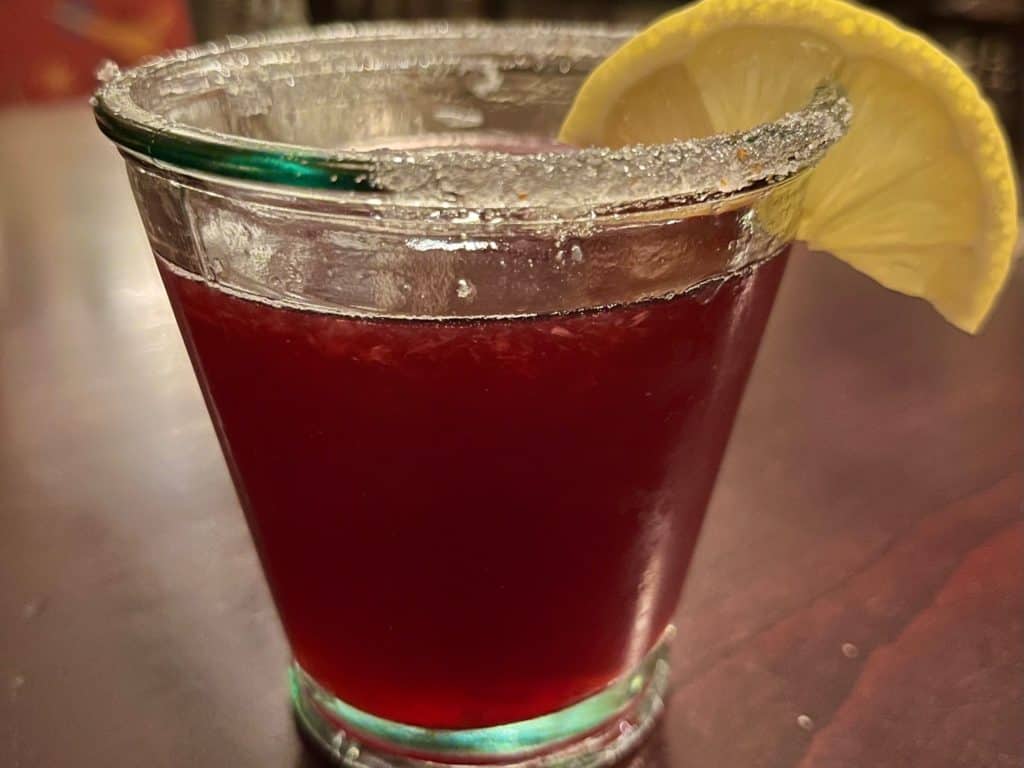 The marionberry took the lemon drop martini from good to excellent. I was living my best life going from the smoky queso fundido, then a few bites of savory brisket and potatoes, then a tart sip of the lemon drop. What a fantastic dinner!
Brian had ordered the smoked salmon fish tacos as his entree. We both tried them. The tacos were served chilled, with excellent ingredients. When you take a bite, you first taste the blue corn tortillas, then the sharp cotija cheese, then the strong smoky salmon.
We agreed that the fish tacos were clearly well made, but we didn't enjoy them as much as the other dishes.
Dessert for Two
I always ask to see the dessert menu, even when I have no intention of having dessert. After the amazing meal, I knew I didn't have room to eat dessert, but I couldn't resist checking out the offerings. Cheesecake, carrot cake, flourless chocolate torte, and a bread pudding were available.
We requested the flourless chocolate torte and the carrot cake in to-go boxes.
The server brought the dessert quickly, and immediately began clearing the table. I had not noticed the closing time, but as we gathered up our coats I saw that we were the last customers. It felt as though we were being hurried out.
We strolled down the street for a few minutes, then headed home. After settling kids into bed, we opened up our desserts to enjoy while watching the latest Boba Fett (Star Wars) episode. I confess, I felt a little disappointed opening the chocolate torte box – that slice seemed pretty tiny!
I soon found out why. The flourless chocolate torte was so rich that the two of us barely finished that small piece! Smooth, dark chocolate with an almost fudge-y texture, it was phenomenal.
I had high hopes for the carrot cake, and eagerly bit into it. Alas, it had a bit too much spice in it. Not sure if it was nutmeg, or ginger perhaps, but I prefer my carrot cake a bit sweeter and with a cream cheese frosting.
Brian thought it was fantastic, though. In his words, "The less it tastes like carrots, the better!" 😂
Final Notes in our Magnolia Grill Review
The Magnolia Grill is exactly what you want for a romantic date. The atmosphere is intimate without being awkward. The food was high quality and delicious, without being so fancy that you wonder what exactly you're ordering.
The location in downtown Silverton means that whether you're enjoying lunch or dinner, you can also enjoy a leisurely stroll in town with your date. It would be a great place to wrap up your day of exploring at Silver Falls State Park.
We definitely plan to return to the Magnolia Grill soon, particularly to try their Sunday brunch menu. Or perhaps next Valentine's Day… they have some holiday special menus that look amazing!
More excellent restaurants in Silverton
If you're in the mood for more Silverton restaurants, we've tried over a dozen in the Silverton/ Salem region. Find great burgers made with local beef and served with craft beers at the Silver Falls Brewery Ale House, or a short drive from Silverton at the Markum Inn. Akatsuki Sushi offers fresh Japanese cuisine with a view of Silver Creek, and The Noble Fox is the perfect spot to enjoy after work drinks with friends.
© Copyright Jennifer D. Warren 2022