Chaotic good, tiefling, botch— if you recognize these phrases, chances are you have been around Dungeons and Dragons players!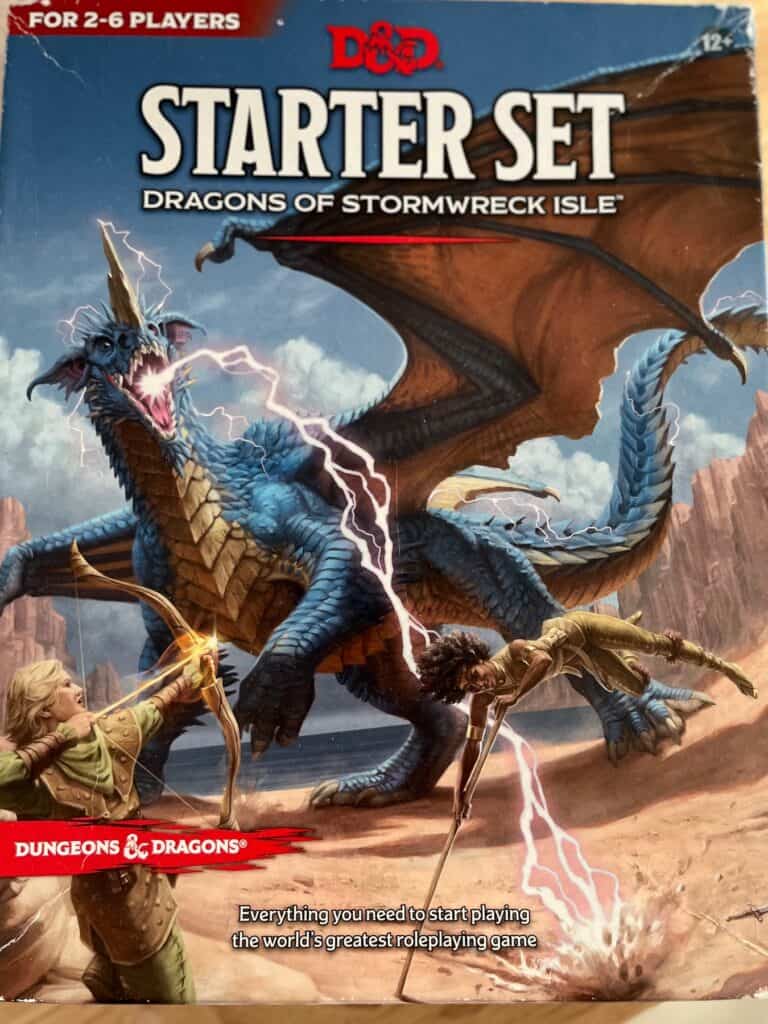 Our teen daughters started playing Dungeons & Dragons in the last year, and quickly became fans. But understanding what gifts D&D players will appreciate can be confusing for non-players (me). So I asked my youngest daughter (who is a Dungeon Master) to help me come up with a list of gifts for dungeon masters (DMs).
TL;DR: Our full list of Dungeons and Dragons gift ideas is available to browse on our Amazon Storefront.
In this gift guide, we'll share captivating D&D gifts that will delight DMs and take their storytelling to new heights. From map-making tools to miniatures, from innovative dice sets to campaign setting books, we've got everything a dungeon master could want. Plus we've included some fandom merch and fun gifts that add a touch of whimsy to their game night.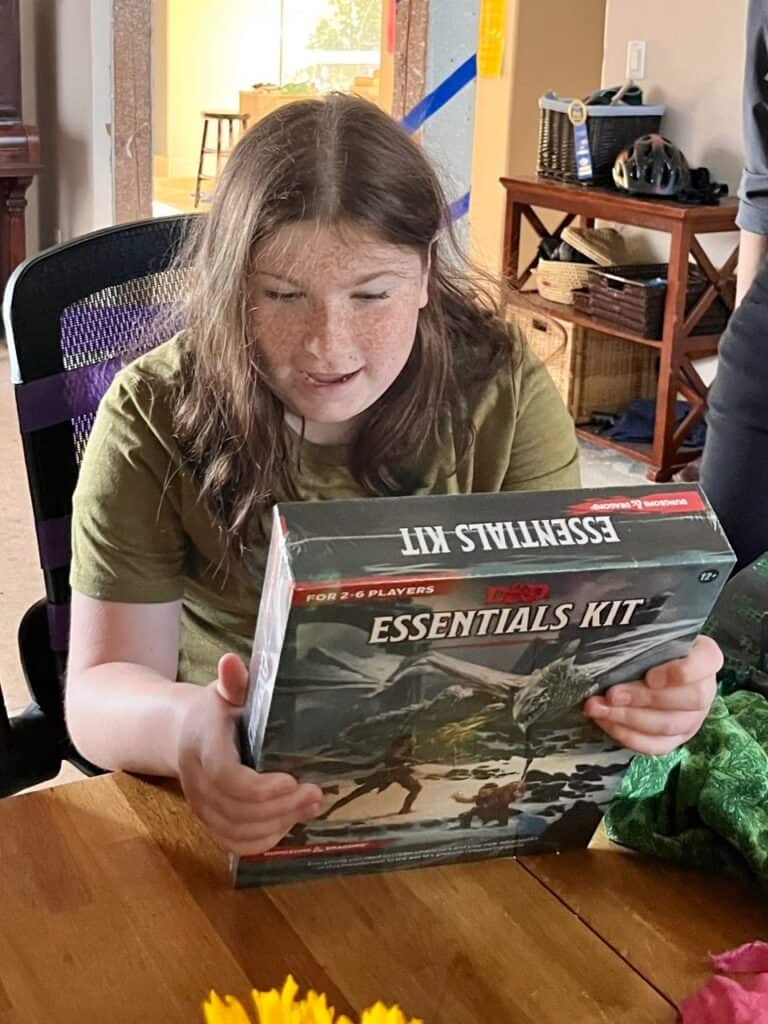 This post contains affiliate links. As an Amazon Associate I earn from qualifying purchases made from the links on this site, at no extra cost to you. Thanks for supporting our family business!
Table of Contents
Campaign Setting and Adventure Books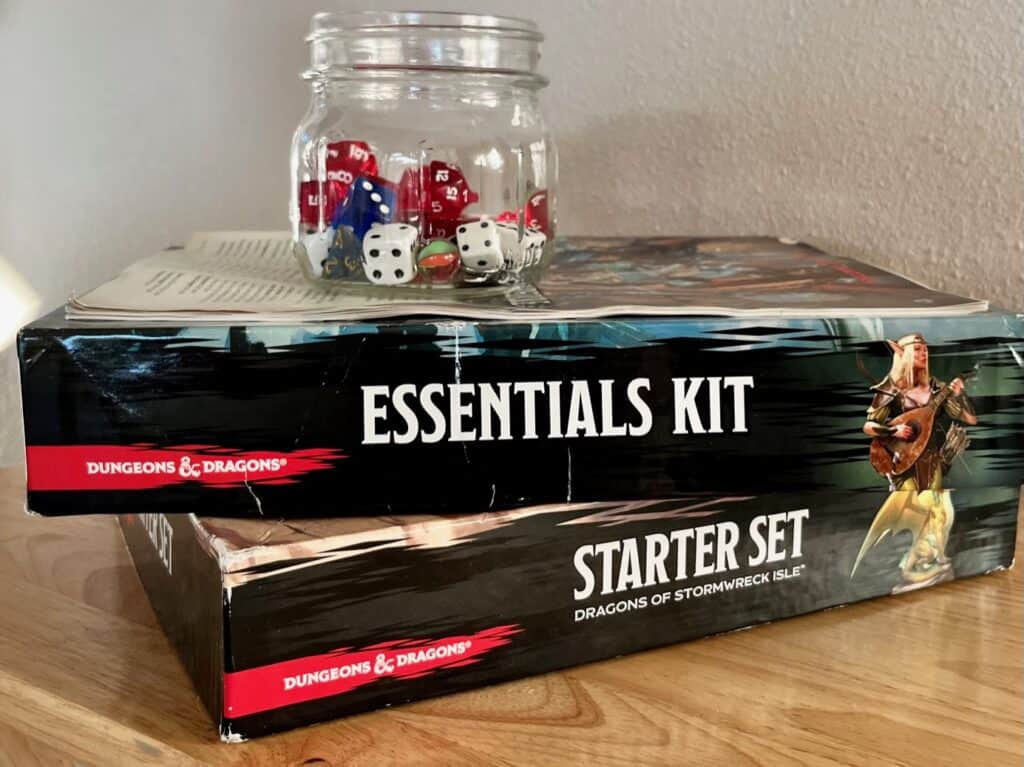 Campaign books provide dungeon masters with a pre-designed setting, complete with detailed locations, characters, and quests. These books serve as reference material, taking the burden off dungeon masters to create everything from scratch.
From classic fantasy settings to futuristic sci-fi worlds, a new campaign book is a great gift idea for your favorite D&D lover.
1. D&D Essentials Kit (Dungeons & Dragons Intro Adventure Set)
If your Dungeons and Dragons player is just getting started and has nothing at all, this is the set to begin with. It's what we got our girls when they first expressed an interest in playing D&D.
2. D&D Starter Set: Dragons of Stormwreck Isle
This is another great beginner set for new D&D players. It allows them to build some skills and experience.
3. Phandelver and Below: The Shattered Obelisk (Dungeons & Dragons Adventure Book)
4. Keys From the Golden Vault (Dungeons & Dragons Adventure Book)
More Campaign Tools
In addition to campaign books, there are several other things a DM needs to enhance their storytelling. One such tool is a DM screen, which acts as a barrier between the dungeon master and players, hiding notes, maps, and secret information.
These screens often come printed with useful charts, tables, and reminders as well.
5. DND DM Screen 5e, D&D Dungeon Master Screen 3D Faux Leather 4 Panel Game Master Screen with Customizable Inserts
I'm loving the embossed images on this screen! Any dungeon master would love to upgrade their standard screen to this faux leather version.
6. DND DM Screen 5e – D&D Dungeon Master Screen Full Color Print with Customizable Inserts – Dungeons and Dragons GM/Game Master Accessories
7. Stratagem The Master's Tome 4-Panel Customizable GM Screen with Free Inserts – Dry Erase, Dungeon & Game Master Accessory for Tabletop RPG Campaigns (Black)
This DM screen comes in several different colors and allows your Dungeon Master to write and wipe it off for each new campaign.
A campaign planner or journal can be the perfect tool for your dungeon master. These specially designed notebooks provide space to jot down ideas, keep track of character sheets and background information, and sketch out maps or diagrams.
8. DND Notebook / Journal, Unique 200 Page Book with 3D Bronze Dragon Embossed Faux Leather Cover with Pen- Ideal for Dungeons & Dragons
9. DND Campaign Journal with 3D Cthulhu Embossed Leather Cover
I don't even know what a Cthulhu is, but this cover is fascinating!
10. Call of the Raven Storm Campaign Notebook
This is a super basic version, but that makes it easy to buy several copies for different campaigns.
11. DnD Campaign Builder: (300 pages)
This would be great for a more advanced D&D player who wants to design their own campaign from the ground up.
Some other good gifts to help dungeon masters include: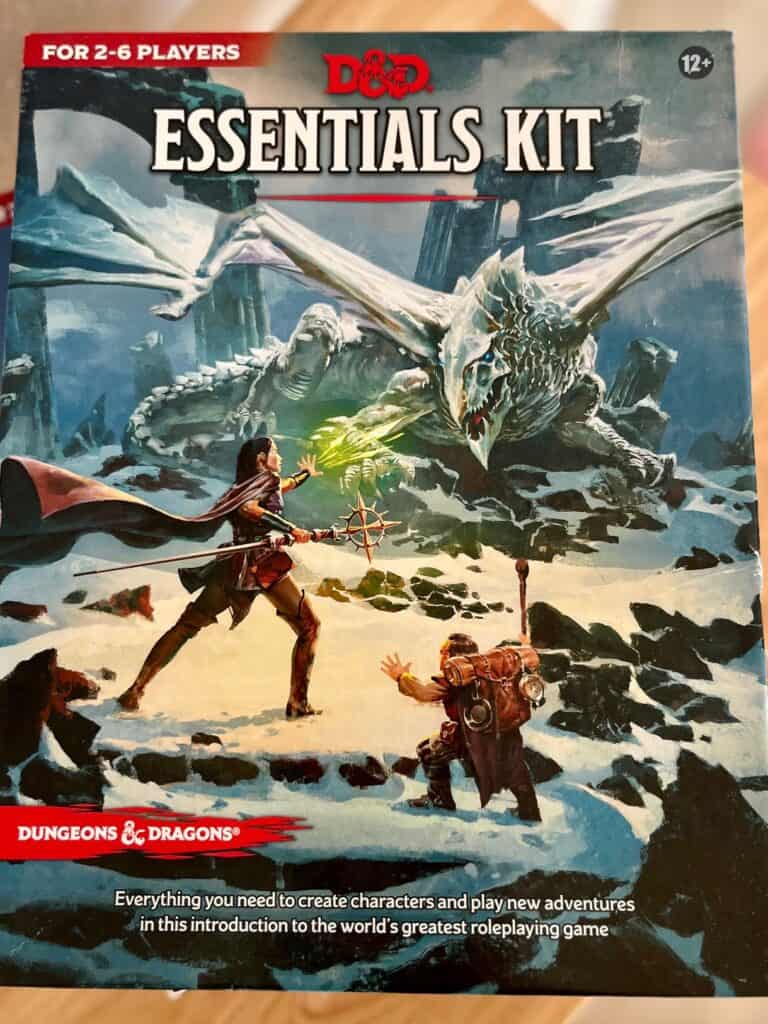 12. Dungeons & Dragons Core Rulebooks Gift Set
This is a classy, bound set of the books and includes a unique DM screen as well.
13. Dungeons & Dragons Spellbook Cards: Monsters 0-5 (D&D Accessory)
14. Dungeons & Dragons Spellbook Cards: Epic Monsters (D&D Accessory)
15. Dungeons and Dragons Spellbook Cards Bundle (8 Items): Cleric, Druid, Bard, Martial Powers & Races, Paladin, Ranger, Arcane, and Xanathar's Guide to Everything Decks
16. Spellbook Cards: Arcane (Dungeons & Dragons)
17. The Practically Complete Guide to Dragons (Dungeons & Dragons Illustrated Book)
This book does double duty as a tool for D&D game players, and a book that any dragon lover would also enjoy! NOTE: we have another gift guide specifically for dragon fans.
18. Places & Portals (Dungeons & Dragons): A Young Adventurer's Guide
This book is designed for beginners who are new to D&D.
19. Mordenkainen Presents: Monsters of the Multiverse (Dungeons & Dragons Book)
Intricate Map-making Tools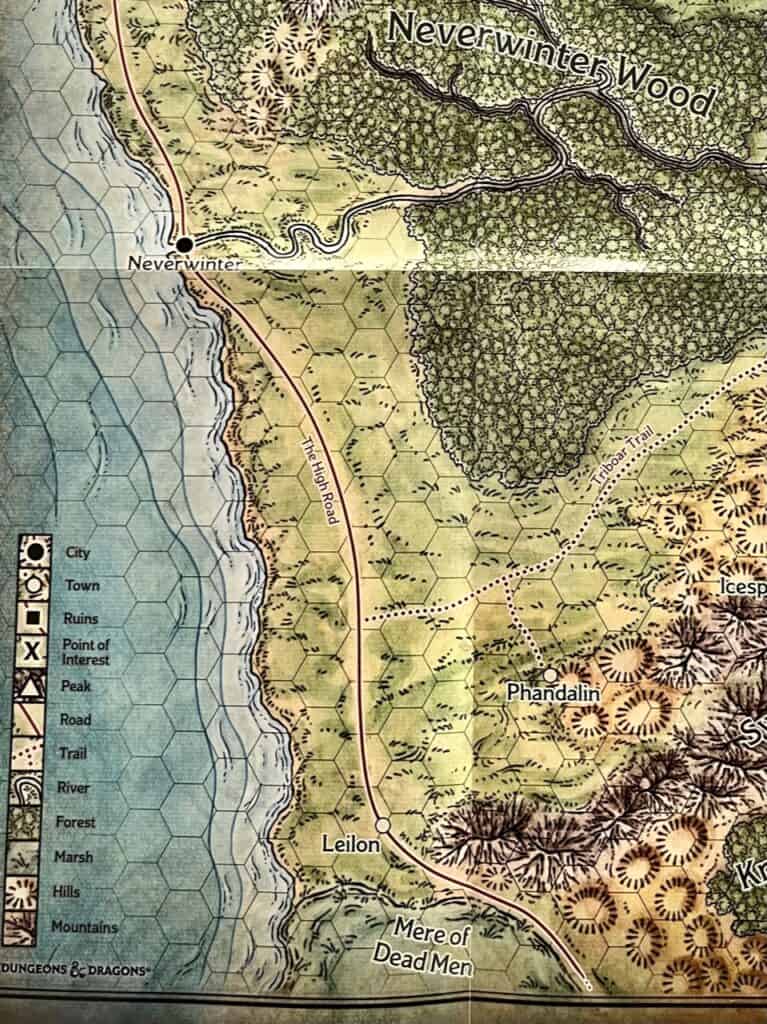 When crafting a fantasy world for their tabletop game, dungeon masters are faced with the task of bringing their imaginative landscapes to life. Map-making tools will help them to depict the terrain, landmarks, and hidden treasures that await their players.
20. CZYY DND Foldable Mat Dry Erase TTRPG Map Grassland & Desert Two-Sided Cardboard Terrain 27×23 Inches with Square Grid
21. Tidyboss Dungeons and Dragons Starter Set | 3 X Double Sides 24x 36 Game Grid Mat
Immersive Miniatures and Terrain
Immersive miniatures and terrain make great gift ideas as well. With detailed miniatures and terrain tiles, dungeon masters can create realistic landscapes which adds a tactile element to the tabletop experience.
22. Battle Game Mat for DND – Tabletop Board Game Map for Dungeons and Dragons – Perfect Set for Starters and Masters
23. Tavern Bar Furniture Set DND Terrain 28mm for Dungeons and Dragons
24. CZYY Fantasy Miniatures 2.5D Wood Laser Cut Figures 28mm Scale 6PCS Starter Set Perfect for D&D, Dungeons and Dragons
25. DND Metal Coins Set of 60 with Leather Pouch
26. EnderToys Mausoleum Graveyard Scene – Miniature Terrain Set – 28mm Scale Scenery
Designing dungeons with secret passages, traps, and unique architecture becomes a breeze. The ability to physically place miniature characters and props in just the right place opens up new possibilities for random encounters and captivating narratives.
27. Tavern Terrain Wood Laser Cut 3-Level Fantasy Inn Battle Map with 1″ Grid for D&D
28. 3D RPG Miniatures Ship Wood Laser Cut, 3-Level with 1″ Grid Battle Terrain Map Perfect for D&D
29. Dungeon Brick Walls (Set of 16) Wood Laser Cut 2″ x 1″ 3D Modular Terrain Tiles 28mm Scale
30. 15 DND Healing Potion Tokens
31. The Dragon's Hoard: 60 Real Metal Fantasy Coins with Leather Pouch
32. Newcombie 29 Heroic Townsfolk Fantasy Miniatures for DND
33. 28 Painted Fantasy Mini Figures- All Unique Designs- 1″ Hex-sized Compatible with Dnd
34. Stratagem 49 Hand-Illustrated Colorful Fantasy Tabletop Role Playing Game| DND 5e|The Deck of Many Things & The Deck of Many Fates
35. Game Master's Merchant The Deck of Many Things | Compatible with Dungeons and Dragons (D&D) Fifth Edition
36. DND Miniatures Condition Markers – 96 Rings to Track 24 Different Status & Spell Effects
Innovative Dice Sets
According to my daughter, you can never have enough dice! Dice are an essential component of any tabletop role-playing game, and DnD games require at least one full set of polyhedral dice.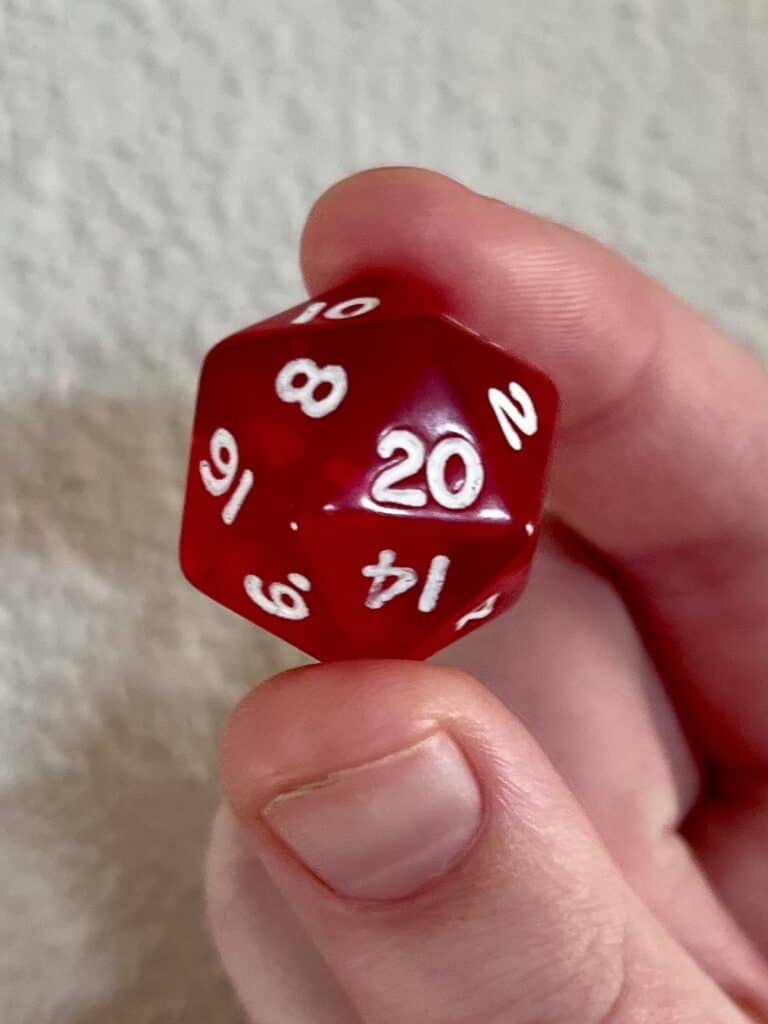 However, dungeon masters know that the right set can enhance the overall experience for both themselves and their players. DnD dice sets come in dozens of different colors, materials and designs, and DnD players often enjoy collecting different dice.
37. Cttasty DND Dice Set Resin Sharp Edge Dice Set Handmade 7pcs Polyhedral Dice Set
38. KERWELLSI Dungeons and Dragons Dice with Box, Metal DND Dice Set, 7 Piece D&D Dice Set
39. Giant D20 Metal Dice Bronze Blue for Call of Cthulhu
40. CREEBUY DND Dice Set Dark Blue Mix Black Nebula Dice for Dungeon and Dragons
41. Haxtec Galaxy DND Dice Set Sharp Edge Dice with Dice Case Handmade Yellow Black Resin D&D Dice Set
42. 6 Sets DND Dice Polyhedral Dice Dungeons and Dragons Rolling Dice
With Christmas coming soon, I'm thinking this set would make perfect stocking stuffers for my kids – even the younger ones who don't play D&D love colored dice! This would also be ideal party favors for a D&D game night or birthday party theme.
43. KERWELLSI Metal DND Dice Set, Green Dungeons and Dragons Dice with Box
These stunning metal dice are not only visually appealing, but the metal rolling around in your hands with each dice throw is "sensory-good" (as my oldest daughter with ADHD says). I could see these making a fantastic fidget alternative.
44. Haxtec Bloodstained Metal DND Dice Set
Dice Accessories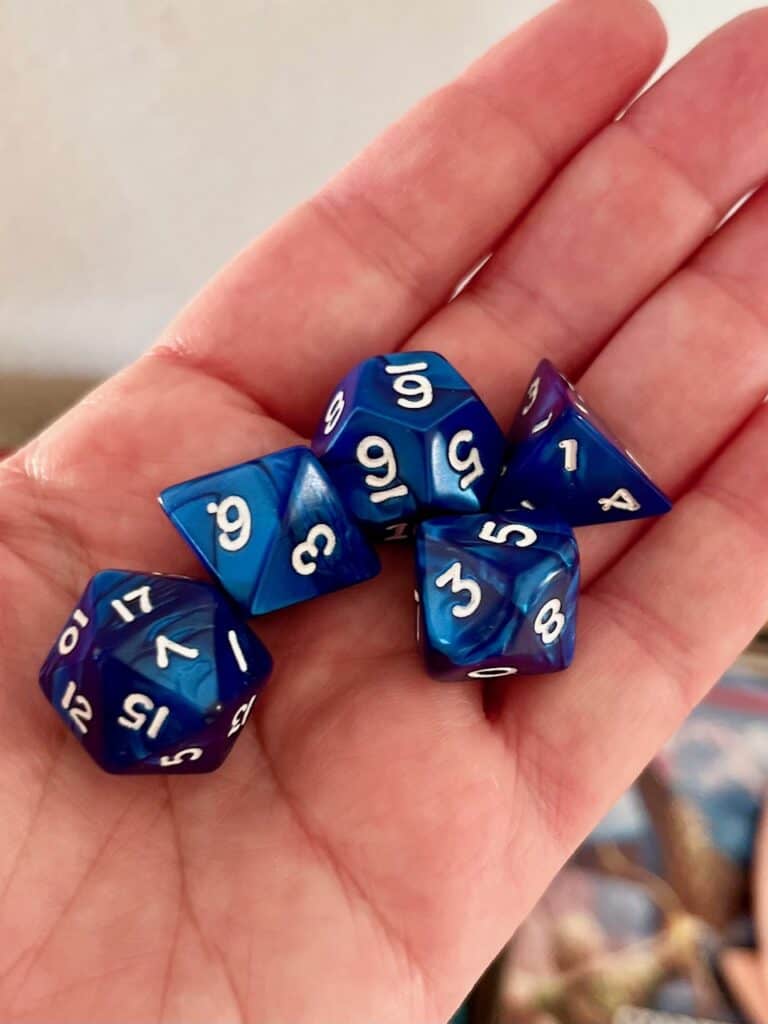 I didn't even know dice accessories were a thing until my daughter started telling me about them! There are so many fun things to give your D&D dice collector, from a dice tower (for randomized rolls), to a good dice tray, to a dice vault for storage.
45. JstFrU DND Dice Tower with Tray for Role Playing Game,Dungeons and Dragons
46. AUSPDICE Dice Rolling Tower and Tray Retro Castle Mold Color
47. ZenPath Portable Dice Tower and Tray with Non-Scratch Felt Lined Rolling and Velvet Surface
48. FOXBITE Dice Tower for Dungeons and Dragons Tower with Tray Wood Laser Etched DND
49. SIQUK Large Dice Bag with Pockets Drawstring Dice Bag DND Dice Storage Bag
50. MunnyGrubbers – Dragon's Hoard Dice Tray – (Random 7pc D20 Dice Included)
51. STYLIFING Dice Tray Metal Dice Rolling Tray Holder Storage Box for RPG DND Table Games
52. LYNX DND Dice Jail – Time Out Chair & Dunce Hat Punish Your Bad in Our of Shame Accessories
This gift idea made me laugh out loud! Apparently players get a kick out of "punishing" dice that come up with bad numbers??
53. MunnyGrubbers – Dice Jail Cage – Time Out Chair & Dunce Hat – Chair of Shame – Crit Crown & Lucky Throne
54. DND Dice Jail, Dice Jail D&D, Time Out cage, Punish Your Bad Dice in Our Cage of Shame
55. Toy Vault 20-Sided Dice Storage Treasure Box, D20-Shaped Dice Storage Container
56. Galdor's Guild Mimic Dice Chest Storage Box | Free Lock & Key
Fandom Merch and Fun Gifts for Dungeon Masters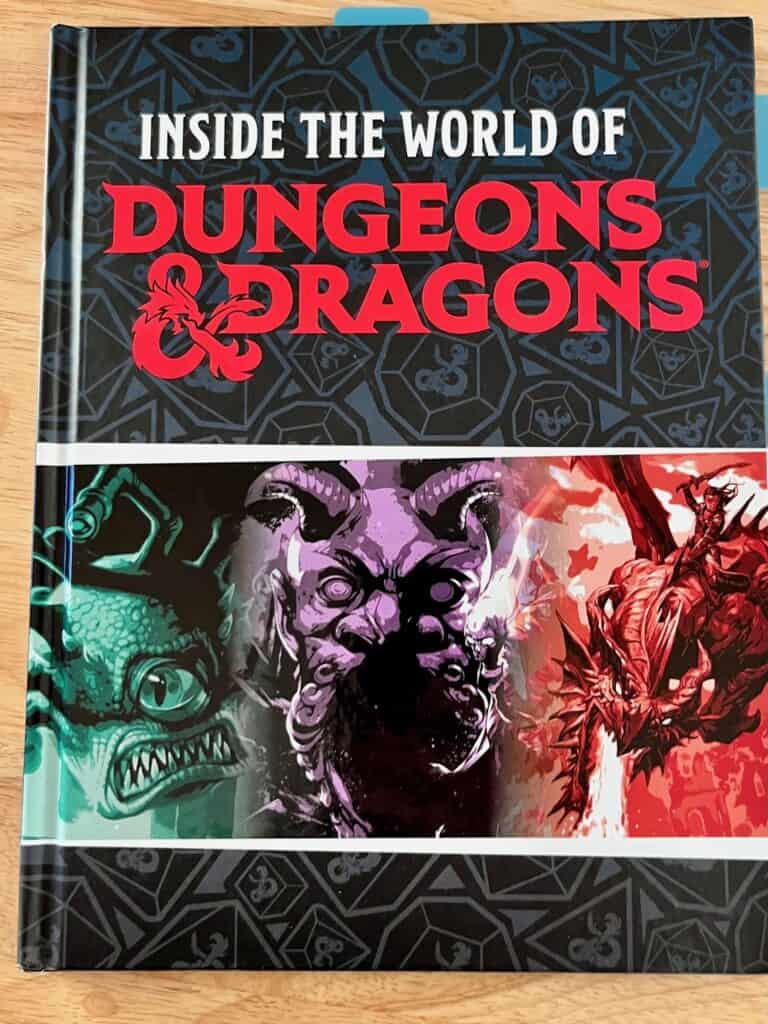 Fandom merch and fun gifts are a great way to celebrate your player's love for the world of Dungeons & Dragons. From clothing and accessories to collectibles and games, you're sure to find an amazing gift for anyone.
57. Rustic Retro Metal Tin Sign – Dragon My Four Moods Metal Poster Plaque
58. Funny Mugs, LOL D&D Stats Mug – Sarcasm 11oz White Ceramic Coffee Mug
59. HOUVSSEN Definitely Not A Mimic Poster DND Posters
60. Cute Dragon Dice Dungeon RPG Case – Compatible with iPhone 15
61. Tears of My Players Mug for Dungeons and Dragons Party Gifts for dnd Lovers DM Wooden Beer Mug 17oz
62. Dungeons And Dragons Sign Dragon Wall Art
63. Potion of Awakening D20 Tumbler 20oz
64. Dungeons and Dragons Dragons in Dragons Silky Touch Super Soft Throw Blanket 50″ x 60″
One popular choice among DMs is clothing that showcases their role as the storyteller. T-shirts, hoodies, socks and hats with D&D slogans or imagery from the game can instantly create connections with fellow fans.
65. Dungeons & Dragons What Doesn't Kill You Gives You XP T-Shirt
66. Funny Baseball Hat Fashionable Vintage Baseball Cap
67. Hyp Dungeons and Dragons D&D Logos Socks
68. Bioworld Dungeons & Dragons Printed Red Crew Socks for Men
69. Because I'm The DM That's Why T-Shirt
70. Choose Your Weapon Dice Pullover Hoodie
71. Dungeons & Dragons Dragon Ampersand Logo Pullover Hoodie
72. Dungeons & Dragons If Master Smiles, Already Too Late T-Shirt
I bought this shirt for my daughter's birthday, and it was quickly appropriated by another sister!
For those who enjoy the tactile experience of physical objects, collectibles and miniatures make ideal gifts. Many of the miniatures also offer opportunities for custom items and paintwork, allowing every dungeon master to personalize their collection.
73. Wildspire Fantasy Miniatures w/Huge Dragon for DND Miniatures Monsters DND Accessories 28mm
74. Wildspire 36 Spellblades & Enchanted Objects – Characters & Animated Objects for DND Miniatures 28mm
75. NECA Dungeons & Dragons: Nolzur's Marvelous Unpainted Miniatures: Beholder
Hero Forge – great personalized gift!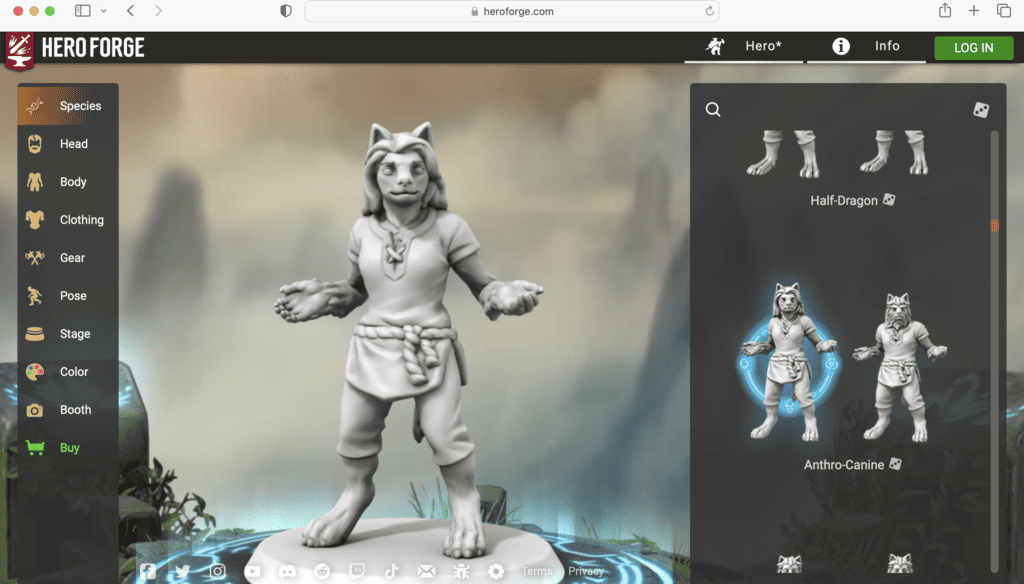 If you're looking to wow your favorite dungeon master this holiday season, we've found the most amazing gift. Get them a gift card for Hero Forge, a website that allows your Dungeons and Dragons player to design and purchase a custom figurine of their character!
Digital gifts for D&D players
Besides the tabletop game, there are many online options for dungeon master gifts. The D&D Beyond website is a great resource for players, allowing them to engage with other D&D fans in an online platform. A subscription to this site would be a fantastic and practical gift for solo players who can't always find friends to game with.
Even more gift ideas
Lastly, let's not forget the many board games and card games inspired by Dungeons & Dragons. Themed board games, decks of collectible cards, and even a card game version of D&D can provide hours of entertainment for dungeon masters and players alike.
76. Dungeon Mayhem | Dungeons & Dragons Card Game | 2–4 Players, 120 Cards
77. Crayola Art with Edge, Dungeons & Dragons Coloring Set, Adult Coloring, Gift for Teens and Adults
D&D birthday gifts, Christmas gifts, and anytime gifts
Surprise your favorite dungeon master with the perfect gift that will transport them to realms beyond their wildest dreams. As the Dungeon Master's Guide states, "The worlds you create are unique to you. You have ultimate authority over what does and doesn't exist within your campaign." These gifts are tools to help unlock that authority and spark creativity.
P.S. If you still need gift ideas for other family members, we have several gift guides of ideas for different interests. Check our our gift guide for cowboys, gifts for cowgirls, Lego gift ideas, gift ideas for dinosaur fans, and camping gifts for kids!
©️ Copyright Jennifer D. Warren 2023.