I'm a cowgirl at heart. When I was about 7 years old I asked for cowboy boots like my dad's, and for years I had a horse blanket on my bed and a poster of horse breeds on my wall. My parents learned early that gifts for cowgirls and horse lovers would always be a win for me!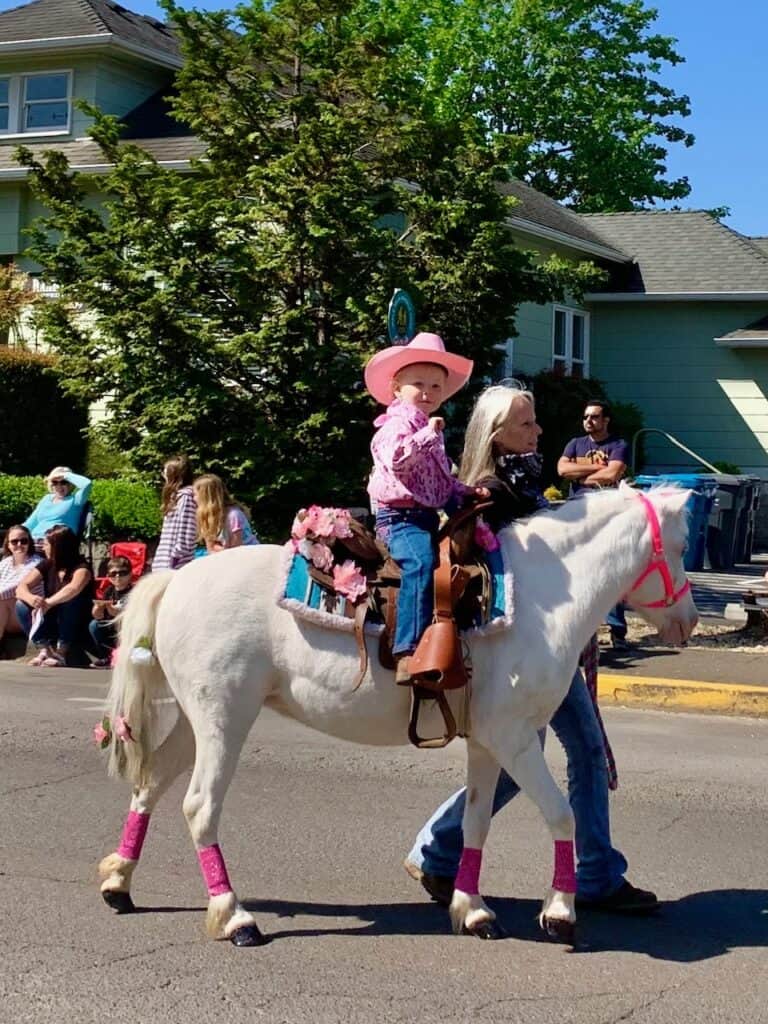 My daughters share my love of horses and cowgirl culture, so I've asked them to help me curate some of our favorite gifts for cowgirls of all ages. We've rounded up the must-have cowgirl gift ideas, from trendy Western clothing to personalized options that truly speak to her style and personality.
TL;DR: You can browse our full list of cowgirl gift ideas on our Amazon storefront.
This post contains affiliate links. As an Amazon Associate I earn from qualifying purchases made from the links on this site, at no extra cost to you. Thanks for supporting our family business!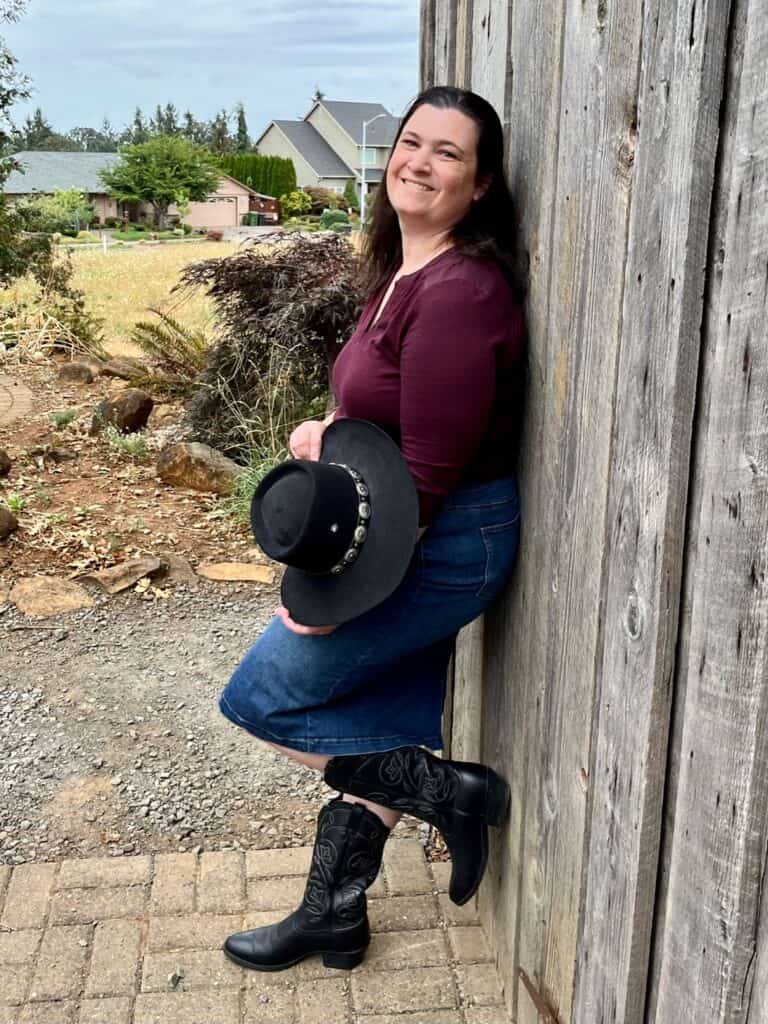 Table of Contents
Western Clothing Gifts for Cowgirls
My oldest daughter spent last summer as a ranch hand. She discovered several key wardrobe staples that any cowgirl would love to have.
Shirts for Cowgirls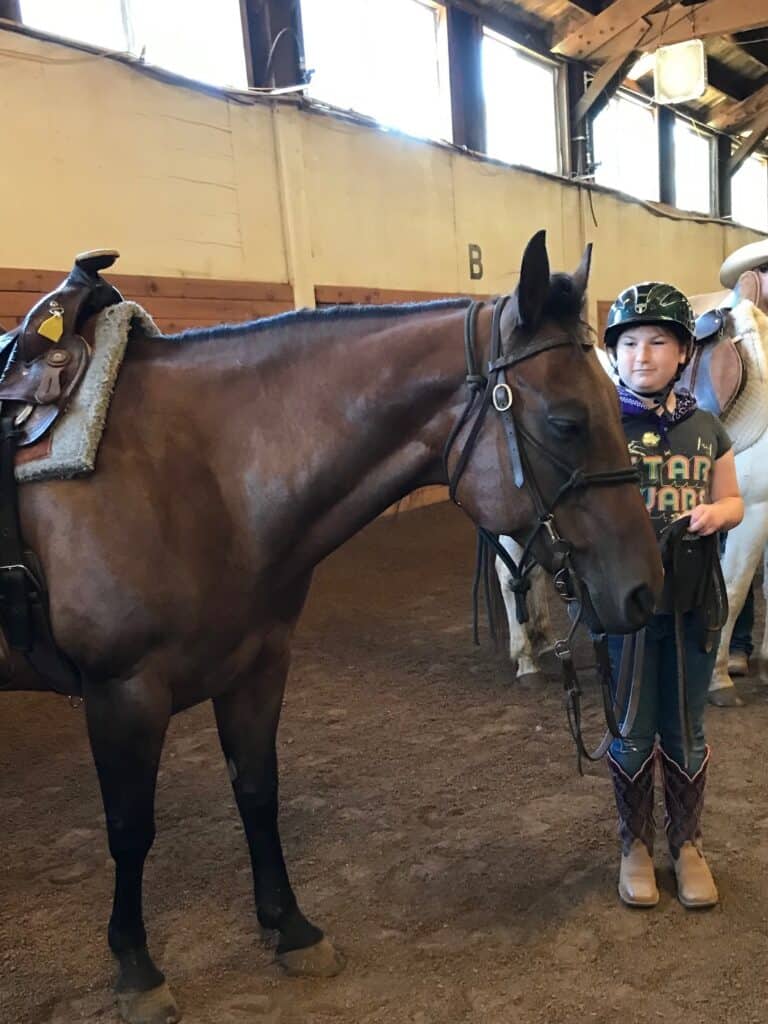 When it comes to western clothing, a classic plaid shirt is handy for any cowgirl. Look for one with a flattering cut and bright colors that will suit her personality (plus the busy pattern hides dirt from ranch chores!). A plaid shirt can also be easily layered with other pieces to create versatile outfits for different occasions.
1. Alimens & Gentle Women's Flannel Plaid Shirt
2. Short Sleeve Shirts for Women Casual V Neck Western Shirts
3. Women's Embroidered Western Long Sleeve
4. Rodeo Clothing Women's Western Casual Button Down Shirt
A horse shirt is a fun way for a cowgirl to showcase her love of horses when she's not on the ranch. Here are a few fun designs we loved!
5. Horseback Riding Girl Funny Horse Girl T-Shirt
6. AW Fashions This Is Actually My First Rodeo Infant body suit
7. Gifts for Women Teen Girls Equestrian Horses Sayings Funny Hoodies
Pants for Cowgirls
Another essential item in a cowgirl's wardrobe a pair of well-fitting jeans. Pick a brand and style that is both comfortable and durable— cowgirls do hard work and get dirty!
Bootcut jeans allow the denim leg to cover the top of the boots (which can help dirt and straw from getting inside the boots). Skinny or straight jeans will tuck into the boot top (to better show off the cute boots). For her job last summer, my daughter needed 4 pairs to wash and wear throughout the week.
Besides jeans, anyone who regularly goes horseback riding would appreciate high quality riding pants. These are specially designed to allow close contact with the horse during riding, and they come in lots of pretty colors.
Barn Dance Skirts
While she worked on the ranch, my oldest daughter discovered the fun of barn dances and line dancing! If your cowgirl loves to dance, a cute skirt can be the perfect gift for her. I still remember the cute denim skirt I wore with my first pair of cowgirl boots… core memory activated!
8. Belle Poque Women's Vintage Stretch High Waist A-Line Flared Midi Skirts with Pockets & Belts
9. Girstunm Women's Pleated Vintage Skirt Floral Print A-line Midi Skirts with Pockets
10. Belle Poque Women's Vintage Stretch High Waist A-Line Flared Midi Skirts with Pockets & Belts
11. Collections Etc Tiered A-Line Denim Boho Prairie Skirt
Jackets for Cowgirls
For those chilly mornings or evenings on the ranch, a stylish jacket is a must-have for any cowgirl. Look for one that combines fashion and function, with features like warmth, water resistance, and plenty of pockets for storage.
12. Legendary Whitetails Women's Saddle Country Shirt Jacket
Consider the length as well— since moving to the Pacific Northwest, I've started buying more knee-length or full-length coats because the waist-length jackets just weren't keeping me warm enough! If your cowgirl spends a lot of time out in the barn or the great outdoors, she'll probably want a long jacket.
13. Southwestern Equine American Cowboy Saddle Slicker Rain Coat Duster – 100% Waterproof Full Length Unisex
For rodeos or line dancing, a denim jacket or fringed jacket/ vest is an excellent way to dress up!
14. Wrangler Authentics Women's Stretch Denim Jacket
15. The Children'S Place Girls Basic Denim Jacket
16. Paixpays New Tassels Fringe Sleeveless Vest Cardigan Waistcoat Jacket
17. FARYSAYS Womens Cropped Fringe Faux Suede
Cowgirl Boots
Boots are one of the best gifts for any cowgirl. Cowboy boots come in plenty of fun colors and designs, sized for little girls all the way up to adult women! It's super helpful for a cowgirl to have at least two pairs of boots— one pair for riding and work, and another fancier pair for dress-up or dancing.
18. Roper Girls Glitter Check Western Boot
19. Ariat Delilah Round Toe Western Boots – Women's Mid-Calf Leather Boot
20. ARIAT Women's Round Up Southwest Stretchfit Western Boot
21. Lumeheel Rhinestone Cowboy Boots for Women – Sparkly Cowgirl Boots
We found that when we're buying cowboy boots for ourselves and our kids, it's best to go in person to try on boots. Cowboy boots are a fitted item, and each style fits a little differently. Don't forget to bring along a pair of socks that you plan to wear with the boots to get the best fit!
Trendy Western Accessories for Cowgirls
Besides the essentials, there are also plenty of accessories that can add a touch of Western charm to any cowgirl's outfit. From stylish belts with ornate buckles to statement jewelry featuring horseshoes or turquoise accents, we've got a list of great ideas for gift giving.
Belts and Belt Buckles
A bold belt can instantly elevate a pair of jeans or cinch in a flowy dress, adding a touch of cowgirl flair. Look for one with a beautifully crafted buckle that showcases Western motifs like cowboy boots, horses, or intricate designs. Having several belt buckles to choose from can be fun too.
Note: if you're purchasing a belt and buckle, make sure the belt is the kind that allows you to change out the buckle, since not all belts are designed that way.
22. Utaly Western Cowboy Cowgirl Leather Belts
23. Fumete Western Metal Concho Chain Belt for Women Western Cowgirl
24. Vintage Oval Flower Rose Boots Horse Rodeo Pink Belt Buckle
25. Rectange Cowgirl Up Boots Western Belt Buckle
Cowboy hats
A nice cowgirl hat not only protects her from the sun but also adds a touch of sass to any outfit, whether she's out riding horses or attending a country music concert. I love wearing my black cowboy hat in our rainy Pacific Northwest winters, because the wide brim keeps the rain completely off my face.
You can match the cowboy hat to the boots (brown or black are the more common colors). Or get a simple hat and then grab a couple of pretty hat bands to allow your cowgirl to switch things up whenever she feels like it.
26. Womens Wide Brim Cowgirl Hats
27. Livingston Men & Women's Woven Straw Cowboy Hat w/Hat Band
28. Yulejo Macrame Hat Hangers Boho Hat Rack Cowboy Hat Hanger Back of Door Hat Organizer
29. RainFlowwer Blue Stone Hat Band for Womens Mens Cowboy Hat
Bling for your cowgirl
Earrings, necklaces, boot bracelets or arm bracelets make for great Western themed gift ideas. Most of these are small enough to make perfect stocking stuffers.
30. Cowgirl Earrings,9 Pairs Cowboy Boot Earrings
31. RechicGu Western West Cowgirl Texas Boots Spur Dangle Drop Earrings
32. BEKECH Cowgirl Jewelry Boots and Bling
33. Stainless Steel Horse Necklace for Girls
34. Life is Better with A Horse Hats for Women Girls
35. Barn Hair Don't Care Baseball Cap – Trucker Hat for Women
36. BAUNA Lucky Horseshoe Bracelet Love Heart Pendant Good Luck Horseshoe Charm
If your favorite cowgirl isn't into jewelry, here are some adorable phone cases that will make her smile.
37. Casely Case Compatible with iPhone 14 Pro Max | Wild West Adventure |
38. Western Retro Phone 13 Pro Case Cactus Bull Skull Horseshoe Phone Case Giddy up Cowgirl
Bandanas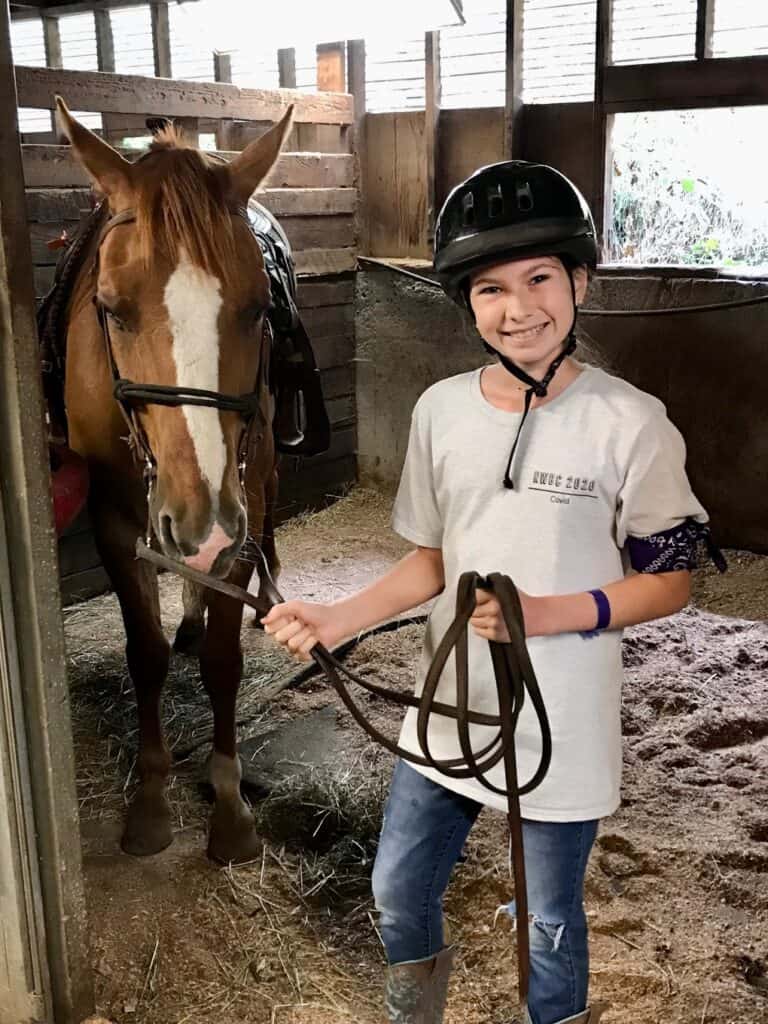 Bandanas can be worn in multiple ways – tied around the neck, used as a headband, or even wrapped around the handle of a handbag for a pop of color. Choose a bandana that features a classic western print like paisley or a cowgirl-inspired pattern.
Purses and Wallets
I discovered high quality Montana West handbags in a rural gift shop a couple years ago, and I love them! The leather wallets, purses and tote bags come in a variety of sizes and designs, and the detailed tooling and helpful features (like concealed carry options) have made them my favorites.
39. Montana West Western Purse for Women Crossbody Bag
40. Montana West Women's Western Handbag Tooling Tote Bag Conceal Carry Purse with Detachable Holster
41. Montana West Western Style Small Crossbody Cell Phone Purses for Women
42. Tooled Leather Laser Cut Western Style Horse Cowgirl Purse
43. Conchos Studded Crocodile Laser Cut Cowgirl Western Style Country Purse Wrist Strap Women Wristlet Wallet (Brown)
44. ARIAT Cruiser Clutch
Western Decor for Cowgirls
Western decor is not just about creating a stylish and inviting space but also about celebrating the spirit of the cowgirl. Cowgirls remind me that beautiful doesn't necessarily mean fragile, and that strength and determination go a long way.
Blankets and rugs
Adding a cowhide rug to her living room or bedroom can bring an authentic touch to her space. Cowhide rugs are not only visually striking but also incredibly durable, making them perfect for withstanding the wear and tear of a cowgirl's busy lifestyle. The cow print adds warmth and texture to any room while creating a cozy atmosphere that will make her feel right at home.
45. MACEVIA Cowhide Rug Cute Cow Print Rug Western Decor
Our girls love soft, snuggly textures to help with anxiety and ADHD sensory overload. These cute horse-themed blankets would be great for any little girls or teens who love horses and enjoy snuggling up with a good book.
46. Horse Blanket for Girls Beautiful Horse with Wreath Throw Blanket
47. Horse Blanket Gift for Girls Women Plush-Just A Girl Who Loves Horses
48. Urban CoCo Women's Printed Tassel Open Front Poncho Cape Cardigan Wrap Shawl
Western knick-knacks and wall art
Horse prints and framed photos of your cowgirl on a ride or with her horse are the obvious images to hang on a wall. You could also gift her a Western themed photo frame to add to her dresser.
49. Arthur Court Designs Aluminum 4×6 Equestrian Pattern Photo Frame
50. RoomMates RMK1017SCS Wild Horses Peel and Stick Wall Decals
I laughed out loud at some of these vintage-inspired signs featuring classic Western motifs! Include a couple of tin signs or wooden word art blocks to give her cause to smile when she's not with her horse.
51. Metal Sign A Beautiful Cowgirl – in A World Full of Princesses Be A Cowgirl-tin Sign
52. Give A Girl The Right Shoes And She Can Conquer The World Poster Wall Decor Metal Tin Sign
53. Horse Retro Tin Sign-Once Upon A Time, There was A Girl Who Really Loved Horses It was Me The End
54. Vintage Cowgirl Be Strong Be Brave Be Humble Be Badass Tin Sign
55. Primitives by Kathy This Princess Wears Boots Box Sign
56. Life Is Tough Cowgirl New Metal Tin Sign
Worn out cowboy boots and hats can be great decor on their own, used for planters or containers for small items. However, if you can't easily obtain antique items, these whimsical accents will serve as a gentle reminder of her love for the Western lifestyle.
57. Cast Iron Star Horseshoe Single Wall Hook(Dark Brown)
58. Cowboy Boot Match Holder
59. Dracey Cowboy Boots Neon Sign, Pink Cowgirl Boots LED Signs Neon Light,
60. Pink Ladies Cowboy Cowgirl Boot Vase
61. Horse Planters, Horse Gifts For Girls
62. Truly a Friend Guardian Angel Statues, Sculpted Hand-Painted Girl Embracing Horse Figurines
63. Let's Go Girls Retro Groovy Cowgirl Boots Makeup Bag
64. Jewelkeeper Girl's Musical Jewelry Storage Box with Spinning Horse, Barn Design, Home on The Range Tune
Unique Gift Ideas
If you're still not sure what to get your cowgirl, one option to consider is a custom-engraved piece of jewelry. Several of the cowgirl jewelry items and belt buckles allow you to choose which initial to include.
Authentic turquoise art is another beautiful option. Each piece is as unique as the individual semi-precious stones used in it. My husband has gifted me with several beautiful turquoise necklaces and earring sets, and I always get so many compliments on them.
A personalized photo album is easy to create on Shutterfly, and will delight your favorite cowgirl. Just choose a few favorite photos and add some captions, and you'll have a one-of-a-kind gift.
Our Best Gifts for Cowgirls
One of the best gifts we ever gave our daughters was spending several days at a mother-daughter horse camp together. We connected over a shared love of horses, and made precious memories together.
Check your local area to see if there are trail rides or equestrian day camps or lessons near you. It's guaranteed to be an unforgettable experience for your favorite cowgirl!
What cowgirl gift ideas would you add to our list? Let us know in the comments!
©️ Copyright Jennifer D. Warren 2023.