Easter is a beautiful time to celebrate the promise of new life after winter's chill and cold. We like to give Easter gifts that are useful and unique, not just a chocolate bunny. If that's what you need, here's a huge list of non-candy ideas for Easter baskets for kids and teens.
This post contains affiliate links. As an Amazon Associate I earn from qualifying purchases made from the links on this site, at no extra cost to you. Thanks for supporting our family business!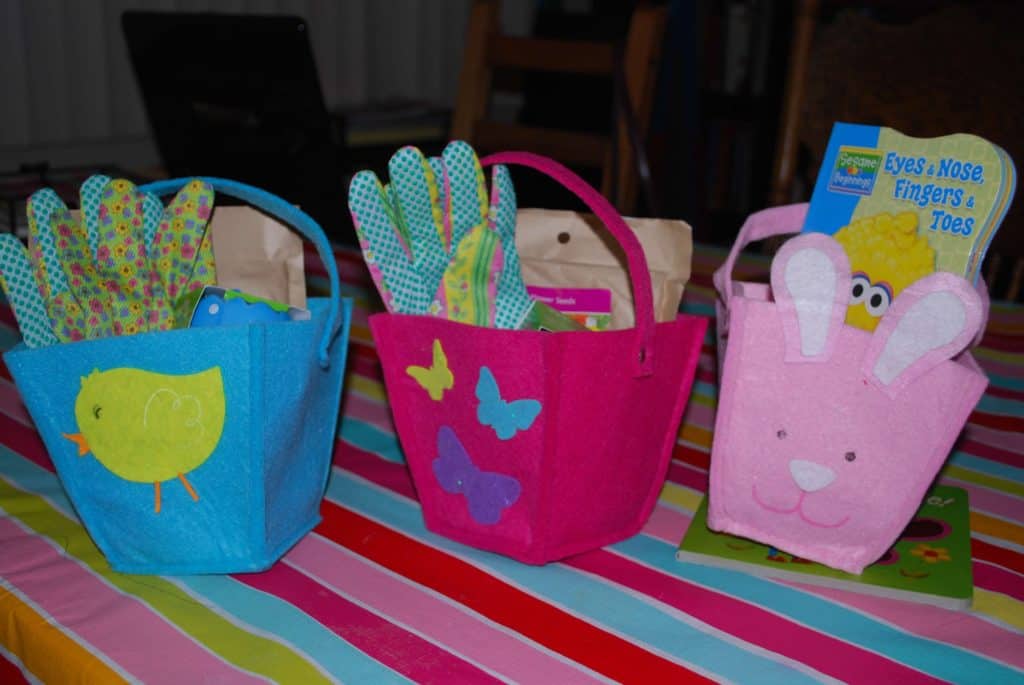 Table of Contents
Gifts for little kids (age 2-5)
We've found a lot of fun toys for our little ones at the local dollar store! Giant plastic dinosaur or zoo animal figures, bubbles, coloring books, art supplies, balls, and play-doh are just a few things that you can grab to easily create gift baskets for small children.
Here's a list of gift ideas for little ones:
2. Mini squishmallows
3. Hot Wheels cars, trucks, airplanes, etc.
5. Dolls
6. Blocks / Duplos
Blocks and Duplos are a popular option for the littler ones, but our older kids will often sit and build alongside their siblings. I've even watch adults jump in to create challenges and games with blocks, Duplos, or Lego!
7. Wooden puzzles or giant floor puzzles
8. Coloring books and supplies (crayons, markers, colored pencils)
9. Bubbles or bubble machine
10. Playdoh and tools to work it
11. Sidewalk chalk / window chalk
Great ideas for teens and older kids
Older kids and teens can be hard to buy for, especially if you're looking for something other than sugary treats. Our youngest daughter has compiled a list of favorite gifts that she and her siblings have enjoyed. We're certain you'll find just the right kid-approved gift in her list.
Here's some unique Easter basket ideas that big kids and teens will nearly always enjoy.
For teen boys (girls will also appreciate most of these)
Glow sticks or water balloons
Video games
Gift cards to favorite stores
Subscriptions to music or video streaming
Water bottle and stickers to personalize it
Movie tickets
Personalized phone case or PopSocket
Gas money (if they are driving)
Gift cards to fast food or coffee places
Phone holder or extra chargers
Swiss army knife or multitool
Multicolor string lights for their room
For teen girls
1. Bath bombs or other specialty bath items
2. Nail stickers, nail polish or manicure tools
3. Jewelry
4. Room decor
Games for the whole family
Games can be one of the best Easter basket fillers. From classic board games like Monopoly and Scrabble to newer games like Settlers of Catan or Exploding Kittens, you can find a game for every age and interest.
Drop one or two small games into an individual basket, or add one big game to the family Easter basket.
1. Phase 10
2. Uno (or any one of the themed variations)
3. MonopolyDeal
4. Dominos or Mexican Train Dominos
5. Tenzi
6. Castle Panic
7. Pandemic
8. Hive
10. Risk
Craft supplies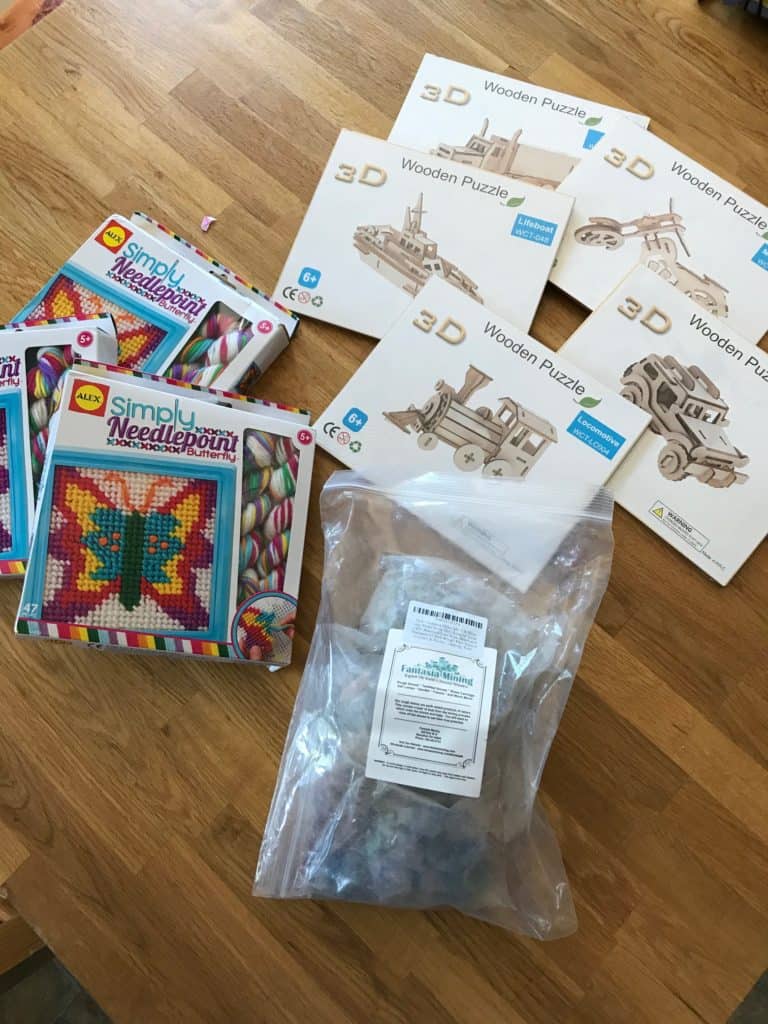 Our kids love to craft and create, so we regularly run out of basic art supplies. Easter is often the perfect time to refresh and restock our art and craft supplies by adding them to our kids' baskets.
For young children, including Easter-themed craft kits is a great idea. Older kids and teens tend to be ready for more advanced art supplies like sketching pencils, watercolors and so on.
Art Basket Items for Young Children:
Crayons, markers, colored pencils
Feathers, pipecleaners, pompoms and other crafts
Cardstock, construction paper, scrapbook paper
Stickers and sticker books
Glitter, glue, scissors
Craft kits
Art Basket Items for Older Children / Teens:
High-quality art supplies like pencils, sketchbooks, calligraphy, acrylics or oil pastels.
Instructional books
Colored pens or gel pens for writing
Watercolors
Coloring posters or mural paper
Outdoor activities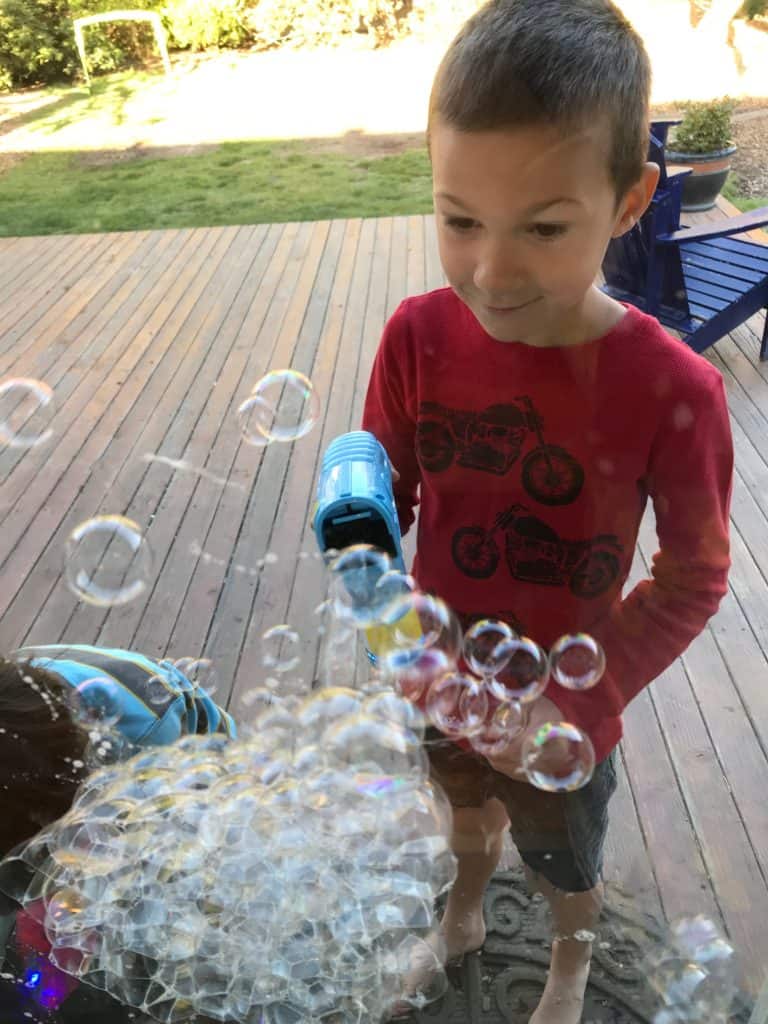 Spring is the time to get back outside and run off some energy after months of winter cold and wet. Frequently we include warm-weather sports gear or outdoor activities as an Easter basket gift to encourage our kids to go out and play.
Our youngest daughter wrote a post reviewing the best active play toys that our kids have received and enjoyed. She offers great perspective if you're needing expert guidance!
Here's some of our favorite non-candy ideas for Easter baskets to include for outdoor play.
1. Jump rope
2. Bubble wand or bubble gun
4. Croquet set or bocce set
5. Wiffle ball set
6. Soccer ball, basketball, football, playground ball- include an air pump!
7. Cornhole set
8. Frisbee or disc golf discs
9. Kite
10. Sticky catch ball set
11. Water balloons or water guns
12. Nerf guns
Beach toys and swim gear
When we lived in Southern California, beach days were year-round. New swimming stuff or beach gear makes great Easter basket stuffers, especially in areas where summer vacation starts in May. You could even add on some swimming lessons or a local pool pass. 
Here's more ideas to get you started.
2. Water wings and inflatable rings
3. Dive toys
4. Swim goggles or snorkel sets
5. Flip-flops or sandals
6. Beach towels
7. Sunglasses
8. Sunhat
9. Boogie boards or pool noodles
10. Ocean creatures/ Seashell identification guide
Sensory play and fidgets
Sensory play activities are getting more recognition as a great stress reliever for people of all ages. Young kids will find lots of ways to engage in imaginative play with these ideas, while older kids and teens will appreciate them as a fun way to relieve anxiety or help with focus.
1. Kinetic Sand
2. Silly putty or Aaron's thinking putty
3. Rubik's cube or finger puzzles
4. High quality fidget spinners
5. Play-doh and play-doh tools
10. Wikki Stiks
Gardening tools and nature exploration
Spring is a great time of year to start a garden. A set of child-sized gardening tools makes a great addition to any Easter basket.
Gardening encourages kids to learn about responsibility, patience, and the environment. It also provides a fun and engaging way to explore the outdoors.
If gardening isn't your thing, or you don't have space to garden, there's still lots of fun to be had exploring nature in the springtime. Add some tools to to help your children observe and enjoy the new life springing up everywhere.
Non-candy Easter basket ideas for garden and nature
Child-sized gardening tools
Garden gloves
Seeds, mini pots, young plants
Binoculars
Bird or bug identification guide
Solar powered science kit
Rock or plant identification guide
Road trip or air travel essentials
For many years, we spent Easter Sunday with family, which often required a long drive. If you're making a trip soon, road trip activities (or airplane activities) make a great Easter basket idea.
Road trip / air travel gift ideas
Coloring books, activity books, word searches, mad libs
Reusable water bottle
Comfy headphones
Mini Lego sets
Magnetic play sets
Action figures or small toys
Neck pillow or mini blanket
Books for kids and teens of all ages
We nearly always include books for birthdays and holidays. So our kids are excited when they get a good book. Books don't have to be expensive, either— Goodwill, Salvation Army and other thrift stores regularly carry quality, gently-used books.
For younger children, classic books such as "The Very Hungry Caterpillar," "Goodnight Moon," or "Where the Wild Things Are" can be great options. Board books for toddlers and babies are a smart choice because they can stand up to rougher use.
We've curated a couple of lists of books for older children and teens if you need some fiction recommendations. Or you can choose books based on their interests or hobbies.
For example, if they enjoy sports, consider books about famous athletes or sports history. If they're interested in science or technology, look for books about inventions and discoveries. Books are ideal non-candy ideas for Easter baskets!
Seasonal book options
We have a few favorite Easter books that we've owned and loved. Here's a short list:
1. The Velveteen Rabbit. It's a classic for a reason. This sweet book about a stuffed bunny who becomes real is precious, and kids love the concept that their toys can come to life.
2. What Is Easter? Board book. We love this book for its colorful illustrations and rhyming text. It simply explains to children what the Christian Easter holiday is about.
3. The Very First Easter. This gorgeously illustrated book retells the resurrection story from the Bible. Note that it's best for older children, as the illustrations and text contain complex vocabulary and concepts that may be scary for little ones.
4. Biscuit's Pet & Play Easter: A Touch & Feel Book: An Easter And Springtime Book For Kids. Even older kids will enjoy this touch and feel book with Biscuit, the cute puppy who explores all the springtime and Easter finds!
Bible or Devotional books
If your family celebrates Easter as a religious holiday, it's a great time to give your child Christian books or resources. We've often used Easter as a time to gift our children with new Bibles or devotionals and learning resources.
Here's three of our favorite children's Bible picks:
Read-N-Grow Picture Bible: Adventure from Creation to Revelation in 1,872 Realistic Pictures / Jimmy Swaggart Ministries Hardcover (out-of-print, but you may be able to find one on Amazon or at a used book seller)
ESV Seek and Find Bible Hardcover. Also available in faux leather for a more traditional look.
The Beginner's Bible: Timeless Children's Stories Hardcover. A favorite with little ones.
There are plenty of great devotional books for kids and teens available. Here's two that we have especially appreciated:
Our Daily Bread for Kids: 365 Meaningful Moments with God (A Daily Devotional with Bite-Size Devotions for Children Ages 6-10)
The Ology: Ancient Truths, Ever New Hardcover
New clothes and hair items
When we had little girls, it was so much fun to get them a new dress and hat for Easter/ spring family photos! New clothes or hair accessories can be perfect for a child's Easter basket. Here's a few ideas for younger children, as well as some for teens (who probably prefer to choose their own clothing).
Dress / dress shirt and pants
Hair bows / hair chalk or other novelty hair items
Hat / ball cap
Hoodie
Fun socks
Gift card to favorite clothing store / Amazon
Family Easter Basket
For many years, we've given a themed whole family Easter basket to our kids, rather than individual baskets. Quite often the gifts centered around upcoming activities, or homeschooling themes that we were going to be learning about. That's where many of our non-candy ideas for Easter baskets came from.
We didn't want to just give our kids a lot of junky toys or tons of jelly beans and chocolate bunnies. So early on we decided that most of the time our gifts for holidays would be something that the family could share, or individual items in a different color for each child. It's a great way to keep the holiday focus on family time and connection, rather than gifts.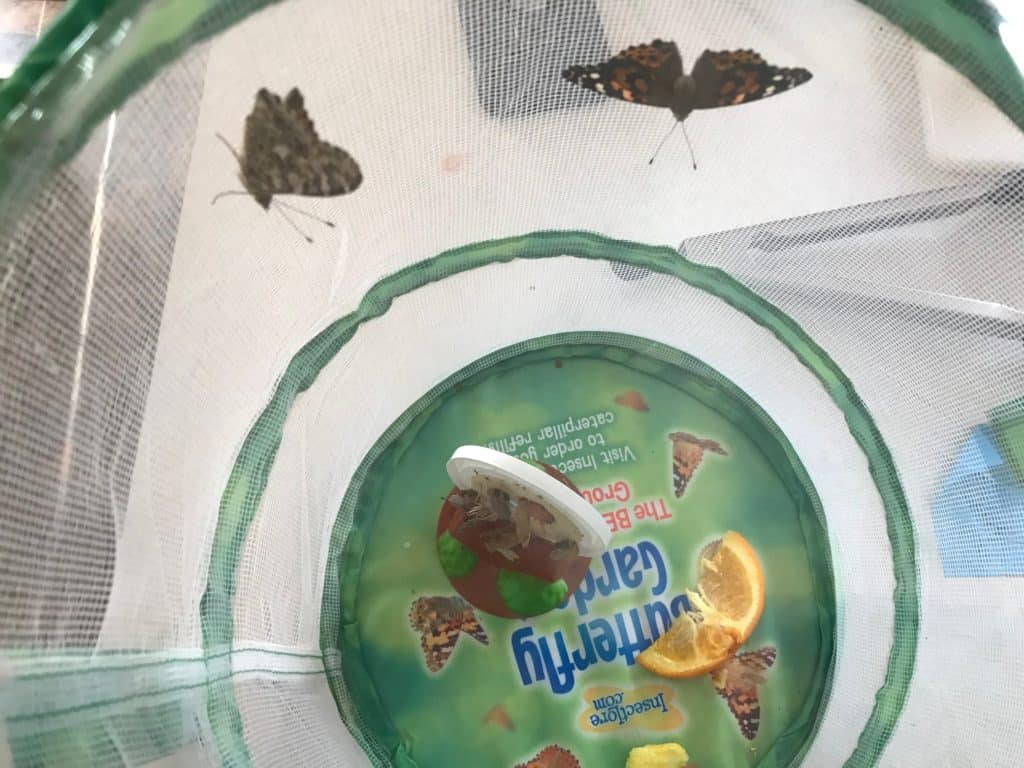 Plenty of ideas for the Easter Bunny
With so many ideas, we're sure you'll find the perfect Easter Basket stuffers for your toddler, kid or teen! We've curated some special gift posts about specific interests if you need even more ideas. Don't miss our list of gift ideas for dragon-lovers, or for dinosaur enthusiasts, or our men's cowboy gift ideas!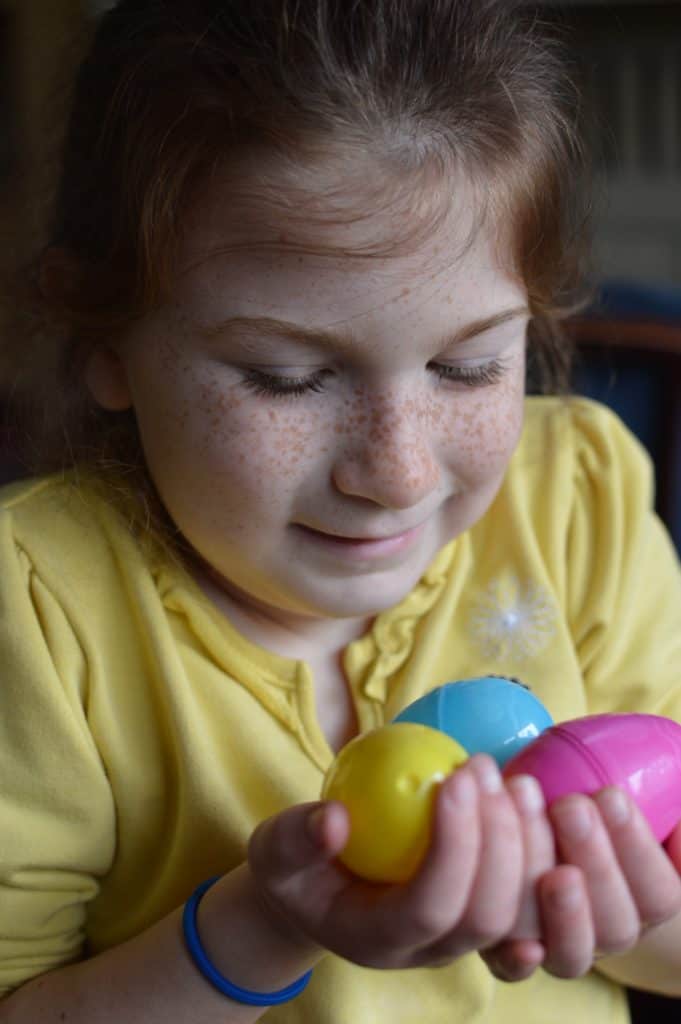 These non-candy ideas for Easter baskets will make your Easter morning memorable without too many sweets. We hope you'll have a beautiful Easter with your family!
©️ Copyright Jennifer D. Warren 2023.