Sushi is one of those foods that people either love or hate. I love sushi and would gladly eat it several times a week, even if it's just from the grocery store. So I was delighted to see the Akatsuki Sushi Bar open up in downtown Silverton a few months back, and even happier when we finally got the chance to visit and try it out!
Table of Contents
This post contains affiliate links. As an Amazon Associate I earn from qualifying purchases made from the links on this site, at no extra cost to you. Thanks for supporting our family business!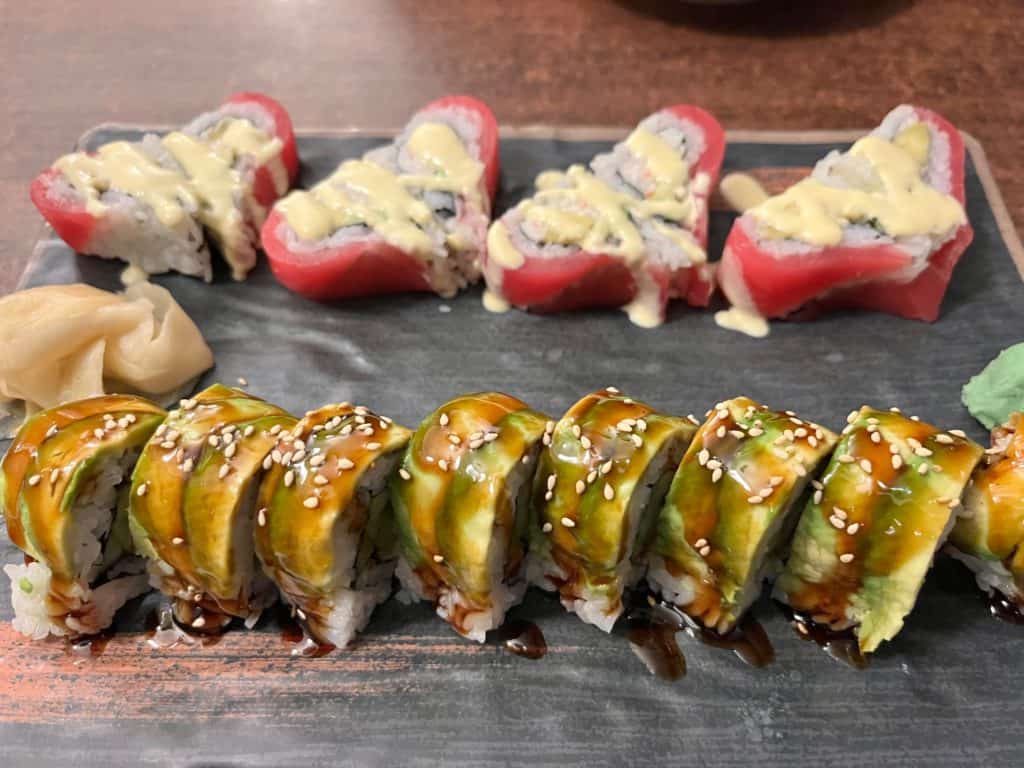 Follow us!
If you love to hear about new restaurants, fun experiences, and family-friendly places, come follow us on social media! We're on Pinterest, Twitter, Facebook, Instagram, YouTube and TikTok.
Great location
Akatsuki Sushi Bar has a central location in Silverton, right off Water Street and next to the police station. The main entrance is down some stairs and off the main sidewalk, so it's easy to miss if you are driving by.
We visited on a Sunday night in October for our weekly date night. We had no trouble finding parking right across the street. Note: Silverton's parking meters are free on weekends and after 5 pm weekdays.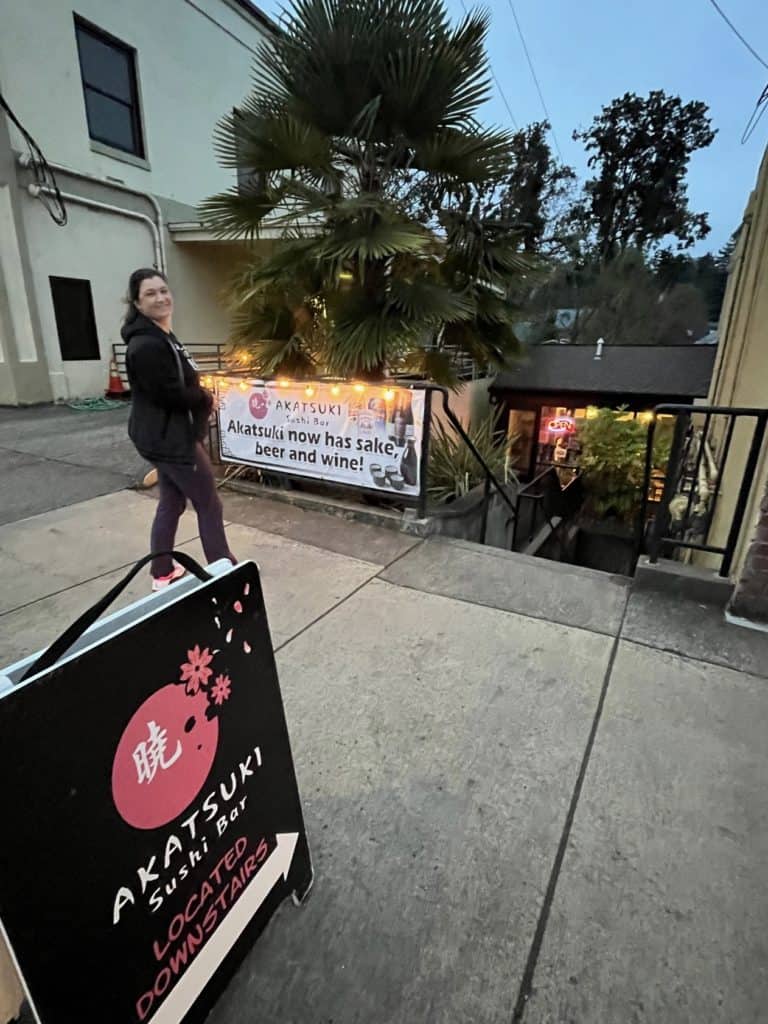 Waterfront dining
As we stepped inside, I could see Silver Creek through the windows on the opposite wall. One of the reasons I love dining in Silverton is the opportunity for waterfront dining, so I requested a table by the windows.
I saw tables and chairs on an outside balcony too, though it was too cold for eating outside on the night we visited. The balcony has a great view of Silverton's beautiful covered pedestrian bridge over Silver Creek.
Service, Menu, and Drink
The dining area wasn't crowded, and the server got us set up quickly by the window. There were at least two other parties already there, and we only saw one server, but he was efficient and prompt.
We started to look through our menus and realized it was going to take some time to decide what we wanted. Several pages of entrees, sides, specialty rolls and bento options gave us plenty to choose from.
I ordered a marionberry lemon drop, which arrived shortly. It was excellent: perfectly sweet and tart as expected. The cute glass was a plus too.
Atmosphere
While deciding on our food, I took a little time to observe the decor. I loved the metal bird sculpture hanging from the ceiling, and the large mirrors along one wall helped open up the space. That was a smart choice, because this historic building has an unusual layout, so it could easily feel cramped.
I noticed that there was a family with two young children having dinner (a toddler and a preschooler). The server made a point to check in on them often, and I saw him bring something special over for the little ones at least two different times.
It's clear that children are welcome here, so I would have no hesitation in bringing our family on another visit.
Akatsuki's Specialty Rolls
Brian and I love specialty rolls, so we ordered two to start, and planned to order one or two more later on. I picked the Caterpillar roll (which is my standard pick at a new sushi restaurant) and Brian chose the Sweetheart roll.
I had no idea how beautiful the rolls would be when they came out! The Caterpillar roll was as expected, but the Sweetheart roll was delightfully designed in the shape of hearts.
The taste was unique as well. Both rolls were fresh and well made, but the Sweetheart roll surprised me with its fruity taste. I knew that mango was a main ingredient, but I didn't expect it to have such a strong impact on the flavor. YUM!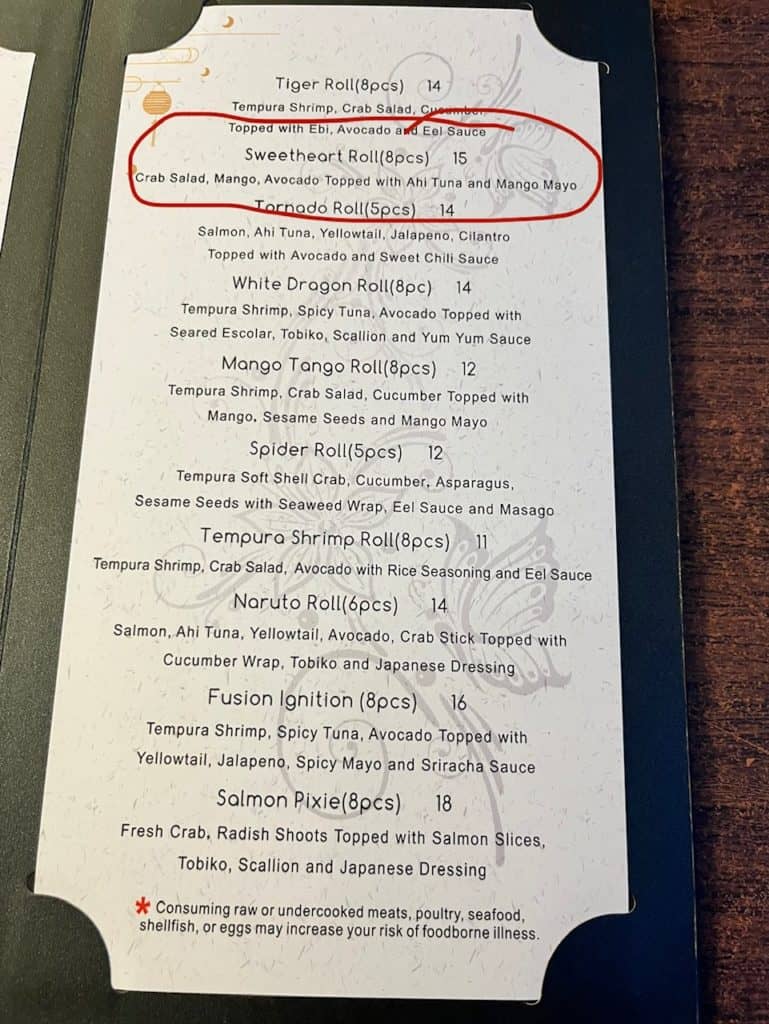 Both rolls disappeared quickly— we were hungry, and the sushi was fresh and delicious!
Tempura Rolls
I wanted to try something a little different for the next two rolls, so I chose the Silverton roll, and Brian picked the Godzilla roll.
The Godzilla roll has a ferocious name that contradicts its mellow taste. Brian remarked that it's like sushi comfort food: warm, tasty, rich, and no sharp flavors. On a cold evening, it was just right.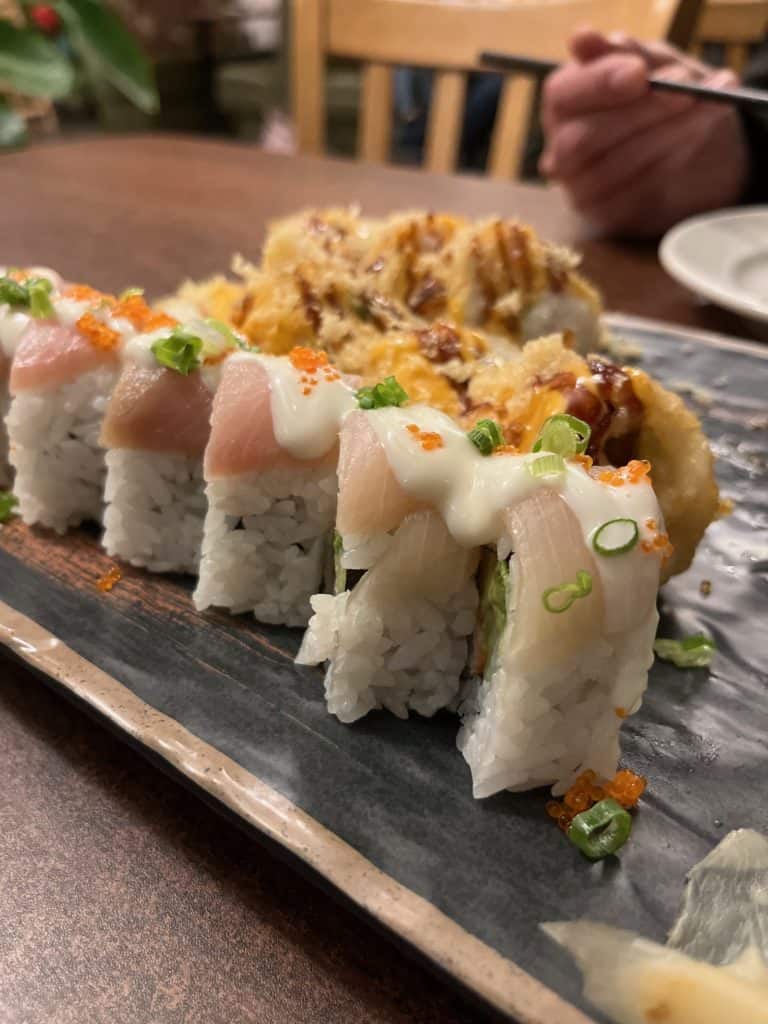 The Silverton roll is made with warm tempura shrimp in the middle and fresh fish on the outside. It had a bright, clean taste that paired nicely with the richness of the Godzilla roll.
We had a few pieces leftover, so we asked for a box to take them home. As we were heading out, I noticed that you can order Akatsuki for takeout— definitely a nice option for date night at home!
Overall Experience at Akatsuki Sushi Bar
Akatsuki Sushi Bar was a great dining experience. The service was prompt and attentive, everything was delicious and we can't wait to return again!
© Copyright Jennifer D. Warren 2022