When my brother was younger, he spent hours building and rebuilding his Lego sets: now he's a building architect! Whether they're a kid or a grown-up, Legos have a way of capturing the imagination and providing endless hours of fun and learning. In this ultimate guide to Lego gift ideas, I've rounded up over 100 unique and creative options that are sure to delight any Lego lover.
This post contains affiliate links. As an Amazon Associate I earn from qualifying purchases made from the links on this site, at no extra cost to you. Thanks for supporting our family business!
My kids have been playing with Duplos and Legos as soon as they could pick them up. So I've seen which Legos appeal to younger kids, older kids, and even my adult brothers. From Lego art to custom minifigures to themed sets, I've got the perfect gift for the Lego enthusiast in your life!
TL;DR: You can find the full list of over 100 recommendations in our Amazon storefront Lego Gift Ideas list. This article highlights some of the best options.
Table of Contents
Lego gifts ideas for little kids (age 5 and under)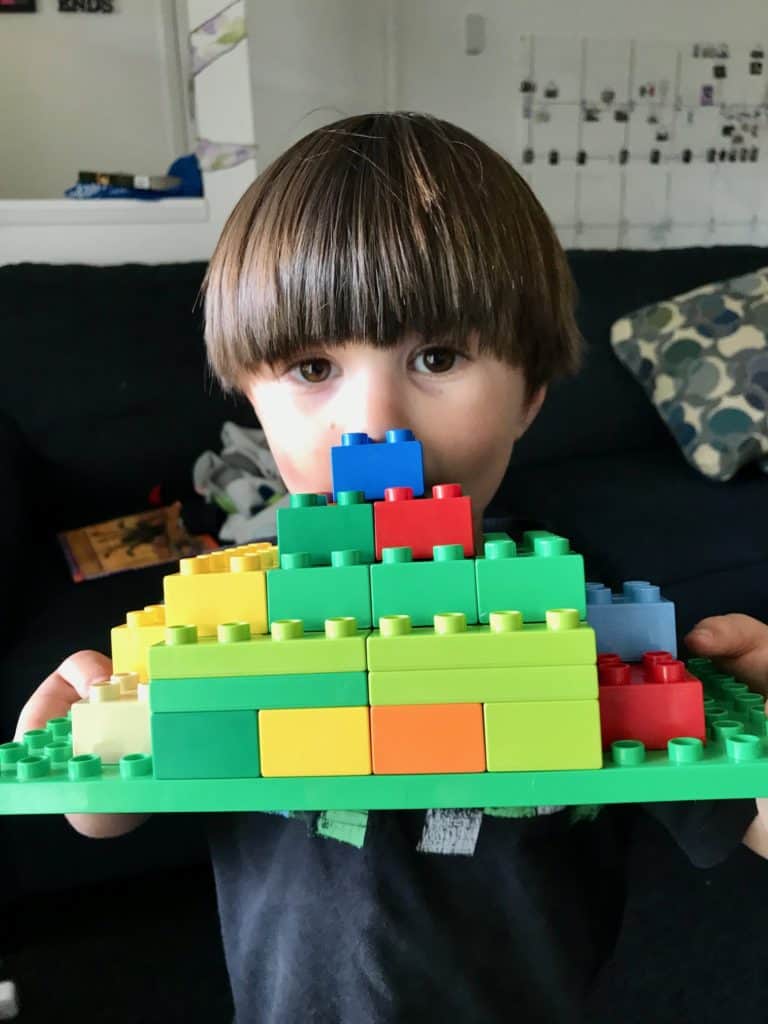 For the young Lego fan, Duplo sets are a great starting point. These larger pieces are easier to hold and assemble, making it ideal for children aged two to five.
1. LEGO DUPLO Town Plane 10908 Building Blocks (12 Pieces)
Perfect for beginner Lego builders! Our toddler son loved being able to play with these larger pieces and join the fun with his older siblings.
Who doesn't love a farm playset? Preschoolers will love the four animal pieces, and this is an easy set to expand on your existing Duplos.
Dinosaurs are another perennial favorite for younger kids so of course we had to get a Jurassic World Duplo set!
This Lego lunchbox comes in multiple color options and is the perfect way for your little Lego fan to tote their lunch to school.
For kids who love the Lego Ninjago series, this lunch box will hit the spot! The outside print features several Ninjago characters in action poses.
A designated Lego table is the perfect addition to your child's room. This table comes with storage drawers and a large baseplate surface to build on. Best of all, it works with Duplo and Lego, so it can grow with your kids!
Lego easy reader books
Our kids love to read, and what's more fun than reading stories that involve your favorite Lego characters? Many of these books are especially written for younger readers who need simpler vocabulary and lots of pictures.
These are fun short stories for kids who enjoy the Lego Ninjago series. Our 6 kids ages toddler to teen all watched Lego Ninjago Seasons 1-10 multiple times and loved it!
There are dozens of Lego Step into Reading books available at your local library. However you can also purchase them for your child's Kindle device, or in a paperback format like this.
Lego Star Wars sometimes follows the original storyline, and sometimes spins off into totally new adventures and plot lines. These DK readers allow kids who might not be old enough to watch the original movies to still be able to enjoy the characters and stories at a child's level.
Great gift ideas for older kids
Our big kids will still sit down and build with Duplos, even though most of their Lego building happens with the smaller standard-sized Legos. For older kids and teens, more complex sets and fun activities are a safe bet.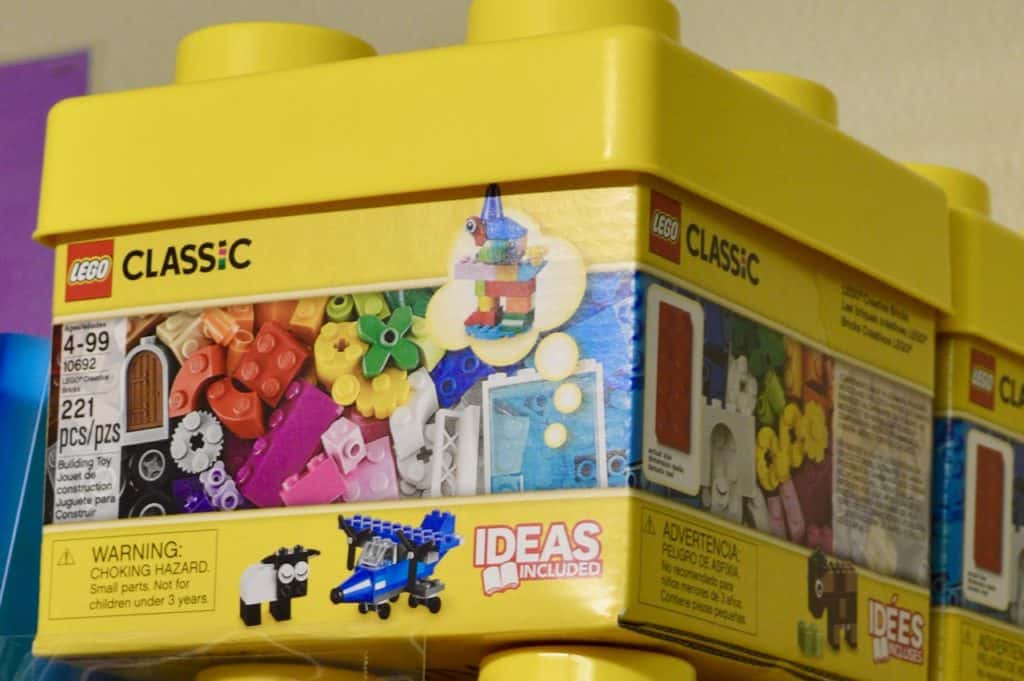 10. LEGO Classic Medium Creative Brick Box 10696 Building Toy Set
For those who are a bit older, the Classic series offers an array of bricks and pieces that allow imaginations to run wild.
I was so excited when Lego started coming out with more sets aimed at girls! I grew up watching my brothers play with Lego, but there were never any sets that particularly interested me. The Lego Friends collection has so many fun and imaginative new sets that allow kids to play at everyday activities, or even pretend play at different career ideas.
I would have LOVED this as a horse-loving kid! So many little girls love horses, and this set allows them to pretend play at all the horse fun they could want, even if they're miles away from the nearest ranch.
13. LEGO Elves Breakout from The Goblin King's Fortress 41188 Building Kit
Our girls received this one for a Christmas gift a few years back, and they LOVED it! The drawbridge actually moves and it was the perfect activity for our rainy Oregon winter days.
This was another popular Christmas present for one of our daughters who loves dragons! The head, wings and tail are moveable, so it's great for pretend play.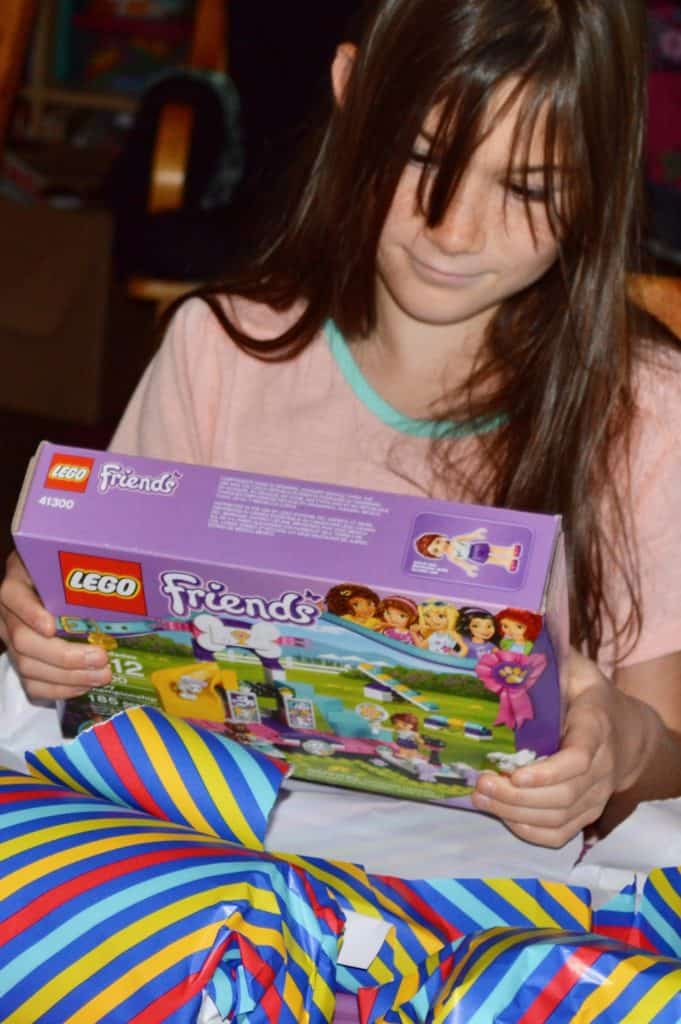 15. LEGO Technic Race Plane 42117 Toy to Jet Aeroplane 2 in 1 Stunt Model Building Set
Kids who love robotics will love the Lego Technic sets! This one allows kids to convert between two different plane styles.
16. LEGO City Emergency Vehicles HQ 60371, Fire Rescue Helicopter Toy Set,
There's something fascinating about rescue and emergency vehicles, and this Lego set is the perfect gift for your future EMT kid!
17. The Lego Ideas Book: Unlock Your Imagination
One of the best features of Lego bricks is the opportunity to take apart a specific set and rebuild it into something entirely new. This book will give your kids lots of creative ideas to make new fun builds from their current Legos. One of my boys spent hours poring over the photos in this book!
When your Lego fan needs more ideas, here's another book by the same author!
19. Build It! Robots: Make Supercool Models with Your Favorite LEGO® Parts (Brick Books, 9)
We found this one at our local library recently, and my robot-loving son has been reading it on repeat. It's a series, so check out some of the other cool books!
20. FREE Lego Magazine subscription!
Yes really! Lego will send your child ages 5-9 a free magazine several times a year. You can sign up here.
Lego art for adult Lego fans
If you're looking for a Lego gift that's both unique and visually stunning, Lego art might be just the thing you're looking for. From pop culture-inspired mosaics to abstract sculptures, Lego art is a great way to combine creativity with a love of Legos.
21. LEGO Icons Succulents 10309 Artificial Plants Set for Adults
22. LEGO Art World Map 31203 Building Set – Collectible Wall Art for Adults
23. LEGO Ideas Vincent Van Gogh The Starry Night 21333 Building Blocks – Unique 3D Wall Art
One popular option is the Lego Art series, which allows you to create your own masterpieces from Lego building blocks. These kits come with everything you need to create a specific design, such as a portrait of Marilyn Monroe or a scene from Star Wars. Once completed, the finished product can be displayed on a wall like a traditional piece of art.
25. LEGO Art The Beatles 31198 Collectible Building Kit
26. LEGO Art Floral Art 31207, 3in1 Flower Pictures, Wall Art Decoration Building Set
For those interested in a more hands-on approach, there are plenty of online tutorials and guides available for creating your own Lego sculptures and mosaics. These can range from simple designs to complex and detailed creations, so there's something for every skill level.
27. LEGO Icons Wildflower Bouquet 10313 Set – Artificial Flowers with Poppies and Lavender, Adult Collection
28. LEGO Art Hokusai – The Great Wave 31208, 3D Japanese Wall Art
Lego art makes a great gift for both kids and adults who love Legos, but also have an appreciation for art and design. It's a fun and unique way to bring a touch of creativity into any space, and is sure to be a conversation starter for years to come.
Official Lego Movie Gifts
If you or someone you know is a fan of the Lego Movies, then there are a ton of cool gifts available. From clothing to accessories and even Lego sets based on the films, there's something for every fan of the franchise.
29. The Lego 3-Film Collection (DVD)
30. 4 Kid Favorites: LEGO DC Super Heroes (DVD)
31. The LEGO Movie 2: The Second Part
One great option for Lego movie fans are the Lego Movie-themed sets. These sets feature main characters and scenes from the movies and are perfect for collectors or kids who just love to play with Legos.
32. LEGO The Movie 2 Queen Watevra's Build Whatever Box! 70825
33. LEGO Movie 70809 Lord Business' Evil Lair
You can find sets from the original Lego Movie, as well as sets based on the Lego Batman Movie, Lego Ninjago Movie, and the recent Lego Movie 2: The Second Part.
Another fun gift option for Lego movie fans are the various clothing and accessory items available. From t-shirts to hoodies, hats to watches, there's plenty of ways to show off your love for the movies. The Lego alarm clock would definitely be a hit with my boys!
34. LEGO Movie 2 9003967 Emmet Kids Minifigure Light Up Alarm Clock
35. Dabbing Kids Master Builder funny Building Blocks Bricks T-Shirt
36. Brick Builder Funny Blocks Master Builder T-Shirt
37. LEGO Ninjago Hoodies for Boys, Zip-Up Hooded Sweatshirts for Boys
And for those who want to take it even further, you can even find Lego-themed backpacks, lunch boxes, and other accessories that are perfect for school or work.
38. IQ LEGO Gel Pen with Batman Minifigure – Black Gel Pen
39. Manhattan Toy Lego NINJAGO Lloyd Ninja Warrior 13″ Plush Character
40. ROOM Copenhagen Lego Iconic Hydration Bottle, 17 oz, Bright Blue
41. Brick Design Stackable Lunch Box Container For Family Picnic Travel
42. LEGO Brick Backpack Purple
My son BEGGED me to add this to his birthday list! It comes in 9 different colors too.
Custom Lego Minifigures
For some Lego enthusiasts, the joy of playing with Legos goes beyond just building sets. They immerse themselves in the world of Lego by creating their own unique designs and characters. If you or someone you know is a fan of Lego movies or enjoys creating their own unique Lego scenes, then custom Lego minifigures are a must-have addition to your collection.
43. LEGO The Movie 2 Minifigures 71023 Building Kit
44. LEGO City Minifigure: Combo Package (Mom, Dad, & Baby in Stroller) 60134
45. LEGO Friends Girl Female Male Minifigures
Custom minifigures can be designed to look like any character from the Lego movies, or you can create your own unique design. From superheroes to villains, there are endless possibilities. You can even customize your minifigures with accessories like backpacks, hats, and weapons to make them even more unique.
These minifigures make great gifts for collectors, kids, or anyone who loves to play with Legos. Whether you're looking to add to an existing collection or start a new one, custom minifigures are a fun way to take your love of Lego to the next level.
Lego Storage Solutions
If you're a Lego enthusiast, you know how important proper storage is for your collection. You don't want to accidentally step on a Lego brick or misplace a rare minifigure. Luckily, there are plenty of Lego storage solutions available to keep your bricks organized and easily accessible.
46. LEGO STORAGE ORGANIZER CUBES 3-PIECE SET
One popular storage option is the Lego storage brick, which comes in a variety of sizes and colors to fit your needs. These storage bricks can even be stacked to create a larger storage unit. You could even store different projects in separate bricks.
Another option is a Lego storage head, which doubles as a fun decoration while also holding your Lego bricks. These storage heads come in different character designs, such as Darth Vader or Batman.
For those with a lot of Lego sets, a storage cabinet or shelving unit may be the way to go. Ikea offers a variety of affordable and customizable storage options that can be adapted to fit your Lego collection.
Lego Accessories
Adding accessories to your Lego collection can enhance the building experience and add unique touches to your creations. Some popular Lego accessories include baseplates, brick separators, and lighting kits.
A Lego baseplate provides a stable foundation for building and can be used to create landscapes or scenes. Lego offers a variety of baseplate sizes, colors, and designs to fit any project.
Brick separators make it easier to take apart bricks without damaging them, while lighting kits add an extra element of creativity and functionality to your builds. Many newer sets designed for kids now come with brick separators.
Other popular Lego accessories include display cases, keychains, and clothing. Display cases allow you to showcase your finished Lego creations while keeping them protected and dust-free.
50. Room Copenhagen, Lego Play and Display Case – Includes Baseplates and Backdrop – Iconic Blue
51. DisplayGifts Toy Minifigures Miniatures Solid Wood Display Case Frame Wall Cabinet Stand 200 Toys
52. Mlikero 2 Pack Display Case for Minifigures Action Figures Block
Keychains add a fun touch to your keys or bags, while Lego-themed clothing lets you show off your love for building even outside of your home.
53. LEGO DC Super Heroes Keychain Light – Superman
54. LEGO Star Wars Darth Vader Keychain Light
55. LEGO Boys 2 Piece Cotton Pajama Set
Lego Sets
Lego sets are not just for kids, as the Danish company has created sets that cater to people of all ages. Whether you are a teenager or an adult, you will find a set that suits your interest and skill level.
For those who are into pop culture, Lego has created sets based on franchises such as Super Mario, Lego Minecraft, and Marvel superheroes. These sets cater to children and adults alike, with more challenging and detailed builds for older fans.
56. LEGO Minecraft The Mushroom House Set, 21179
57. LEGO Art The Rolling Stones 31206 Logo Wall Décor Building Set
58. LEGO Jurassic World Atrociraptor Dinosaur: Bike Chase Set 76945
59. LEGO Super Mario Adventures with Peach Starter Course 71403
60. LEGO Super Mario Boomer Bill Barrage Expansion Set 71366
Moreover, Lego has stepped up its game by offering sets that are not just for playtime but also for relaxation. The Architecture series, for example, features iconic buildings from around the world that can be built and displayed for decorative purposes.
61. LEGO Architecture Skyline Collection 21044 Paris Skyline Building Kit
62. LEGO Architecture Great Pyramid of Giza Set 21058,
Unique gift ideas for Lego fanatics
Lego sets usually revolve around popular franchises or iconic buildings, but did you know that the company also offers some truly unique gifts? For example, Lego has a line of brick-built animals that includes a giant panda, a peacock, and even a Tyrannosaurus Rex. These sets not only provide a fun building experience but also make for charming decorations.
Lego also has a series of BrickHeadz featuring famous musicians and characters like Frankenstein and Wile-E. Coyote.
Another unique Lego gift idea is the company's line of buildable picture frames. These frames come in a variety of shapes and sizes and can be customized with any Lego bricks you want. They make for a fun and creative way to display your favorite memories.
69. Room Copenhagen Lego Picture Frame
If you're looking for something more functional, Lego also has a line of stationery items, including erasers, pens, and even a ruler that doubles as a buildable brick. These items are perfect for kids who want to add a little Lego flair to their school supplies.
Themed Legos
Lego is known for creating themed sets that cater to specific interests, making them perfect gifts for adults and kids of all ages. From Lord of the Rings to Star Wars, Lego has a set for almost every fandom out there. These themed sets not only provide a fun build experience but also allow kids to recreate scenes and characters from their favorite movies and shows.
71. LEGO Icons The Lord of The Rings: Rivendell 10316 Building Model Kit for Adults
For fans of the Wizarding World, Lego has a range of Harry Potter sets, including Hogwarts Castle and the iconic Hogwarts Express. We've had our eye on the Whomping Willow set and the Triwizard tournament Dragon set for awhile.
Adult Lego-lovers who are Star Wars fans can indulge in building complex sets such as the Millenium Falcon and the Death Star. For the younger set, one of the smaller Lego Star Wars kits with minifigures like Lego baby Yoda would be great options. Our kids have loved breaking up the sets to create new storylines with the unique lightsaber and laser pieces!
81. LEGO Star Wars Imperial Shuttle 75302 Building Kit
Lego even has sets for budding mechanics, with options such as the Bugatti Chiron and the Porsche 911 RSR. Our car-loving son can't wait to get his hands on one of these!
83. LEGO Technic Bugatti Bolide Racing Car Building Set 42151
84. LEGO Speed Champions 1970 Ferrari 512 M 76906 Building Set
For Lego lovers who prefer superheroes, Lego has sets for both Marvel and DC Comics. Young kids can build the Avengers Tower or the Batcave while older teens and adults can create a (nearly) life-sized Iron Man head!
85. LEGO Marvel Black Panther, King T'Challa Model Building Kit, 76215
86. LEGO Marvel Infinity Gauntlet Set 76191 Collectible Thanos Glove with Infinity Stones
For those who prefer a little more action, there are sets such as Ninjago, where kids can build their own ninja warriors and stage epic battles.
Themed Lego sets are not just fun to build but also encourage creativity and imagination. They also make great collectibles that kids can treasure for a long time.
Practical Lego gift ideas
Next up, we have some practical and versatile Lego gift ideas to explore.
88. Lego Salt and Pepper Set
These Lego salt and pepper shakers are actually just giant single Lego bricks, and they even stack just like the bricks!
89. Yanscian Wall Clock with Minifigures
You can personalize this fun wall clock with your own Minifigures, and change it up whenever you want.
90. TOYAMBA Build-on Brick Mug BPA-Free Funny Mugs with 3 Packs of Building Bricks,
I love how this Lego brick mug combines a practical mealtime item with the ability to fidget and build. With our ADHD kids, staying at the table during family meals is challenging, so this is an ideal motivator.
91. AMPM24 LCD Digital Alarm Lady Men Block Constructor Stopwatch
This Lego watch would be a fun and unique gift for any Lego fan.
92. YEABRICKS LED Light for Lego-10316 Lord of The Rings The Lord of The Rings: Rivendell Building Blocks Model (Lego Set NOT Included)
Several companies sell lighting kits that are perfect for adding light to the larger Lego builds. This one perfectly fits the Rivendell Lego set that I referenced above.
Holiday Lego ideas
You can find great Lego gift ideas for any holiday or birthday occasion. Here's a few ideas that work well for specific occasions.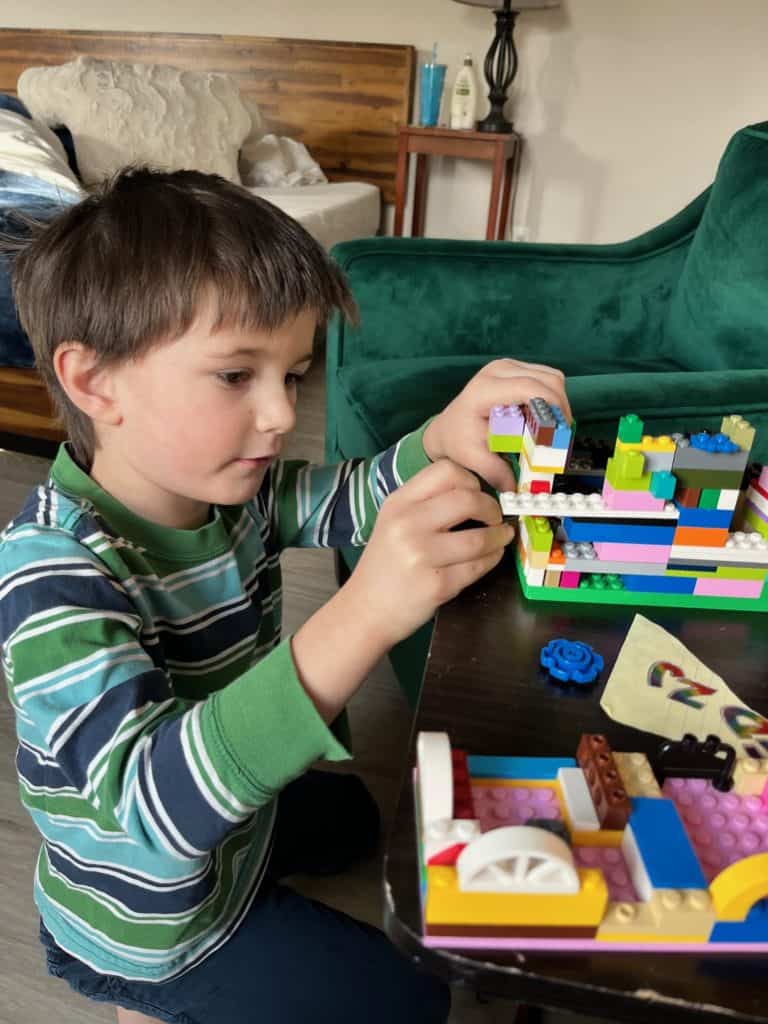 Easter basket Lego stuffers or Christmas stocking stuffers: minifigures, keychains, Lego stationary sets, Lego watch, mini grab bags, mini kits. I've often found small Lego kits ($5 or less) in mini bags at stores like Target or WalMart.
Lego advent calendars: My kids have asked me for these every year since we found out about them! Lego offers several themed advent countdown calendars, with new sets available each year. Costco often carries them around October and November, or order them online.
Birthday Lego gifts: nearly any of the things mentioned in this post would make great birthday gifts, but you can also get Lego-themed party supplies or a birthday-themed kit.
The best Lego gift ideas for anyone
Finding the perfect Lego gift has never been easier. Whether you're shopping for a child or an adult, these gift ideas are sure to bring a smile to any Lego enthusiast's face.
Browse the full idea list of over 100 items in our Amazon storefront!
And let's not forget that sometimes an experience is even better than a physical gift! A trip to LegoLand or a nearby Lego store will light up anyone's face. There are even Lego conventions that move from city to city, so check your local area to see what's available.
As LEGO Group CEO Jørgen Vig Knudstorp said, "Children learn through play – and adults learn through that same play with their children." So, why not join in the fun and give the gift of creativity and imagination? Happy shopping and building!
©️ Copyright Jennifer D. Warren 2023.