Valentine's Day is such a fun way to add some cheer and bright colors in a gray winter season! I love a special breakfast, so I've collected some Valentine's breakfast ideas kids love.
This post contains affiliate links. As an Amazon Associate I earn from qualifying purchases made from the links on this site, at no extra cost to you. Thanks for supporting our family business!
Table of Contents
Decorating for a Valentine's Breakfast
The easiest way to make a fun holiday themed breakfast for Valentine's Day is to grab some paper goods. Your local dollar store often carries plates, napkins, cups and inexpensive tablecloths in pink, purple or red color combinations. Mix and match to get the look you love.
Another easy idea is to grab a party kit that has plates in a heart shape. Amazon has some excellent options for a festive Valentine's Day breakfast setup.
Also check out my Valentine's Pinterest Board for more fun ideas.
Full disclosure here: I often count my kids' Valentine's day chocolates and sweet treats as part of the decorations. We gift them in a heart-shaped basket. Then all I have to do for decor is serve red or pink foods on a pretty tablecloth with some printed Valentine's paper goods.
Quick and Easy Breakfast Ideas
Valentine's Day usually falls on a school day, so there's not much time to make a big fancy breakfast before heading out the door. These ideas use simple ingredients or a heart-shaped cookie cutter to add a little pizzazz to a rushed Valentine's Day morning.
Strawberry Smoothie Recipe
A smoothie is a great way to make sure your kids are getting a healthy breakfast on the go. I like to use sweetened yogurt for smoothies so that it balances out the tart taste of the berries. You can also use greek yogurt and sweeten to taste with honey or strawberry jam.
Ingredients (add in the order listed)
12 Oz. Vanilla or strawberry yogurt
2 ripe bananas
16 oz. Frozen strawberries
Blend all ingredients until smooth. Serve with a fresh strawberry garnish on top.
Non-dairy Strawberry Smoothie recipe
16 Oz. Frozen strawberries
1 20 oz. Can pineapple tidbits in juice
12 oz. Can coconut milk
Blend all ingredients until smooth. Serve with a strawberry garnish on top.
Note: you could easily substitute raspberries and still get the bright pink color, although you may need to add more sweetener since raspberries tend to be more tart than strawberries.
Yogurt Parfaits (greek yogurt or flavored)
Parfaits are another healthy treat for an easy Valentine's Day breakfast. Choose your favorite yogurt and layer it, alternating between fresh or frozen red fruits (strawberries or raspberries) and granola.
Not a fan of granola? Swap it out for crumbled graham crackers, or your favorite cereal.
You can sprinkle a little bit of red sugar on top to make it more festive.
Strawberry Milk or Pink Milk
Grab some strawberry syrup to mix into your standard milk for breakfast. If you don't want a flavored milk, you can also add a tiny bit of red food coloring to make the milk pink. Last year I did this and served it alongside our special Valentine breakfast.
Heart-shaped fruit
We love fresh fruit, and when you hull strawberries carefully and then slice them, they are a naturally heart-shaped food.
You can also use a mini heart cookie cutter to cut watermelon into heart shapes.
Heart shaped Toast or Quiche
Use your heart-shaped cookie cutter to cut bread into heart shapes, then toast the bread and spread with Nutella, strawberry jam or raspberry jam.
You could also make a peanut butter and red jam sandwich and then cut the sandwich into a heart shape. For even more Valentine's sandwich ideas, read our post about Valentine's picnic ideas.
Cut heart-shaped pieces out of a full-sized grocery store quiche to add a savory breakfast option.
Extra Special Breakfast Ideas
I think the perfect way to start a holiday is with a delicious breakfast after sleeping in late. So I've included some fancier Valentine's Day breakfast ideas.
Chocolate Chip Scones
Our favorite recipe for scones came out of a Canadian cookbook I received from my aunt for a wedding gift. I've modified it slightly to make it more kid-friendly. Note: more than once I have forgotten to add sugar, or the egg, and the scones still came out great.
Ingredients
3/4 cup buttermilk or Greek yogurt
1 egg
2 3/4 cups flour
4 tsp baking powder
1/2 tsp. Baking soda
1/2 tsp. Salt
1/2 cup softened butter
1 cup dark chocolate chips (semi-sweet)
1/2 cup of sugar
Preheat oven to 375 degrees F. Beat egg and yogurt in small bowl and set aside.
In large bowl, add dry ingredients EXCEPT sugar and chocolate chips and whisk / sift together. Cut in butter with pastry cutter until mixture is crumbly. Mix in sugar and chocolate chips.
Add yogurt mixture and stir until soft dough forms. Using your hands, form dough into large ball and place on floured surface (or directly onto baking sheet).
Pat out to 1 inch thickness. Cut into 8 triangles (or use heart-shaped cookie cutter to make adorable heart scones!).
Place shapes onto ungreased baking sheet and bake scones for 15-20 minutes.
Top with red sprinkles / red sugar while hot. Serve warm with jam and pink whipped cream.
Valentine's Pancakes (several variations)
I wanted a fun heart-shaped pancake. However, none of the methods I tried resulted in much of a recognizable shape with the family pancake recipe — the pancake batter was too thick.
So if you want to do heart pancakes, use pancake mix and a squeeze bottle to get a pretty heart shape.
Heart Shaped Dragon Fruit Pancakes
My friend Sula has an amazing recipe for bright pink dragon fruit pancakes, and she has a short tutorial on how to make them heart shaped for Valentine's Day. She makes them with almond milk and no added sugar, so it's a great alternative for a dairy free diet or someone who's avoiding processed sugars.
How I made Valentine's Pancakes with a standard recipe
I had excellent success mixing heart-shaped sprinkles into our family pancake recipe.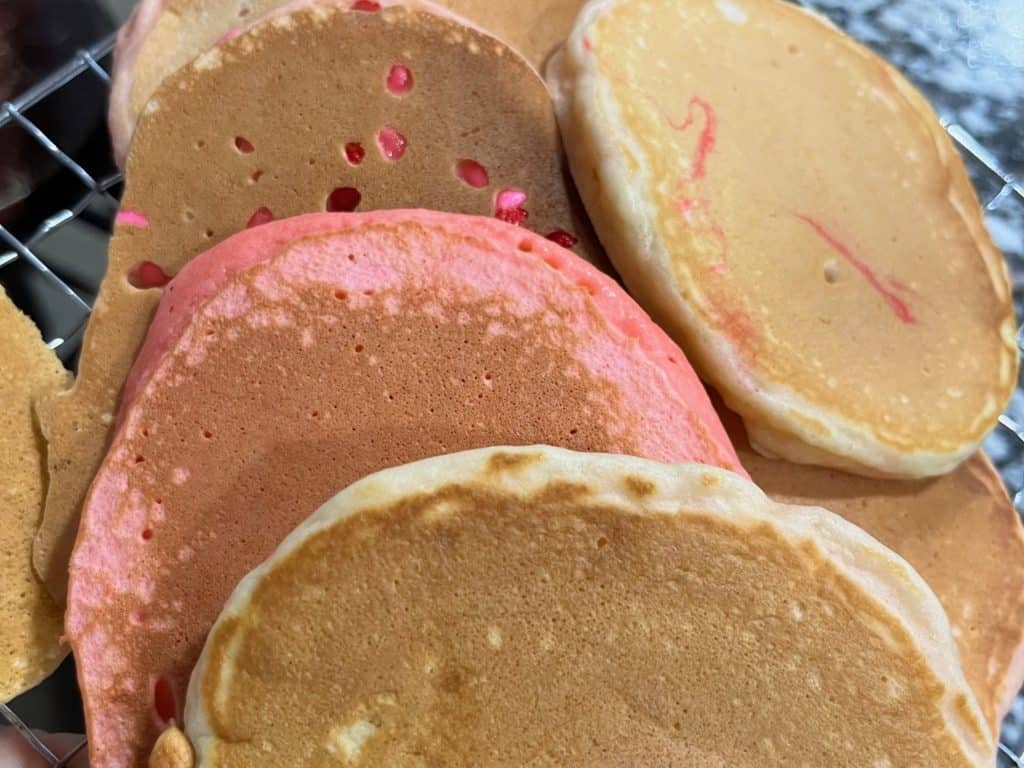 Adding in professional quality red cake food coloring made beautifully pink pancakes.
We always serve our family recipe with warm maple syrup, butter, peanut butter or Nutella. You could also serve pancakes with sliced strawberries (tossed in a little sugar ahead of time to draw out the juice) and topped with whipped cream.
Sands Family Pancake Recipe (from my Great-Grandma)
Note: for my family of 8, I usually double the recipe.
Ingredients
2 cups milk
3 eggs
1/3 cup melted butter
3 cups flour
6 Tbsp. sugar
6 tsp. baking powder
1/2 tsp. salt
1 cup fresh blueberries (optional)
Sift together dry ingredients in large bowl. In a separate bowl, whisk together wet ingredients. Fold wet ingredients into dry ingredients.
Drop batter by spoonfuls onto hot griddle. Cook until a few small bubbles show up on the surface of the pancakes, then carefully flip to cook other side. Cook until golden brown.
French Toast Casserole
A MOPS mentor mom brought this recipe to our moms group breakfast, and ever since it's been my favorite breakfast recipe for any special occasion. I usually make it according to the recipe, with nuts only on one side.
For Valentine's Day, you could mix in some frozen strawberries or raspberries, or just serve it with some heart-shaped fruits and pink milk.
Gluten-Free Fresh Strawberry Waffles
Here's another great option for those who need gluten-free foods from my friend LaRena: Gluten-Free Fresh Strawberry Waffles. She's also substituted out the refined sugar, making this a good alternative for those with special dietary needs.
Cherry Panakuchen (from Ethel Coffman)
Some people call this recipe "Dutch babies" but our family has always referred to it as panakuchen. We usually use canned pie cherries, but you can use any canned fruit pie filling you prefer.
Ingredients
6 eggs
1 1/2 cups milk
1 1/2 cups flour
1 20 oz. can fruit pie filling
1/4 cup butter
Preheat oven to 400 degrees F. In 9×13 inch glass dish, melt butter by placing it in the dish in the hot oven.
While butter is melting, beat eggs, flour and milk together. Remove hot dish from oven and pour egg mixture into dish. Drop pie filling by spoonfuls over the top of the egg mixture.
Return glass dish to the oven (use gloves – IT'S HOT!) and bake for 30-35 minutes until golden brown on edges and center is set. Immediately remove from oven.
Serve hot with maple syrup or sprinkle powdered sugar.
Simple Valentine's Breakfast Ideas for Kids – share yours!
I hope these Valentine's breakfast ideas for kids will make your family's holiday special and extra fun! I'd love to hear what other Valentine's recipe ideas you have in the comments.
© Copyright Jennifer D. Warren 2022.