So Much Glow!
You don't have to go far to find great Christmas lights in Salem Oregon. The sleepy city and its quiet countryside hosts a great selection of holiday light displays. On any given night you're pretty well guaranteed to encounter small crowds, warm-hearted hosts, and country charm.
Table of Contents
Looking for more to do besides Christmas lights? Check out our Family Christmas Bucket List or Winter Activities for Teens and Families posts.
This post contains affiliate links. As an Amazon Associate I earn from qualifying purchases made from the links on this site, at no extra cost to you. Thanks for supporting our family business!
Many of these displays are community traditions that go back for years. A number of these holiday events benefit charities and welcome volunteers.
In this post we'll walk you through the 11 best Christmas lights in Salem Oregon. We'll also introduce you to the best holiday displays in the State of Oregon.
Christmas Lights in Salem Oregon
#1. Riverfront Park
Oregon's capitol city quiets down after 7:00 PM and that makes for great holiday light excursions! Here are five displays to enjoy inside the City of Salem:
Salem's Riverfront Park transforms into a holiday wonderland after dark. The waterfront park features an illuminated playground of sorts, including a light tunnel, an enormous teddy bear, and gargantuan Christmas present entryway.
Jenn and I spent over half an hour gawking amid the lights at Riverfront Park. Someone kindly offered to take our picture. When we looked at the photo we were shocked to find our parents dressed up in our clothing! I guess you have to get old sometime.
Riverfront Park is a short walk from the stores, brewpubs, and restaurants of Salem's historic downtown. The lights are situated around the Asher Anderson Waterpark, toward the north end of Riverfront Park.
#2. Willamette University Star Trees
Salem holds one of the most unique light displays in all of Oregon. The Willamette Valley Star Trees are five giant sequoias that were artfully planted to create the shape of star.
The star appears when you stand in the center of the giants and look up. Our particular visit required some imagination due to some wayward branches.
Geometry aside, the Star Trees are worth a visit simply for their size and splendor. The trees are enormous, easily making them the tallest Christmas trees on any college campus in America.
Willamette University's Star Trees were planted by the class of 1942 to commemorate the University's centennial. Willamette University was the first university established in the American West, begun by Jason Lee in 1842.
#3. Holiday Sparkles: Powerland Heritage Park
Enjoy a drive through history at Powerland's Holiday Sparkles event. The old-time machine museum hosts a free, drive-thru light experience of historic machines and building decked out for the holidays. Holiday Sparkles takes place during weekends at Powerland Heritage Park in North Salem.
#4. Mortgage First Lights Display
The Mortgage First Lights Display is one of the funnest places to see Christmas lights in Salem Oregon. This building is literally covered with all things Christmas— including a life-size Santa complete with sleigh and reindeer!
You'll find the Mortgage First building at 1761 Liberty St. SE, near the Y intersection of Liberty and Commercial streets NE. The Mortgage First building lights up every night until January 6th, from sundown to 10 P.M.
#5. Magic at the Mill: Willamette Heritage Center
The Willamette Heritage Center transforms into one of Salem's biggest holiday attraction during Magic at the Mill. The five day event showcases Salem's holiday history amid some of the city's most historic venues.
Magic at the Mill includes live performances, living history displays, illuminated decorations, miniature trains, children's activities, and food. The magic lasts from December 19th-23rd.
Keizer
#6. Keizer Miracle of Christmas Lights Display
Experience a miracle that was three decades in the making. The Gubser neighborhood has been Keizer's Christmas capitol for almost forty years.
This community event began as a friendly neighborhood competition. Today The Miracle of Christmas is a community endeavor that supports the Marion-Polk Food Share. You can support this effort by making monetary donations or contributing non-perishables at the display entry point located at Lockhaven Drive and 14th Avenue NE.
Silverton
Silverton is one of Oregon's top Christmas towns, the home of the Oregon Garden, and the gateway to the incredible Silver Falls State Park. This town goes all out for Christmas and it's only half an hour from the city of Salem.
There are a number of great light displays in Silverton, but here are the top two:
#7. Christmas Light Spectacular at Silver Creek Fellowship
The Christmas Light Spectacular is one of our favorite local traditions. The church of Silver Creek Fellowship hosts a top-notch drive-thru event. The light show is synced to music that you can hear over your car radio (90.1 FM). Light displays include a nativity scene, an illuminated forest, and singing Christmas trees!
#8. Town Square Park
Silverton's Town Square Park is one of the most rewarding places to see Christmas lights in Salem Oregon. Town Square Park is a lovely green space located along Silver Creek and Silverton's historic downtown. The park becomes Christmas central when with the annual Christmas tree lighting.
Town Square Park has a mailbox that's specifically set aside for letters to Santa. Our children were overjoyed when their letters were answered with a handwritten response from Santa only a few days before Christmas.
Town Square Park is only a short drive from the Christmas Light Spectacular (above) and the Silverton Christmas Market (below).
#9. Silverton Christmas Market
The Oregon Garden Resort has its own winter wonderland. Jennifer enjoyed the Christmas market last year on a quiet, post-Christmas getaway.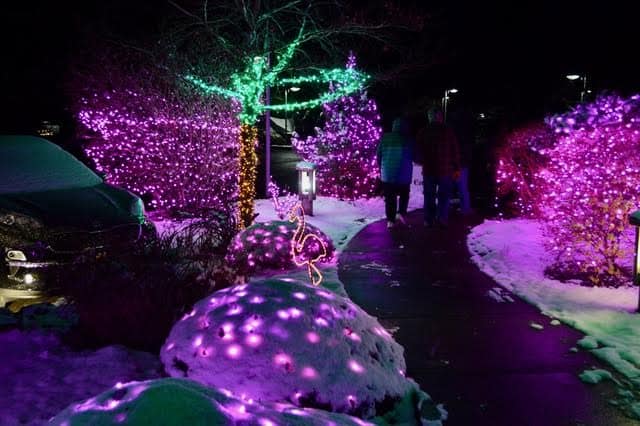 The Silverton Christmas Market features immersive illuminated displays, live music, a snowless tubing hill, fire pits, an artisan vendor market, a Biergarten, and Santa.
Mt. Angel
#10. Mt. Angel Christkindlmarkt
The nearby town of Mt. Angel may have the most heartwarming lights display in the Willamette Valley. Each year Santa selects a random, local child to help light the town Christmas Tree.
The event takes place during the town's German Christmas Market. Santa arrives on the town firetruck and picks a child's name out of a hat. Then that child pulls an enormous lever to light the tree. This is Christmas at its best!
Corvallis
#11. Pastega Christmas Lights Display
Headed southwest? The Pastega Christmas Display is a free, community-led Christmas display that's filled with fun. The display began from one families passion but has blossomed into a community-wide holiday passion.
Holiday cutouts range from the Grinch to Princess Amidala, all while collecting food donations for the local community. The Pastega Christmas Display can be found at the Benton fairgrounds from Nov. 28th-Dec. 31st.
Note: Severe winter weather can result in closures. Check the Pastega Christmas Light website when planning your visit.
Best Christmas Lights in Oregon
Portland Area
The Rose City has its own collection of fantastic festive displays. Here's a rundown of five displays in the Portland area. Take a deep dive into Portlands best Christmas displays in 9+ Best Places to See Christmas Lights in Portland.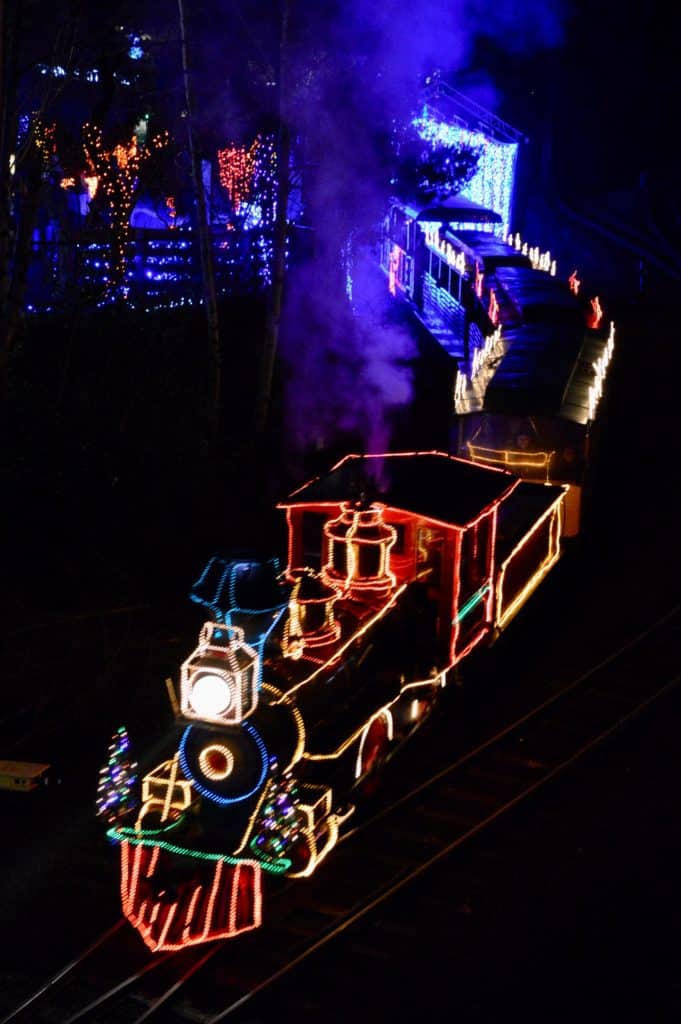 Winter Wonderland: The Portland International Raceway hosts the largest holiday lights display in the Pacific Northwest. The drive-thru event benefits the Sunshine Division.
ZooLights: The Oregon Zoo's light extravaganza includes colorful creature displays and an illuminated train. The outdoor event can be experienced on foot or by car.
Christmas Ship Parade: Portland's Christmas Fleet makes an appearance on the Columbia River, Willamette River, and even Lake Oswego. Christmas Ship Holiday parades run throughout the holiday season.
Pioneer Courthouse Square: Shop, dine, and enjoy live music under Oregon's grandest Christmas Tree. "Portland's Living Room" hosts holiday events and performances all season long.
Peacock Lane: Portland's OG light show has been ringing in the holidays since 1929. This historic neighborhood welcomes visitors with live musicians and warm drinks, entirely free of charge.
The Oregon Coast
The coast has its own holiday allure. We witnessed the Coast's Christmas charm on our holiday national park roadtrip. Here's two places to consider if your Christmas holiday takes you to the beach:
Nature's Coastal Holiday, Azalea Park: Brooking's Azalea Park may be the most immersive Christmas lights experience in Oregon. The city park is literally covered with a dazzling variety of lights and light displays. Azalea Park is one of the best holiday displays that our family has ever encountered.
Shore Acres Holiday Lights, Shore Acres State Park: The historic estate of a lumber baron becomes a magical Christmas wonderland at this beautiful Oregon State Park. Shore Acres draws winter travelers as a place to enjoy holiday lights and majestic ocean storms.
Southern Oregon
Southern Oregon is another great holiday destination. We experienced three of these holiday light displays during our holiday national park roadtrip to the Redwoods. Here are four great places to see Christmas lights in Southern Oregon:
Wolf Creek Inn & Tavern: Oregon's longest-operating stage coach stop still welcome travelers. Enjoy the holidays at a historic site that doesn't take itself too seriously.
Magical Murals of Grants Pass: Beautiful, illuminated murals bring holiday decor to a whole new level. Twenty magic murals decorate the Grant's Pass downtown area. These remarkable works actually change as you watch them!
Jacksonville's Victorian Christmas: Enjoy frontier finery as the town of Jacksonville transforms into a Victorian Belle. Jacksonville is one of Oregon's best preserved frontier settlements and one of the best places to experience Christmas in Oregon.
Umpqua Valley Festival of Lights: Enjoy a host of light displays and holiday attractions at Douglas County's Festival of Lights in Roseburg. The festive event benefits Rotary Club scholarships and service projects for the local community.
Eastern Oregon
Eastern Oregon is a great place to experience a white Christmas. Here are two holiday festivities that are worth looking into:
Did You Find What You're Looking For?
Did you find the information that you needed? We're always glad to hear from our readers. Leave a comment or send us an email with your questions and we'll see what we can do!
Happy traveling and Merry Christmas!
© Copyright Brian A. Warren 2022.