In the Heartland
I wonder if you can finish this ad jingle:
In the Heartland, we're working hard,
In the Heartland, right in your backyard . . .
If you recognized the song you're definitely older than the internet. If you could finish the song I'd bet my dollar that you're a child of the 1980s who watched their share of television commercials.
This post contains affiliate links. As an Amazon Associate I earn from qualifying purchases made from the links on this site, at no extra cost to you. Thanks for supporting our family business!
Table of Contents
The Stater Brothers commercial was a powerful ad, especially if you were a kid. It wasn't as exciting as Hot Wheels, or cuddly as Teddy Ruxpin, but it seemed to wrap up so much of what's good in the world into a beautiful, memorable package. Men riding tractors and bringing in the harvest reminded me of what really mattered: hard work, family, but above all, dinner.
This post is part of a series about our family road trip from Oregon to Georgia and back. Click here to start at the beginning.
Nebraska is the iconic heartland state. Even as a map-loving boy, I could tell that there wasn't much there beyond corn and roads. However, I've always felt drawn to Nebraska so I was excited when our road trip crossed into the Cornhusker State. Maybe Stater Brothers is to blame.
Heart of the Action- Bailey Yard North Platte NE
Our top Nebraska adventure truly highlights its heartland fame. We stumbled upon it after nearly a full day of driving.
Out of green cornfields came a loud line of diesel engines moving steadily in unison to their appointed places at the Bailey Yard North Platte, NE. We'd arrived at the world's largest railroad classification yard, and what a place!
(This is a non-sponsored review, and the Golden Spike Tower was not notified that we would be reviewing their attraction. As always, all opinions are our own.)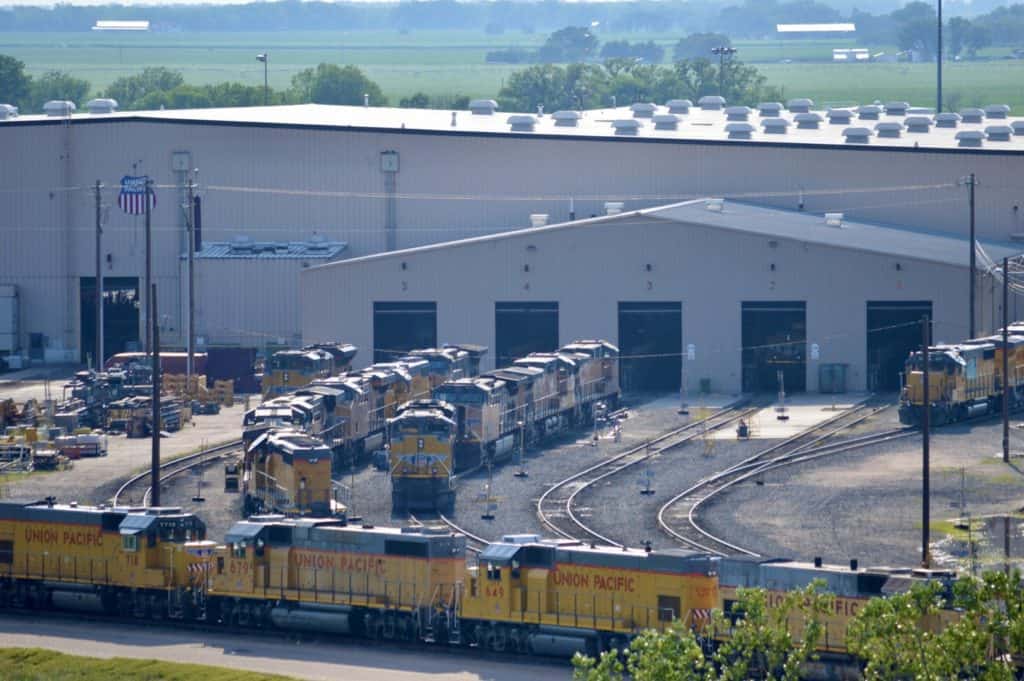 A single train is an awesome sight, so what is it to see an entire train yard? The massive yard encompasses 2,850 acres, with a total length eight miles!
This hub handles 10,000 railroad cars every 24 hours, sorting and linking rail cars into new trains. The yard's operations and repair shops work round the clock, seven days a week to fuel and service more than 9,000 locomotives a month.
The size, scale, and output of Bailey Yard earns it a place among the wonders of the world.
North Platte's world wonder is also a history maker. The yard is located in the center of the contiguous United States and supports the ongoing movement of rail traffic across the Union Pacific network. Union Pacific Railroad's Bailey Yard has played a critical role in the movement of people and supplies for over a century.
The Best Way To Experience Bailey Yard
Bailey Yard requires a bird's eye view. Thankfully, that perspective is made available by the Golden Spike Tower and Visitor Center. This observation tower and interpretive center is run by a nonprofit committed to educating the public about the operations and history of the Bailey Yard.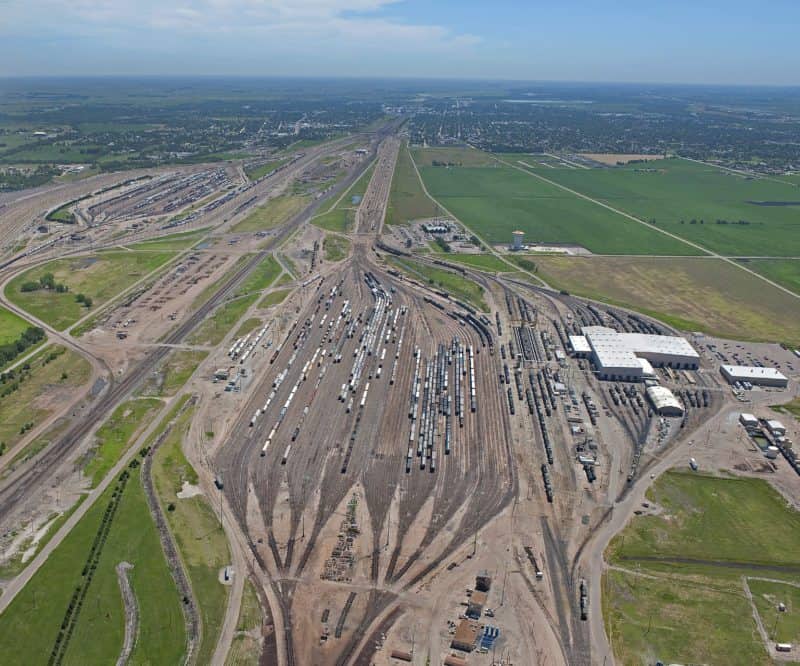 We found the Center to be nearly as impressive as its subject. The Golden Spike Tower provides an appealing, comfortable, and convenient survey of Bailey Yard and its role in US history.
That sentence doesn't do the place justice. You see, the best feature of the Golden Spike Tower and Visitor Center is just how unlike a museum it is! They've kept all the fun of trains while giving you a deeper understanding and appreciation of what goes into making them work.
Here's a case in point. When was the last time you saw a museum ticket like this?
The beautiful, retro entry tickets set the tone for an afternoon of fun.
All Aboard!
I'm not sure how we resisted the temptation to go straight to the elevator. Maybe it's because we have three firstborns in our family (Rook, Mama Bear, and I), but the excellent lobby had something to do with it too. The station-themed first-floor is packed with great stuff.
We could tell right away that this was a kid-friendly place. The staff was welcoming and kind to our children. We had not informed anyone that we were travel bloggers; for all they knew we were simply a visiting family. Each child was provided with a scavenger hunt that they could complete for a prize.
A side room provided a welcome video introducing the Bailey Yard, its role, and its importance to the railroad. The children could walk freely around the room looking at various memorabilia while getting the gist of what they were seeing today.
A gift shop features all things train and quite a few nice things for the loved ones who came only because they love a train-lover. Our boys needed hats so we picked out three different Union Pacific ball caps from a large rack of handsome apparel. Of course, we also picked up our bumper sticker!
As we headed to the elevator we found the hall filled with exhibits on various people who had a significant impact on Bailey Yard and Union Pacific railroad history.
Floor 8 -high above Bailey Yard North Platte NE
The chief observation deck of the Golden Spike Tower is on the 8th floor. The enclosed deck allows visitors to walk around the entire tower behind large glass windows. You can see the yard and its surrounding countryside from all directions. Be sure to bring your quarters so you can use the mounted telescopes.
Relevant information is readily available in the form of placards, models, docents, and more. And of course there's at least half a dozen old men who can tell you near as much as the docents can!
The eighth floor allows you to see the Bailey yard in action. You can watch locomotives being brought into and out of the maintenance center and fueling stations. Even more fascinating are the "Hump Yards", a key component of the rail yard's operations.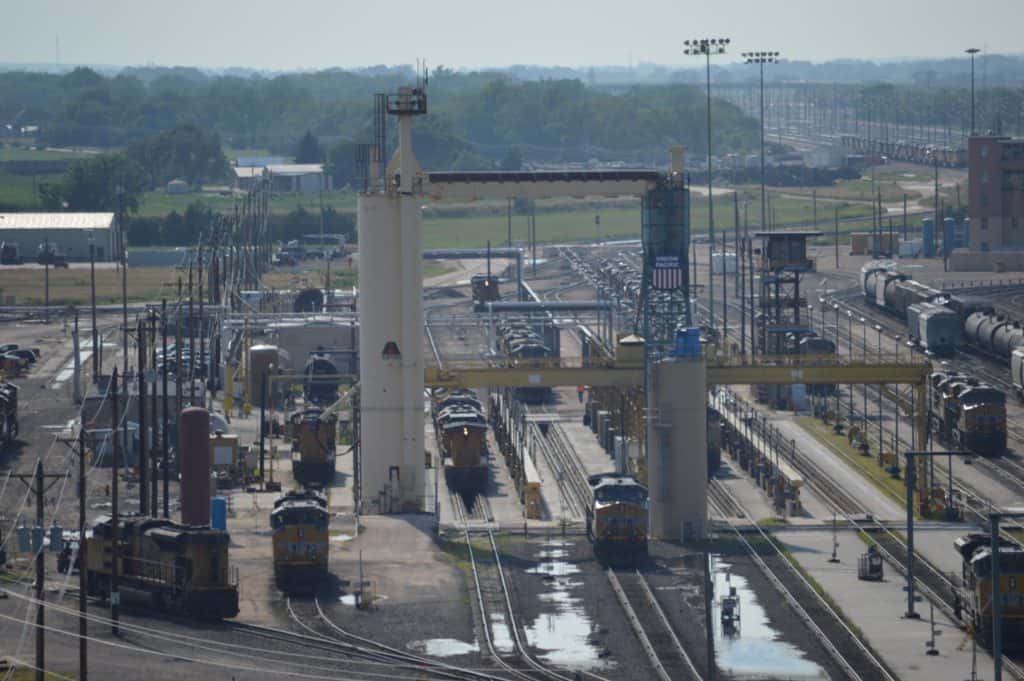 The Hump Yards are named for low mounds that were strategically built within the yard layout. Selected cars are moved onto the hump from which they gently roll down into position linking to their respective train!
The Hump yards afford plenty of activity as they process up to four cars a minute. The Golden Spike Tower is perfectly placed to allow visitors to watch this process take place.
Floor Seven
The seventh floor observation deck gives a different experience of Bailey Yard North Platte NE. The open-air platform not only gives a closer look of the yards, but comes with all the sounds and smells that spell "train".
You can't get around the excitement of so much powerful machinery moving around, it's like visiting the airport when you were little. Seeing the wonder in our children's eyes was well worth the admission price.
Educational displays and historic exhibits are sprinkled throughout both both observation decks. The rail yard began conducting main line operations in 1867 and played an important role in the industrialization of the American West.
The yard also participated int the controversial Orphan Trains. This welfare movement sought to improve children's lives by transporting them from eastern cities to families living in the midwest and western states. Some children found loving families and increased opportunities. Other children experienced rejection and abuse.
Union Pacific's Bailey Yard may be best known for its role in the war efforts of World War I and Wold War II. Bailey Yard supported the swift transport of troop trains and rail shipments neccesary to win these wars.
The yard's war history made it a great preview for our upcoming visit to Kansas City and the WWI Museum and Memorial.
Now let's talk about your trip. What are the things you'll want to know before you go?
Top 7 Things to Know Before You Go
7. Limited Services
The Golden Spike Tower is an excellent visitor center with excellent bathrooms. At the date of writing, there is no eatery at the tower and limited snack options. Moreover, the tower is located outside of the borders of North Platte, so you'll want to attend to food and gas needs before reaching the tower.
Visitors are permitted to bring food up to the tower's two platforms. So plan and pack ahead and you'll enjoy dinner with a view!
6. Limited Supervision
Golden Spike Tower is not a place to cut your kids loose and tell them to check in with you in an hour. While the staff is kid-friendly, they (rightly) expect you to ensure your child's safety. Most of the staff is required in the downstairs lobby and there was no docent on the seventh-story, viewing area when we were there.
The Tower is a close-quarters experience regardless of what level you're on, and it would be easy for energetic children to damage themselves or someone else if they were left unsupervised.
5. Get Outside
That said, there are some outdoor options for play. An outdoor courtyard lined with state flags surrounds the tower, and our kids had fun searching for the Oregon flag among all the moving colors.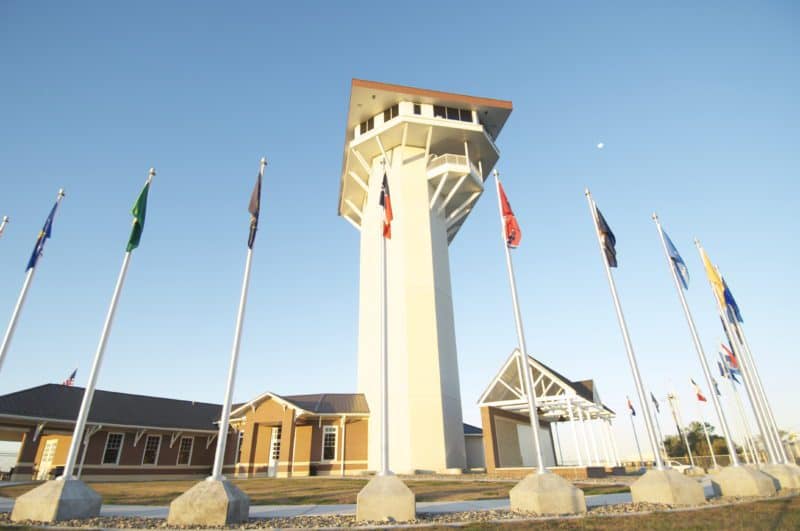 The courtyard also featured a train play area for kids and tables and benches for the grown-ups. You have an opportunity to picnic on the grounds, but you may find it to be noisier than your liking!
Just outside the courtyard stands a full-size Union Pacific dining car, a real treat for anyone who hasn't had the chance to see a rail car up close.
4. Visit the Railroad Town
North Platte is even more historic than its famous neighbor. The town is situated on a branch of the Platte River, a tributary of the mighty Missouri River. The Platte provided a way for indigenous tribes, explorers, and settlers to cross the Great Plains and the Rocky Mountains.
No wonder then that the Oregon Trail and Pony Express crossed through this region of Western Nebraska. The railroad followed and the city of North Platte was created specifically as a "railroad town".
Buffalo Bill Cody chose to build his Scout's Rest Ranch in North Platte because of the town's proximity to the railroad and rail yard. He could pack up his Wild West Show and travel to nearly any part of the country.
The Golden Spike Tower participates in North Platte's All-In-One Ticket program. That means, that when you purchase admission to the Tower you also gain admission to Buffalo Bill State Historic Site, Cody Park Train Display, and the Lincoln County Historical Museum.
North Platte is also the home of a classic, all-American tourist trap: The Fort Cody Trading Post.
3. Choo Choo ChaBoogie
The Golden Spike Tower hosts a number of events, but two are especially interesting. The North Platte Canteen continues a Wartime Christmas tradition. North Platte became known for the heartfelt welcome it provided to traveling soldiers every Christmas season. You can experience the warmth for yourself at this annual holiday event.
We'd like to check out North Platte Rail Days, a three day train-extravaganza held in early August. Consider these and other events when planning your visit to Bailey Yard North Platte NE.
2. Get Them Ready to Roll
The Golden Spike Tower offers an impressive number of resources to prepare for your visit. Their website has a page dedicated to children, where they or their parents can find crafts, read facts, and even hear train stories read to them. You can also watch the yards through the tower's webcam.
1. Make Room for Memories at Bailey Yard North Platte NE
In a way, a visit to the Bailey Yard is like bird watching. The best way to ruin the experience is to rush through it. Give you and your family plenty of time to enjoy the Tower by planning more time than you'll need and by explaining to your kids that they can take their time.
Pack some binoculars and share what you find interesting. Point them in the direction of a docent and let them ask all their questions
That's all I have to say about Bailey Yard and the Golden Spike Tower. If you've enjoyed this post or found it helpful please share it so that others can benefit too. We love to hear from our readers, so if you have a question or comment please speak up!
The next stop on our summer 2021 road trip was Fort Cody Trading Post.
© Copyright 2021 Brian A. Warren. UPDATED: July 22, 2022.